We had planned a short trip to Sikkim during Durgapuja holidays in October 2012. .
We boarded Kanchankanya Express from Sealdah railway station to Siliguri Junction. Siliguri/New Jalpaiguri Junction is the gateway to the North Eastern state of Sikkim.
Itinerary :
Day 1 : Siliguri/NJP to Gangtok (5410 feet)
Shared cab is easily available from Siliguri station area for Gangtok, the capital city of Sikkim. It takes 4 to 5 hours to reach Gangtok Taxi stand with one or two pit stops. You have to take small cabs that plies within the city, to reach hotel.
There are a lot of accommodation options around mall area but we booked Canara Bank holiday home. It is a four- storied building and we were allotted rooms at the top floor. Rooms are spacious with large bed, kitchen facility with attached bathroom. You can get a beautiful view of the surroundings from the roof top.
In the evening, you may go for a stroll at the MG road, the most happening shopping and hang out place of Gangtok. The mall area was crowded as usual. People were strolling leisurely, taking pictures with their friends and loved ones, buying things from the shops, having food, peeping into the numerous small shops or watching the activities sitting leisurely in the bench like us.
There are plenty of tour operators in Mall area that organizes sight seeing tours in and around Gangtok. We booked a whole day trip for the day following the next day covering Changu Lake, Nathula Pass and Babamandir. We kept the next day for Gangtok sightseeing . Your hotel or holiday home also helps you to book sight seeing tours.
Day 2 : Full day sight seeing in Gangtok
We booked a cab in the morning for 12 - points sight-seeing tour. It covers the following places.
1. Rumtek Monastery :
We started our Gangtok city tour with one of the largest and most significant monasteries in Sikkim. It is also known as the Dharma Chakra Centre. We were allowed to enter in the monastery after checking ID proofs by security personnel.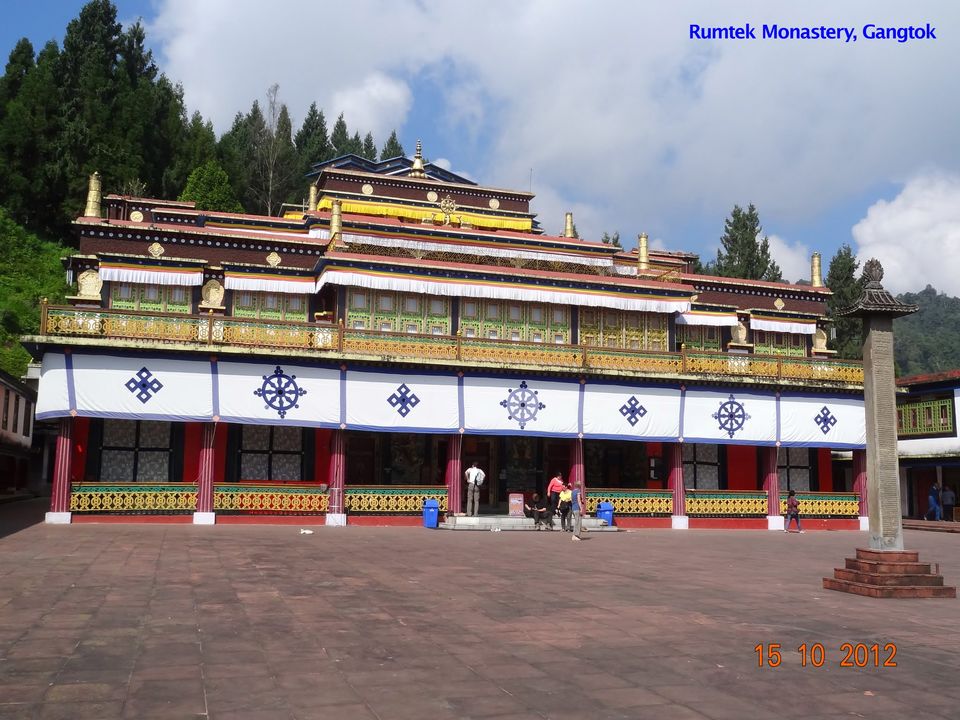 2. Lingdum Monastery :
It is one of the most wonderful monasteries in East Sikkim. Huge and beautiful Lingdum monastery also known as the Ranka Monastery.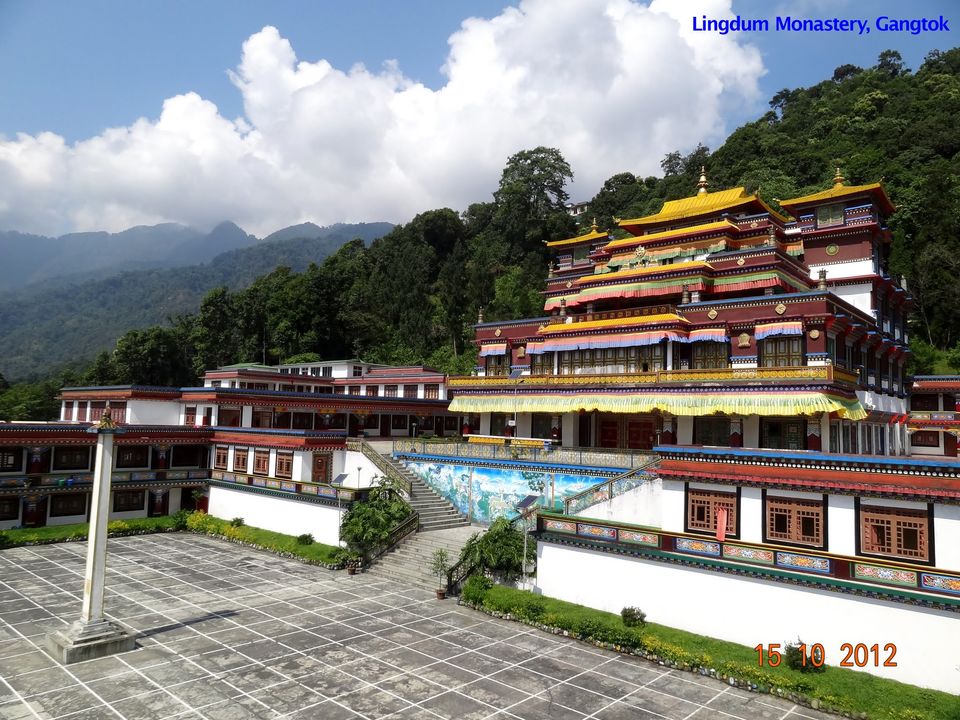 A flight of stairs take you to the inner Sanctum. It is a peaceful place. We roam around the monastery and took photos of the young monks.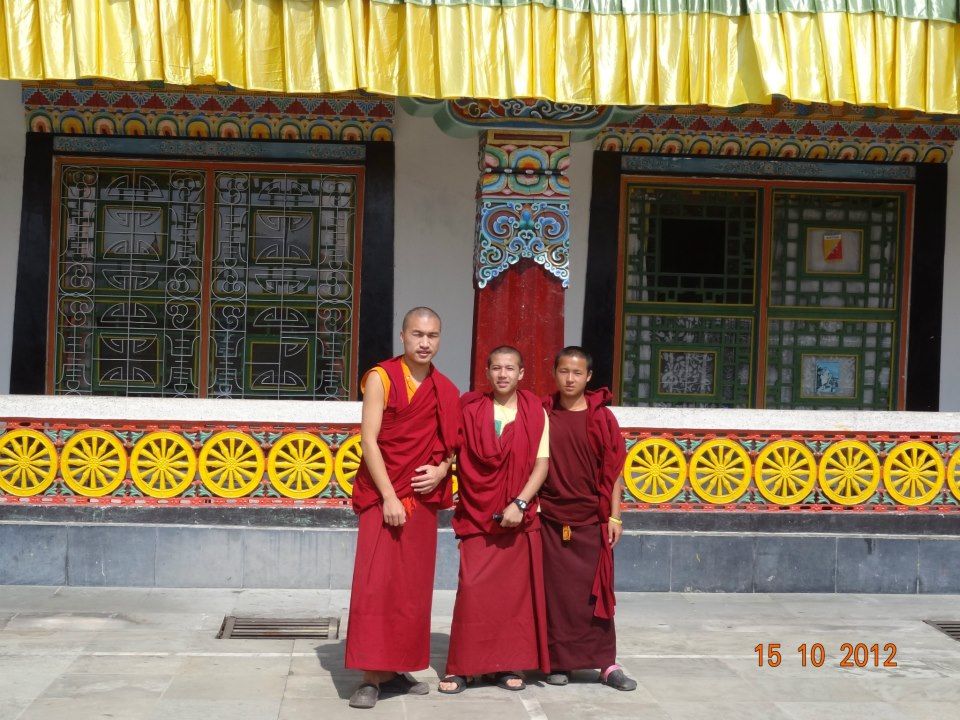 3. Do- Drul Chorten :
It is a stupa in Gangtok. It is built by the venerable Tulshi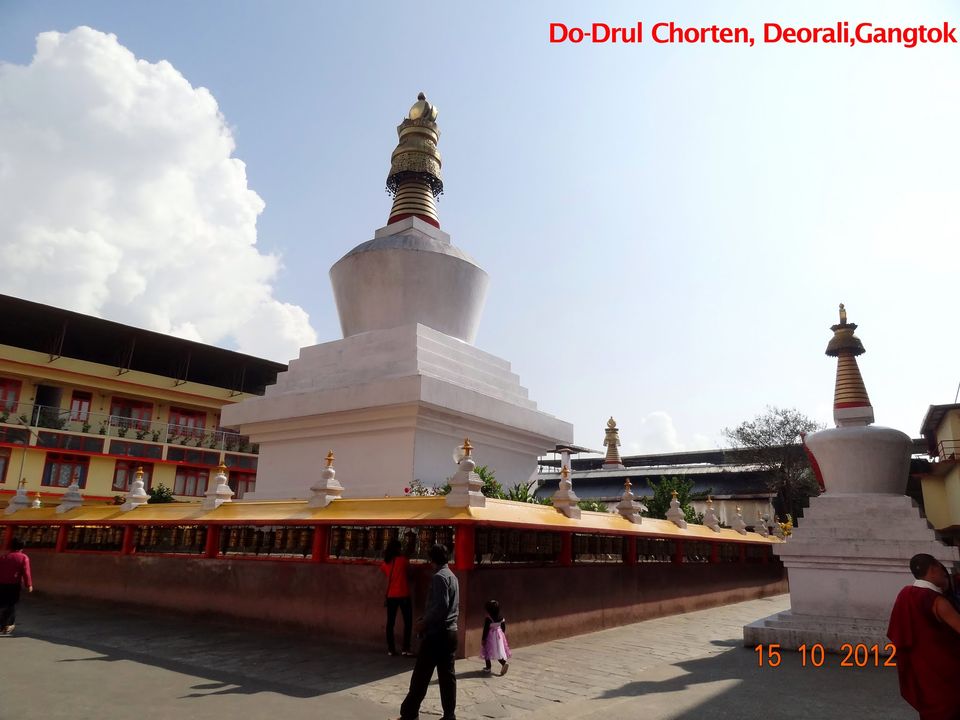 Rimpoche, head of the Nyingma order of Tibetan Buddhism in 1945.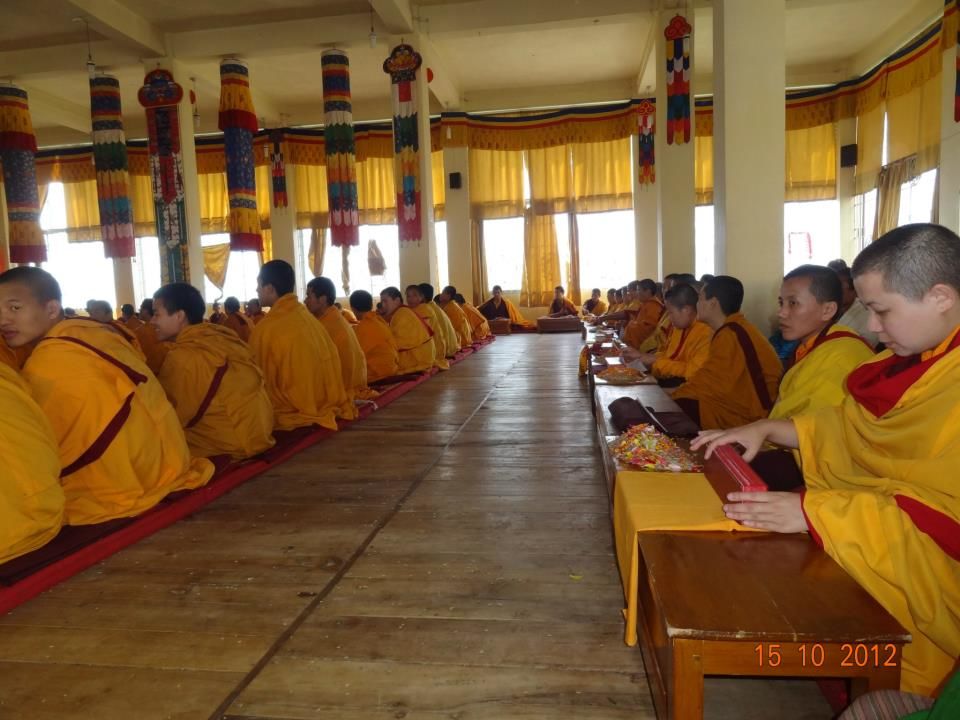 4. Namgyal Institute of Tibetology :
It is a Tibetan museum in Gangtok.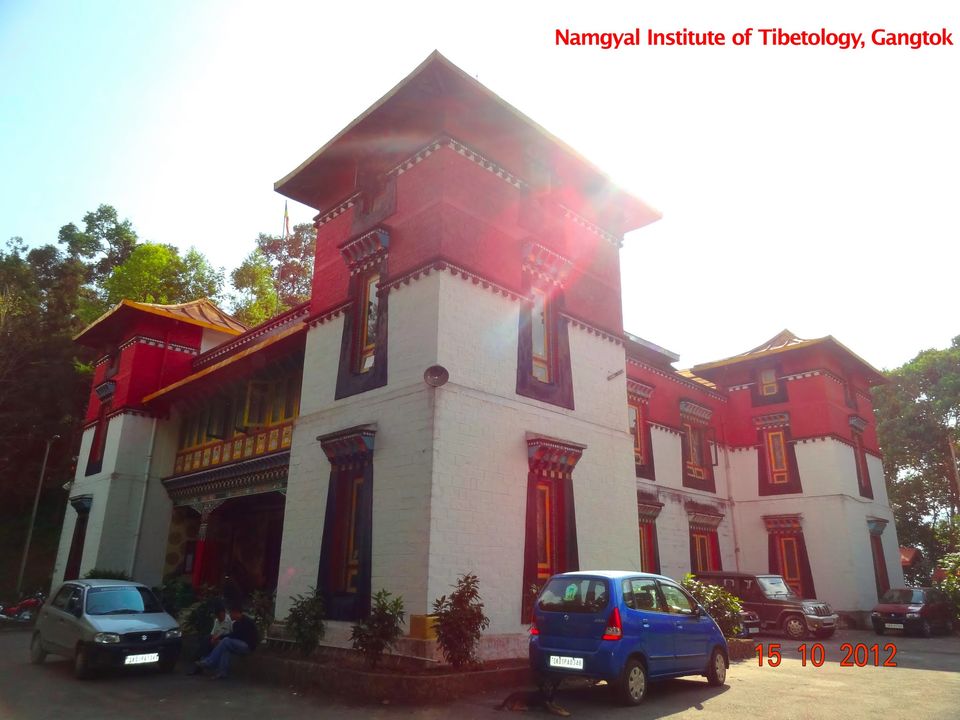 5. Echy Monastery :
It's small but beautiful. It means 'Solitary Temple'.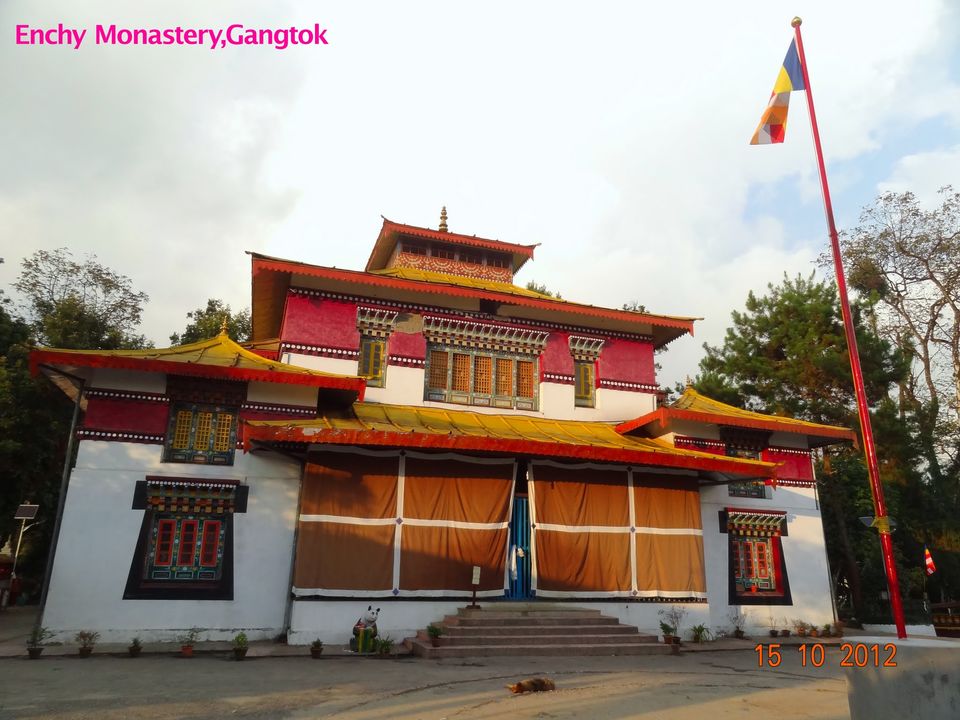 6. Directorate of Handicrafts and Handloom :
It was established with an aim to preserve and promoting art and craft of people of Gangtok.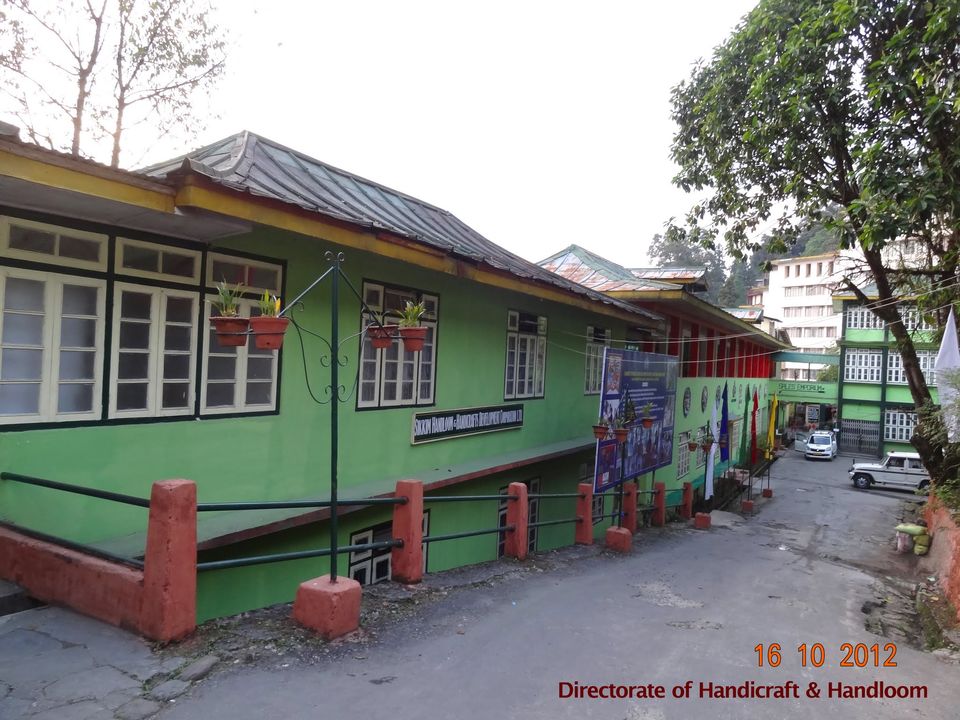 7. Banjhakri Water Fall :
It is one of the most beautiful waterfalls in Gangtok. There is a man made lake here with a dragon at the centre.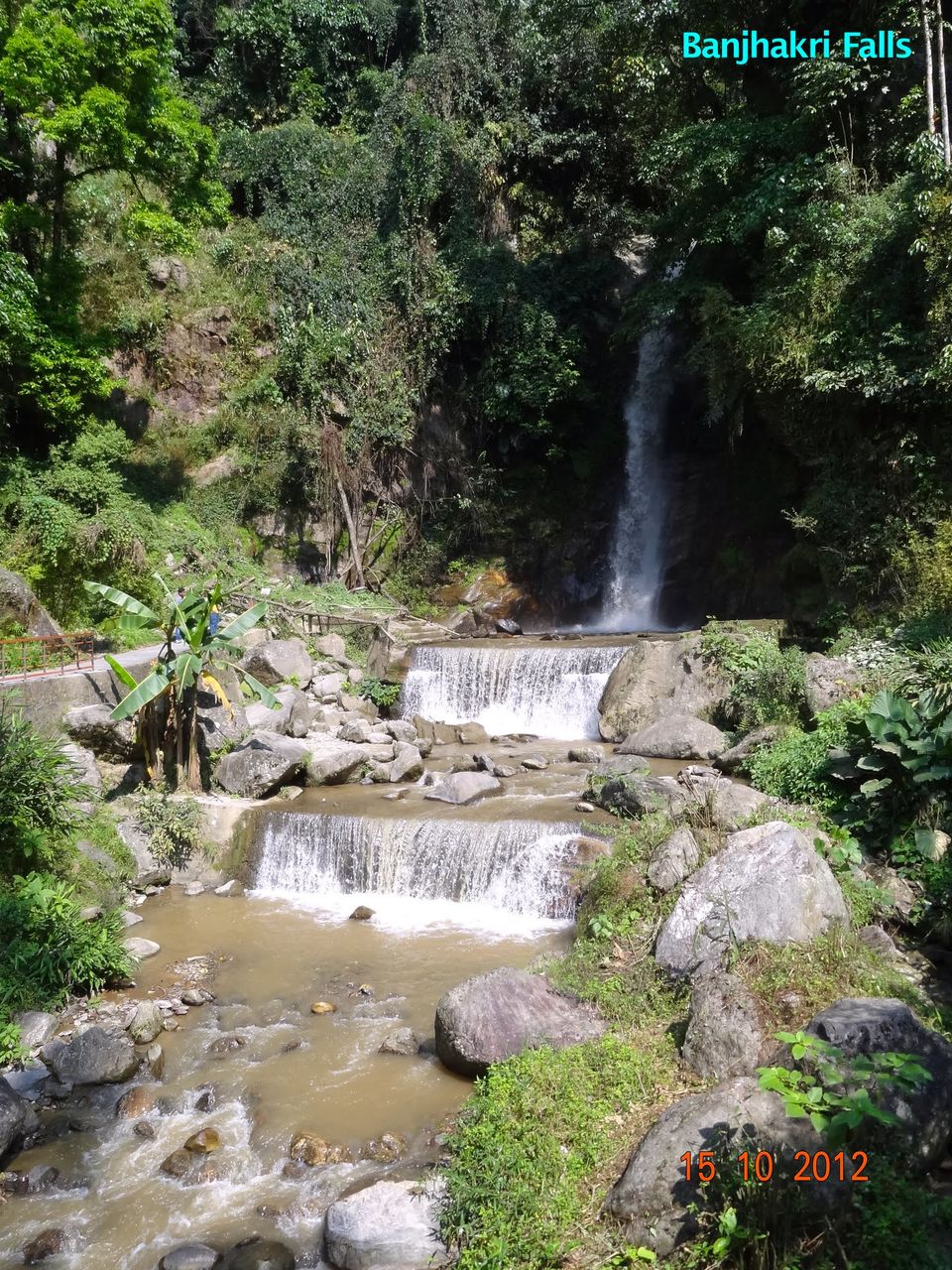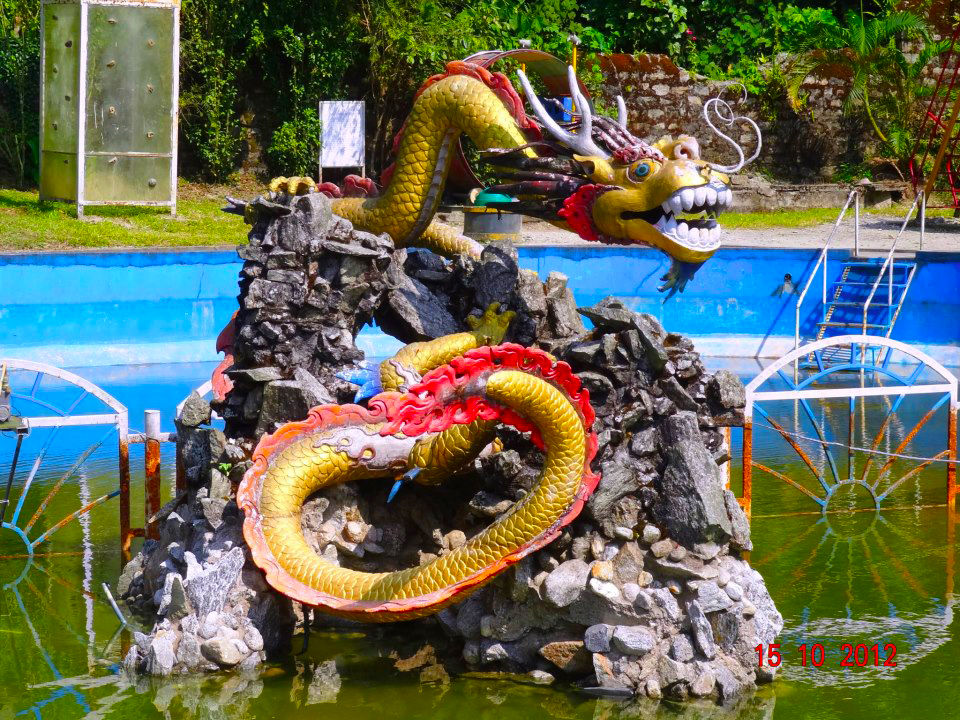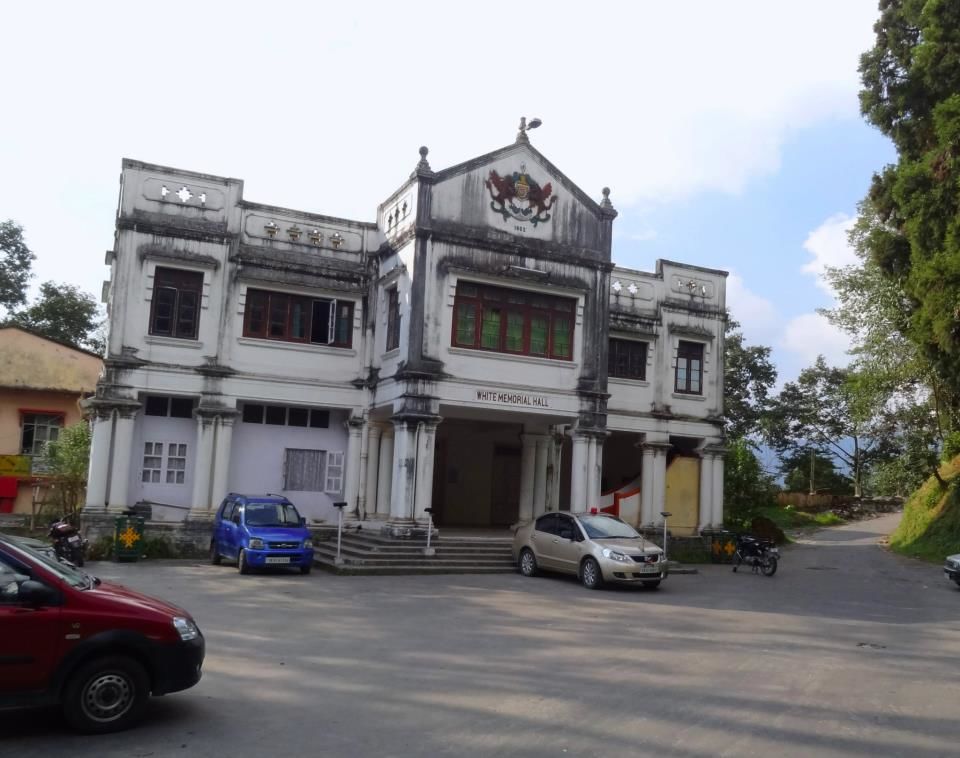 9. Burtuk waterfall :
Another scenic waterfall.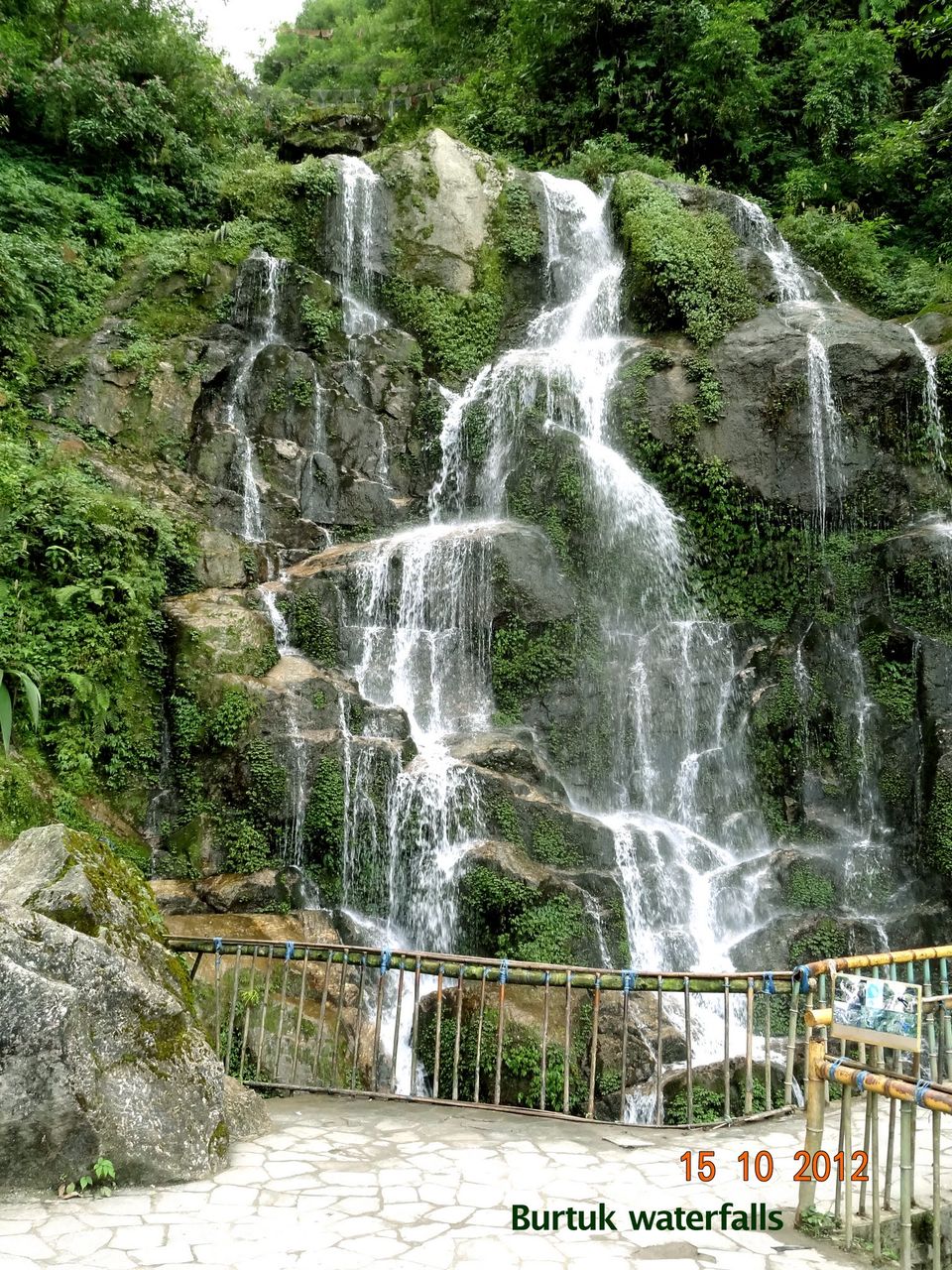 10. Ganesh Tok :
It is said that this spot provides a bird's eye view of the city. But the day was cloudy and we could see nothing.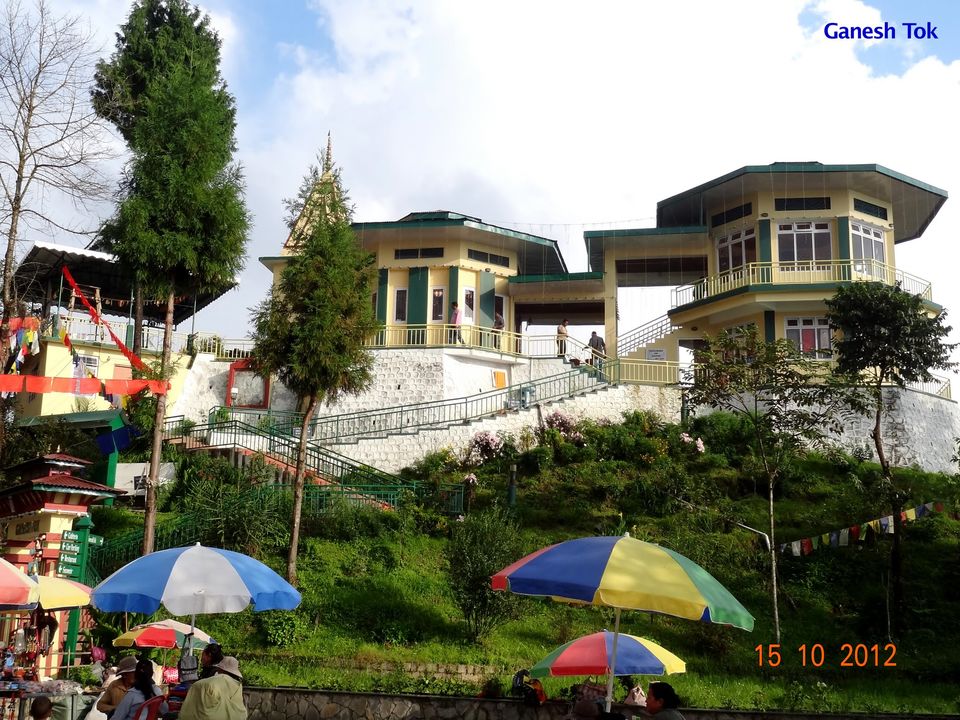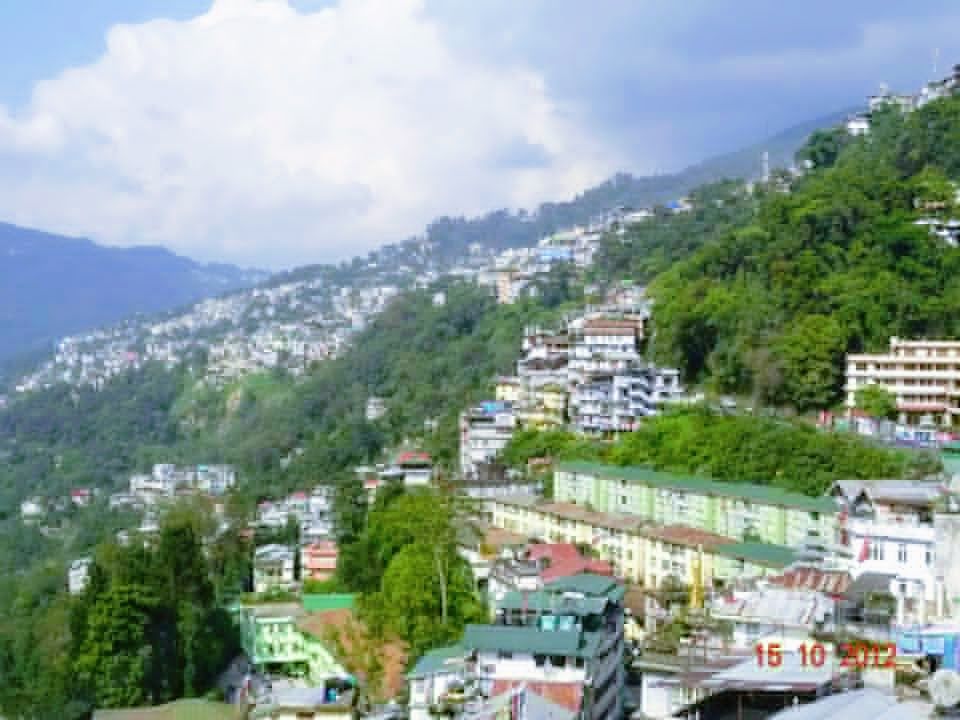 It provides a bird's eye view of the town.
12. Flower Garden :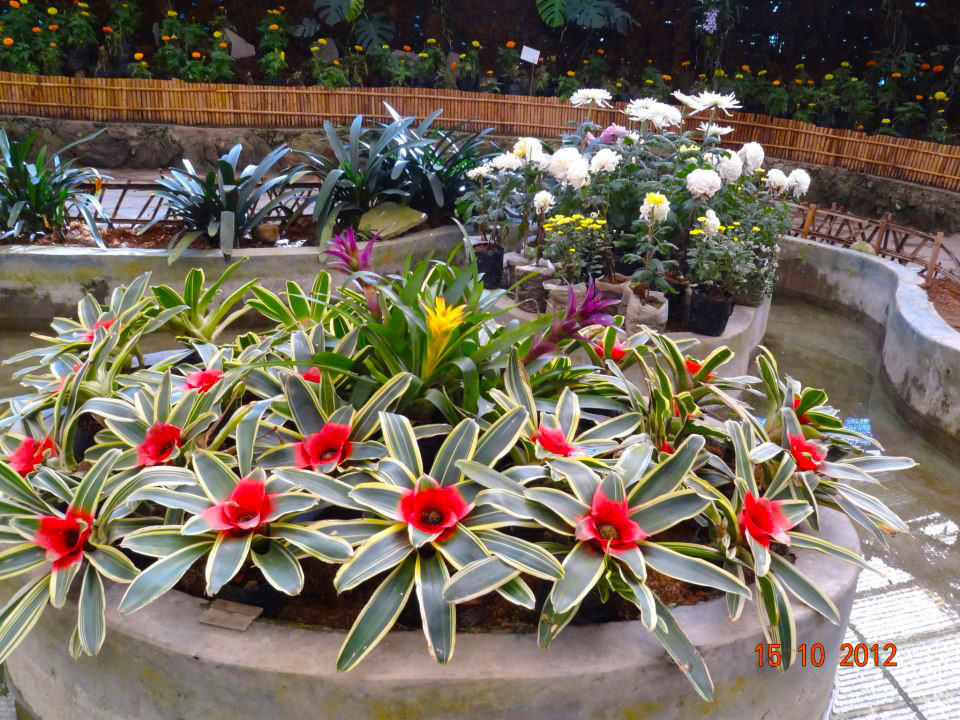 Day 3 : Full Day Sightseeing to Nathula, Baba Mandir and Changu Lake
We three started early. We were supposed to report to the taxi stand (pick up point of the trip) by 6.30 am. It was a shared jeep trip. Our driver was a young lad . The rest of the group consists of three Bengali couples, total 9 people. All had arrived in time. The vehicle started moving by 7.30 am towards Nathula Pass.
Nathula Pass : 14,140 ft.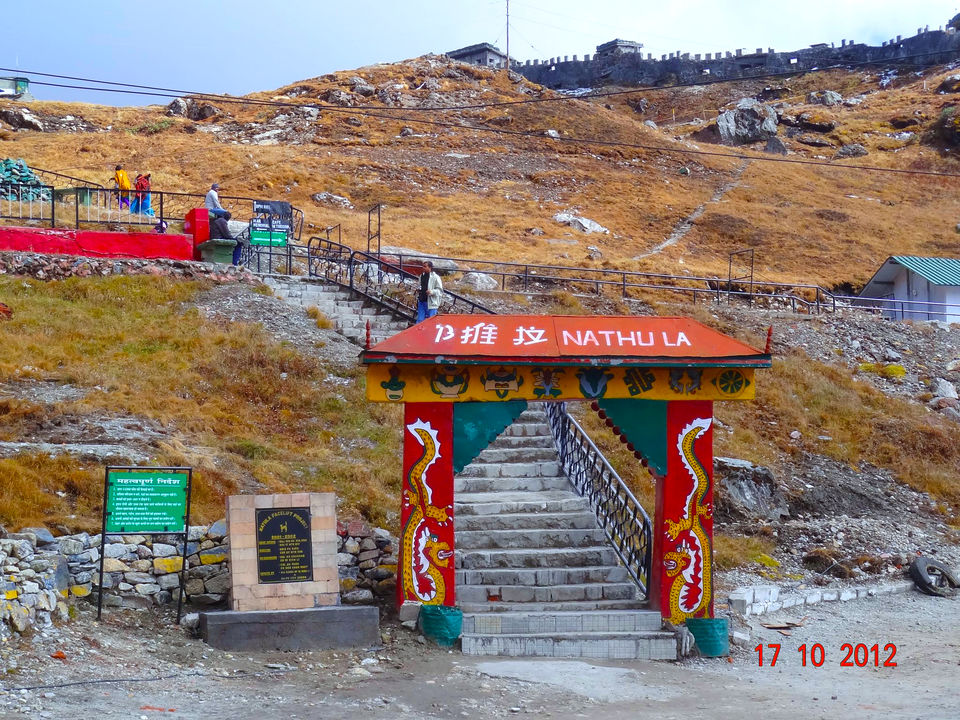 Nathula is located 56 km away from Gangtok at an altitude of 14,140 feet. The journey was spectacular. The day was cloudy and windy. As soon as we started getting altitude, I could feel the drop of temperature. Winding roads, deep valleys with low hanging clouds leave you awestruck.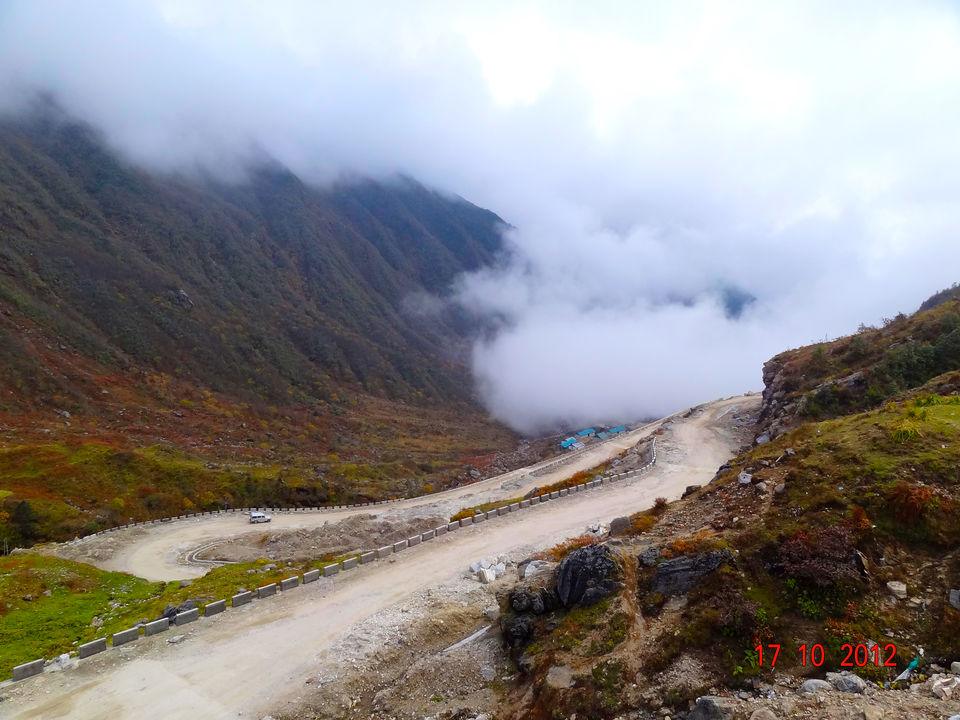 As you go up, you started finding posters of BRO all along the narrow road. You can see the writing "MERA BHARAT MAHAN" at the distant hill. We took two stops on the way. After a couple of hour, we reached at the entrance of Nathula Pass. The fenced Indo-China border is few meters away and you can see both Indian and Chinese soldiers guarding the border. A stairway take you to the Border area. As soon as we stepped out of the vehicle and started walking, I felt breathlessness. Chill wind was unbearable for us. We stopped sometime for acclimatization and then started climbing the stairs one by one.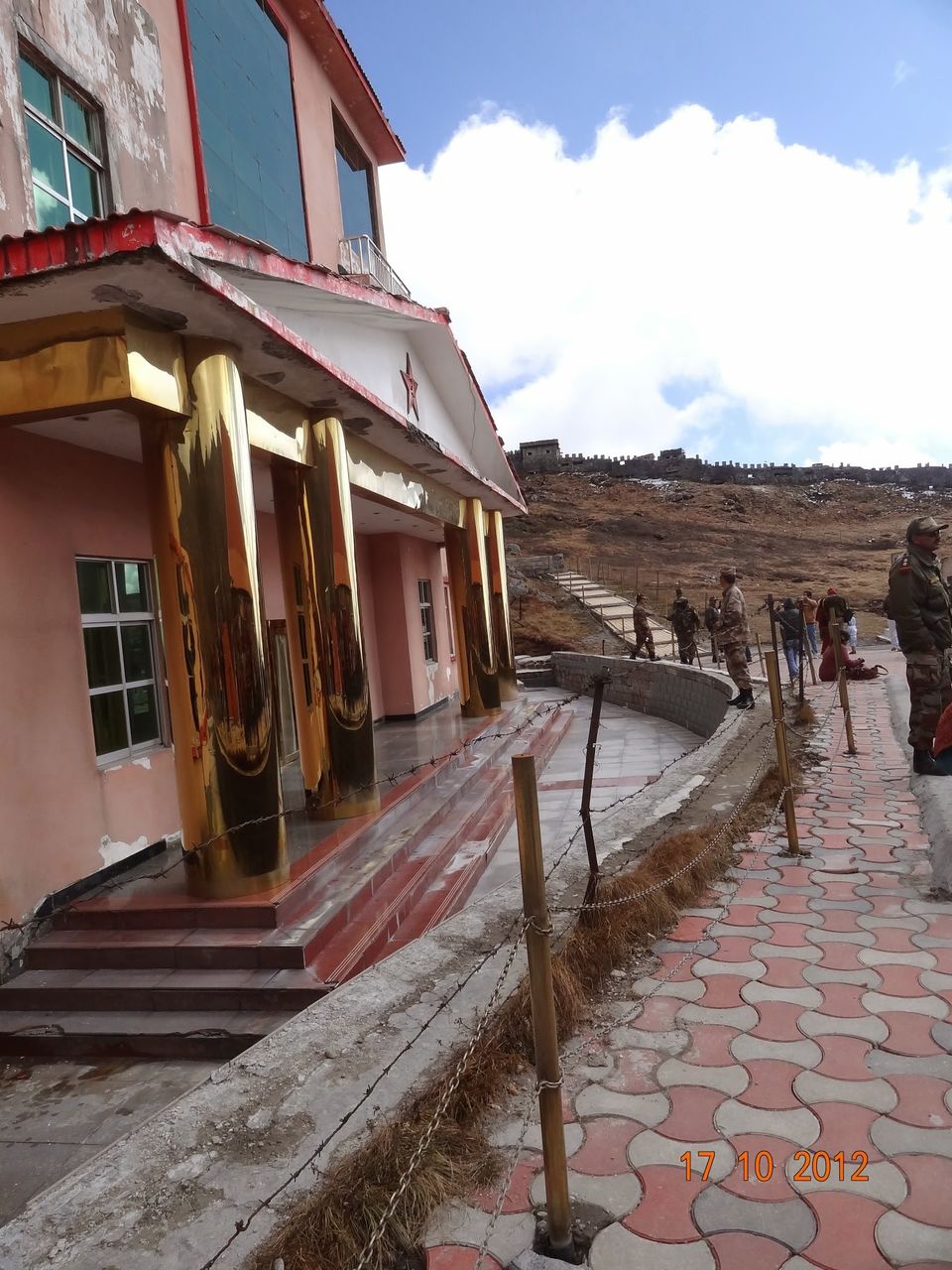 Among the other three couples, two could not able to go up as they felt difficulty in breathing. We three and one couple finally reached the fenced area. There is no "no mans 'zone here. The guards are friendly. They are readily pose with you for photograph or shake hand.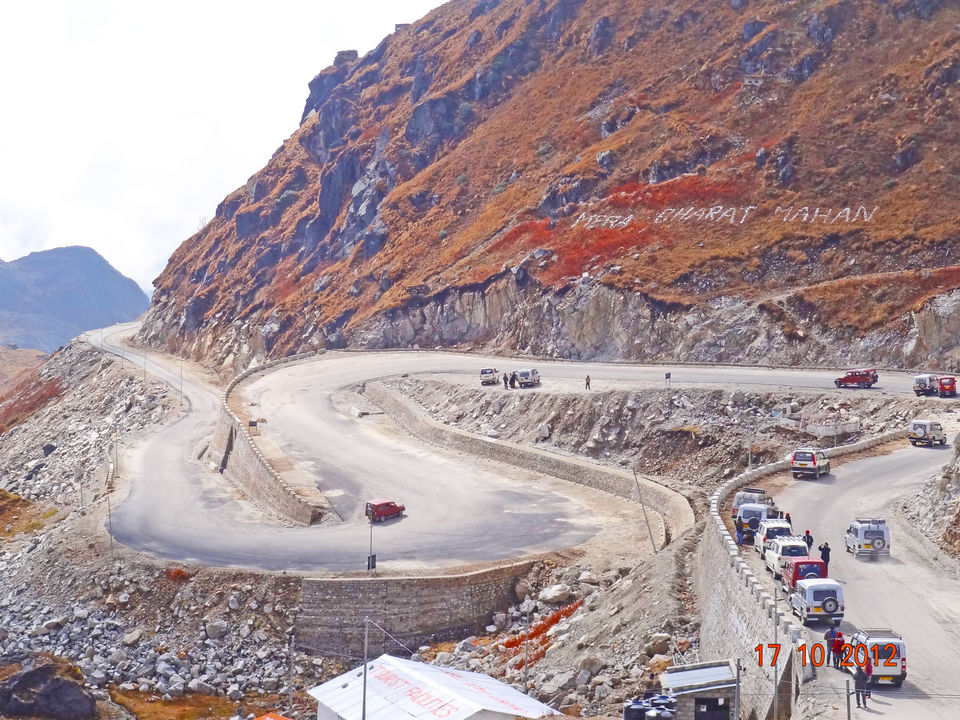 The view of the surroundings from this elevated place was fabulous. After taking some photographs, we started climbing down.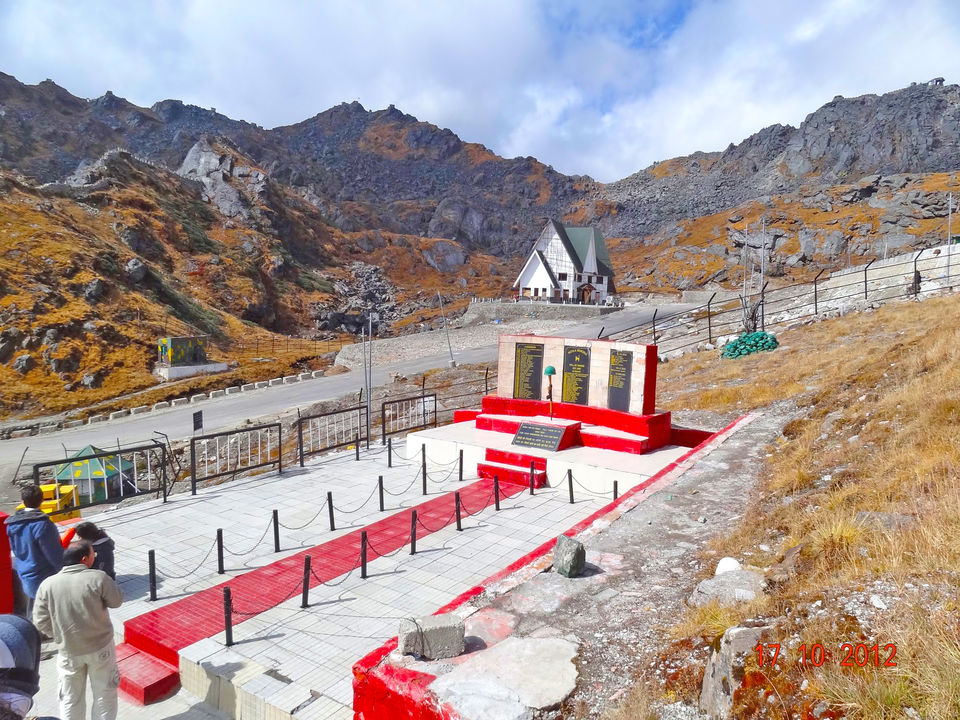 There is an engraved stone called Nehru Stone which marks the visit of former Prime Minister of India Jawaharlal Nehru who visited in 1958.
The vehicle was parked just opposite the Indo -China gate. Yes !! There is a huge gate at Nathula to enter the China.
Nathula pass being an Indo-chinese border, photography and vediography are not allowed however tourists do take pictures here.
Our next stop was at Baba Harbhajan Singh Mandir (Old) popularly known as Baba Mandir. It is situated at an altitude of 13,000 ft. We started moving along the winding roads of Himalayas through the clouds. The view was mesmerizing.
As it is the middle of October, the entire mountain took the autumn colour. The weather was clear although chill wind was blowing continuously.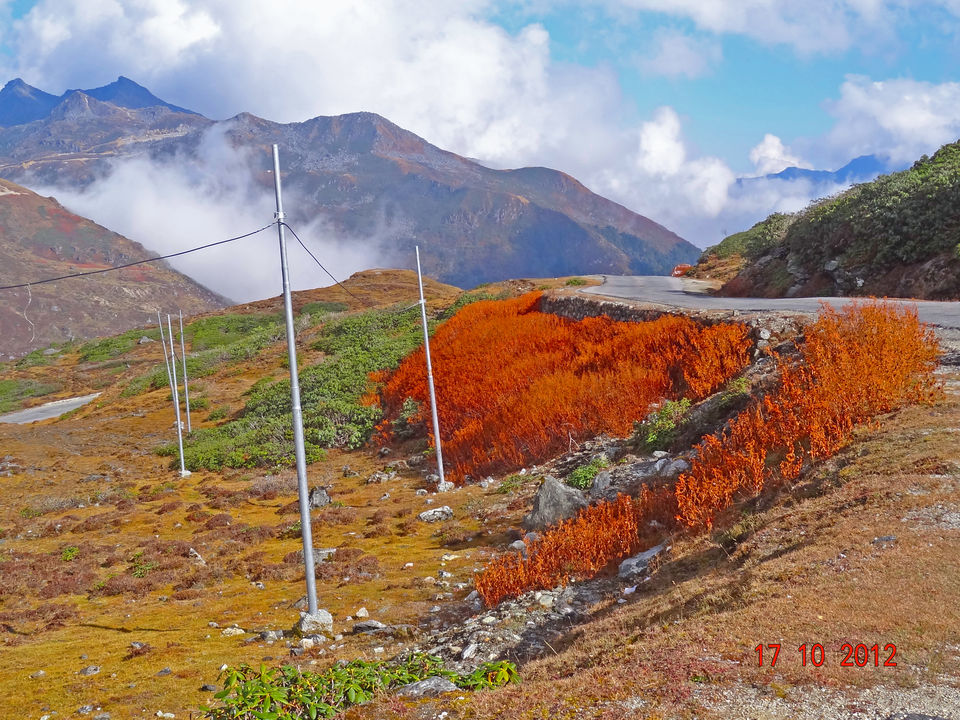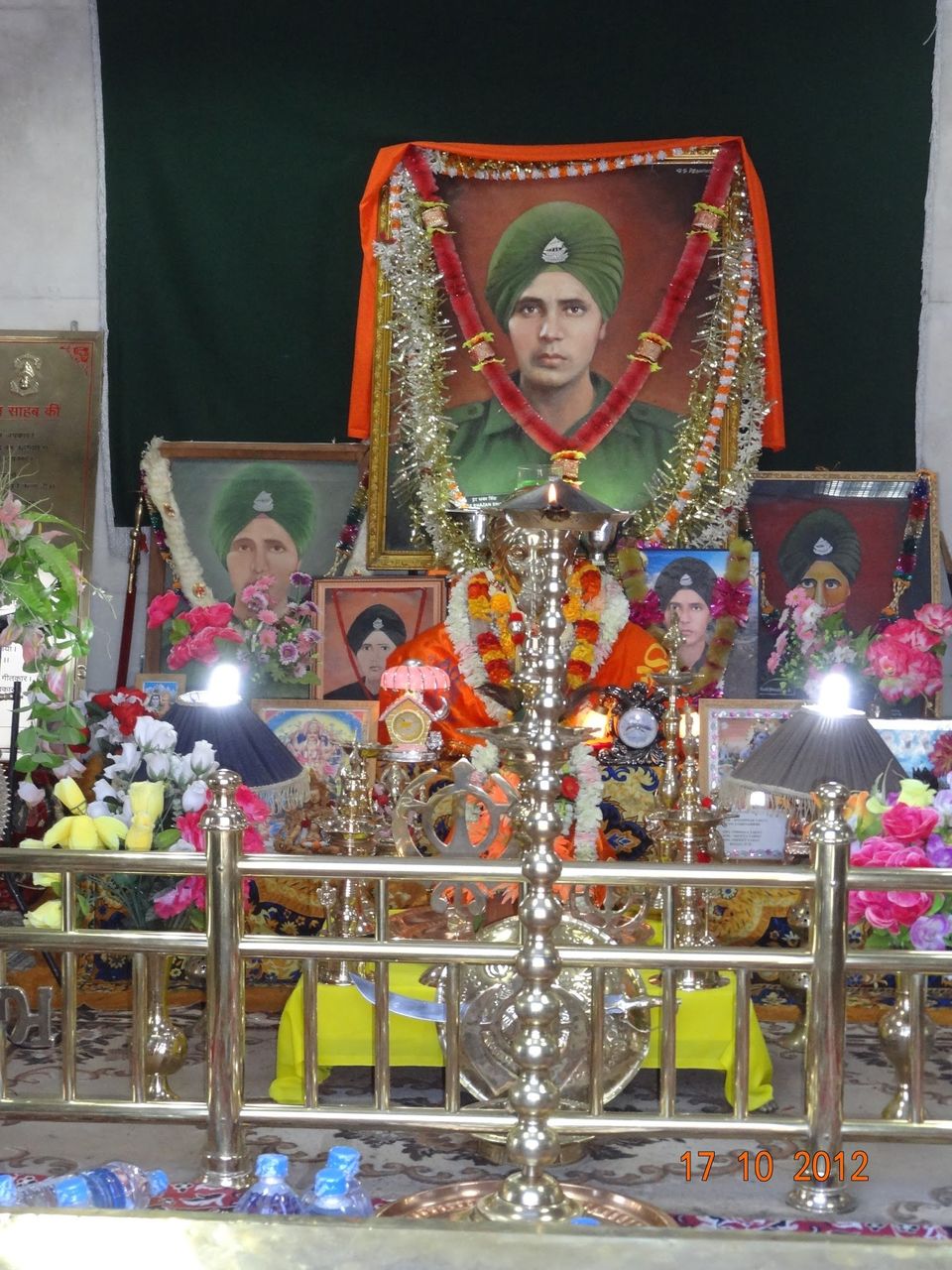 Harbhajan Singh was a soldier of the Indian Army.He was martyred in 1968 at the age of 27 years. After his death, the shrine was made on his Samadhi.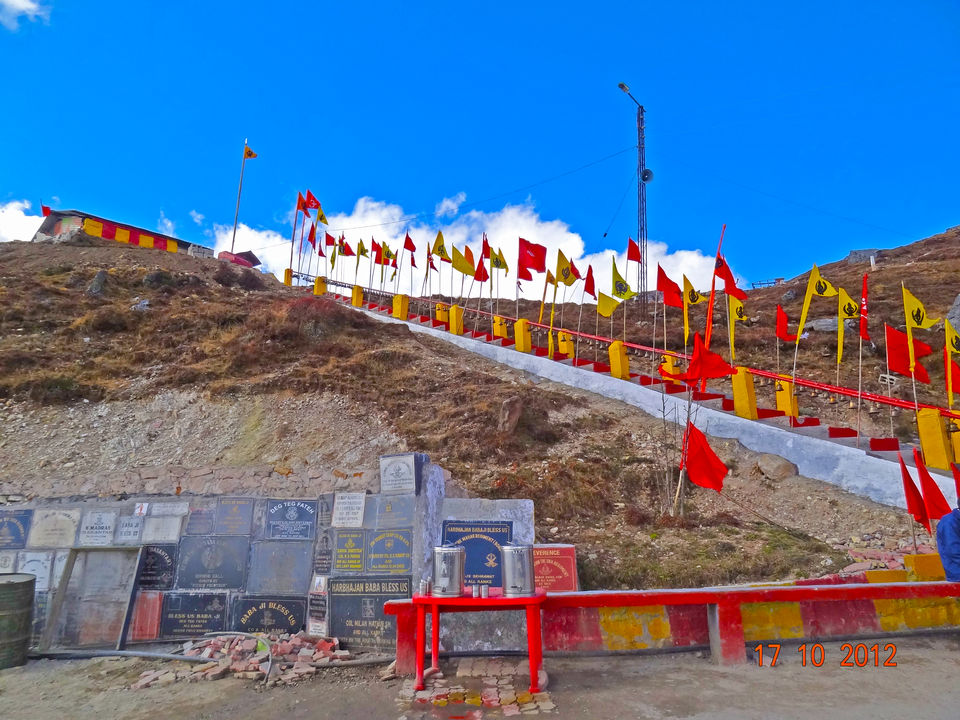 A stairway take you to the Baba Harbhajan Singh Mandir. The view from the shrine was magnificent. Army believes that he still protects the Indo-Chinal border and guards the soldiers on duty. Apart from this, it is also believed that Baba grants favour to those who revere and worship him.
Another Baba Mandir has been constructed in 1982 at the junction of the road leading to Kupup/Nathang and the trail to Menmecho lake that is called New Baba Mandir. We drop there while coming back from old Baba Mandir. The place was serene. A small waterfall just in front of the temple is an add on beauty.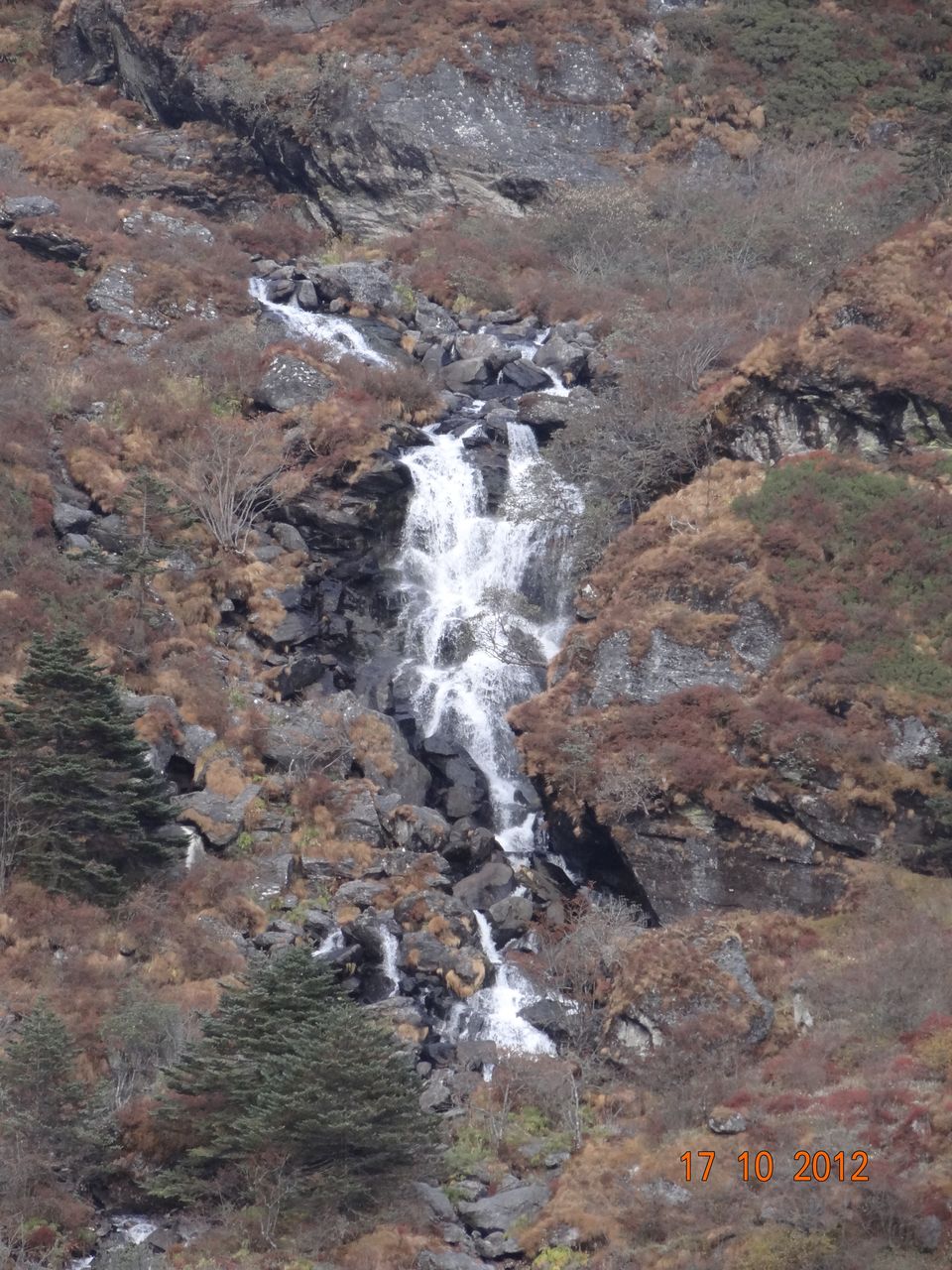 As we started coming down, mist started covering the roads. In a while, we reached at Changu Lake.
Tsomgo or Changu Lake : 12,310 ft.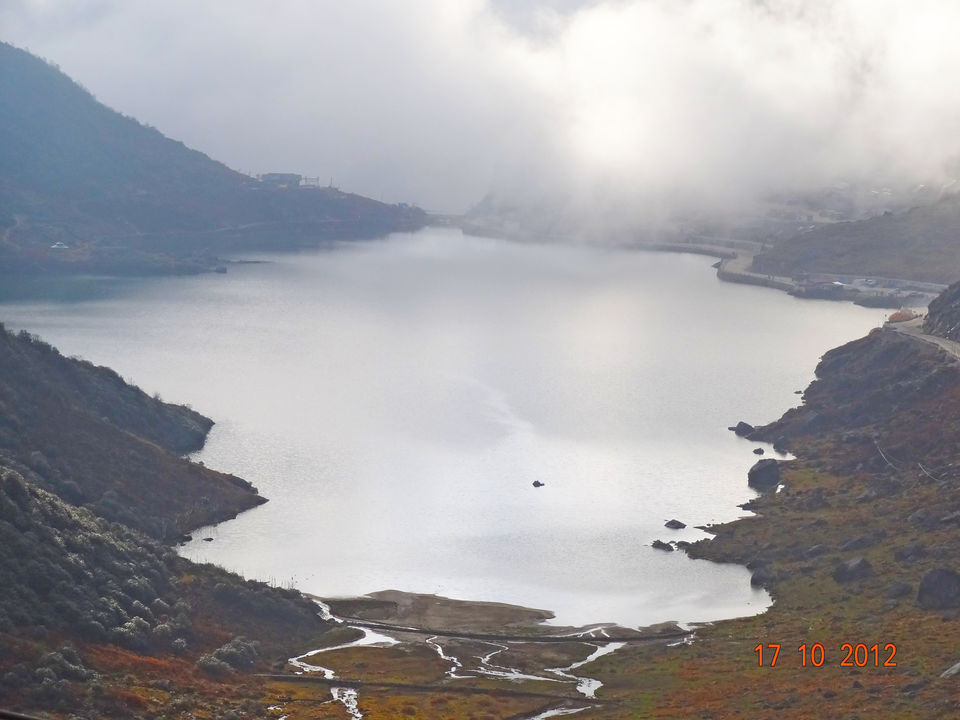 Tsomgo or Changu lake is a glacial lake located at an altitude of 12,310 feet. It is 40km away from Gangtok. This is one of the few high altitude lakes in India. It is an oval shaped lake. The lake is filled with water of melting snow coming from the surrounding mountains.The road has steep gradient.
You can find colourfully adorned yaks by the lake. You can take a ride on it.
All the three places are in the Indo- Chinese Border. Hence required Protected Area Permit.Need to get the permit done through a tour operator authorized by Sikkim Government. You can visit these places only by a vehicle provided by such tour operators. The permit is issued by the Sikkim Tourism Department in Gangtok/Police check post. You will need photo ID proof and two copies photos.
By the time, we started our return journey from Changu Lake, it was white every where. We were going through the mist and fog along the narrow hilly road.Visibility was as low as couple of meters. We all were terrified. Our driver,the young lad seemed adept in driving in this kind of situation. Fortunately we reached Gangtok safely by the evening.
Day 4 : Leisure Day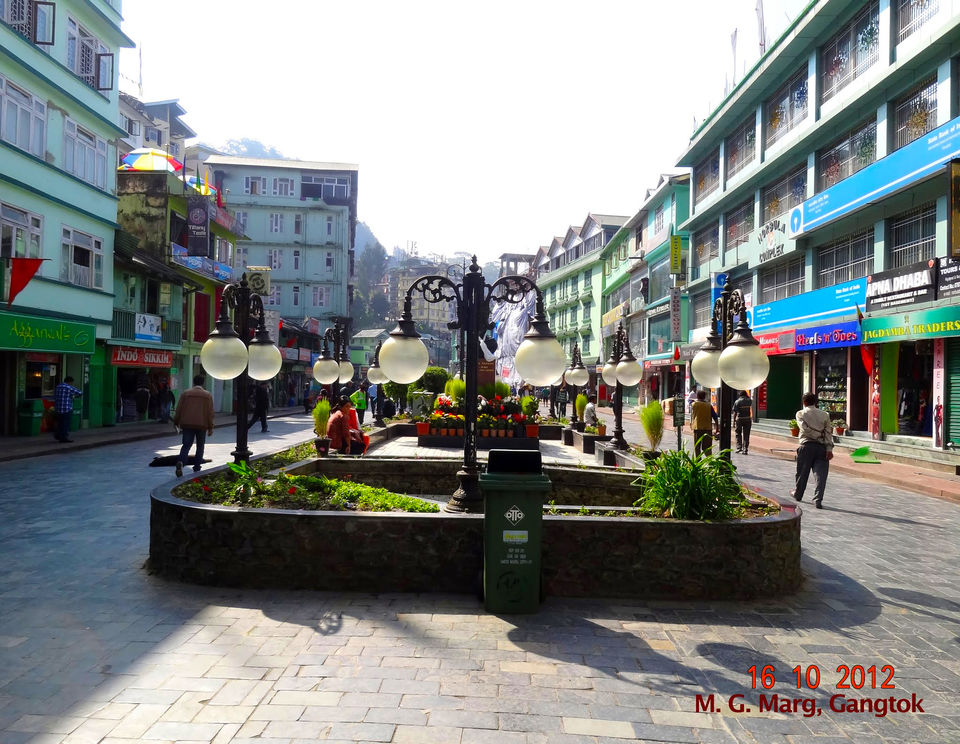 The following day you may start for Pelling or spent the day leisurely in Gangtok. We kept this free day for shopping and hopping in and around the M.G. Marg. We spend quality time there. Then went to Lal Market for shopping. You can get all kinds of woolen clothes here in a cheap rate if you are expert in bargaining. After a delicious lunch, we came back and took a little siesta. In the evening spent time at M G Marg again. After en early dinner retired to bed. As next day we would be proceeded to Pelling.
Day 5 : Gangtak to Pelling
Next morning, we set out for Pelling in a shared cab. The Road was scenic and journey through the winding narrow precipitous road was wonderful. We reached Pelling by 4 pm after taking two to three pit stops for food and tea.
Pelling has two parts - Upper Pelling and Lower Pelling. We chose Lower Pelling. The Bank of India's holiday home was pre-booked. The day was cloudy and cold. The evening was chill.
Day 6 : Pelling sight seeing
Next morning, the sky was clear and we witnessed the snow covered mighty Kanchenjunga, the third highest peak in the world, just behind our holiday home. It was so massive and so close. It just left us spellbound. As the sun started rising, the first ray of the sun fell on the mighty Kanchenjunga and the entire range tinged with golden stint. It was a sight to behold.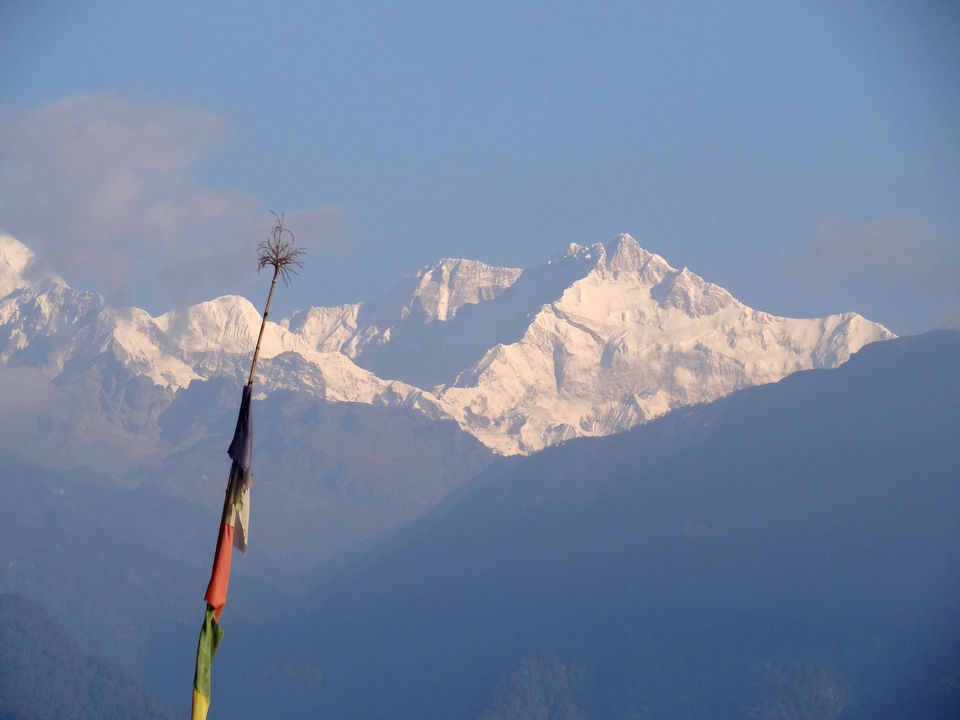 This lake is located at an altitude of 5600 feet. A short walk from the parking place, take you to the wooden jetty that lead you to the bank of the lake. The lake is surrounded by the lush green vegetation. A short hike through the deep forests of a nearby mountain, take you to a lovely view point that offers a beautiful aerial snap of the lake.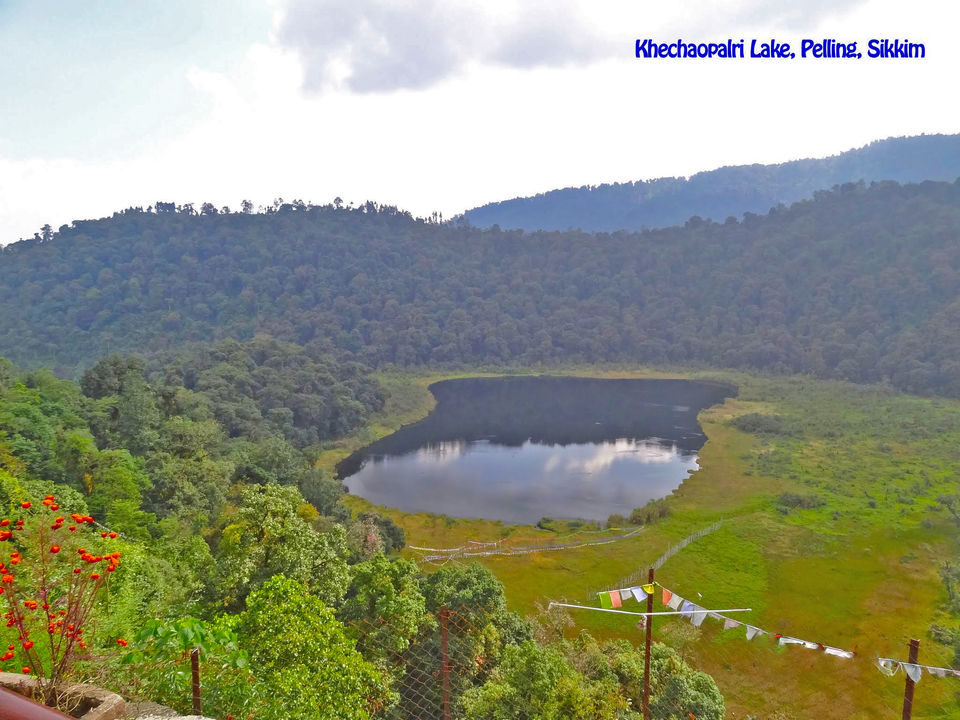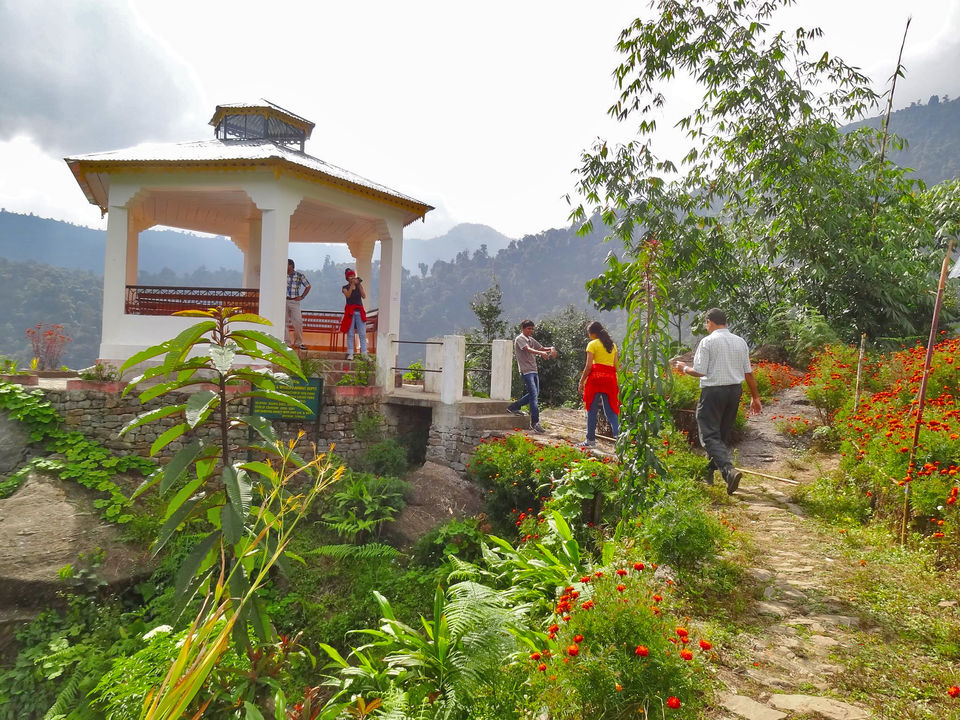 As this quaint hill station offers a number of beautiful places that urge us to get going and after breakfast, we went to explore this Himalayan wonder. We covered the following points.
It is one of the largest waterfalls in Sikkim.
Rimbi waterfall is a scenic waterfall formed over Rimbi river.
Rimbi Rock Garden :
Rimbi Rock Garden, also known as Sewaro Rock Garden, is one of the most popular tourist spots in Pelling . Lush green landscape, wide variety of flowers and winding Teesta River made this place a hot spot for travellers and photographers.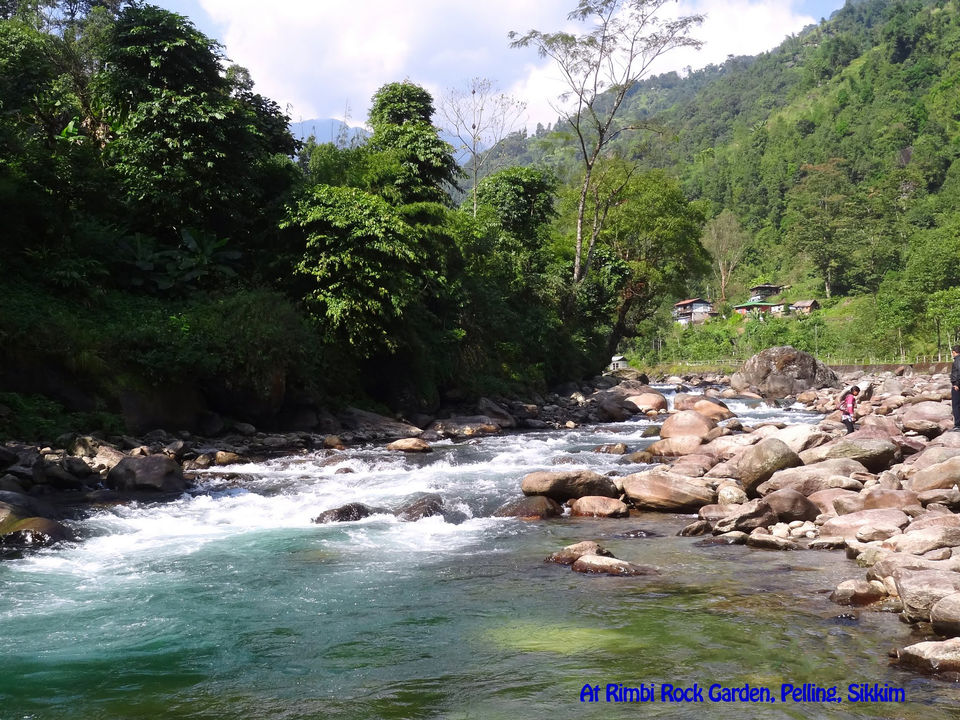 It is the highest bridge in Sikkim and second highest bridge in Asia. Walking along this bridge is a wonderful experience itself.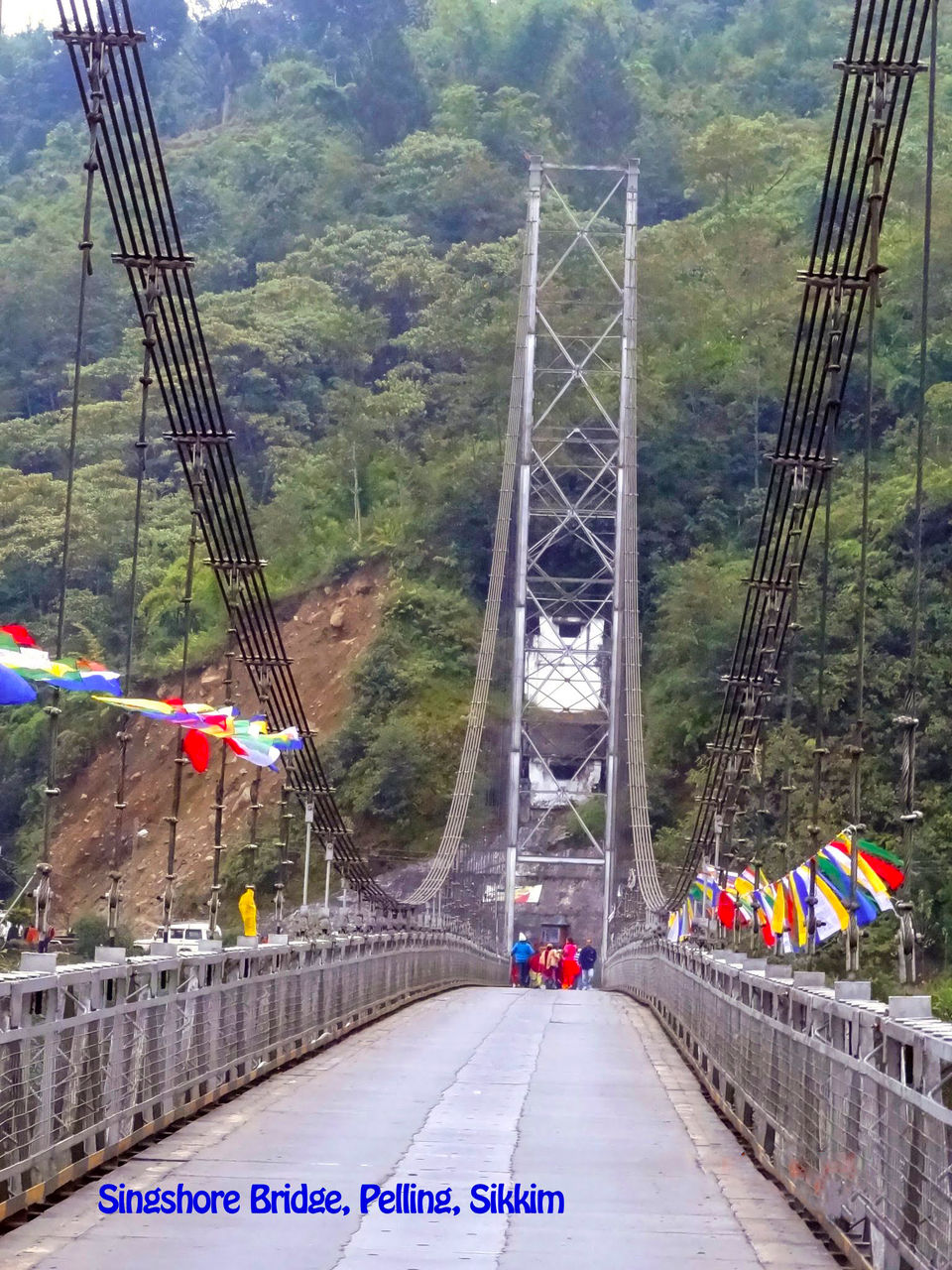 The most beautiful monastery of Pelling. As we reached there,the dark has already descended by then. So we could not able to get a picture.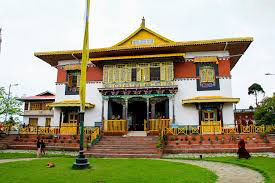 Post lunch, we headed towards Singhshore Bridge.
The day was pleasant but the evening was chilling cold. After a full day sightseeing, we reached Holiday home.
Day 7 : Pelling to NJP
Next morning, we started for NJP and reached there by 3 p.m We caught the night train for our return journey. Next morning we reached Sealdah by 6 am.
How to reach :
By Air : Nearest airport is Bagdogra which is located at a distance of 124 km from Gangtok.
By Rail : Nearest rail head is New Jalpaiguri Station which is 188 km and Siliguri station which is 145 km from the Gangtok.
Airport and station both are well connected with all the major cities of India. Bus and cab are easily available on a regular basis from the airport and station to reach Gangtok.
Where to stay :
Numerous budget hotels are there around MG Marg. You can also try Holiday Homes in Gangtok and Pelling as they are quite cheap.
Best time to visit :
October - November for clear blue sky and April -May for snow clad mountains and Rhododendrons, are the best time to visit the Gangtok.
Frequent Searches Leading To This Page:-
sikkim trip budget, sikkim tour itinerary, sikkim travel diary, sikkim travel articles , short trip sikkim itinerary