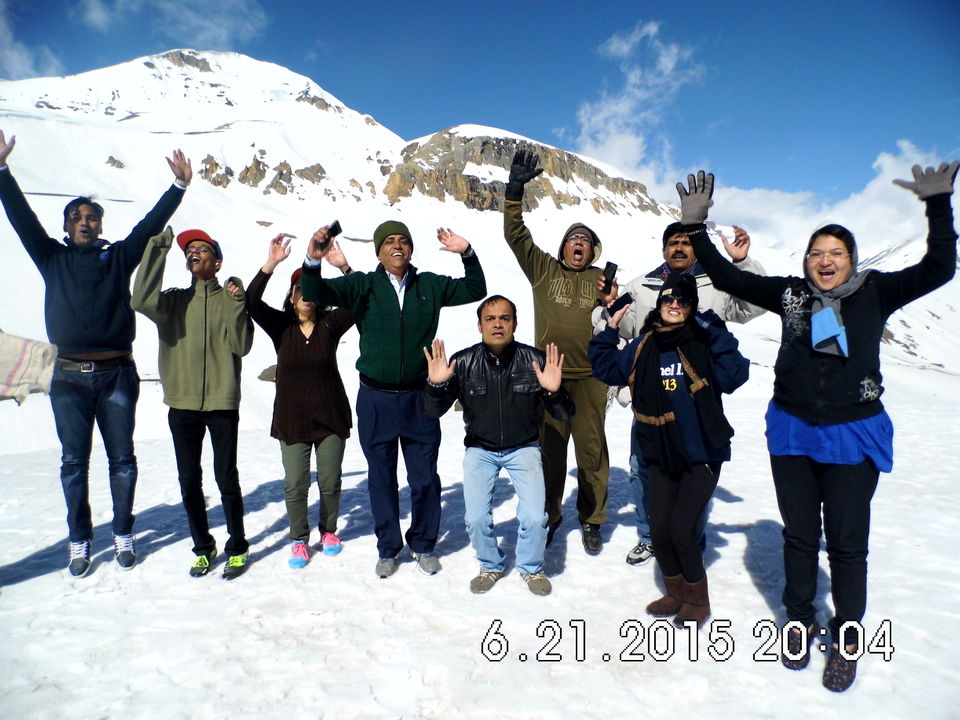 Sindhu Darshan Festival is a festival of india held every year on full moon day (on guru purnima) in month of June. It is held at Leh ( Ladakh). It stretches for three to four days. It was first started in the October, 1997 and continues to be held every year since then, attracting large number of foreign as well domestic tourists.
The Sindhu Darshan Festival, as the name suggests, is a celebration of River Sindhu, also known as the Indus. The main reason behind the celebration of Sindhu Darshan Festival is to endorse the Indus River (Sindhu River) as an icon of the communal harmony and unity of India. The festival is also a symbolic salutation to the courageous soldiers of the country, who endanger their life to save ours.
We spend our lives thinking about the lives we aspire for, but our aspirations never turn into reality. And suddenly, we realize that there is no time left, we regret about the small things we could have done to make our lives more memorable. We want to go back to our young days, but, alas, no such technology as time travel has either been discovered or invented. That is a bad option we can only dream of. So, why not do it now. But now, we are not left with energy, or the doctor refuses to let us go. And therefore, we keep on thinking, and wait for the climax desperately.
I guess, almost 90 percent world's population survives instead of living. They may be satisfied with their lives, but are they happy, like really. We live in a dystopian society, when evil and hatred is more evident than kindness. We run towards the destination, never slow down to look at the path, which is far more beautiful than the destination.
I wouldn't have realized this long before I started off all of a sudden for what could be my first journey to Leh. I reached Ladakh on 22 June. So yes, I was living a dream. I was in Ladakh, along with my wife and son, and a long travel itinerary. After almost 4.5 days of traveling from Indore, in train and bus, I finally reached the destination, which I had planned since childhood. It was just 10 pm, but the entire town was already barred and closed. The small towns are not like Metros. Finding even a medical store after the dusk or in late evening hours, is almost impossible. I reached my hotel in Leh's main bazar by 11:30 pm, and crashed on the bed. After a long fulfilling sleep of 8 hours, I dressed up, and went for breakfast at a nearby cafe. The lingering memories came rushing to my mind when I missed the opportunity to get recruited by Defence Agricultural Research Laboratory, Leh in 2003. The next 4 days were supposed to be the happiest days of my life.
Next day, I took a taxi for the world's highest motor-able road Khardungla Pass which is at height of 18380 ft. It was a 1.5 hour beautiful ride from Leh's Polo grounds. It started with a rocky landscape, and with increasing altitude everything around started turning white. As I was moved up, the mountains seemed to be moving down. It was unbelievable that I was on the Khardungla mountain pass which a day before looked almost unreachable. Khardungla is popular tourist destination which was occupied by wanderers like me, hoping for some adventure. The road though is not easy, full of jerks and one cannot travel without having a bumpy ride but then the real beauty is often explored after hard work only. I was on World's Highest Motorable road, it sounds fantastic, doesn't it? I was living and re-living the moments trying to quench my thirst for beauty and serenity of the place, knowing that it would be almost difficult to visit this place again. I got so overwhelmed and spell bound that I wanted to capture every moment and clicked 'n' number of pictures of the exotic view, asked strangers to click my pictures, clicked their pictures and yes, got clicked with them.
In the evening, we started off for the Festival area and reached there early. Being curious about the place, I went on exploring and reached Karmadupkyudchoeling Gompa, which is besides the place of Sindhu Darshan Festival. Difficult in pronunciation though but this is a famous Monastery in Leh. This is the first Monastery in Leh that I visited. Talking to the Monk, I found him a very knowledgeable and amicable person. The monk told me about the religious significance of the monasteries and the architecture and even told me a number of things about the Gompa, and the places that I should visit during my stay. I attended the Sindhu Darshan festival taking place besides the religious Sindhu River, also known as Indus. The organizers were kind, and I re-joined my travel partners at the festival.
The next day, I visited the festival again. Next, I visited, Shey Palace built in 1650 AD by King Nambyal. It enshrines copper gilded statue of Lord Buddha, rising up to 3 stories. The next halt was Thiksey Gompa. Thiksey belongs to the Yellow Hat or Gelugpa secr of Tibet, and was visited by 14th Dalai Lama in 1970. Thiksey is one of the oldest monasteries of Ladakh at an altitude of 11,800 ft.
Around 6 in the evening I decided to go explore the Leh bazaar with my two companions who were staying in the same hotel as me. Leh Bazaar is full of handicraft shops, and stocks mostly Tibet silver jewellery. We had dinner at a local cafe, mainly to take advantage of the free wifi.
I started for Pangong Tso the next day at 8, it was chilling. Properly dressed-up in muffler, sweater and gloves, my new travel companions and I sat in the hired taxi. Only Jammu Kashmir taxis run in Ladakh. Pangong Tso is one of the largest brackish water lakes situated at 14000 ft. It is in the conflicted Sino-India zone whose 60 percent part lies in Tibet. It is also said that it was a tributary of Indus River which got cut from it due to natural damming. I was very excited because I had seen this lake in the famous Jab tak h jaan and 3 idiots. We were some 50 kms from the lake when it started raining, and in almost 15 minutes I saw flakes of snow all over the place. I was elated, my dream had come true. I had never ever seen a snow fall, seeing the white flakes was something which bought immense happiness. The dry rocky mountains got covered with snow in no time. It was like heaven. 35 kms before destination at the second highest motorable road Chang La, our driver stopped the taxi and I jumped out with joy. I started dancing in the snow. It was beyond beautiful.

The roads got slippery, and the taxi wasn't strong enough to move further. And sadly, we had to come back from Chang La itself. I don't regret not going to Pangong Tso, because I experienced something amazing and something which I always craved for.
We had an entire day before us. Our driver whose complicated Buddhist name I cannot pronounce, but I remember his last name Norbu told us about some interesting places to visit in Ladakh. So Norbu, took us to Hemis Gompa. One interesting fact about Norbu is that he was a soldier in India army for 18 years, and also fought the Kargil War. Norbu started telling us about the war, how he shot the enemies, what they learn in the army training, and about the villages we were passing by. He took us to a small village of Leh, where we found camels with two humps. These are peculiar type of costly breed of camels which originally belong to Mongolia. In India, these camels are found only in Ladakh.
We came back to the town, and I decided to explore some more. So I started walking and reached the famous Leh Palace. The palace located in the middle of the town, is built at the top of a hill and is 9 storied. So, one needs to climb too many stairs to reach the palace, and then climb another set at each floor. But it doesn't get tiring, because the palace is exotic, and one starts wondering about the life of the king and his horses. The entire Ladakh is visible from the hill, from the ranges of Nubra Valley to minarets of the mosque, everything is in front of you from the 5th floor itself. It was dinner time till we reached our hotel, and there I met a guy from Rajasthan, and started talking to him. He was traveling with his friends, and was going to Leh-Kargil road on bike. I asked him if I could join him, and he said yes.
So the next day, we started off from bike for our exploration covering the Leh-Kargil stretch. The Leh-Kargil road is the best road of India, it is vast, surrounded by the rocks and sand, and some beautiful places to see. Our first halt was the Hall of Fame, a museum which is made in the memory of the brave soldiers who lost their lives fighting for the nation. 1 km ahead of the Hall of Fame is Spituk Gompa, another Gelugpa Dynasty. Built in 14th century, it has a historical significance in the Budhist history of Ladakh. We started for Pathar Sahib Gurudwara after the Gompa, the wind was blowing, and my curly locks waved in the air like a flag. I felt liberated, and free, like a bird. It was my last day in Ladakh and I was making the most of it. Pathar Sahib is a peaceful and a beautiful place of worship, I thanked God for his blessings throughout the journey, and asked him to keep my journey as beautiful as it had been. After Langar (lunch) in Gurudwara we went to Sangam, the confluence of rivers Indus and Zaskar. The confluence was clearly visible, the two rivers of different colours went to become one. The entirely different waters became one, it was like mixing up of two religions in a marriage. It was wonderful. And that was the farther halt on Leh-Kargil road. While going back we stopped at the Magnetic hill. In the midst of nowhere, we were two strangers sharing the common love of travel sitting on rock and watching the crystal clear sky, and sandy rocks. Magnetic Hill is supposed to have magnet like properties in it, which can pull a bike without power. After Magnetic Hill we started off for Shanti Stupa close to Leh town, And that was the last day in Ladakh. I was returning back, again by road the next day.
There are few people in life whom you meet once, and never meet again. They are the ones who form short stories, and teach you about the life more than the books. Now, I have so many short stories to tell, the stories which inspire me and make me feel happy and pleased.