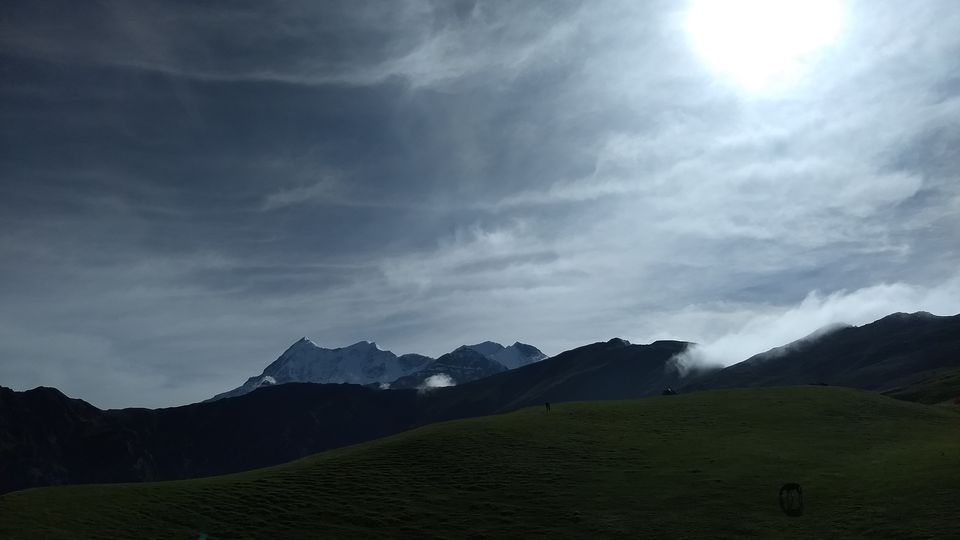 "Turning in the grain again, the bells begin to chime.
Time, she says, "there's no turning back, keep your eyes on the tracks"
through the fields, somewhere there's blue,
oh, time will tell, she'll see us through,
Howling out, the windy hills.
and all the time we took, you should know just how it steals.
keep your hand on the wheel, and through it all, somewhere we knew,
Time will tell, she'll see us through."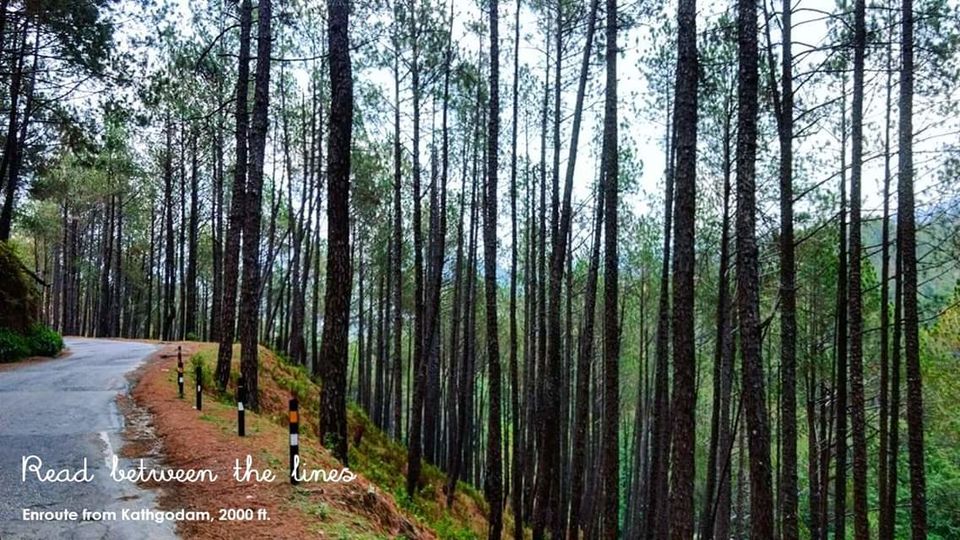 Day 1: Kathgodam Railway Station to Lohajung
Me and Harsh Jain, has always thought for doing this trek, after doing 3 Treks, and this is the first time, we registered with Indiahikes.
So, the best thing about Indiahikes is that, you got people from across all states and it is really beautiful to gather at one place, where we all were unknown to each other, except initial conversation we had during whats-app group chat.
We all reported on 24-May-2017 at Kathgodam Raliway Station, where we greet each other and set for the 8 hr journey towards Lohajung, which is the first halt, before we embark for the trek.
On the way we came across beautiful landscape, where everything was just perfect from weather to food and some random local fruits.
Upon reaching at lohajung, we were greeted with Indiahikes staff and our guide i.e Imroz Syed, and local guide Dhan Singh and Umesh Singh ji.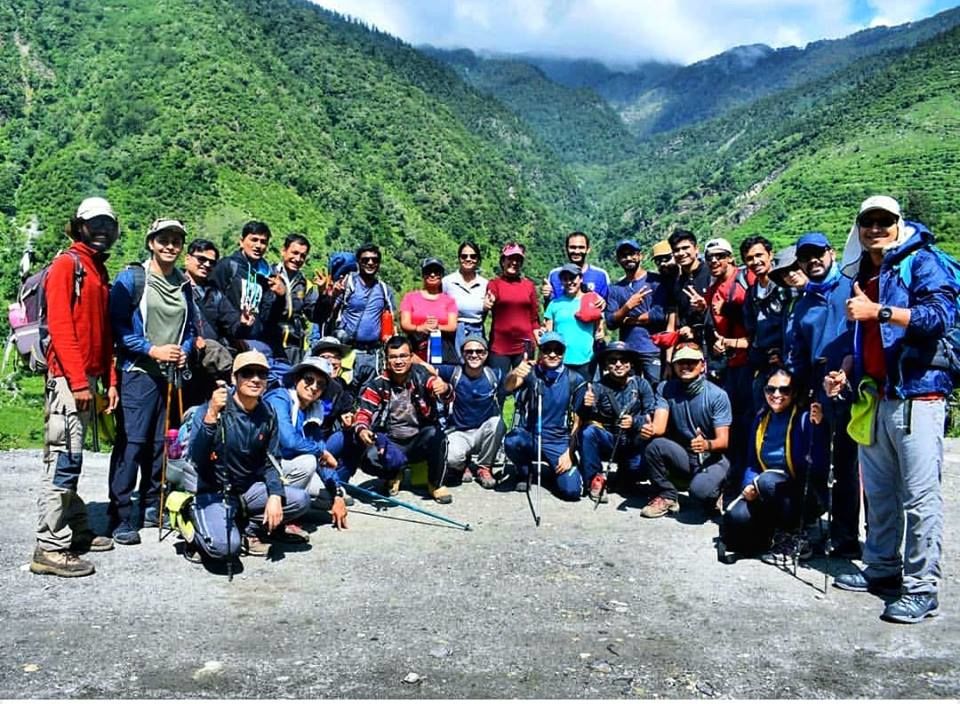 We were total of 26 trekkers from Gujarat, Bengal,Delhi,Pune,Hyderabad,Punjab,Bangalore, so all in all, it was truly Unity in Diversity group, where we had introduction of each other and best among all was our Gujju Gang, they were amazing soul, who carried food for everyone and very humble people and i swear, i haven't came across that group so far in any of the treks.
Day 2 - Trek From Lohajung to Gharoli Patal.
Altitude: Start trek from 8,000 ft (2,438 m) to 10,000 ft (3,048 m).
Time taken: 1 hour drive to Wan + 4 hour trek from Wan to Ghairoli Patal
We started around 10:00 A:M from lohajung and they drove us till Wan village, and from there after walking for almost 4-5 hr, we reached Gharoli patal and rain welcomed us upon reaching there, Indiahikes maintain the trek so well, since it's there Legacy trek which is running from last 10 years, so the trail is also very quiet, where no other trekker is visible apart from Indiahikes Trekker, which gives isolation and quietness in the mountains.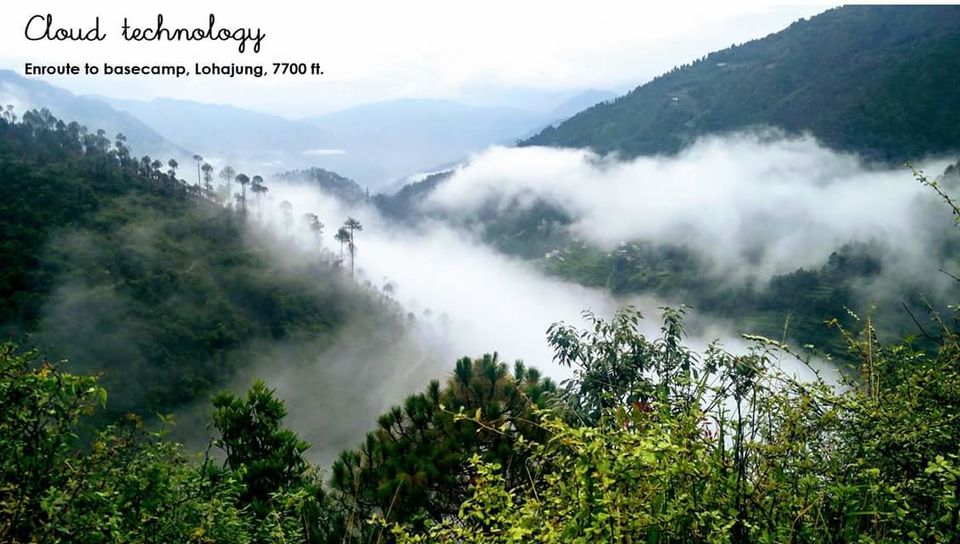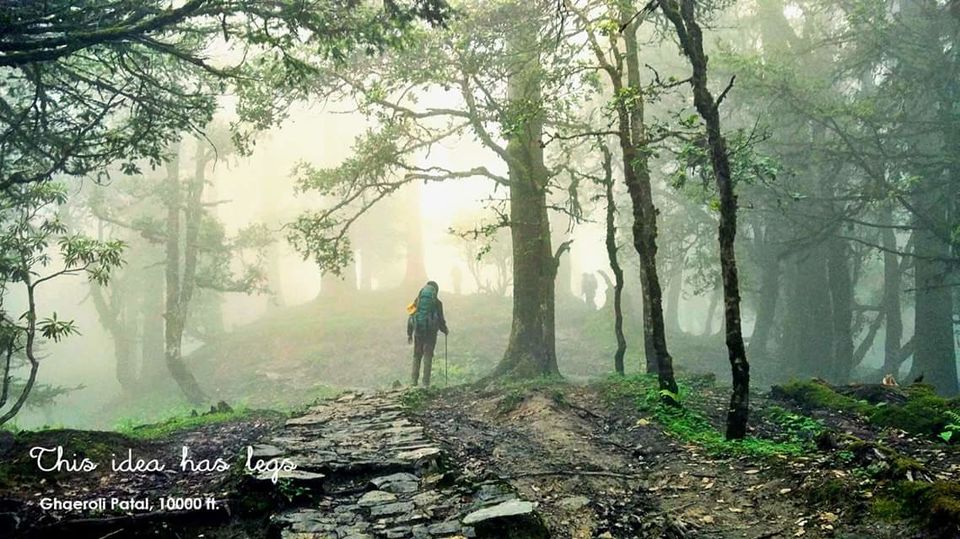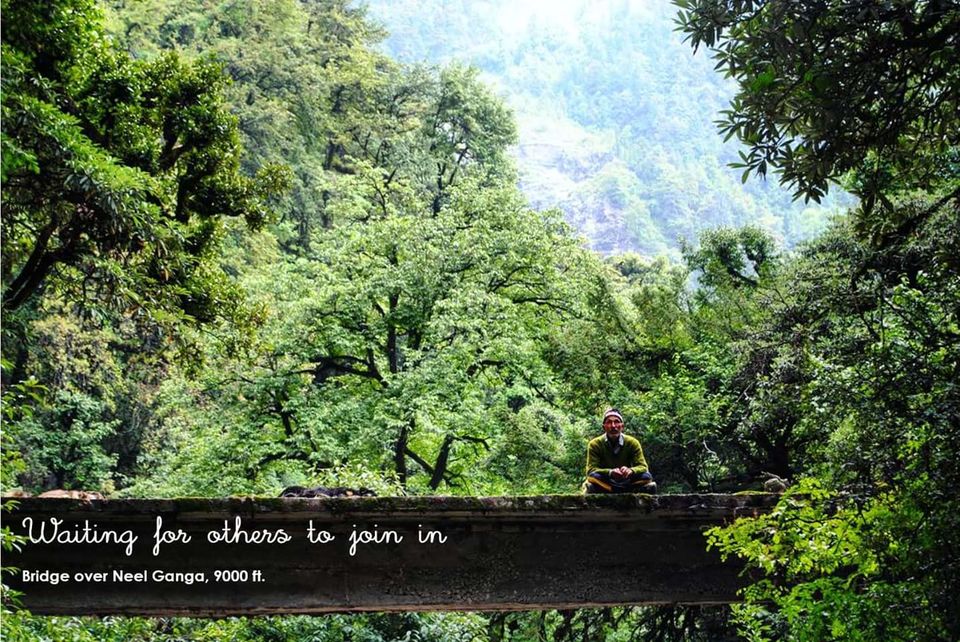 On the way, there is a temple known as Latu Devta Temple.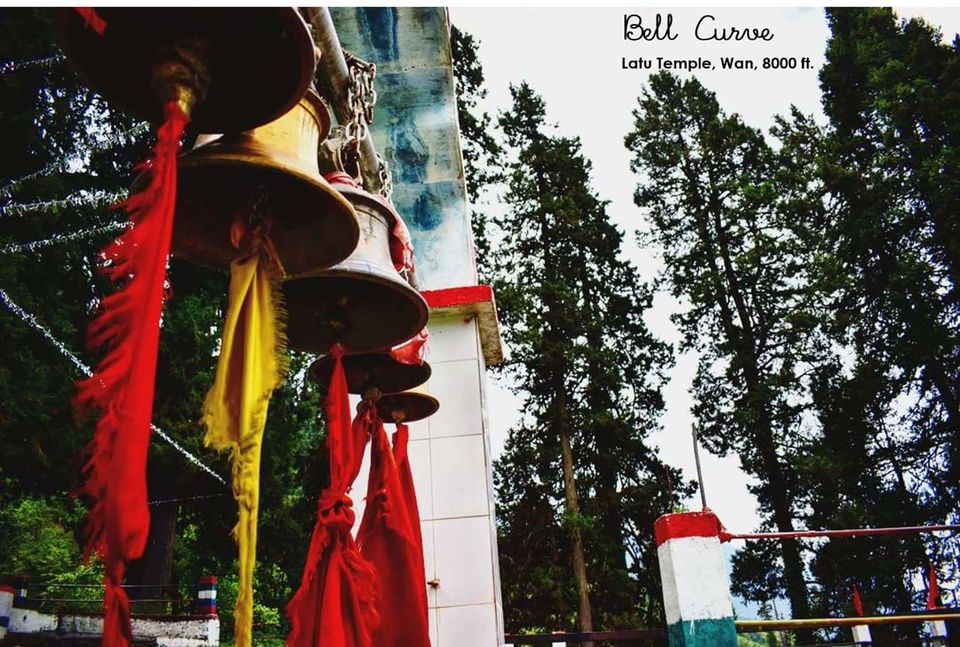 Latu Devta is a local deity, who is believed to protect the area. The mountain folk pay obeisance to him before ascending higher on the Nanda Devi Jat Yatra. Ring the temple bell here for a safe trek before going back to the ascending trail to ridge – Ranaka Dhar. It takes 30-45 minutes to ascend from Wan to Ranaka Dhar. At Ranaka Dhar, take in the view of Lohajung, Wan and the valley below! The name Ranaka Dhar comes from the battle Parvati had with the demon Lohasur. Their battle, which started in Lohajung, culminated here. The name Ranaka Dhar means "flowing blood". (Source from Indiahikes Page).
Day 3: Ghairoli Patal to Bedni Bugyal
Altitude: 10,000 ft (3,048 m) to 11,500 ft (3,505 m)
Time taken: 2 hours
The trail is little steep at initial level and after half an hour of ascending, the oak & Rhododendrons trees got behind us and we were greeted with Desktop wallpapers, which we often see in our Windows PC wallpaper, it was a sight for the capture every scenery which we ever dreamt of, can be seen live in front of our eyes.
The right side of the trail took us to Ali Bugyal and after reaching there, we found one maggie point, where we had food and rest, while Our Gujju brothers were doing Garba and i taught them some Bhangra Steps and they tried and it was fun to wake up the child inside us.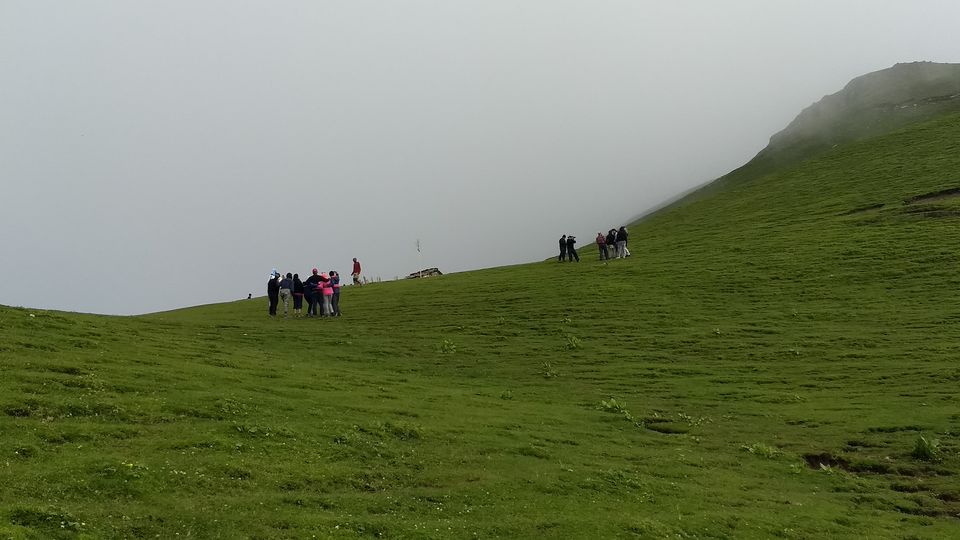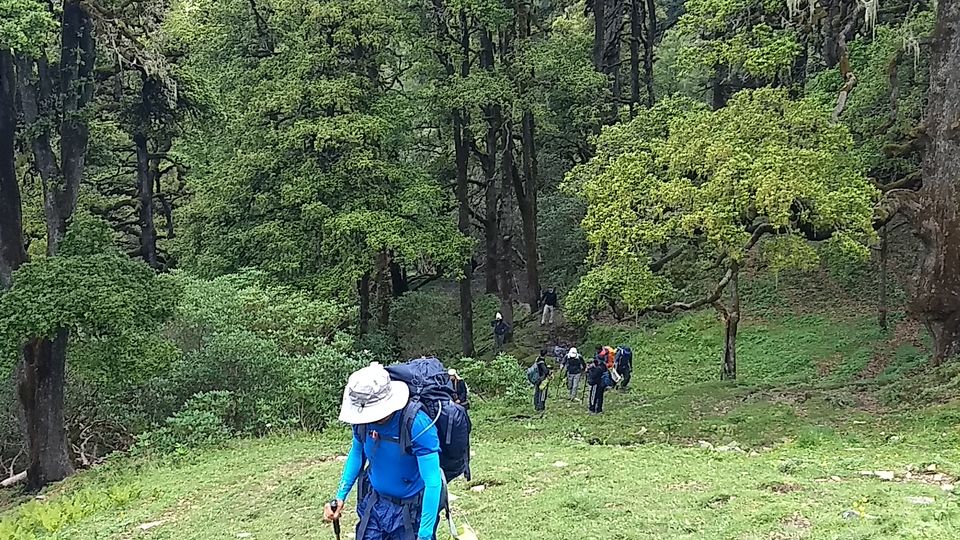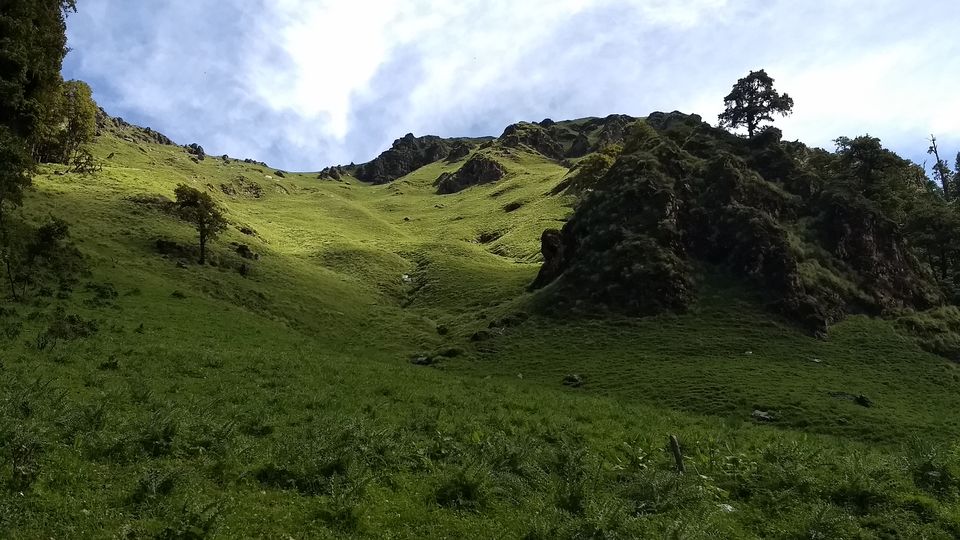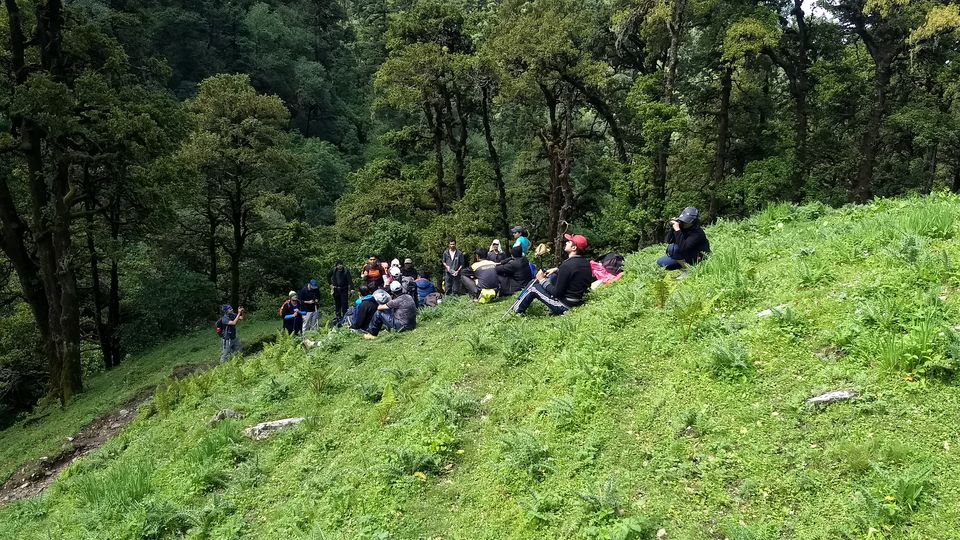 Day 4: Excursion to Bedni Top

Altitude: 11,500 ft (3,505 m) to 12,200 ft (3,719 m)
Time taken: 1 hour
It was our rest day and meant for body to get acclimatised to the height, which we are going to ascend.
It was uphill climb and after walking continuously for an hour, we reached the Bedni Top, from there the view is like bird' eye view and we can saw our tiny campsite from there.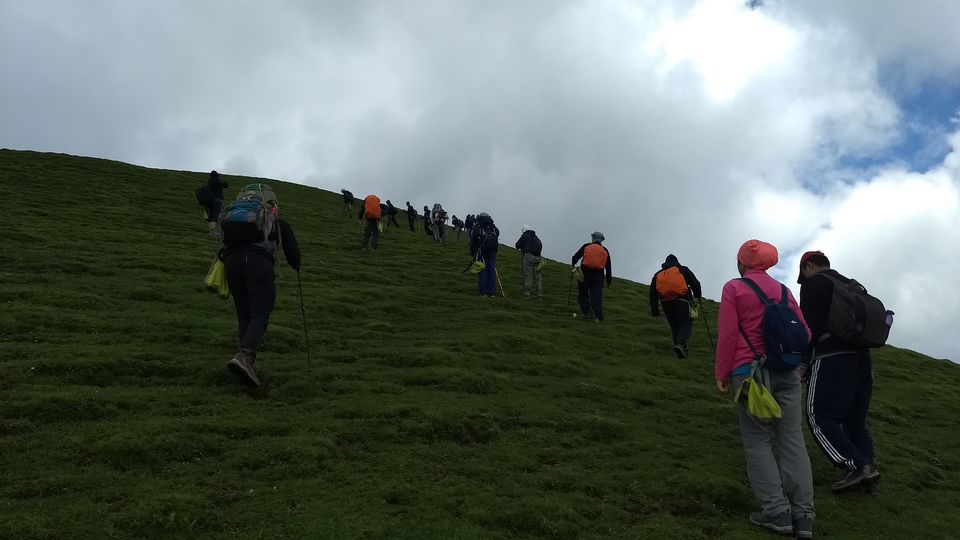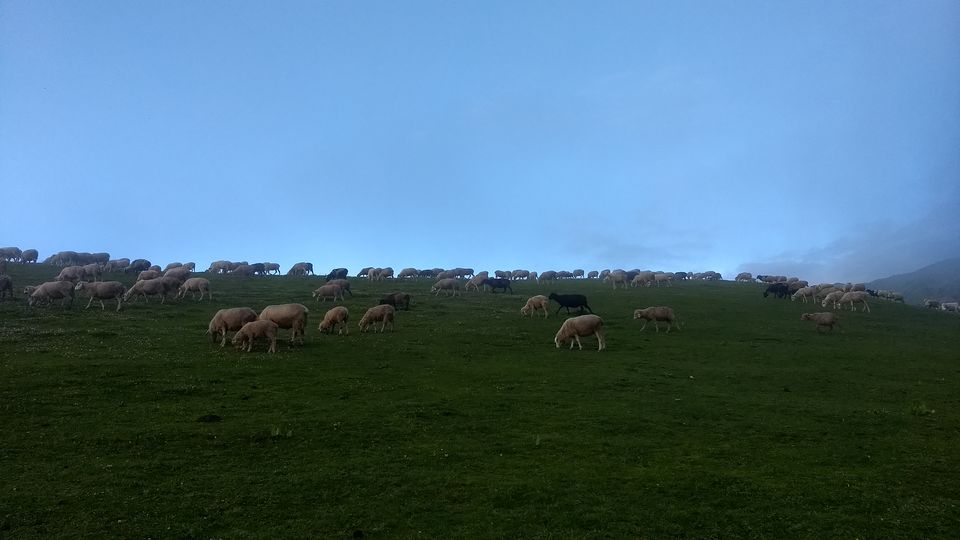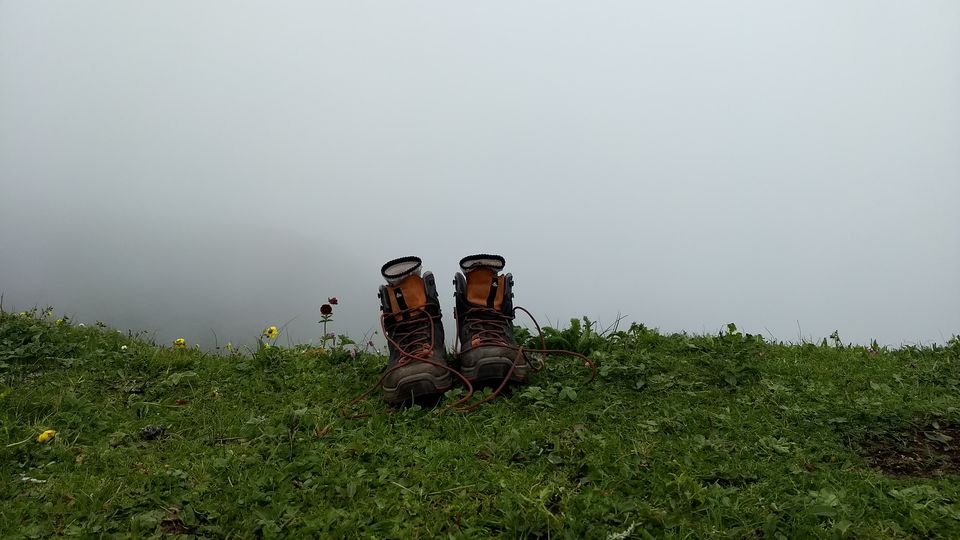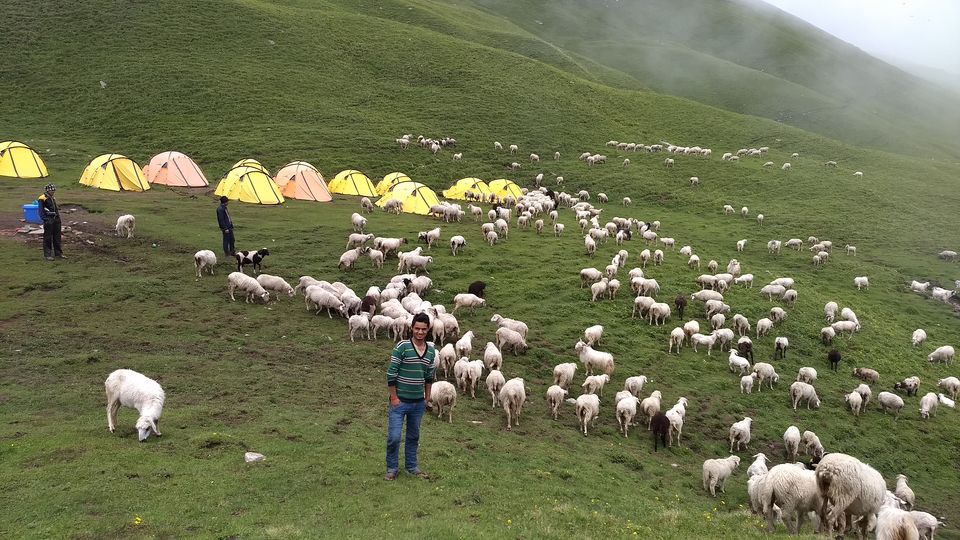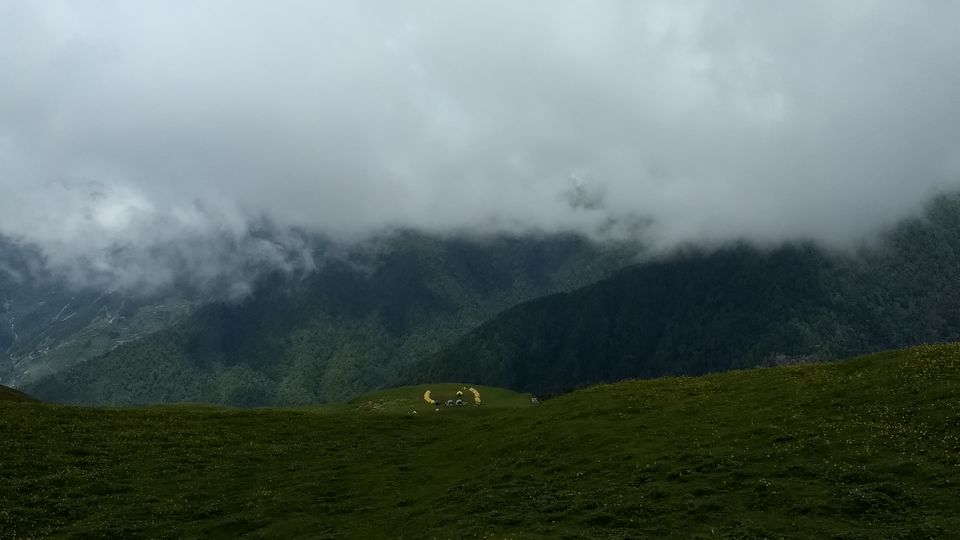 This was the campsite, where we played football, volleyball, catch catch, sang a song, everyone was so involved and we forgot that we have work to do, after going back, we were just in the moment.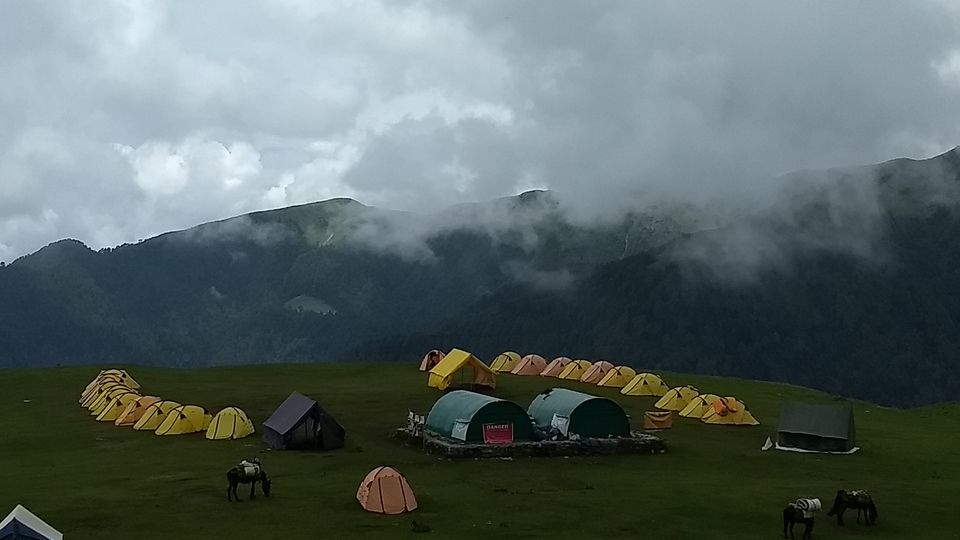 Day 5: Bedni Bugyal to Patar Nachauni
Altitude: 11,500 ft (3,505 m) to 12,700 ft (3,871 m)
Time taken: 4 hours
Now we headed towards another campsite, Patar Nachauni, which has the story, that Stones used to dance at this place, that is told by our Guide.
It is the easiest walk in the whole trek, just have to walk straight in the foggy clouds and green mountains on our side.
The place to halt is at Ghora Lotani, where the meadows merges into the mountain side & we had some great shots and our lunch here.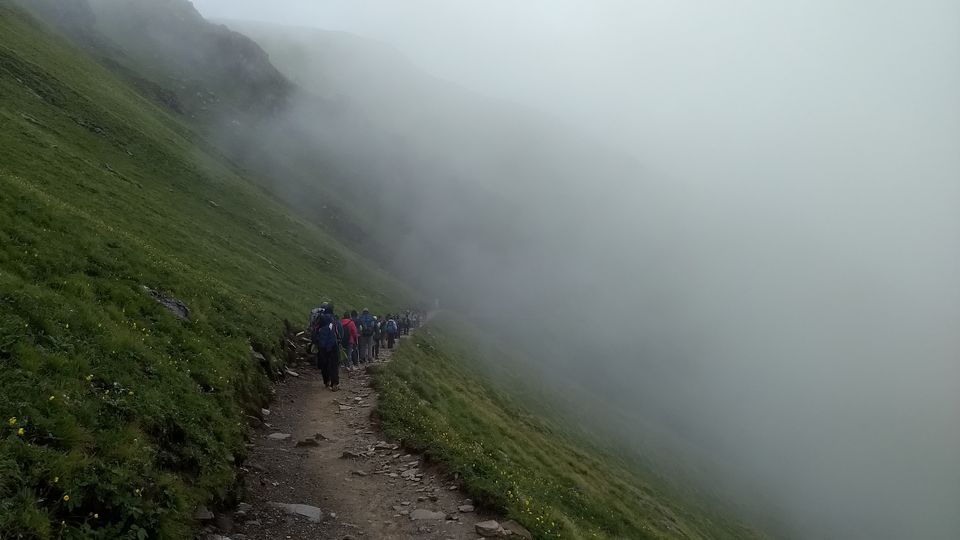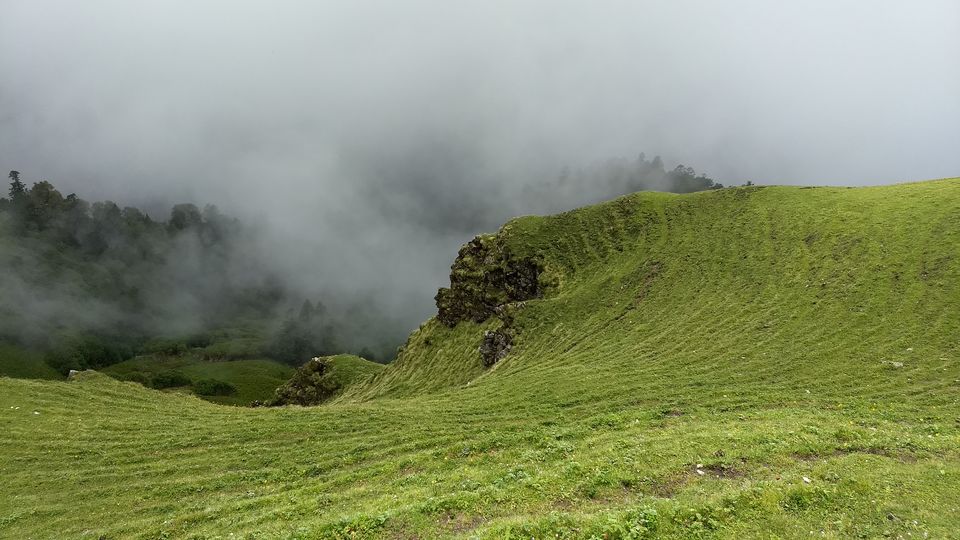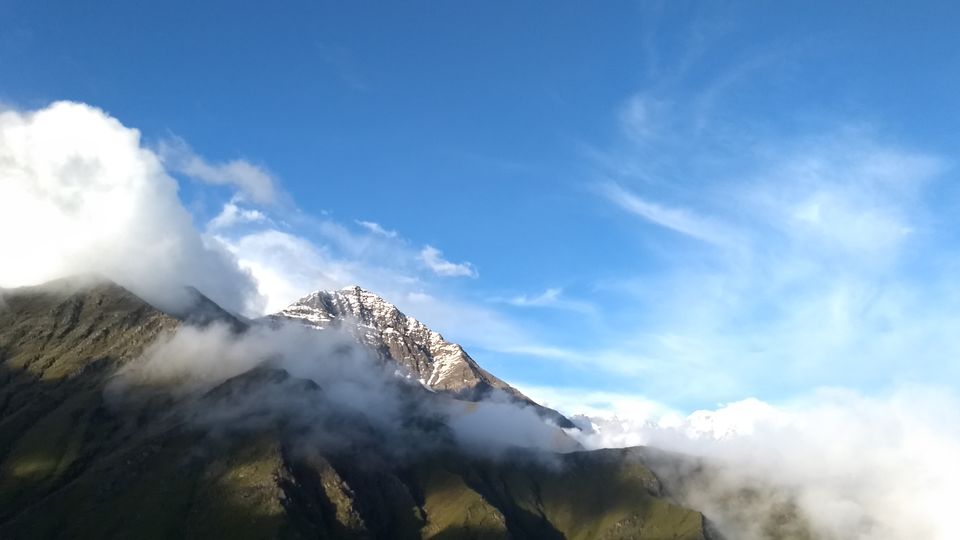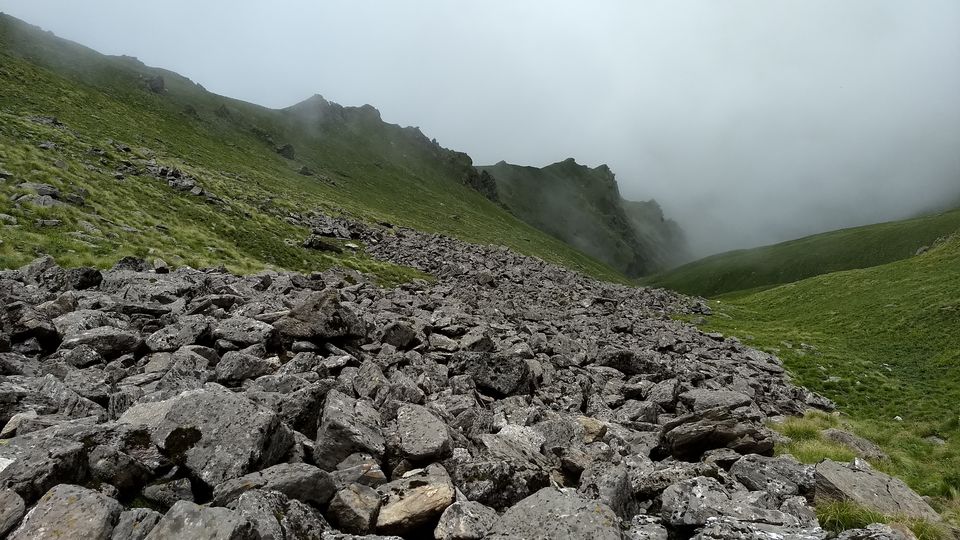 Day 6: Patar Nachauni to Bhagwabhasa
Altitude: 12,700 ft (3,871 m) to 14,100 ft (4,298 m)
Time taken: 5 hours
This is the only place in the Trek, where we got the signal to call, and it was really unbelievable for every one of us, that we can get signal after crossing 13,000 ft height.
The climb was zig-zag till Kalu Vinayak temple and on the top, there is Lord Ganesha temple, where we halt and prayed for everyone's safe return.
And it is also the food point before we headed towards Bhagwabhasa.
From there, the Bhagwabhasa is an easy walk mostly sloping downwards and it is around 2 Km walk.
We were welcomed with Rain at Bhagwabhasa and met most senior coordinator of Indiahikes, Anuja mam, who briefed us about do's and don's and along with , we were accompanied by technical Guide who will assist us, towards the Summit Day.
After our dinner we slept for early call for the summit.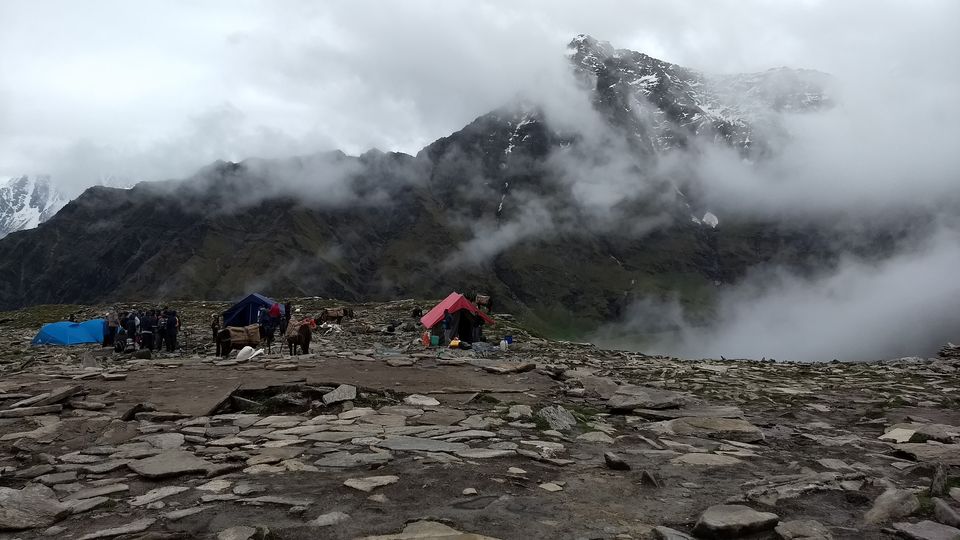 Since, most of the time it was cloudy, so didn't got many pictures of this campsite.
Day 7: Bhagwabasa to Roopkund to Junargali. Return to Patar Nachauni via Bhagwabasa
Altitude: 14,100 ft (4,298 m) to 15,750 ft (4,800 m) and down to 12,200 ft (3,719 m)
Time taken: 3 hours to Roopkund + 2.5 hours return to Bhagwabasa + 3.5 hours return to Patar Nachauni
We were waked up by 2:30 A:M and told us to have the breakfast before 3:00 A:M, so we can start as early as possible.
We were all layered up in 3-4 layers and geared up for the D-Day, for which we all have came and prepared.
It was the most important day of the whole Trek, where we gonna see the Skeleton Lake at massive altitude.
We started around 3:45 A:M our ascent and while going upwards, the Oxygen level was going down and we can feel it.
But with the help of our Guide & team spirit, we reached the Summit around 6:45 A:M, & with this timing, we became the fastest to reach the summit.
Everyone greeted each other and it was very cloudy at the Top, so going to Junargali was not possible, some tried, but couldn't reach till Junargali, which is the point from where Mt Trishul can be seen just in front.
But with this incident, we have one memory and in our group, Harsh always said us, that he did "Almost Junargali", from where our Whats-app group formed with the same name.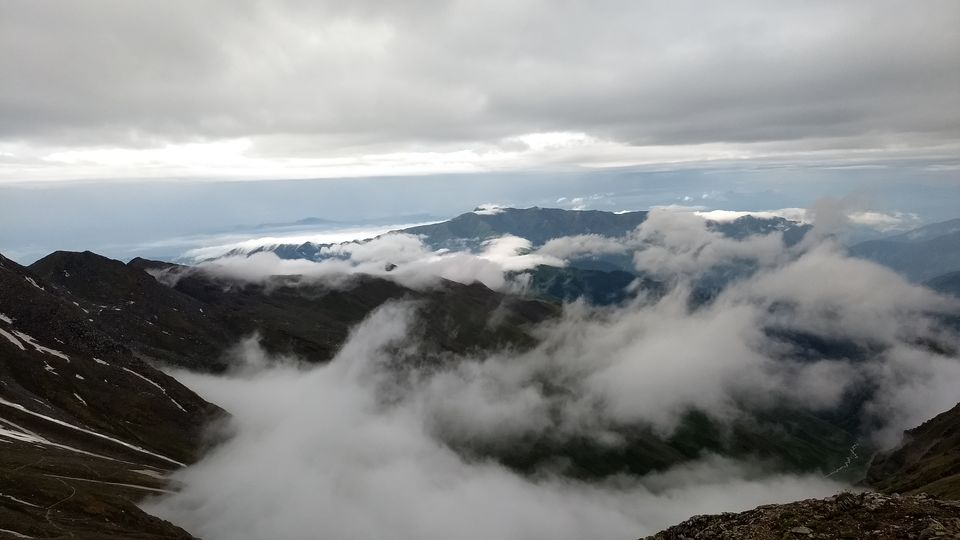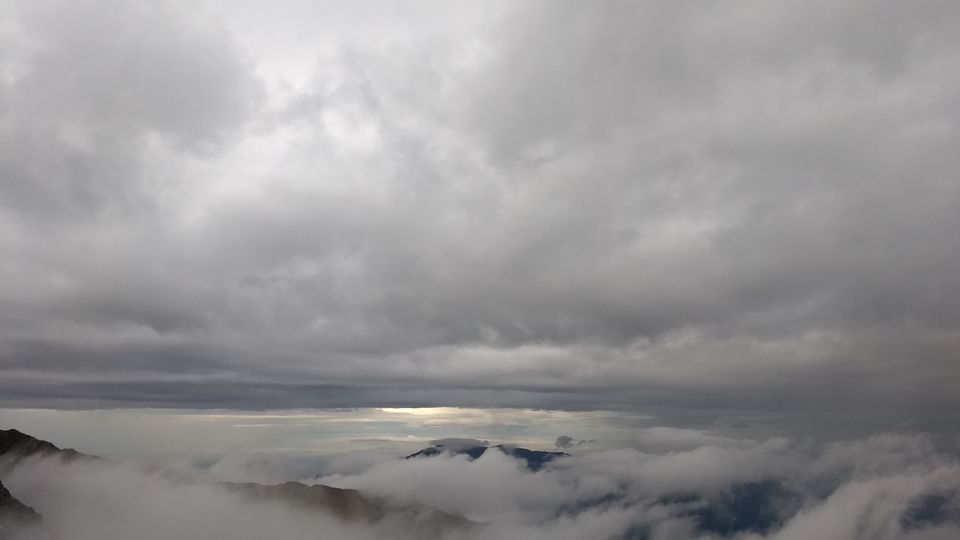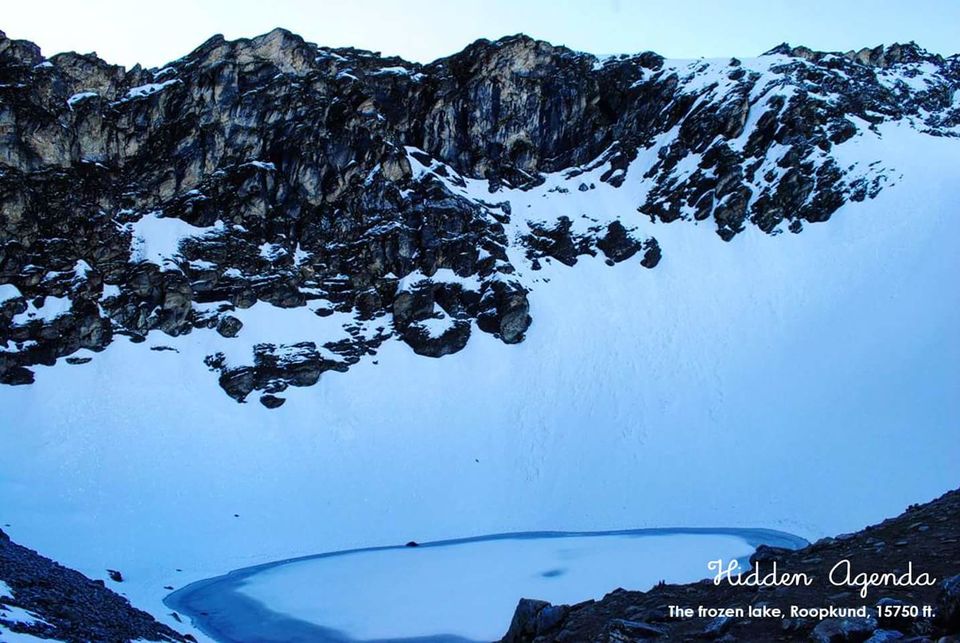 Roopkund is a crater on the mountain face.
The Roopkund Mystery: The "Skeleton Lake" has intrigued anthropologists, scientists, historians and the local people ever since. Who were these people? What were they doing in the inhospitable regions of the Garhwal Himalayas? Local folklore has it that in medieval times, King Jasdhawal of Kanauj wanted to celebrate the birth of an heir by undertaking a pilgrimage to the Nanda Devi mountains in the Garhwal Himalaya. However, he disregarded the rules of pilgrimage by boisterous singing and dancing. The entourage earned the wrath of the local deity, Latu. They were caught in a terrible hailstorm and were thrown into the Roopkund lake! (Source Indiahikes)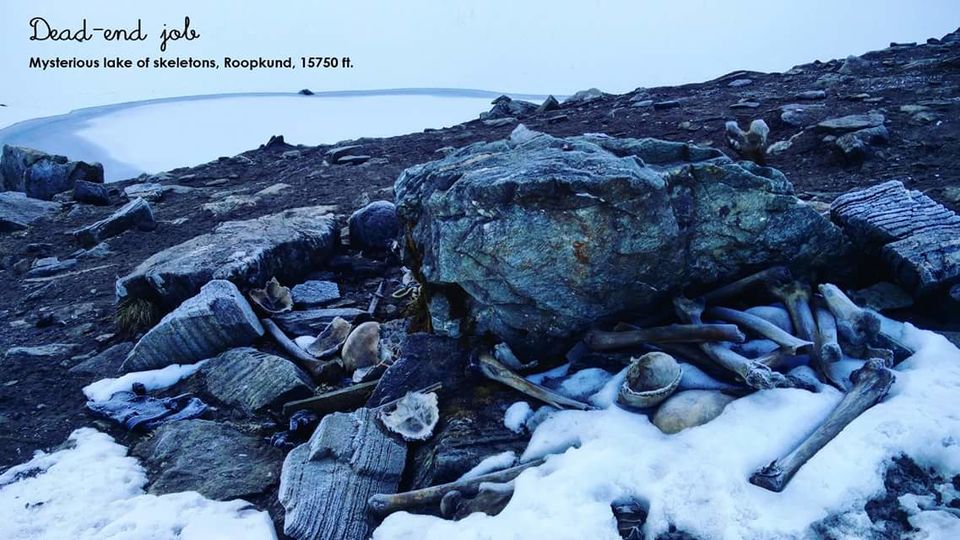 Day 8: Patar Nachauni to Lohajung via Bedni and Wan
Altitude: 12,200 ft (3,719 m) to 7,700 ft (2,347 m) via 11,500 ft and 8000 ft
Time taken: 6½ hrs to Wan plus 1 hr drive back to Lohajung
This was the most tiring day of the Trek, where we have to walk down whole distance, which took 3 days to ascend.