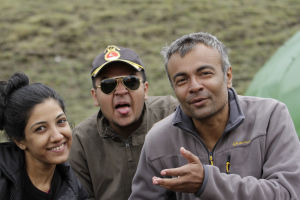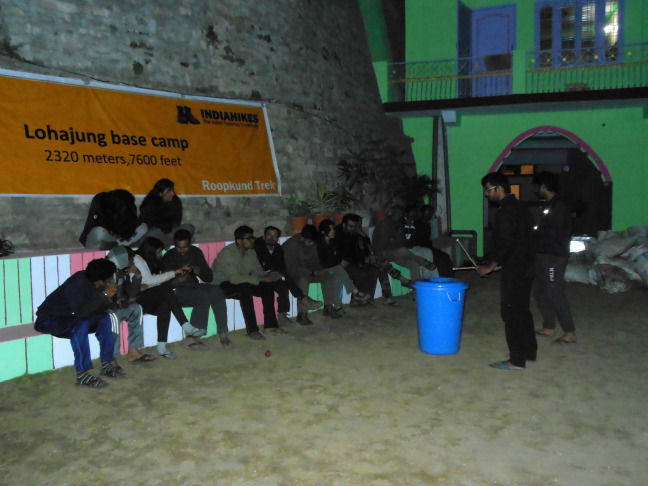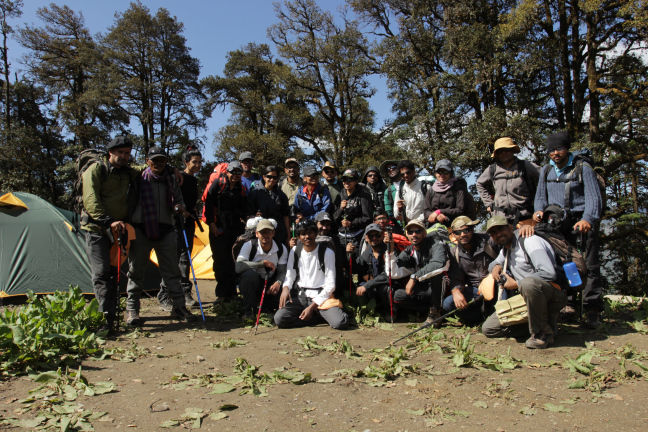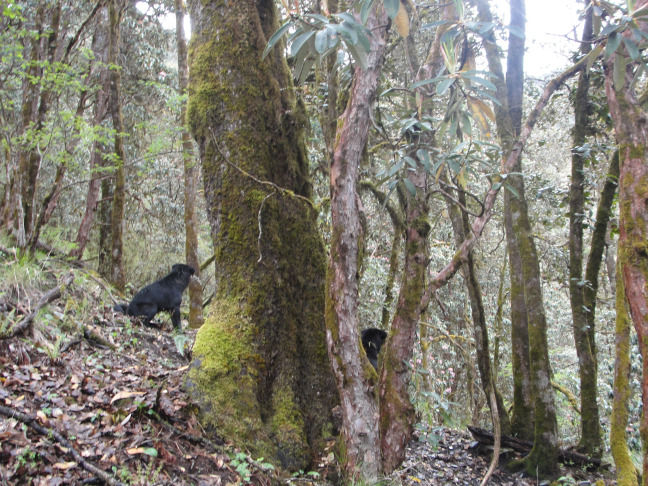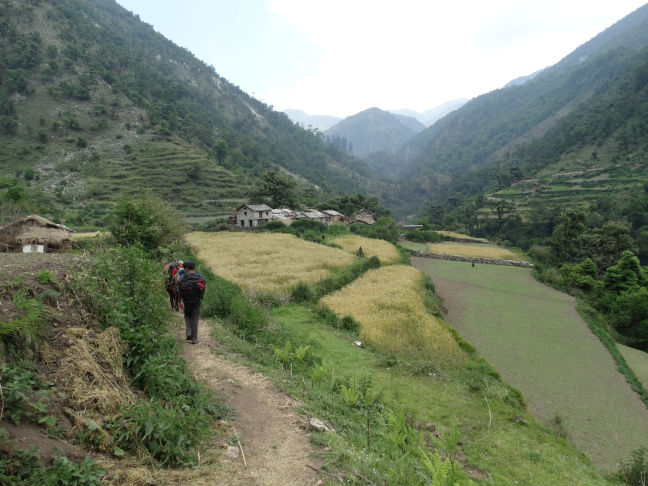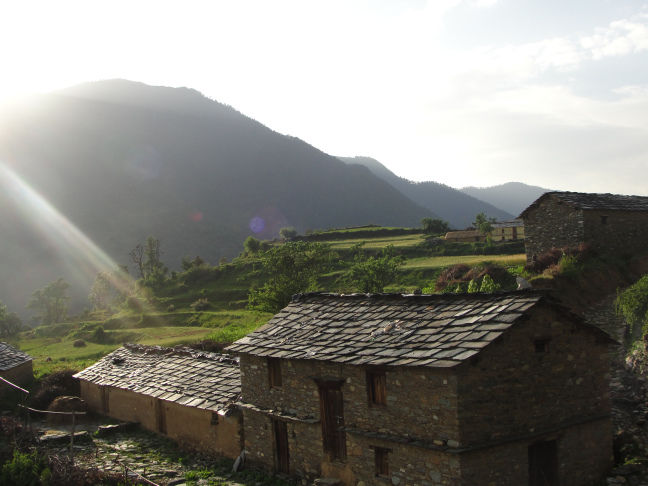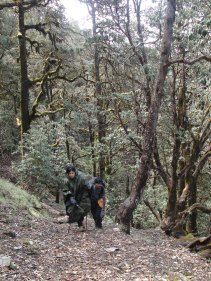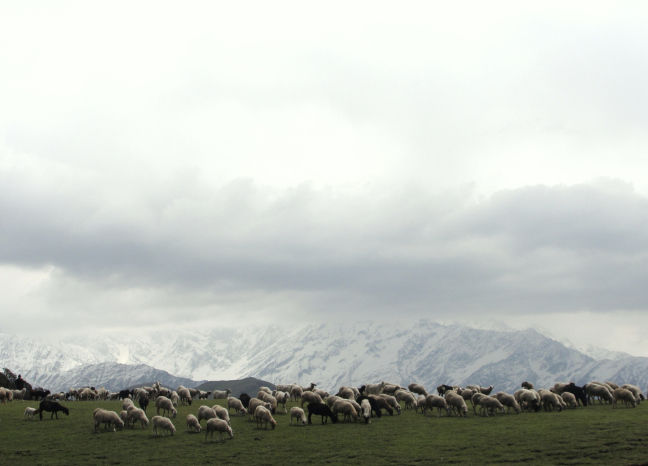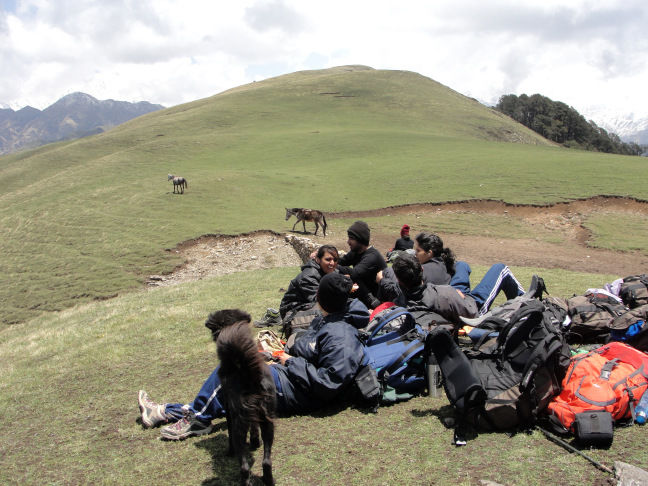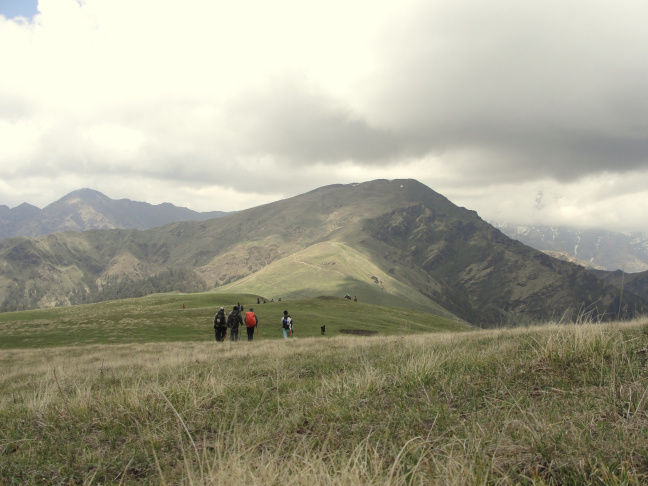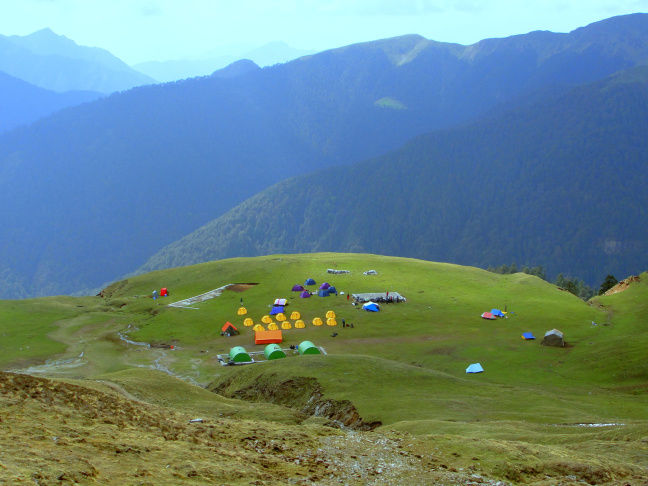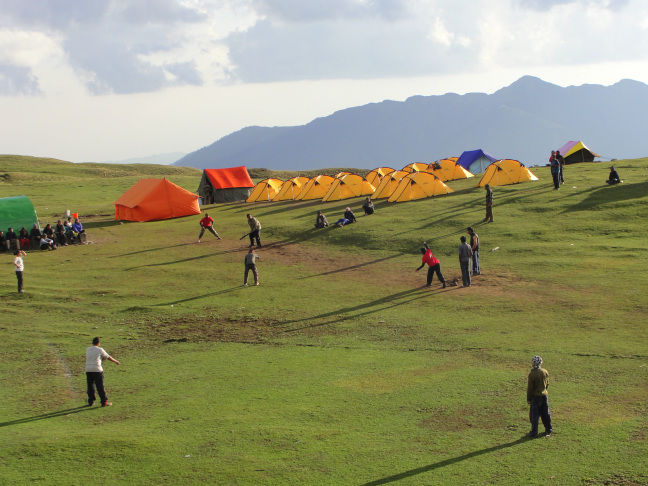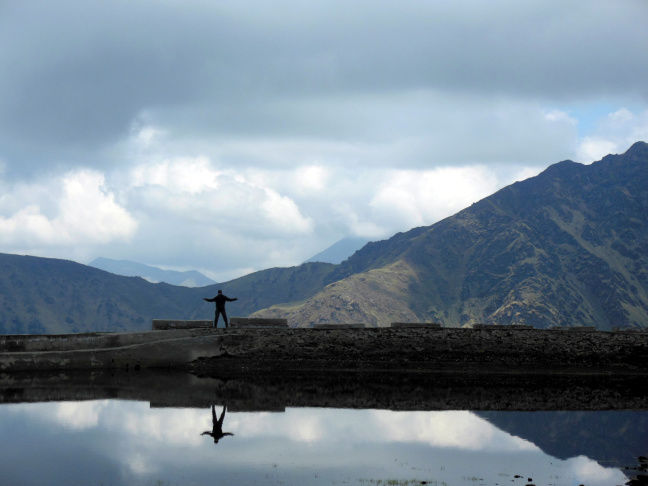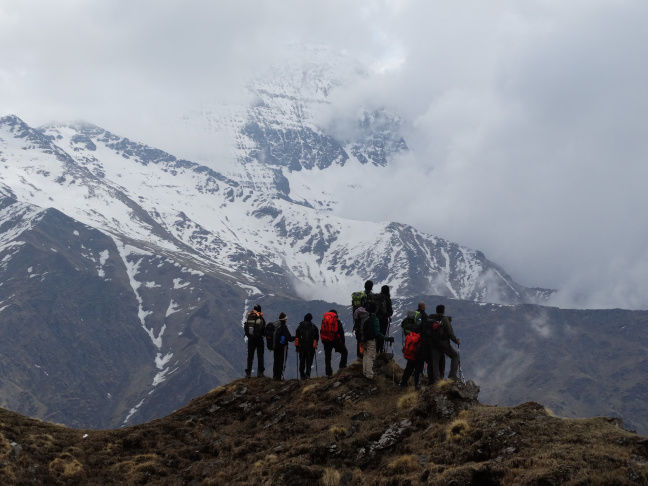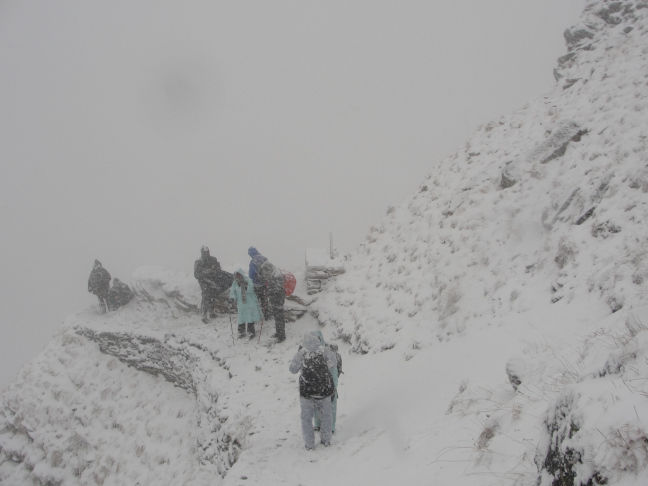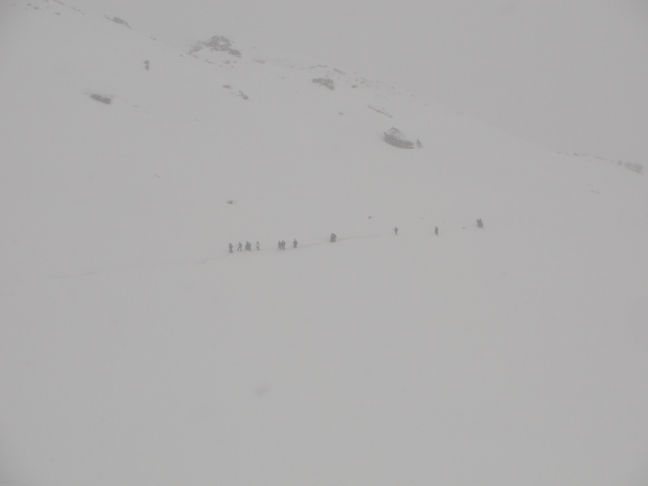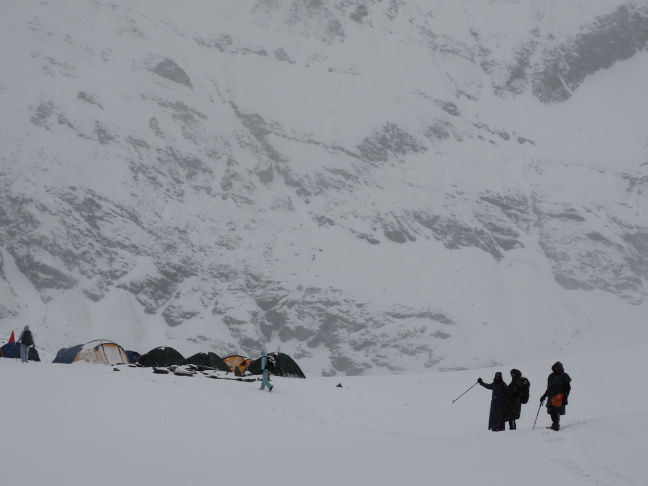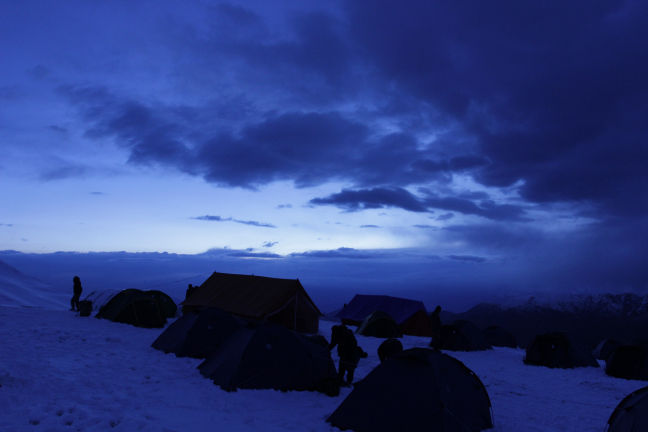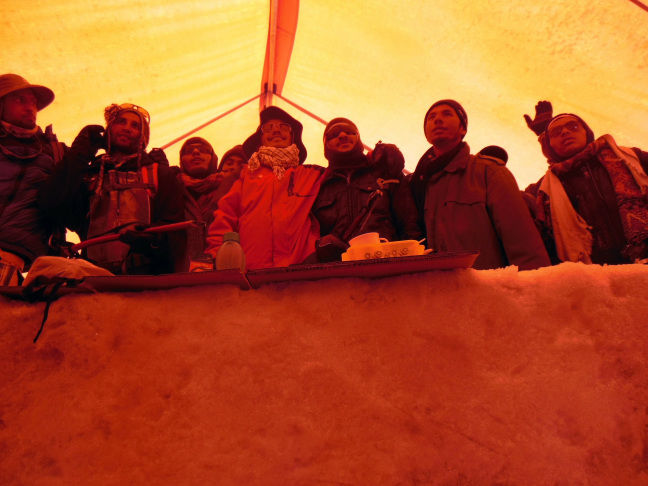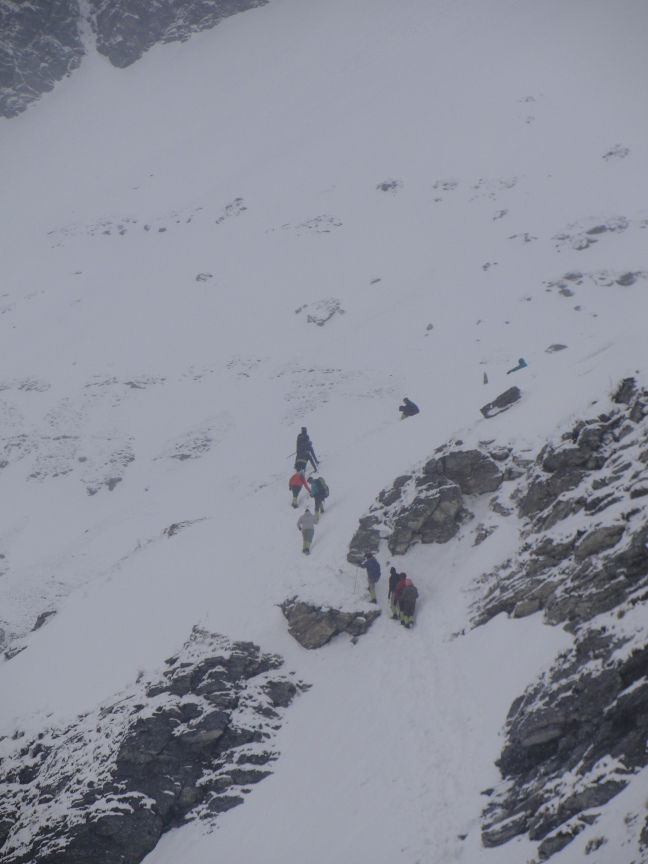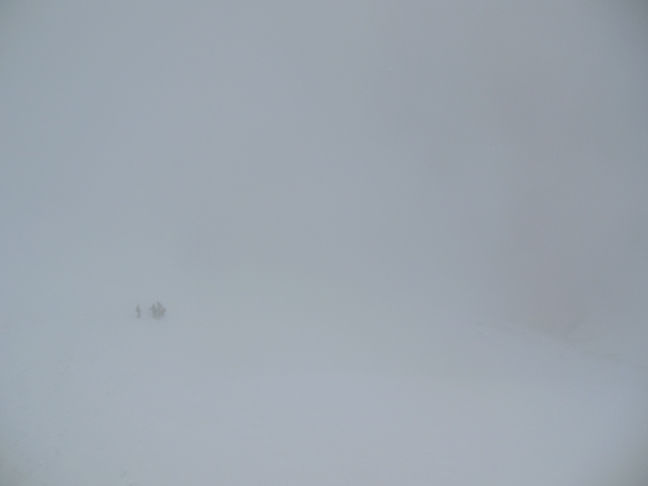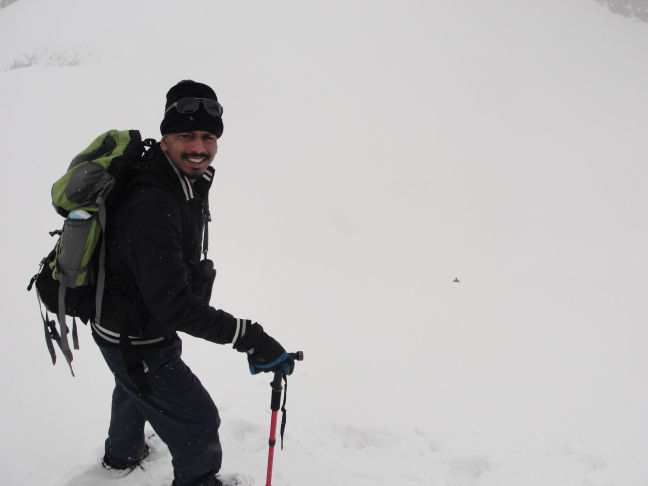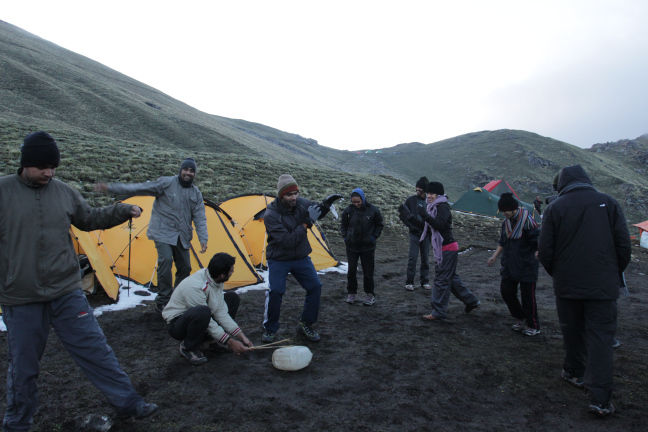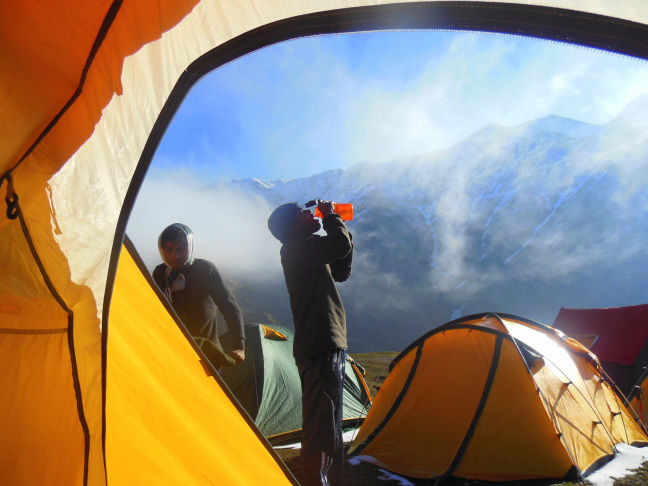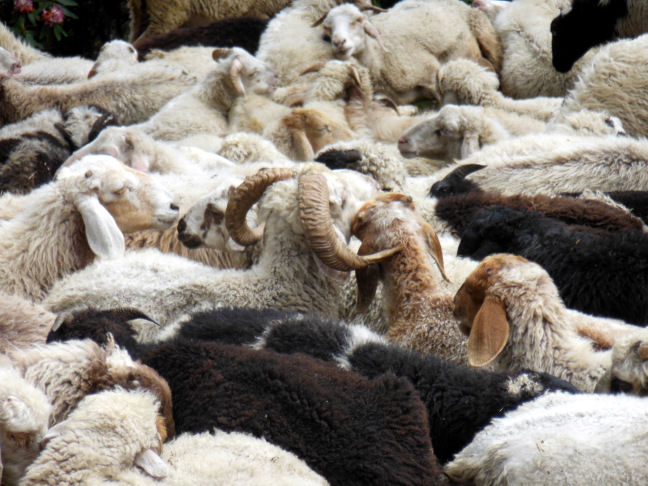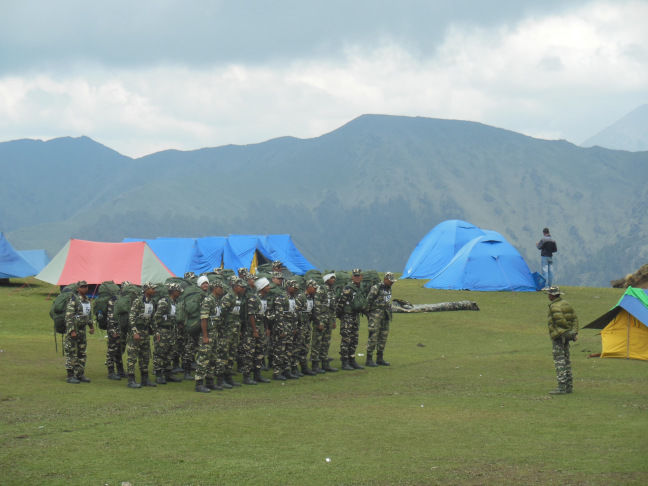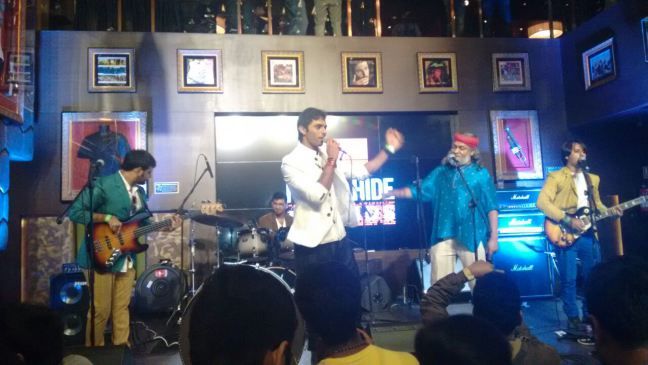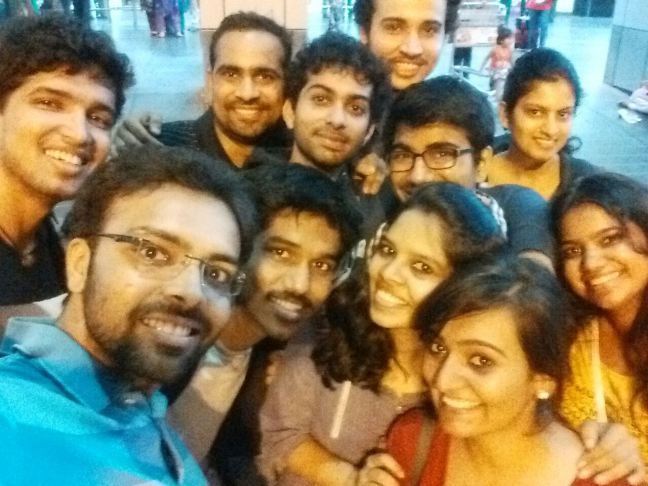 I had read and heard about its beauty, diversity of its terrain and climate, and the many stories behind the skeletons in this high altitude lake. The mystery lake had been on the list for some time, as it's not easy to find 9 days at a stretch, and a friend wanting to come along to 16000 ft. This summer I took a month off between jobs and I knew where I would be spending 9 days of it. Thanks to trekking communities such as Indiahikes and Trek the Himalayas, I could register only for myself and would join other trekkers like me who registered with them. Travelling with strangers seemed to be an exciting concept (and indeed it turned out to be!). I bought the essentials; trekking shoes, trekking pole, poncho, thermals, torch, chocolates and biscuits, packed my rucksack and left Delhi on May 20, 2014.
Day 0 & 1: Delhi – Kathgodam — Lohajung
Basecamp for Roopkund is Lohajung, a small village at an altitude of 7800 ft in Chamoli district of Uttarakhand, about 11 hrs drive from Kathgodam (near Nainital). I took the Ranikhet Express from Delhi to reach Kathgodam at 5:30 AM (~6 hrs by train). All fellow trekkers had boarded the same train and were greeted by Indiahikes outside the station. We took cabs from there (arranged by Indiahikes) and travelling through the mountainous roads, reached Lohajung in the evening at 5:30 PM. Temperature had gone down by 20 °C in a single day, and a hot cup of tea ready for us at the basecamp was just perfect.
It was 22 of us who would be trekking together. We introduced ourselves, and there were many surprises for me. There were people from all over the country coming in and being so excited about Himalayan treks (only two of us were from North!). There were 6 girls in our group which was surprising; Roopkund being a difficult high altitude trek. I got to know that there are Decathlon stores (global chain that has huge stores selling Adventure and Sports stuff) in Pune, Mumbai, Bangalore and Ahmedabad but there was none in Delhi-NCR till then. Trekking is very popular there, or rather not so popular in NCR! In the group there were Teachers, Corporate professionals, members of a music band, students, Videographers, and a Professor. Next few days surely looked exciting. We then met our trek leader from the Indiahikes team, were briefed on the itinerary, to-do's and precautions.
Day 2: Lohajung – Didina
After breakfast, we left Lohajung at 8 in the morning. There are 2 routes from here to Roopkund; one is via Wan and the other is via Didina. It's recommended to go via Didina as one would not want to miss the grandeur of Ali Bugyal, the largest Alpine meadow in India, and so we were headed for Didina. The initial half of the trail is an easy descent. The second half is a moderate ascent through dense forests of Oak, Pine and Rhododendron.
It took us about 5 hrs to reach Didina, a village at 8000 ft with houses countable on fingers. It's a relatively short trekking day and also the altitude doesn't change much in the end. There was a homestay for us at the Didina where we were greeted with Rhododendron juice (popular locally as Burush sharbat). It's recommended to consume lots of liquid during trekking days, even if it wasn't I would have had 3 glasses of the delicious treat that I had.
It was mostly cool and sunny till the evening and we sat in the sun chatting, went around the village meeting other trekkers and locals. We were moving closer to the massive Trishul peak (23,360 ft) and that was evident in the increasing cloud play around the mountains. The videographers started to get their kick and set out to make a time-lapse. They also captured a fancy light painting photograph in the night which we made using torches. It kept raining intermittently after the evening.
We had our dinner, jumped into our blankets and it was time for the musicians to take over. If you imagine it with a camera overlooking from a commanding seven thousander Mount Trishul, zooming in, it's raining outside on the plains of Didina, and we are inside a mud-house in our cozy blankets relishing melodious live singing in the backdrop of rains in the valley, shedding the mild strain of the first day of trek. Good night!
Day 3: Didina – Ali Bugyal – Bedni Bugyal
We woke up to a cloudy day expecting rains ahead. So we set out wearing our ponchos after breakfast. One can't really predict much about mountain weather, only take precautions. It rained lightly for first half an hour when we had to cross the swampy trails in the village. The sun came out after that and happily stayed with us for the rest of the day. The forest was getting denser and the path, steeper. We crossed the tree-line after a couple of hours climb and there was just grass. After a short climb we found ourselves standing on the endless grassy plains of Ali Bugyal, Asia's biggest alpine meadow.
The view from there is astoundingly picturesque. There are so many elements contributing to this grandeur setting that one needs to just look around for some time for the magnificence to soak in. At one end there are massive snowcapped mountains with a valley separating them and you. The strong cool winds coming from them hit you in the sun and sweat from the steep climb dries up in minutes. The winds continue their journey towards endless plains covered with lush carpets of short bladed grass, mountain after mountain that appear to be a giant feast for a few horses running around wildly and herds of sheep grazing around in hundreds. If I could understand their language, I think they would be saying "Awesome party bro!" I felt like inhaling so much of splendor with each breath I had standing there.
We continued our journey; strolling through plains of Ali chit-chatting with fellow trekkers finally descending to our campsite at Bedni bugyal – the smaller twin of Ali bugyal. Our camps were laid on a huge plain at the edge of the mountain. People played cricket under rays of sun that found their way through and between thick clouds that looked like neon balloons. Bedni bugyal was easily the best site I had ever camped at!
Day 4: Bedni bugyal — Patar Nachauni — Bhagwabasa
We woke up early as it was supposed to be a long day. It's surprising how beautiful our times become being in the mountains. Waking up to the orangish sky with the sun rising behind from the mountains, with only the sound of a flowing river somewhere down the mountains, then maybe finding your spot to freshen up in the open (though Indiahikes has good facilities and separate toilet tents), brushing your teeth standing on a rock facing the valley, and washing your face with chilled water. It gives you that strange feeling that life is so beautiful and you are over-complicating it; that you are only a small part of a grand setting and the best you can do is be good to others, and to yourself.
We left the camp around 7 AM and continued our journey through the Bugyal via Bedni Kund; a small beautiful lake with a temple towards the side. It was end of May and it was semi dry at that time. As we kept moving, the terrain was changing from grassy greens to rigid rocky slopes. Soon it turned cloudy and it started to rain heavily. We reached Patar Nachauni and had our lunch at the campsite there. The weather hadn't changed so we left quickly after lunch.
The signs of a high altitude trek were quickly coming-in now. The air was getting thinner and breathing became difficult for all whom this was the first high Himalayan trek, the winds were getting fierce and within no time we were standing amidst the clouds in a dim lit setting at 2:30 PM, raindrops soon turned into snowflakes, and flakes into hailstorm. We had to stop. We were sitting, covering and saving ourselves from the snow storm that was moving almost horizontally. Our bodies started to get colder and the storm didn't want to leave us, so we decided to move ahead slowly.
We crossed the famous Kalu Vinayak pass and the temple there. The storm got a little milder. Our group was all fragmented by now as we all were moving ahead at our own pace in small groups. The guides did a good job and split themselves at the ends and the mid. Ahead of Kalu Vinayak, it was mostly flat or descent till the next camp. With a mountain at one side and a snow white valley at the other, we kept moving slowly in the thick fresh snow as the storm receded slowly. We reached our campsite Bhagwabasa in about 1.5 hrs from there.
A picturesque high altitude campsite covered entirely in snow, so much that a permanent table in the kitchen tent was made out of it :). We had some snacks and hot bournvita watching bright reflections from distant mountains. We lit a small bonfire and had our dinner soon. It was a long, tiring day. The guides were not sure if we would be able to reach Roopkund tomorrow given this weather continued. We all went in our camps early in the beautifully reflecting dimly lit snowy cold surrounding.
Day 5: Bhagwabasa — Roopkund – Bhagwabasa – Patar Nachauni
The mornings get earlier as one moves up, as the weather generally gets bad after noon. We had our breakfasts and got the crampons on our shoes (steel shoe extensions with deep spikes for better grip on the snow). 8 people from the group decided to stay back. 13 of us left at 6 AM with the high altitude support staff that stays at the Bhagwabasa camp for the season. Luckily, it didn't snow much that day but it stayed foggy all time. The climb was descent, just a little trickier at couple of spots. We saw an icefall from a huge ridge in the route, and remains of a landslide that had happened some days ago.
We reached Roopkund in about 3-3.5 hrs. The lake is at the base of a bowl, with mountain slopes at all sides. We could just see it for seconds before it got all misty and remained that way. The lake was all covered in snow and the mystery skeletons remained an unseen mystery for us. But we were ecstatic, as someone rightly said, its about the journey and not about the destination. We stayed there for about half an hour. It was a quick, fun descent. There were a couple of long slopes in the way where we skidded down on our Jackets/Ponchos. We reached Bhagwabasa in about 2 hrs where a snowfall greeted us. We had our lunch there and then left for Patar Nachauni camp.
Day 6 and 7: Patar Nachauni – Gehrauli Patal – Wan – Lohajung
For coming down to Lohajung, we came via Wan as its quicker. We left for Gehrauli Patal campasite via Bedni Bugyal. Since we had gelled up a lot during last 5 days, descent was a lot of chit chatting; places, politics, the world and ourselves J. We reached Lohajung the next afternoon and it felt like the plains when we reached there :P. We left for Kathgodam the next morning except the group from Bangalore that decided to go for rafting at Rishikesh. We boarded the Ranikhet express again in the evening and reached Delhi early morning next day.
Roopkund as a trek is so fulfilling. In last 6 days I had been through plains, rocky mountains, alpine meadows and high-altitude snow laden mountains; each day offering a different panorama and climate. We gained a staggering 8000 ft altitude in 3.5 days. One can further climb Junargali top from Roopkund if the snow and weather conditions permit (likely in June and September). Not many treks would compete with Roopkund on the breadth of experience it offers in the time (and I missed the mystery skeletons, sigh :|). It was like a fast paced thriller that one can't take his eyes off!
Travelling with strangers (with absolutely no one you know in the group) proved out to be a great experience for me, because one ought to interact with people then; tell stories while trekking, have your meals together, share camps, go for a stroll, etc. And this becomes so easy when you have all your time, no mobile networks, no notifications, no weekday-weekend, no cabs to catch. Apart from the trek, I feel enriched at so many levels:
I got to know some random hacks, such as how to prevent the cracking of skin above your nails, ranger roll to pack your stuff efficiently, etc.
Knowledge of new trekking equipment, and tips such as always keeping your ears open when you are going through a change in altitude because it's the ears that help adapt your body to changing altitudes (do you recall how sometimes your ears feel stuffed and you can't hear properly while driving on hills?)
The delight that a long trek gives you is a special feeling, difficult to explain. It's like you have some sort of a currency whose value you know, but it's not used at many places for trade. I can list only a little of the joy I got from this trip. The rest stays with me, in the smile that's on my face as I end this blog, and everytime that I think about Roopkund :)
This trip was originally published on nikharnaulakha.
Frequent Searches Leading To This Page:-
Roopkund mystery trek in uttarakhand, roopkund trek difficulty level, himalayan trekking tours cost, roopkund trek difficulty level, roopkund uttarakhand images