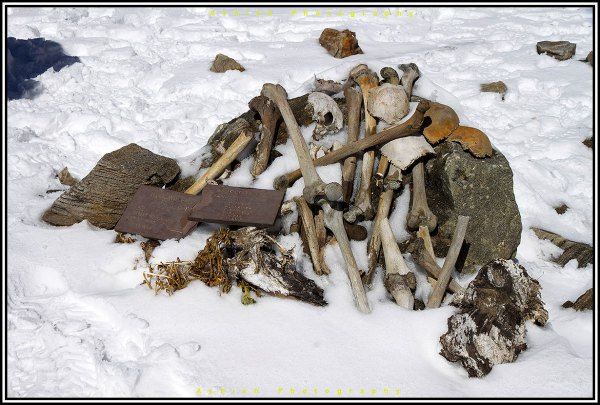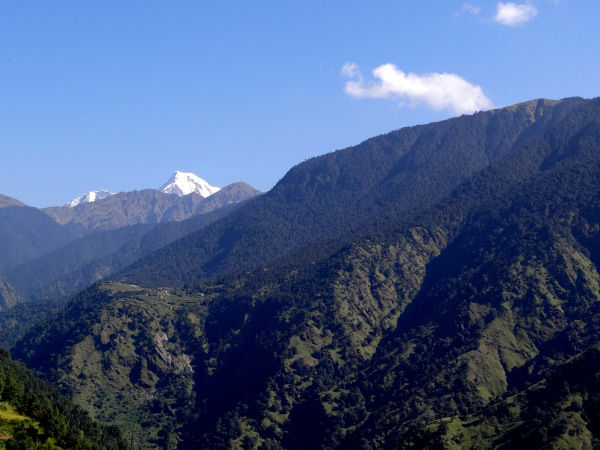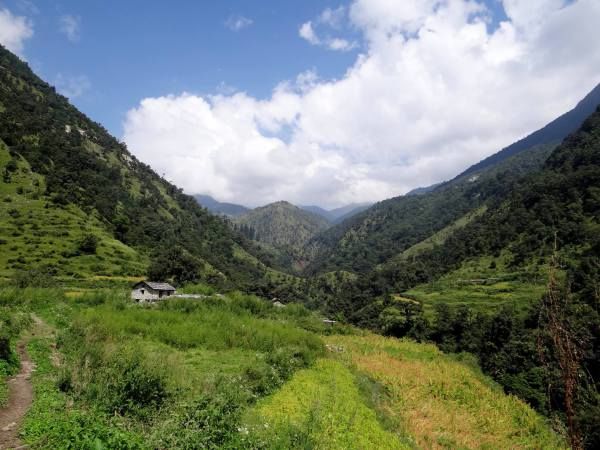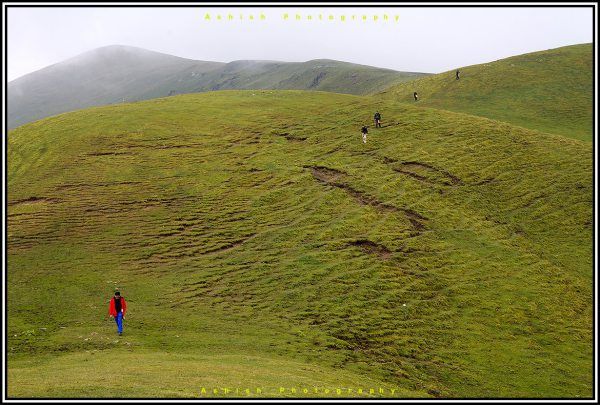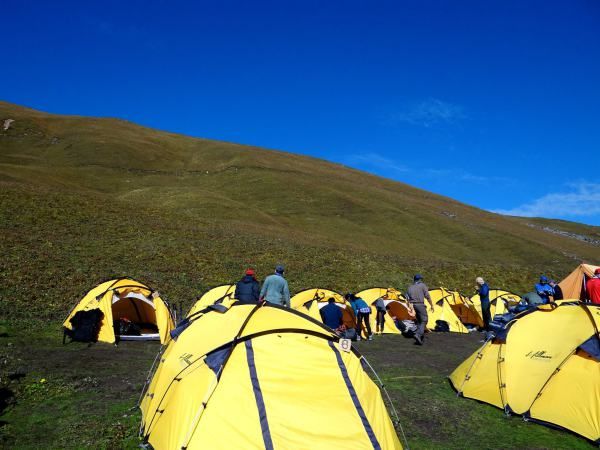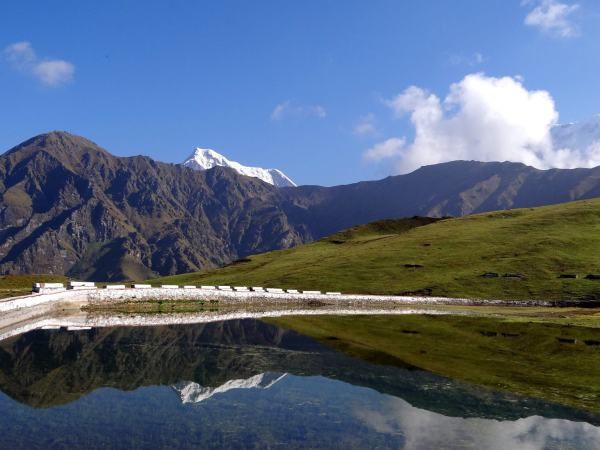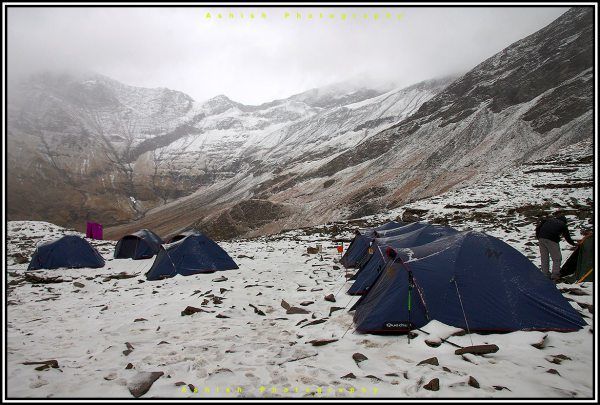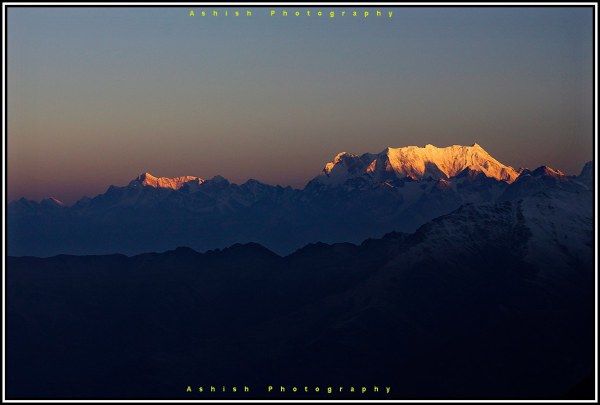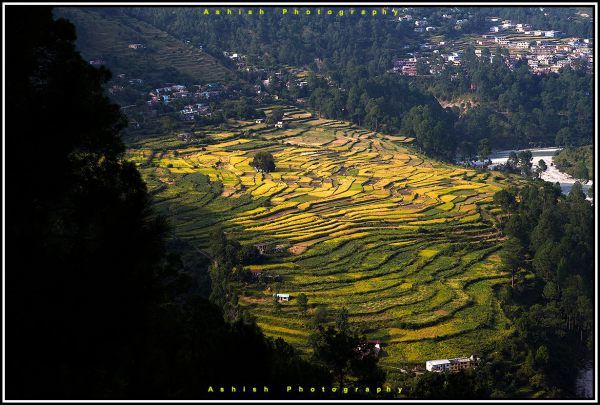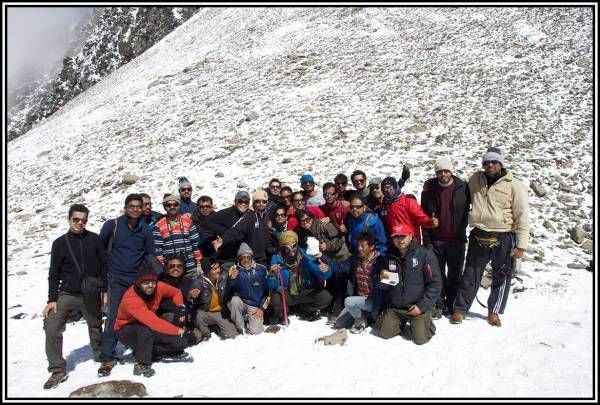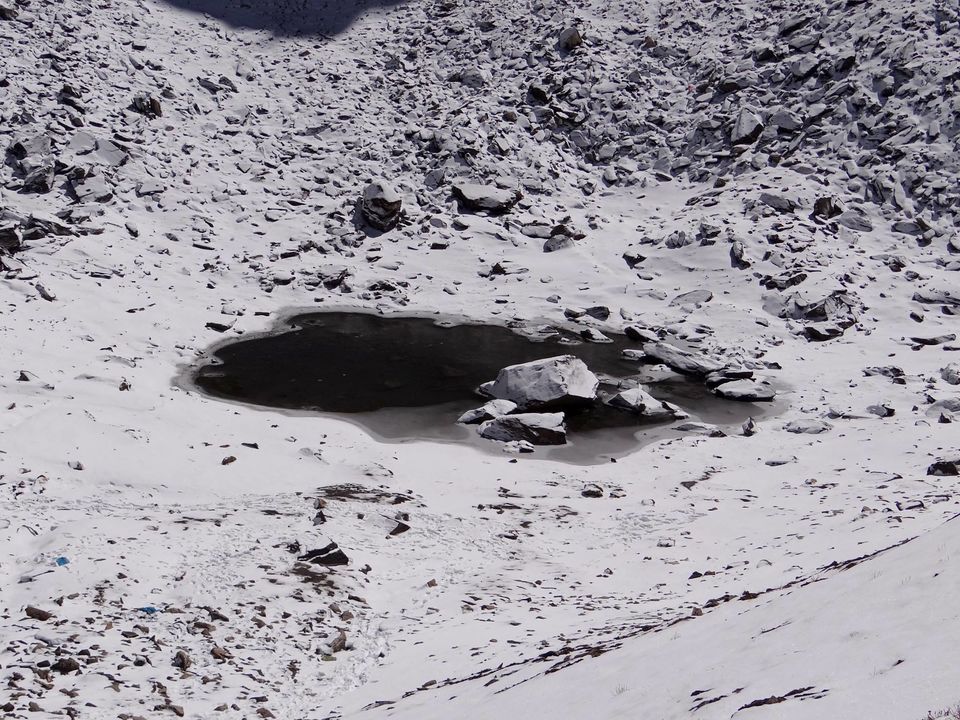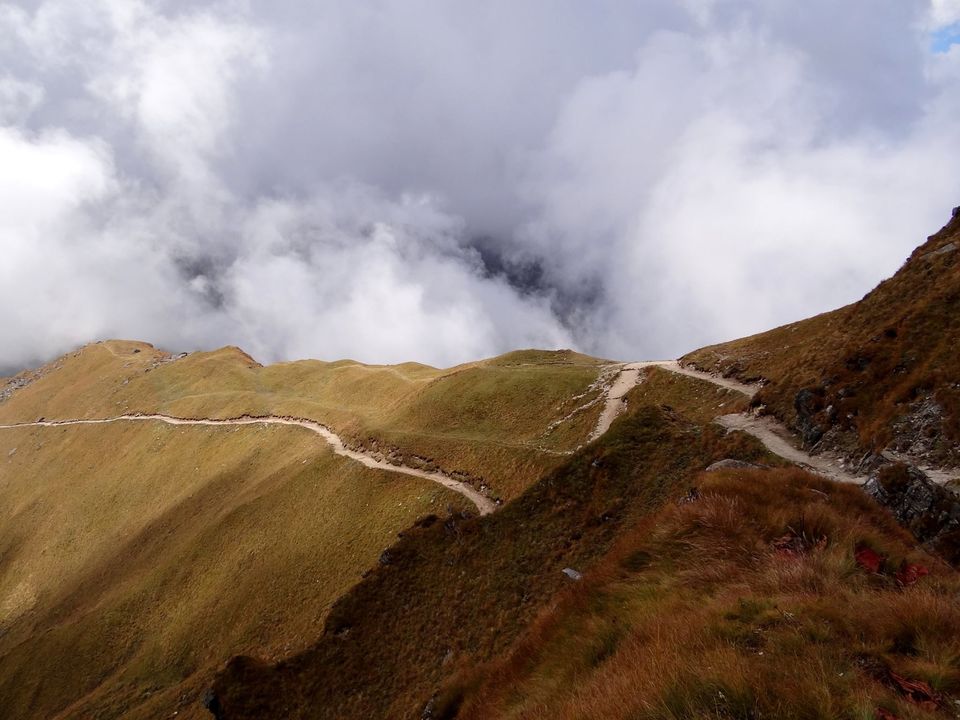 From an urban city, to untouched villages, to humid forests, to lush green meadows, to sub zero terrain, to the summit.From bright sunny days, to cold nights, to hailstorm, to the season's first snowfall, to rainfall.From breathlessness, to muscular pain, to indigestion, to headaches, to sun burns, to swelled up hands and toes.From 700 to 16000 ft. We were tattered but we loved it.
Why Roopkund or any high-altitude trek?
If you love trekking, do it. If you love mountains, do it. If you want to test your limits, do it. If you want to outdo your limits, do it. If you don't want to get away from ear shattering cacophony of a city, do it. If you want to run away from the society and people around, do it. If you want to create memories of a lifetime, do it. If you want to make new friends, do it. If you want to feel the pain of success, do it. Last but not least, if you think you cannot do it, DO IT.
Best time to trek?
There are two seasons to trek to any high altitude trek, same goes for Roopkund.May-June: During this time, you'll experience lot of snow as you start crossing 12000 ft. By June end, most of the snow melts, so if you want to experience snow, do it before mid June.September-October: During this time all the snow had been drained by monsoon rains, but if you're lucky you can experience fresh snowfall somewhere in end September.
About Roopkund, how it formed?
Creation of Roopkund goes back to the time when Goddess Parvati got married to Lord Shiva. It is said that, after marriage when she reached Kailasha parvat, it was barren and there was no water there to drink/bathe. That's when she complained Lord Shiva that she belongs to a royal family and she needs to have a place to bathe. Using his Trishul (trident), Lord Shiva created Roopkund. The water in the lake was so clear that after taking bathe, Goddess Parvati used lake as a mirror, to finish her makeup, thus it got named as Roopkund.
There's this another story that I heard from locals. After killing Mahishasura at Bedni Kund, Goddess Parvati started her ascent towards Mt. Kailash and saw her reflection on the lake with blood splattered at her body. That's when she used 'the kund' to clean herself.
Story behind skeletons as per locals.
It is said that Yash Dhawan who was the king then, had a dream wherein Goddess asked her to come and visit her at Jamandali (temple beyond Roopkund). He along with his wife (who was pregnant then) and his crew embarked on this journey. He started from Nauti, to Nandkesri to Loharjung to Wan to Bedni to Patar Nachauni, where they camped. Patar means dancers and nachauni means 'to dance', hence it's a place where dancers danced when the king and his crew camped.
That time, it was prohibited for women to go beyond Bedni Bugyal and since the king breached it, all dancers got swallowed inside earth, but the show must go on. From Patar Nachauni, via Baghwa basa* crew reached Roopkund. Somewhere same time, king's pregnant wife delivered a baby at a place now called Balambha Ka Sujeda (Balambha was the name of queen, sujeda means Maternity Ward). As per Hindu mythology, if someone in family dies or born, going to temples is prohibited for 11 days and one shouldn't worship Gods for that period. Since, the code of conduct was broken, Goddess became angry and hailstorm broke at Roopkund. It is said that size of hails was so large that it crushed skulls of people around; people around king covered him and was able to save him. King then with his remaining crew went back to his place via Homkund, Shila Samudram. People those were left dead are present day skeletons we see there.
Since then, there is a Raj yatra (religious journey) organized every 12 years following the same route, wherein descendants of king goes till Homkund to pay homage to the Goddess. There they take a 'Chausingya Khadu'** (a lamb with 4 horns, possibly a Jacob Sheep) and at Homkund he is given a send-off as an Indian bride, stating Goddess that they will come again in 12 years. From Homkund, descendants of king go to Shila Samudram to Jamandali to Sutolu village, from where they are picked by cab and reach respective places they live.
*Baghwa is a Bagh or Tiger, Basa is 'where he lives' or a den, thus place where the Tiger of Goddess Parvati lived or Tiger's den. It is the place where Goddess Parvati used to leave her lion/lions and proceed on foot from here to the Himalayas.**Chausingya means 4 horns, Khadu means lamb, possibly a Jacob Sheep with 2 horns on outside and 2 inside.
Distance to be covered.
Around 64 kms on foot.
Where to start this trek from and how to reach there.
You start your trek from Lohajung, a small town Chamoli district of Uttarakhand, around 85 kms from Karnaprayaga. To reach Lohajung, you first need to reach Kathgodam, there are three trains that run from Delhi to Kathgodam daily. You can opt for a bus too, to reach Kathgodam from Delhi. It takes around 6 hours by train to reach Kathgodam from Delhi. From Kathgodam, it takes around 11 hours to reach Lohajung.
Complete trek details:
These are standards followed by trekking communities. If you are an experienced trekker and trekking on your own, you can do it in a day or two less than what's mentioned below.
Day 1Kathgodam to Lohajung in taxi.Arrive at Kathgodam in morning and hire a taxi to reach Lohajung. It'll take around 11 hours to reach Lohajung, you'll pass through Bhim tal and Kausani. An eight seater Sumo will charge you somewhere around INR 5000. After reaching Lohajung, you can either camp there or take a guest house.
Day 2There are two ways you can go about to start your trek. One, you can start your trek from Lohajung to Dedina (which we did) or you can hire a cab till Wan and can start your trek from there. We followed this route while returning, you can get complete details in Day 7.I'd recommend choosing the way from Dedina 'cause if you take Wan route, you will miss the heavenly Ali Bugyal.
Lohajung to Dedina (7875 ft. to 8050 ft.).Time approx 5 hours.Descending initially then moderate/difficult ascend.
Lohajung to Gheroli Patal via Wan.Time approx 5 hours.Take a taxi until Wan which will take around and hour. From Wan, trek until Gherol Patal, which takes around 4 hours.
Day 3Dedina to Bedni Bugyal via Ali Bugyal (8050 ft. to 11155 ft.)Time approx 7-8 hours.Moderate/difficult ascent initially until Ali Bugyal, then walk until Bedni Bugyal. Ali Bugyal is comparatively more scenic than Bedni, so if you prefer, you can camp somewhere in between Ali and Bedni Bugyal.
Gheroli Patal to Bedni Bugyal.Distance ~5 kms. Time approx 3 hours.Moderate ascent through a forest, then walk on the meadows. In this route, you won't get to see much of Ali Bugyal.
Day 4Bedni Bugyal to Pathar Nachauni via Ghora Latauni (11155 ft. to 13000 ft.)Time approx 4 hours.Ascend initially to the previous day trail, then normal walk. Relax at Ghora Latauni.
Day 5Pathar Nachauni to BaghwaBasa via Kalu Vinayak temple (13000 ft. to 14350 ft.)Time approx 5 hours.Starts off with flat walk, then ascend until Kalu Vinayak temple, then gradual descend to BaghwaBasa.
Day 6BaghwaBasa to Roopkund, further to Junar Gali to Pathar Nachauni (14350 ft. to 16000 ft. to 13000 ft.)Time approx 9-10 hours.This is the biggest day of all. The climb to Roopkund is a 5 km-long gradual ascent with a few steep gradients in between and in the end. It takes about 3 hours to reach Roopkund. From there, around 30 minutes to reach Junar Gali. Then 3 hours to come back to BhagwaBasa and further 4 hours to reach Pathar Nachauni.
Day 7Pathar Nachauni to Lohajung via Wan (13000 ft. to 7875 ft.)Time approx 8 hours.You'll pass through Bedni Bugyal, then forests of Wan, which is a long descend. Then after a small ascend, you'll reach Wan village from where you take a taxi to reach Lohajung.
Day 8Lohajung to KathgodamFeel and embrace the pain in the morning, take a taxi to get back to Kathgodam. Enjoy the journey reminiscing about those 7 days, feel the change inside you and how much quieter you've become. Time to start planning your next trek!
For complete reference:http://www.roopkund.com/complete-trek-details
Few Pointers:
Do not litter, carry your own stuff back.
If possible carry an oxymeter and take readings before breakfast and dinner.
Carry a good quality sunscreen lotion or tie a Shembagh around your face and neck. I used SPF 100 in one of the recent treks and it worked quite well.
Carry good quality sunglasses that can filter UV rays. After hitting snow UV rays get multiplied 5 times and can cause snow blindness.
Drink atleast 5-6 lts of water, no matter how much you have to pee.
Do not take painkillers or ointments for sore muscles. Let them recover themselves.
Headache is quite common at high altitude. Indigestion can be the cause of it. Apply 111 rule. 1 disprin, 1 liter of water and 1 hour; if your headache is still not gone, it could be AMS.
On AMS and diamox:
http://indiahikes.in/benefits-of-using-diamox-to-deal-with-ams/
Epilogue:
To me trekking is a form of meditation. When I am walking, there is no past and no future, only that MOMENT. I did this trek in September 2014 and it was my first high altitude trek. After coming back, I could easily say that I am addicted to trekking and I have completed several treks this year. I went through Indiahikes and had a wonderful experience, their management was top notch for this trek, amazing food and a dedicated, inspiring team.
When you work in IT, you meet people who understand IT; when you work in management, you meet people who understand management; when you trek, you meet people who love trekking. We were a group of 26 people (called Special 26 by our trek leader) from different parts of the country, with only one thing common that we love to travel. Things we could only talk about are mountains, stars, galaxy, how 5 liters intake of water without dehydration is killing us, what others do for living and which trek to do next (even though 'abhi total lagi padi hai boss'). We still do all that discussion on our Whatsapp group and luckily few of us even did Rupin Pass together too this year. If I get an inspiration I'll probably write about it too.
This trip was originally published on roopkundlake
Frequent Searches Leading To This Page:-
Trip to the Roopkund lake with friends, best time to visit roopkund, roopkund trek difficulty level, himalayan trekking tours cost, quiet places to visit in uttarakhand, hotel in narendra nagar uttarakhand, uttarakhand tourism new guidelines