Dreaming and living through your dreams isn't the same thing. Being a traveller, if you want to live through your dreams, you must choose the purest form of it, i.e. trekking. And when I planned a trek to Roopkund, I knew I am going to live a few days what every trekker has always dreamt of.

It is not easy for an intern to have 10 days of vacation, especially during Community Medicine posting. But it happened. If you are not desperate enough to have or do something, then you are not deserving enough to achieve that. And we were desperate.
We had to reach Kathgodam, the nearest railway station to Wan, starting point of the trek. Bagh Express is the only direct train running between Howrah and Kathgodam, which is actually pretty much slow. So we decided to go to Rampur via Amritsar Mail and then to Kathgodam via Ranikhet Express to save almost 6 hours.
On 2nd October afternoon we, Somenath Sanchit Kanishka Abhishek Kshounish and me, started our journey from Howrah station. Well, the journey turned into a frustrating one when the train halted for 3 hours in a not-so-well-known station. And just when we were going to give up our chances to reach Rampur within scheduled time, the train has started to move. What a relief it was! But deep down we all had realized that the trip has already been turned into an adventurous one!!
We caught Ranikhet Express with an ease and reached Kathgodam around 6 am. We had booked the car already, so the road trip had been started in a short while. We reached Wan around 4-30 pm. and stayed there for a night halt.
The next morning we started our trek with our guide (Ranjit Singh Ji), cook (his son, Khushal Bhaiya, former head cook in Indiahikes) and two other guys(owner of the mules). I met Ranjit Ji during my trek to Valley of Flowers. He lives in Wan with his two sons and wife.
1.If you are planning to go with a trekking agency, the road trip will be ended at Lohajung. Lohajung (Loha-Iron, Jung-Rust, in Lohajung it rains so heavily that all the iron get rusted) was the starting point of the trek previously (still opted by maximum trekking agencies. They will bring you to Wan on the starting day of the trek by their own car). But the road to Wan from Lohajung had become motorable now. So we decided to start our trek directly from Wan.
2.It becomes pretty much easier to trek with a local guide than with any trekking agency ( if you don't want other facilities like toilet, instructor etc. ), then you will be able to choose camping sites of your own according to your abilities and necessities.
DAY 1 PART 1 -WAN TO GHERAOLI PATAL
The path from Wan to Gheraoli Patal was magnificent!! Surrounded by oaks and rhododendrons, the path was a combination of steep ascents and descents going through a village.

The courtesy shown by every villager we met on our path was heart-warming. They welcomed us all with a cordial 'namaskar'.
Every trekker we came across wished us luck. It reminded me of the word 'Sonder', which is being used the travellers generally! It is actually a realisation that each passerby is living a life as vivid and complex as our own.
After half an hour's descent through cemented path and short ascent to Neel Ganga, we took a break. The bridge over Neel Ganga is an idyllic place to relax. Trees overhanged the river and the water trips and fell over boulders in the shade. The water here was cool and refreshing.
From here the beautiful ascent through the deeper forest to Gheraoli Patal started. The trail then winded through Oak and Rhododendron forests and the path was strewn with dry leaves. That was a trek of about an hour and a half that brought us to a clearing with a green trekker's hut, popularly known as Gheraoli Patal.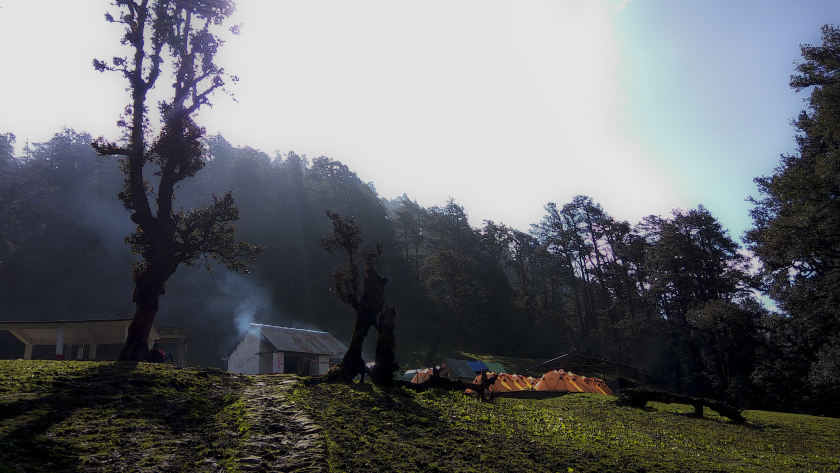 In Gheraoli Patal Indiahikes people generally do their first night halt because another group of trekkers of them coming from Roopkund is using their tents in Bedni Bugyal, the next stop for trekkers after Gheraoli Patal. But we decided to go further because we had our own guide and equipment and we were very eager to reach those mesmerizing twin bughyals.
DAY 1 PART 2- GHERAOLI PATAL TO BEDNI BUGYAL
The trail began to climb steeply into the forest. And after half an hour of ascending steps, the trail opened up to a stretch of meadow. It was locally known as Dohliadhar.We walked further to the right from Dohliadhar, and after a few time we found ourselves in Bedni Bugyal!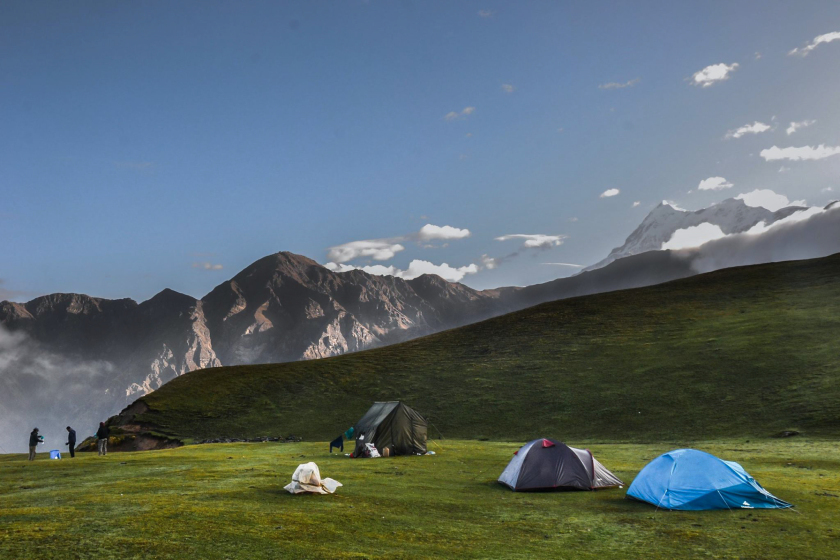 We were overwhelmed by mesmerizing sight of the undulating meadows of Bedni Bugyal! We were on the top of a ridge that spreaded in every direction. It looked like massive green waves rising and falling in succession- acres and acres of green meadow scooped out of the mountainside. All tiredness had gone after watching those clouds drifting in from below, gliding over the ridge and sliding down the either side, all in a slow swift motion. For the first time, the snow-clad peaks provided a glimpse. That was pure heaven!!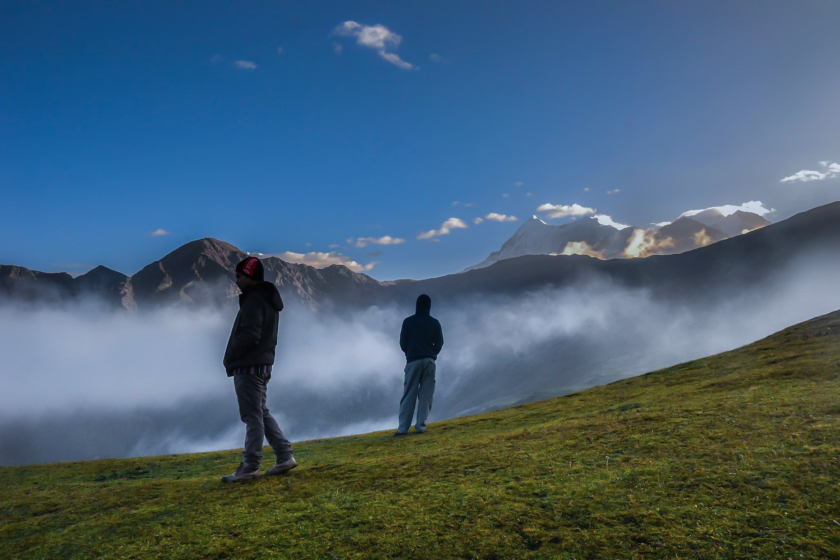 If you want to spend night at Gheraoli Patal, take the trail to the right from Dohliadhar, that will take you to Ali Bugyal. Indiahikes generally takes it. After hiking through the sprawling lush green meadows of Ali Bugyal, you can come to Bedni Bugyal too. But we took the trail to the left to Bedni Bugyal, as we were climbing up a long way from Wan.
DAY 2-BEDNI BUGYAL TO PATAR NACHAUNI via GHORA LOTANI
Next morning after having breakfast we started our journey towards Patar Nachauni via Ghora Lotani.

There are two ways to catch the trail to Ghora Lotani and Patar Nachauni. The easier option is to retrace your steps of yesterday to the point where you left the main trail to get into the Bedni campsite (10 mins walk backward). Get on the Roopkund trail and carry on your hike up and above the Bedni Campsite. It will give you a stone-clad path to walk which will take you to Ghora Lotani. Another option is to start from your campsite, reach the Bedni Kund and skirt the Kund from the right, climb up the slope behind the Kund, and climb further up to the trail and take the path towards left. This will save you half an hour to 45 mins of trekking time but can leave you breathless.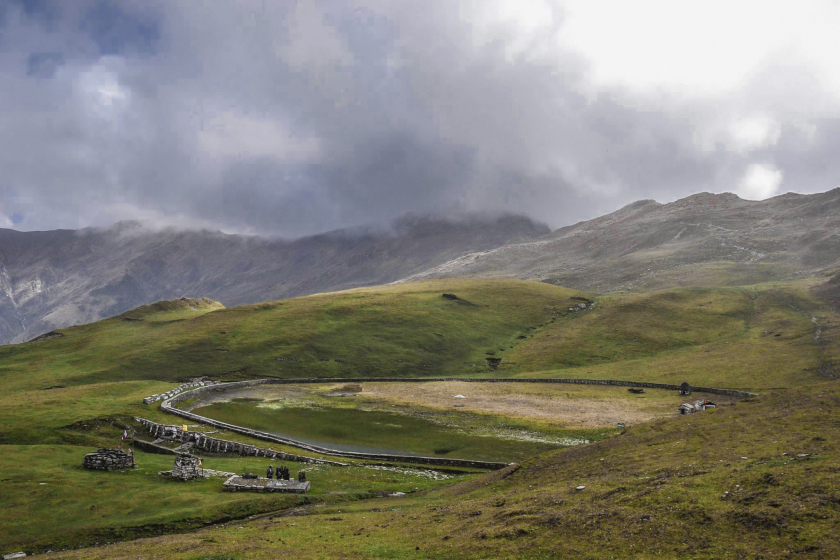 We chose the former as we wanted to go to Ali Bugyal. Ali Bugyal is more beautiful than Bedni Bugyal. After that, we returned to our path and continued to hike along the trail which would take us to Ghora Lotani in a gradual meander.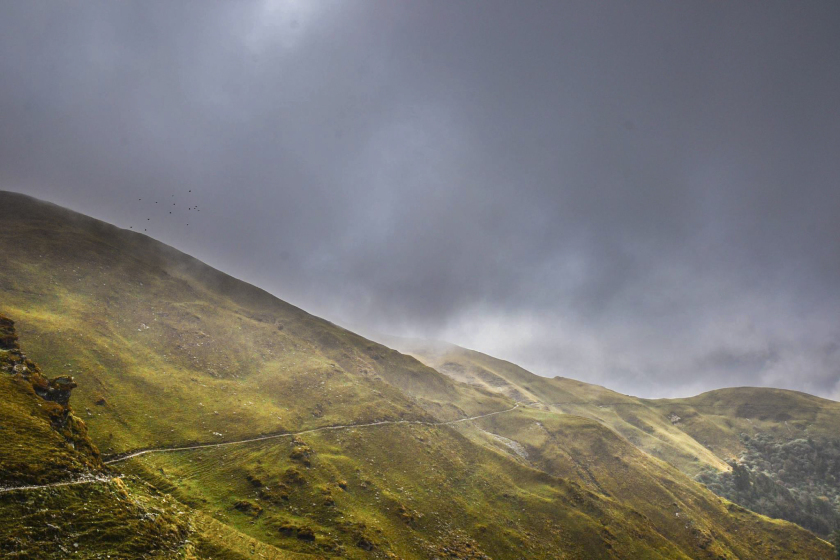 We could follow it with our eyes for 3 km before it disappeared into a saddle in the mountain. When we reached the saddle, the trek exposed us to the other side of the ridge. The scenery was differently mesmerizing. For the first time, we also saw remnants of the winter snow on the mountain flanks (on the other side). After hiking for one hour we took the gradual descent to Patar Nachauni.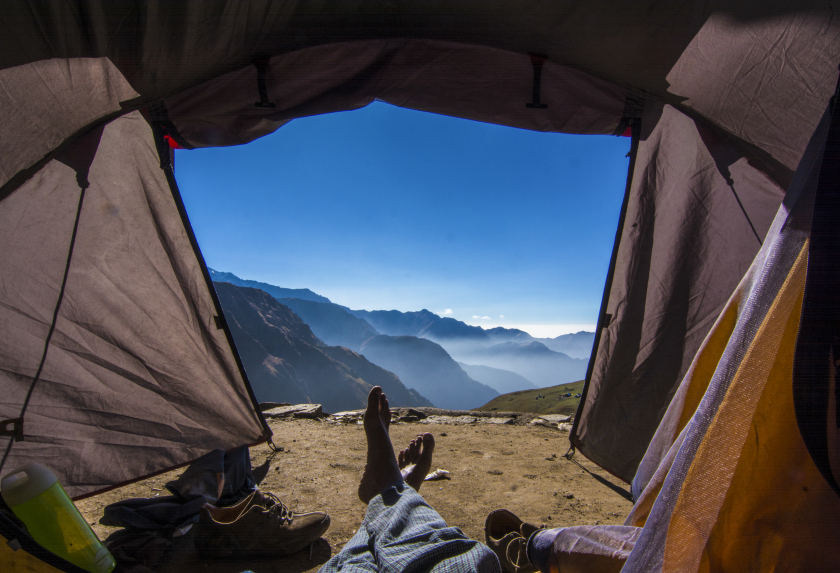 1.Ghora Lotani is the last stop for the horses and beyond it, the meadows merge into the mountain side. It can be a beautiful campsite if you want solitude. There is a small stream near the edge of the meadow making it a perfect place for camping. Here, on our left, we could see a trail that heads down to Bhuna (and further on to Sitel and Suthol).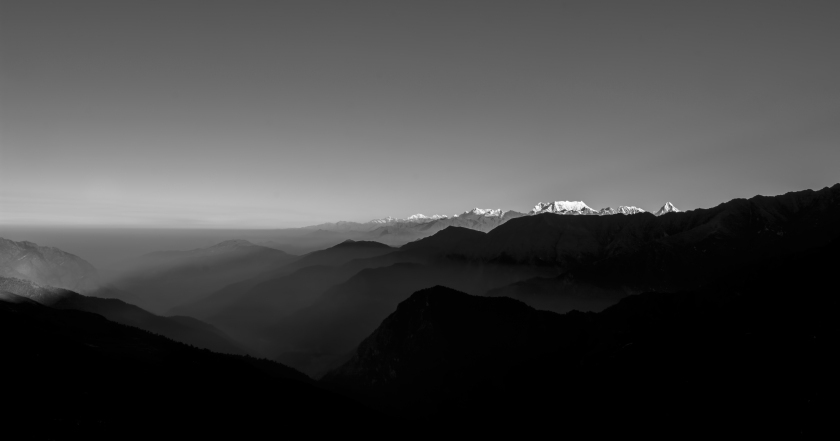 In Patar Nachauni, to the left, you will be able to see those series of snow-clad Himalayan peaks. You can watch the sunrise too. But for this, you have to choose the camping site wisely. Don't choose any place down to the valley (Indiahikes does this). Camp your tents just beside the path, to the left preferably. There is a continuous water source beside the path too.
DAY 3-PATAR NACHAUNI TO BHAGWABASA via KALU VINAYAK
The climb to Kalu Vinayak is the trickiest portion of the trek. It is a steep zig-zag path gaining height rapidly. So you must climb slowly. Taking short intervals more and more will help to get rid of the problems due to extreme thinning of air. Being the worst climber I was the slowest of our team, even though many times I was breathless. If you climb slowly it will help you to acclimatize to the height, which you will find helpful during climbing up to Roopkund. This path is quite an adventurous one too. Mules returning from Bhagwabasa as well as climbing up from Patar Nachauni will always end up walking away from the mountainside. Whenever they are crossing you, always try to go or stand to the mountainside.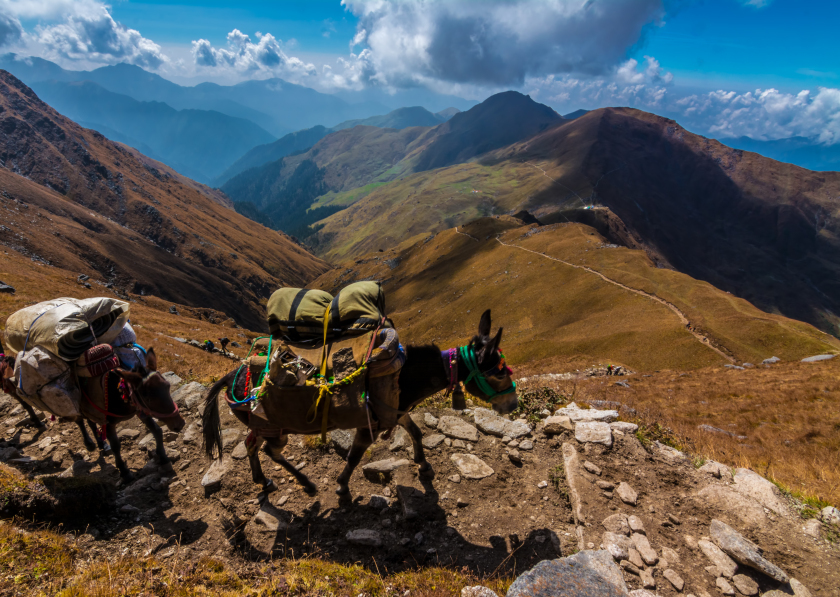 Being a slow trekker, I always had set small target steps to reach somewhere, most of the times those were the bends. And whenever I crossed them I found the ridge narrower. Being shattered and extremely breathless and tired, I looked back to the trail down from the Ghora Lotani and Patar Nachauni. I was so amused to see those big ascents crossed by me that I was even more inspired to do the same again. This is the feeling that every traveller must feel. Are you desperate enough? How much can you push yourself to your limits to see the unseen and to know the unknown? This struggle makes trekking the purest form of travelling.
After finishing the climb, we reached Kalu Vinayak. It was a stone shrine having the black Ganesh idol enclosed within surrounded by bells. Everyone was donating some money for a safe pilgrimage. Beside the path from Kalu Vinayak to Bhagwabasa, you might get to see the first patch of snow (In June preferably). During the end of summer, it gets soft. Then you have to skip your way across these. After hiking along the trail sloping downwards gently, you will be able to see those Bhagwabasa huts made by locals.
Bhagwabasa was the second most beautiful place we had come across during our trek (after Bugyals). We were mesmerized by those awestruck views of Trishul just in front us. Bhagwabasa is a perfect place for astrophotography and star trails. But you should be careful while doing it. Bhagwabasa is the coldest of all camping sites of the trek. The temperature was around -3℃ to -4℃. So you must be prepared for that. If you are planning to spend the night in tents, then you must have sleeping bags made for minus degree temperature. Otherwise, the option is to take those huts by rent on a bed basis. Rent is around Rs 100 to Rs 200 depending on the season.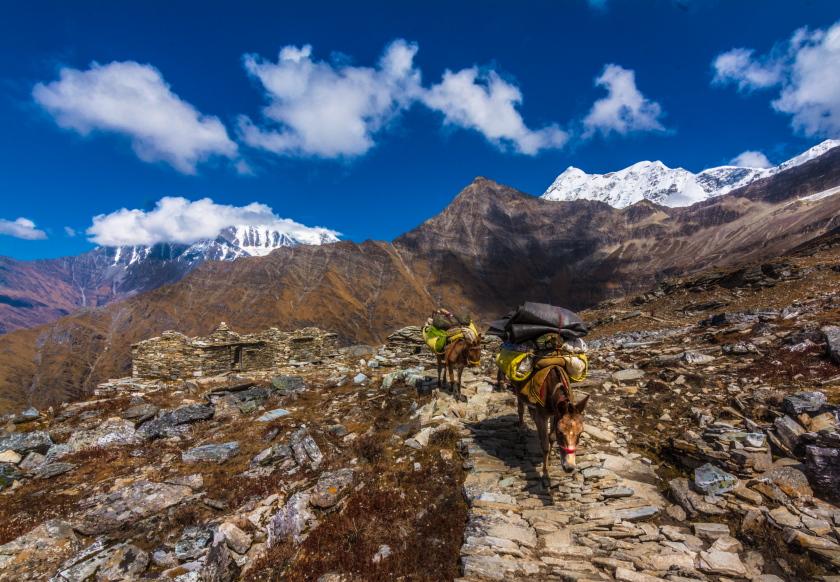 Picture 11a
Down the hill in front, you will get to see a small fountain far away (around 1.5 km). If you go close, you will find that it is pretty much large actually. It will take around 40 minutes to climb down and 1 hour to climb back. But you will not regret after having those awesome views of that place. Take your camera and tripod if you want to capture some slow-shutter shots.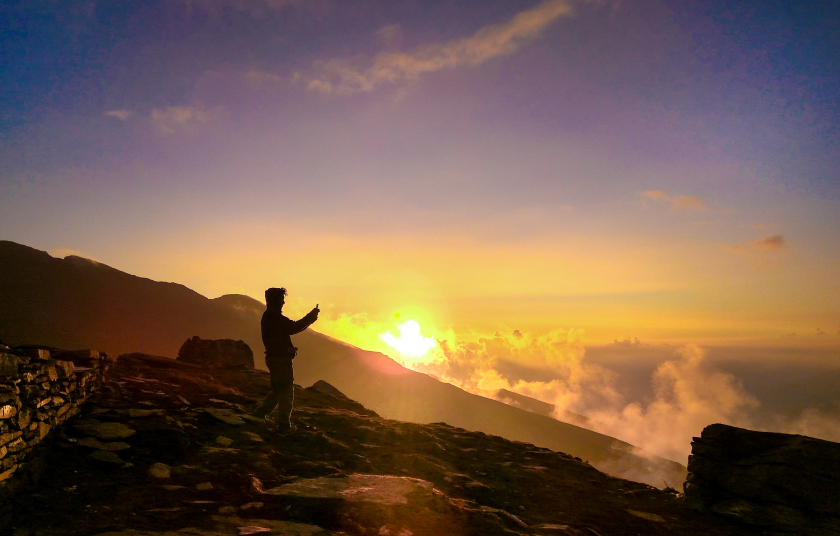 DAY 4 PART 1- BHAGWABASA TO ROOPKUND AND JUNARGALI
Next day we started the trek at 5.00 am. There were two reasons behind that. One reason was not to miss the chance to see the magnificence of Trishul and Chaukhamba with the first ray of rising Sun hitting those. The second reason was practically more important. Due to rising temperature, the hard snow would start to melt. And gradually it would be impossible to climb those ascents with our feet sinking in the snow.
From Bhagwabasa it was gradually ascending walk for around first 4 km and towards the end, there was a steep climb to Roopkund. It took 2 to 2.5 hours to reach Roopkund from Bhagwabasa.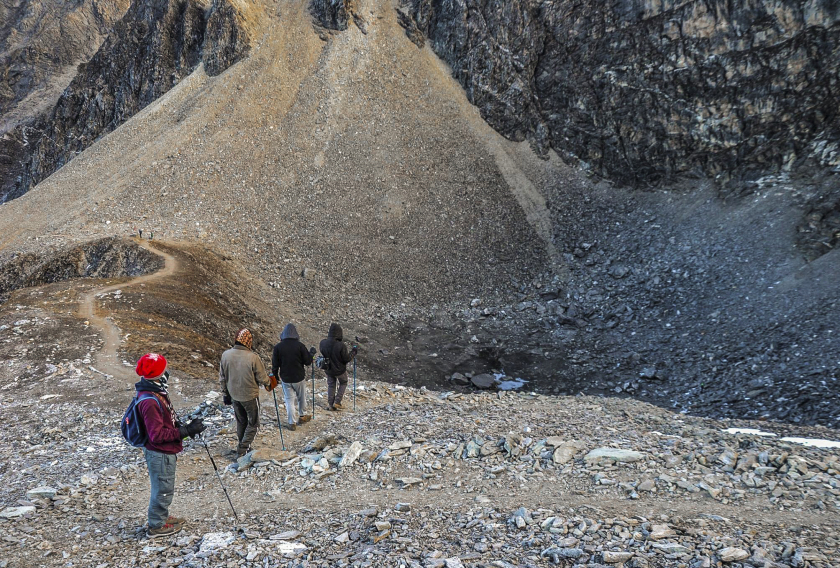 Roopkund was like a crater on the mountain face. But it did not have so much of water like those pictures on the internet. The amount of water was less during October. But it helped us to come across of those piles of thousands of human bones. The altitude was 15750 feet according to GPS.( which was pretty much accurate I think!)

If you want to stand just in front of Trishul having nothing in between, then you must visit Junargali Pass. The route was over snow (small patches during October) and it gently inclined upwards until it reached the top of the mountain. We took almost 20 to 25 minutes to complete this ascent of around 250 ft. from Roopkund to Junargali. -7℃ to -8℃ temperature with cold wind on the top of the mountain left us almost frozen. But all shivering and tiredness were forgotten after watching those magnanimous peaks of Trishul and Chaukhamba.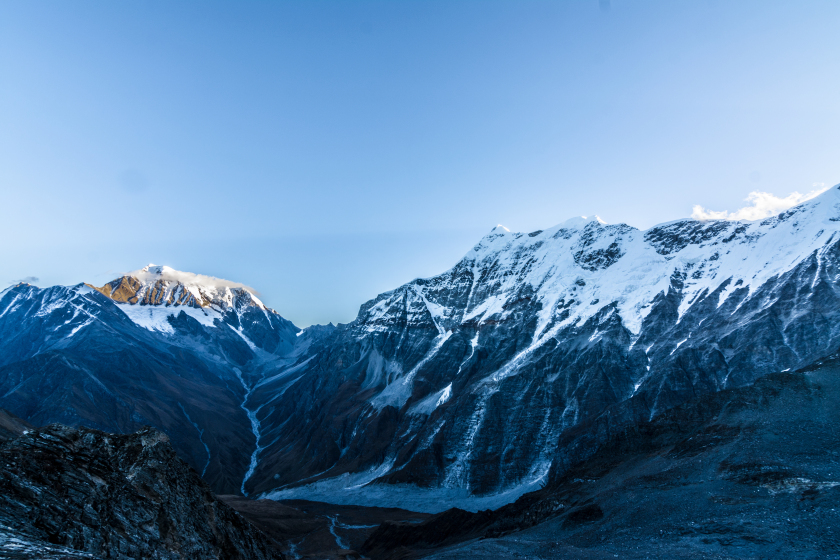 DAY 4 PART 2- JUNARGALI TO GHERAOLI PATAL
We had started to climb off at 8.30 am from Junargali and we were back at Roopkund by 9.00 am. After taking some rest, we took the path towards Bhagwabasa.The slope becomes dangerous during June when these are fully covered with snow. Sometimes you have literally crawl down over those snowy slopes. And after those switchback descents, it was easier for us the climb down gradually along those stone-clad path towards Bhagwabasa. We reached there at around 10.00 am. After having some food, we started off for bugyal along those gradual downslopes.
We actually planned to stay at Bedni. But due to bad weather we decided to go further. Actually, if you want to camp in the jungle as well as to enjoy the warmth of the bonfire, Gheraoli Patal will be a great choice. As we skipped that previously, we opted for this now.

But the path from Bugyal to Gheraoli Patal is a little bit tricky. If you want to take those shortcuts which you could take easily while climbing up, you have to ensure that you shoe grips are good enough. Those shortcuts were very steep but easily recognizable.
DAY 5- GHERAOLI PATAL TO WAN
The next day it took 1-2 hours to reach down to Wan. But there is another option. You can spend the night in the forest bungalow instead of Wan. The bungalow was around 200 feet above Wan. It had a beautiful garden in front of it and continuous water supply. But you have to book it before on the bed basis. It was around Rs 150- Rs 200 per bed. It will take 15 minutes to reach down to Wan where you will get cars to reach Kathgodam
10 things to do in Roopkund :
1.Take a 10-litre daypack and torch (head lamp preferably) with you. It will be needed during the trek from Bhagwabasa to Roopkund.
2.If you want snow, do the trek during mid-June. In October, chances of getting snow are very less. June is the best time to do the Roopkund trek.
3.Being a moderate to hard level trek, Roopkund always requires shoes with good grip. Quechua Forclaz 500 would be a good choice.
4.You always have to acclimatize in any high altitude trek. Whenever you chose a place for camping after hiking for a long day, always climb further, higher than the place and then come down. It will help you to get rid of high altitude sickness.
5.For the photographers out there, Bhagwabasa and Bugyals are the best places for star trails and astrophotography.
6.BSNL and Vodafone network will be available at the camping sites mentioned earlier.
7.Always keep tissue papers and a plastic mug or bottle with you.
8.Try to explore Wan as much as you can. It is a beautiful village indeed.
9.U might have to give the permit for the whole trek on the way to Ghora Lotani from Bugyals, separately for tents and for the stay. Please gather the information regarding the permits.
10.Wherever you chose to camp, find the water source before. Finding those might be very tricky, especially on this trek.
This blog was originally published on 'THE MAGNIFICENT ROOPKUND'