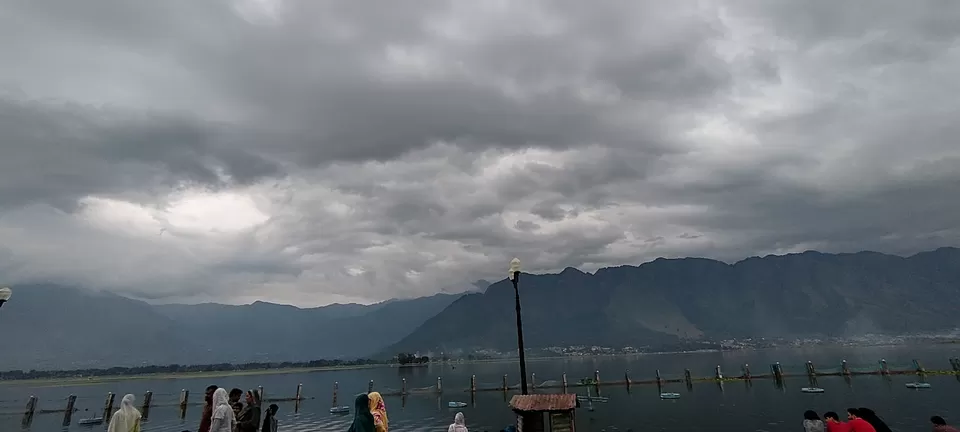 This time I got the opportunity to add Kashmir into my travel diary. Though i had a very short span of time ( 3 days stay ) which isn't enough to cover the maximum of the KASHMIR, yet i decided to go as i was very much keen to see this much talked piece of land on earth. This time i was accompanied by my beautiful wife and my lovely daughter.
START OF THE JOURNEY
I started my journey from Kanpur, Uttar pradesh. As i was short on time, i decided to catch a direct flight from NEW DELHI instead of LUCKNOW. The flight took off from NEW DELHI at 11:30 a.m and landed at SRINAGAR airport at 12:35 p.m. The air connectivity from NEW DELHI to SRINAGAR is very good and multiple flights take off and lands during the day between the two cities.
STAY AT SRINAGAR
We booked ' The Kashmir Mahal' resort for two nights which is at a walking distance from the famous ' Nishat Garden' and very close to Dal lake however the Resort was around 20 km's away from the Srinagar airport which turned out to be a bit expensive for us as the local transportation in Srinagar is not easily available and tourist's have to opt for a reserved taxi for travelling to a short distance.
One can find the good hotels easily while visiting Srinagar but the hotels are on a bit expensive side.
PLACES TO VISIT
Though the whole Kashmir is beautiful and each and every corner of it must be explored, we were able to visit the local srinagar and Doodhpathri which is in budgam district during our short stay.
In Srinagar, one can visit the Shankaracharya Temple, Nishat Garden, Tulip Garden, Mughal Garden, Shikara Ride at Dal, Hazratbal Mosque, lal Chowk market, Pari mahal, Shalimar Garden and many other places.
For the other day, we chose to visit the Doodhpathri which is around 50 Km's far from the srinagar. The place was majestic with lush green grasslands and pine trees. The best thing about the place is that it is yet to be completely explored by the tourist and very few of the tourist visit here hence one can easily relax.
following places can be a good option for a short visit to Kashmir ( In preferable manner ).
Pahalgam ( any time of the year, 100 km from srinagar )
Gulmarg ( Visit in winters, 50 km from srinagar )
Sonmarg ( Winters, approx 50 km from srinagar)
Yosumarg ( Any time of the year )
THING'S TO DO
The city 'SRINAGAR' is itself a great place to visit and one would definitely feel the thrill while wondering on the roads at evening time when all the tourists move to their hotels and you'll only find the locals and the CRPF personnels on the roads. Though the city is completely safe to travel now, one would surely experience the thrill while walking on the roads during night time. ( beyond midnight is not suggested as you'll be stopped by the authorities for frisking).
One can stay at the houseboats staying on the banks of the DAL LAKE however you may not find that very promising as the houseboats will not float. Shikara ride is a worthy thing to spend your money but do negotiate before taking the ride as shikara owners demand too much for a ride of 1 hour. The ideal amount would be Rs. 300-500 per person for a ride of 1 hour.
Kashmir is also very famous for the dry fruits, and other items such as 'KESAR' and 'SHILAJIT' however one must find the genuine shop for buying these things as many of them would sell you the fake 'KESAR' or 'WALNUTS' etc. I would personally recommend buying these items from 'WANI DRY FRUITS' next to NISHAT GARDEN.
THINGS TO REMEMBER WHILE VISITING KASHMIR
1-It is very advisable to visit by your own vehicle as the local transportation ( shared taxi's and auto's) is not that easily available and you'll have to book a cab for even a shorter distance which will be very heavy on your pocket.
2- If you are hiring any taxi for local and nearby sightseeing, plan your visit according to you as the driver would suggest you only those places where he can get his cut ( they gets their share everywhere whether it is shikara ride, dry fruits shop or any other place ).
3- Do not try to have a conversation or indulge with security personal's and let them do their job as the place is a sensitive one.
4- While returning to AIRPORT, keep the margin of an additional hour as you'll have to go through the security check before 1 km from the airport.
HAVE A SAFE TRIP.