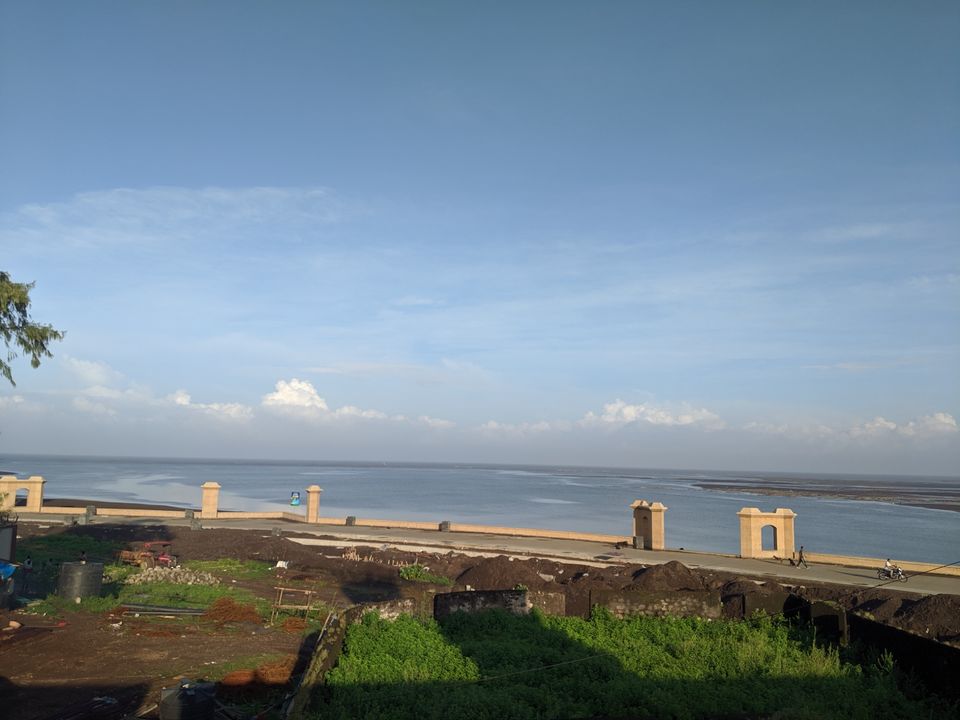 We had a plan that four of them (The Trip planners that's what we call ourselves. You will get to know each of us as you read ) will come to Mumbai for five days trip and explore places near by that's all the plan we had.Of course they expected me to do the planning as I am the one who stays in Mumbai ,Chandan (Trip Planner(TP) no 1 ) even called me and reminded me to do a itinerary for the five days but as it happens Everytime I planned to make one and ended up making none. Hemanth (TP 2) who is actually the ones who plans things and makes the arrangements for the travel and stay ( He is the actual Trip planner we have you can say ) said he won't be coming to trip as he has some plans at home and won't be able to make it .We all tried to convince him a lot but he was like no way he can make it so finally we gave him some scolding and decided that it's going to be only four for this trip. But hemanth had other plans and he came one day early to Mumbai and gave a surprise to me and other planners. More than the surprise it's a big relief for us as he is the only one who can cook and we really needed him to make some good chicken for our beer sessions at home. Finally on Saturday (28 sep) Chandan ,Kusum,Pavan ( the other two TP) landed in city of dreams . By the time they reached my home me and hemanth went to my colleague place by run and got the car for trip. Finally after a breakfast of lemon rice and some good tea which I made we sat down to plan where all we should be going.
With little or no discussion we decided to head for Daman which is around 180 km from Mumbai and stay there for a night and decide on what do to next . An hour after we are on highway heading towards Daman and once we crossed the Mumbai city and hit highway for Daman the drive became more pleasant and scenic with lush green mountains and plains after mansoons. Early October weather is complementing our ride and as we started making fun of each other and enquiring about who is after which girl now a days time was already 3 and we started looking for a place to eat. The basic criteria for us stop at a place to have food was that they should serve us beer along with food ( just for Information we always keep the guy who is driving sober) .After going through a series of dhabas along the highway we finally came to a place called SAMUDRA dhaba which has a beer shop attached to it with no questions asked we stopped the car and ordered some beers and food .There are times when we go on trip and come back doing or seeing nothing great . But one thing that we always enjoy is the fun conversation that we have ,They range from simple jokes to teasing each other to serious political discussion almost like anything and everything . Same thing happened here also we had some beers ,some fun conversation , teased each other , took some selfies and resumed our drive to Daman.
By the time we reached daman it's already 8 in the night and we went straight to Jampore beach and started looking for accommodation on beach side and found that the better accommodation is there on the other side of the beach. We finally got a stay near Devka beach and slept as we all were tired .
Next morning we did a morning run in Daman( This is a new thing which we started recently just make sure that we balance all the unhealthy food we eat during the day) and covered most of Moti Daman on foot. Daman is devided into two parts Moti Daman and choti Daman . Moti Daman is the actual Portuguese colony which has old world charm and Choti Daman which got developed recently and is more of a commercial place . Both parts are connected by a bridge. Daman is good place for one day trip and you can cover entire place in a day. The Devka beach is black sand beach and beach road that runs along side it's coast is very scenic with great view of sea and makes a excellent track for morning runs. It has a Fort and a light house which gives a good view of sea and you can click yourself some good profile pics.
One can witness Portuguese influence in almost all the administrative and old buildings of the Moti Daman as it used to be a Portuguese colony . I felt there nothing much to explore in the city and you can easily wind it up in a day. But being union territory and beach city it has that laid back relaxing vibe that you can enjoy. And you get booze and fuel at much cheaper rates which is added bonus .
That's the start of our planned Unplanned Trip.Hope you can guess who is the fifth Trip planner by now..