It seems completely illogical why one would pick a rustic homestay over the fancy luxuries of a world-class five star resort. But there are some travellers, who despite having the capacity to afford such luxurious stays, choose instead to live and experience a destination through its homestays. The following homestays in India, situated in highly popular destinations, are capable of giving famous five-stars a healthy competition (if not a run for their money).
Disclaimer: The homestays are obviously not equipped with services such as in-house spas, infinity pools, jacuzzis or different restaurants for varied cuisines. But where they lack in high-end facilities, they make up for in character and experience.
Made with natural stone and crafted out of reclaimed wood from the forests that surround the house, La Belle Vie is a manifestation of all things beautiful in life. Situated just 100m from the Naukuchiatal Lake, this cottage is tucked away from the chaos of city life and serves as a refreshing retreat. If you want to try recreational activities such as boating, paragliding and trekking, the host can help you arrange them. A stay at La Belle Vie will be accompanied with a full-time caretaker and cook (till 10:30pm) who will happily whip up local and continental meals for the guests at a cost. Doesn't that sound like a cozier option than the famed WelcomHotel The Savoy where a double room for night costs Rs13,000.

Price per night: Rs 12,000 for the entire cottage that accommodates upto eight people.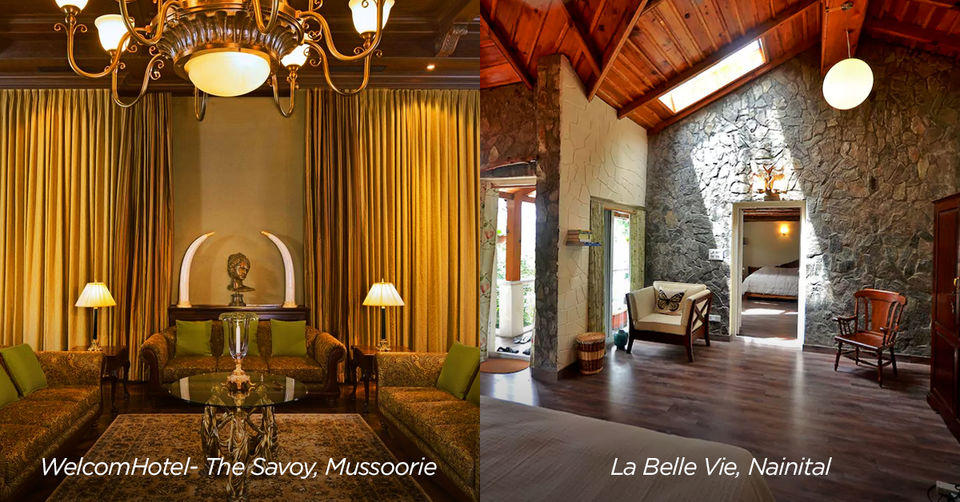 Situated in the understated town of Old Manali, the Shobla Pine Cottage looks over the beautiful Jogni Falls and the Beas River. From your bedroom, you will get an unobstructed view of Rohtang Pass and Hampta mountain. The host serves a great breakfast to the guests and ensures a memorable stay. One of the most romantic homestays in India, Shobla Pine Cottage is ideal for couples who like scenic isolation in the lap of nature. A stay at Shobla Pine Royale is accompanied with a live fireplace and a hospitable staff of helpers. The cottage might not have an enviable spa as the one at Wildflower Hall, where a night's stay costs Rs 19,000, but it does promise that an evening by its fireplace with loved ones will be just as memorable.

Price per night: Rs 2,981 for a private room which accommodates two people.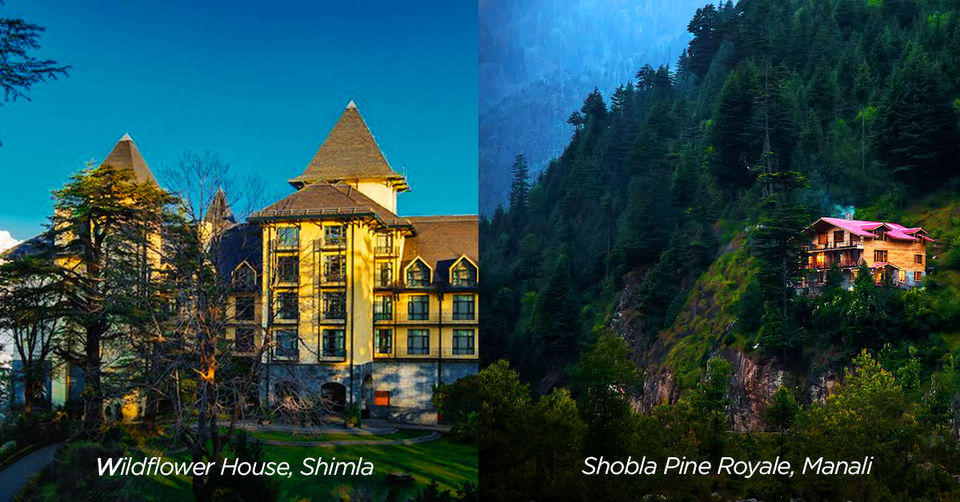 Rosie's Lakeside Retreat is a recently renovated but universally loved homestay in the Old City of Udaipur. Located behind the City Palace, Rosie's has an awe-inspiring lake view. This Airbnb property has also been mentioned in Lonely Planet's (March 2015) "30 hip homestays from Rio to Paris" and should not be missed! A housekeeper comes to clean the place once everyday (except Sundays) and there is a fully functional kitchen if the guests want to cook. In case you fall in love with a piece (decorative sculpture, pillow case, etc) during your stay, note that everything, except primary furniture items, are for sale here. If you are planning to stay longer and wish to experience how the past and present are celebrated in Udaipur without spending Rs 21,000 per night at the Taj Lake Palace, then Rosie's Homestay is for you.

Price per night: Rs 4,081 for a private room which accommodates two people.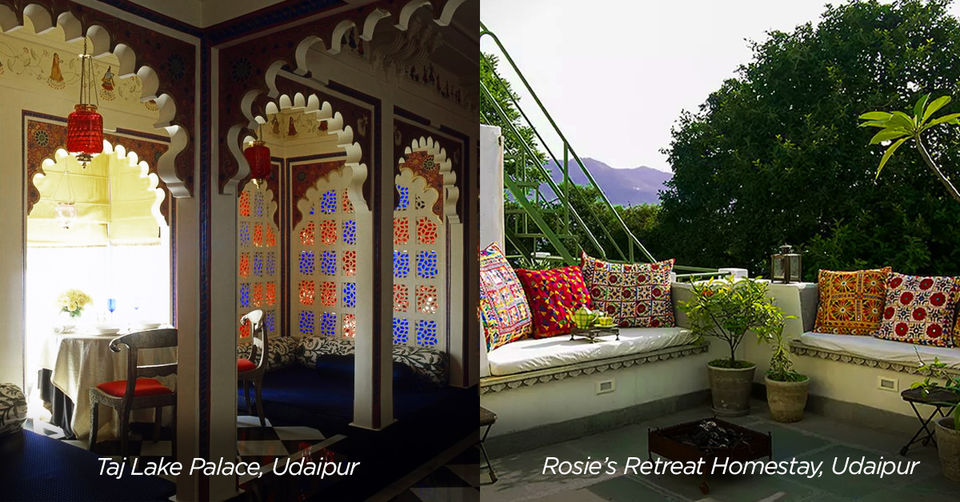 As one of the highest-rated homestay in India, the Sea Hut in Kochi is a beautiful retreat by the Arabian Sea, which exudes the feeling of being at home, even when you are far away from it. The hosts are reviewed to be caring, comforting and friendly. Guests who have previously sought a treat at Sea Hut suggest asking the host to whip up local dishes which she specialises in. Throughout the day, the sound of the sea breeze and whistling trees fill the surroundings, making it an ideal place to escape to for some calm and quiet. And if you get bored, there are two adorable pets on the property: Tingu (dog) and Pillu (cat). Sea Hut might not have the luxuries of the Kumarakom Lake Resort, but a stay here will take you back to simpler times when happiness came easy amidst nature and loving people.
Price per night: Rs 1,620 for a private room which accommodates two people.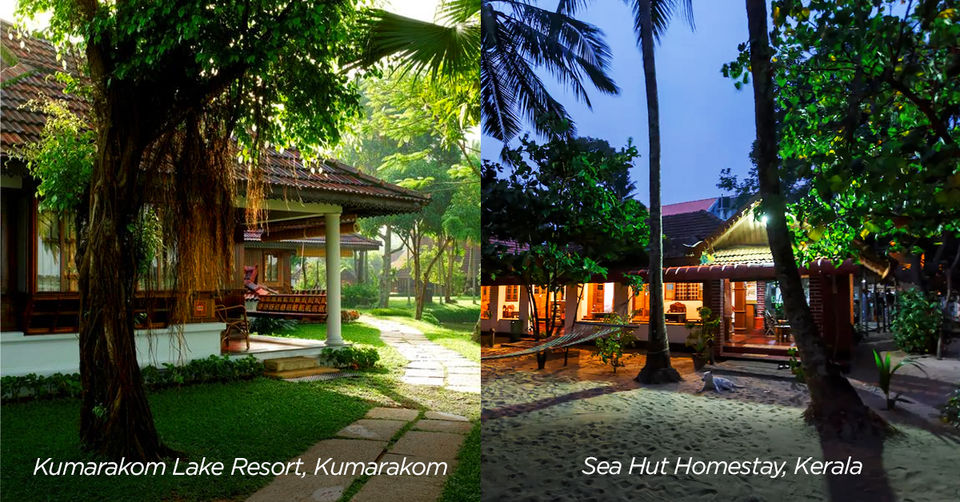 If you want to explore a part of Goa which is not synonymous with wild parties, then the historical town near Dona Paula is where you should head. Nestled amongst coconut and mango trees in a quiet corner of a small village, this villa has great access to more popular parts of Goa. A stay at Curly Coelho comes with a full-time caretaker and cook who will happily whip up a meal for the guests. The cottage is just a walk from the Mira-mar beach, from where you can also get a great view of the Vasco da Gama Port and the lighthouse near Fort Aguada. Your stay at the Curly Coelho Cottage with Old Goan vibe might not match the spoils of the Goa Marriott Resort where a night's stay costs Rs 14,000, but it will give you a peek into the heart of real and authentic Goan living!
Price per night: Rs 6,026 for the entire cottage which accommodates upto 10 people.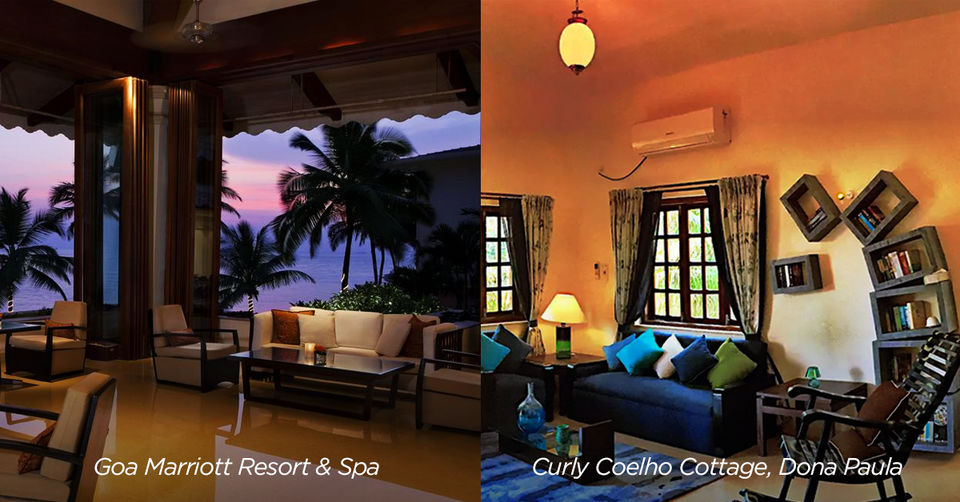 Necklace View Villa in Hyderabad

In the town of nawabs and near the legendary Banjara Hills, the necklace view villa is a great replacement for conventional haveli-turned-into-hotels. Located right in the heart of Hyderabad in a posh neighbourhood, the villa is at great proximity to city's cafes, fine dining restaurants and entertainment centres. And if you need anything else at all, Dasrath, the resident housekeeper will be more than happy to help. The host also allows parties and get-togethers, so you can book this regal villa for an extended stay with your friends. The Necklace View villa also serves as an austere replacement for the glorious Falaknuma Palace where a basic room for a night costs Rs 36,600!
Price per night: Rs 9,461 for the entire villa which accommodates upto 10 people.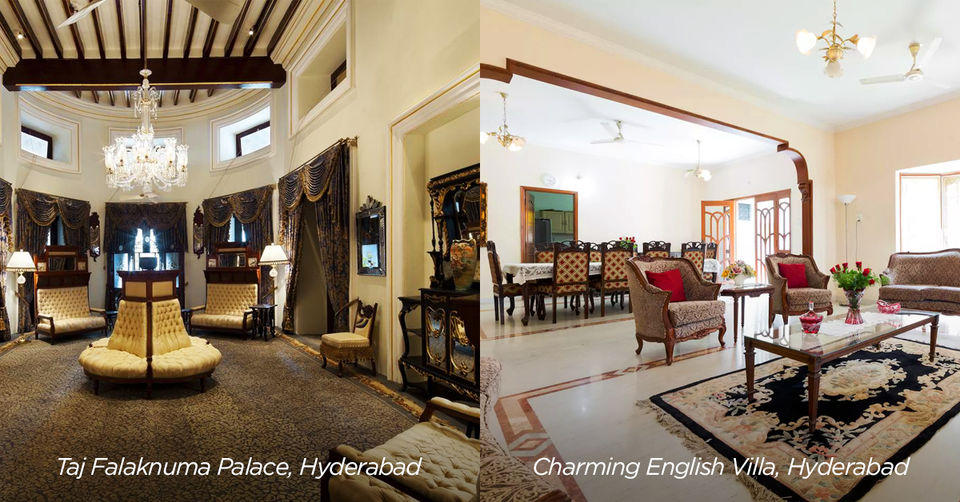 Have you discovered a destination where you can spend a peaceful weekend with family and friends? Write about it and help travellers on Tripoto. Got any queries about travelling in India or abroad, ask the community of travellers on Tripoto.