There is a reason why Airbnb is giving top hotels a run for their money. The website has some of the most unique and luxurious listings up for grabs which offer experiences that no plush resort could possibly provide. Since honeymoons are rather special and couples always look for the best properties to stay in and make memories, this rental giant has your back. Keeping that in mind, here are 10 Airbnbs that are special, easy on the pocket and perfect for newly-weds:
La Belle Vie in Nainital, Uttarakhand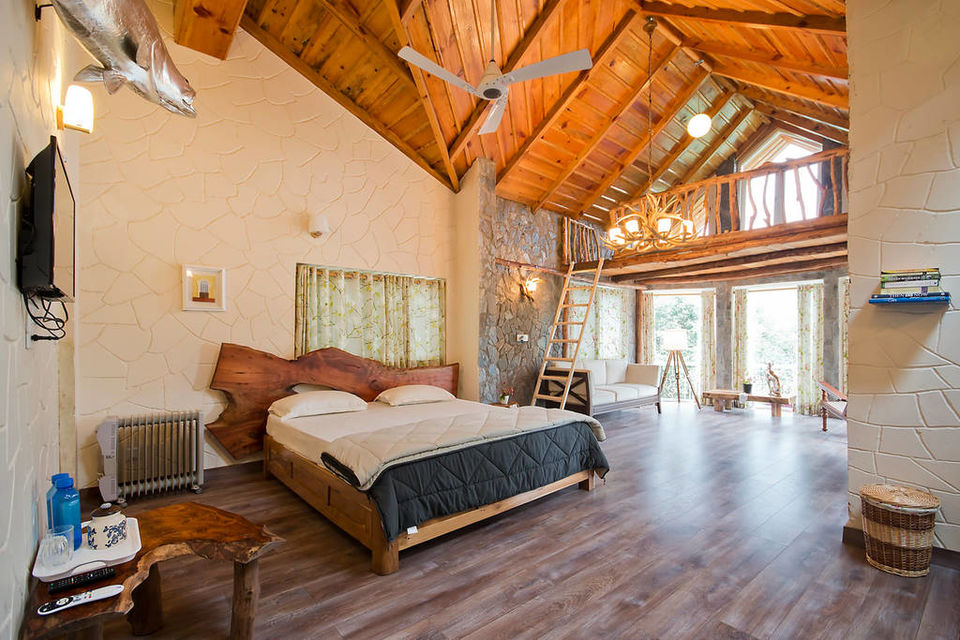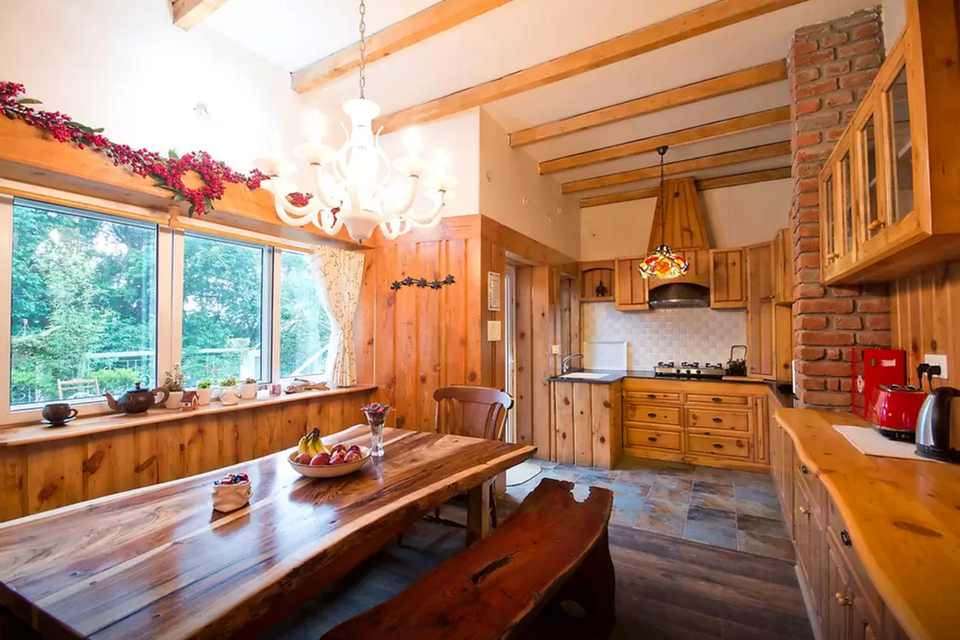 Accommodates: 8 guests with 3 bedrooms and 3 bathrooms.
Cost: Rs. 12,000 per night.
An all natural stone and wood house in the Lake District of Uttarakhand, La Belle Vie is warm, cosy and incredibly romantic. While it is nestled deep in the woods, it is not all that far from restaurants, shopping areas and the pristine Lake Naukuchiatal. There's also a chef to prepare basic Indian meals for you if you don't feel like cooking. Run by Rupam, this beautiful property will ensure that you have the honeymoon of your dreams.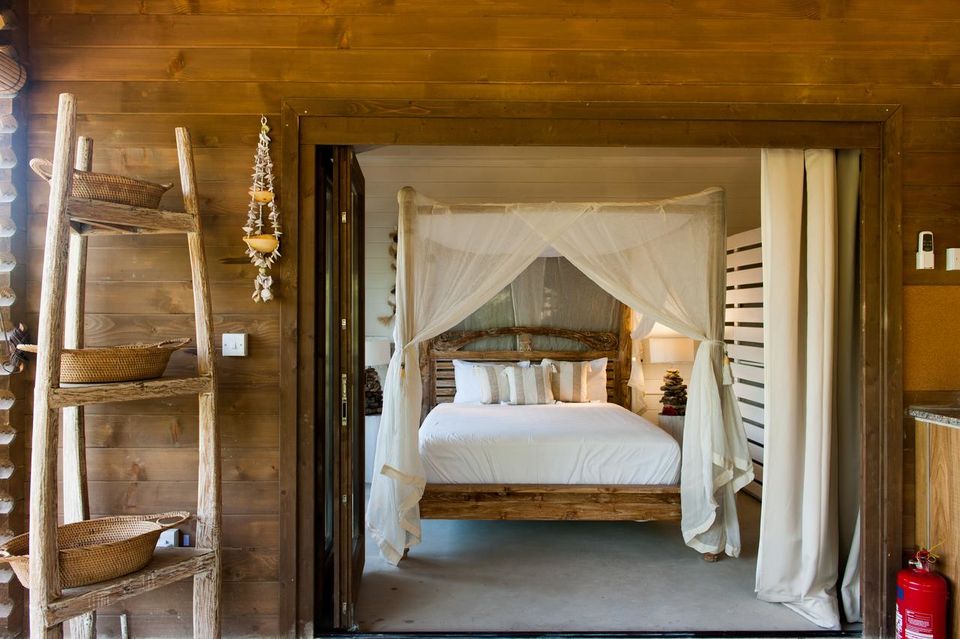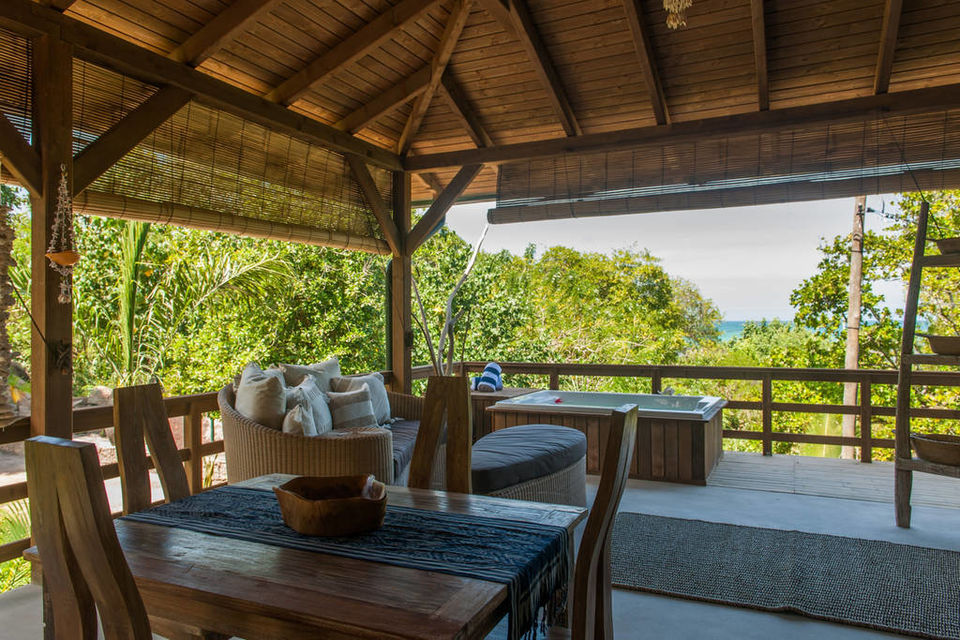 Accommodates: 2 guests with 1 bedroom and 1 bathroom.
Cost: Rs. 8550 per night.
Seychelles is undoubtedly a paradise for honeymooners and the Hummingbird Beach Hut in Praslin is one of its shining gems. A mere 100 metres away from the beach, this secluded hut provides unparalleled views of the ocean apart from oodles of comfort in the form of its comfortable bedroom, a fully equipped kitchen and an open shower. There's also a private jacuzzi to send you and your partner straight to heaven.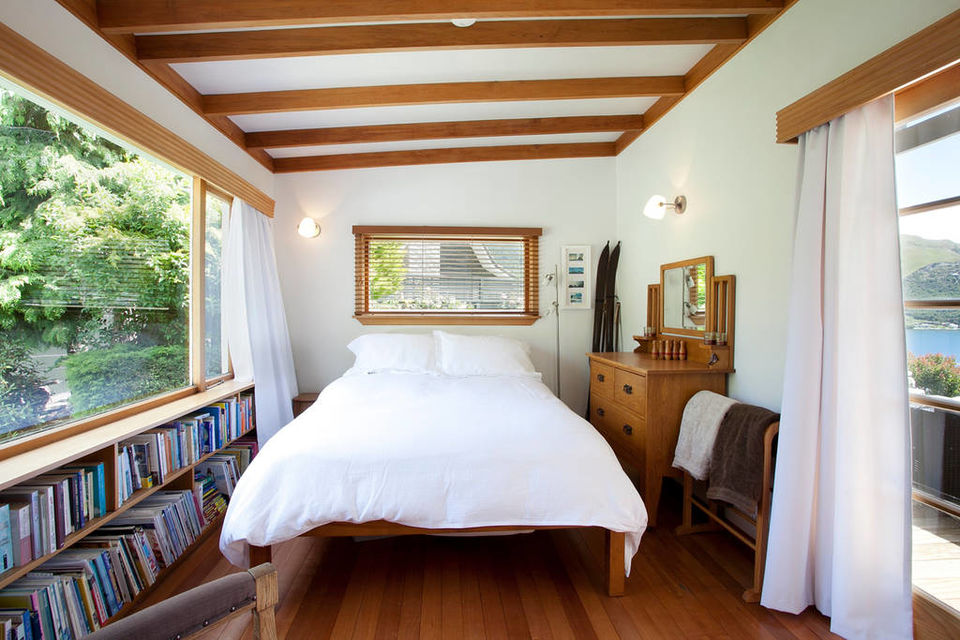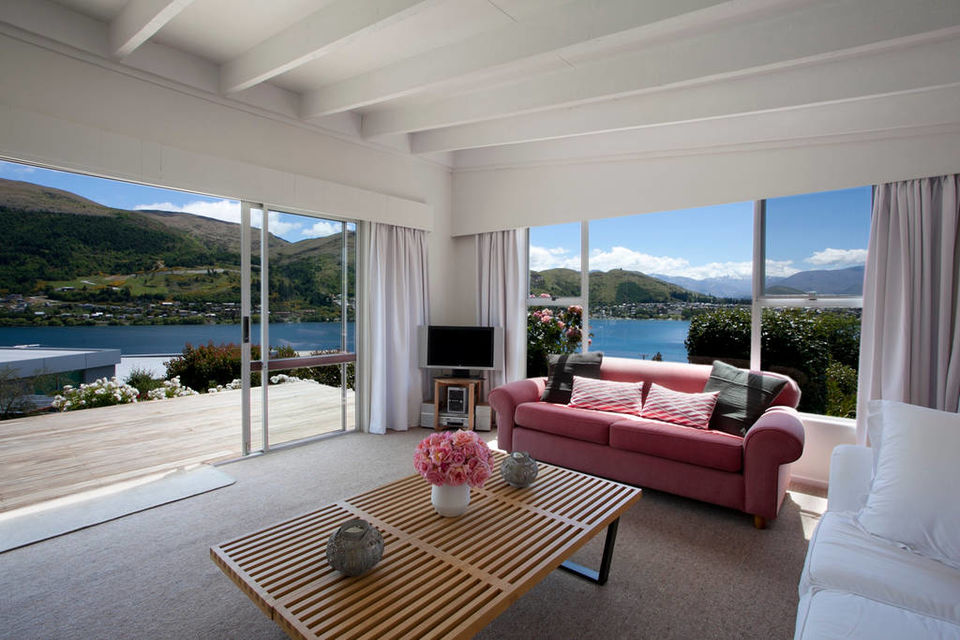 Accommodates: 4 guests with 2 bedrooms and 1 bathroom.
Cost: Rs. 13,770 per night.
With its endless natural beauty and welcoming locals, New Zealand is a fairy tale destination for honeymooners. The Peninsula Road Cottage, a traditional holiday home in Queenstown's Kelvin Heights suburb is just one of its many excellent properties to stay in. The star attraction of this rental, however, is its massive wooden deck with glorious views of Lake Wakatipu. Some memorable al fresco meals with your partner are therefore warranted.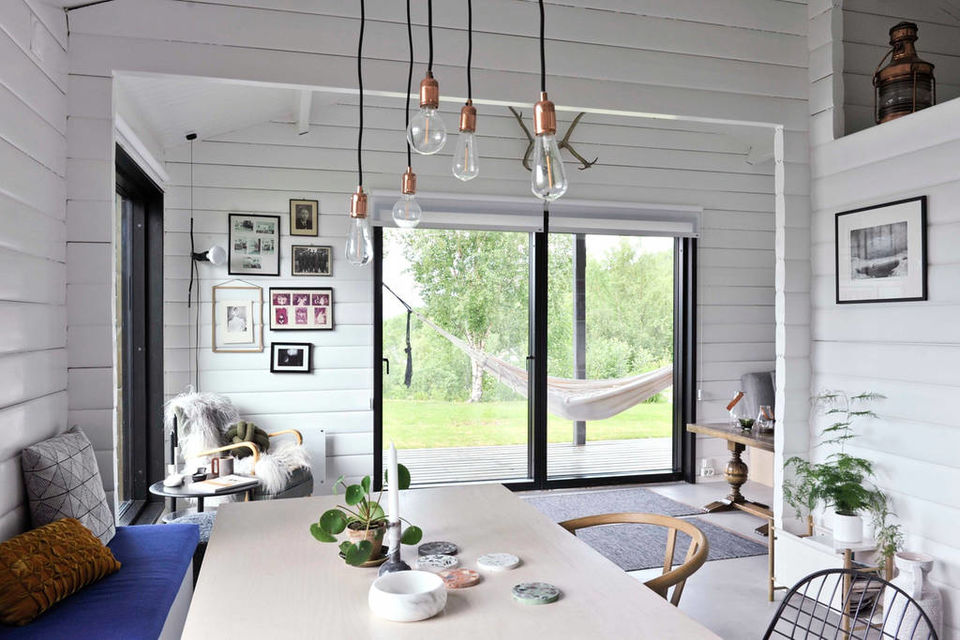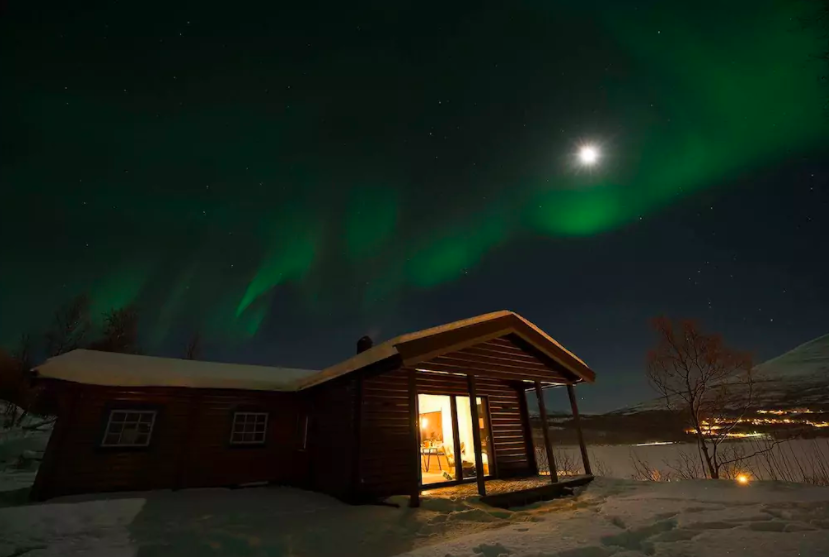 Accommodates: 7 guests with 3 bedrooms and 1 bathroom.
Cost: Rs. 3676 per night.
There is nothing quite like watching the northern lights with your partner and Villa Hegge in Norway's Salangen area is an ideal retreat for the same. With minimalistic decor, a modern fireplace and massive windows, this cottage looks straight out of Instagram. Since there is no tv and access to the internet is limited, you can spend some quality time with each other and perhaps even play the many board games that are provided by the host. The arresting views of the fjord are a major plus.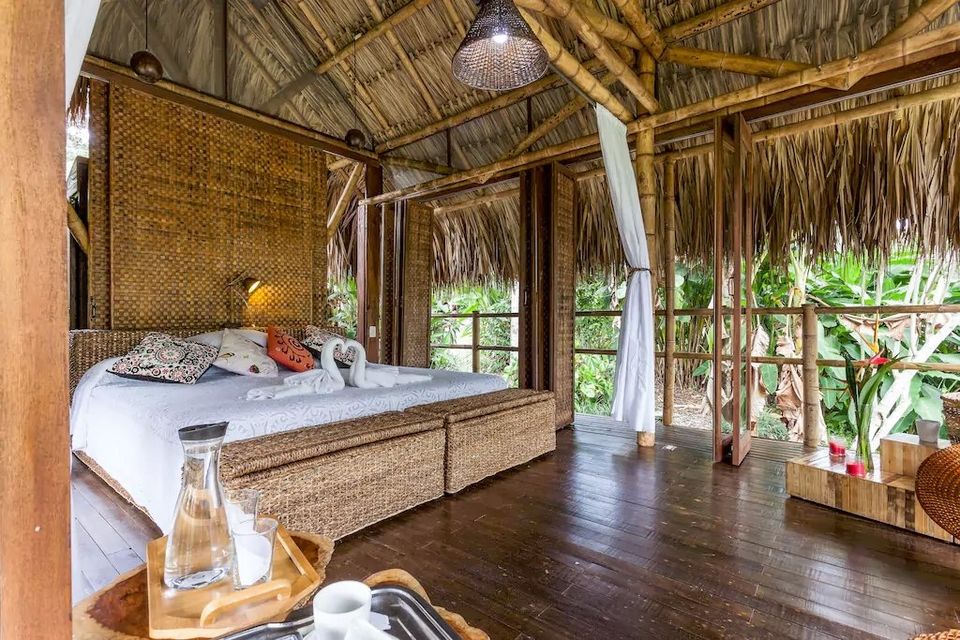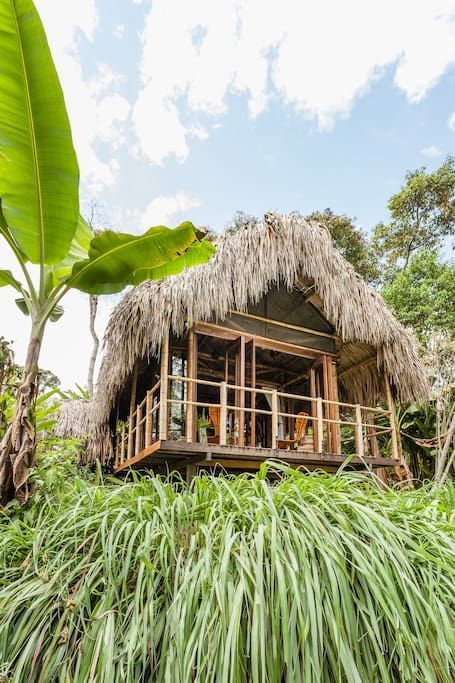 Accommodates: 2 guests with 1 bathroom and a studio layout.
Cost: Rs. 2674 per night.
Colombia is not the first place that comes to mind when one thinks of a honeymoon but there is a lot that the country has to offer to newly-weds, especially its coffee region of Armenia. Surrounded by the Andean mountains, the 'cabana' or cabin in question is a cosy establishment inside an organic farm that lets you live in perfect harmony with nature. Apart from sleeping in and enjoying complimentary breakfast, the two of you could go on coffee tours, see a butterfly emporium, visit bee farms and hike to your heart's content.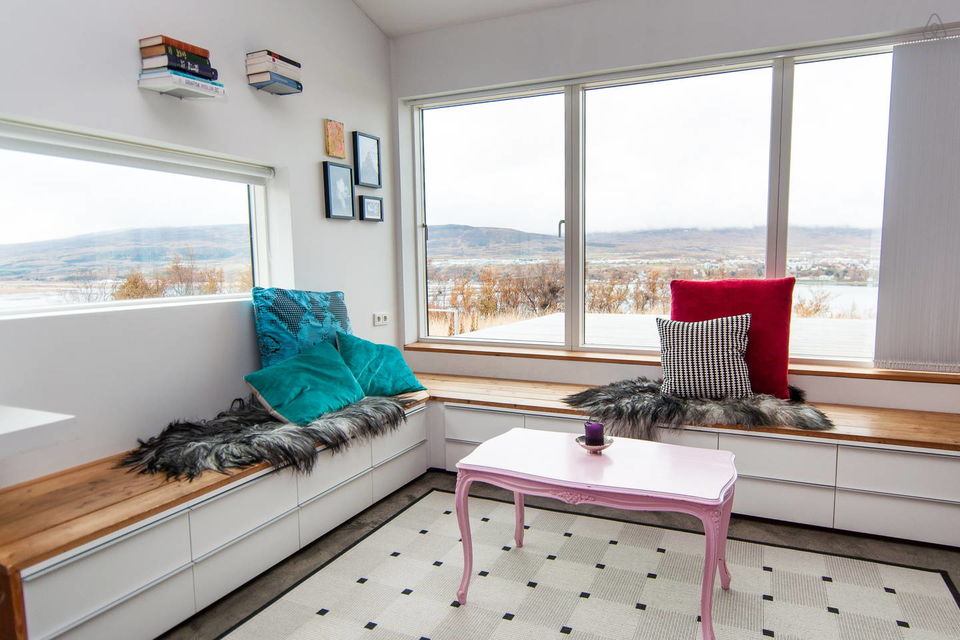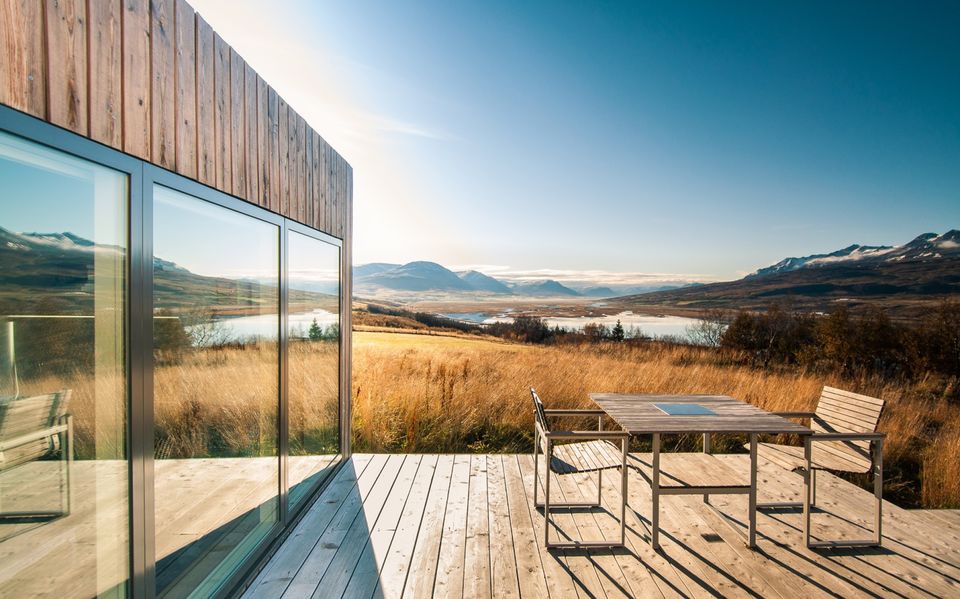 Accommodates: 4 guests with 2 bedrooms and 1 bathroom.
Cost: Rs. 11,230 per night.
Iceland has this otherworldly quality to it and so does this stunning Airbnb in Akureyri, a utopia of sorts for honeymooners. Despite being a mere 10 minutes away from the city centre, you will feel like you're in the middle of nowhere given the picture-postcard landscape that surrounds this modern villa. The red, white, pink and blue interiors are inviting and so is the complimentary chilled beer in the fridge. Expect to see the aurora borealis and the midnight sun in the comfort of your bed.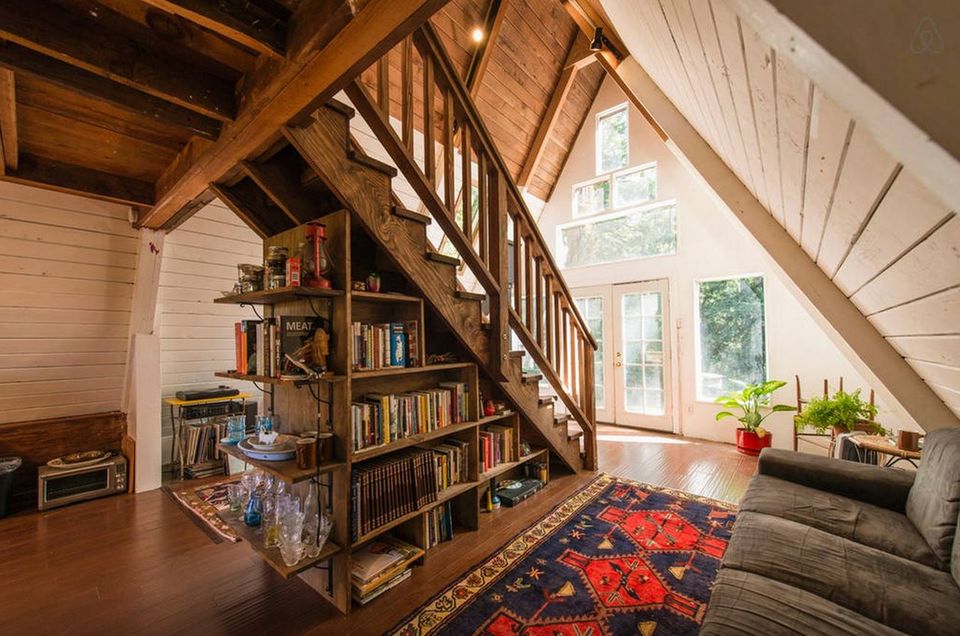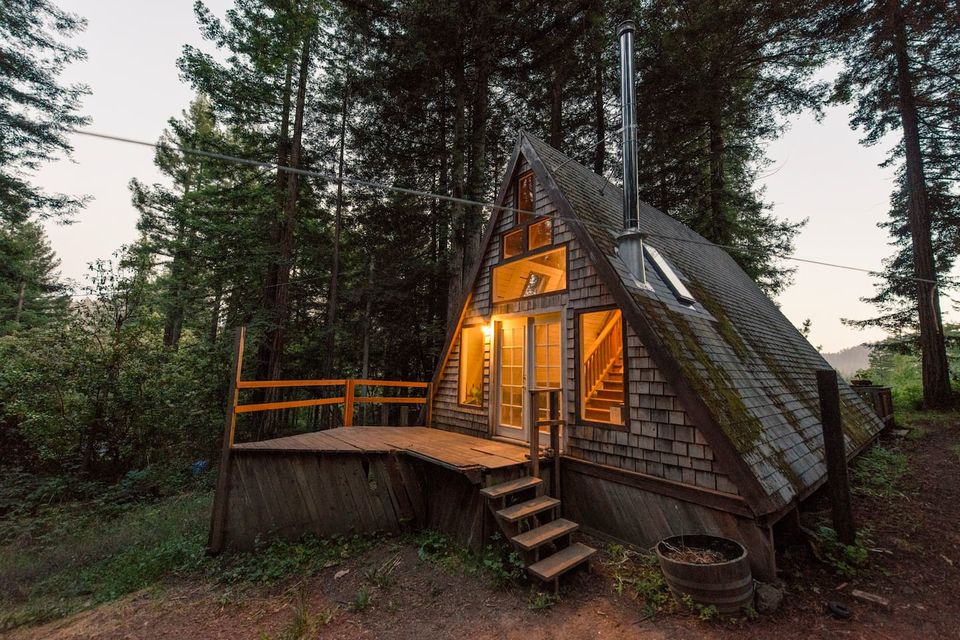 Accommodates: 2 guests with 1 bedroom and 1 bathroom.
Cost: Rs. 9692 per night.
If you've ever dreamt of spending a few days snuggled up inside a cosy cabin in the woods, this Airbnb rental is perhaps your best bet. Some two hours away from San Francisco, the cabin has a tiny but comfortable bed, a basic kitchen and bathroom, a record player and loads of books. There is no TV and only wood stoves help in heating up the space. Head over to the Californian Redwoods if you are looking for a quiet honeymoon, far away from the madding crowd.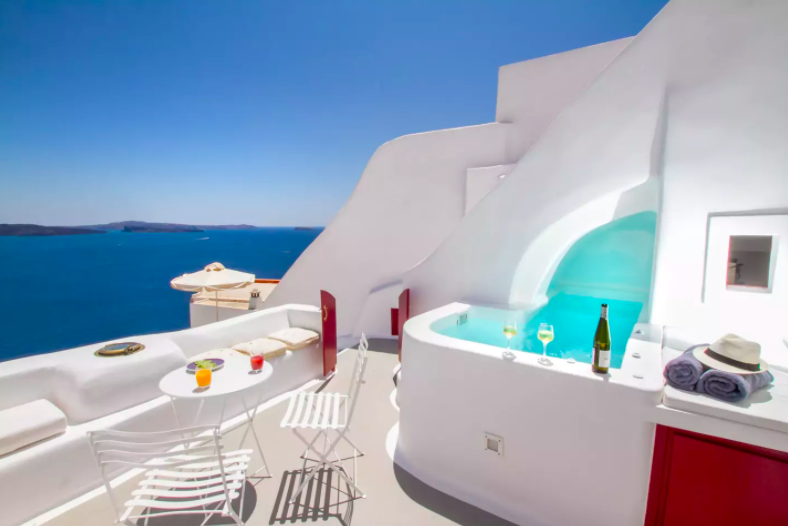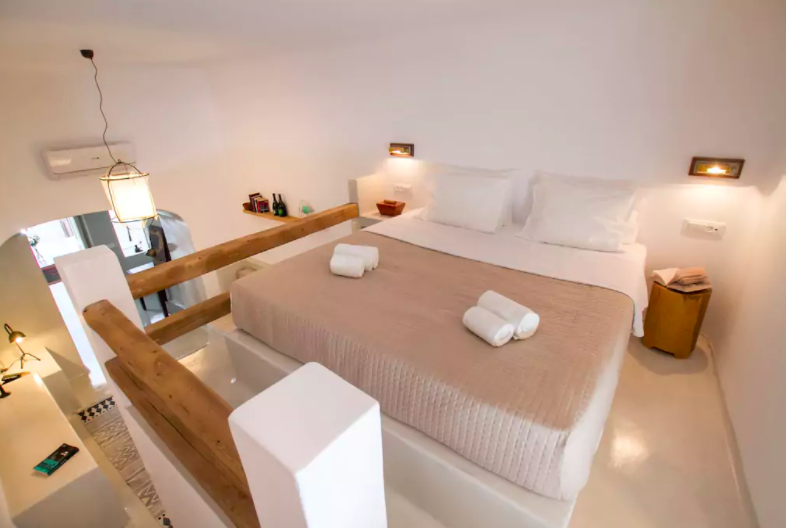 Accommodates: 5 guests with 1 bedroom and 2 bathrooms.
Cost: Rs. 11,163 per night.
What was once a wine cellar, the pristine Hector Cave House has been sitting inside a caldera cliff for some 250 years. This 60 metre square property has a king sized bed on its loft, a fully equipped kitchen and a verandah that provides nonpareil views of Santorini and the Thirassia Island. A fantastic outdoor jacuzzi is also available during the summer and autumn months. This traditional 'canava' will make sure that you have a magical honeymoon.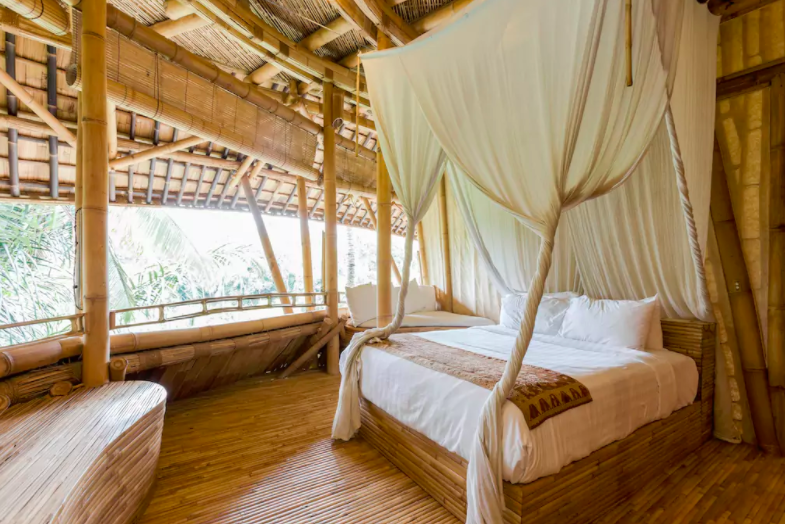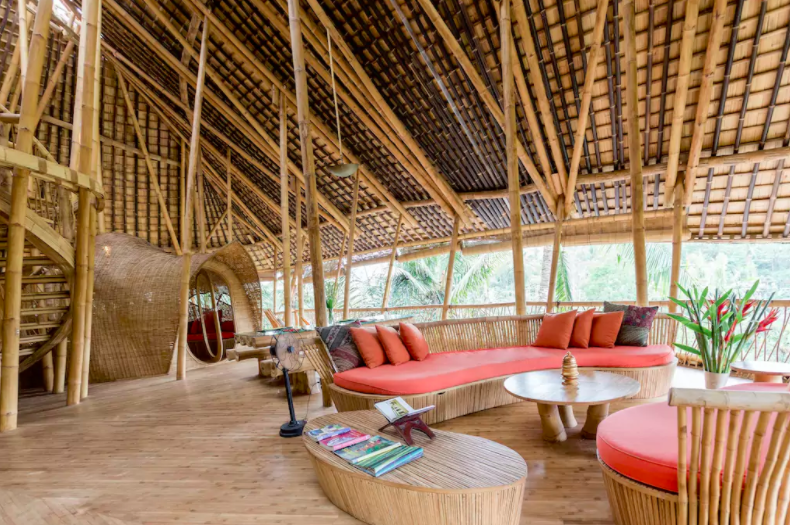 Accommodates: 8 guests with 3 bedrooms and 3 bathrooms.
Cost: Rs. 21,724 per night.
Burrowed in the Ayung River Valley of Bali, this bamboo house has wooed visitors (including celebrity guests) from all over the world. Spread across four floors, the space has 3 double bedrooms, ensuite bathrooms, a living room and a fully stocked kitchen, all of which have unique bamboo furnishings. There is also a plunge pool along with some exquisite views of the gorge. All guests have access to a communal area which has a restaurant and a natural pool. For a honeymoon like no other, make sure you book this villa well in advance.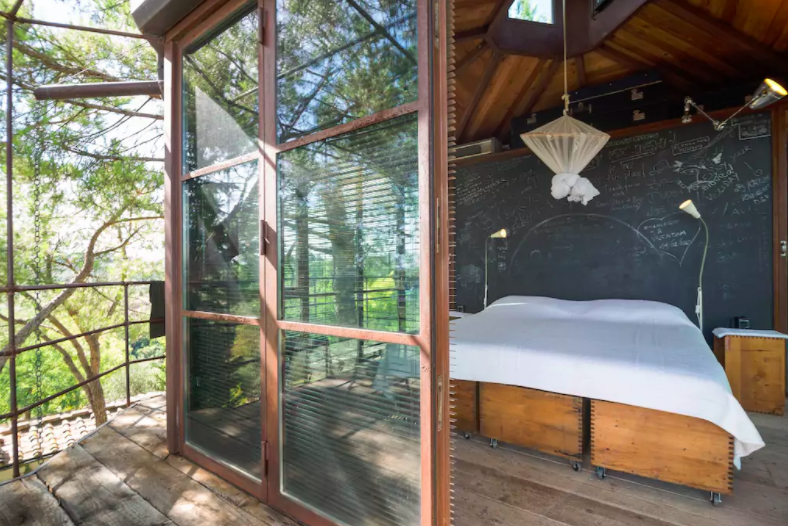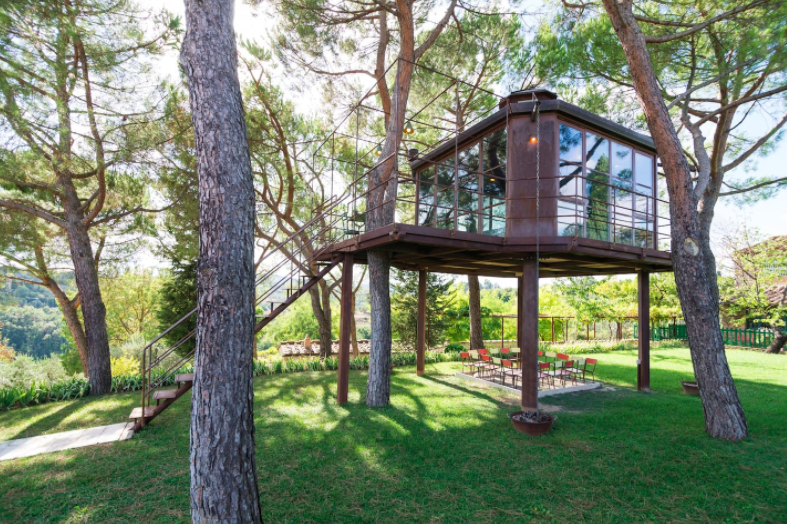 Accommodates: 2 guests with 1 bedroom and 1 bathroom.
Cost: Rs. 15,508 per night.
A honeymoon in the Tuscan countryside has no parallel and this romantic tree house near Florence is just the right address for the same. While there is the usual queen sized bed, a kitchenette and a functional bathroom, the surrounding landscape with its olive and cypress trees is the star of the show. The hosts encourage guests to use the internet only when absolutely necessary because why would you want to be glued to your phone when you're in the midst of nirvana. So go ahead and gaze at the stars with your love by your side.
Disclaimer: Prices on Airbnb are constantly fluctuating depending on the date of booking and the current exchange rate.
All images have been taken from Airbnb.