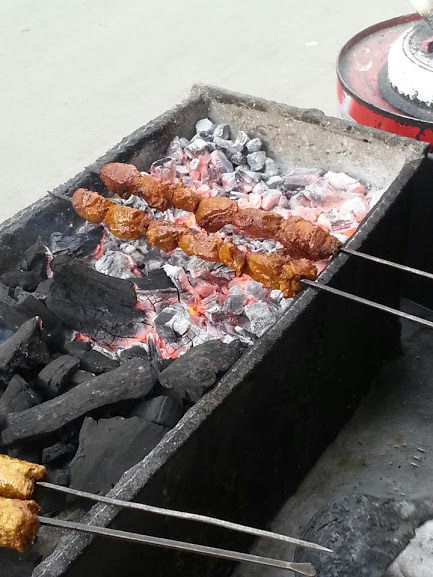 While Kolkata can boast about its puchkas, and Delhi its numerous chaatwallahs, a region lesser known for its street food bonanza is Kashmir.

Here are some popular street food items that are extremely difficult to find except in the by-lanes of Kashmir. So don't forget to try them next time you plan to visit Kashmir, be it a ski-trip to Gulmarg or just some plain-old sightseeing around the valley.

1) Nader Monje (Fried lotus stem)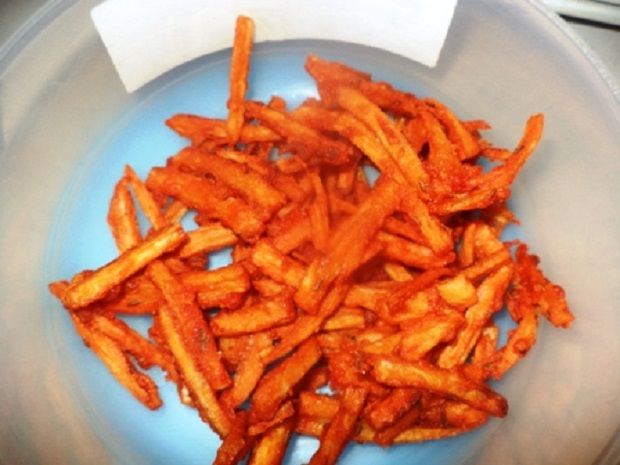 Photo Credit : inohow.co.uk
Nader Monje is fried lotus stem served with spicy onion chutney. Vendors hurtling nader monje in their carts is a common sight around Sufi shrines in the valley and the Hazratbal shrine in the capital Srinagar. The dish is prepared by coating lotus stems with rice or gram flour and then deep frying them in oil.

2) Gaad Monje (Fried fish in batter)

Photo Credit: Karen Trist Getty Images

Those with a non-vegetarian palate can try the crispy Gaad Monje instead of Nadir Monje. People who shy away from having fish because of its smell will love this traditional fried snack because this one won't emit the usual odour. The radish-and-curd chutney it is served with makes it a must-have on your plate.

3) Seekh Tujj (Barbequed Mutton or beef)

Photo Credit: KashmirBox.com
The yummiest of all the street-foods, Tujj is minced mutton or beef cooked over hot red embers using skewers. This round-the-weather food can be enjoyed on the busy Khayam Chowk. It is served with a variety of chutneys and the traditional Kashmiri bread called Lavasa. Those looking for a more Kashmiri experience while savouring this delicacy can visit the Boulevard Road where the vendors are selling their fare while the Dal lake and Zabarwan mountains provide a scenic backdrop.
4) Masaal (Chickpea wrap)

Photo Credit: https://www.facebook.com/Kashmiri.Street.Food
Who needs a McDonalds aloo wrap when you have masaal? You can find hawkers carrying masaal in a Kashmiri wicker basket, often spotted under the shade of abundant chinar trees outside schools, colleges or the polo ground at Maulana Azad road in Srinagar. The hot and gooey chickpea filling is spread over fresh lavasa and served wrap-style.
5) Paratha (Deep-fried poori)

Photo credit: CJ Rudra Singh
Kashmir's romance with all things fried extends to the poori. Almost seven times the size of a North Indian poori, the paratha is a huge flat bread, with no stuffing inside. Have it with yellow halwa and your taste buds will thank you for it.
On your way to the picturesque Pahalgam, you can stop at the famous Aishmuqam shrine and enjoy the parathas at various stalls lining the pathway that leads to the shrine. Another reason you might want to drop by the shrine is because Bajrangi Bhaijaan's Qawwali number 'Bhar de Jholi' has been shot here.


6) Tillae Karrae (Fried peas)

Photo Credit:

https://www.facebook.com/Kashmiri.Street.Food

One cannot stop munching on this addictive on-the-go snack. Light and salty, the fried peas would be a perfect accompaniment to an evening stroll on the Jhelum Bund.


7) Kulfi with sewaiyyan

Photo Credit: https://www.facebook.com/Kashmiri.Street.Food
The street food in the valley also offers gastronomical delights for those with a sweet tooth. While you can find kulfi on the streets of Delhi too, the kulfi here is served with sewaiyyan. Enjoy the dessert in the summers because noon-chai or kehwa would be a better option during the bone-chilling winter cold.