The charm of Kashmir lies in a litany of the little things – the balmy sweetness of kahwa, a curtain of mist draping an endless stretch of saffron fields, first bite of the flaky-fluffy barkhani bread, the hypnotic rendition of oars cutting through the waters of Dal Lake, the haunting silence following Hazratbal Mosque's sunset azaan and the kebab seller's softly narrated shayari. Eclipsing possibly every poem, portrait and paean attempting to capture the tremulous beauty of the region, Kashmir delights and disturbs you at every bend. The snow-dusted mountains pierce the impossibly blue skies and meadows are dotted with weathered mosques and almond trees in equal numbers. But lurking at nearly every corner are units of heavily armed soldiers, barbed wire and barricades in tow. Regardless, after every jolt of unease, warm smiles from strangers and postcard-perfect panoramas play out, restoring a sense of normalcy.
This week-long itinerary will take you to rivers studded with houseboats, have you picking apricots right off the trees, meeting artisans at the papier-mâché and carpet-making workshops and sampling the superlative cuisine of roghan josh, rajma-chawal and one too many extravagant wazwaan delicacies.
Getting Around Kashmir
You can travel around Kashmir via buses and local taxis. A ride on a government-run bus will usually cost you somewhere around ₹20 to ₹40, and shared taxis can cost around ₹110.
What to see and do
Through seven ridiculously beautiful days, we'll hop from one town to the next and each will usher you in with its logwood homes syphoning off the state's surreal landscapes and genial energy.
Itinerary: Srinagar – Pahalgam – Chandanwari – Gulmarg – Sonamarg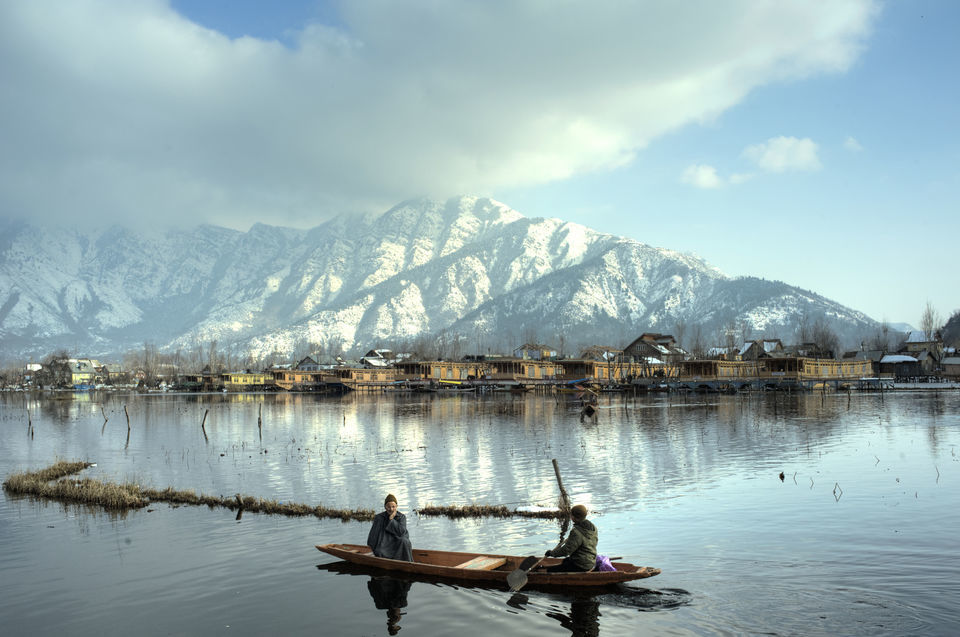 What to see: Catch the sunrise at the spectacle that is the Dal Lake's floating market – the buoyant banter between boatmen and locals over lotus roots and water chestnuts will be your first foray into the Kashmiri way of life; grab a shikara and after admiring and clicking pictures aplenty of the walnut wood carvings, soak in the magic of local canals and riverside villages; known for its conical roofs and papier-mâché art adorned walls, visit the timeworn mosque of Shah-e-Hamdan; hop from one garden to the next as you navigate through chinar trees and cross off the ancient Mughal lawns of Chashme Shahi, Shalimar and Nishat Bagh from your list; head to the neighbourhood of Noorbagh for a glimpse into the community of potters, carpet weavers and calligraphers.
Where to eat: Walk down Lal Chowk and tuck into the Kashmiri breads – sheermal, baqerkhani, lavas and the poppy seed delight of tsot from any of the local bakeries. Wash it down the the delightful pink-tinted noon chai. At Shervani Road's Ahdoos, wolf down some nadir-haaq (a spinach and lotus stem concoction) and haak saag (a traditional Kashmiri greens preparation) along with pulao, replete with dry fruit.
Where to stay: Iram Houseboats and The Solar Residency. You can check out more stay options here.
Up next in Kashmir tourist places: From Srinagar, you can either board the State Transport bus to Pahalgam, that will charge about ₹170 and take up to two hours and 40 minutes. The faster option is to take any local taxi that will cover the distance in two hours.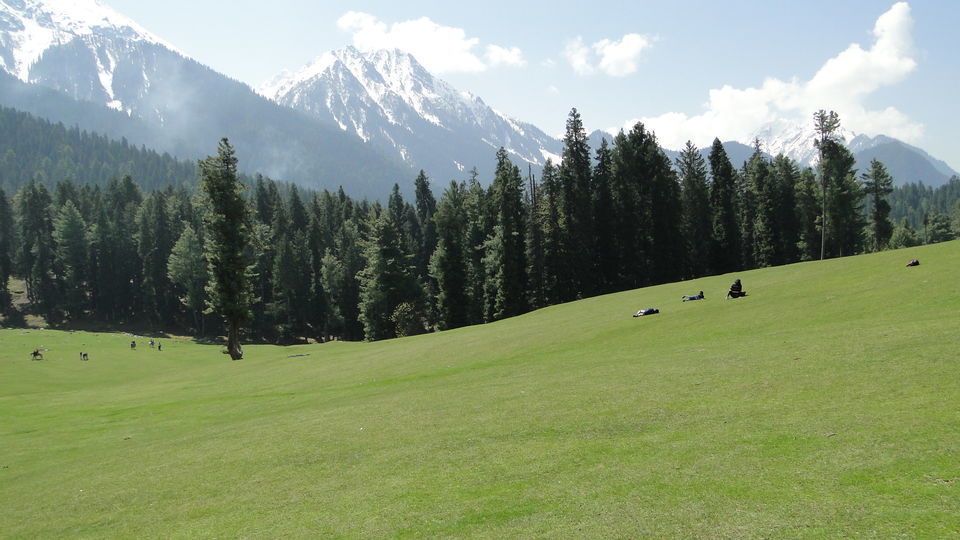 What to see: On your way from Srinagar, make halts at the 9th century temples of Martand and Avantipur; make sure to stop at Kashmir's 'Saffron Town' aka Pampore, that's sown with purple saffron blossoms as far as the eye can see; upon reaching Pahalgam, visit a cricket bat factory and watch willow bats being made; keep aside a few hours to go fishing for trout or white-water rafting at the choppy Lidder River; walk up to one of the town's many orchards and take back some apples and apricots to your hotel; hike up the grassy slopes to reach the quaint Aru Valley and later, take a taxi down to Baisaran for lunch.
Where to eat: From any street joint, guzzle down one too many cups of kahwa with a plateful of lotus stem fritters. Get yourself a dish of the succulent rogan josh (a spicy mutton gravy) and dum aloo (yoghurt based potato curry) with the locally grown rice – kosher tamoul, from any wayside eatery.
Where to stay: Hotel Alpine K2 and Volga Hotel. You can check out more stay options here.
Up next: From Pahalgam, take a taxi up to Chandanwari.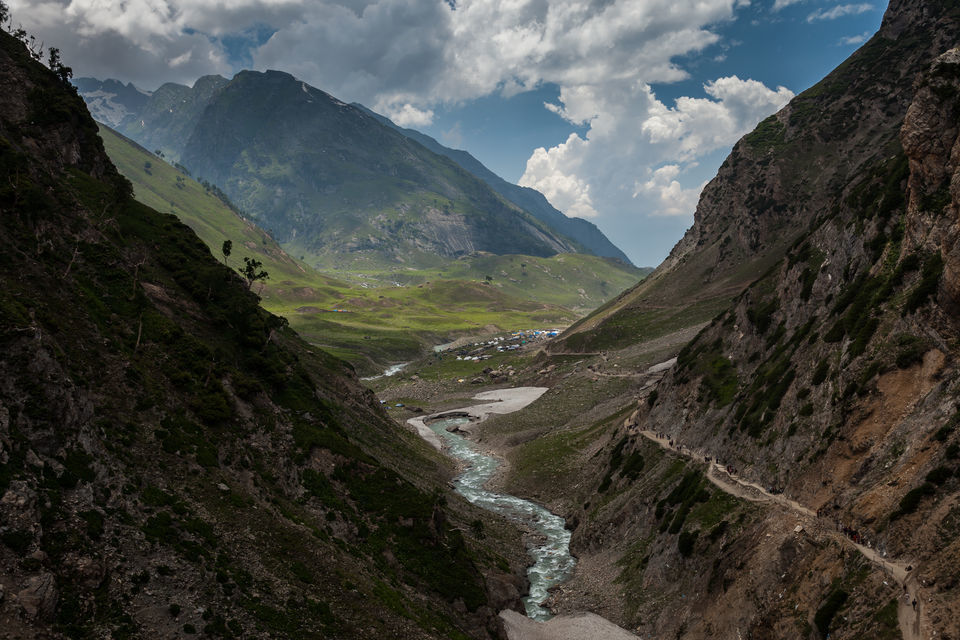 What to see: Marvel at the powerful rapids of Sheshnag river and later, embark on another fishing trip or else, try to capture the flock of exotic birds that can be seen lounging by the river; head to the sacred pilgrimage site of Amarnath Cave for an hour of spiritual enlightenment; at the undulating Betaab Valley, engage in a snow fight or two and if you're up for it, horse rides are easily available and possibly the best way to see the pastoral pastures in their entirety; lined with snow-laden peaks, a trek up to the azure waters of Tulian Lake will leave you inspired and breathless; if you're seeking adventure, trek up to the almond-shaped Tarsar Lake and in the early hours of the morning you might even chance upon the elusive hangul (Kashmir stag); end your stay at Chandanwari with a picnic at the nearby wildlife reserve of Shikargha.
Where to eat: Head to Hotel Noor Mahal for some Kashmiri staples – matschgand (succulent minced lamb cooked with red chillies), gushtaba (meatballs cooked in yoghurt), rotis kneaded with milk and round it off with a bowl of phirni.
Where to stay: Sheenwynds Lodge and Hotel Woodstock. You can check out more stay options here.
Up next: From Chandanwari, take a taxi up to Gulmarg.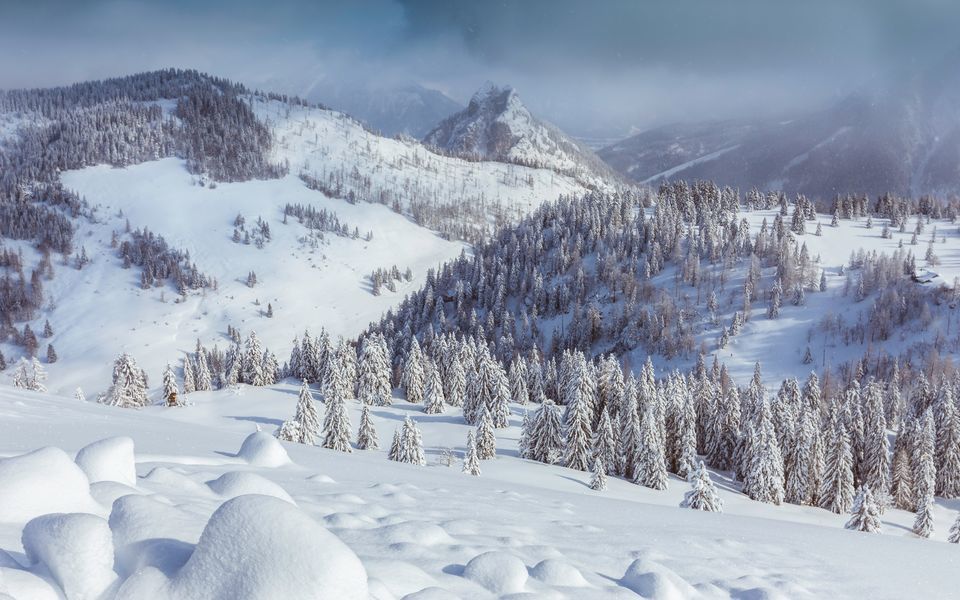 What to see: Delight yourself with the clichéd albeit remarkable gondola ride that will take you across the length of Gulmarg or 'Meadow of Flowers', that's quite literally carpeted with buttercups, forget-me-nots and daisies to name a few; take a walk up to one of the world's highest golf courses; stop by the neighbouring St. Mary Church and stand in awe of the 100-year-old Victorian wonder; if visiting in the winter months, skiing enthusiasts can take a bus up to the nearby district of Khilanmarg; planted right in the middle of the town, the Maharani Temple should be visited purely to witness the religious oddity of a Muslim priest performing the everyday rituals; take a local taxi down to the ornate, 13th century shrine – Ziarat of Baba Reshi; head out to the lush hills of Strawberry Valley and camp here overnight.
Where to eat: The chaaman (fresh paneer cooked in turmeric) at Hillpoint Restaurant in the main town square is not to be missed. From any of Gulmarg's street vendors, get yourself a plate heaped with tomul chhot (rice flour rotis) along with cupfuls of noon chai. Scour the town's streets for cafes serving nadur churma (lotus-stem crisps) – served with a side of mint chutney, every mouthful is an explosion of flavours.
Where to stay: Hotel Affarwat and Heevan Retreat. You can check out more stay options here.
Up next: From Gulmarg, take a taxi back to Srinagar.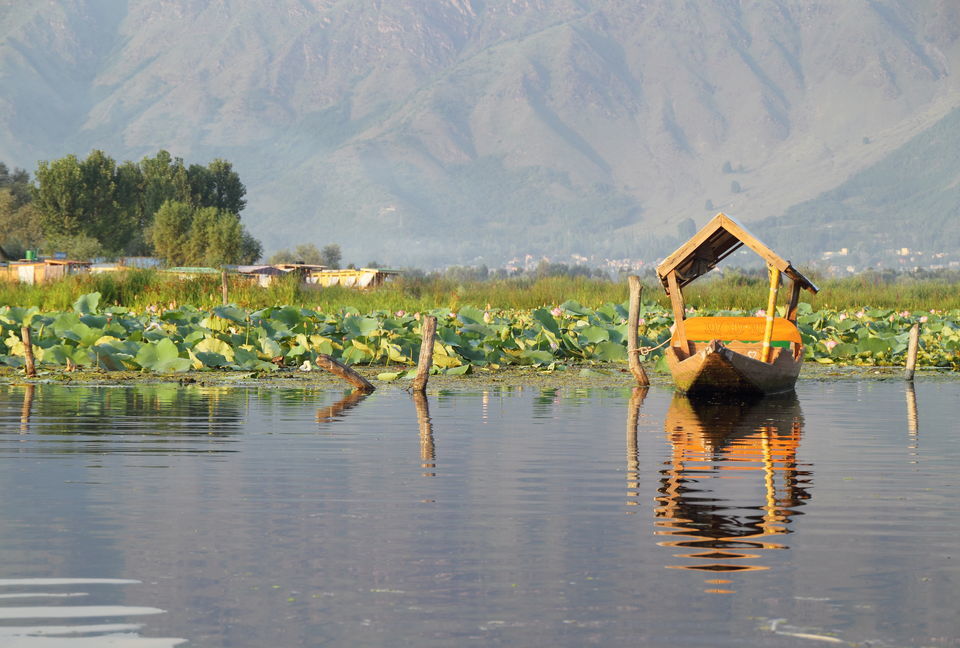 What to see: After you head back to Srinagar, start exploring Kashmir tourist places with Pari Mahal, that perched on the Zabarwan mountain range offers an otherworldly view of the entire city; sitting on Gopadari Hill, visit the Shankaracharya Temple that worships Lord Shiva and majestically fans out over the city; though flocked by tourists, the exquisite Jamia Masjid is still worth exploring; early risers should venture out to the Dachigam National Park and if you're fortunate, you might end up spotting a leopard or two; go to the iconic mosque of Hazratbal and douse yourself in the nuances of Sufi culture; try your hand at shawl-weaving at any one of the pashmina workshops ensconced in Old Srinagar; drive out to the outskirts of the city and go fruit-picking across the pear and cherry orchards.
Where to stay: Tashkand Houseboat and Houseboat Zaindari Palace. You can check out more stay options here.
Up next: From Srinagar, take a taxi up to Sonamarg.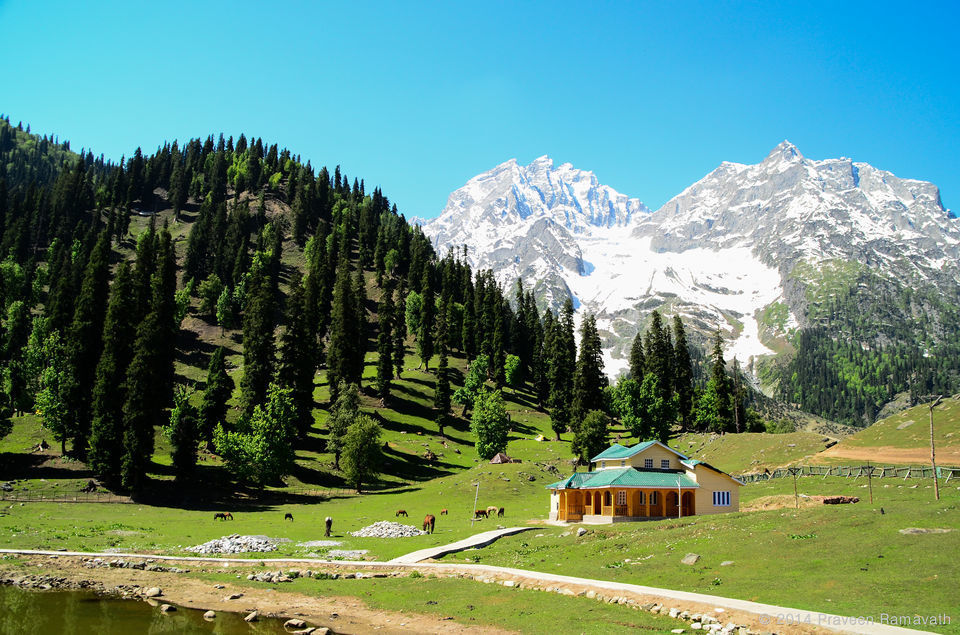 What to see: Sonamarg or the 'Meadow of Gold', sits by the bank of the Nallah Sindh river and needs to visited for its chock-a-block alpine valleys and some of the most surreal lakes in the region; keep an hour or two aside for a walk across one of the town's walnut orchards; embark on a rafting expedition that will take you from the Baltal Lake up to Shutkari Bridge; pack a picnic lunch and drive up to Yusmarg and later visit the nearby Baltic colony of Nilagrad – the confluence of a red mountain river and the mighty Indus; at a towering 16,400ft, trek up to the frozen wonder of Gadsar Lake; embark on a half-day hike up to the waterfalls originating from the Thajiwas Glacier; revered by the Kashmiri Pandits, the Kheer Bhavani temple sits in the middle of a natural spring and is enveloped by many a legend such as, when nearing a calamity, the water surrounding the shrine turns an inky black.
Where to eat: Head to Shahijahan Restaurant and start with the rich, fragrant yakhnis. The classic yakhni gravy boasts of mutton marinated in curd and a fistful of turmeric, cinnamon and fennel and will have you coming back for more. Al yakhni or gourd, cooked in curd is just as sumptuous. It's recommended to pair both of them with the Kashmiri kulcha, served straight out of a traditional kiln.
Where to stay: Hotel Barzman and Hotel Rah Villas. You can check out more stay options here.
Up next: From Sonamarg, take a taxi back to Srinagar.
Head back home from Srinagar.
When to go
October marks the onset of winters in the region and up to February, Kashmir is at its most spectacular. The climate during these months is perfect for sightseeing tours and adventure sports. In December, temperatures tend to go as low 4ºC, so be sure to pack plenty of woollens if you're travelling during this period.
Costs
Flight from New Delhi to Srinagar: ₹6,334 (return fare)
One-way ticket on local buses: ₹20
Taxi starting tariff: ₹75
Hotel stay in Srinagar: ₹1,150
A meal: ₹155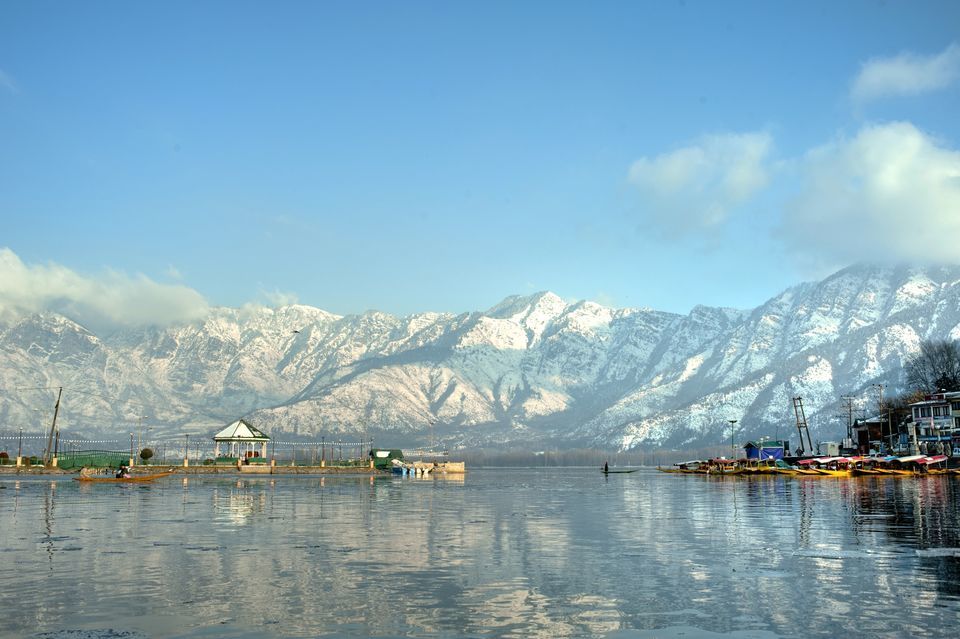 Have you been to Kashmir? Share your experience on Tripoto, and inspire over millions of travellers across the globe!
Want to feast your eyes on some breathtaking travel videos of Kashmir tourist places? Visit Tripoto's Youtube channel and if you like what you see, hit subscribe!
Frequent Searches Leading To This Page:-
kashmir tourist places to visit, tourist places to visit in jammu kashmir, jammu kashmir tourism