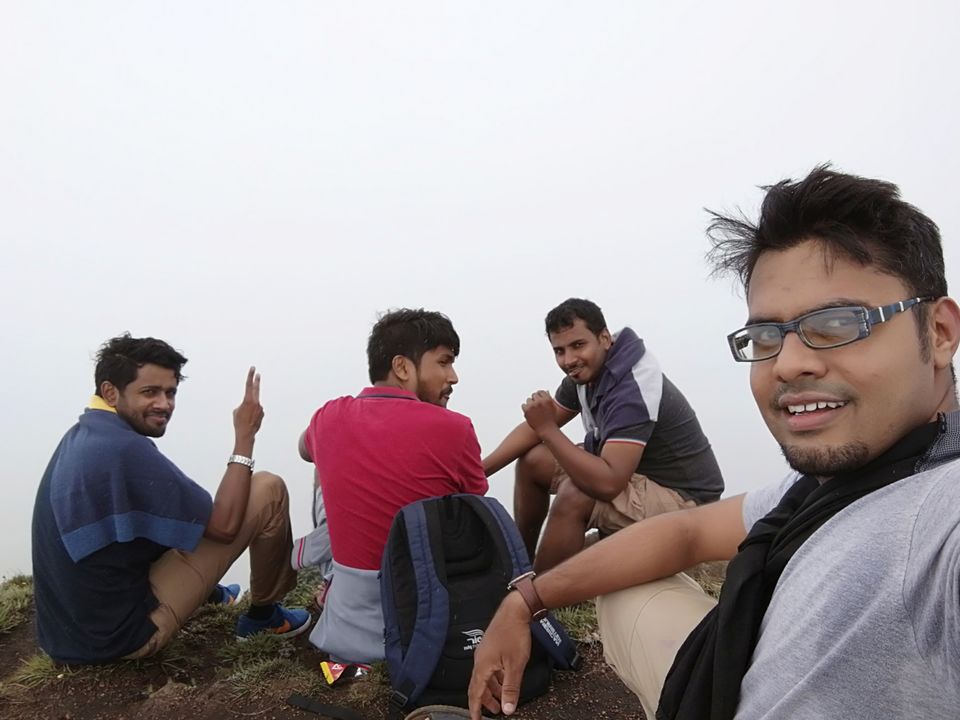 Little did I know that an unexpected visit to see off one of our close friends would turn to be a tale of adventure. Our dear friend was saying adios to us like any other well educated Malayalee would do when he/she gets a visa to the gulf. But this was his thought or rather say a desire to get his close friends around him when he says a final goodbye to India. Here we start our journey to his hometown in his Hyundai i10 on which we had done several such trips before. The only thing that was different this time was that it would not return to Bengaluru and we would take other means to return to the city. Here are the 4 chaps that I'm talking about- Sudhin- The gulf guy, Tom Vadakkan- a confused Kottayam achayan, Anoop- Influencer & the trip master & of course Primith- the narrator of this story (Assuming I'm counted as a gentleman for the rest of the story).
Traveling all the way from Bangalore to Central Kerala is a hectic task in itself. But not when you have 4 seasoned drivers who can tackle any road seamlessly. Even then we did not take chances and made sure that we had safety belts throughout the trip when someone else drove. That's how much we trusted each other on every damn trip.
I certainly had no idea what we were up to on day 1 (since I was only a participant with least preferences & opinions). When after a small nap my eyes opened, I see we were about to reach the clouds somewhere in Tamilnadu- Kerala border. The F1 driver among us Tom was reaching the clouds faster than it would reach the next mountain. Needless to say that we were shit scared but quite excited about the morning. It was very different from the usual loud Bengaluru mornings.
After a beautiful photo session & peeing on nature we finally, arrived at a place where we had to park the car for the rest of our journey. From now on the trip was going uphill into a steep & rough terrain. It was time to decide what to carry for the rest of this journey from our luggage in the car. Sudhin & Tom ensured that they had their goggles on for some stunning selfies during the day. Never would someone dare dream of trekking the biggest mountain in the south with Hawai slippers. Sudhin is an exception to this dream. Anoop ensured his phone was 50% charged (he is an excessive user of his Samsung Galaxy for an end to end purpose- It never sleeps). Tom sprayed like he is about to enter a wedding. I made sure that I had my jacket on (Being very humble & old school). We got hold of a vehicle to take us to the next destination.
Our next course was going to be on a 4*4 commander jeep, which would maneuver from the said terrain to help us reach the bottom of the peak called Meeshapulimala.
Meeshapulimala is the second highest peak in the Western Ghats of Idukki district. There is no need of introduction about this place for avid travelers & trekkers. Find the link below to know more about the place.
The jeep would take us through an amazing tea plantation where on several occasions we could not see the road but would simply trust the driver out of the fear to look down the steep mountain. The stones on the road would rattle the jeep in a way that with every noise, we had no choice but to scream and stumble on each other (exaggeration is real). This drive from the ground to the bottom of the peak is going to be a surreal experience. Literally, our hearts were in our mouth for about 30 minutes of this drive. Our pride of being experts at the wheel was shattered in less than 5 minutes by this jeep driver. These are real superheroes.
We reached the location from where we would spend the rest of the day walking this tough western ghat (sometimes with the help of hands). We were very excited to start this trek as we had a whole day to spend with nature & friends who are closest to heart. We took it real slow as we enjoyed the nature with every step. Our final destination for the day was far from visible as there was thick cloud & mist. To be honest we cared less about the destination & cared more about being together. Some of the plants & trees we came across were totally new to us. The goggles & the hair was checked often to ensure that no photo went unposed. Tom seemed to be very disappointed at the speed of others while climbing & hence with F1 driver skills took the lead. At one point 4 of us who thought would be together for the rest of the life had departed with their own speeds. Anoop finds a stick which could take his heavy-weight to support him for the climb. Sudhin soon followed Tom. Never did Anoop miss a photo opportunity. He starts posing with his stick & asked this humble me to click his pictures from various angles. Some got him chartbuster likes later. We came across some beautiful tea estate first, followed by a stream of drinkable sweet water, followed by many rare huge trees (no idea about its origin), some classy view of the entire mountain range, an abandoned torn yet photogenic house where we clicked many pictures, before entering the thick spooky forest. Once you enter this forest, by all means, you are on your own. At times even during broad daylight, the huge trees would cover the light giving special effects of darkness. At the end of this forest, we were so glad to have arrived at our destination. To our surprise, we were just halfway through & there stood the Everest of our life smiling at us. The next few hours were going to be testing as we realized that the next mountain looked steeper than what we experienced so far. The location we reached was not bad at all. It was worth 50 clicks. Now we decided that we will do the next peak (it had to be a combined decision as 2 of us were completely saturated). Next 1 and half hours, we spoke very little as it was even difficult to breathe between steps. I would sit for a minute every 10 steps. Anoop would stand for a minute. Tom would lie down at every 100 yards. Sudhin was the communicator at 50 yards between Tom & us.
Finally, we reached the peak of the mountain. 4 of us in 4 different times. The happiness of finding the peak was something else. Me being the most flexible guy physically & mentally (at least in my mind) reached the peak last (no hard feelings). It was a three and a half hours of one-way journey to the peak.
We were flat on the ground for some time at the peak trying to comprehend what just happened & where we are (everything seemed like a dream suddenly). It was time for some selfies together with some signature direction by Anoop for the pose. We chit chatted, praised the nature and were thankful that we could see that location. After resting for some time & snacking we decided to turn around. It starts raining heavily for the first time. We could hardly open our eyes to look into the camera for the clicks while returning. The rain just got heavy. We faced skiddy rocks & a wild goat at some distance. Useless to say that Sudhin needed help with his Hawai slippers to walk the slope. We could not run for cover anywhere without our friend who was differently abled at the time with his Hawai slippers. Tom was still not convinced of our sloppy speed & changed gears to go hide in a bush to scare the rest. On the way back we got lost and were soon found. We risked our lives to make our own way to reach the jeep (sometimes getting desperate about being lost). The hungry souls needed some hot Maggie noodles & hot tea after 6 hours of a trek at the only hotel you will find there. What we achieved on this day was a day to remember forever & ever.
The jeep driver had warned us about trespassing the neighboring state when we reach the peak of the mountain. It could end us in jail. But when we reached the peak we realized that the only way we could get caught by the cops was if we accidentally skid from the top to the other state.
The view from the top of the peak cannot be exaggerated, its nothing like earth, its nothing like every day. It is heaven on earth. Being with these close set of friends constantly gives you such surprises.
Here are some of the findings of our adventurous trip
1) You can Trek with Hawai slippers
2) No need for trekking sticks as you will find enough strong sticks on the way
3) Lean or Fat anyone can do this trek. Willpower matters.
4) Careful of wild goats- don't get too close.
5) Any day you trek the chances of rain remains 50% ( mostly on the peak)
6) Tea plantation workers are sweet & will share tea with you if they are drinking at the time.
7) Camping is allowed with prior permission
Thus ends our day 1 of adventure.
It is one of the blessings of old friends that you can afford to be stupid with them- Ralph Waldo Emerson