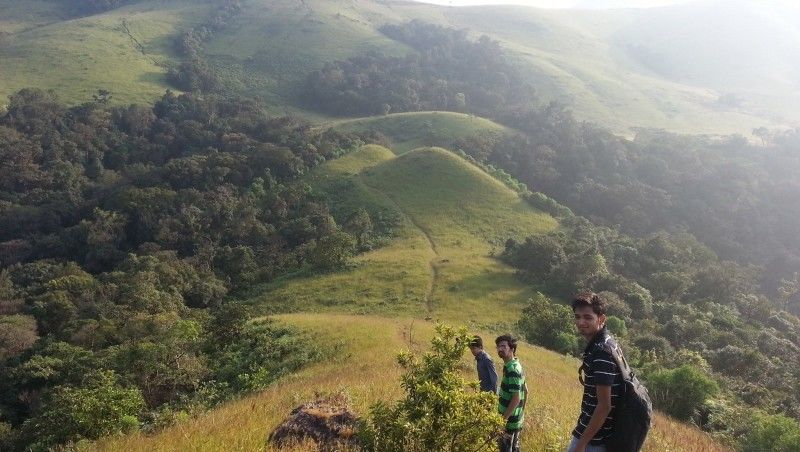 Are you the one who loves to take the road not taken? Do you believe that journey is much more fun? Ever climbed a 60 degrees's slope mountain? Got a bite from a leech? Come experience all this and much more. Since the semester was coming to an end and college would be over soon. We wanted a trip that should be a mix of food, trek and fun. Thus we headed to one of the best place to trek in Southern Karnataka, Kodachadri Hill.
We took a bus from Udupi to Kollur, around 80 Km journey covered in 2hrs. There are tourist spots such as Kundapura and Turtle Bay Beach resort on the way. After reaching Kollur bus stop, we purchased chips, water and powder for protection from leeches. Then took a bus to Nittur, which is 21Km. Buses are available in every 30 minutes till 7pm. We got down before Nittur, as we choose the 'Road not taken' to reach our destination, we walked across the agriculture lands and jungles till we found a Government High School, that was the only building we saw after walking 3kms.
Such a relief, there we asked one of the workers to guide us till the peak as we could not use our GPS in our smartphones. Credits for convincing him goes to Yendra, his Kannada-speaking skills rescued us. Jai Mata Di, let's explore. After moving for around 500 metres, we had our lunch in Hotel Santhosh. Idli and Sambhar were awesome. Don't drink Tea or Coffee, Pande Ji had his bad time here.
Then we rolled across small villages, farms and water areas, with 'iri' (wait in Kannada) slogans to the guide to move a little slow, so that we could catch up with him.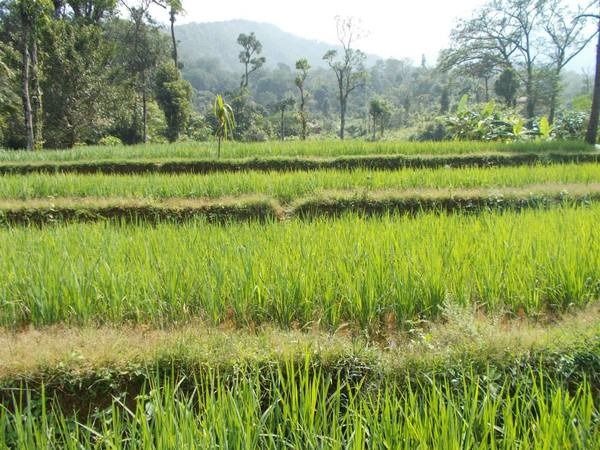 Then we came across a surprise on our foot, leeches, aahh! We applied the powder which we had as we were previously warned about the presence of leeches. Thereby we preceded to Hidlumane Falls. You can also apply lemon grass oil.
A shop serving yummy butter milk came in our way.
Then after washing our faces in the falls and getting some photos, we had the toughest 2km trek of our journey. It was steep, 60 degrees. Be careful, hold a branch of any tree that can hold your heavy weight and mind your steps. Stay calm and don't be afraid of leeches. They only suck blood, there's no pain. I noticed one thing that leeches didn't attack the guide and sam both of whom were wearing slippers. Quite Strange!
We reached on a peak of some mountain, the air over there was so fresh and peaceful that I wanted to lie there the whole night, counting stars and enjoying the scenery.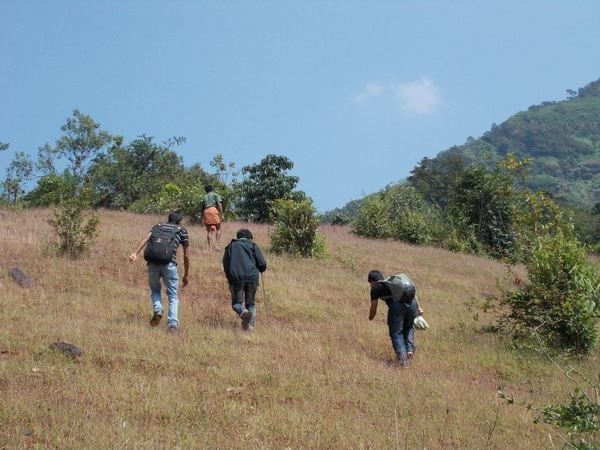 We then got down from that mountain. Sun was about to set and then we found a junction where jeep and our route met. We rushed to the Mookambika Temple which was formed after fight between Mookambika and Mookasura as a token of victory. Adi Shankar temple and Ganesh Temple are also there.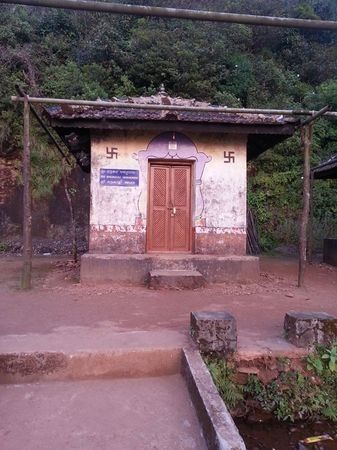 There is a PWD guest house, offering stay at Rs 100, outside there's a small stall selling lemonade, tea, chakris and biscuit. Gazing at drowning sun and patting on each other's back after reaching 1343m above sea-level, we hired a jeep for Nittur. Jeep from Nitoor to Kodachadri peak is Rs 150* per head both ways. Then we took a bus to Kollur, we were lucky, it was the last one.
But we missed the bus for Udupi, so we stayed in Kollur for the night to catch the the morning 6am bus. We roamed around our Hotel, as it was a temple premises, you had most of the facilities. Mayur Guest House near Mookambika Palace, try Puri and Saagu there. At 5am, we did darshan in Shri Mookambika Temple, too many devotes gathered here in a queue. We could only peep into the main premises. No shorts and hoodies. With Idli and dosa at the bus stop, we took last bus to our college land where a class test was waiting.
Alternative RoutesMore to see
Arisinagundi Falls, 6km from Kollur
Mookambika National Park
Travel Tips
Carry First Aid and buy anti-leech powder or oil beforehand.
Don't panic when leeches get stuck to your body, remove it with some wooden stick and apply oil or powder.
Carry food and water in your bag, as these won't be available on hill.
Carry something warm as its cold on the peak during evening.
Take a Kannada-speaking person; else it will be a No man's Land.
There's a time regulation that you have to leave the peak by 7pm, so plan accordingly.
You can also take a jeep directly to the top of the hill, the journey will leave you spellbound. But do bargain for jeep prices.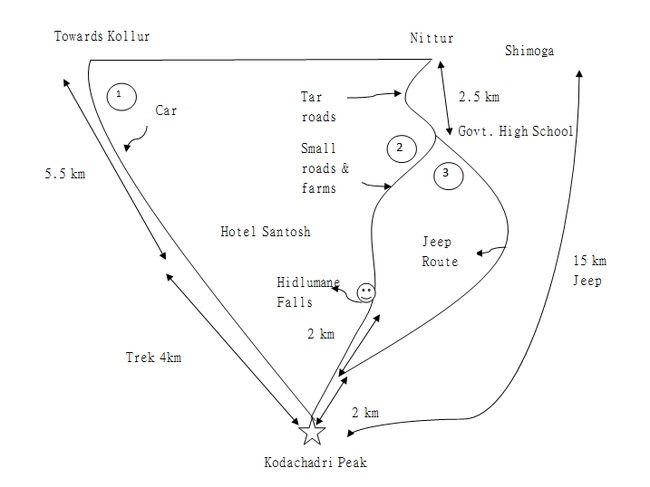 There are 3 routes, have a look towards this rough map and decide yours!