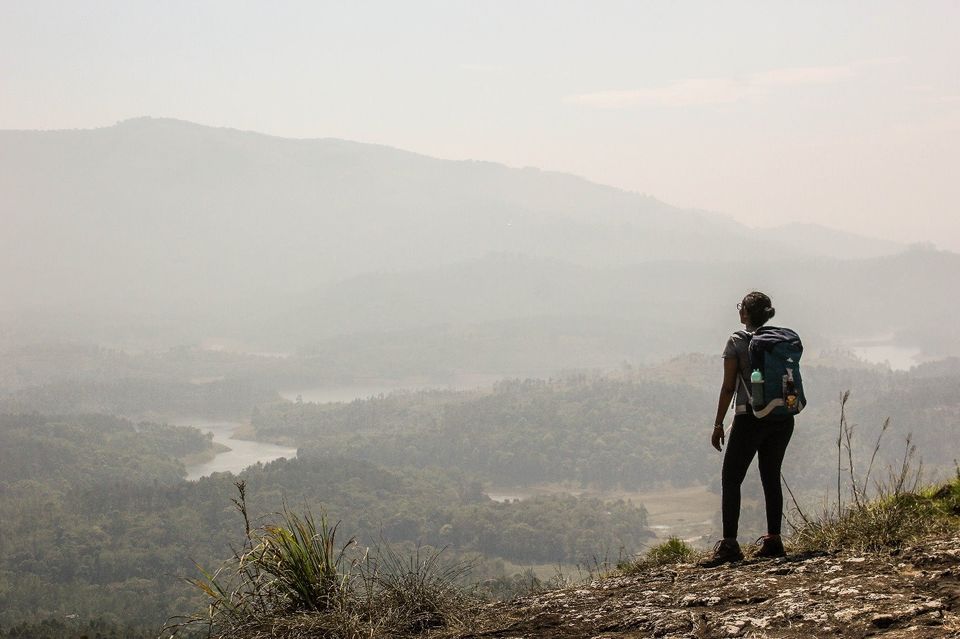 As part of the Winter Ride I'd been on last December, we rode to several (cold) locations everyday. Our first ride had been from Bangalore to Kodaikanal. From Kodaikanal, we had set our sights on getting to Kolukkumalai.
Kolukkumalai, near Idukki, is famous for being the world's highest tea plantation. The tea plantation is about 7100 ft above sea level, and the view from the top of those mountains was something I didn't want to miss. It was less than 150 km from Kodaikanal and the guys who were serious about testing their bike riding skills were looking forward to a challenge that waited for them at Kolukkumalai.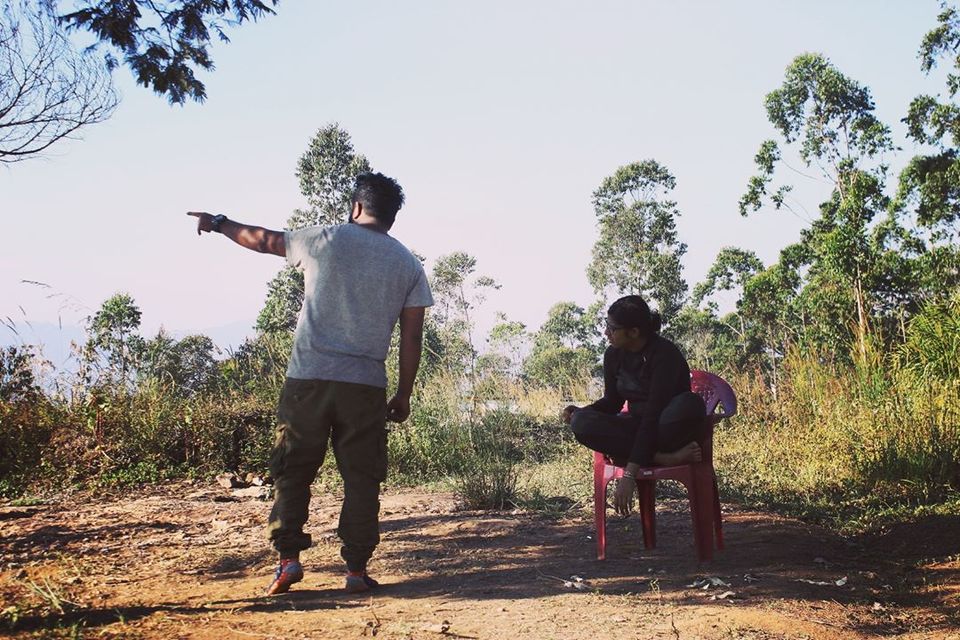 A small note about Rahul, the main organiser. He lead the way on all the routes and my absolute favourite when it comes to going on a long bike ride. He's fun and completely professional!
We began the early morning ride from Kodaikanal quickly. It was fun riding downhill for a while until it came to a point where there were several sharp turns that had my shoulders hurting from handling the bike. Just when I was going to ask for a break, we all stopped. Since there was just one highway leading downhill, we had spread apart while enjoying the ride.
I got off the bike to ask about what happened. Another rider had stopped because his bike just stopped halfway and refused to start again. We later learnt - after towing his bike to a mechanic - that someone had accidentally filled diesel in his 500cc Classic instead of petrol. He had managed to ride about 22 km from Kodai and then it spluttered and died. He then missed out on a large part of the ride as he called Royal Enfield's support team and asked them to help him transport his bike.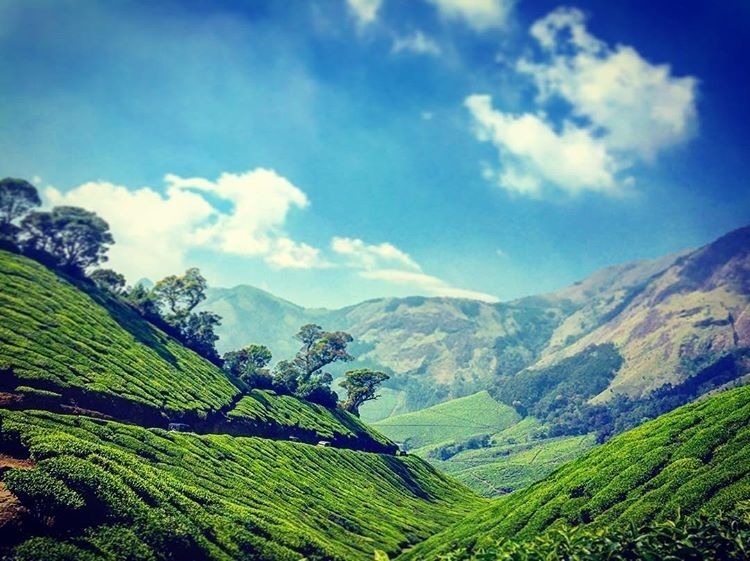 We then continued the ride through amazing hills and tea plantations. The road levelled out at some point and the began our climb. It was pitch black and cold as we stopped at the Tamil Nadu-Kerala border. The previous night I had gotten by with 4 blankets. At Kolukkumalai, we were pitching tents and sleeping in it. A friend told me that it would super windy atop the mountain and that last time, they had tie the bikes down to prevent them from falling over.
I instantly asked around if anyone had brought along any extra blankets and managed to get three of them to agree to lend me their blankets. My friend watched me for a while and then, as we waited at the checkpost for the other riders, began to complain about him not having a blanket. He hadn't slept well the previous night at all having nothing but one rug between him and the cold. He went ahead to one of the small stores at the checkpost and bought himself a huge, thick woolen blanket. I think he paid about 600; he looked quite happy about it as well. Little did he know that he would never use it.
We then rode for a few more hours and after non-stop winding roads uphill in absolute darkness and in the midst of tall trees, we reached. I couldn't see a thing since it was pitch dark. The place where the tents were going to be pitched had 1 spot light and that was it. It wasn't very cold and we instantly got down to unpacking and setting up the tents.
An hour later, we had pitched all our tents and our hosts even gave us a few thick rugs for the night. I looked at my friend as he held the rugs and laughed. It wasn't cold at all; probably just a little cooler than Bangalore in winter and he had himself one thick rug with his brand new blanket.
We all made a quick dinner, some rice and curry and some chicken, and while the others wanted to sit by the edge of the mountain to drink and take in the cool air, I wanted to sleep it off. It had been a long winding ride and I we had plans the next day to do some off-roading. I pulled my rug over me and to this day, I think I've had one of the best sleeps in that tent.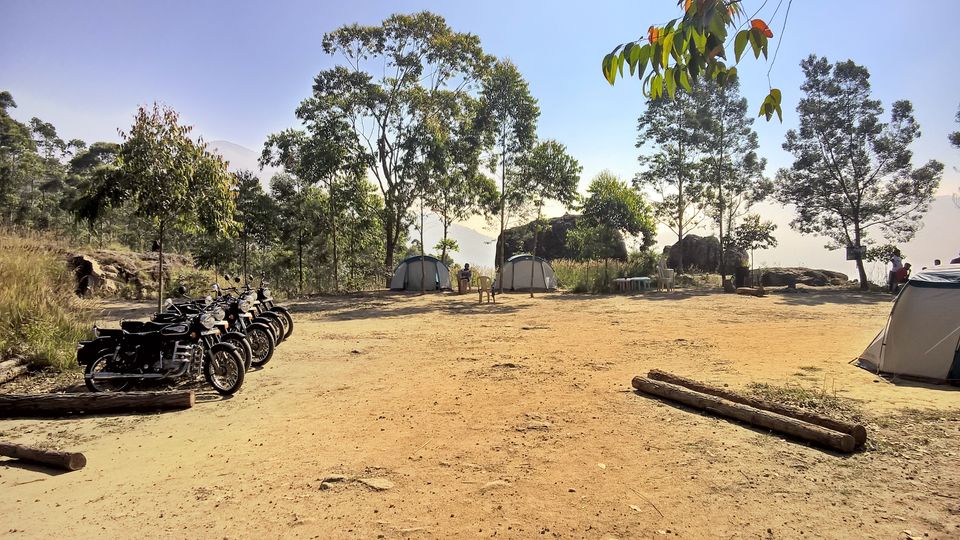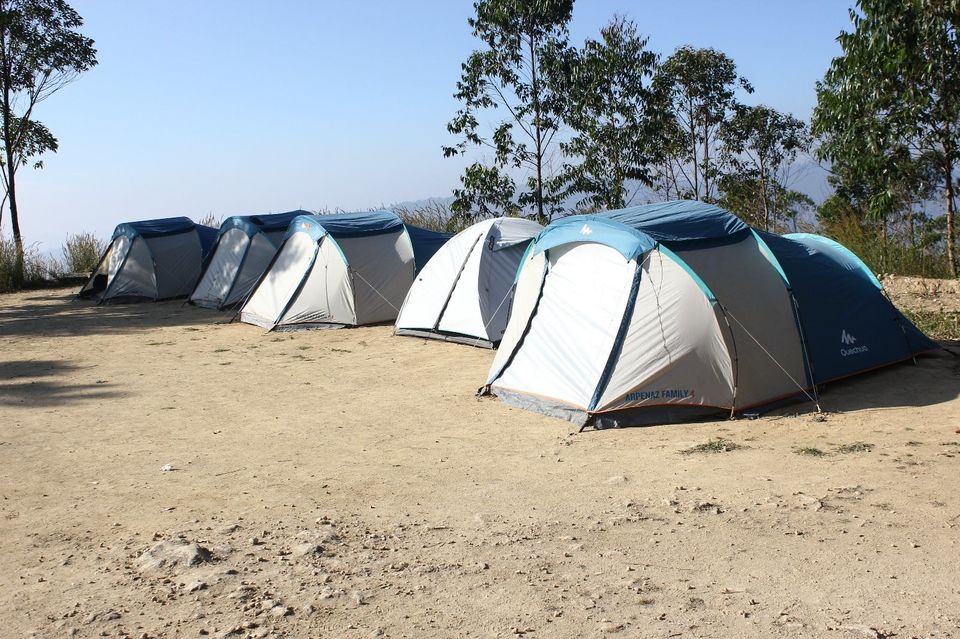 The next day, we woke up, freshened up, took a shower in icy-cold water, and rode out to the highest peak. The challenge that the serious riders wanted to take on was to ride all the way to the top of the mountain. There's absolutely no road and the only advisable way to get to the top is in a 4x4 jeep. However, for biking enthusiasts, this provides an amazing opportunity to try out true off-roading.
We were unlucky. As we reached the base of the mountain, the officials there told us that we weren't allowed to take our private vehicles up there. Apparently, some accidents had happened recently and the public were against anyone going up on bikes. Disappointed, we decided to drink some tea and have a quick breakfast before getting into a jeep to get to the top.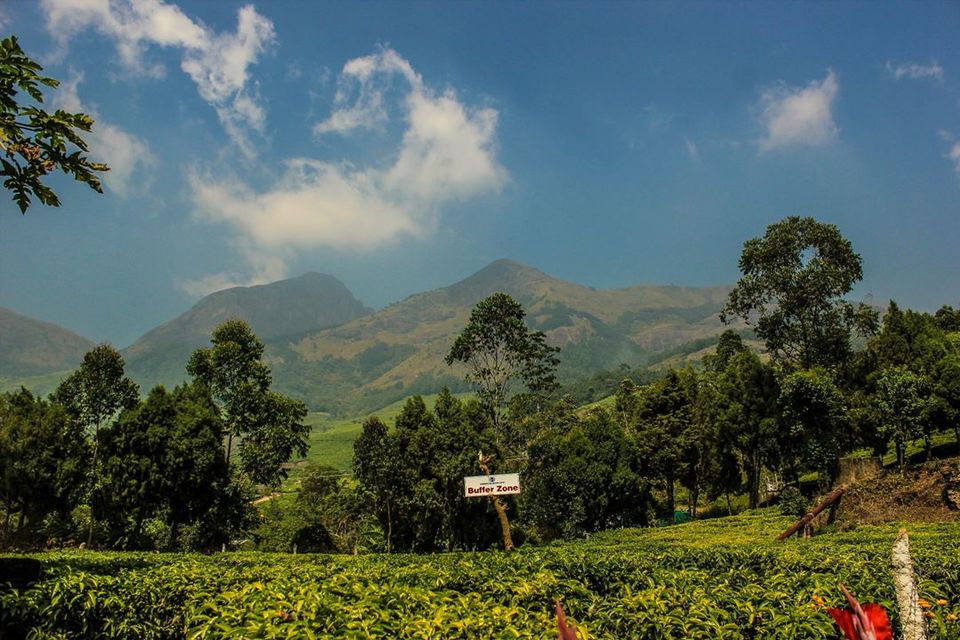 The jeep ride to the top takes about half an hour or more depending on how crowded the place is. The highest tea plantation in the world commands an amazing view and a breathtaking sight of the valley below. It was still morning by the time our overly-bumpy ride took us to the top and some of the morning fog was fading away.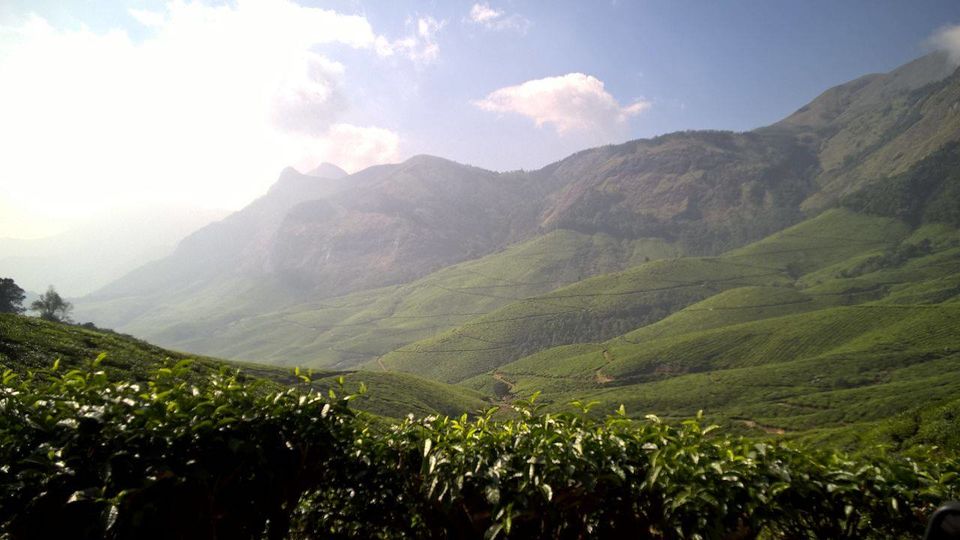 I spotted a stall where they made hot-hot Maggi and decided to get myself a plate to keep myself warm in the chilly air. The best combination ever! After eating, just behind the stall lay a path that would take you down a very narrow lane on the side of the mountain. The mountain's wall to your right, and a steep valley to your left as you walk. Each step I took made me want to stop and take a photo. If I even tripped and fell a little to my left, I'd roll all the way downhill on the tea plants for a good several feet.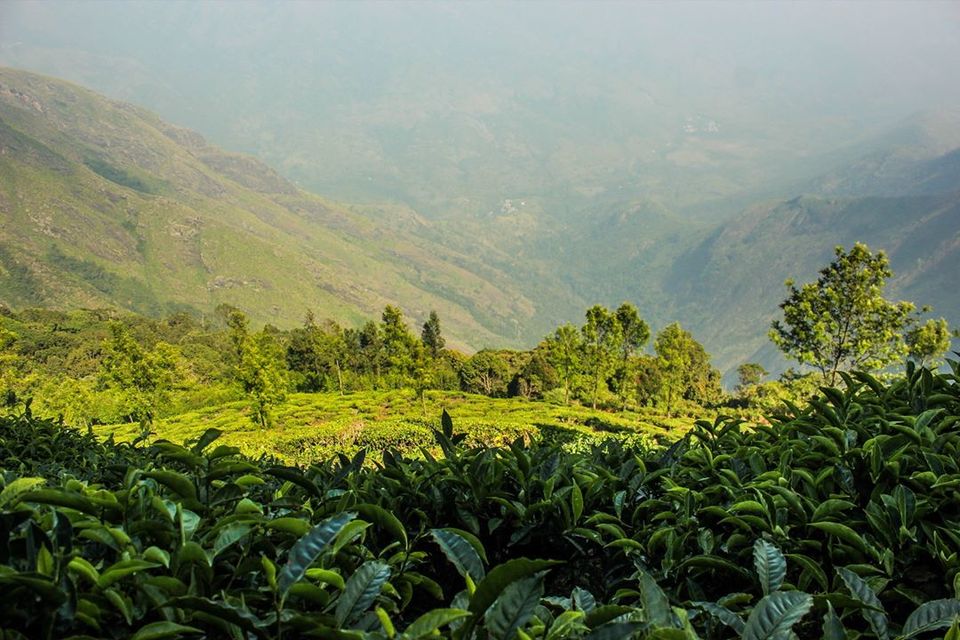 The path gets narrower and narrower as you walk along until you reach a precipice where you can see mountains below you on both your right and left side. It is a sight that cannot just be seen, but experienced.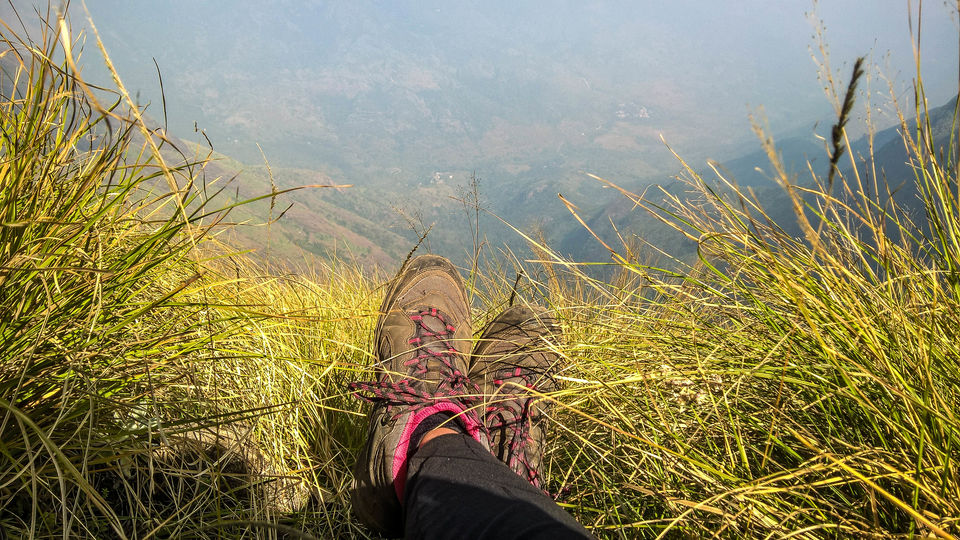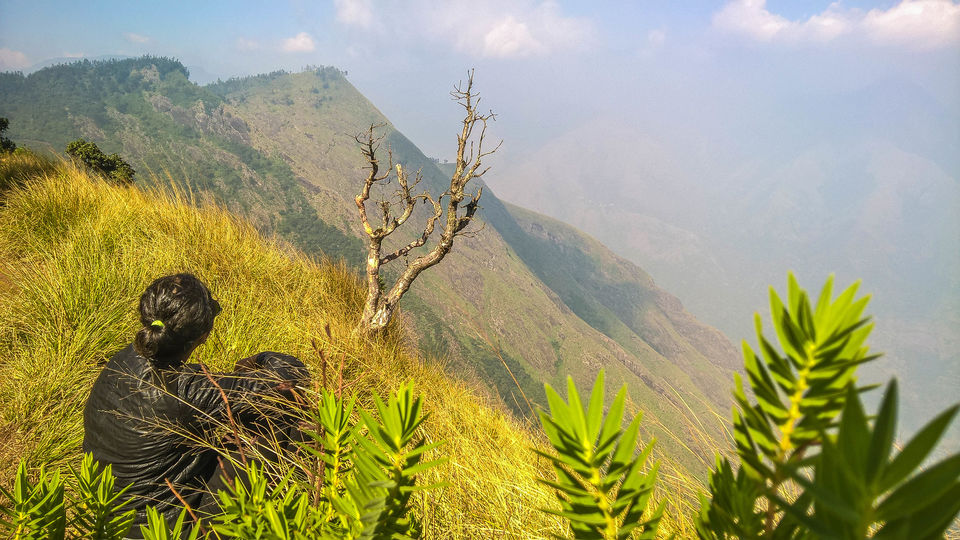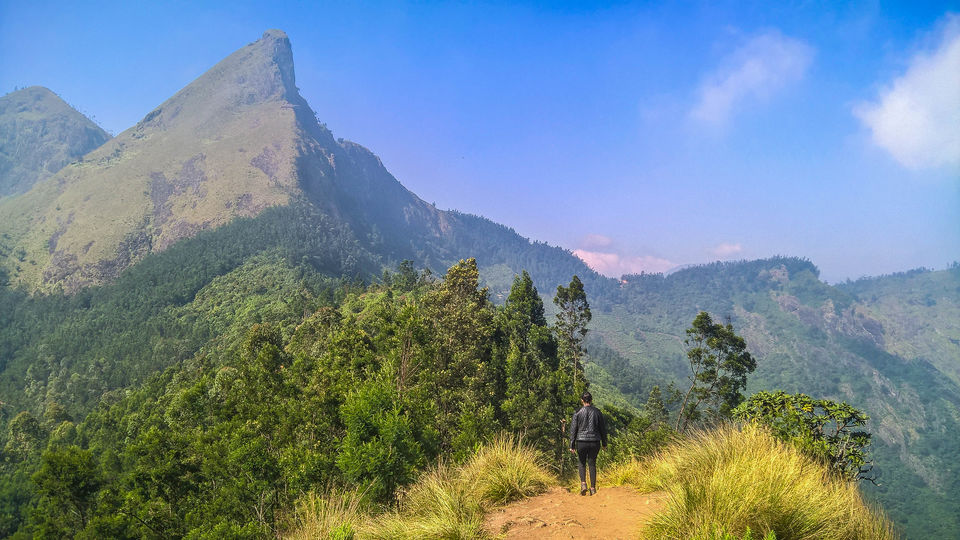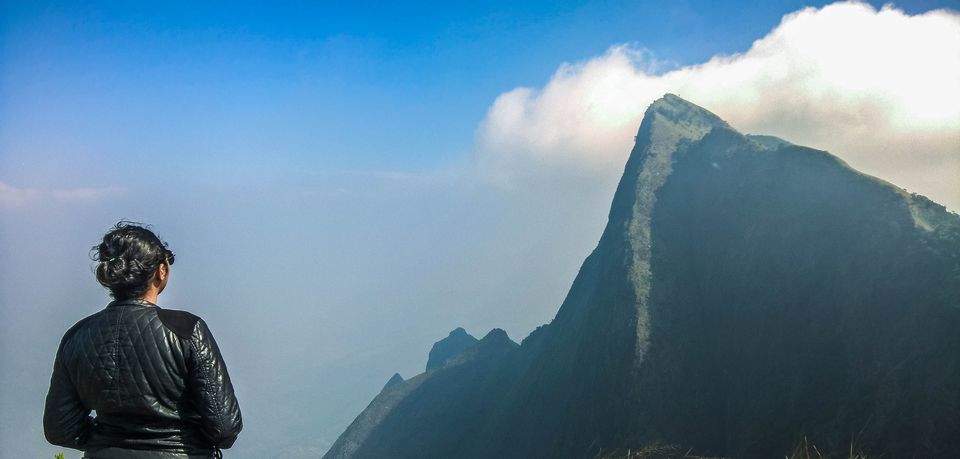 After taking plenty of photos and feeling dissatisfied with how it didn't sufficiently capture the beauty of that moment, we walked back towards the jeep. We then went back on a bumpy ride downhill to the base. The driver at this point even decided to show off a little with his driving skills and drove downhill in reverse!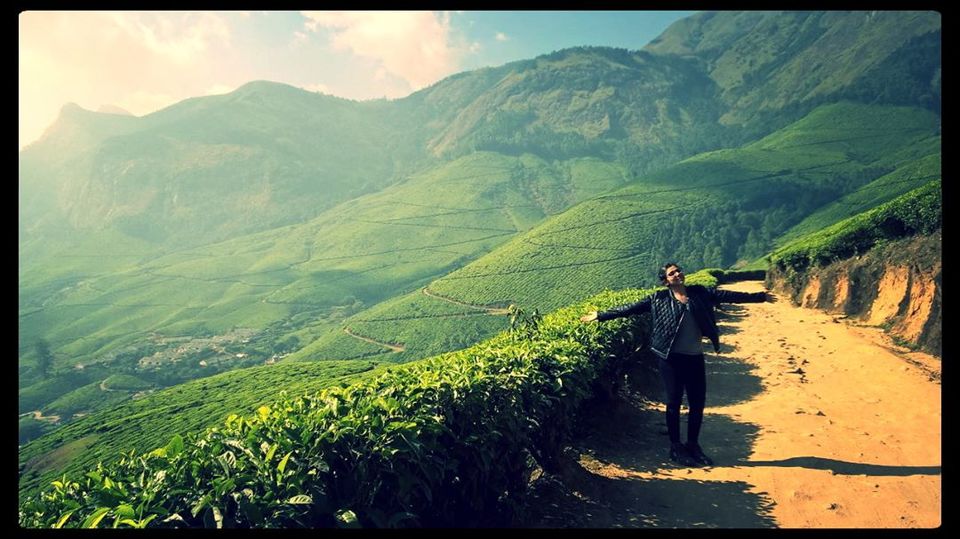 We then ate a quick meal and began our beautiful journey out of Kolukkumalai. Our next destination was amidst beautiful tea plantations and we had decided to not take the usual route. But, more than this later.
We left Kolukkumalai with a heightened sense of enthusiasm and inspiration to discover more beauty that lay ahead.