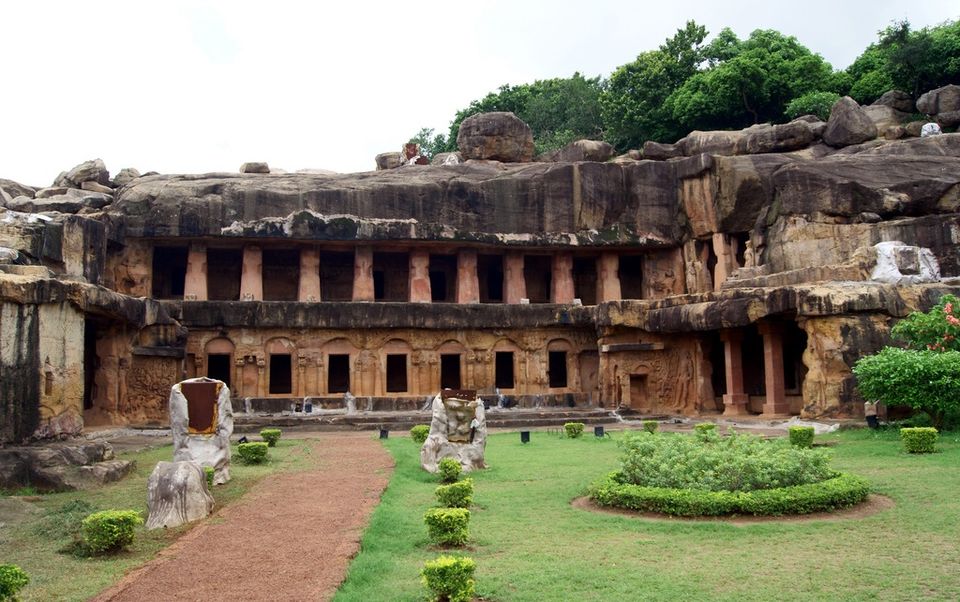 In the east direction of India, the state of Orissa is in all respects, whether it is from a religious perspective or from a natural point of view. One Jagannath Puri is also from the four dhams and there is also a renowned temple like Lingaraj in Bhubaneswar. There is no need to say anything more about its religious supremacy, it begins to glimpse itself with symbols here! There are not only Hindu places of worship, but also symbols of Jain and Buddhism are present !! In this sequence, after some of the temples of this temple, we proceeded to meet Udaygiri and Khandagiri. The distance from Lingaraj temple is about eight kilometers and we reached the entrance of these caves in half an hour !! Here, like all tourist places, people who collect money in the place of parking place are sitting and they also took away their fees as forty rupees. Well, if you have come out to roam, then you have to do it.
Long time Udayagiri Khanggriri has kept the chanting !! Now let me introduce a small introduction, without the introduction of travel, we can not be happy. Both Udayagiri and Khandagiri are facing two hills in front of which there are small big caves. These caves are the combination of both natural and man made
As the name suggests, Udayagiri is the meaning of the rising sun's mountain and Khandagiri, which is from ruins !! In one day it is not possible to climb the two hills, if one is to select one of the two, then we also decided to see the cave of Udayagiri !! There are eighteen caves in Uddagiri, small fifteen and Khandagiri !! Let's get the lightest introduction, now you can see the Udaigiri caves! The cave has remained a cave from the bottom to the top and it is necessary to climb the steps to see them !! Once the stairs begin to climb, all the caves come from the order. Some caves are looking like Dumangili, then there are only a few floors !! But their height does not look so much that they can stand in comfort. Now even in the old times, the length of man will not have been so small that it should be covered in such a cave, which means that these people will bow in the cave and enter and use them only for sitting or sleeping !! Truly small ones are made like this !! Oh yes, remember Andaman's black water, hey man is the same size as cellular jail cell. No window or anything! The only difference is that there is no door in it and the open air and light can come unmasked, then the Jain seekers will surely come to meet each other. Some people were saying that they have been constructed in such a way that in the day, the Sun God will shower his grace and in the night there is a lot of light from moon moonlight !! The old people used to have brains in all these things, in front of them, today's big architects also fail.
It must have been a time when Jain would be staying in this place, but now he is camping here with monkeys and nowadays love birds !! It's okay what time it takes to change the time? At the main entrance of the cave, some are made of ornaments, which are becoming darned along with time! From the front, the temple on the hills of Khandagiri is going to be seen, now it is not possible to go there, so join hands from here !! Now it seems like a bit of a bit of trouble that if I wish I had gone earlier in these hills then the temple could also be visited. From here, there is also a glimpse of the temple along with Bhubaneswar city. As the stairs climb up, it becomes a bit tired, so here's the solution! There is plenty of rounded round stone for sitting which is found near almost all the caves !! Straight paths are made to go straight and left, on both sides, it is better to meet the shade of trees, along with a lot of pink flowers of pink color will also get shattered. Here some boys were going ahead of us, so we also followed them that maybe they were going to look at some point points, but in a short while, they did not know what to do in the desert and we were back on our way !! Even after being unconscious, it happens so many times !! Now the way you got there, there was an army of monkeys! Banar army avoiding monkeys, somehow using our camera, we are descending down. We took down landing photos and you go! After landing down hunger thirst has started putting all its emphasis, then one of our coconut water was taken by us and he drank as soon as he drank and went to the parking lot !! After the hills of Udaygiri, we have our next stop, Nandan Kanan, then in the next post, with the details of the expansion of the Biodiversity of Nandan Kanan and by then you guys see the pictures of these fifteen caves of Udayagiri -