It all started when i just finished my trip to masinakudi.. as you all know the first criteria in this digital world when we go on a trip is just check in on facebook to flaunt about the trip and just to play a pee-ka-boo to see who is envy on us :P like wise i checked in for my masinakudi trip and one fellow mate commented to tag him along for the next trip and he suggested KASOL.
when he said that i had no idea what it is and how it is going to look or where it is, by next week i tagged along another friend and told him we are going to kasol by january and we know how word of mouth spreads and we became a gang of 7!! PS: The fellow mate who suggested kasol didnt make it to the trip :P
we had two months time for the trip and for obvious reasons we know why guys are excited for kasol :P I read through lot of blogs and came through a post about "Hash brownies " and its effects in Kasol and tosh. The excitement peaked up everyday. We booked our flight tickets and bus tickets. As the days comes closer your trip plan gets better so we decided to cancel the bus tickets and hire a car from Delhi with us for 6 days. Hence the innova buddy and sandeep bhai came into the scene.
whoa ! the day of trip came in and we boarded our flights from Chennai and landed in Delhi. The innova buddy with sandeep bhai was waiting to take us to kasol- The heaven on earth. We just got into the car without knowing whats in store for us! Since i had read lot of blogs on kasol i had so much expectations and was too excited. The journey started and we were all settled in the car.

It takes maximum 12-13 hrs to reach kasol but we reached there around 18 hours.. Disadvantages of hiring a car ,stopping everywhere for the photo sessions and for the food and to the obvious body reactions :P. When we crossed bhunter it was so picturesque that i had witnessed only in the movies. When we were nearing kasol all i could see was the snow the roads and yaaayyy it snowed there last night! Now i buckled up my seat to watch the beauty out there!!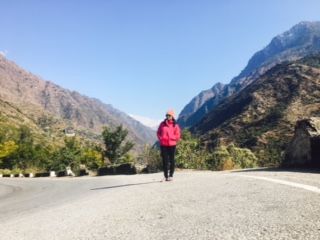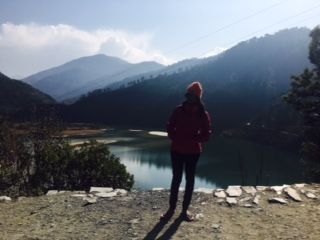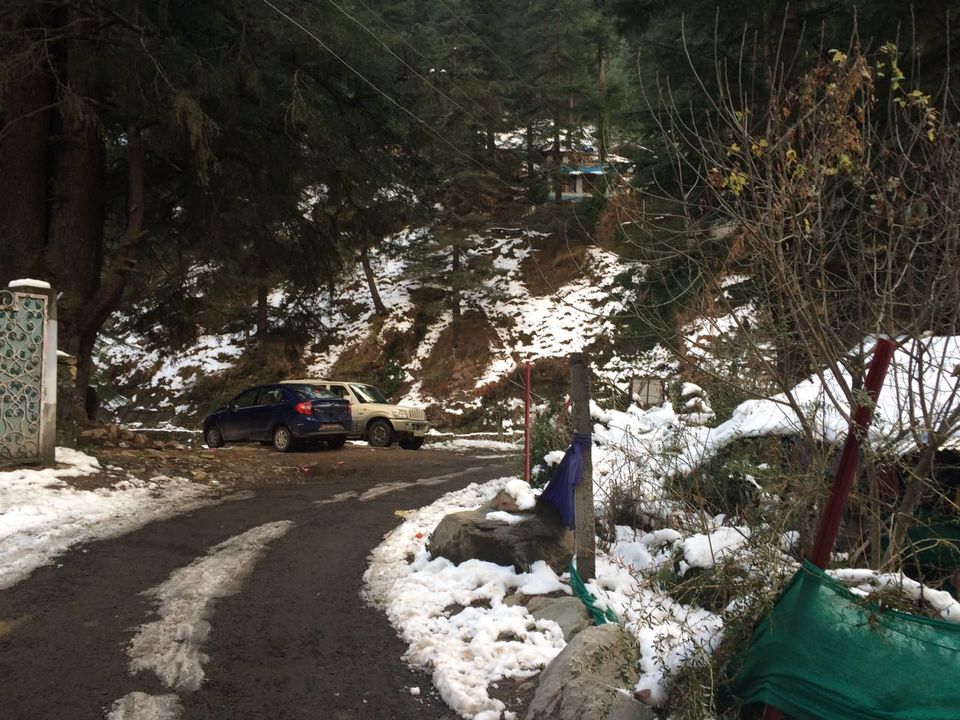 We reached the destination and it was snow everywhere.. literally the white village. I decided to get down and play in the snow for while when half of my other fellow mates when ahead to check for the accommodation. The moment i got down i hopped back into the car within seconds "ouch baby its cold outside". Its 4 degrees baaabbyyy!!

We found a accommodation in kasol.. Hotel river view. We checked into the hotel and decided to roam around kasol. You know how much blog spoils you so i wanted to check for hash brownies and the ever hyped Evergreen Restaurant. We went to ever green restaurant and there was a dim room inside were people were smoking up. We decided to smoke up and had the best coffee ever at the cafe. We met a hippie there and had a conversation.. spent some time and left the place.

Since we were little high and oh yea it was -6 degrees with freezing cold and it was already late night we went back to the room and we slept. Here comes the best part Couple of our friends had slept and others were obviously Smoking up and having their own fun. I had always heard that the best part of travel is you make friends with fellow travelers and that will make your trip boom to a different level. There was a entire different gang in the next room and they were also out in the corridor having fun , out of no where my fellow mates became their buddies and spent the whole night partying (rest all remains Secret :P)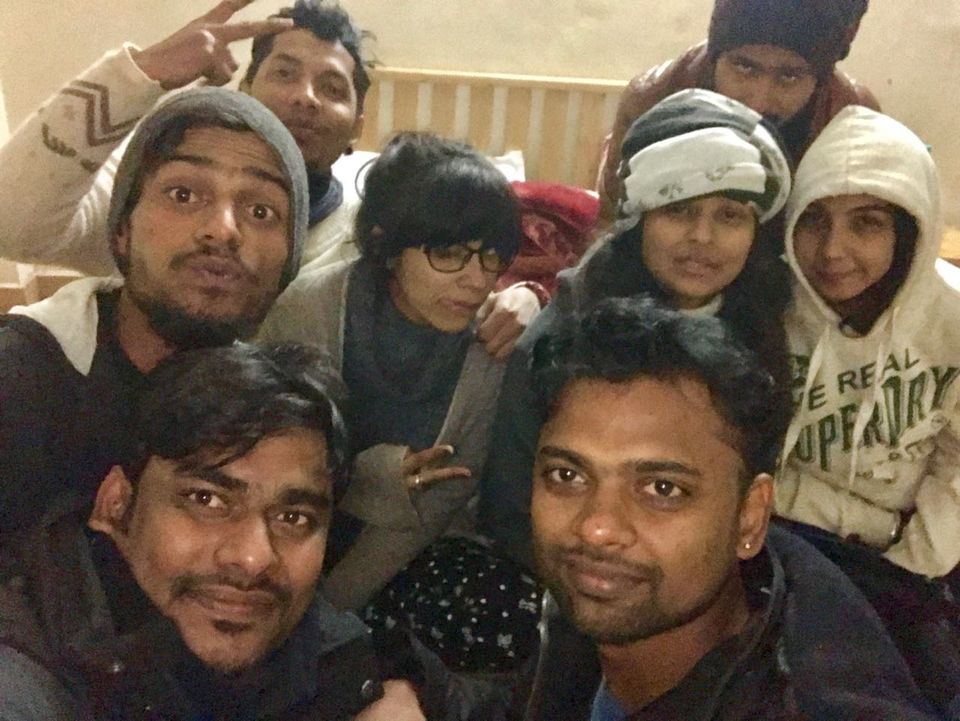 The travel buddies!!
Its a brand new day and we all woke up with a plan to visit manikaran and stay in tosh that day. oh boy o boy did i just forget to show you the view from our room? The parvathi valley, snow covered houses and streets and the snow capped mountains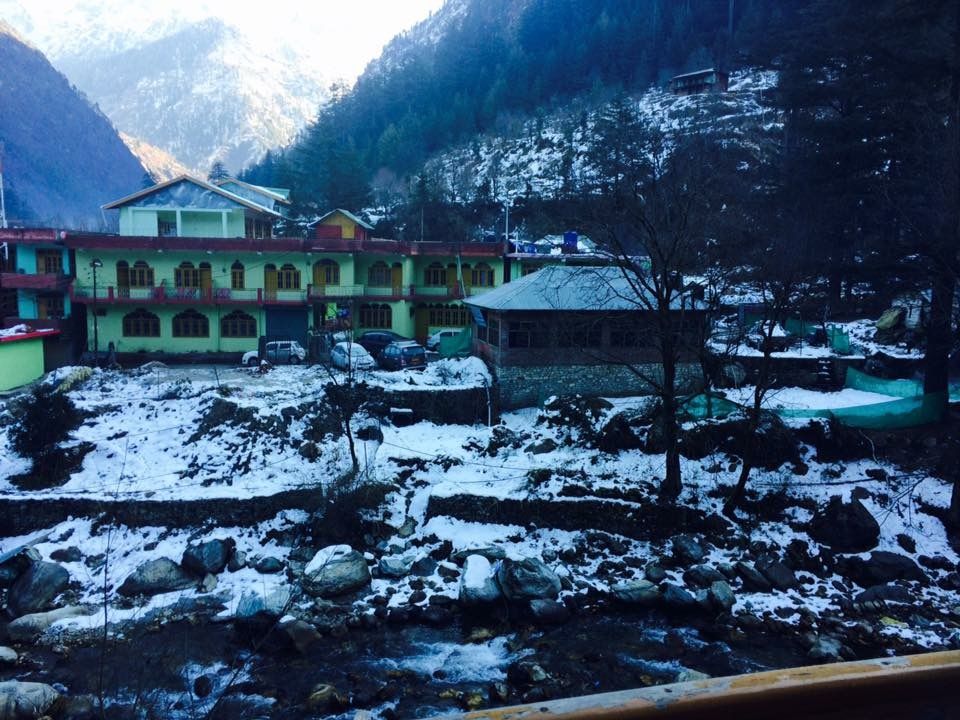 View from our room
We all got ready for our stay at tosh. Packed our bags and we went to the next room traveler buddies to bid adieu to them. They told us they would be going to chalal tonight and if its happening at tosh to inform them. So that they would come to tosh. We shared each others number and checked out kasol deciding we will have our breakfast in kasol. As i had read a lot about moon dance cafe i wanted to try the breakfast there and the bakes at German bakery. We ordered Israeli breakfast and couple of my friends ordered English breakfast and it was yummy.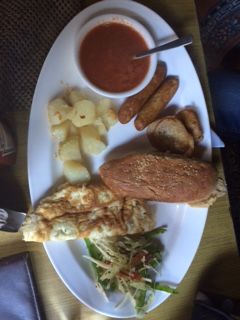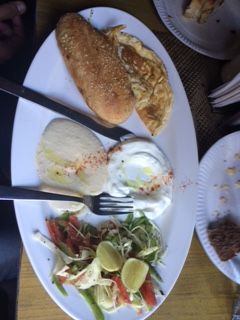 Now the tongues literally started salivating looking at the amazing fresh bakes at german bakery. We ordered nutella basket, Cheese cake, Chocolate and everything is to die for !!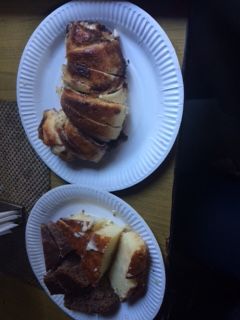 When we finished eating all those i have heard about their ginger ,lemon and honey tea and i was fortunate enough to try that. It was best of all i have ever tasted. Food will make us crazy and this one swept me of my feet :P and while i finish of that tea i saw them making some yummy crepes with nutella and banana.. just so tired of giving the entire credits to the food there!!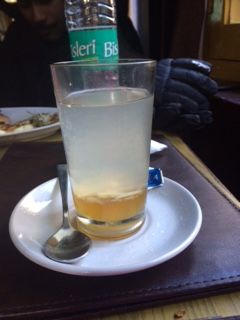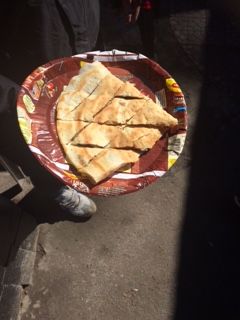 After the food hangover.. we headed straight to manikaran and to the hot springs. It was such divine to see the natural hot springs pouring one side and the other side its the freezing cold water. The boys jumped into the hot springs, whatte refreshing task it was!! we decided have lunch at the gurudwara and had a tummyful lunch with the first of it's kind of experience.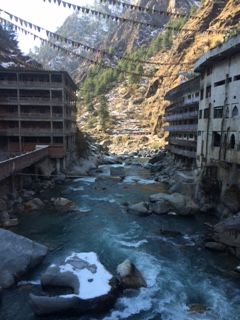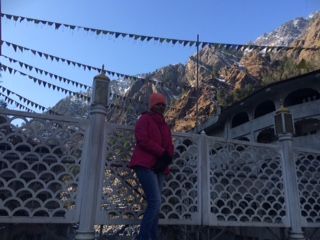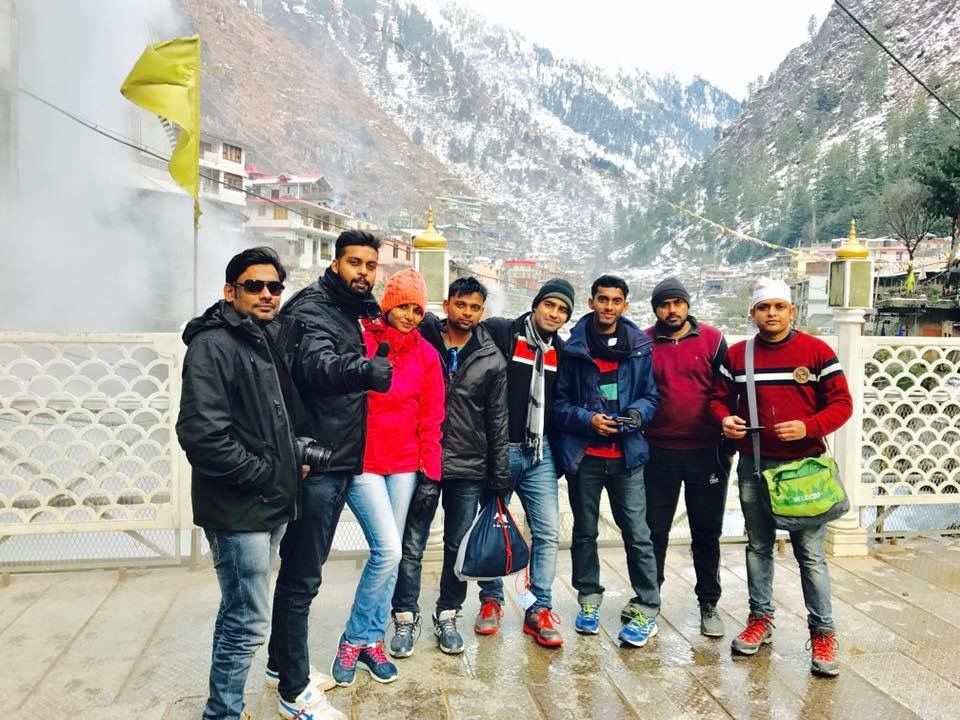 We started to tosh without knowing whats waiting for us. We inquired the locals and they said we can reach tosh. we would have traveled for about 4 kms and the innova buddy got struck in the ice. Looking at us couple of cars who came behind us vrroommm went back. We all got down from the car to push the innova buddy and after a lot of struggle yaayy we succeeded and we decided not to go to tosh because it was not accessible and we never wanted to take the risk. It was already past 4 o clock and on top of the mountain with fully snow covered we saw a small cafe. There were only us and few locals with the camp fire. We decided to stay there and spent time with the obvious photo sessions, hot maggi and the best tea (i Wonder how they make such amazing tea)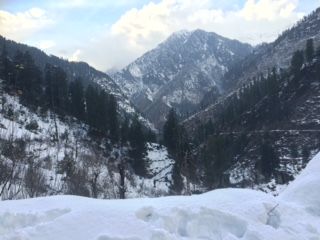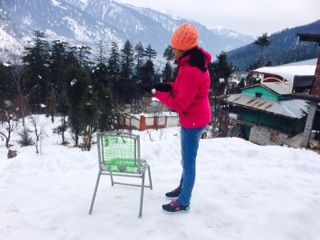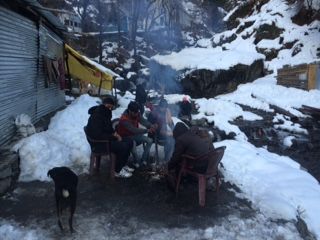 It was getting really dark and we decided to get back to kasol. When we were about to reach kasol, we had a striking idea that we would stay at chalal today (remember i told you that our travel buddies are going to chalal tonight). We decided to go to chalal and the locals told us it is 25 minutes walk from kasol because its not motorable. It was already past 7 , pitch dark and freezing cold.. After a lot of discussions we decided to go to chalal (Crazy isn't it? what is life when you don't do crazy things. ). We started walking with our torch lights on and there came a bridge to walk by.

I Don't know how heaven will be but for me that night the view of a parvathi valley roaring with a gush of water with mountains surrounded, snow, full moon and camp fire . Am not able to gather a correct word to describe that beauty but i never wanted to come from that place. one has to be there to witness it and it will stay in your heart forever. Leaving all the city life hustles behind and going on a trip like this is the best thing you could ever do.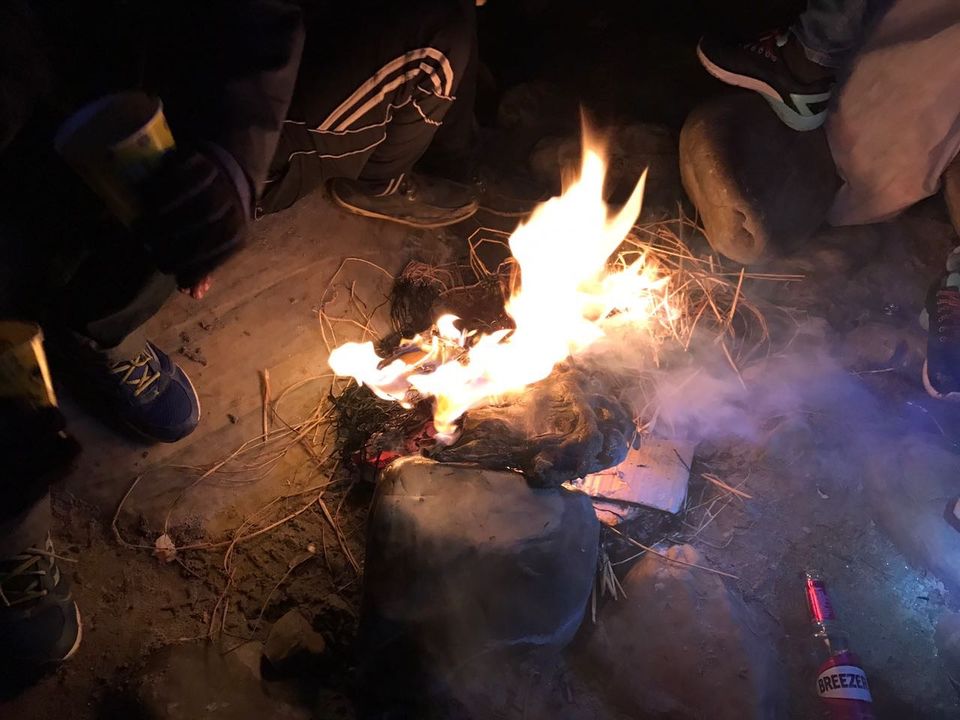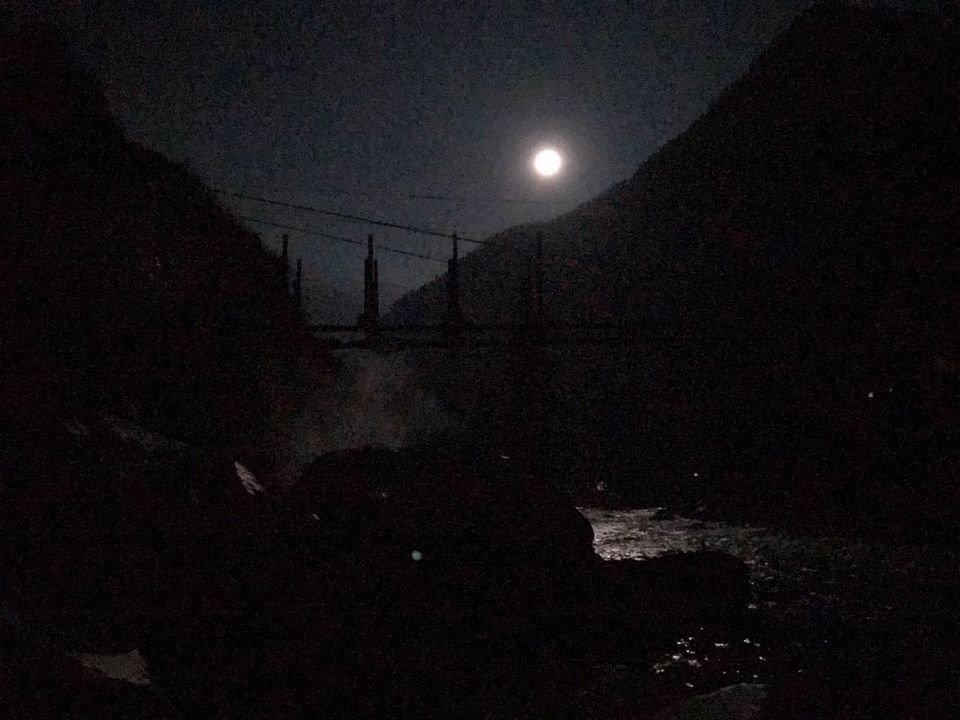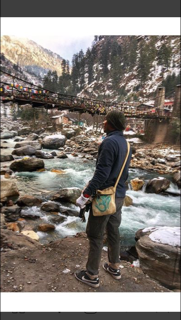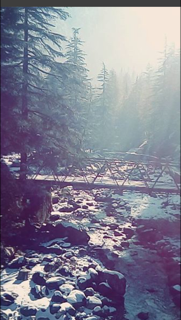 When to kept walking we realized we have climb up to reach chalal. When we were all walking we heard someone bursting crackers in the river side and then we realized its our travel buddies sitting by the river bursting crackers. They told us there is nothing out there in chalal , the accommodations are full and the cafes are closed due to winter. So we decided to stay by the river for sometime and leave kasol to book our accommodation.
We lit our own camp fire sat by the river happily talking and laughing our hearts out. After an hour we left to kasol and checked into the same hotel we stayed the previous night. when we are just settling down our travel buddies came back to our room and they suggested we should go back to the chalal bridge again and spend the night there.

WE decided to go with them and we picked our own sticks, woods from the streets to lit camp fire. We reached the picturesque beauty again, Lit camp fire and started singing songs, spent the whole night singing, playing dum shardes while they were leaving to Amritsar the next day for lohri we came back to kasol.
Our next two days plan was to visit the beautiful manali and we were all geared up for it. Woke up early the next day and started to manali. We reached manali post lunch but it was heavily snowing in manali and our first thing was to find a accommodation with a heater in the room because we were freezing literally !! We settled down in a good hotel with all amenities and whoa it was party time!! finishing up with all the parties with lot of laughter, making fun of others we went to sleep dreaming to explore manali the next day.

Woke up on a fresh day and went by to have breakfast in a restaurant. A gang a buddies were there with a cake to celebrate his friends birthday. Since we were there they asked if we can also join the birthday celebration (Travel really helps you meet lot of amazing people). A friend of mine gladly accepted the offer because he had a youtube channel called Incredible India and he was taking videos from the beginning to make a movie out of it for his channel. All these snap shots will add masala to the video and that's exactly what we wanted :P but jokes apart it was such a gesture for them to call us so BOOM we were there.

We cut cake, danced for some hindi numbers, took lot of selfies, videos and obviously the snow fight. Each of us started hitting all of them with snow and some vigorously took their revenges also :P . Some memories to cherish forever.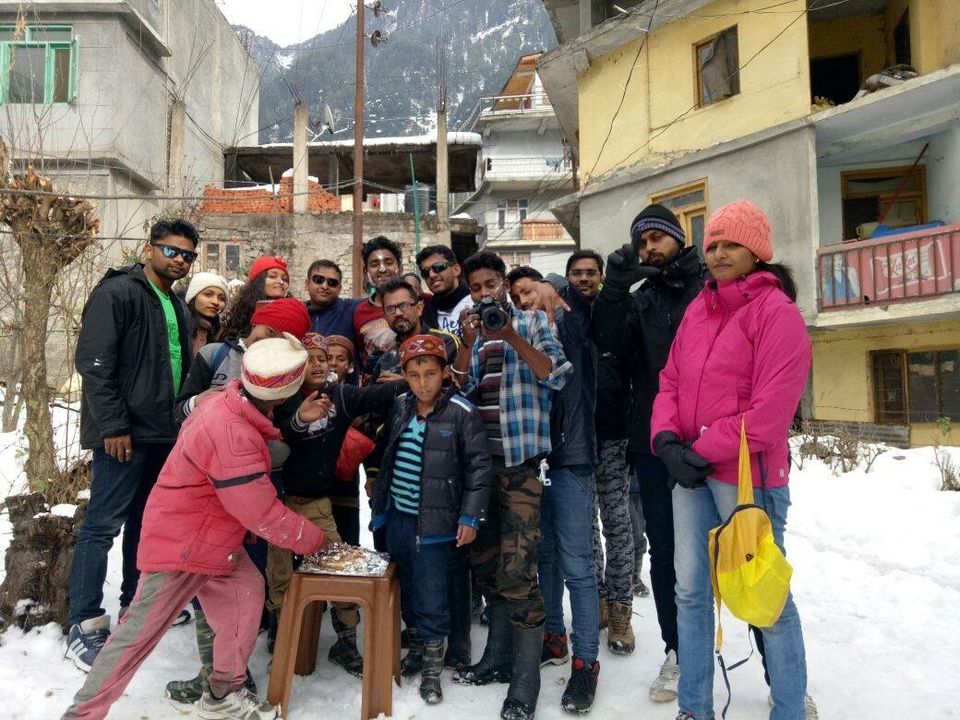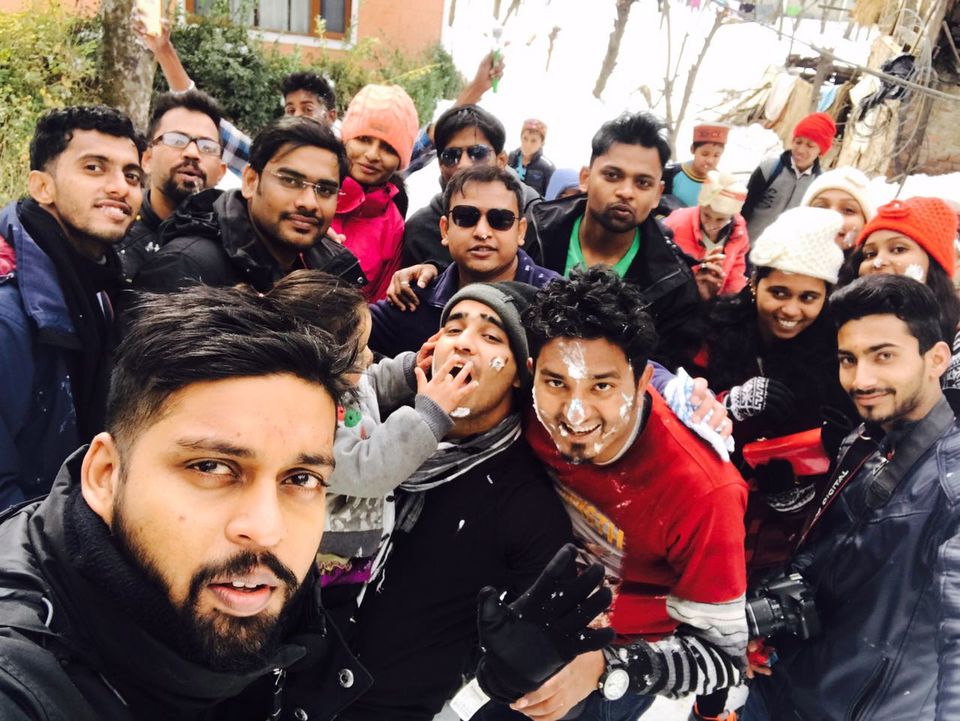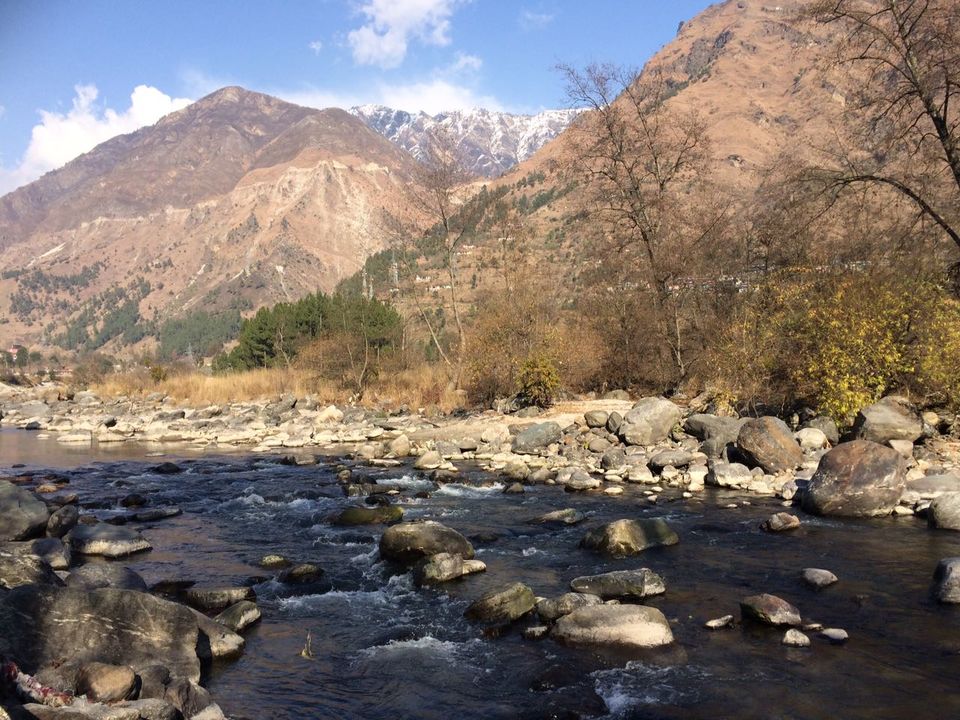 With so much excitement to explore manali we heard solang valley is closed due to heavy snow and we decided to see the famous Hadimba temple. The temple was fully covered in snow. It was so beautiful to look at the beauty and the obvious photo bomb sessions .With heavy heart we all left himachal to Delhi to head back to Chennai for the same old routine life. Yes!! The vacations are over .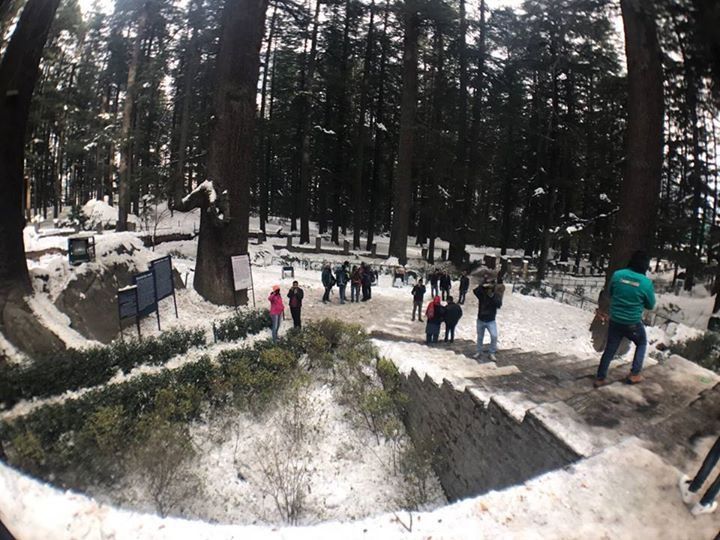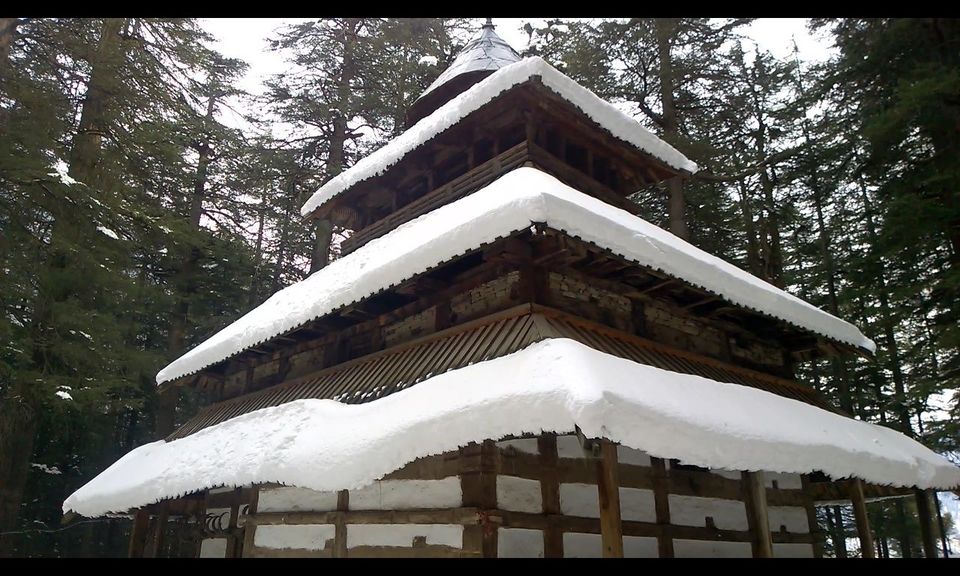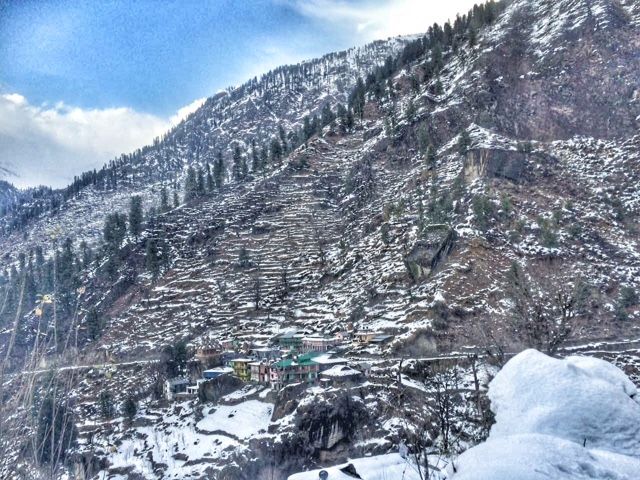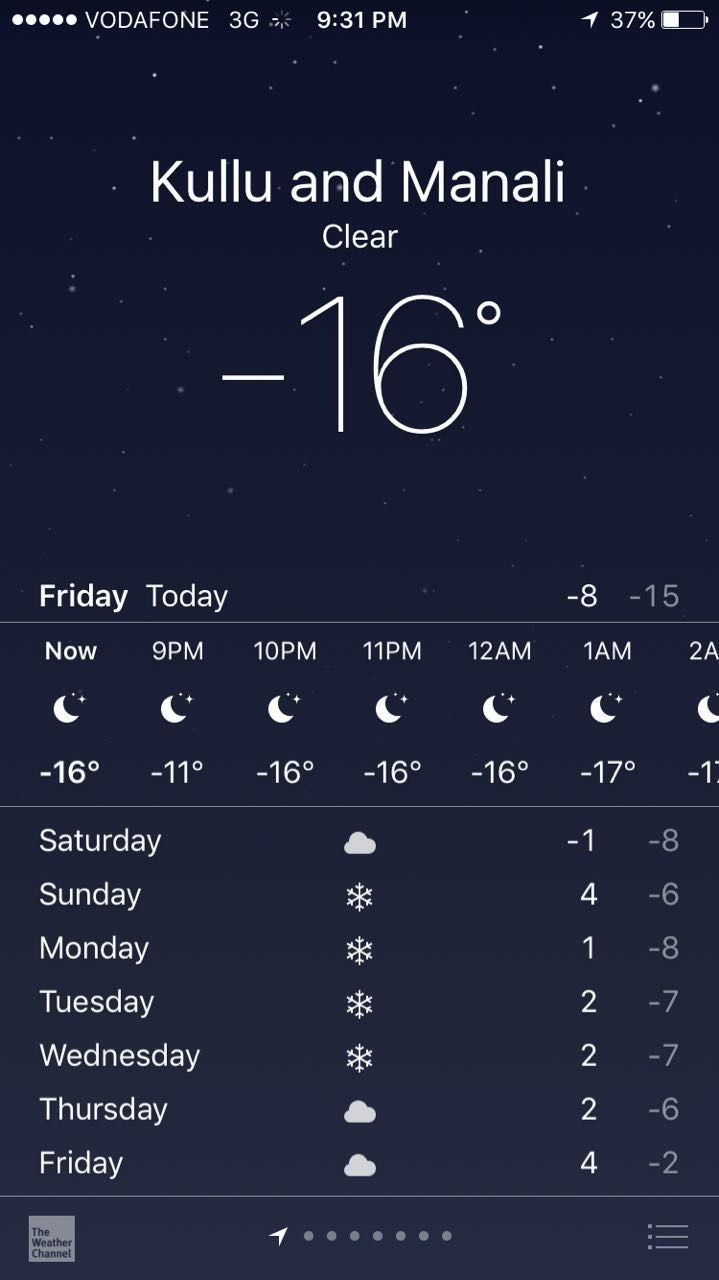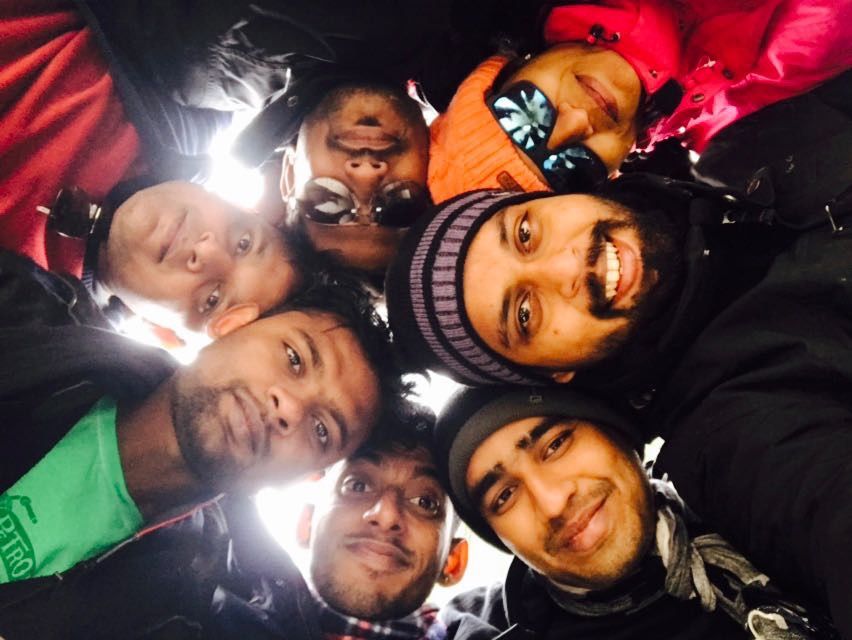 We reached Delhi and how will we ever the yummy Delhi food and the shopping. We shopped our hearts out in Delhi and reached Rabinder dhabba for the tandooris, roti, kebab and everything we wanted to eat that night. We were left only two hours for the flight and with the traffic in Delhi we thought we would miss the flight but fortunately we reached airport on time and got our boarding passes.

But what is a end of a trip if it ends with no crisp.. Yes you are rite!! while 5 of them boarded the flight .. me and my other friend missed the flight by few minutes . The boarding was closed. We tried to convince them but all in vain. All 5 fellow mates said bye and left to Chennai.. both of us took the next flight which was only in the early morning. Spent the whole night in airport and reached Chennai the next day morning.
Each one of us carried lot of memories in our heart which we will never forget. The new friends we made, the beautiful villages and the time we spent together. Kasol is the place were my heart is and already started day dreaming for my next visit to kasol.