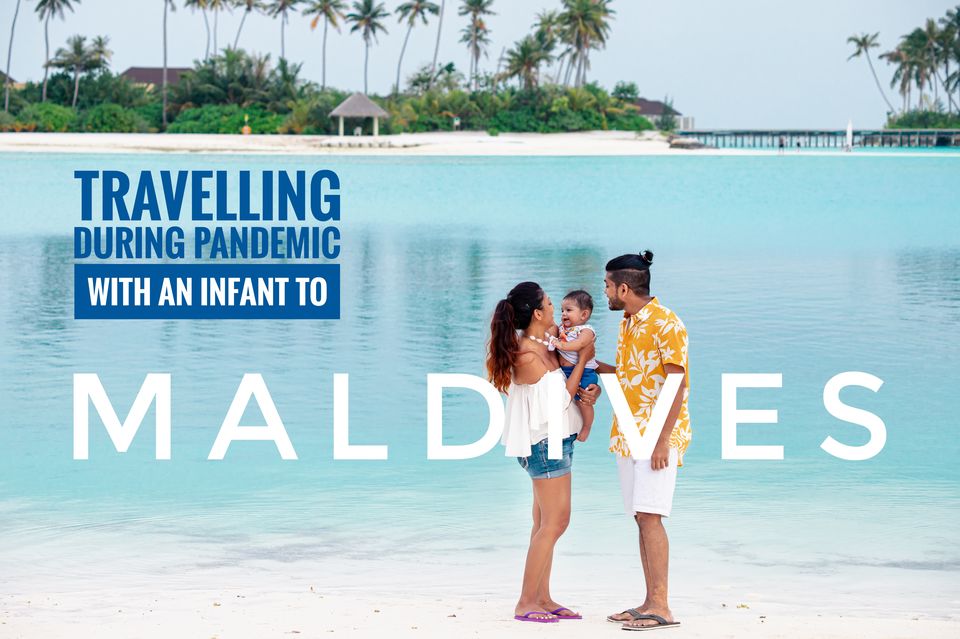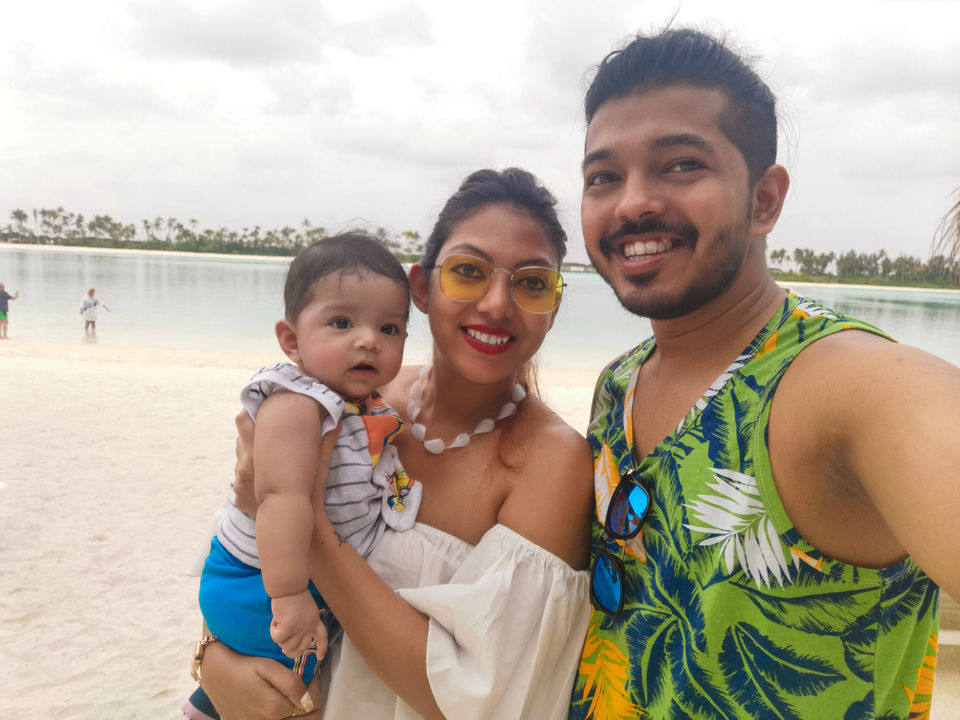 Since the time pandemic hit the world, travel has taken a backseat. Survival taking utmost importance in everybody's life, vacationing has become the last priority and rightfully so. Then there are some of us whose feet never stopped itching. We waited with hope in our hearts for some good news, had faith that life will one day get back to our old normal where we could wanderlust with no fear. Well, that day is not so far. We couldn't help but jump at the first opportunity presented to us as travel restrictions were slowly lifted.
Although it is easier to travel within India right now, we chose to travel internationally as the best rebound for the long wait we have had. We can't wait to travel locally and share our experiences with you. But until then, let's discuss the heavenly abode we had been to- the Maldives.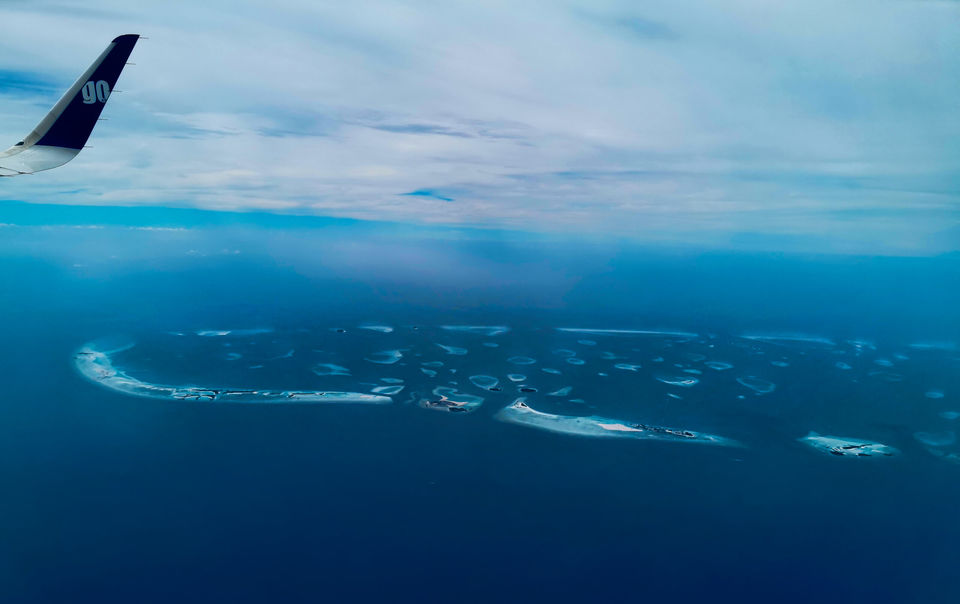 Reasons why we chose the Maldives
*It's one of the most visited countries for tourism right now other than Dubai and open for travel as per the air bubble agreement.
*As we were travelling with an infant, it was essential for us to choose a destination where we did not have to move around a lot and could stay in one place.
*We needed the shortest possible travel time as it was our son's first travel. We didn't know how he would react to the flight and speed boat journey.
*We chose a country where Indians had free visas on arrival to avoid any further hassle of visa application and approval.
*The Maldives quickly kicked back its tourism and was a haven for people looking for a break from the months-long pause. Their safety measures, rules, and protocols made it easier for travellers to have a stress-free holiday.
*Lastly, we wanted to relax and have a wonderful family time. So, what better place than the seaside?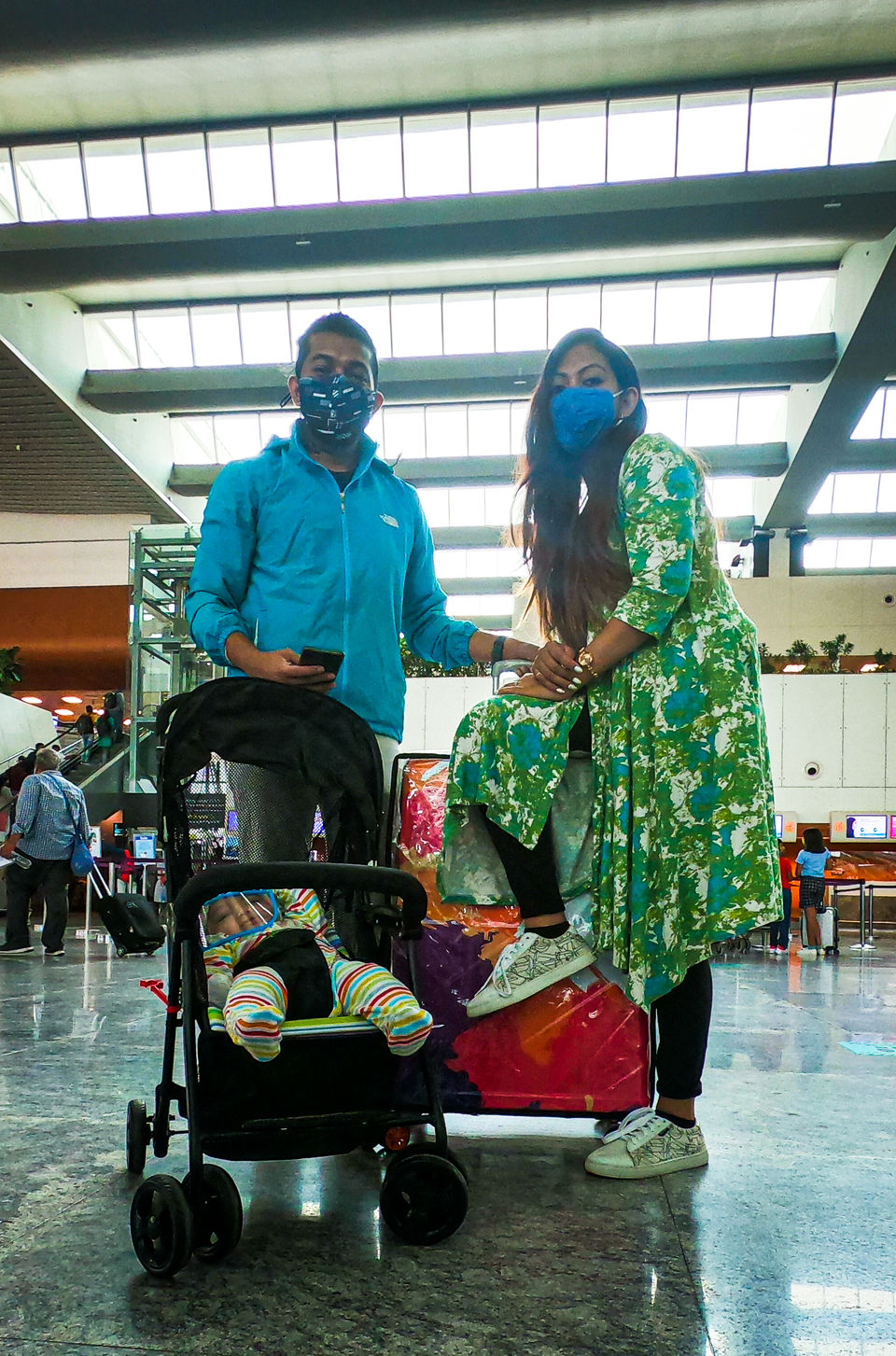 Tourist Visa & Prerequisites for travelling to the Maldives
Visa is free of cost and given on arrival to all Indians. However, the person must have few documents to enter the Maldives;
1. A valid passport with six months validity. (Although Maldives Government made recent changes due to the pandemic. Passports and other documents accepted for entry must be valid for a minimum of 30 days from the arrival date).
2. Proof of pre-booked accommodation for the entire duration of stay
3. Sufficient funds to last for the intended period of visit in the Maldives. Immigration did not ask us to produce any proof regarding it.
4. Confirmed onward/return tickets to the home country or next destination.
5. A negative RT-PCR test report is required to enter the country. The test needs to be taken not more than 96 hours before the scheduled time of departure from the first port of embarkation en route to the Maldives.
However, infants aged less than one-year-old are exempted from the test. As we travelled from Bangalore, we contacted one of the ICMR-recognized Covid testing laboratory (Anand Labs). They collected samples from our home for INR1600 per person. The report was available within 12 hours.
The latest official updates on Maldives tourism are available in the below link.
https://www.tourism.gov.mv/covid19
Link to see the ICMR approved COVID-19 testing centers in India;
https://www.icmr.gov.in/ https://www.icmr.gov.in/pdf/covid/labs/COVID_Testing_Labs_14012021.pdf
6. Arrival health declaration- All tourists (including infants) travelling to the Maldives need to fill an online arrival health declaration form within 24 hours of the departure. The link is given below-
https://imuga.immigration.gov.mv/
Choose "Traveller health declaration" and "Arrival." Fill-up the required fields. Once submitted, you will receive a QR code. Take a screenshot that needs to be shown at the immigration counter in the Maldives.
7. Mandatory web check-in to be done within 48 hours of your flight and e-boarding pass to be downloaded.
8. Do keep sanitizer, gloves, mask/face shield with you at all times. The airlines also provide these items during check-in/boarding.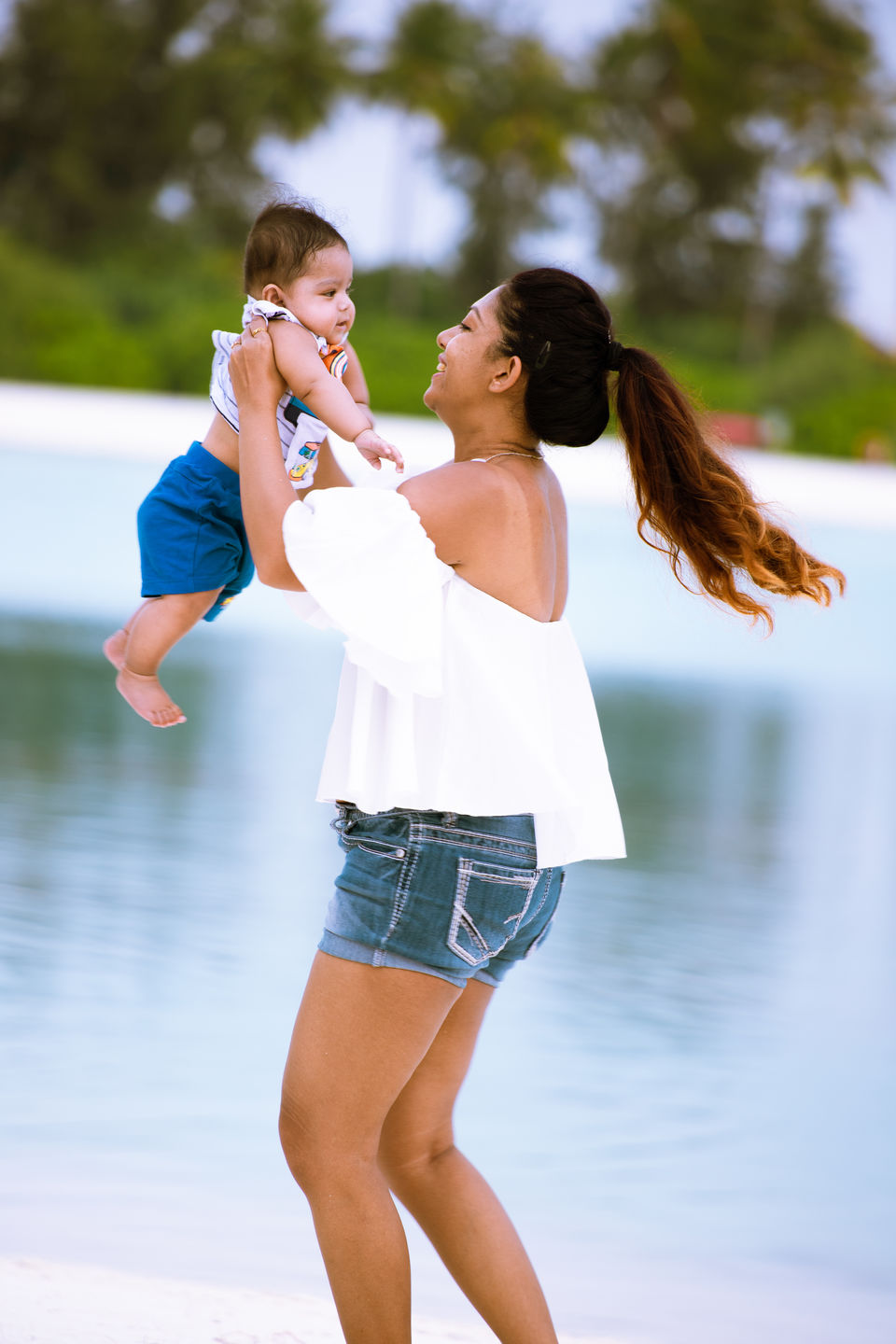 Checklist for your return travel
Similar to the departure requirements, there are a few prerequisites to return to India too. Below are some actions to ensure smooth movement at immigration and the arrival counter.
1. Departure health declaration- Fill up the online health declaration form for all passengers (including infants) within 24 hours of the departure. The link is given below-
https://imuga.immigration.gov.mv/
Choose "Traveller health declaration" and "Departure." Fill up all the required fields. Once submitted, you will receive a scan code. Keep a screenshot that needs to be shown at the immigration counter in the Maldives while returning.
2. Mandatory web check-in to be done before 48 hours of your flight and e-boarding pass to be downloaded.
3. Fill up the online Air Suvidha form and download the confirmation for all passengers. We have mentioned the link below. Even though the form is available on the Delhi airport website, it can be accessed and updated for all international passengers arriving at any state in India.
4. Negative RT-PCR test report- This test is not mandatory for some cities and if taken, should have been conducted within 72 hrs before undertaking the journey.
Note- Conducting a COVID-19 test in the Maldives is highly expensive. We paid USD 95 per person that was a discounted price. However, it is not mandatory if you are arriving in Bangalore directly. You can choose to get the tests done upon arrival for free from Government testing centers. The results will be provided in 24-48 hours.
If your arrival is in Mumbai or Delhi, check with your respective airline if a negative RT-PCR test report is mandatory before or upon arrival at the airport.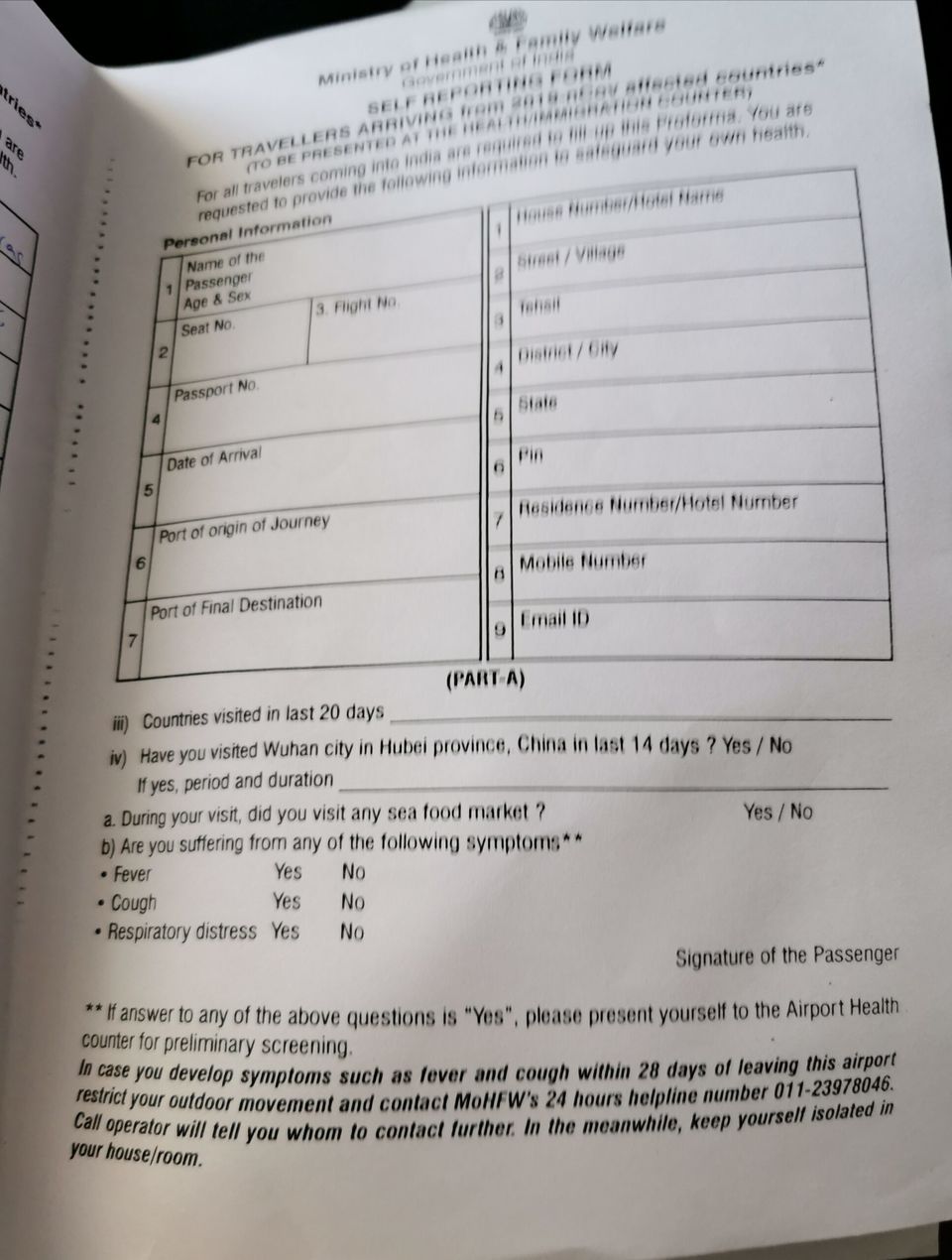 6. Self-reporting form- At the check-in counter or during the flight, print out of these forms will be handed over by the airline staff that needs to be filled up and presented at the health/immigration counter.
Note- At all times, keep the passports, boarding pass, RT-PCR test results, online forms screenshot, and any physical forms ready in your hand as these are frequently checked at every counter at the airport. At Bangalore airport, we noticed that there were heartbeat, pulse rate, and body temperature scanners stationed.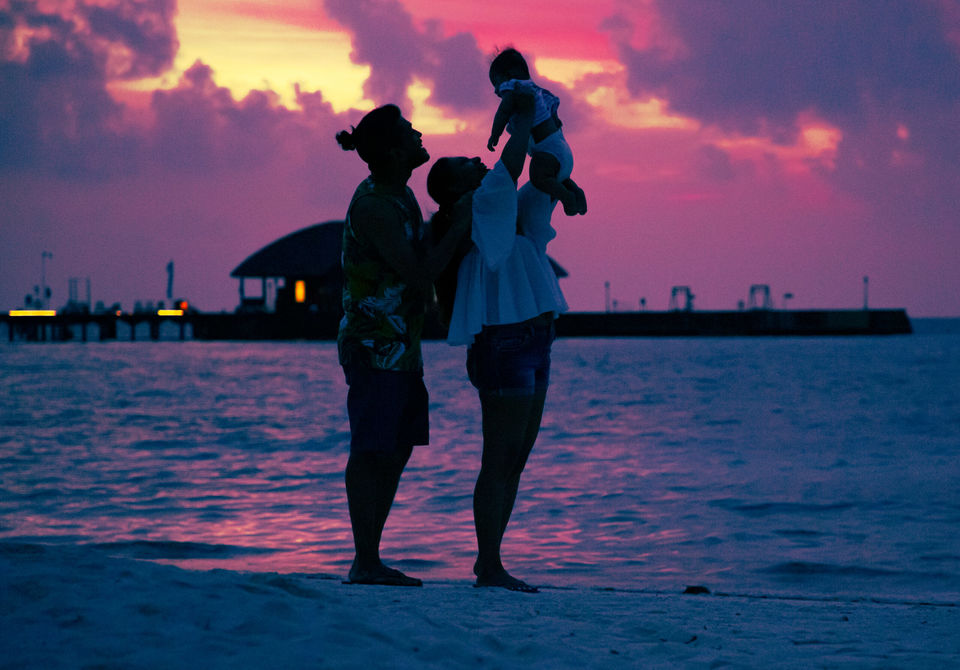 Is it safe to travel now?
Well, the risk is there. The question is, are you willing to take it? We ensured we took all precautions from before our journey. From keeping a watch on our diet to intake of vitamins and restricting movement outside our house. The airport was pretty vacant since the international departures and arrivals hardly having any people around. Our flight wasn't completely booked and there were a lot of empty seats. The airport staff ensured all the passengers were maintaining social distancing except for the one time when we were all dumped into a bus to be taken to our aircraft. We spray sanitized every seat we used, frequently cleaned our hands, separated the clothes we wore at the airport, wore masks outdoors, and kept a close watch on our health. However, as we reached the resort, we were surprised to see people were strolling around without masks except for the hotel staff. Though the chances of contraction are less likely as all the tourists who are staying at the resort were tested negative, what we need to understand is that the staff working there might not have taken regular tests.
We received stares from onlookers when we sprayed our restaurant chairs with sanitizers thinking we don't trust the hotel's safety measures. Well, guess what? We better be safe than sorry.
And to our dismay on the last day of the trip, we found out that 3 people at our resort were tested positive for Covid and there was a fear of community spread. All 3 of us took the tests immediately (Yes, it was mandatory even for the infant to go through the test) and waited eagerly for our report. The next day during check out we were presented with a negative report and we sighed relief.
We also like to share that we were extremely distressed knowing that our infant would have to take the test. The idea of inserting a swab through his throat and nose sent chills through our spine. We got an email confirmation from the HPA Maldives officials that it was mandatory and only then agreed to go through with it. Thankfully, the clinic staff at the resort were efficient and our son didn't even feel the discomfort while getting tested.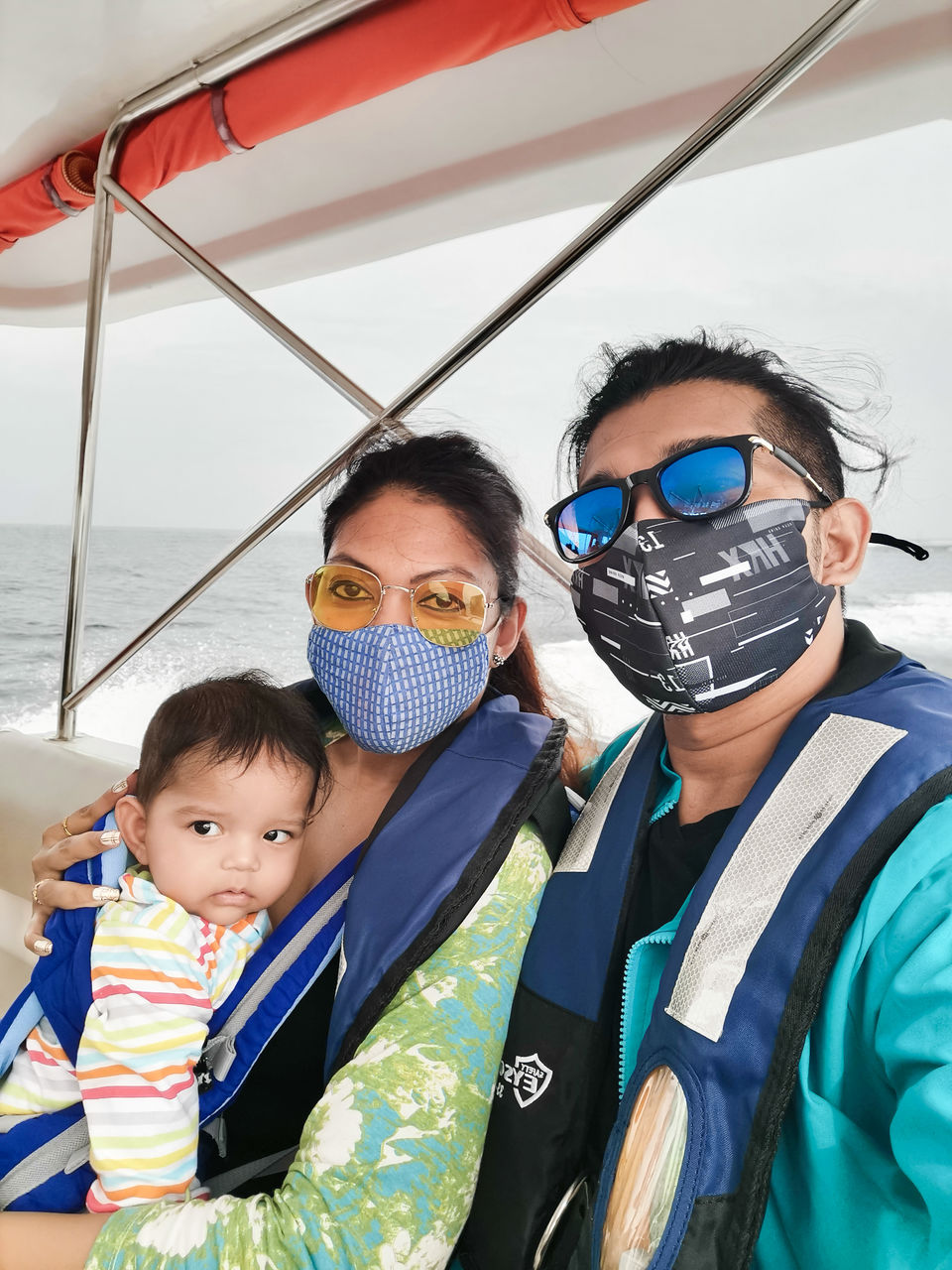 What did we do to stay safe?
As we already know the mantra by now.
1. Wear masks whenever we were around people. We removed our masks only when we were at an isolated spot and taking pictures. Sanitizing hands regularly, avoid touching the face. Spray seats with sanitizers before using them.
2. As we had breakfast included in our package, we had the risk of running into a crowd at the restaurant. We woke up early every day and were among the firsts to arrive for breakfast. There were hardly any people around and the food counters were empty. This helped us skip the long queue especially at the live cooking station and walk out after a super-fast breakfast. The same holds good for lunch and dinner also.
Note- We sanitized our hands after every trip to the counter as we touch the ladles and serving spoons which might have been used by others.
3. We also sanitized our photography equipment every night before bed just to be safe. Phones, Camera, Gimbal, Go-Pro, Dome, etc.
4. While renting the snorkelling equipment, we cleaned it with a wet tissue and then spray sanitized it as it was supposed to cover the mouth and eyes. That was the only water activity we did, so not sure if the same will work for others. I'm sure it will be a daunting task to sanitize an entire scuba diving kit. It's better to enquire at your resort the safety protocols they are following and confirm.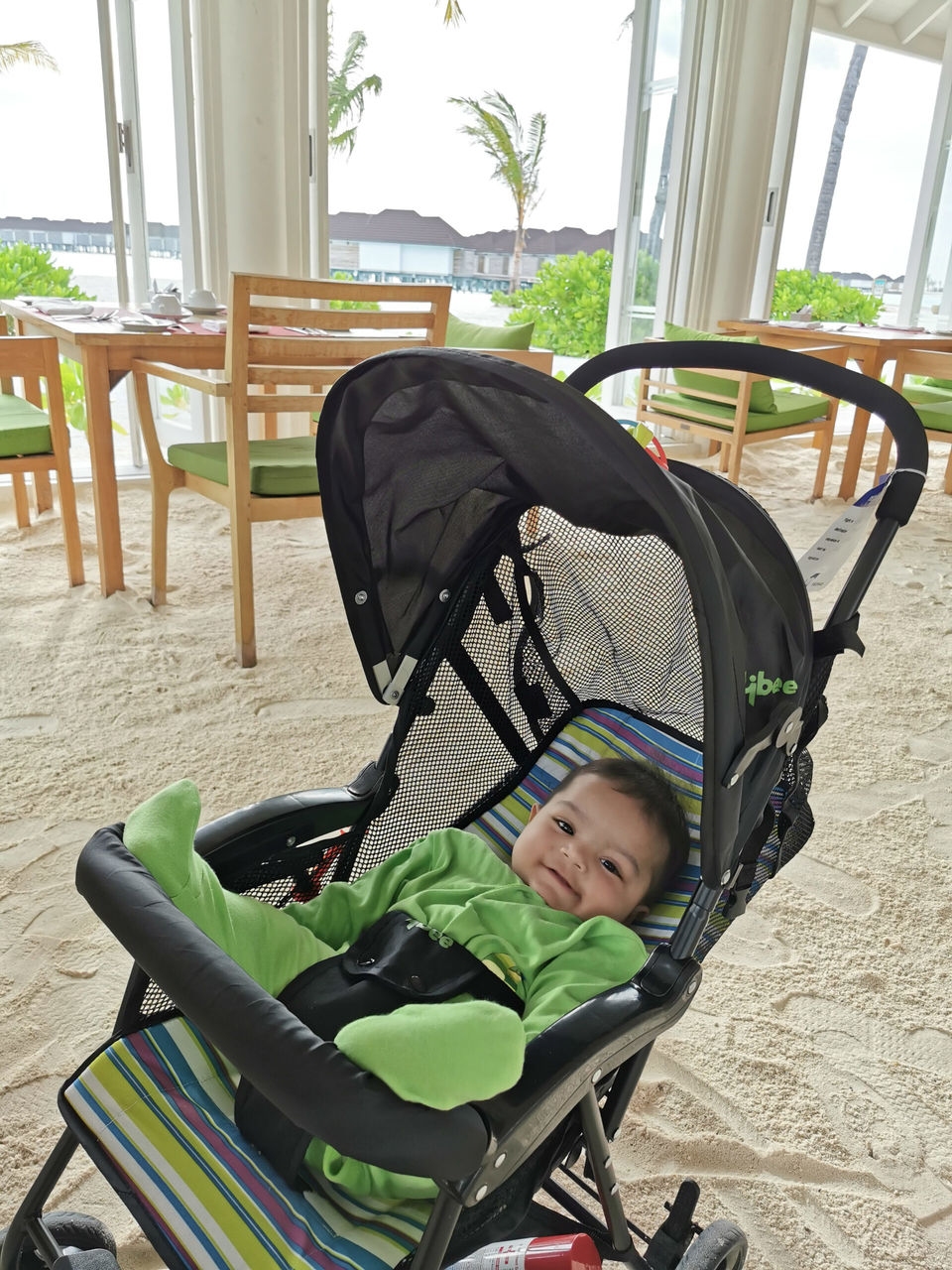 How is it to travel with an infant?
We had a lot of prenotions in our mind about travelling with a baby. Most of the people we knew advised us against it as it would be a hardship and a less enjoyable experience. But we had to do it to know it for ourselves. We wouldn't say it's a path of roses, but again it's not as strenuous as the naysayers believe. It was a pleasantly surprising and mostly smooth experience for us, maybe because we were prepared to face any adverse situation. Here are some things that will help you travel with your baby and have an enjoyable trip.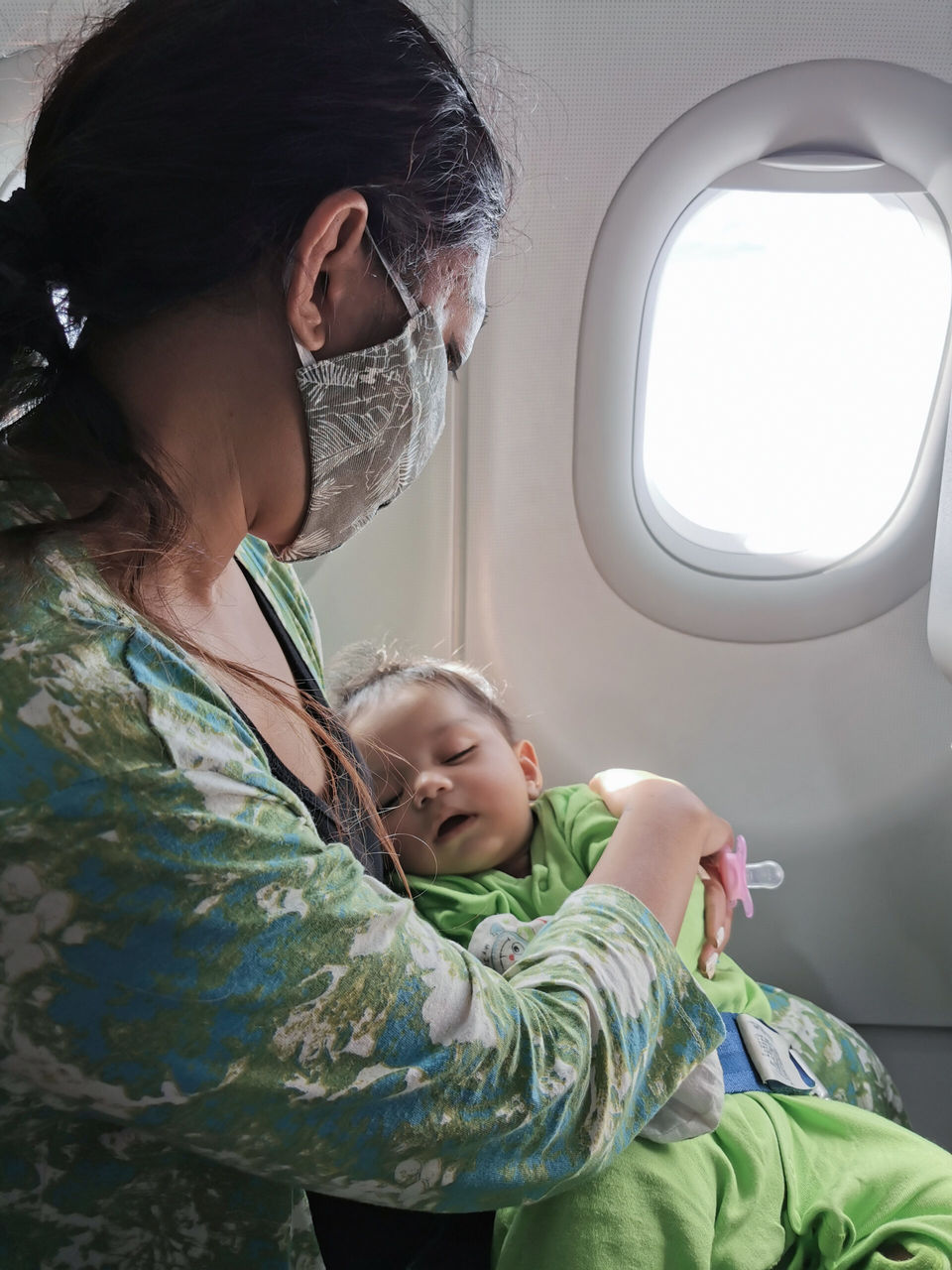 -Our son was almost six months old when we took him to the Maldives. At this age, they mostly feed and sleep and play sometimes. We bottle fed him right before the take-off so he would sleep throughout the journey. Even in the speedboat with all the bumpy ride and the high motor noise, I held him close to me and he just dozed off. So, it was a pretty easy commute.
- At the resort we maintained a schedule for him. We woke him up early, fed him, and took him on a ride in his stroller to the restaurant for our breakfast. He used to play in the stroller while we filled our stomach and then took him on a short walk around the deck. He would fall asleep and then we would take him back to our hotel room and put him on the bed. He would sleep peacefully for a few hours. We took this opportunity to capture some moments right outside our room and around the beach.
- He would wake up a few hours later fresh and active. We would feed him, dress him and then carry him along with us to explore the island. We saw he was in a good mood and was playing in his stroller, we took the opportunity to set up our tripods and click some couple pictures and family ones too. At all times we would have one eye on the camera lens and one eye on him.
- We would come back to our room, bathe him, feed him, and put him to bed. This gave us few hours to sit on the balcony and savour the unprecedented views of the location while enjoying lunch and having loads of conversation.
-Evening times were the best. The setting sun would reveal the different hues of the sky, the lights around the island would slowly turn on and the place would come alive. We would get dressed and leave towards the main deck for the Lagoon bar. The live DJ would set our hearts pumping and feet tapping. We would order some cocktails and sip the evening away while playing and dancing with our little one. He seemed to have enjoyed the ambiance too. We would take turns to hold him in our laps to enjoy the rest of the evening. While we had a heart to heart conversations about how fortunate we are, and of course some hugs, kisses, and cuddles.
- We used to return at around 10 pm by the time he was tired and drowsy, feed him, cuddle him, and put him to bed. Only this time he would sleep through the night and then we would sit on the balcony listening to the crashing waves before retiring for the night. About his safety, it was a little difficult to follow as he kept knocking off his face shield all the time. He also has a habit of sucking his fingers, so he would do the same from over his mittens. So we had to clean his hands frequently with wet tissues, keep him away from the crowd and always on his stroller or in our arms when outdoors. This way he had minimal contact with any surface.
We continued the same routine every day.
The resort is children friendly and has a kid's corner- The Maakanaa Kids. We could leave our kids there to enjoy some private time. They have a range of activities to keep the kids engaged and also staff to look after them. However, we chose not to leave our son there due to 2 reasons. One, he was too young to be left in the care of an unknown person. Secondly, it's difficult to expect children to maintain distance and wear masks. With the pandemic situation, it was safer to keep our baby away from the crowd and with us at all times. In addition, it would save us from paranoia.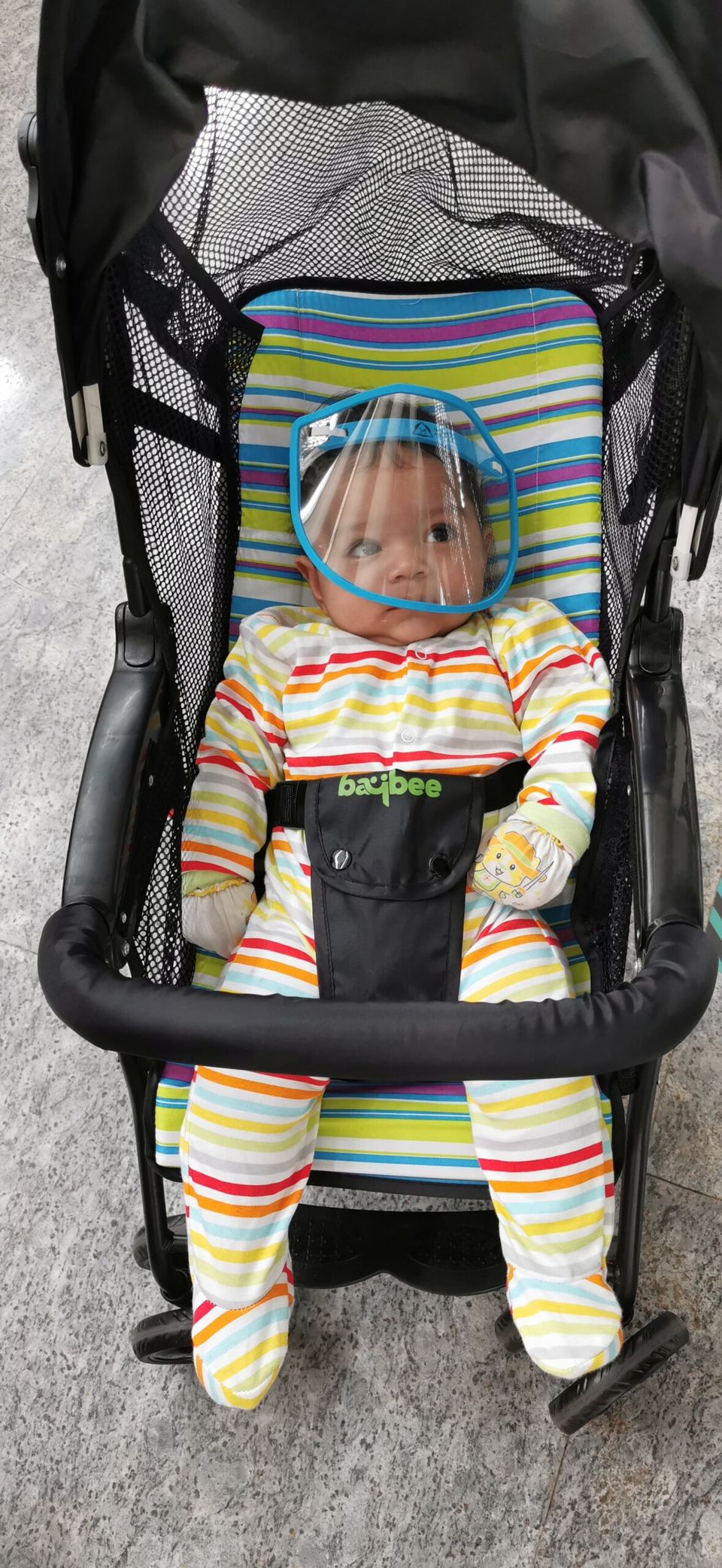 Things to carry if you are traveling with an infant
Baby carrier and Baby stroller: We bought a lightweight, travel-friendly, and compact stroller from BAYBEE that made our life a lot easier. We could use it until boarding and from there on used the baby carrier during the flight journey. However, during several sections of a security check, we had to pick up the baby and scan the stroller which was a little bit of hassle. If you have a strong back, a baby carrier is the best option throughout.
Baby food: Thankfully, there is no restriction on the amount of baby food that can be carried. We carried a thermal flask for hot water, another bottle of boiled and cooled water, a packet of baby formula, some sterilized feeding bottles, and a pacifier. It is advisable to feed the baby before take-off and landing to avoid discomfort in their ears. If they are already full, pacifiers come in handy. Pack enough food for the entire stay. If your baby is exclusively breastfeeding then there is nothing to worry about at all.
Diapers, changing mats, and tissues: We took an entire pack of 54 diapers along with some cloth ones to avoid rashes. Changing mats help to avoid a mess on the hotel beds. Tissues- both wet and dry for cleaning up and some towels.
Sunscreen and mosquito repellents: Baby sunscreen lotion/cream with a minimum SPF 50 is a must when traveling to the Maldives. It's mostly humid and sunny throughout the day and can easily cause heat rashes to the baby's skin. Do consult your pediatric dermatologist before buying one. If the baby is old enough carry a hat and some sunglasses too.
Infant face mask: We adults are packed from top to toe with all safety measures, but what about babies? Thankfully "Makers Asylum" has created some face masks which fit infants perfectly. Though not mandatory for infants it is a safety measure we can choose to follow.
Baby playthings: We carried a pair of baby rattle and a colourful teether to keep him distracted in case he woke up from his sleep and started crying during the journey. Thankfully we did not have to use it as he slept peacefully as soon as the flight took off and woke up only after disembarking upon arrival.
All baby medicines: Consult your Pediatrician beforehand and pick up a few medicines for the common cold, runny nose, fever, etc. along with the regular ones which can come in handy during emergencies. Also, it might be difficult to find readily available medicine on an island so it's better to be prepared.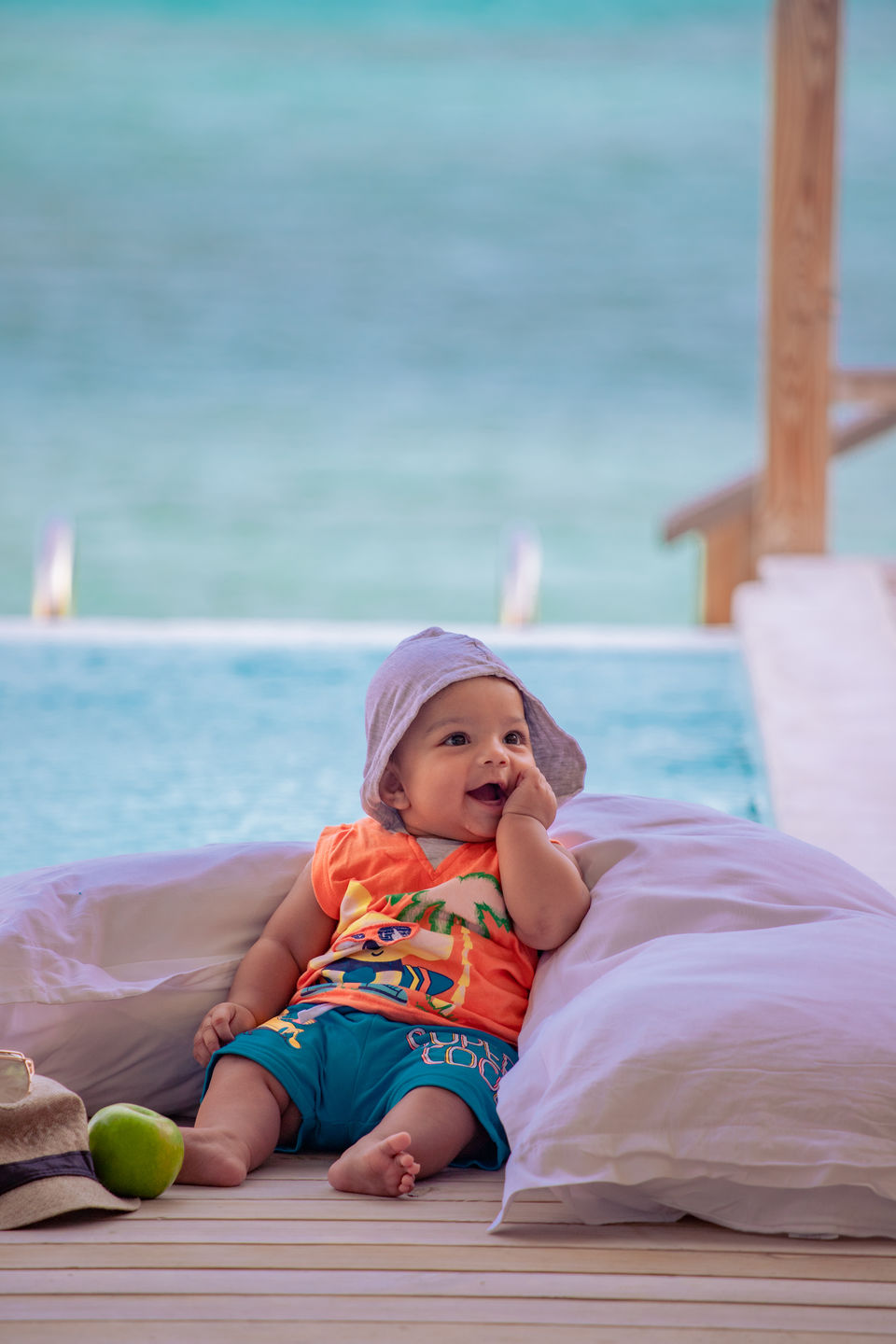 His first travel experience
He seemed quite comfortable throughout the entire journey. We realized that he loves movement and is immediately at ease whenever we were in the car or plane or speed boat. Sometimes when he got annoyed in his stroller, we would move it around for a few minutes for him to calm down. He would cry when he was hungry or sleepy, mostly as per his routine. We would then immediately either feed him or put him to bed. Also, long hours in the stroller can be very uncomfortable, so we would pick him up and walk holding him in our arms if he showed any signs of discomfort. Once in a while, he would be annoyed for no reason, that's the cue to play and cuddle with him.
He was quite active throughout the trip, he laughed, smiled back at people, and helped us enjoy the holiday as a family.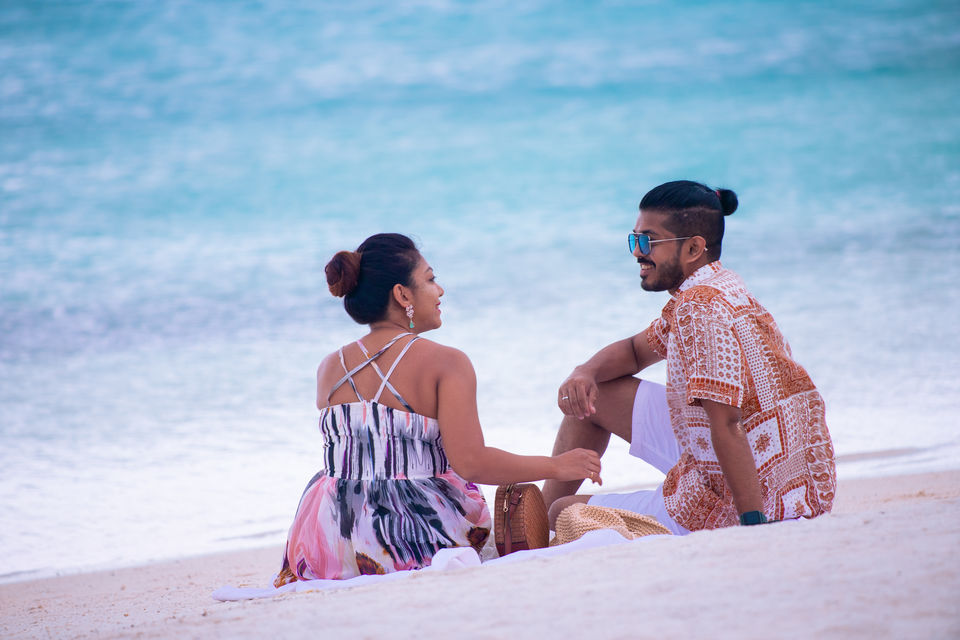 Our overall experience
This was no doubt the most stressful planning of a trip we have ever had for two reasons. Firstly due to the pandemic and secondly, it was our first time travelling with an infant. Except for the scare we had on the last day of our stay, I would say it was an eventful travel experience. The best part was we hardly had to wait anywhere at the airport during check-in or immigration, having an infant also helped us skip a few lines and we were given priority access. We had an amazing time on our long-awaited holiday and enjoyed every moment. We are happy to be back safe and sound. And even though we had negative test results, we quarantined ourselves at home to be certain in keeping our family members safe.
We are sure to make some more travels shortly of course following the same protocol until we are all safe and back to the old normal.
Thank you for reading through, if you have any questions, we have missed covering on our post please do let us know in the comments and we will be glad to answer those to the best of our knowledge.
Note- The information published above is true as of Jan 13th, 2021, for the latest government travel guidelines please check the link below.