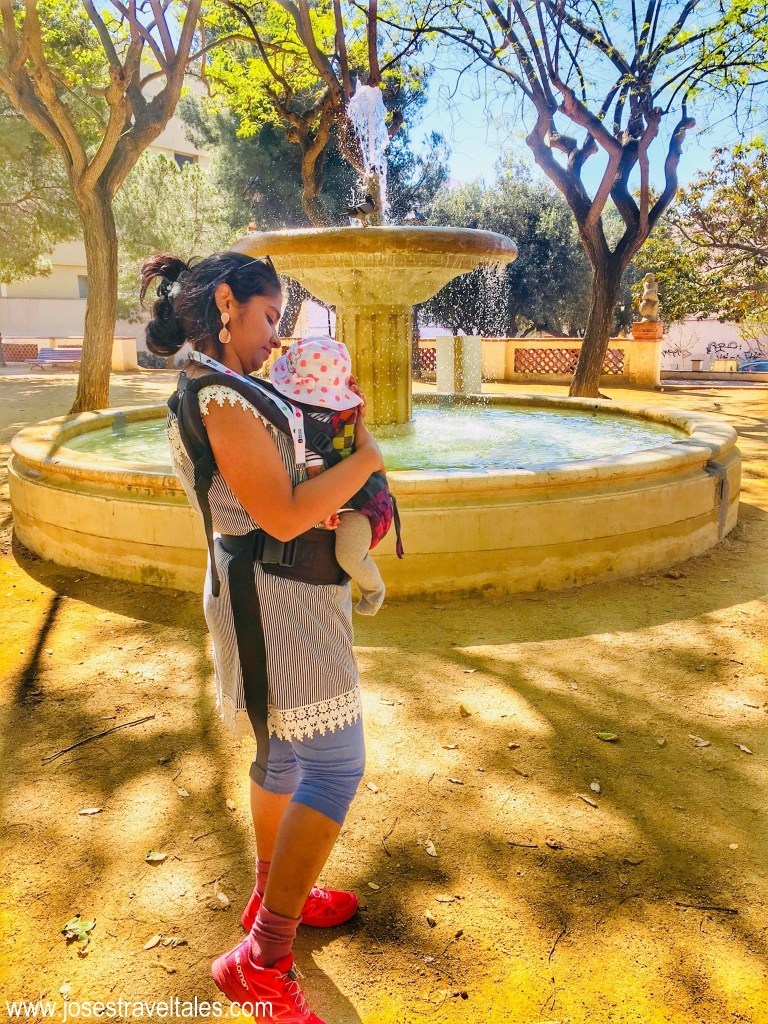 I always dreamt of showing my offspring the world just the way my father took me places and gave me brilliant travel experiences and life lessons. So as soon as we had our baby we both got super excited to plan more trips with our little girl. As I write this post on Road Trip with a Baby: 8 Essential Tips, my baby girl is 3 months and 2 weeks old and we have done umpteen road trips in and out of Barcelona and enjoyed some staycations too! Planning a road trip with a baby can seem like a daunting task. It does take some work but trust me its remarkably rewarding. Now that we have kind of aced the art of traveling with a baby by road, i thought why not share some essential tips with new parents who would be interested in traveling with their bub. So here goes my two cents on how to road trip with a baby. These tips and hacks should help you survive a road trip with a baby.
Tips For Traveling By Road With The Baby
We are sharing below some helpful tips for a road trip with a baby
Where to and for how long?
You need to do good amount of research beforehand about your end destination so that you are fully and well equipped for your trip. Are you going on a beach vacation or are you planning a trip to the mountains?What's the weather like over there? Keep these things in mind while packing your baby's outfits and accessories. Take the weather very seriously as you do not want your little one to fall sick and ruin your holiday. Try to plan your trip when the weather is the best. Its best to avoid road trips with baby when the weather is too hot and unpleasant. What to pack for the trip depends greatly on the place you are going to and the number of days you plan spend holidaying. Try your best to travel light.
Take Occasional breaks
Prior to having a baby it was possible to do road trips at a go without any break. But travel post baby is a different scene all together. You will have to be generous and add in some buffer time to the total travel time. I strongly advise you not to rush through things. Instead take it slow and enjoy every moment on the road...be it the drive, the pit stops etc. With a baby you will have to be prepared to take occasional breaks for feeding, nappy changes, to flex those muscles etc..
A good car seat
Invest in a car seat from a good brand and make sure you use it well. I have seen parents buying the best of best brands when in comes to car seats but they barely use it. Do not let your little one sit on your lap while on a road trip. Safety first. Another mistake is buying a car seat and not getting your baby used to it. If the baby has never sat on one, then the chances are very high that he or she will refuse to sit on it during the trip. Get the baby used to sitting on the car seat before your actual trip . We got our baby used to the car seat from day 1 and now she is super thrilled every time we place her on it. We make it a point to take sufficient breaks and dont let her sit on the car seat for long hours at a stretch. And we hang a colorful toy on the car seat to keep her busy.
Invest in good travel gears
Travel accessories such as strollers and baby carriers are such a boon . Make sure you spend money on good strollers and carriers that serve the purpose well and also last long. Its best to get the baby used to the baby carrier as early as possible. We introduced KolKol Leela to our girl when she was a month old and traveling with her has been so easy since then. We like to carry our Chicco Stroller and Leela Carrier with us during our trips. I have climbed mountains, gone on several hikes and also walked effortlessly on cobbled streets of medieval villages- all thanks to Baby wearing. If your doing a city tour then a stroller would do the job. Cities like Barcelona are extremely stroller friendly. Just make sure you invest in a light stroller which is easy to fold and carry around. If you buy one of those bulky carriers then it may not fit in some elevators and that could be a problem. Also Make sure to carry the rain cover for the stroller with you at all times.
Fully Loaded Diaper bag
We invested in a backpack style diaper bag as we always prefer functionality and comfort over looks. Honestly we feel that this kind is the best diaper bag for travel as it is so much more convenient to carry around. There is plenty of space to hold all of your baby's travel essentials. Choose a neutral color like we did and then both the parents can carry it around without being too conscious about the color . I am sharing below a packing checklist which will help you pack your essentials.
PACKING CHECKLIST
Here's a basic packing checklist to get you started:
Diapers– We avoid the pant style diaper while traveling and prefer the normal diaper. We feel its easier to put in if there arent any diaper changing stations at your disposal.
Diaper rash cream
Reusable Diaper Nappy changing mat
Change clothes for baby- always carry a few extras
Pacifiers or Teether if your baby is used to one
Cap for sun protection.
Baby food, bottles, breast pump and portable charger, bib and burp cloth
Reusable bag to store wet diapers
Child friendly sunscreen- It is not recommended to use sunscreen on babies before they are 6 months.So we try to cover her with an over-sized cap to protect her from the harsh sunlight.
Sanitizer to clean your hands, changing table area or any place that needs to be clean
Water Wipes
Feeding the baby
If your baby is formula fed, make sure to carry a flask with water. If the baby has started solids, then carry whatever food you usually give.In the initial days i used to give my baby pumped milk and i felt it was too draining for me. I later on decided to ditch the pump and bottles and exclusively breastfeed during a trip and trust me it was so much better. If you are solely breastfeeding then you have to pack less. I make sure that my baby is fed well before the start of a trip so that she is comfortable and at her best. You can try using a nursing cover to feed in a restaurant or public space. If you dont wish to spend on a nursing cover, you can try the two tee shirt method.
Sleeping arrangements for the baby
If you co sleep with your baby then its fine but we do not co-sleep with our baby. We got her used to sleeping in her own crib and she is doing a good job. So while we plan a stay at a hotel with the baby, we write in requesting them for a baby crib. We also carry our own blankets, bed-sheets, towels etc to avoid any sorts of allergies.
Baby's health check
Make sure to visit your pediatrician if your traveling with baby on a long trip. Be sure to get all her vaccine shots on time before the travel date. Also carry your baby's health card, insurance and basic medicines.
So these are our top tips for car travel with baby. We hope you find this post useful. Do let us know in the comments section below if you have special tips to make road trips work.
They say that babies are much easier to travel with than toddlers. So why miss this opportunity? Make the most of it while it lasts!
Do not forget to Follow us on Instagram, Facebook and Twitter to stay updated on our posts.
This is a travel and food blog by Vini & Jose, a fun indian couple who are absoloute travel junkies. They have visited 27 countries so far and look forward to creating many more memories across the globe. Through this space ,they would like to share their travel stories and adventures with the rest of the world and also inspire their readers to set out and explore those paths less travelled.