It was our first time snorkeling-the sand was white, water emerald green, and beneath were colors we have never seen before, beneath was a world we had never experienced before. All these years, we were stupid enough to deprive ourselves of this magical parallel world. The day passed by and the night sky was lit by countless stars and a full moon. We were at our water bungalow deck, sipping wine and I remember telling Ayan "this holiday can't get any better", next we see manta rays and a couple of other fishes swimming right below our deck! This was another "first time" for us. Before this, we didn't know one need not snorkel to see fishes swimming at night. This is the little paradise located in the Indian Ocean called MALDIVES.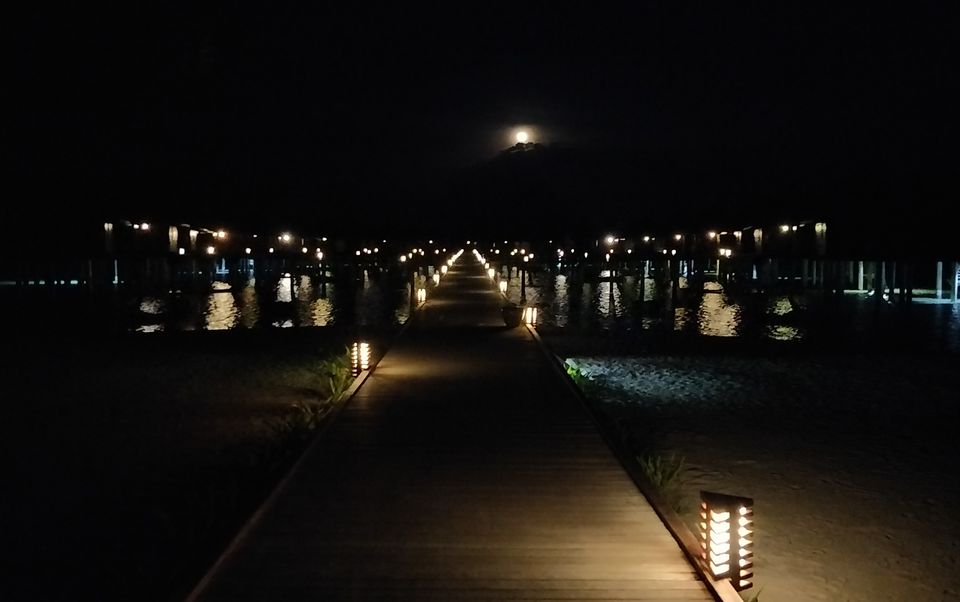 Transport
More than 50,000 aircraft use Velana International Airport, Male's runway. So stop being lazy and just google the flight details! For hotel transfer, almost every resort offers free pick up and drop services either in a seaplane or speed boat depending on how far your resort is from the airport. Ours was a speed boat transfer. Keep your camera ready to capture some amazing clicks on your way!

Accommodation
In the Maldives, the resort you choose to stay at depends on your budget. We were staying at the beautiful Olhuveli Beach & Spa and our suggestion would be to opt for their All Inclusive Package. Our package included Unlimited Breakfast, Lunch, Hi-Tea, and Dinner along with a wide range of alcohol, cocktails, and mocktails to choose from. The package also included Snorkeling Day Trip, Sunset Dolphin Watching Trip, Massage, a free couple/family photo shoot and a wide range of water-sports activities! The resort mostly experiences full occupancy and thus, it's advisable to book your freebie slots in advance. Now, if this isn't enough for you, the resort sets new standards of hospitality. You will always be greeted by their smiling staffs, ready to cater to all your needs. They have an infinity pool which is beyond beautiful. They are also home to two beautiful Herons and many (put a lot of stress on the word "many") colorful Macaws.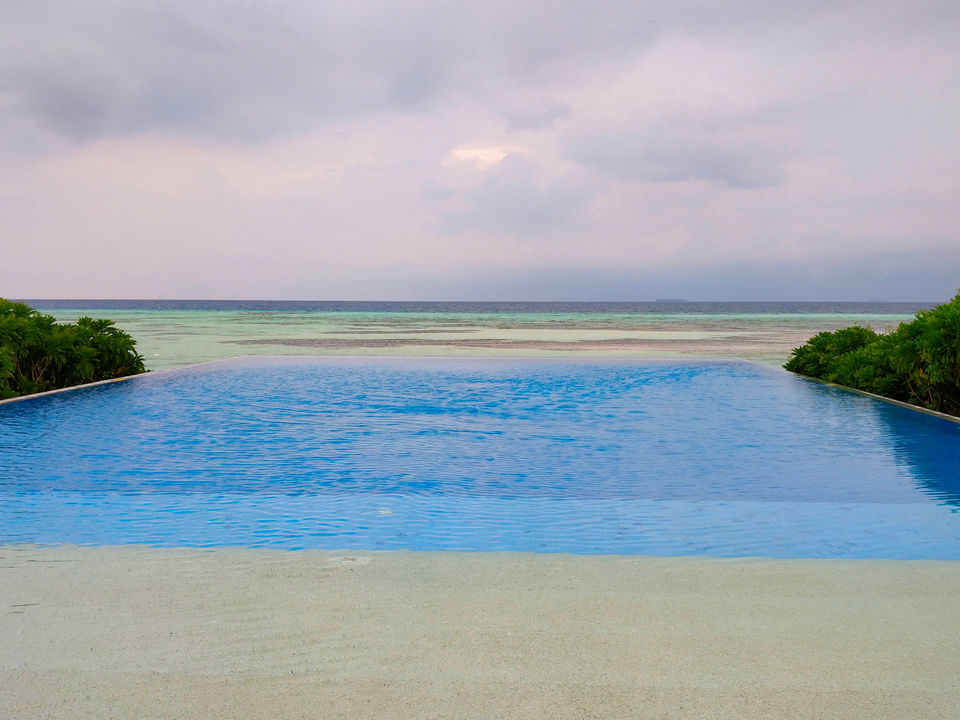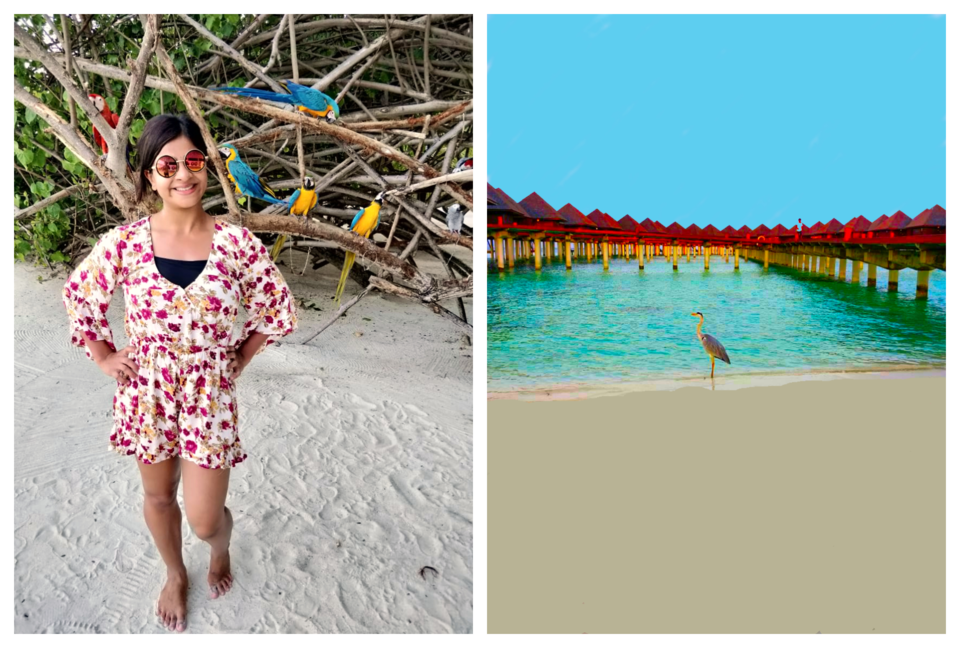 The resort offers different types of over-water bungalows and we opted for the Jacuzzi water-bungalow. We would sit at our bungalow deck every evening watching the sun set while welcoming our evening guests-baby sharks and baby mantas! According to us, staying at an over-water bungalow is a must in the Maldives (irrespective of the resort you are staying at). For budget travelers, even a one-night water bungalow stay will be worth every penny you spend.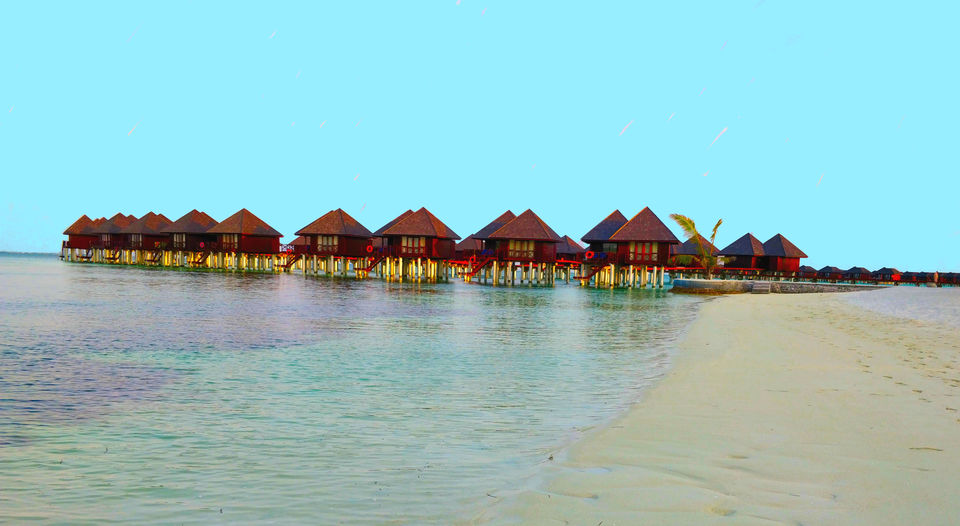 Our Stay
Our activities included snorkeling, snorkeling and some more snorkeling. Maldives is our "Coral Reefs and Marine Life Mecca". In fact, our first ever encounter with a water turtle was in the Maldives and if you are in luck, you might even spot Whale Sharks. We also tried our hands at wind surfing and jet skiing. After 30 minutes of training, I saw Ayan on his jet ski boat, waving at me and the instructor while accelerating towards the mid sea. I did not join him though. It was too sunny (and I was too scared to ride the boat alone!). One evening, we opted for a candle light dinner by the ocean. Now, we both love the sound of crashing waves and with the moonlit sky, couldn't have asked for a more romantic setting.
Food and Entertainment
There are around 1200 islands in the Maldives of which 200 are uninhabitable. The remaining islands are mostly occupied by resorts (at times luxury/3-7 star hotels). Usually, a single resort owns an entire island meaning your food options are restricted to your resort's restaurants only. Depending on one's budget, some may find the resort's menu on the higher end. Also, check with your resort beforehand as to which currency they deal with (ours accepted dollars only). On the brighter side, our resort offered 3-4 restaurant specializing in different cuisines! Every evening, there were themed parties with music, live band, and other fun activities to keep you and your kids occupied.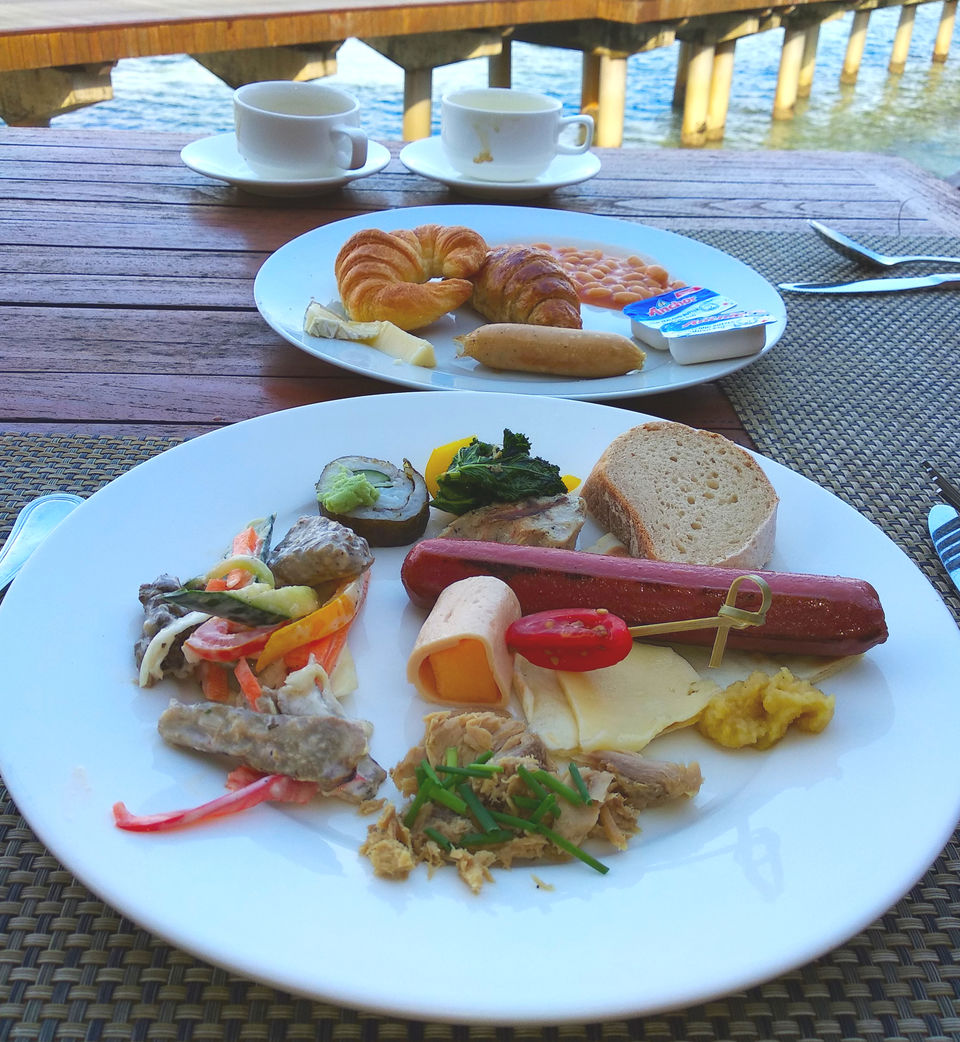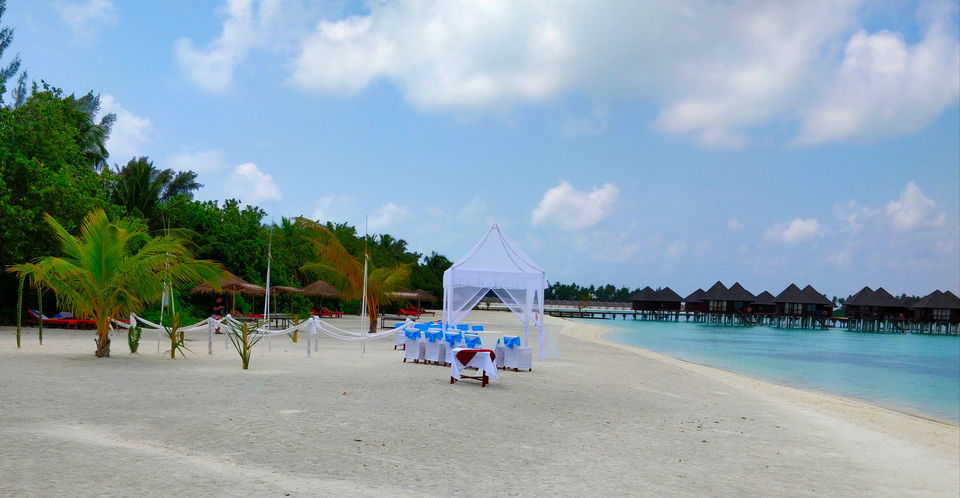 Kindly note
Unless you live under a rock, you would already know how beautiful the beaches of Maldives are and how rich is its marine life. So instead of talking about the established facts, I wanted to write a little about a reality most aren't aware of. The earth continues to suffer from the effects of climate change (thanks to us human beings!). With sea level rising as a result of glaciers and icebergs melting, Maldives is predicted to be completely submerged if this trend continues. Now, you have more reasons to travel to the Maldives before it vanishes!
Imagine telling stories to our little ones about a group of islands which once existed, a marvelous creation of god where you and your partner held hands while walking on the soft white sand. The setting of the sun never looked brighter before, neither did the sky wore this shade of red before. The deep blue sea finally touches the sky at the zenith, so close and yet so far. Now imagine explaining to them why this land vanished? This Earth's Day, let us remember that little effort is all that's needed to keep the magic alive, to keep our earth alive.
About The Author
We are a husband-wife duo who are sad IT professionals on the outside and Spirited Travelers from the inside. We aim at appreciating different cultures, lifestyle and food. Often, the roads taken the most suffer adverse effects of tourism and through our writing, we want to encourage our readers to be responsible towards environmental preservation. To be a part of our adventures around the globe, follow us on Instagram @ the_spirited_travelers.