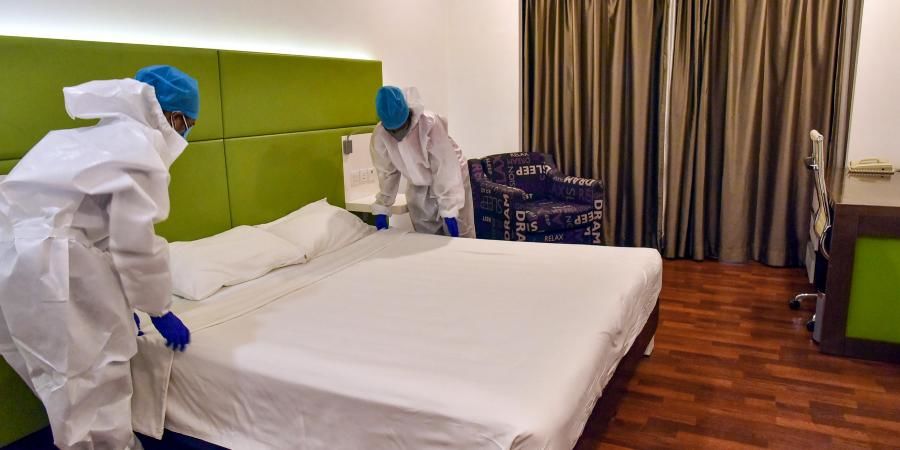 As India is battling a terrifying second wave of the deadly covid-19 virus, the country is also facing a severe shortage of hospitals. Many cities across India have seen patients queueing up outside hospitals for a bed. At such a time, the hotel and hospitality industry has come to the rescue by converting their premises into covid care centres.
Several hotels have tied up with nearby hospitals and thrown their doors open to covid patients. But what does it take to go from hotel to hospital? We spoke to a hotel representative (who does not wish to be identified due to protocol reasons) and this is what he told us.
How Is A Hotel Selected To Be Converted Into A Care Centre?
First, the hospital visits several guest houses and hotels in its area and chooses one based on these criteria:
1. The hotel must be in close proximity to the main hospital premises so that patients can be swiftly transferred in case of worsening situations.
2. The number of patients that the hotel can accomodate, along with the number of nursing staff and doctors that the primary hospital can spare for this additional facility. For example, if a hotel can offer 100 rooms, but the hospital only has 4-5 staff members available, several patients will go unattended, or half the hotel remains unused. Such a hotel will be avoided.
What Happens Once A Hotel Is Chosen?
Once a hotel is finalised to be associated with a particular hospital, it must prepare on two levels.
First, the rooms are modified to accomodate hospital equipment and become suitable for a patient.
Second, the hotel staff undergoes rigorous training. The housekeeping staff is trained on how to enter a contaminated covid zone, how to disinfect and sanitise the room, and then how to disinfect themselves once they leave the contaminated zones so that they do not contract any infections themselves.
In fact, the hotel staff is also given special chemicals by the hospital to clean the rooms. These chemicals are strong enough to kill the coronavirus on contaminated surfaces, but also made in such a way that their odour does not cause respiratory distress to the patients.
What Duties Are Divided Between Hospital And Hotel Staff?
If you're worried that by checking into a covid-care hotel, you'll be unsupervised, you need not fret. There is a team of doctors present at the hotel 24x7. In fact, it is the paramedical team from the hospital who monitors vitals, examines patients and prescribes a course of treatment. The hotel staff have nothing to do with the caretaking of patients.
To book a bed at a hotel care facility, you need to approach the hospital, not the hotel. The hospital informs the hotel (in a contactless way) about the patient details. The paramedical staff then does the check-in formalities and escorts the patient to their room. You cannot directly approach the hotel for a bed.
Once a patient is admitted to their room, the hotel staff is responsible for sanitation, changing bed sheets and providing essentials like damp towels. All medicare is taken care of by the hospital staff.
The hotel is also responsible for providing meals. These are not regular meals that you'd normally eat at a hotel. They are specially designed meals as prescribed by the hospital nutritionists. The diet chart can be changed based on the needs of a patient and the hotel kitchen will whip up the meal.
Apart from this, all common areas of the hotel (such as lobbies, restaurants, gift shops, pools and gyms) remain closed. The entire hotel premises is shut down for outside guests.
The hotel industry has certainly stepped up to do its part and help out while India grapples with the pandemic. By putting their own staff at risk, they are helping out patients in need. And for that, they deserve a tremendous amount of respect. We urge you to support such hotels and avail their services without a second thought.
Meanwhile, stay home and stay safe.