White sand beaches with turquoise waters? Check. Sexy party scene? Check. Amazing views to go clickety-click? Check. Opportunities to foodgasm? Check. Check. Check. With these things in mind, I hopped onto the maiden Air Asia flight to Malaysia for my honeymoon that took me halfway to an exotic destination that none of my friends had heard of - Gili Trawangan.
The Journey Begins
When I first saw the Gili Islands, they looked straight out of a fantasy movie with the azure waters of the Indian Ocean dotted with islands that look like little gems. Gili literally translates into little island. The Gili Islands are a sight to behold, whether it is from 35,000 feet or when you stroll on their beaches without a care in the world.
The islands are a group of 3 - Trawangan, Meno and Air. While there is no doubt about the beauty of the three, Trawangan has become more popular with the tourists due to more sightseeing opportunities and its vibrant nightlife with parties going on till 4 am. Majority of holidayers here are Australians, British, or Indonesians who have come island hopping from Bali or other islands that are famous cousins of Gili islands. Very few Indians can be spotted here and places are usually not that crowded which just goes to show that Gili still remains one of those non-commercialised, unexplored places where only vacationers who want to stay away from the typical crowded 'beach holiday destinations' like Andamans, Phuket, Mauritius, Maldives, or Jakarta venture to go.
So what did I do and what can you do once you land up there?
Day 1
Do nothing. Yeah, absolutely nothing. You are there to holiday. Those endless selfie sessions can wait. Spend the day lazing around at the beach and enjoying the food. Many hotels organise entertainment programs for the guests in the evening including fire dance, movie screenings, etc. These aside, you can just grab a beer in one hand and laze on the beach, watching the picturesque sunset even as the buzzing nightlife of the island takes over from the serenity of the day.
Unlike other beach destinations, what's best about this place is its unbridled natural purity. There are no motorised vehicles on the island (ahhhh...peace at last!) and the only means of transport are horse carts or you can move around on bicycles.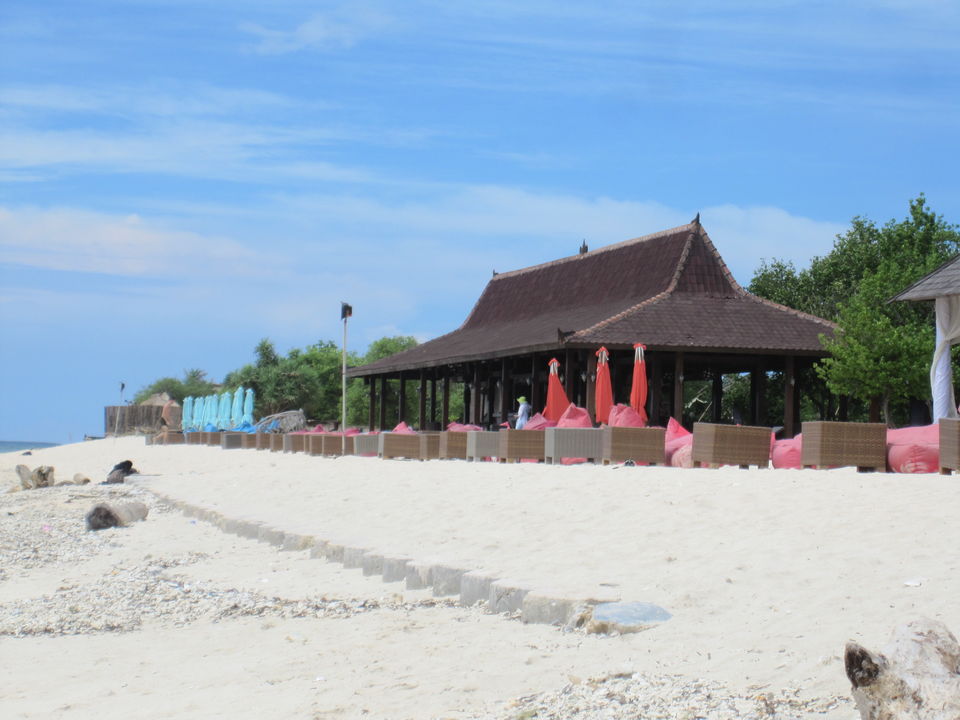 Day 2
Spend the next day having a sumptuous western or Indonesian breakfast as the coastal climate whips up your appetite into a frenzy. It is a good idea to have the breakfast buffet at your hotel while gazing at the cool morning view of the beach.
Take your pick from Nasi Goreng (fried rice with chicken, egg or prawns), Ayam Taliwang (grilled or fried chicken), Betutu (roasted chicken or duck filled with spicy seasonings), Plecing kangkung (spicy veggies in hot sauce), Sambal goreng teri (spicy anchovy with peanuts) and finish it off with Klepon (sticky sweet coconut rice balls). Vegetarians are also in luck as surprisingly, even amidst all this coastal cuisine, there are places that serve - guess what? Dosas! There is other popular Indian and Indonesian veggie fare as well. After having a fancy lunch at the hotel's restaurant, we saved up on dinner by having authentic stuff from local food carts located near a cafe called La Dolce Vita in the island's night market where a big platter of food for two cost us a little over Rs 250!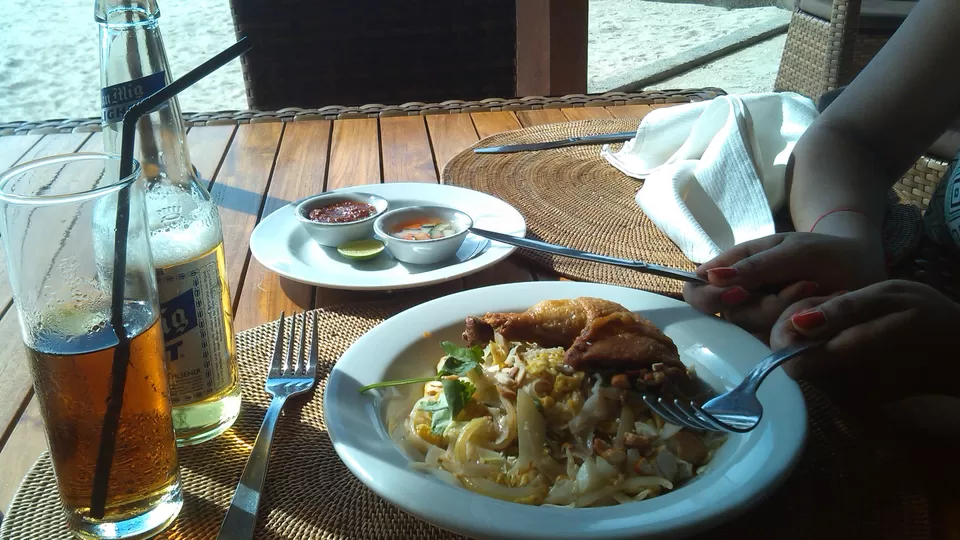 At night, have a romantic dinner by the beach if you are going with your love or have a relaxed dinner with live music, sitting down at one of the many resto-bars or cafes lining the beach.
The people of Gili Trawangan are crazy about Bollywood and are quite keen to show off their love and knowledge of India and Indian films once they realise you are from the country. Picture this: while diving into a juicy lobster with mango sauce with my hubby who was in full lovey-dovey mood, I was serenaded by a cute waiter singing Tum Hi Ho from Aashiqui 2 after which he broke into Hrithik Roshan's moves from Ek Pal Ka Jeena! It was hilarious and sweet at the same time.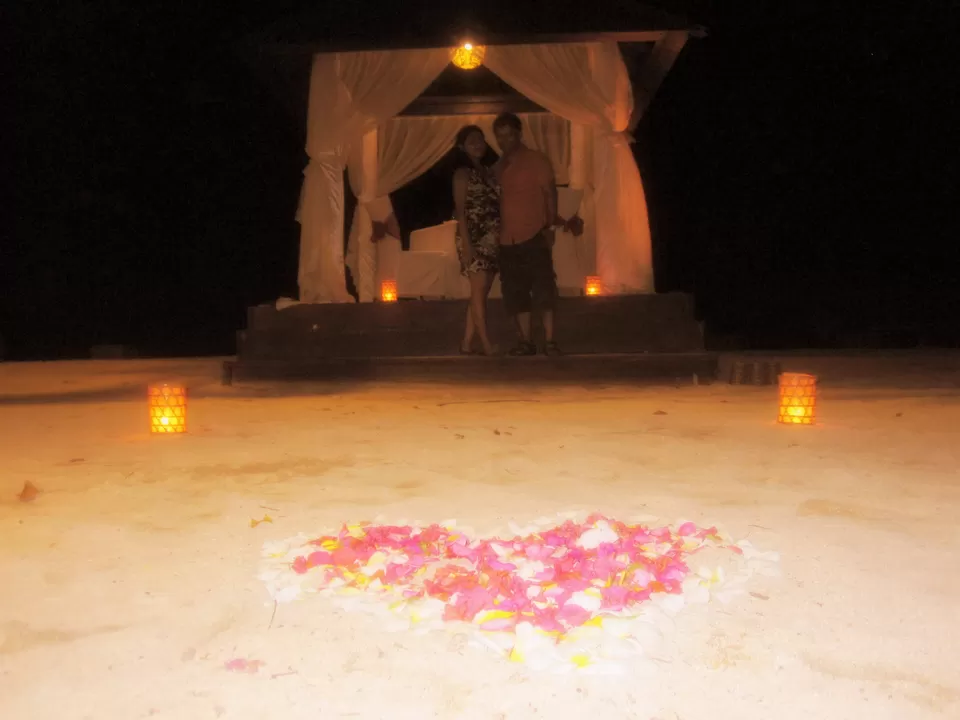 Day 3
Unleash the beach bum in you and go wild exploring the various water activities that the island has to offer.
What To Do:
• Take a diving course. Gili Trawangan is one of the most popular dive locations in Indonesia, the others being Bali Islands, Bunaken Islands, Pulau Weh, Wakatobi Islands and Banda Islands. The best time for diving is May to September.
• Go surfing, Manta Ray diving or horse riding along the beach
• Take a bicycle ride around the island. This is one of the best ways to explore the island. Bicycles of all kinds are available for rent at shops and hotels
• Have a boat party with friends (Isn't that what we all dream of doing while sitting in our office cubicles every day?)
Don't forget to experience the fun of viewing the sea while sitting on the famous 'Datu Swing'. Located near hotel Ombak Sunset, the swing is the best place to click that perfect holiday picture. Oh and when you are done with everything, take a dip into your hotel's swimming pool followed by a revitalising spa-session that will have you feeling like a million bucks!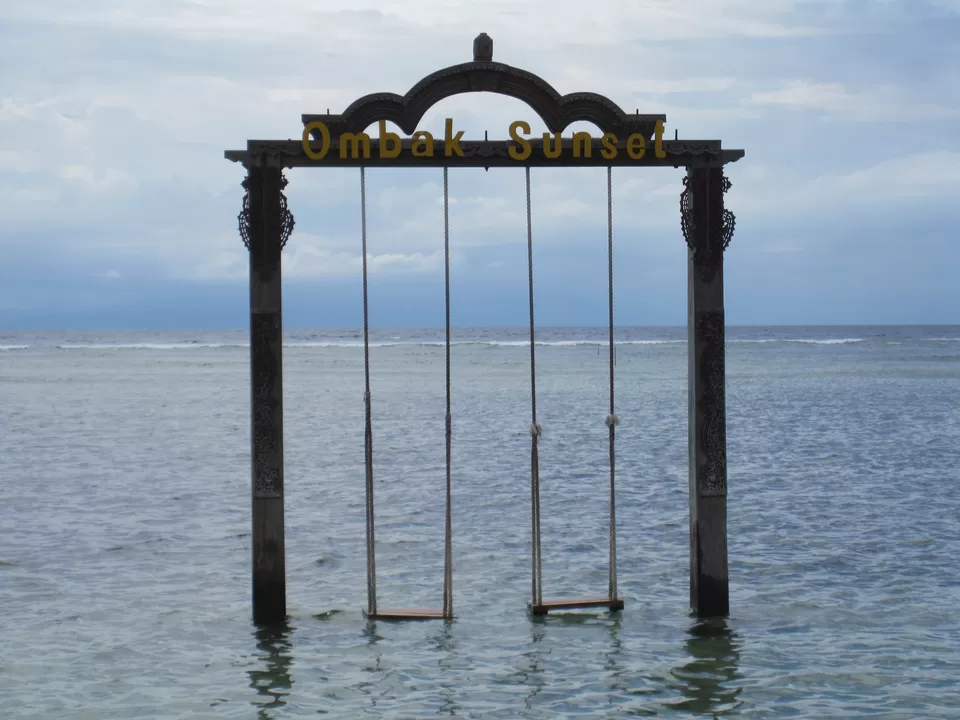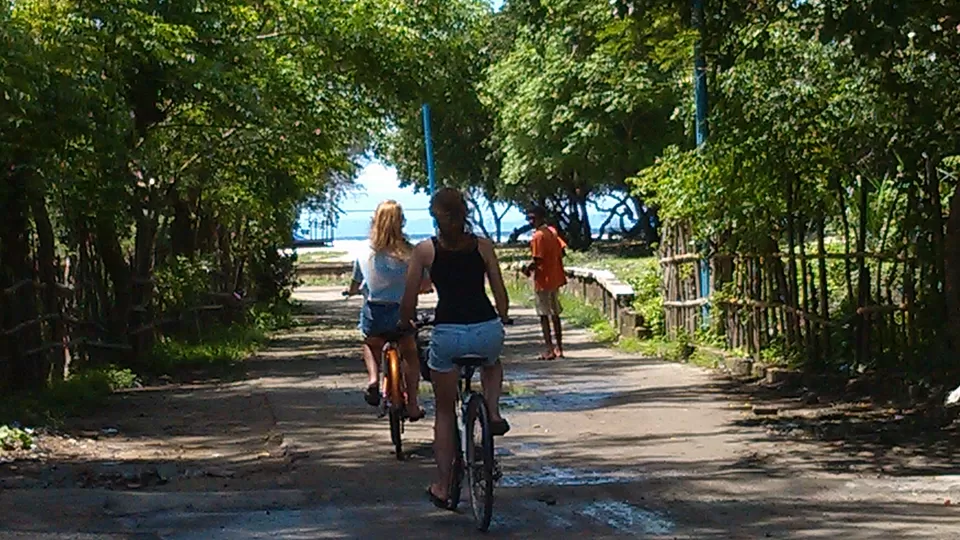 Day 4
Go for 3 Gili Island snorkelling trip, 3 Gili Island boat trip or a simple romantic sunset boat ride. If you are not up for snorkelling, then go for Glass Bottom Boating to see the marine life up close. For lunch, sample the local cuisine with some fresh sea food and the Indonesian beer 'Bintang'. Then hit the streets in the evening and after dinner, party like there's no tomorrow at Sama Sama and Rudy's Pub. The thrill of dancing with a charged up crowd beneath the night sky was unforgettable for me.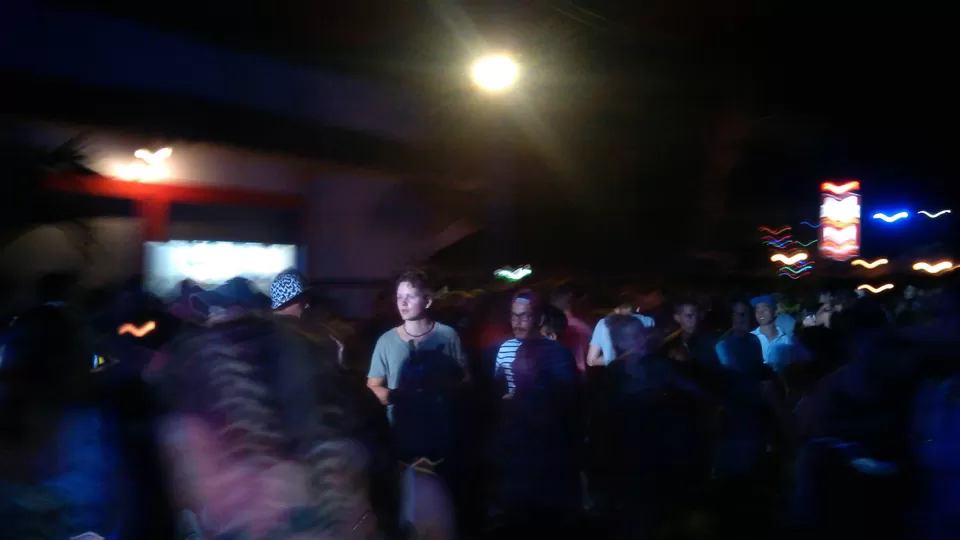 Time To Shop!
It is smart to go shopping on the last day of your stay here because by then you will have a good idea of the fares available and you would not have splurged all your money. You can choose from oriental crafts and beachwear. Dreamcatchers and exotic wooden souvenirs are available aplenty in various sizes and designs so you can take your pick to buy for yourself or to gift anyone.
Cheat tip: Buying from the local market will set you back by many Rupiahs. The Lombok International Airport offers much more at one place at dirt cheap prices!
What To Buy: Scented soaps, incenses, souvenirs, amazing beachwear, woodwork and sea-shell handicrafts, and pearl jewellery.
Money Matters: Carry Indonesian Rupiah with you but have a few dollars handy as well. Shopkeepers at the island take both currencies readily. One Indian Rupee equals 196 Indonesian Rupiah and you will be surprised at what all this can buy you.
How To Reach: There are daily flights from Kuala Lumpur to Lombok Island (visa-on-arrival), which is the nearest Island to Gili Trawangan. After a 1 hour drive from the airport, take a speed boat to reach the island's harbour area. From there, you can take a horse-cart ride to your hotel.
Where To Stay: Hotel/Resort rates per night start as low as Rs 1,800 and then there are hotels like Ombak Sunset which offer exciting packages that guarantee a 5-star experience. Airbnb is a good place to get amazing deals and homestays cost as cheap as Rs 700/night.
Best Time To Go: January, February, October and November. Avoid going during the Balinese holiday of Nyepi, Easter, Good Friday, Christmas Day and Idul Fitri to avoid peak season surcharges. If you are a music lover then visit in March for the Jammin Island Roots, Rock, Reggae festival. Other interesting fests to attend include the Lombok Full Moon Festival and Air Festival held nearby.
First-hand Travel Tips:
• Most shopkeepers and hotel staff understand English but you will have better luck saying a few words together rather than conversing in full sentences
• Money exchange facilities are available everywhere on the island but I found that it's better to exchange it on mainland Lombok as the rates are better
• Research beforehand on the places to visit around the islands so that you can opt for the best tour
• There are some places that are not open all year round e.g. Mt Rinjani (plan your trip/trek accordingly)
• Walk as much as you can or rent a cycle to travel to avoid getting ripped-off by a Rs 500 horse-cart ride (it seemed cool only a couple of times!)
• Don't restrict yourself to visiting only Trawangan as Gili Meno and Air are just a boat ride away
When the day of departure came, I bid goodbye to all the awesome-ness that is Gili Trawangan with a heavy heart but was greeted with cheery smiles reflecting the great hospitality of the people.
Moral of the story: That's one place that should be on your travel list for sure! Period.