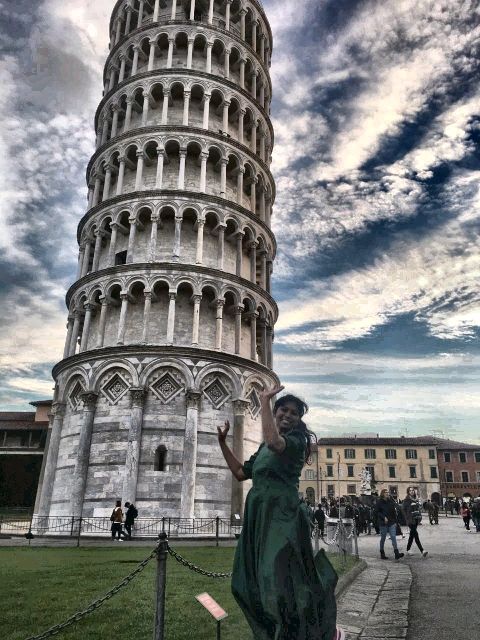 The excitement while seeing one of the wonder of the world#LeaningTowerOfPisa#photoabroad
To see this wonderful monument you will have to travel to the beautiful city of Florence and from there take a day's bus ride.
The bus tickets are available online, you can book them prior to your trip. You will have to board the bus near a central point close-by to the main city and it takes around 4hrs drive to the Beautiful monument.
The bus drive is a must to do as you drive you explore the beautiful city with different types of coniferous gardens on either side. You can see variety of trees which would be planted for sale. Very soon you would reach the spot mesmerised with the beautiful view of the city.
You park your vehicle on one side and walk 1.5kms distance to reach the Cathedral of Pisa.
Just outside the Cathedral you will find a small market and restaurants.You can refresh yourself with some food before you enter the Cathedral of Pisa.
It is a treat for eyes to see the Cathedral and the Leaning tower of Pisa from the Fort outside.
You will have a guide who will provide you with a ear set and will take you into the fort.
The guides speak both Spanish and English, you can chose to go with the guides speaking the language your comfortable with.
At the entrance you have a church where Galileo was baptised. Towards your left you have the Cathedral of Pisa, very beautifully built and architecture is mind blowing. You enter the church and your awestruck with the interiors and the calmness of the church.
After the visit to church, you see the gorgeous "The Leaning Tower of Pisa" standing so magnificantly. The white structure is treat to the eyes, it is 183.3 ft tall and has 294 steps inside to reach the seventh floor and view the Assistant bell. It is worth spending some time in the green pastures around the beautiful structure and take some great pictures.
The classy pictures is holding the Leaning tower of Pisa.
Its a Wonder of the World and keeps all awestruck on how this would have been constructed.