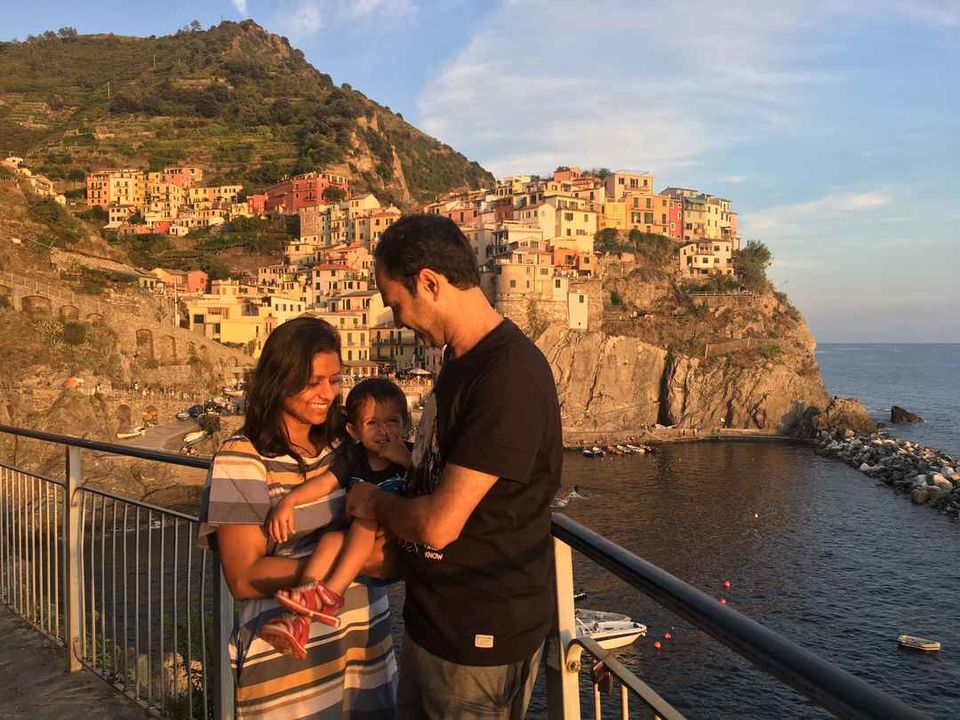 For Part 1 (Rome), click here
After spending three days in Rome, we were off to Tuscany followed by Venice. Following was our itinerary for next nine days
Siena and nearby medieval towns (2 days) -> Greve in Chianti (1 day) -> Cinque Terre (2 days) -> Pisa (day trip) -> Florence (2 days) -> Venice (2 days)
1. Off to the land of Vines,Pasta and Gelato - Tuscany
The next three days in Tuscany were arguably the most beautiful part of our vacation. The day started with a train ride to Florence. On reaching Florence, we picked up a rental car, and drove to Sienna.
Rental agencies are around 1 km walk from the train station. Prebook is required. Indian licence works for renting, though it is good to have an International driving permit (IPD)
Our agri turismo (farm stay) in Siena was around 2 hours drive from Florence. The 110 year old farmhouse was a beautiful cozy place to stay in. We relaxed a bit in afternoon and then went to Siena town in the evening. This part of vacation was all about visiting these medieval towns, with breathtaking views on the way, walking down the streets, spending time in the piazzas and having some delicious food - pastas, wine and gelato - in the cafes around piazza. Though it is sometimes better to eat "off" the Piazza for better and less expensive food :-) - look for recommendations online.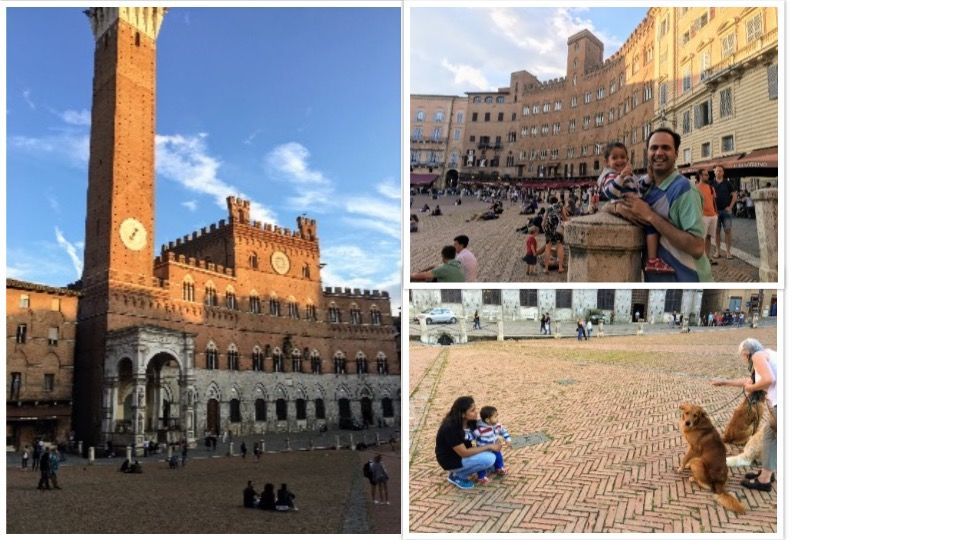 Like I mentioned before, Piazza is one of the best things about Italian towns - a big square (or any shape) to meet people, hang out, do people watching or just sit around doing nothing. There is always a buzz around you - either the performers playing music, kids running around or the bell tower announcing the time. The Piazzas are a blessing when travelling with kids. Vatsal loved running around in these Piazzas, and we loved sitting there watching him run around :-)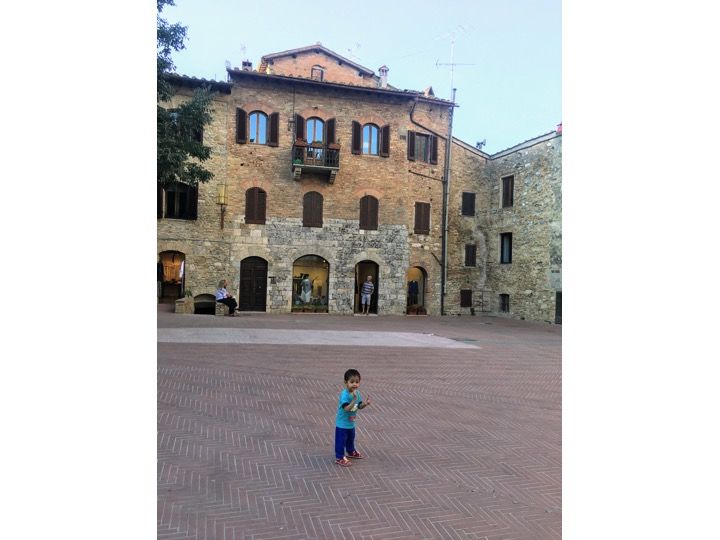 More medieval towns and landscapes
The next day, we visited the towns Monteriggioni, San Gimignano and Volterra. Each town has its own special character and culture. If that is not reason enough to drive to multiple towns, drive for the breathtaking landscapes on the way!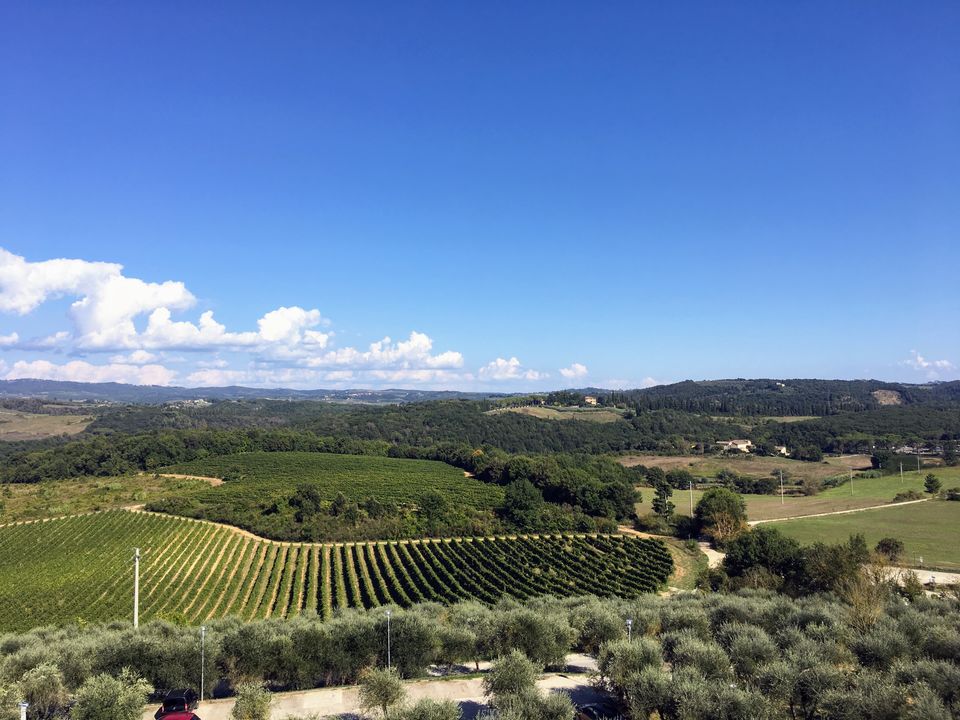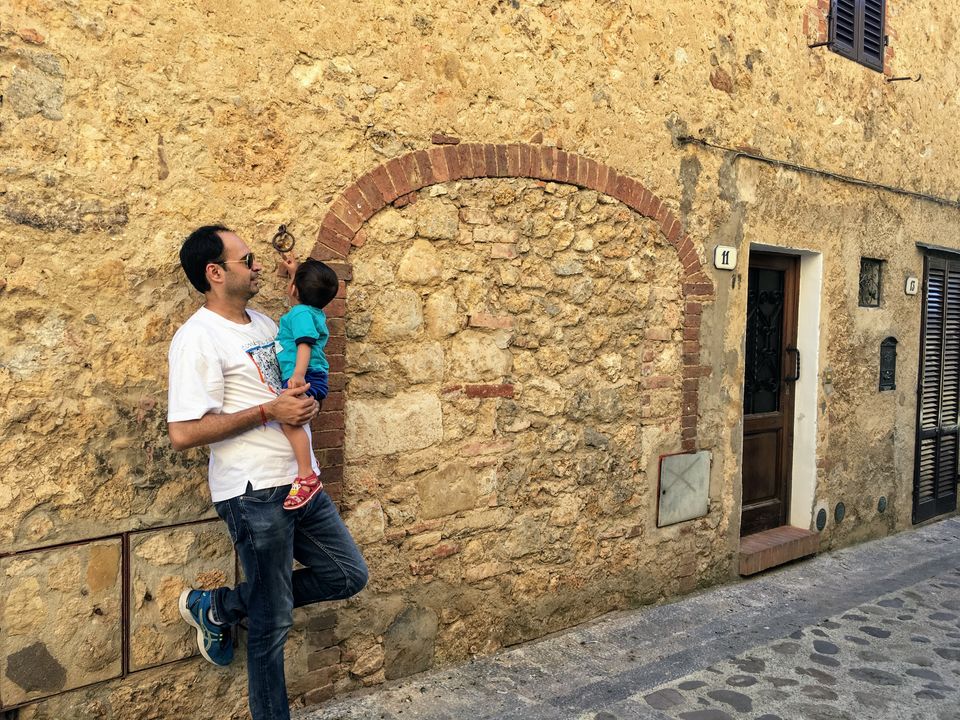 Out of the towns we visited, San Gimignano is the most famous one, and for good reason - beautiful Piazza, church and landscapes, and of course - best gelato in the world - head to Gelateria Dondoli to savour some of their best flavours.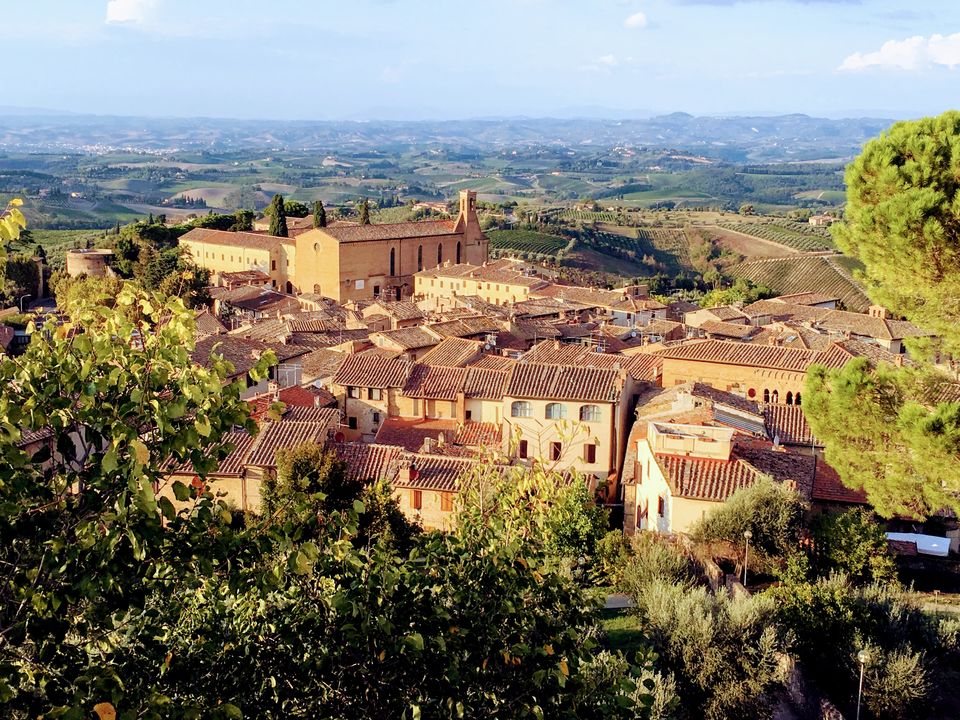 San Gimignano to Volterra was one of the most scenic drives. Since we spent a lot of time in San Gimignano, it was already dark by the time we reached Volterra. We had dinner and a short stroll around the Piazza, and headed back to Siena. Thinking of it now, three towns in a day is a stretch - it's better to stick to two towns to be able to enjoy each one of them. But it was definitely worth for the drives.
2. To Greve in Chianti - but with a pit stop
Our "original plan" for the third day was to visit vineyards in Chianti and stay overnight in Greve. But while checking for vineyards on internet, I could not ignore the town Val D'orcia. Though it meant going in opposite direction - further south - it looked too good to miss.
We booked for lunch in one of the vineyards in Val D'orcia - the setting was perfect - wonderful food and wine with amazing views, and the best part? Vatsal dozed off as soon as we reached the place :)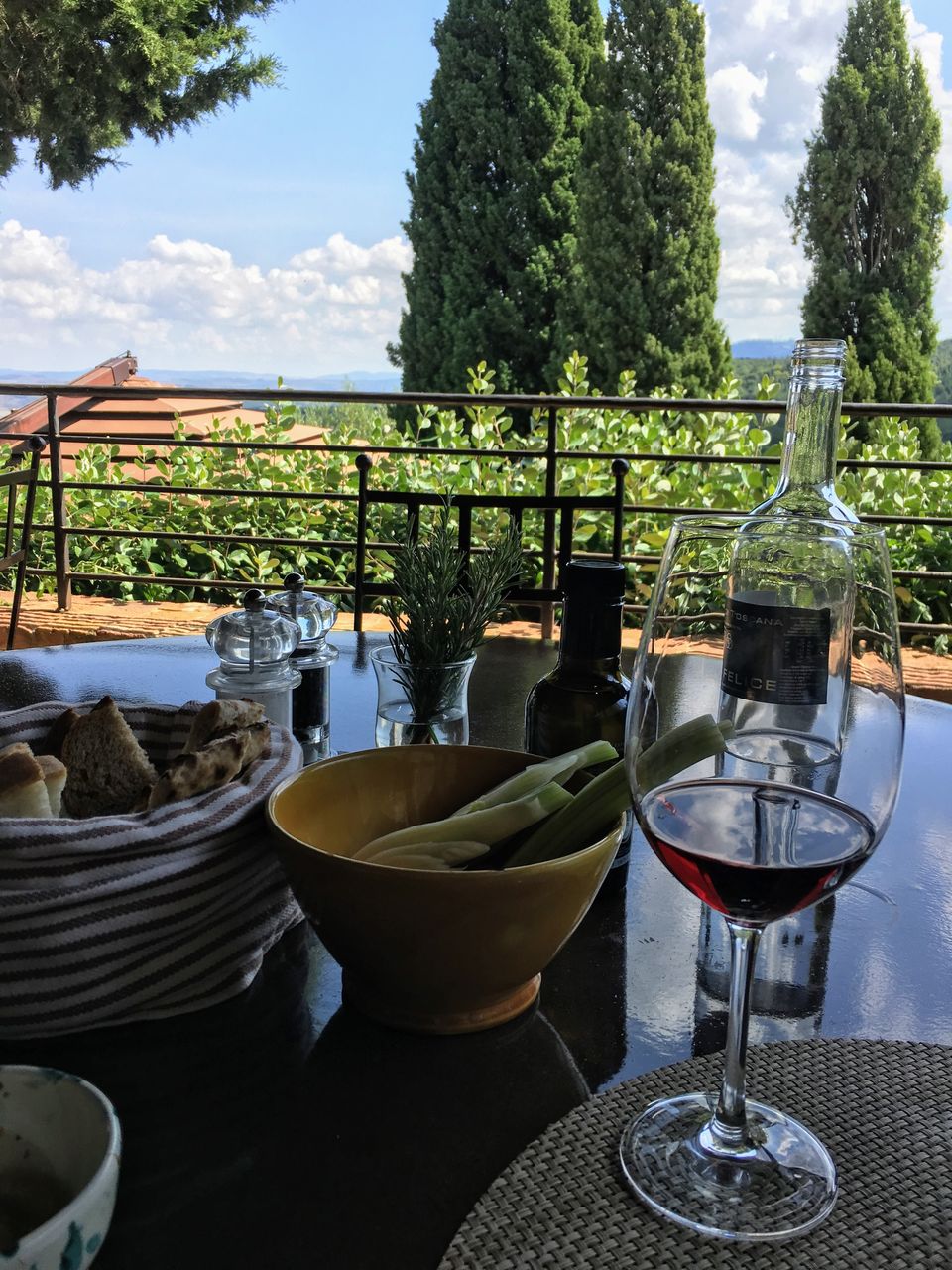 The landscapes around Val D'orcia were exactly what I imagined Tuscany to be (inspired by movies of course). Even when I think about it now, it still feels like a dream that a place can be so beautiful and mesmerizing. Following lines echo my feelings when I was trying to take a photo "Did you stop to take "the perfect photo," only to realize that the photo could never capture the vastness of the area, surreal with its ordered cypresses and alternating green, brown, and yellow hills?"
Visit Val D'orcia and experience the feeling for yourself when none of your photos seem to really capture the surreal beauty of the area.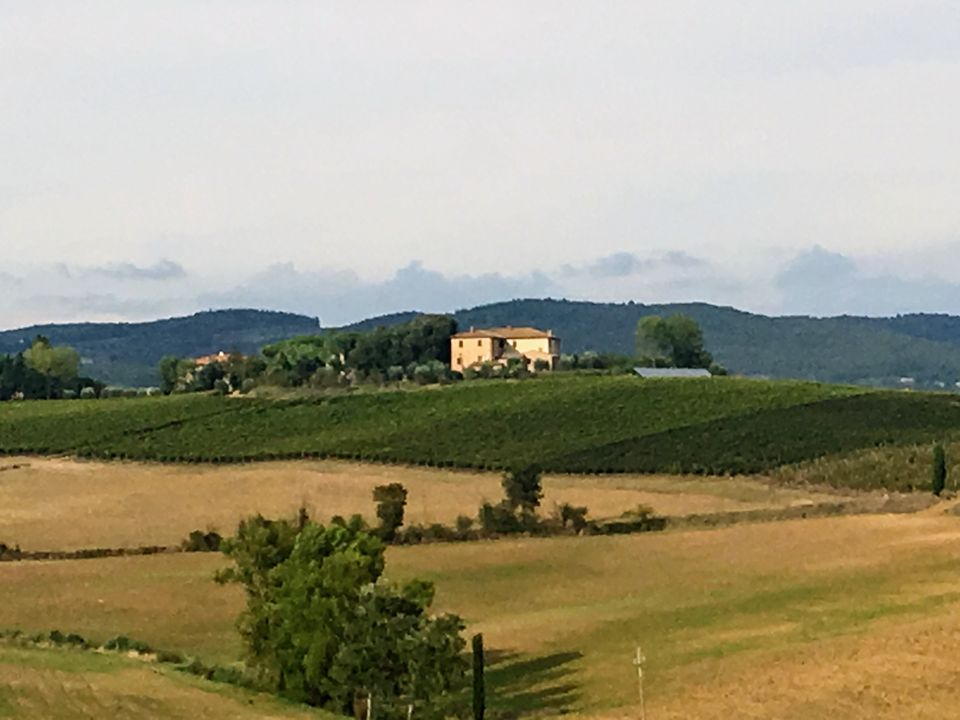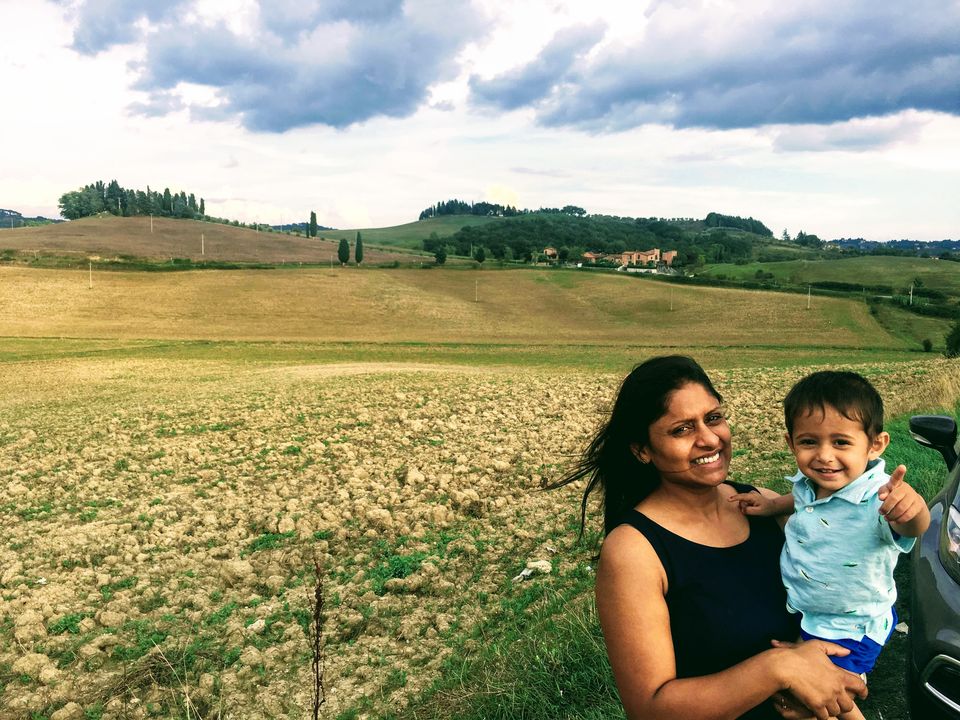 While driving from ValD'orcia to Greve, landscapes changed as we entered Chianti - which was more about vineyards and olive groves - of course Chianti wine and olives are famous throughout the world. We could enjoy a similar vineyard scene from our homestay in Greve. It was growing cold, and we were tired from whole day travel, so I and Vatsal tucked in the cozy bed, and Chirantan went to the piazza where there was a wine tasting event with local vineyards selling their produce.
3. The most famous "isolated" villages - Cinque Terre (CT)
Next morning, we were off to Florence, returned the rental car, and boarded a train for CT. Cinque Terre literally means five villages - once sleepy fishing villages now turned into popular tourist destinations. CT receives 2.5 million visitors annually against a population of 4000. Imagine what kind of stress can it bring to a place. Regardless, these quaint villages are so beautiful that it is difficult to keep them out of itinerary. We spent two days in CT, I think one day should have been fine too.
So what should you do in Cinque Terre
1. Explore all five villages - Each village has a charm of its own, so visit all of them. Walk across the quaint streets, sample restaurants and marvel at the colorful houses. The five villages are interconnected by train and hiking trails. It makes sense to take a daily pass which covers train rides and hiking fee.
2. Hike across villages - All villages used to be connected by hiking trails (which were the original mode of transport), but some of the trails were destroyed in 2011 floods. Now you can choose one of the two hikes - between Monterosso to Vernazza Or Vernazza to Cornigila villages. Do at least one of them to experience the beautiful trails along the sea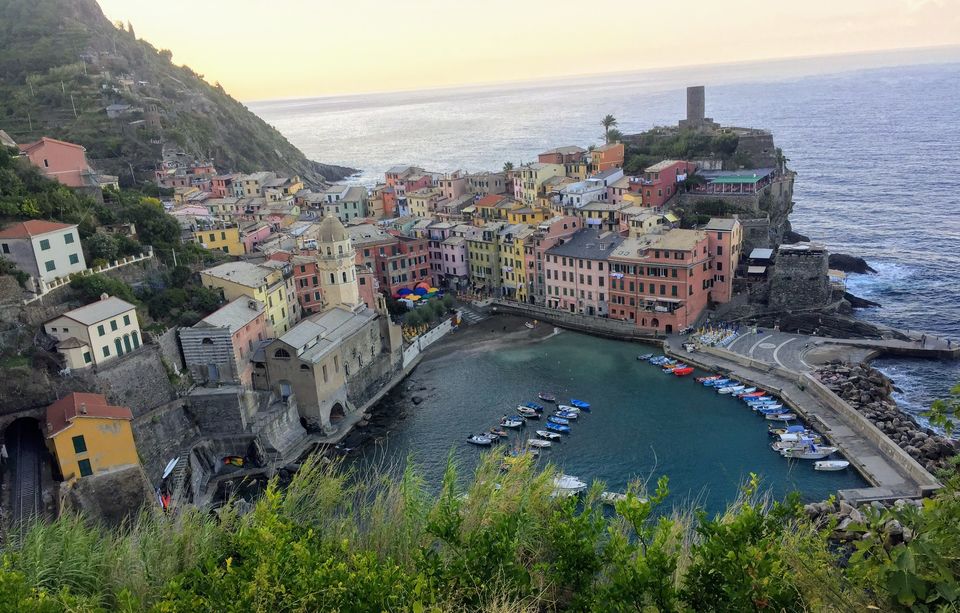 3. Watch the Sunset - There are a number of options to watch the setting sun along the village. We chose a popular option in Manarola, which was picturesque but as expected, crowded.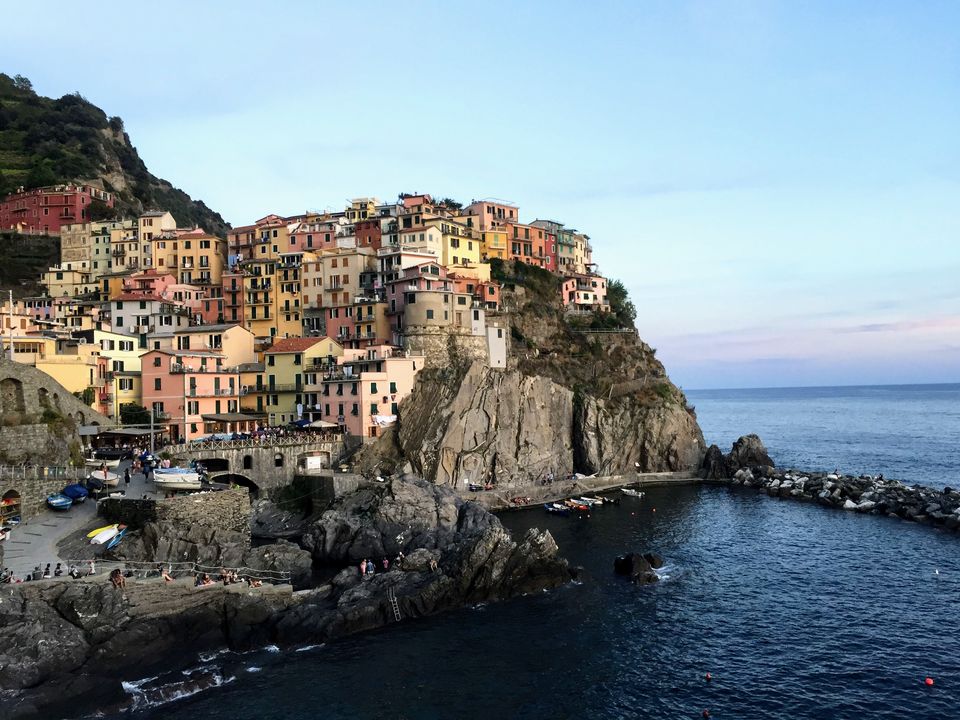 4. Click those postcard perfect photos - Do the touristy thing and capture these colorful village in the lens !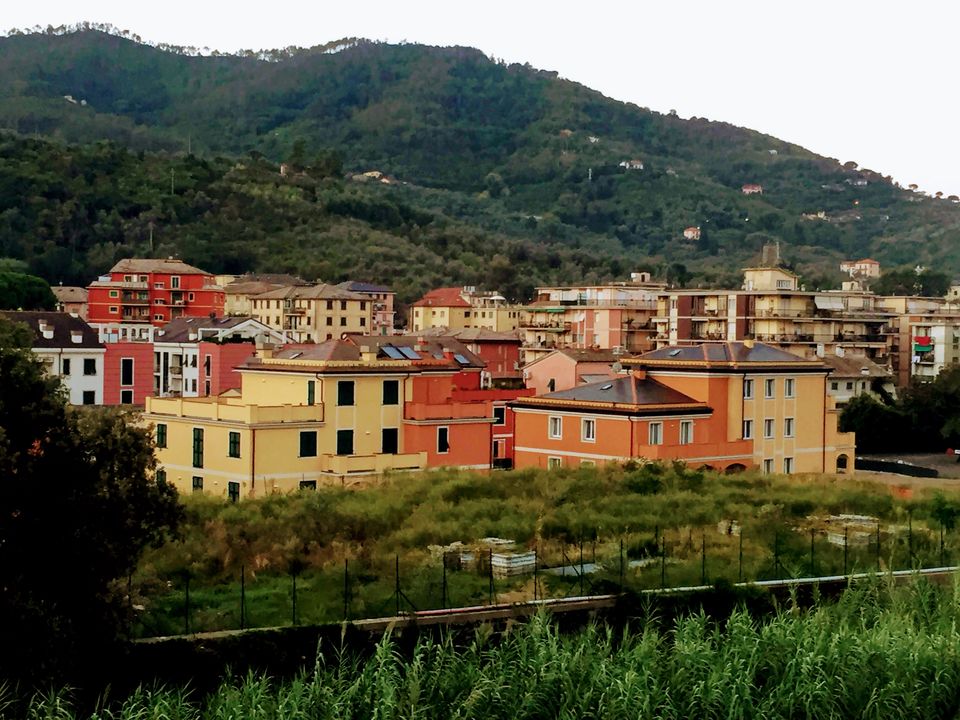 5. Enjoy the beach - If you are a beach person, or travelling with kids, or have nothing better to do - head to beach in Monterosso. We did :)
4. Leaning Tower of Pisa
After spending two nights in CT, we took a morning train to Pisa, spent three hours in Pisa and then a connecting train to Florence. Should you visit Pisa? Hmm it's a one of the wonders in the world - if you are around that area, you will not feel like skipping it. Another thing favourable to Pisa is that it is very convenient to visit. There are frequent trains from Florence, and an efficient locker facility at the train station, so you can easily make a stopover at Pisa. It is not bad but I did not find it any more special than any of the other medieval towns in Tuscany. What I was amazed to see was that the angle of the tower was quite noticeable.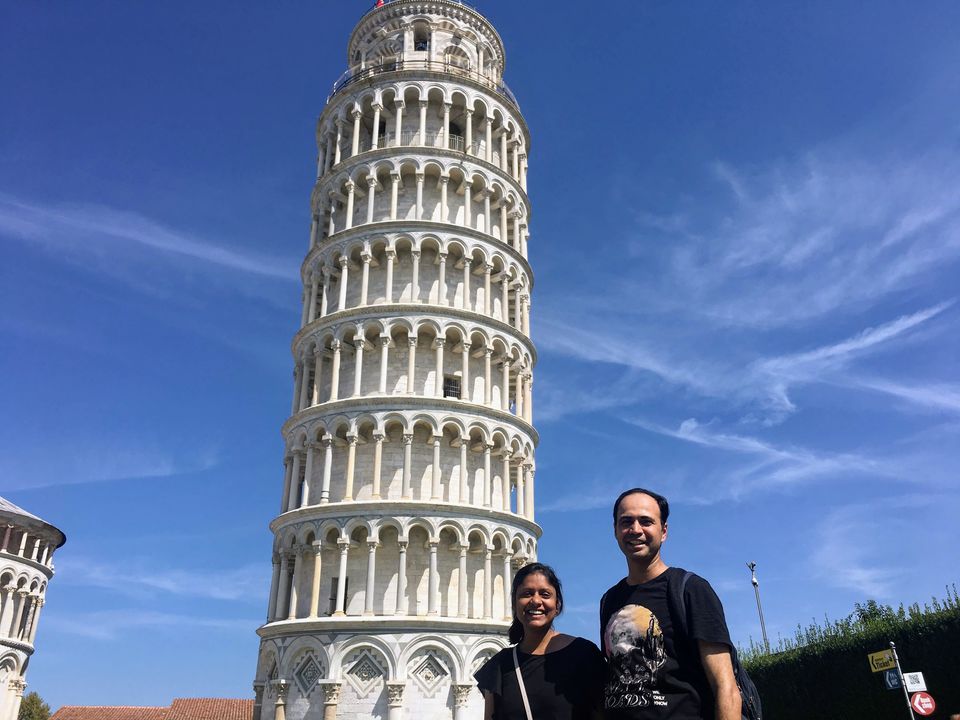 5. Florence - Cradle of Renaissance
We reached Florence on Sunday afternoon -after having lunch, checking in the apartment, we sat down to make the plan - and that's when we realized - Florence was closed on Mondays - Florence was closed on the only full day we were in Florence !!! We said to ourselves - whats the fun in travel without some adventure - of course that's what you tell yourself when you know you have f*cked up.
But in hindsight, it did not turn out that bad - the key sites that were closed on Monday were Uffizi Gallery and Academia. It meant that we had to rush Uffizi within 2 hours and Academia in 30 min on Sunday itself, which was not bad for an average art appreciator like us. Uffizi was definitely mind blowing - it had as much history as art - make sure to take an audio tour. And David in Acamedia was as impressive as his reputation.
More importantly, with these two key sites done on Sunday; Monday became a leisure day for us to just roam around and feel the "renaissance" city . We roamed around the Duomo, marveled the architecture, experienced performances at Piazzas, ate some authentic pizza and lots of gelato, even watched the shooting for the movie "Six Underground". A few museums were open, I particularly liked the Bargello museum, which had some of the early works of Michelangelo along with works of other sculptors.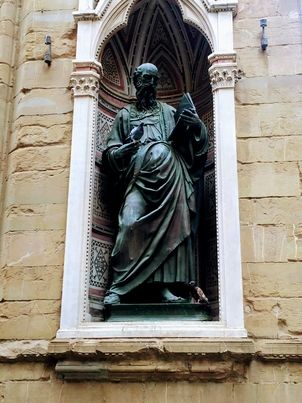 In the evening, we went to Piazzale Michelangelo for the panoramic view of the city. View was good, but it was too crowded so we went to a nearby Basilica "Basilica di San Miniato al Monte" instead. It was higher up and one of the best views of Florence with much lesser crowds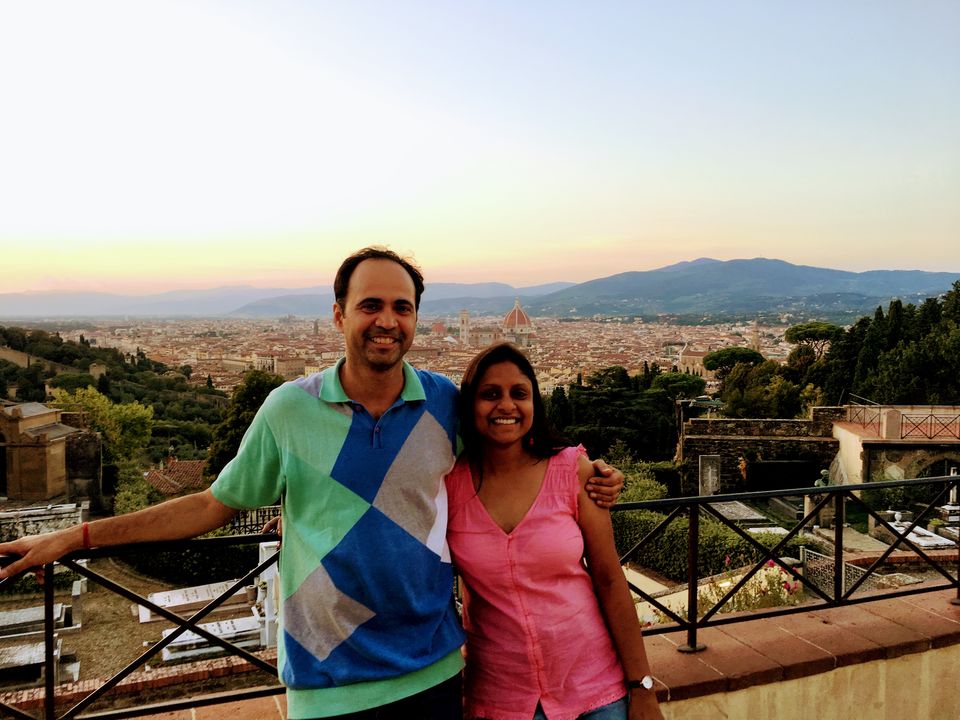 6. Venetia - The city of merchants
Over the years, Venice had gained reputation of being one of the most luxurious and romantic cities in the world - a view supported by multitude of books, plays and movies. When we think of Venice from memory, we imagine a maze of canals, gondolas and singing gondoliers, merchants of Venice, luxury, parties, masks, mystery, casinos, colourful houses, overflowing markets...but the reality?
Canals, gondolas, markets are still there in Venice, but it does not look as polished and luxurious as it is meant to be. Pollution, over-abundance of tourists, diminishing resources is taking toll on the city. But... Venice still has a charm of its own. Though to appreciate its beauty, you need to first come out of "that aura" of Venice.
Most interesting aspect of Venice is how the roads & streets are replaced by canals, and buses & taxis by boats. And whats even more fascinating that how quickly you get used to it, and start calling Grand Canal as main road and the ferry boat as bus. I recommend staying within Venice to experience it.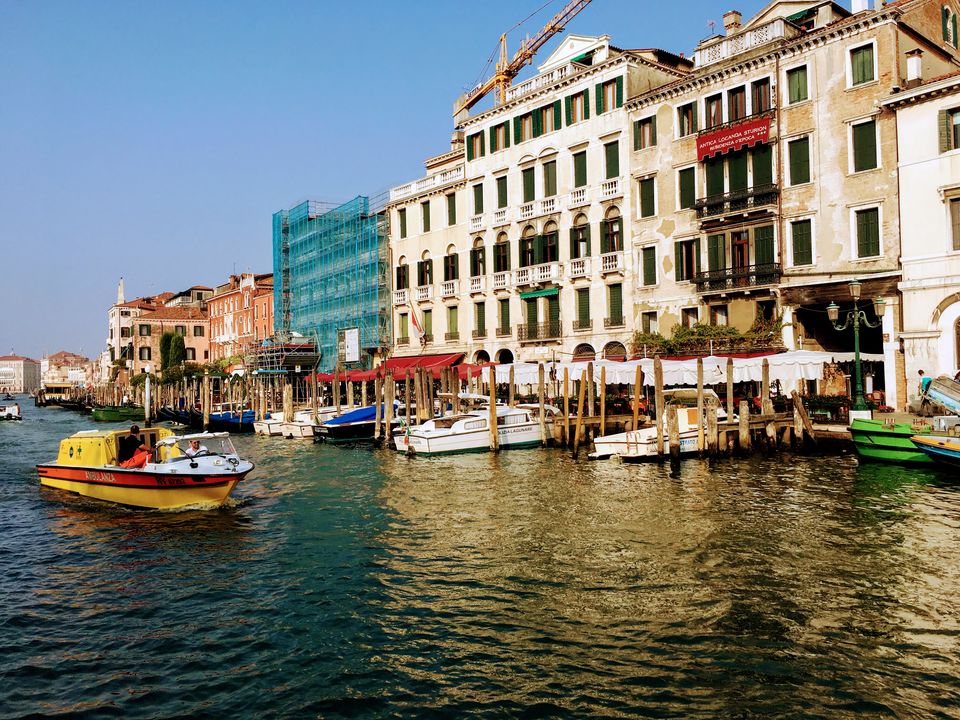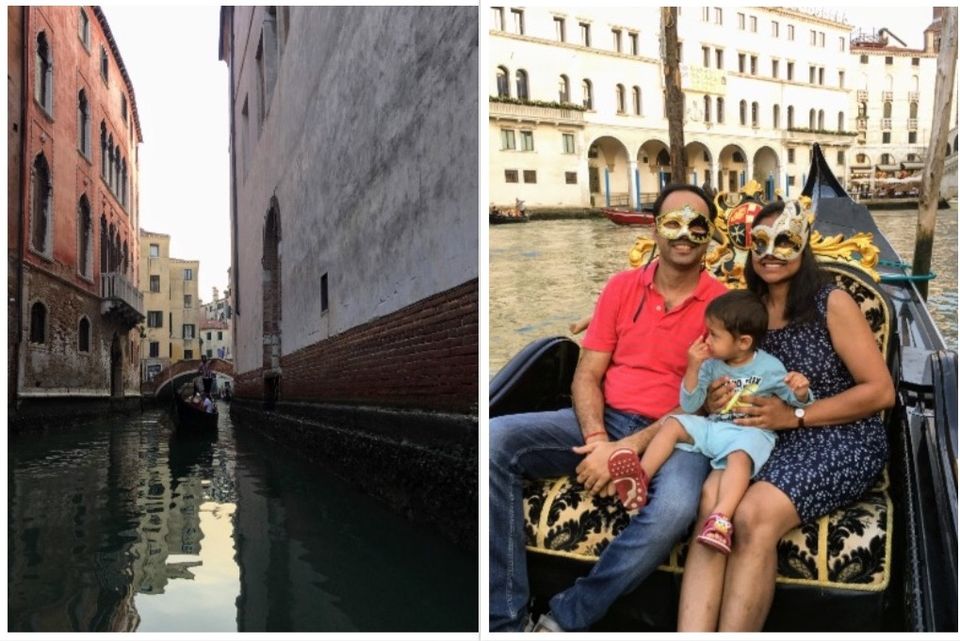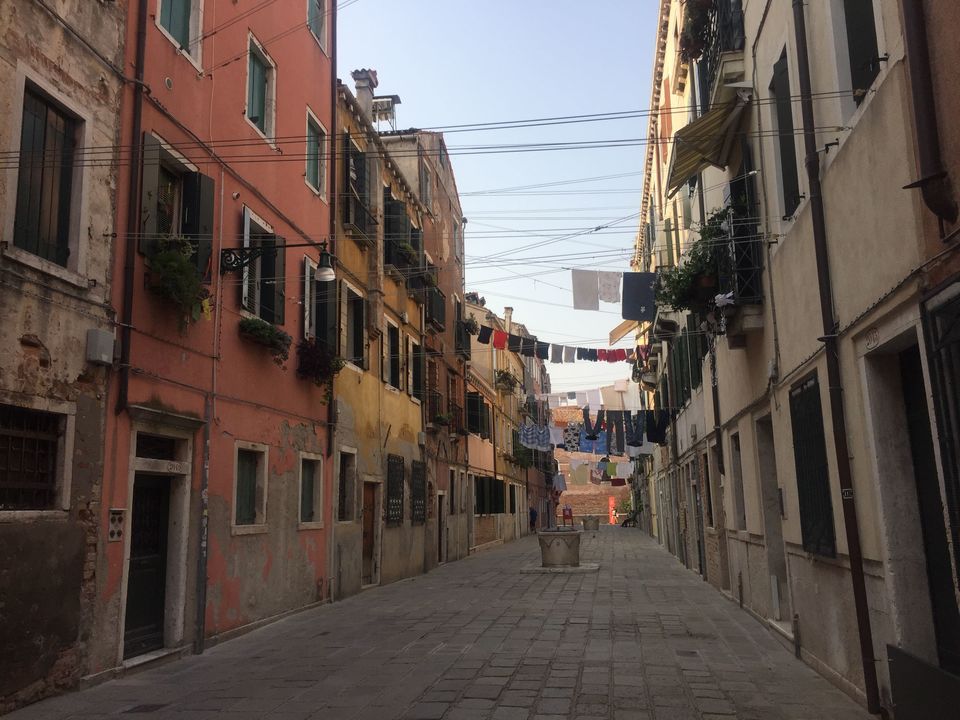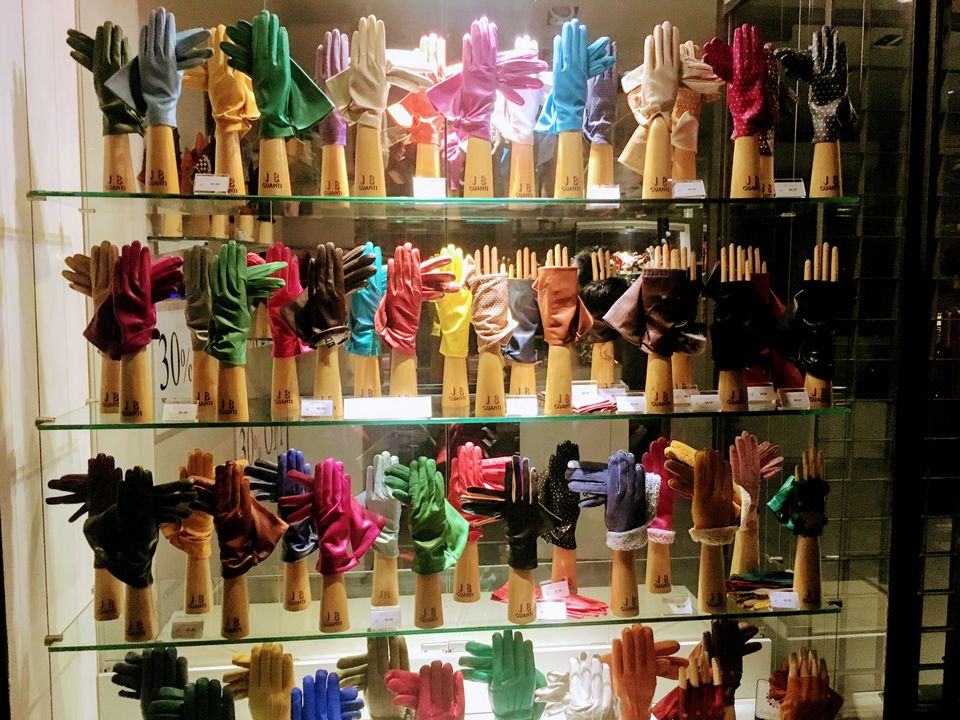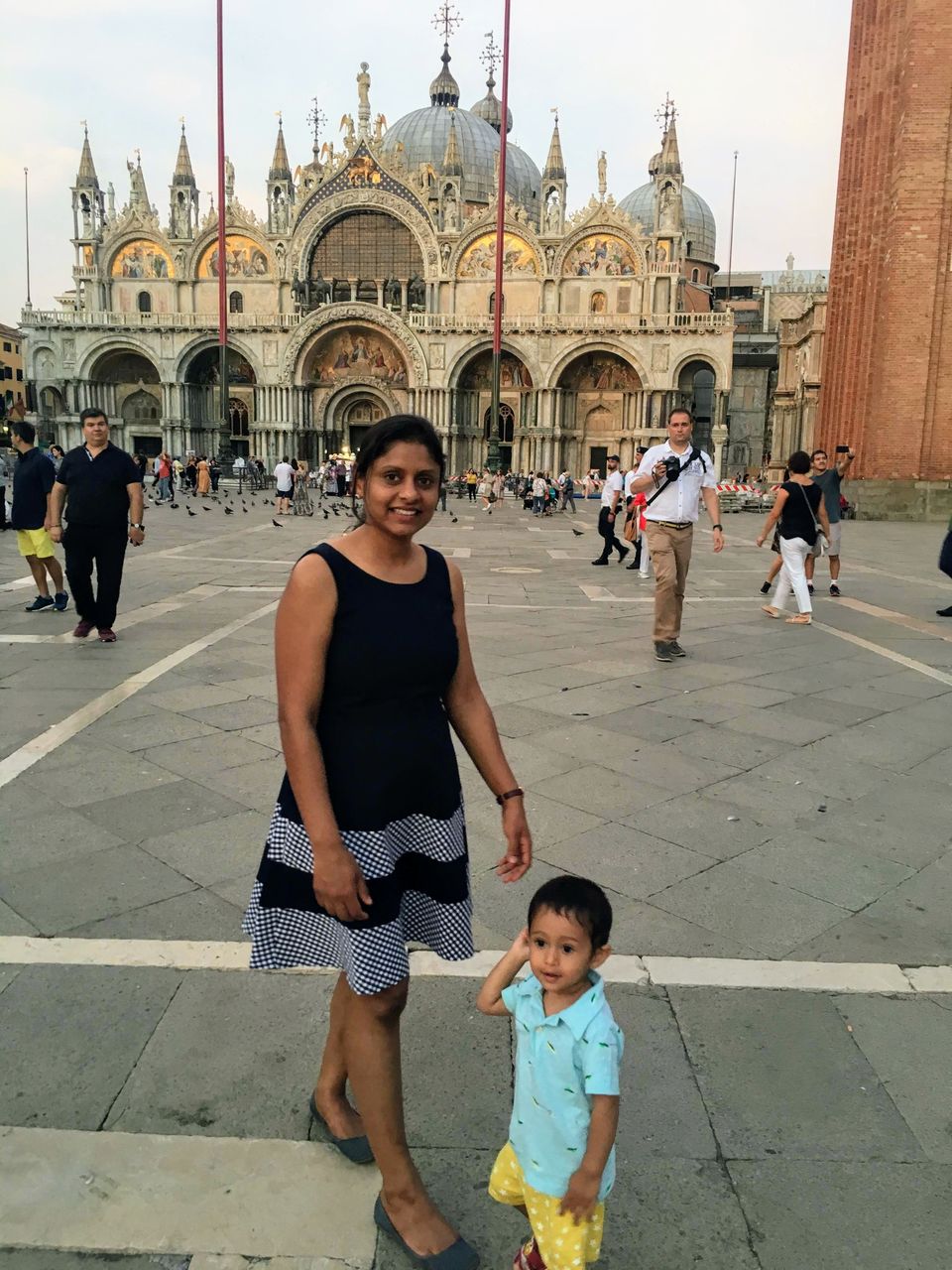 After spending two days in buzzing streets (canals) of Venice, we were off to Rome. Though it was difficult to compare Venice with "Venice of my imagination", I still loved it. Once the important financial hub of the world, now Venice is an important tourist hub - water played a big role in both the guises of Venice.