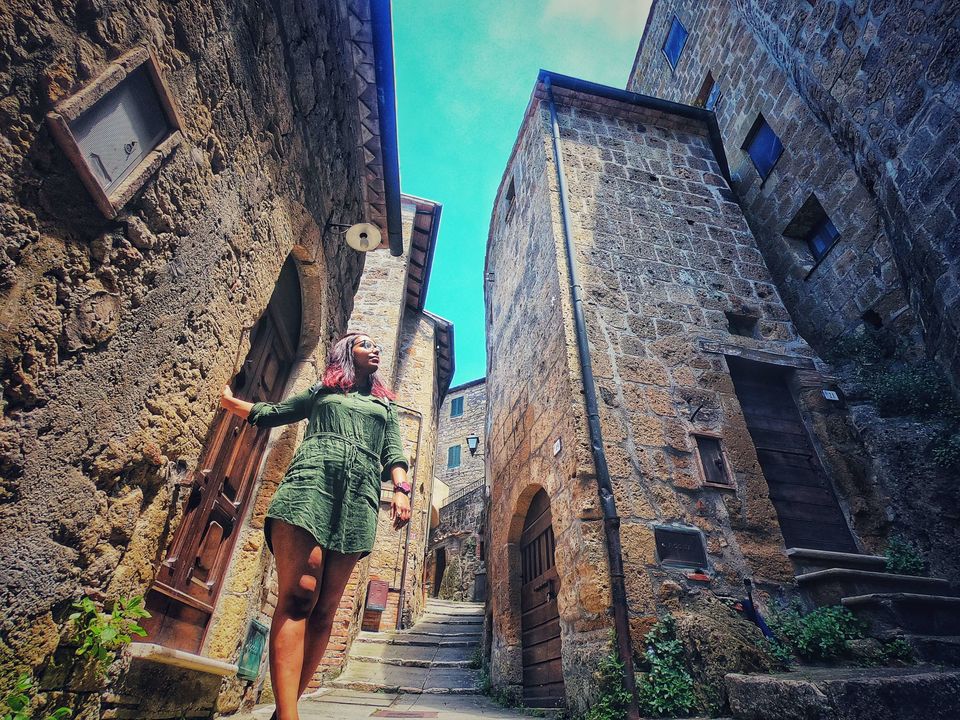 A long drive amidst Tuscan vineyards, sipping the delicious wine while enjoying the view of the breath-taking landscape, felt like the best way to bring in my birthday and that's how the idea of a road trip to Tuscany was conceived. I got my Schengen visa just in time to check off Italy from my bucket list for this year and the timing couldn't be better!Unplanned trips have proven to be the best in my experience, and it sure worked this time too!
With no set plan, I stumbled upon some amazing people with whom google translator was the only way of communication. I came across some beautiful spots that blew my mind, some insanely scenic drives that were too hard to believe, the most scary roads that questioned my driving abilities, epic restaurants and cafe that satisfied my palate and left me with happiness, some quaint and remote Airbnb's that left a feeling of contentment. I got to see the variety of lifestyle in every village of Tuscany Let me take you through all the offbeat things you can do on your road trip to Tuscany!
Day 1: Arrive in Naples
It was a bit of a rocky start after landing in Naples for me. However, I got some good sleep and left for my road trip from Naples to Tuscany the next day! You can read more about avoiding disasters in Naples, where to stay, where to rent the car from, etc here. I booked ticket to Naples because they were cheaper than Florence and Rome. The drive wasn't too bad on the toll road and took me 4 hours to get to Tuscany. I decided to split the trip by spending two days in Grosseto and the other two in Siena.
Day 2: Mind blowing drive to Maremma!
Maremma is the largest area of Tuscany between Province of Livorno and Grossetto. It is unique due to the variety it offers from blue sea, long beaches, black rock, hills covered with woods, marshes, flat lands to green hills and natural thermal baths. Frankly speaking I enjoyed southern Tuscany more than the north.
Food stop in Sorano
I stumbled upon this tiny village on my way to the Airbnb in Roccelbegna. At first sight I was stunned to see a village on top of a mountain overlooking a windy road and the bridge over a stream of river below but that's whole of Italy. Sorano is a small medieval village with restaurants, shopping stores, caves, church and ancient history. A stroll through the village will take you through old houses which still have people living in it. Enjoy some scrumptious pizza or pasta from one of the many restaurants here and explore this uphill village!
A stunning evening in Saturnia thermal bathe followed by delicious pizza for dinner
Saturnia is another small village only 30 minutes away from Roccelbegna and is known for its thermal bath. This was one of the highlights of my trip. The warm sulphur waters of Saturnia are sure to relax your soar muscles from the drive and put you at ease with the fresh air around with a gorgeous view. The entrance to the thermal bath is free of charge, parking is free but limited. There are food and drinks right in the vicinity.
After a thermal bath, I and Luciano my Airbnb host decided to grab some pizza in Saturnia. There are plenty restaurants here where you can try authentic Pizza and Pasta. Luciano was my translator helping me with my order, educating me about the place and its history over some birra.
Some wine under the stars in the farm.
After our scrumptious dinner in Saturnia, we drove back to the Airbnb and enjoyed wine from Luciano's Winery, under the stars. The fresh breeze, the sparkling stars, the moon and Italian wine, it was only my first day in Tuscany and I was on cloud 9!
Day 3: Exploring Maremma!A quick stop in Pittigliano in search of fuel
I was looking for a gas station to fuel up and found one in Pitigliano. I had no intentions of stopping here other than just fueling up. I drove from Roccelegna to Pitigliano thinking it would be a small town, nothing special. Soon to find myself on a windy, uphil town "Pittigliano" located on the mountain. I decided to check it out! It is a bigger city and has ample of shopping stores, restaurants, grocery stores, gas station and of course, wine!
Came home to the sight of Wild boar being Slaughtered.
After I got back, I saw a visitor at Lucaino's, who turned out to be his neighbor that I had no idea about as I didn't really see a single house nearby. Turns out he stayed on the other side of the road. That made sense! I wanted to drop by and say "Hi" so I went to the kitchen where I could here them talk. As soon as I enter the Kitchen I see them slaughtering the wild boar which was destroying their farm. That's when I learnt Italians love wild boar. I enjoyed some wine while I watched men at work!!
A calming walk by the lake in Santa Fiora
After Luciano and his neighbour were done with slicing their food, we went to Santa Fiora which is another small village nearby only 20 minutes away. It has a natural lake with swans and fishes swimming in it with a small fountain. The walk by the lake is definitely a must. The view of the landscape covered with the Rape flowers, which is a classic Tuscan flower is unreal! This is where I got to witness a sad fact about the villages of the otherwise Luxurious Toscana going through abandonment and depopulation! you can read more about it here.
The best pizza I've ever had in Arcidosso
After our walk, we drove to Arcidosso for food. It was Luciano's favorite place for Pizza and soon became mine as well. In La Brusta, I had the best Pizza in Tuscany and you have to try it too if around.
Sunset by Mount Labbro
This is definitely the perfect place for watching a calm sunset and get in touch with spirituality. The cool breeze, the countryside covered with flowers, the rare colors in the sky was the best way to end the day.
Day 4: Drive to Siena!
It was a heartfelt goodbye to my host and the surprisingly amazing province of Grosseto. My next plan was to explore the rest of Toscana, so I decided to take the scenic roads and make random stops on the way which led me to unforgettable experiences.
The most scenic drive from Montalcino to Pienza
I had heard of this drive from my friend and was looking forward to it. We were welcomed with a cycle race just few Kms before entering Montalcino. Considering cycling culture is a huge thing in Tuscany, I wasn't surprised.
On your drive from Montalcino to Pienza you'll notice a great difference in the landscape as it gets wider and staggeringly gorgeous. Every part of this drive will tempt you into stopping and clicking pictures.
The Gladiator House in Pienza
I wasn't aware of the movie Gladiator so I obviously didn't know about this place. I only found out when I took a random stop near Montalcino where people were asking me about it. I googled to help them out and was amazed to see what I found, I instantly decided to drive there. The house is located in Pienza. The sign says you can drive on this road at 20km/hr speed limit but it's not recommended unless you have a Jeep or something similar since it's a steep rocky, downhill road. I decided to not risk it and hike instead. It is about 20 minutes worth of a downhill steep hike so imagine my misery on the way back. The area around the house is breathtaking and the view of Pienza town from here is unimaginable, making it a worthy hike.
Loose yourself in Val d'orcia
Now that you are in Pienza, you cannot miss Val d'orcia. This was the best drive of my entire trip in Tuscany. Drive to this exact spot and you'll see what I'm talking about. The mesmerising scenery is sure to enchant you with its beauty and leave you awestruck. I Kept driving and making random stops on the way.
Lunch on the hill in Monticchiello
MonticchielloThat Pici!!
As I kept driving in Val D'orcia, I soon found myself in Monticchiello, another village on top of the mountain in the area. It is a cute little village where I decided to take a lunch break. Daria is an amazing restaurant where I had my first pasta in Tuscany. Lets say I fell in love with Pici! When in Italy, you have to devour like true Italian by starting with some bread, first course, second course with wine, dessert, dessert wine and then coffee to digest that deliciousness!
Drive to Siena
These beautiful shops in Tuscany.
I make my way from the less crowded Monticchiello towards Siena, soon to find my self in a disastrous situation. You can read more about it here. Siena is way too different from the other parts of Tuscany. It is more crowded, touristy, has a lot of medieval buildings. The only thing that impressed me was the fact that countryside was just few kilometers away from the busy city and my Airbnb was in one of them in Badesse. If you get tired of the chaos, you can easily escape to the countryside in couple of minutes!
Dinner at Piazza del Campo
Piazza Del campo, Siena
Piazza Del campo is hard to miss when in Siena. You can easily spend a day here. It's considered one of Europes greatest squares which you can enjoy while sipping on wine, coffee, good food in one of the many restaurants/bars around.
Day 5: Birth Day/ chill day
The architecture!
I celebrated my birthday with the wine I picked up from one of the stores near Piazza Del Campo and continued the same next day after I woke up. I was already super tired and wanted to take it slow for the day, so I decided to drive around Grieve in chianti and soak the sun before flying back to Dublin.
Lunch in Volpaia Village
I dragged myself to get some lunch in a quiet place and couldn't think of a better option then driving to the mountains. Bar-Ucci's Papardelle El Cinghiale was my motivation to drive to Volpaia Village Radda in Chianti. It is also referred to as Castello di Volpaia. It's one of the villages that went through depopulation and hence is quiet. However, it is very impressively restored and boasts panoramic views over the surrounding vineyards and forests, together with its location in central Chianti, it makes an ideal base for a peaceful and relaxing Tuscany vacation.
** You could easily drive to Florence which is about an hour and a half away from Siena. Parking in Florence is a disaster, I would suggest driving to Villa Costanza and parking your vehicle here. You can then take a tram from here to Florence which drops you right in the middle of the Piazza. You can read more about parking in Florence here.**
Day 6: Flight back to Dublin, but first the Leaning Tower!
I had a late night flight at 10:30 PM from Pisa to Dublin where my road trip ended after visiting the Leaning Tower!
Being a tourist in Pisa
Leaning Tower in Pisa
Pisa is an hour away from Siena and is more spacious in comparison to Siena. There are two convenient parking spots right next to the leaning tower where you could park. Enjoy the madness here while watching people leaning against the tower, bargain your way through the street stores and devour delectable food before saying arrivederci to this beautiful country.
Flight back to Dublin!
Airport from leaning tower is only 20 minutes worth of a drive. You can drop off the rental and walk to the departure area.
Planing a road trip to Tuscany? Hope this help! Let me know how your experience was in the comments below!