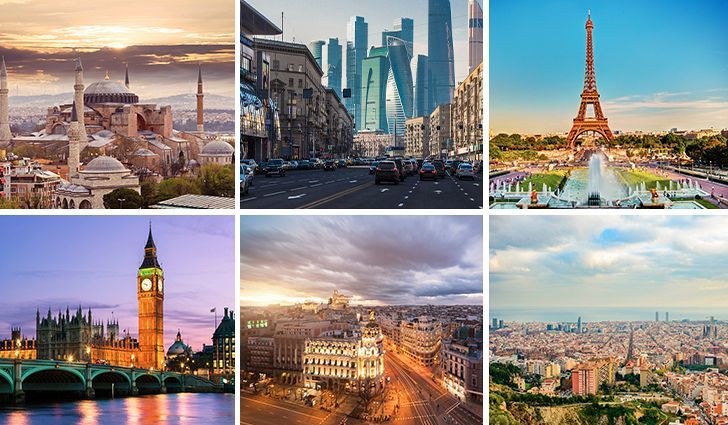 After been to more than 30 countries in Europe in past 5 years, here is my list of 10 favourite European Nations that I would recommend everyone to visit.
1. Iceland
The most beautiful country I have ever been to. I did the epic Ring road trip for 7 days around Iceland and we saw beautiful waterfalls, glaciers, Volcanoes and breathtaking landscapes. Since I visited in 2015, Iceland was not that much popular and tourist flooded as it is today, so there were times when we had entire waterfalls to ourselves. I used to drive 100-150kms stretch without seeing any other cars on the road. We went in June and the weather was great, we had sun for more than 20 hours in a day.
2. Greece
Greece for me is about Island Hopping. I went to Santorini, Ios, Mykonos and Naxos. All were Beautiful, especially Santorini is the most beautiful and picture perfect place I have ever been to. I used to rent ATV Bikes and go around the islands. It was such a fun experience going from one beach to another, hopping between villages and having great food. Greece is cheaper than Western Countries and less touristy if you manage to avoid the cruise ships from May to September.
3. Italy
I love Italy for its Culture. I believe all good things come from Italy, be it designer furniture, trendy fashion brands, sports cars or wines. I enjoy visiting Churches in Rome, Driving in Tuscany Vineyards, stopping by lesser known villages in countryside. Less people know about Dolomites and Lake Como region which is just as good as Rome, Florence and Venice. You can just never go wrong in Italy.
4. Spain
I have not visited Spain as deeply as above countries. I have been to Barcelona & Madrid. The culture is so damn fascinating, the nightlife is epic and beaches in Barcelona is filled with so much energy and fun activities. I would love to explore Spain Further more in my future trips. Canary & Balearic Islands are high on my list and so is San Sebastian Region of Spain.
5. Scotland
Edinburgh is one of my favourite cities in Europe. Scotland is Mecca for Scotch Whisky and Golf Lovers. The countryside is beautiful and I like Scottish culture, be it bagpipes, Cashmere or their food. I highly recommend doing a roadtrip is Scotland.
6. Austria
Vienna has an old world charm along with modern charisma. Away from Vienna, is ski town of Innsbruck and Salzburg "the town of Mozart". The valleys are beautiful and Austria will definitely sway its charm on you.
7. Belgium
Belgium is not a big country, and can be easily seen in 4-5 days. Brussels is home to best beer pubs and chocolate shops in the world. TinTin and Smurfs originated from Belgium for all comics lovers. Ghent and Bruges are beautiful small towns which can be visited in a day. Antwerp is another highlight of Belgium which people often miss out on, its the world centre for Diamonds.
8. Turkey
Istanbul has been an important city that defines my perspective of World Travel in a way. It has got beautiful mosques, Turkish sweets are hard to resist especially Baklava & Kuneef. And Turkish Handicrafts have earned a reputation of all over the world. Antalya and Cappodacia are also fun to visit. I would highly recommend Hot Air Balloon Ride in Cappodacia.
9. Ireland
Ireland strong competes with its Neighbour Scotland in all the possible ways, be it whisky or the universities. The tourism Infrastructure in Ireland is better as Road are wider, there are more information centres and for GOT fans there are plenty of places to be tick-marked. Dublin is highly expensive and has got great nightlife.
10. Norway
Norway is one of the most Expensive Countries to visit. The food and tours here are highly expensive. However, the Fjords are breathtaking and cities of Bergen and Stavenger are Charming. The city of Oslo also has delightful sites to offer.
I have not yet visited some of the Popular countries such as Portugal, Russia and Baltics Region in Europe. So pardon me if your favourite countries were not on my list. Also I have never been a big fan of Switzerland, been there thrice, I strongly feel Switzerland is the most overrated and expensive country in the world.
Do let me know your favourite country in Europe in comments.
Frequent Searches Leading To This Page:-
European vacation, cruises in Europe, cheap Europe trips, best European tours, cheap Europe packages, European vacation packages, Europe tour itinerary