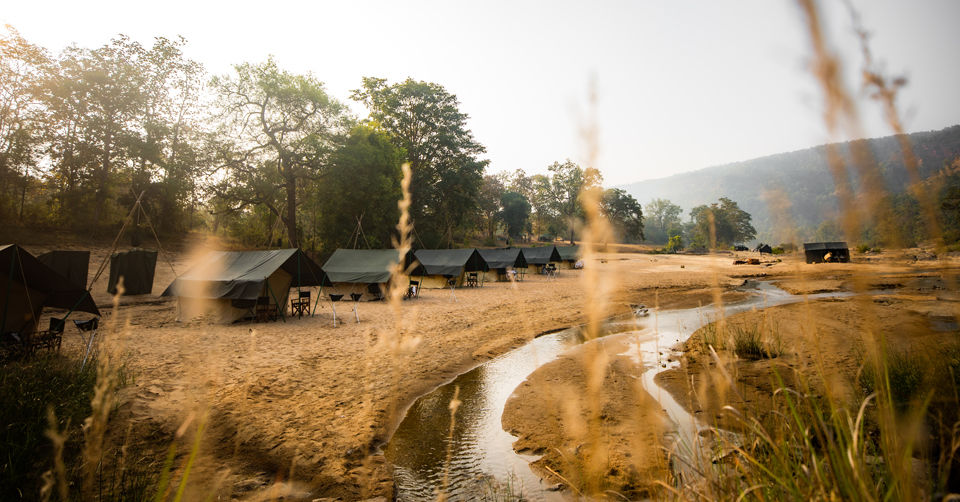 "All we have to decide is what to do with the time that is given to us." - Gandalf The Grey
Why have we always felt content among the wild, the rivers and the mountains not fearing the extreme weather or the arduous efforts to be one with the nature even after building our comfortable concrete blocks in the crowded cities. Our inherent nature, I guess, lures us to the primitive.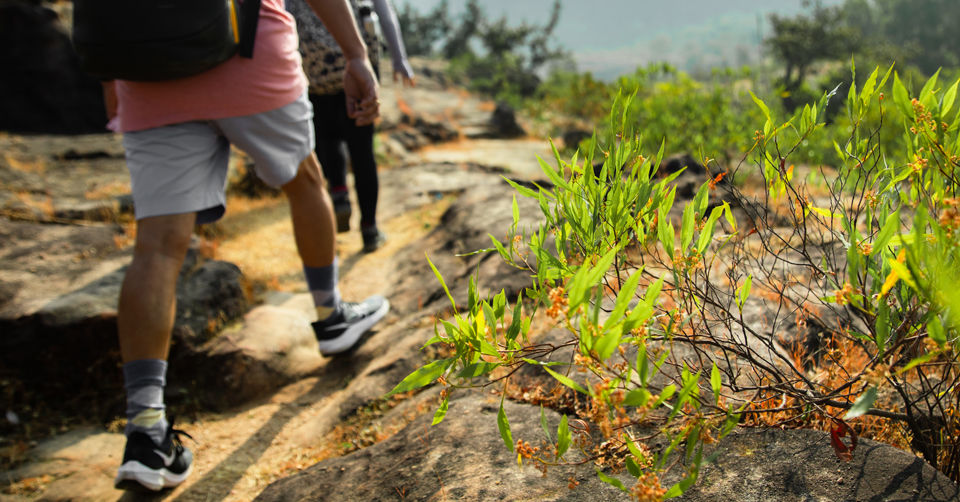 Ever experienced being on foot in the jungle and living under the canvas, feeling the existence of nature in its extreme raw and real form amidst the wilderness of woods? No Telephone network, Internet and Electricity; all we have around is the aroma of the jungle and abundance of fresh air that is meant to rejuvenate our mind, body and soul and teaches us to be social with nature and wildlife. Pugdundee Safaris offers this exclusive experience at Satpura Tiger Reserve in the Hoshangabad district of Madhya Pradesh, and if you haven't yet experienced this, you sure are missing out! Complete with their terrific logistic staff support and some of the best naturalists in Central India, this is hands down one of the most efficiently organised trails!
What is Walking Safari and Mobile Camping?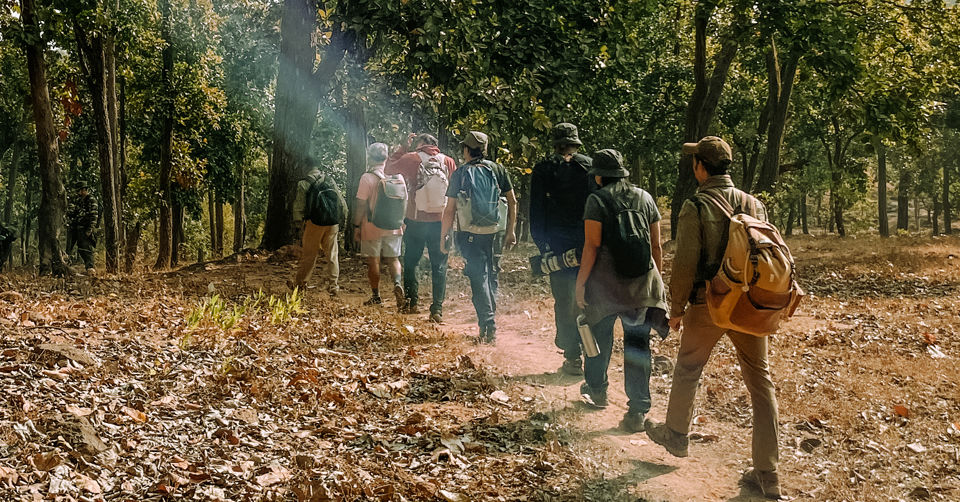 A walking safari and mobile camping is an highly adventurous activity where guests embark on slow paced, guided walks with the primary objective to explore different wildlife species along the bush, crossing different terrains and altitudes. The small details that are overlooked on game drives become more apparent from the slower pace and lower angle of being on foot.
Evenings are spent in private mobile camps pitched in a forest clearing when the river is full spate, or on its dry riverbed once it recedes, later in the season. The tents are spacious enough, with camp beds made up with crisp linen and a separate bathroom tent all looked after by a caring camp crew.
About Satpura Tiger Reserve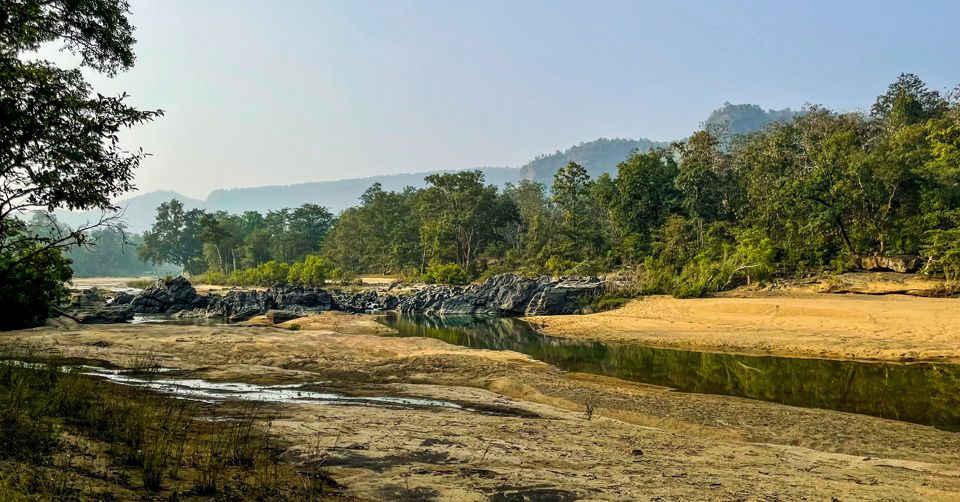 Satpura Tiger Reserve is one of Central India's best-kept secrets!
Although perfect for tigers, this habitat doesn't lend itself to easy tiger spotting, as there are too many places for a cat to hide. It is this very characteristic that has been Satpura's blessing, for it has kept the general populace away, leaving the park to the animals.
It is one of the first declared Reserved Forest Area of India and became a Tiger Reserve in the year 2000 and therefore it is also called Satpura Tiger Reserve (STR). It is the Largest National Park and Tiger Reserve in Central India, and fifth Largest Biosphere Reserve of India!
This is the only Tiger Reserve in the country which allows camping inside the forest and walking safaris in the core area, giving an experience of interpreting the tracks and signs of large animals and small creatures alike.
Location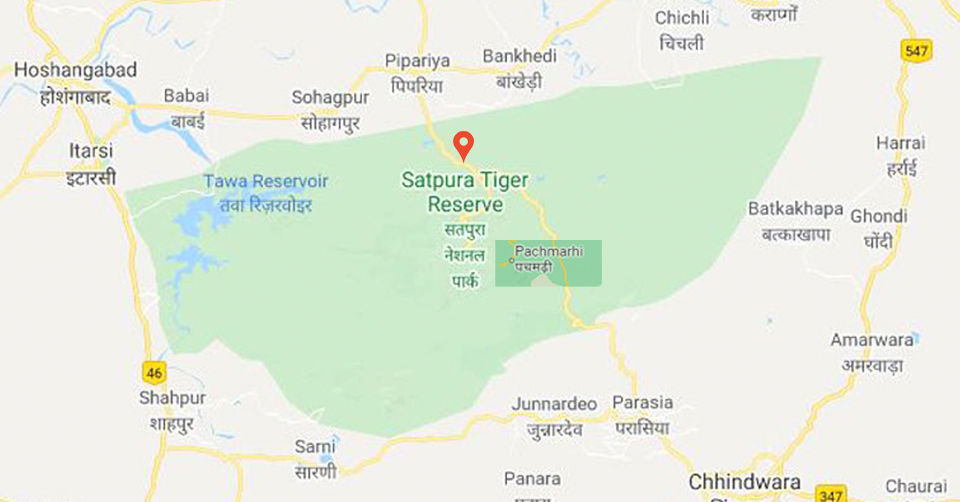 Satpura Tiger Reserve (STR) also known as Satpura National Park is located in the Narmadapuram District of Madhya Pradesh in India.
It falls in the hill station of Pachmarhi, located southeast of Bhopal. Pachmarhi is a UNESCO biosphere reserve that boasts of a variety of medicinal plants and stunning rocky landscapes.
Best Time To Visit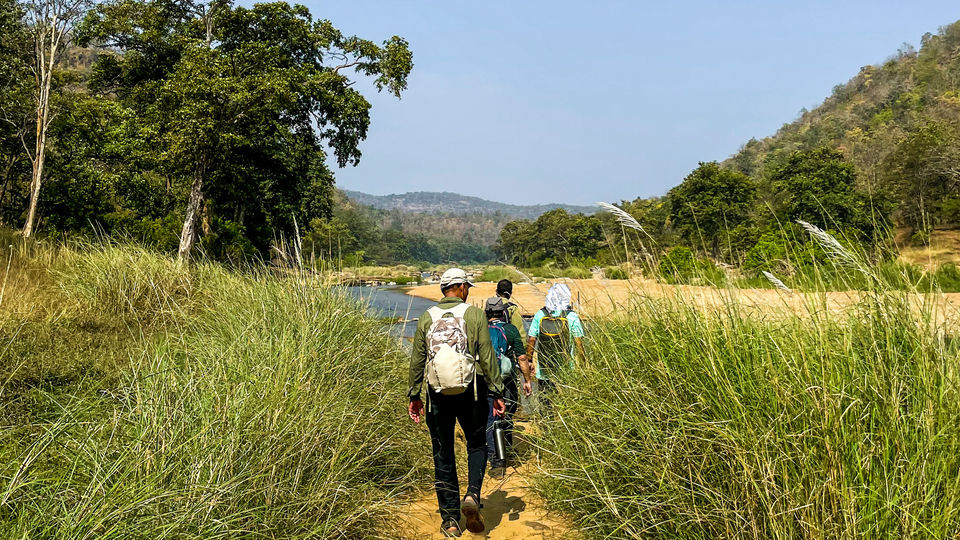 November-March: It is an excellent time to visit. Post monsoon season when temperatures are pleasant is a lovely time to be walking in Satpura. For nature lovers, getting out on foot during after the monsoon season and into the summer months is superb for spotting wildlife and variety of birds.
June-September: The forest is closed during monsoon.
December-February: The temperature can drop to just 4 – 5°C; a warm coat, hat and gloves are needed first thing in the morning.
May-June: It becomes extremely warm with temperatures reaching 40 – 50°C. Hence, it becomes challenging to walk in the forests in that harsh heat.
How To Get There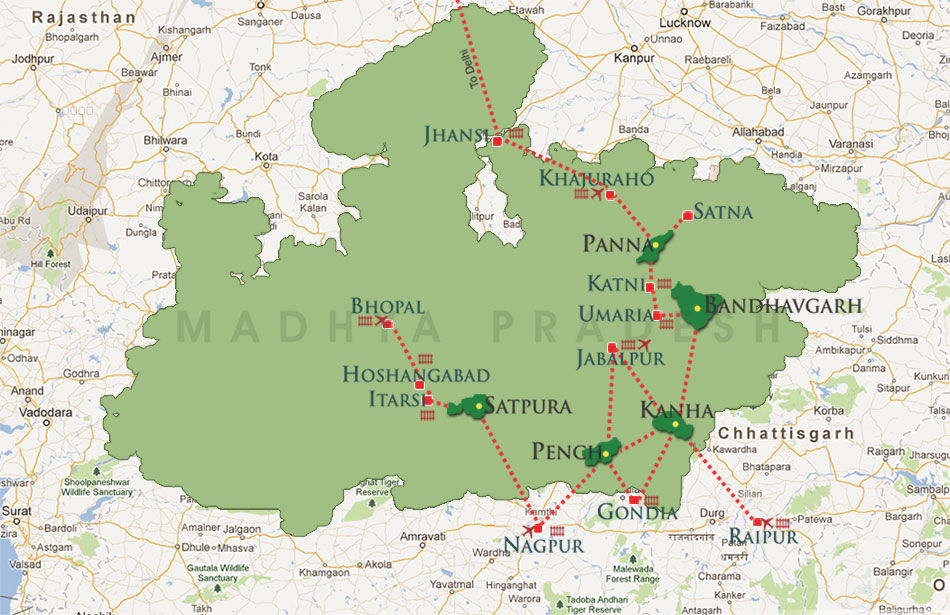 By Air: Nearest airport is Raja Bhoj Airport, Bhopal
By Train: Jabalpur ‐ 250 km | Piparia ‐ 44 km | Sohagpur ‐ 30 km
By Road: Bhopal ‐ 140 km | Itarsi ‐ 70 km | Piparia ‐ 40 km | Sohagpur ‐ 20 km
⎯⎯
Chapter 1: Check-In At Denwa Backwater Escape by Pugdundee Safaris
We checked in at Denwa Backwater Escapeat 1:30pm and were greeted by the manager, Kshitij Gambhir and the naturalist, Neetu Uikey and their staff at the welcome area with the broadest of smiles!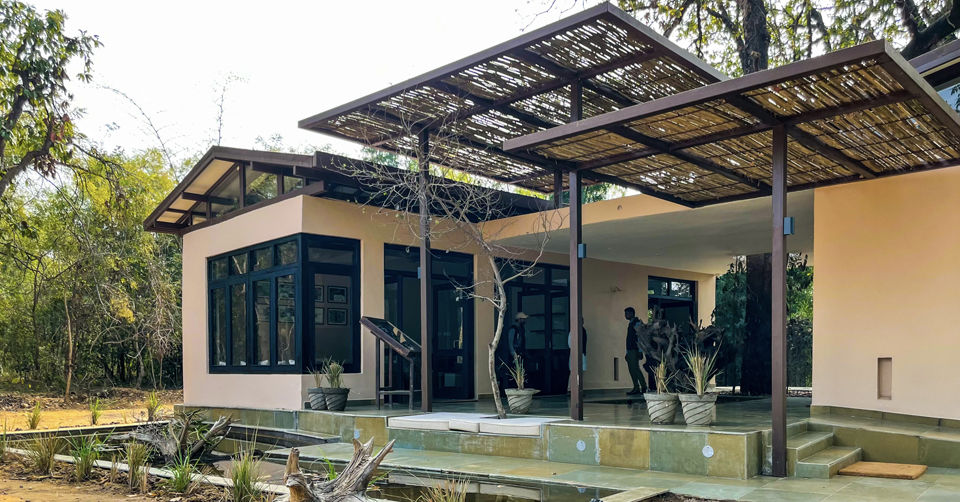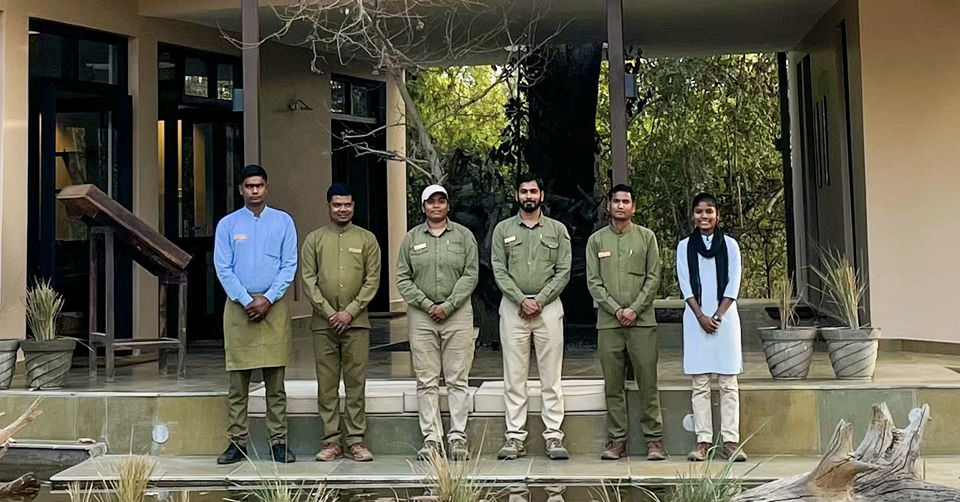 Denwa Backwater Escape by Pugdundee Safaris is an ecologically intimate wildlife retreat, located in the Madhai district of Madhya Pradesh with unobstructed views of Pachmarhi hills, right on the banks of backwaters of Denwa river which separates the retreat from the Satpura Tiger Reserve.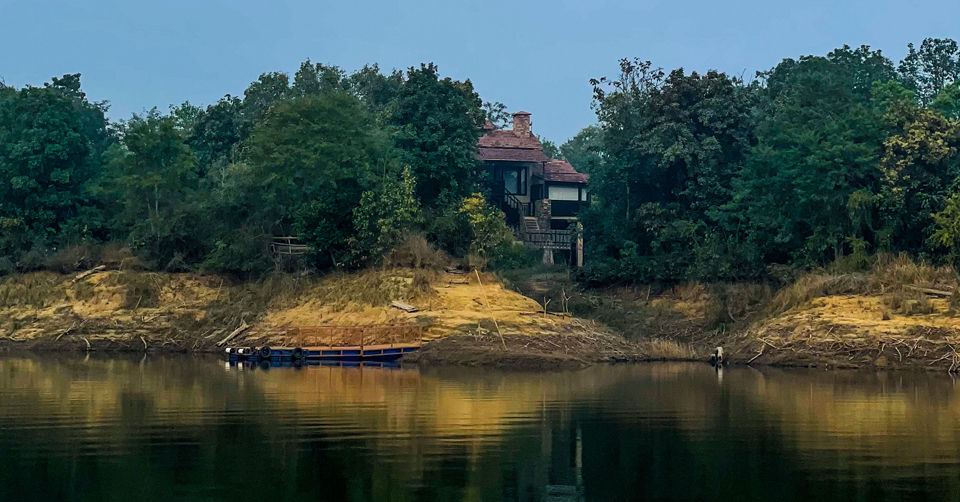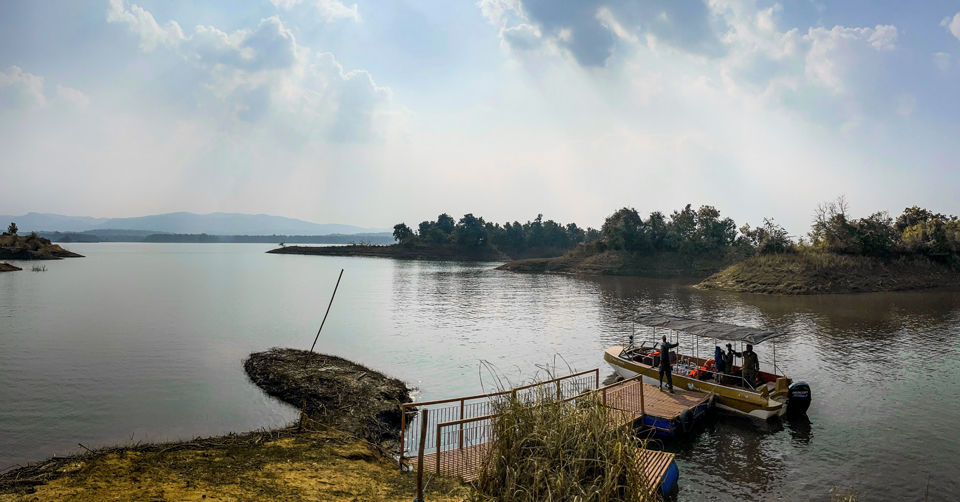 After sipping some refreshing welcome drink and scanning the property, we headed towards the riverfront restaurant where the sumptuous Madhai Adiwasi Thali was waiting for us! The Madhai Thali is a blast of flavours derived from the local Madhai tribe cuisine and is carefully curated using the local produce and prepared with Chef Vijaylaxmi's distinctive touch, who is the mastermind behind all the cuisines at the retreat and also the Masterchef India Season-2 Finalist! (The desserts were hands down the standouts!)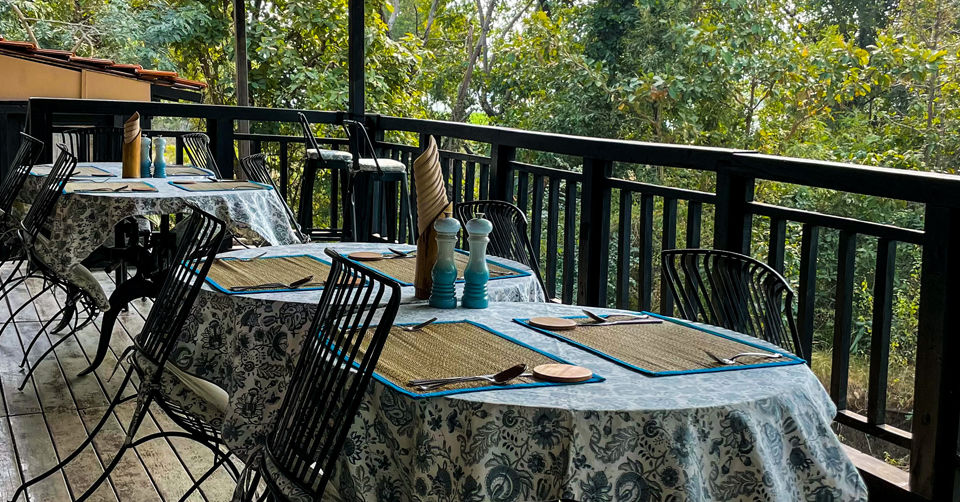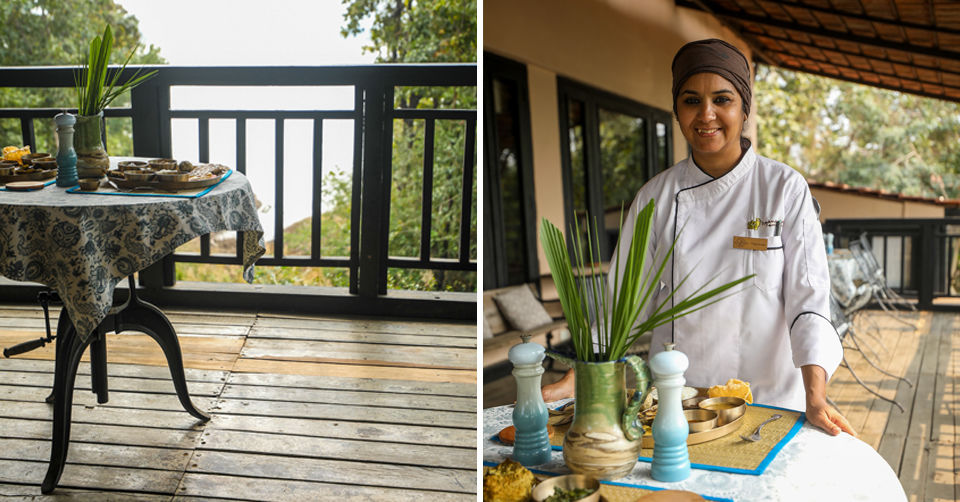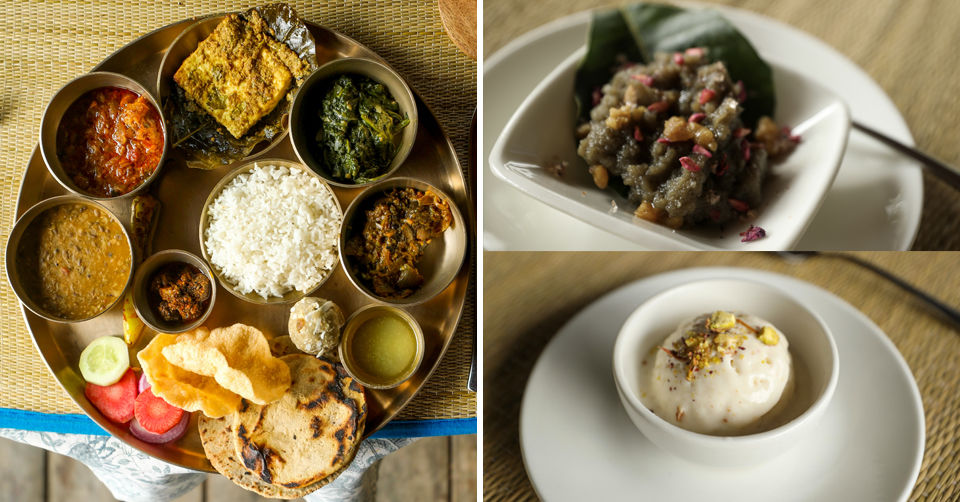 It was time to settle into our specified cottages, where every detail, from fitted fabrics to secret nooks and unexpected tribal artwork, artistically combined the energy with the natural attractions of the Satpura Tiger Reserve. The interiors were a delight to embrace!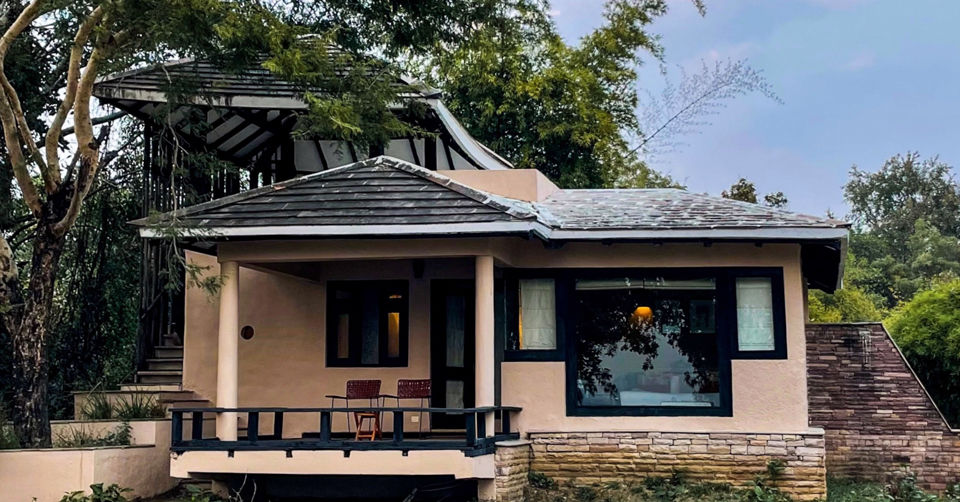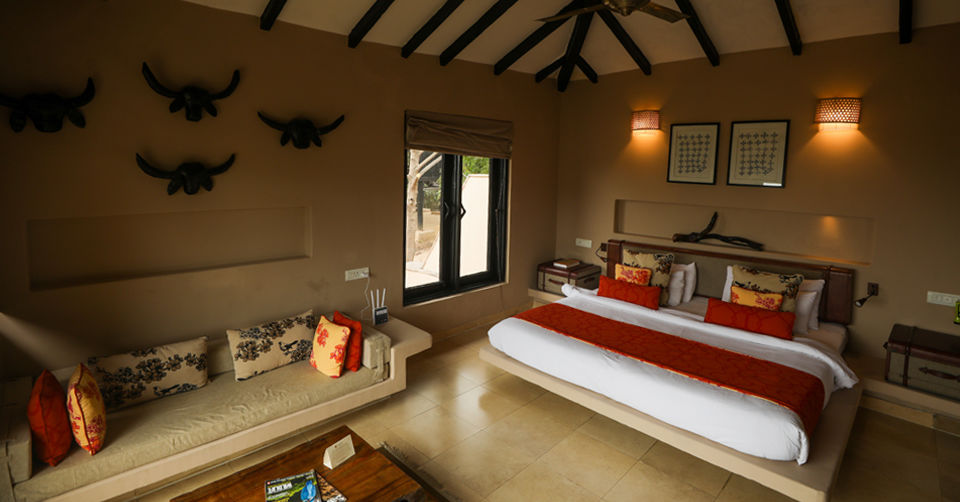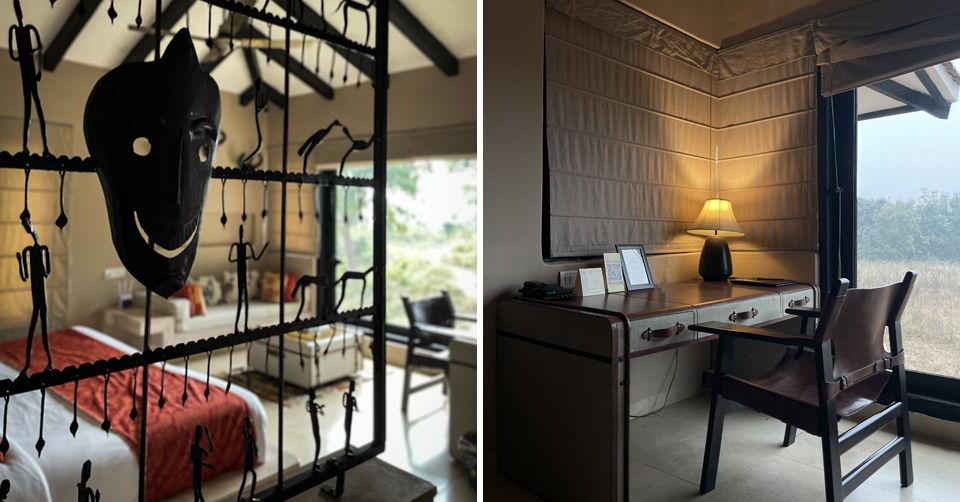 In the evening, we indulged in leisurely time admiring the breathtaking vistas or one can even book a boat/jeep safari.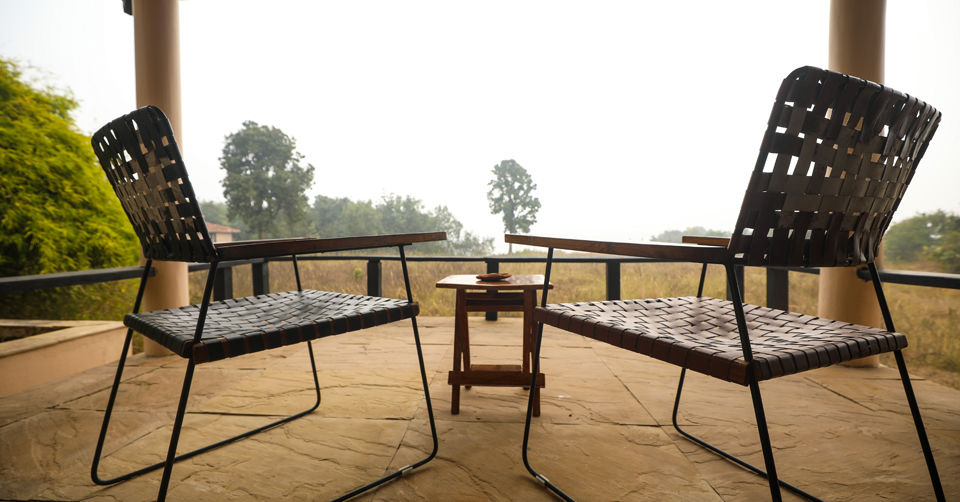 The evening closed with a wildlife documentary and the naturalists briefing us about the safety measures and the ground rules for 'The Walking and Mobile Safari' happening next day.
⎯⎯
Chapter 2: Walking Through The Woods- The Forsyth Trail
Day 2 began from the start point at Pachmarhi (1,045mt), on the path called the Forsyth Trail, a 15-kilometre walk that retraces the route British explorer James Forsyth took on one of his explorations of Central India in the mid-1860s. The hike was 3 hours downhill walk through a landscape of tall Sal trees. Sal and Teak trees form a major component of the Satpura forest range.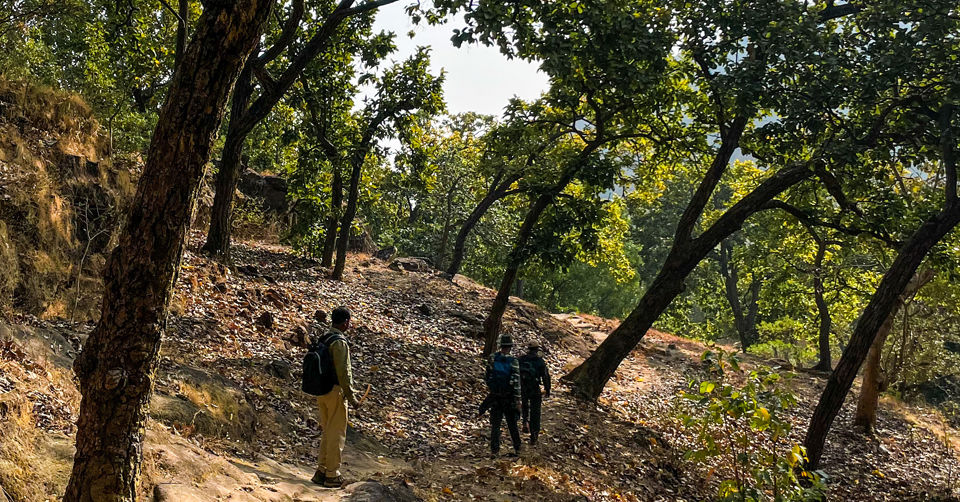 We were 13 hikers in all, ready for the walking safari experience, in the company of the professional head naturalist Harendra Sahu, whose genuine enthusiasm and love for the forests, and ever-smiling attitude, made him instantly likable; accompanied by two other highly knowledgeable naturalists Vishnudeep Dixit and Yashojeet Bundela, all certified first-aiders; and a forest guard from Madhya Pradesh Tourism.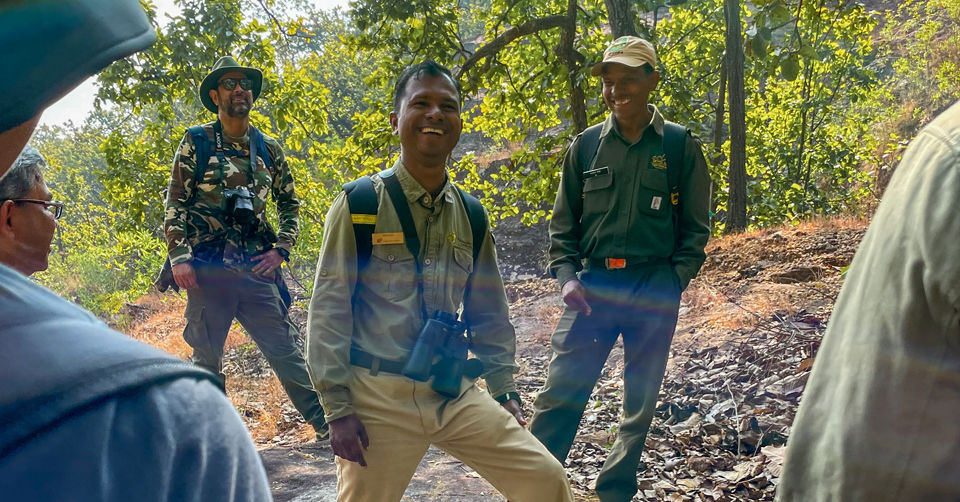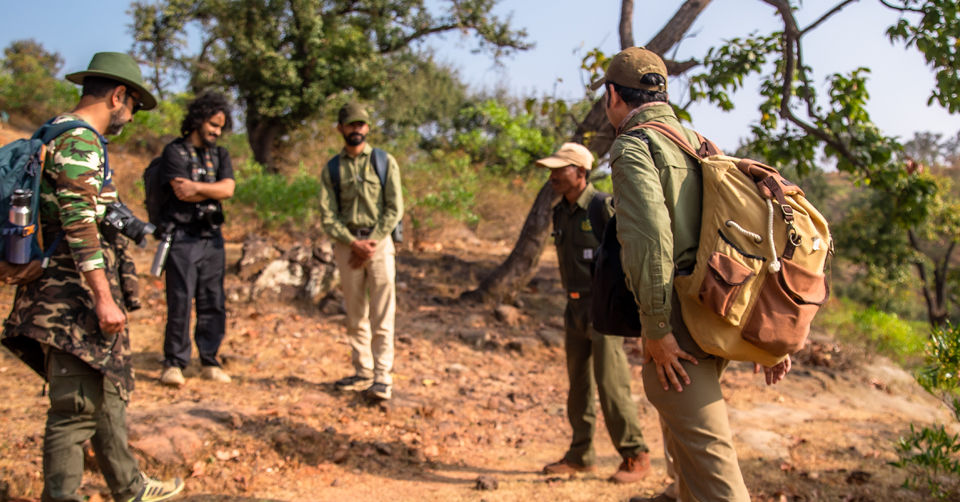 Satpura's landscape changes like a fast cutting montage. It felt like being thumbed through Pantone's swatches of green, yellow, and brown.
The forest closes in thickly before suddenly opening up into a yawning ravine. Rocky stretches lead to swathes of tawny grassland, which then give way to startlingly clear streams.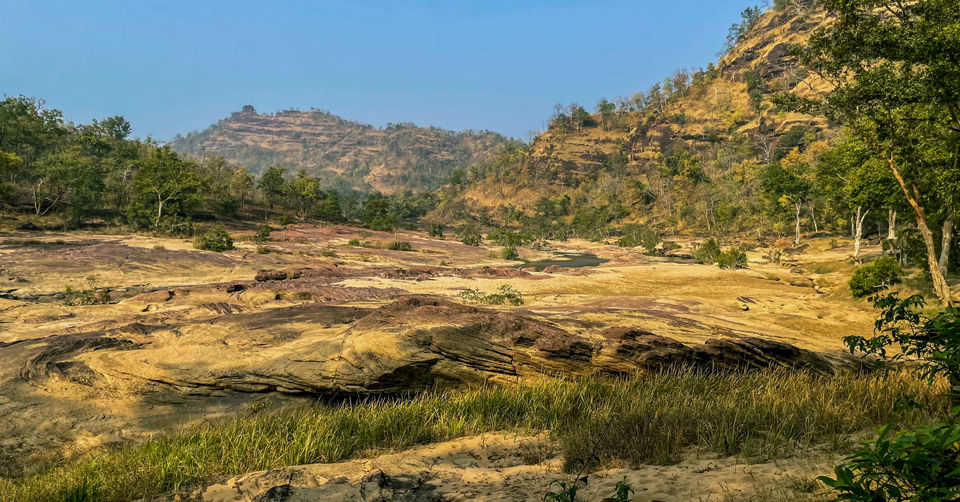 We were welcomed by fresh female leopard pug marks near a small river at the beginning of the trail, meaning she must have visited the trail minutes ago.
Harendraji, pointed out at various trees and their uses/unique features to us, whilst keeping us informed about butterflies and animals found in the area. The enthusiasm with which he narrated his adventures in the forest were both thrilling and fascinating!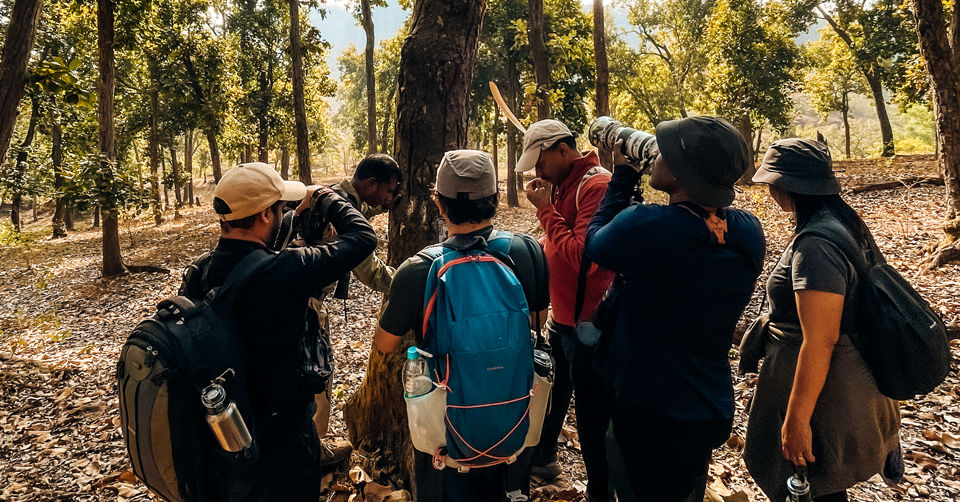 Later, we came across a large mound of pebbles, stones and twigs arranged with a silver tinsel, which is believed to be a shrine for the local Gond tribe for their goddess Banjari Mata.
"They believe she will protect them from predators while they collect firewood. The Gonds have long been relocated from the tiger reserve but still consider it their spiritual abode," explains Harendraji.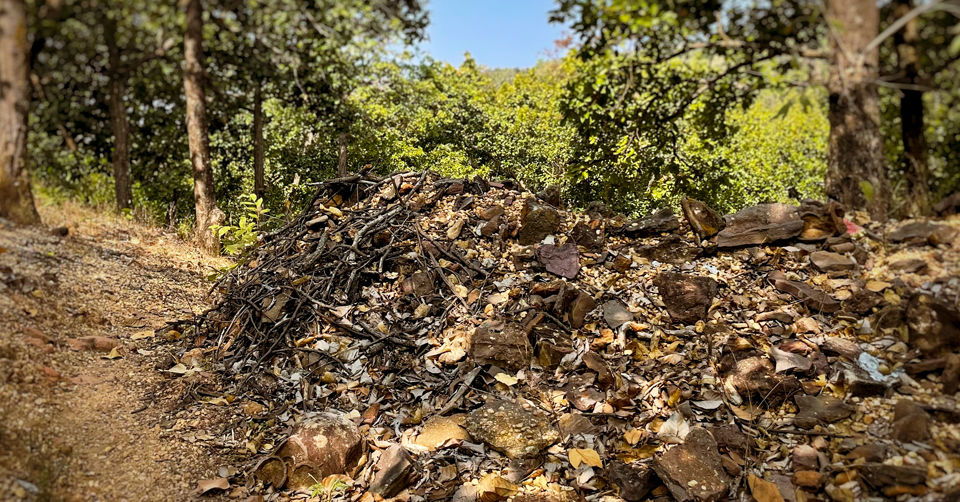 Walking further, he incredulous beauty of gigantic rocks, marked with exquisite lines and patterns, and shaped and polished by thousands of years of wind and water erosion, left us speechless!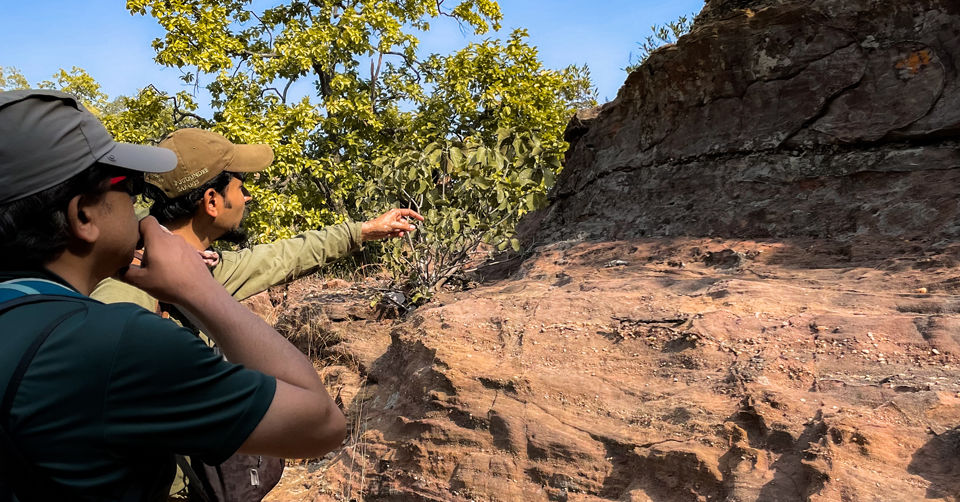 We hiked 3km until we stopped to have our packed breakfast. Muffins, apples, bananas and sandwiches helped us recharge.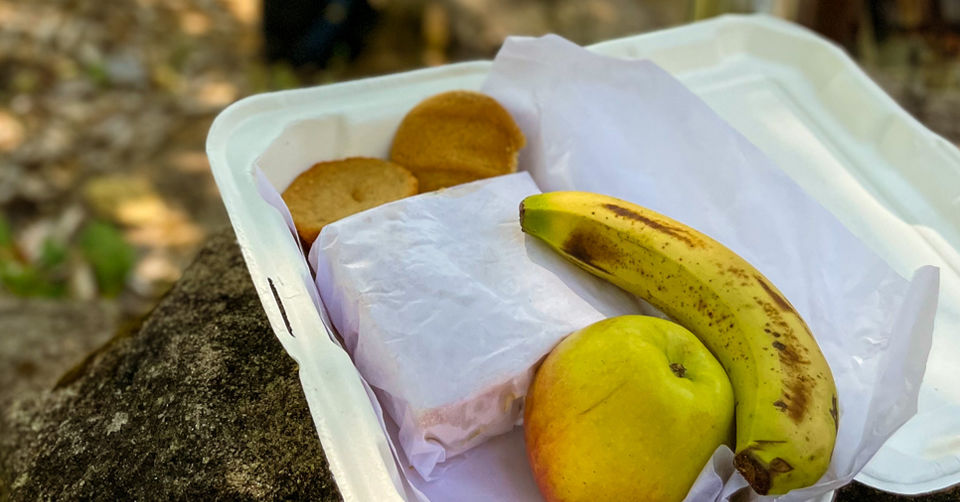 "In a jungle, spotting animals isn't just about looking at them in the eye, but it is about joining the dots with the traces they leave behind," says Harendraji.
To him, Satpura is a wild wonderland and his own open-air botanical laboratory. Fresh scat of Porcupine tells us how it feasted on plants for lunch. Recent gashes on trees tells us that a tiger or sloth bear could have stood here minutes ago. A colony of termites methodically attacking a tree, tells us insects know the art of taking life just as well as that of giving life. Bird-calls signal the presence or arrival of an animal.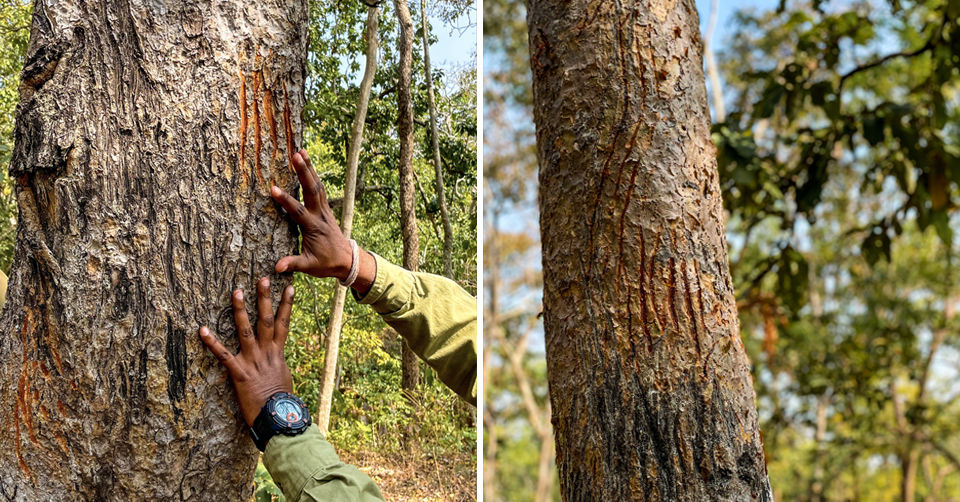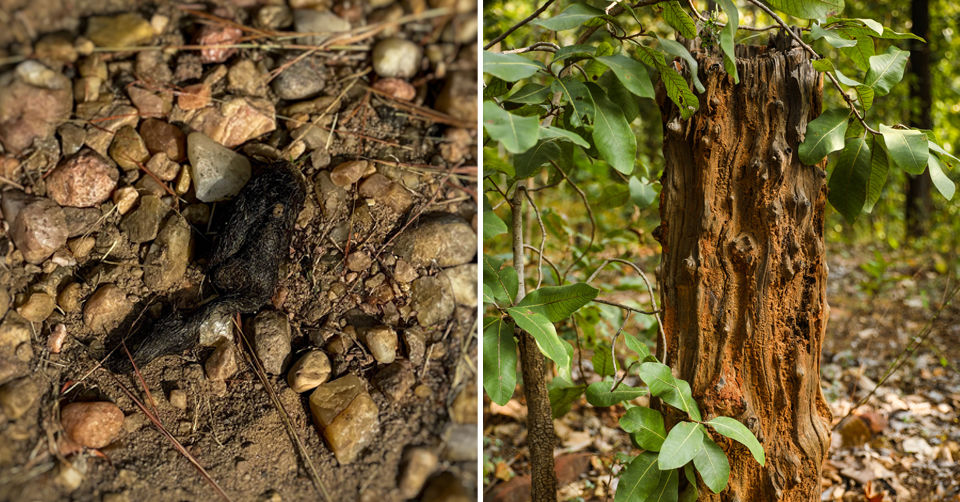 ⎯⎯
Chapter 3: Lunch Stop- A Movable Feast
After 3 hours of walking in the wild, our elaborate lunch was served under the shade of a Arjun tree. A small team of staff from our lodge, Denwa Backwater Escape had prepared a fresh, hot spread of roasted cauliflower with potatoes and beans dressed in masala, biryani, a thick tomato gravy, and fruits for dessert.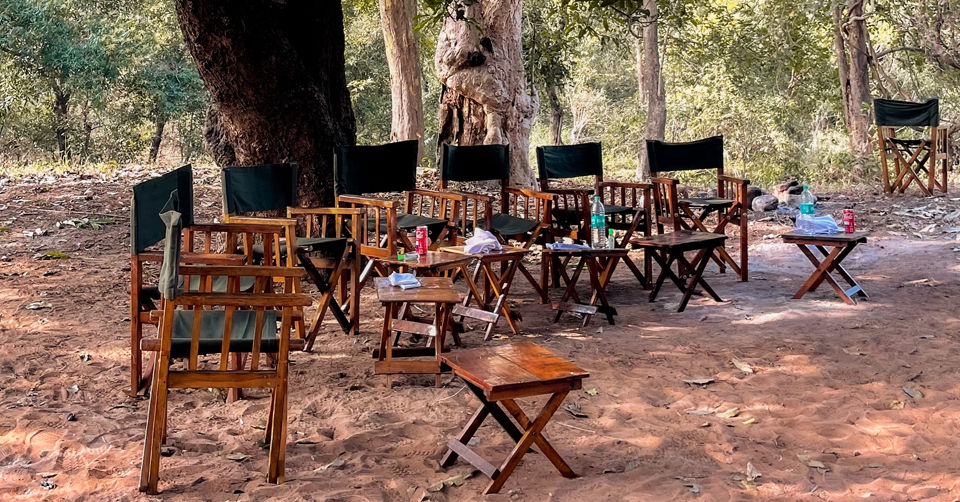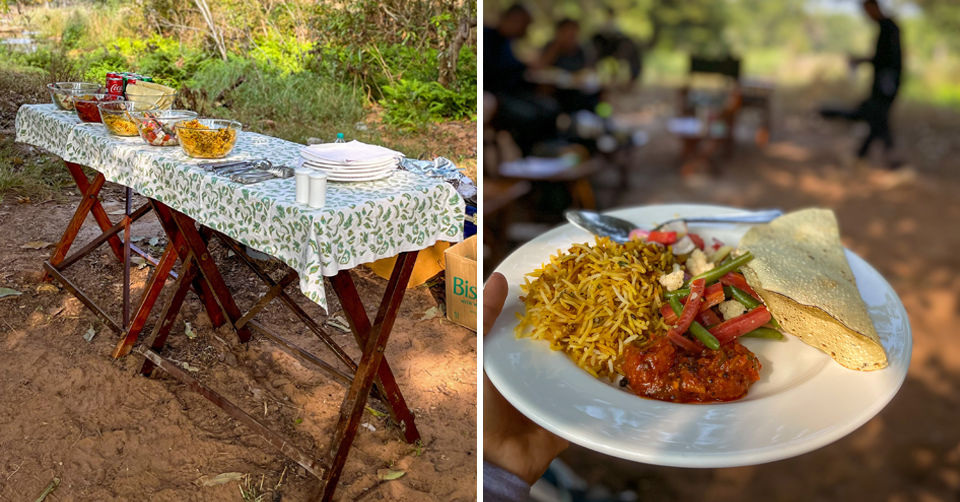 We gratefully accepted small luxuries: slathered the hand sanitizer liberally, pressed on to cold towels on grimy faces, popped chilled cola cans.
We cooled our heels by the stream, sipping on some coffee before beginning the next part of our walking safari. After lunch, next up was a steep descent and our terrain transformed from brown, flat earth to white, uneven pebbles. This part of the jungle appeared to be a rainforest.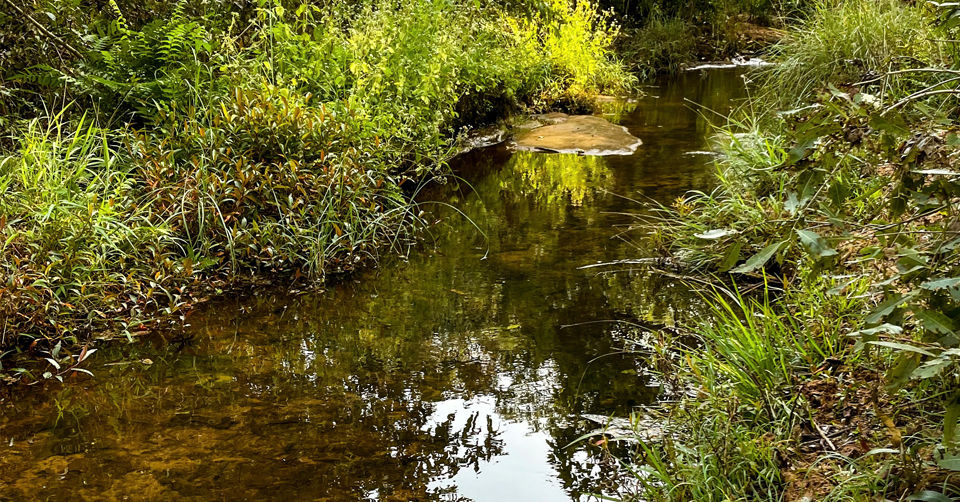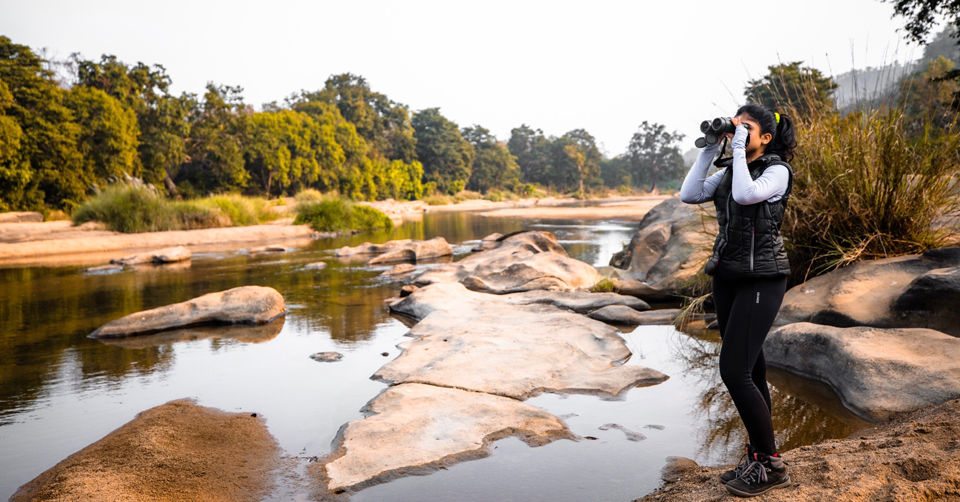 ⎯⎯
Chapter 4: The Wild Side
We walked for two more hours on a path with steep slopes, which wasn't a trail but a once-trodden path at best, amid rambling weeds and rocks slick with wet mud. One misstep and we could fall right into the belly of the valley!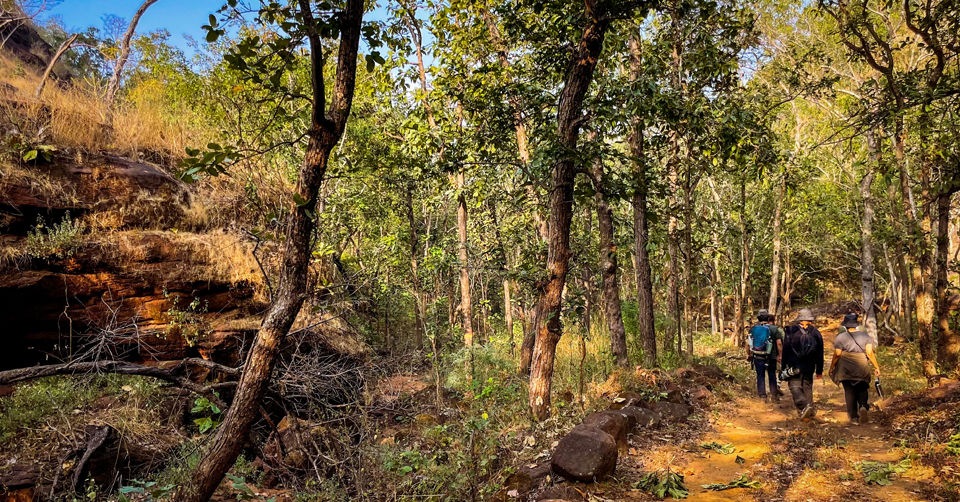 Harendraji, the funny man kept the trek momentum going and the atmosphere far from intense with his one-liners.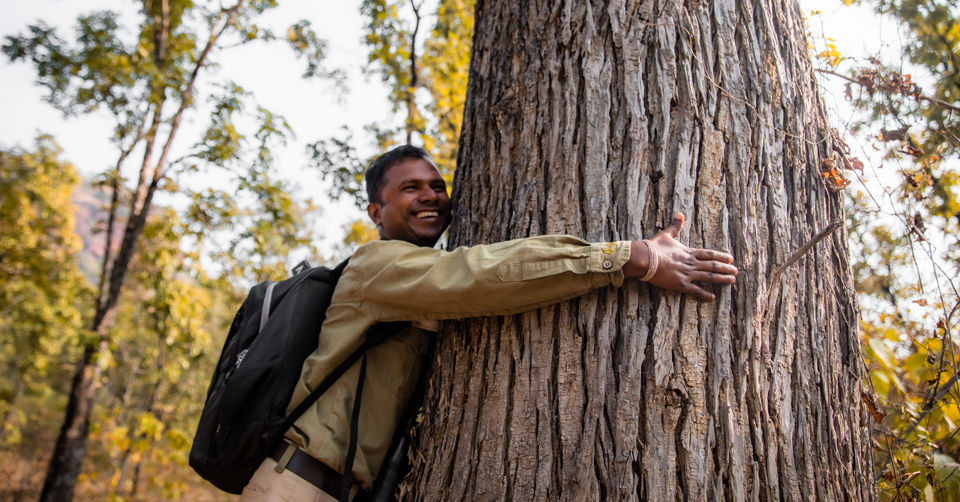 The more we walked, the more we realised that this wasn't about keeping eyes peeled for the tiger, but being attentive to every sigh and secret of this wilderness. "Hiking is also a good way to patrol the area so poachers remain at bay," says Vishnudeep.
We did not stop running into interesting forest finds!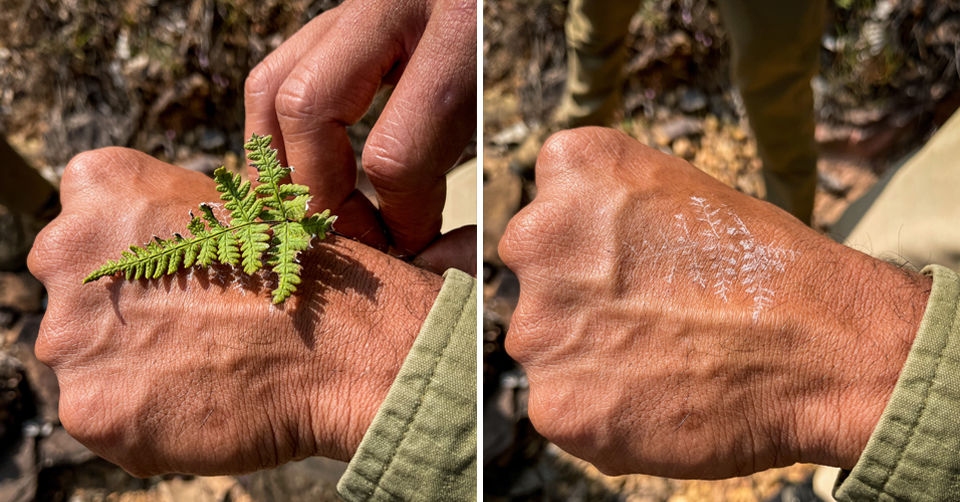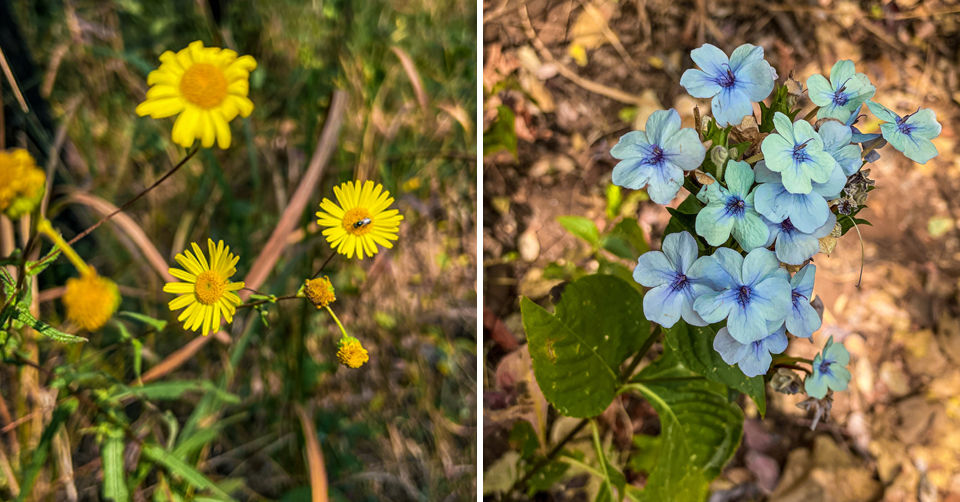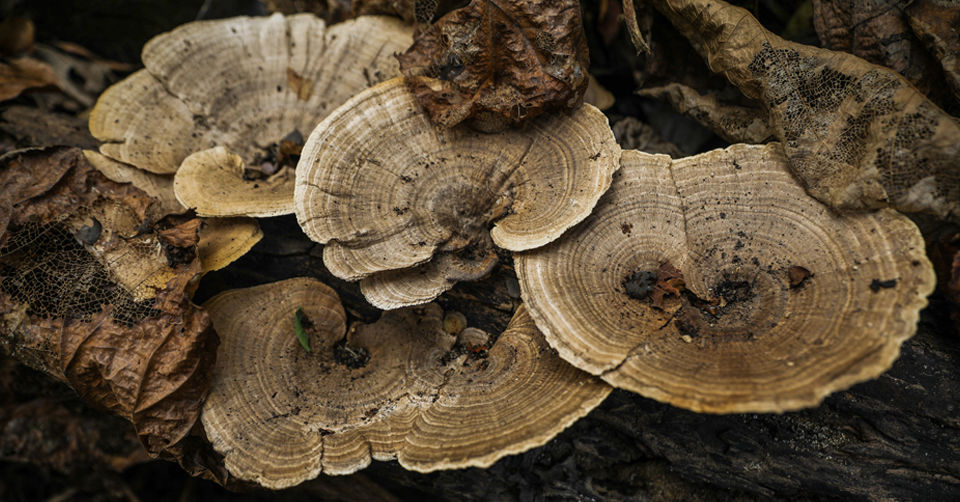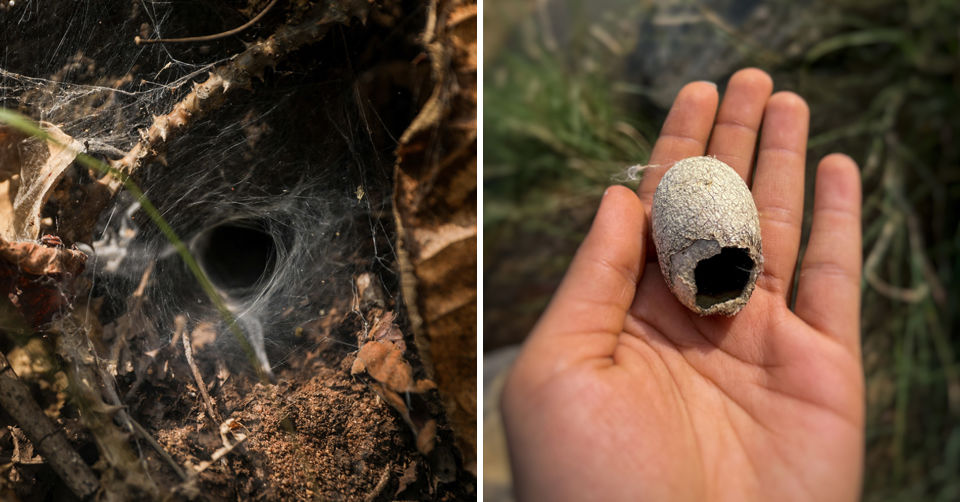 We particularly remember Sanjivani buti plant - a lithophytic plant that is native to India and is full of medicinal properties! This herb is mentioned in the Ramayana when Ravana's son, Indrajita, hurls a powerful weapon at Lakshmana.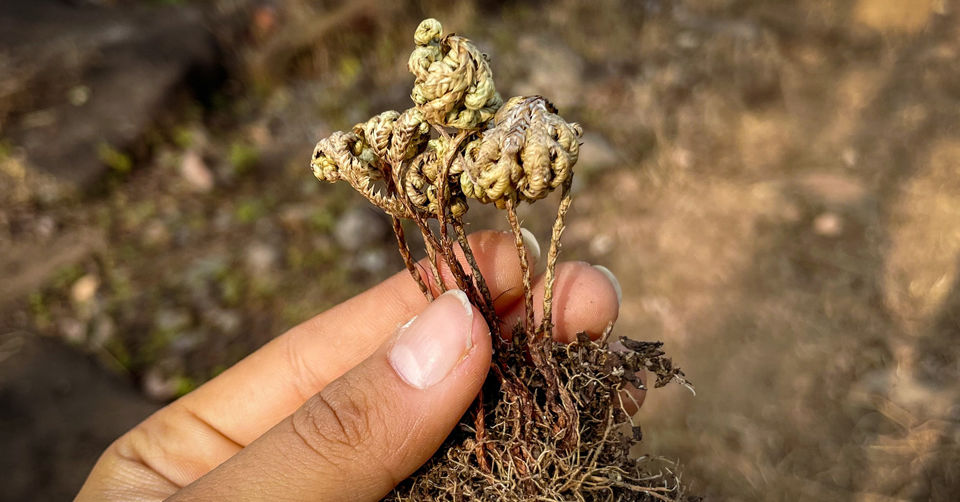 Madhya Pradesh is home to a lot of Arjun trees, gum trees an Indian ebony. And we particularly spotted gum flowing out of the scratch marks on gum trees. "The gum is usually used in the mixture of fire rituals," Vishnudeep informed us, while the strong smell from the wax felt so soothing!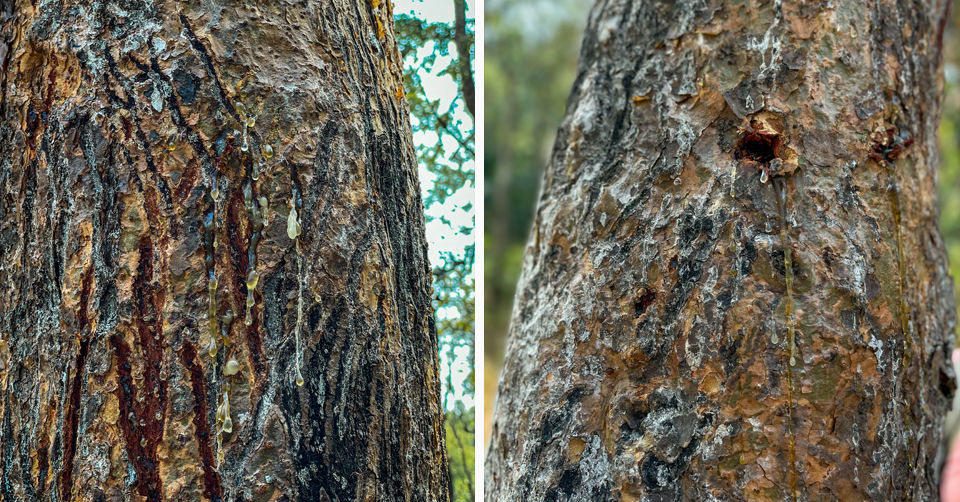 Soon after, we came across some animal scat.
"That belongs to a leopard", Harendraji informed us.
It is amusing how poop can be so important in tracking animals. You can tell how far the beast is, what he has eaten, if he is diseased, just by studying his excrement.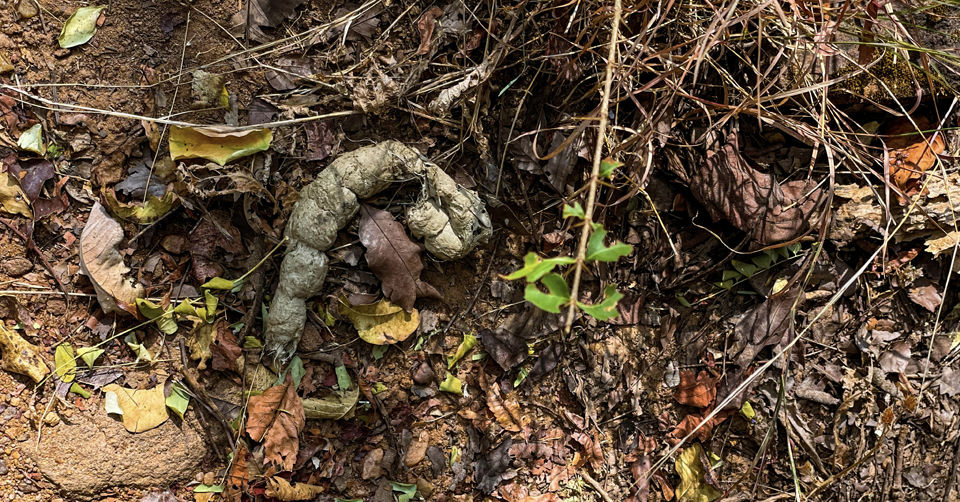 We hiked deep into the forest looking for exotic birds, variety of insects and bugs and getting to know more about the forest ways of life. Our sightings included deers, woodpeckers and the Indian giant squirrel. The hike is good for a lesson in botany and zoology. The Mahuva Tree, an Indian tropical tree found largely in the Central and North Indian plains and forests, can bring instant relief/cure to their ailments or misfortunes.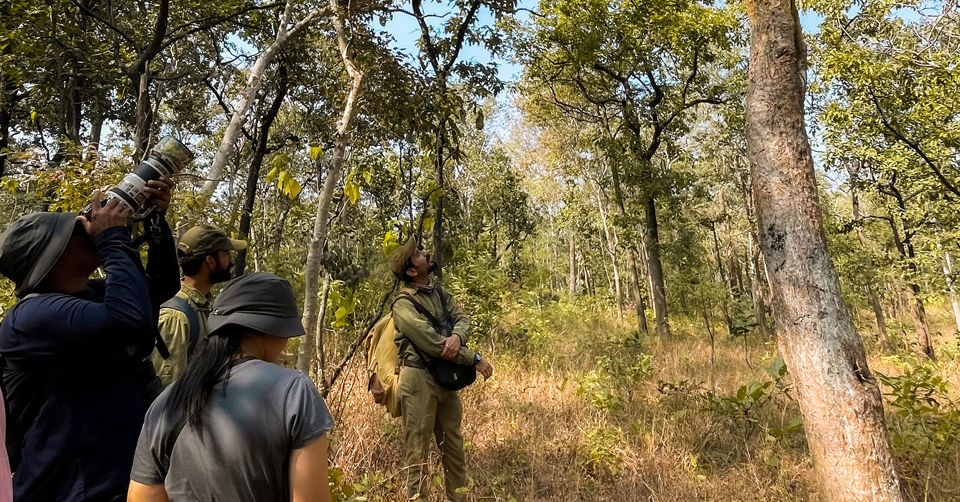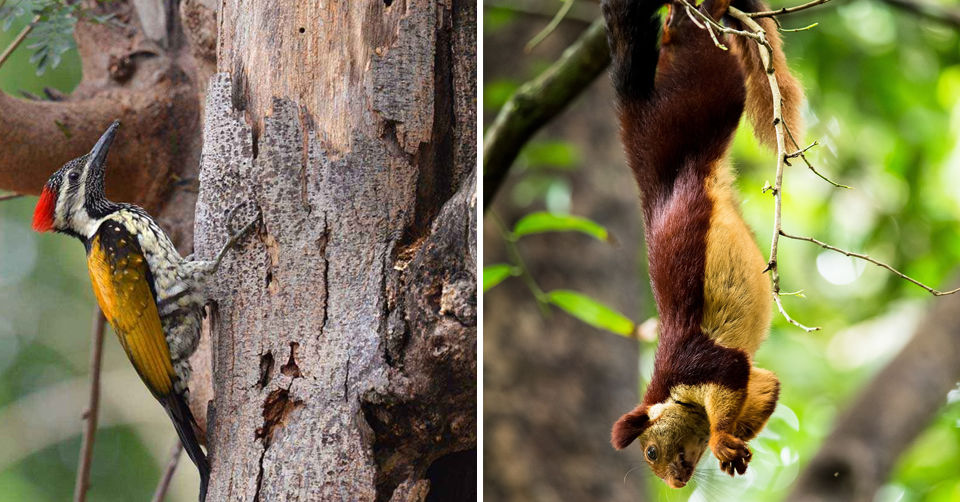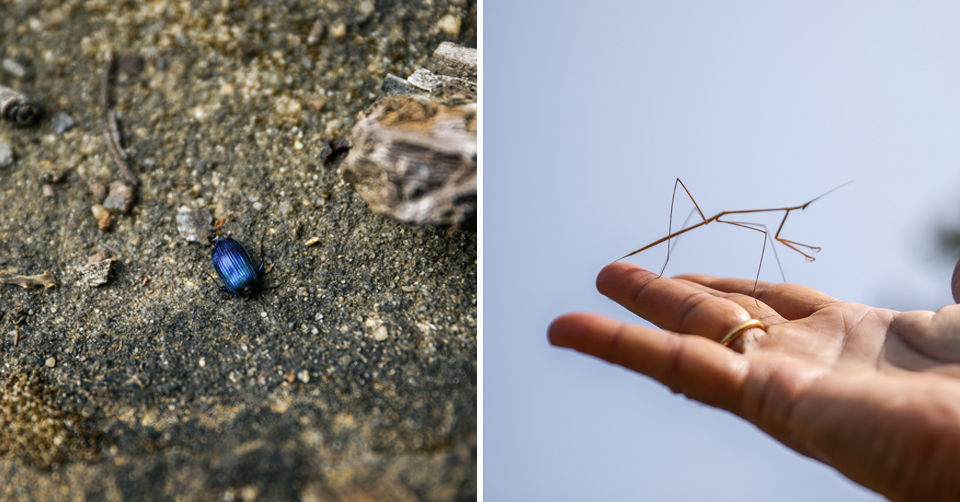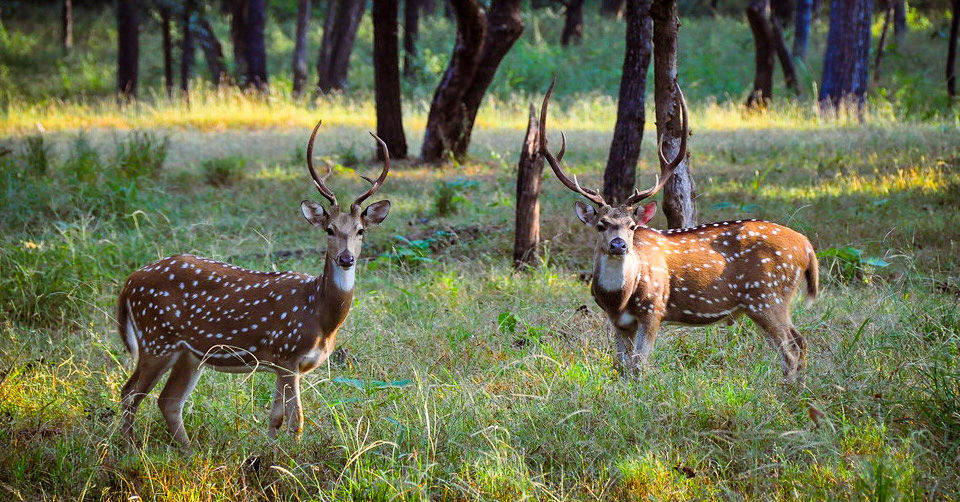 We even took a dip in the many gorges that we crossed on our way to cool off from the heat. The terrain alternated from crossing rivers to well marked trails to climbing rocks.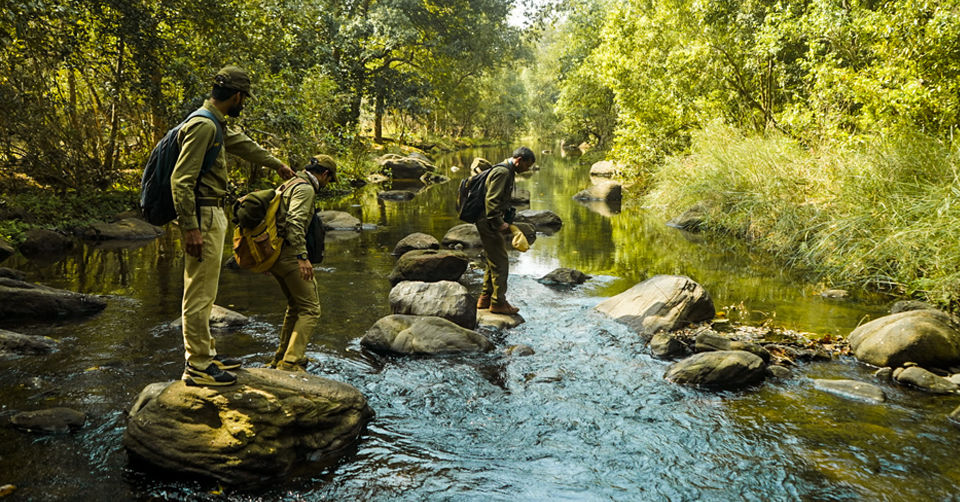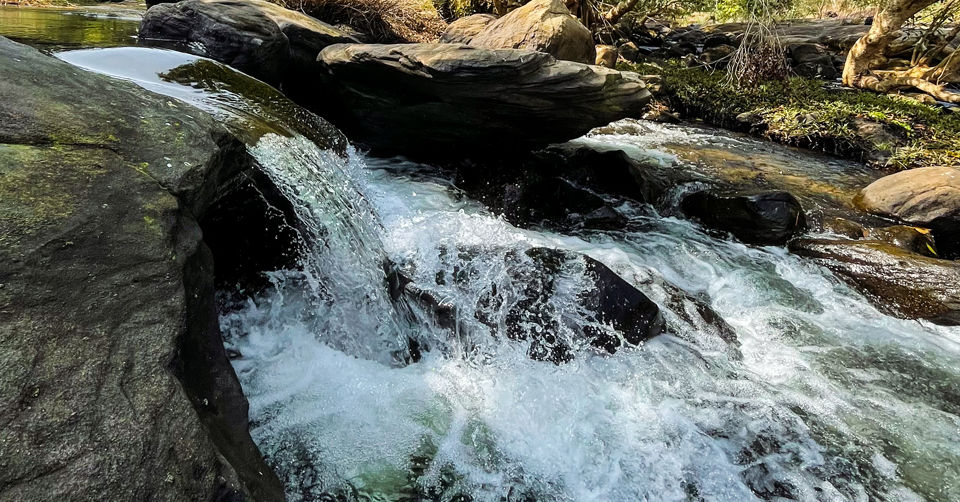 ⎯⎯
Chapter 5: Mobile Camp 1- Luxury Camping With Creature Comforts
📍Dahelia (490 mt)
As the evening wore on, we drew closer to our first mobile campsite at Dahelia across the River Denwa which runs along this trail for a major part of the walk. It would be an understatement to say the backdrop was stunning! We had a solid chunk of the Sahyadris looking over us, and columns of mahua trees to cordon off the rest of the forest. We were thrilled and hoped to encounter at least a leopard at night.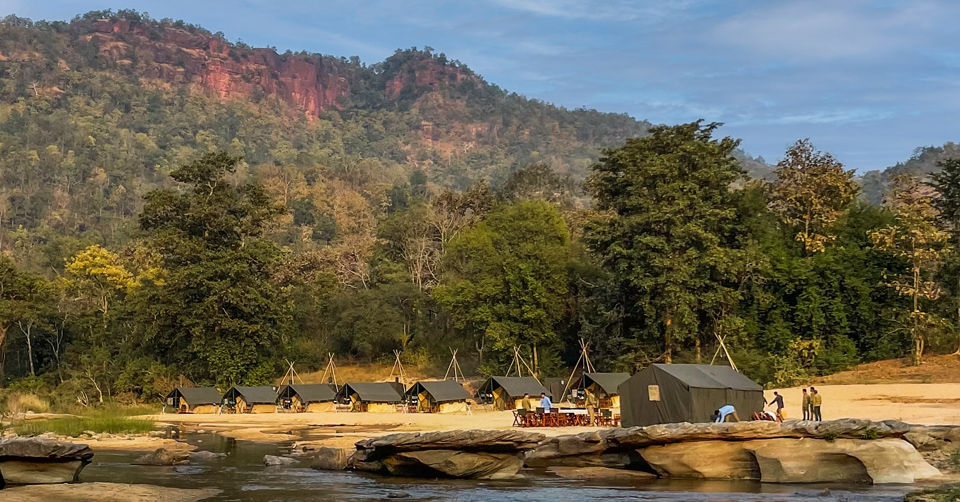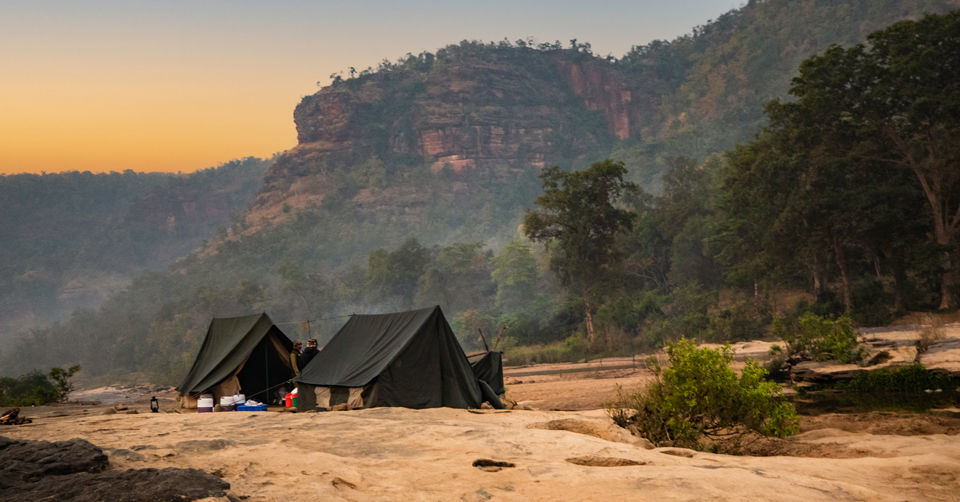 Luxury camping has caught on in India in a significant way. The mobile camping setup was out of the ordinary!
Rohit Patle, the Manager of the campsite and his team from Pugdundee Safaris were already waiting for us when we crossed our final river to the elegantly set up tents. We were welcomed with some cold towels and lemonade as we entered the campsite, followed with some refreshing lemon juice, tea and cookies.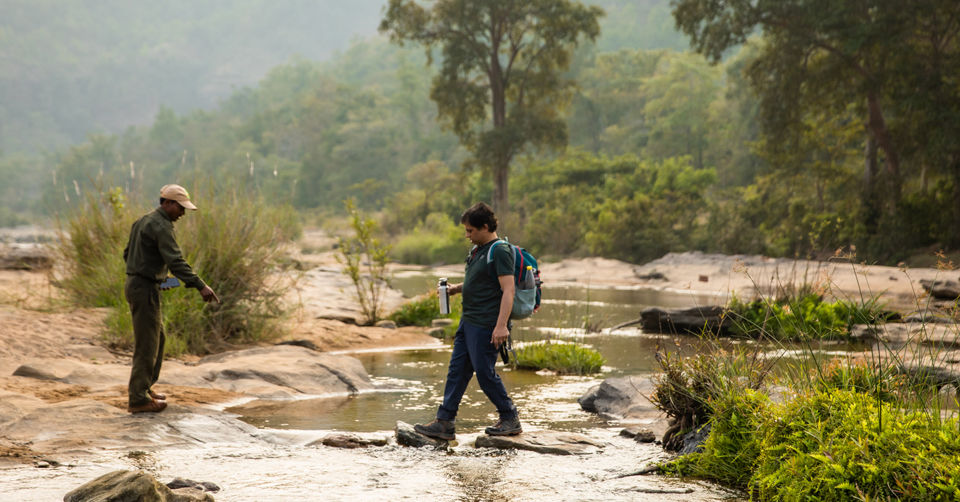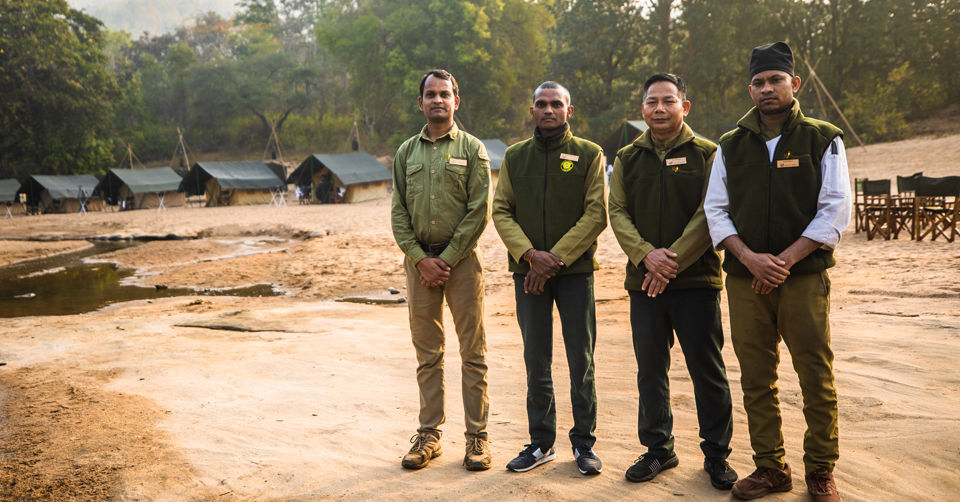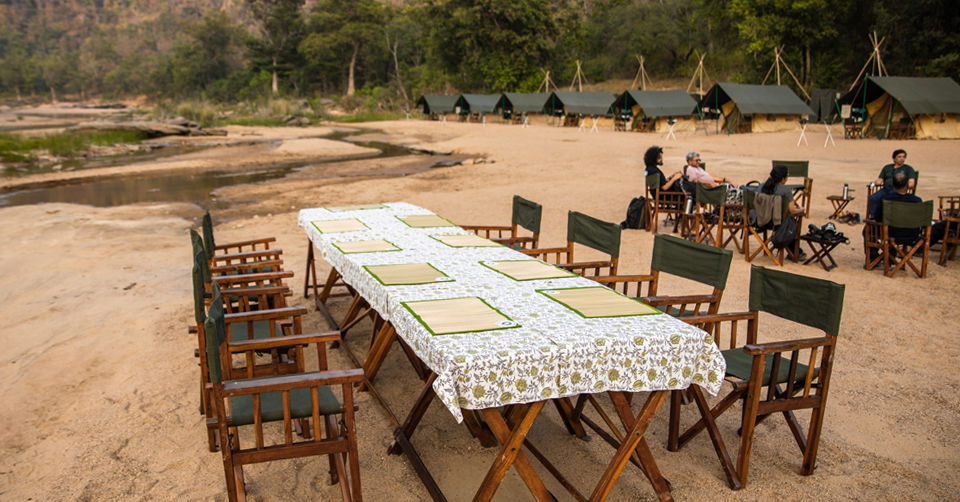 Neatly put up next to a stream, our safari tents had most creature comforts one does not expect in the wild - wrought iron cots with cozy bedding with crisp linens, canvas-sinks with hot water to wash our face, and private WC and shower tents for each sleeping tent!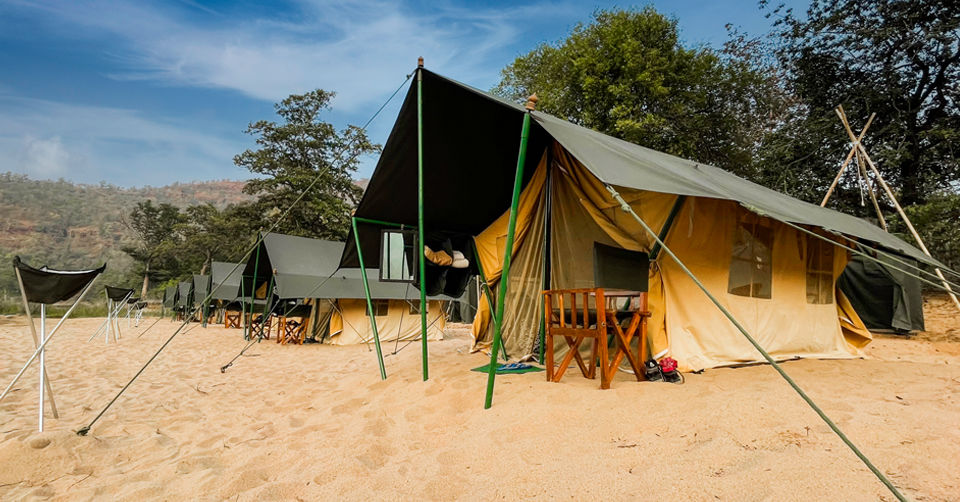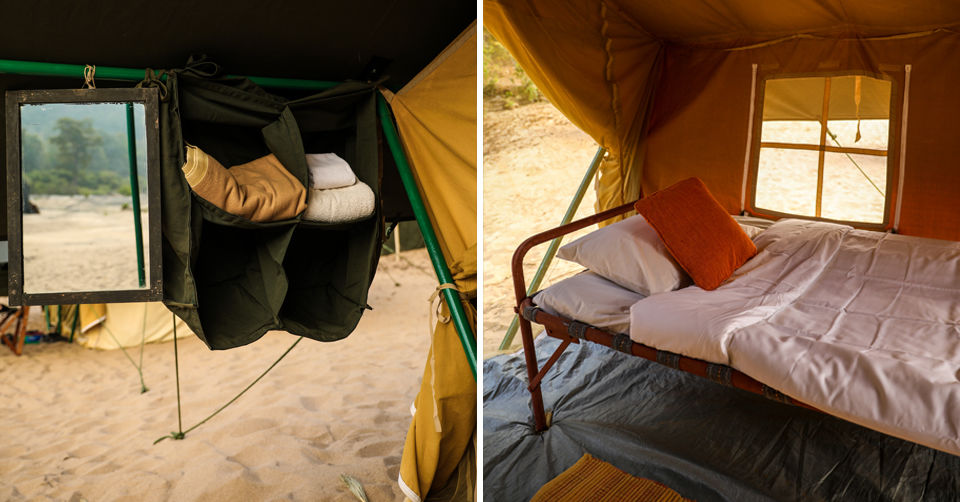 It is not difficult to see how hard the staff works to make our camping experience luxurious. Most of them are tribals from nearby villages to earn a livelihood.
After a long day of marching through the highlands, it's more than a luxury to have a hot shower in a cloth-covered bathroom in the middle of the forest under the stars!
The lever-operated shower bags were easily the most jaw-dropping piece of creature-comfort at the campsite. The bath tent will be prepared by the staff within minutes, with hot water in the shower bag which hangs above and is hauled up by a pulley. There's a little knob you twist to control the force of the water. The pleasure at being able to shower under the stars was immeasurable and wouldn't trade this for all bathtubs at 5-star properties!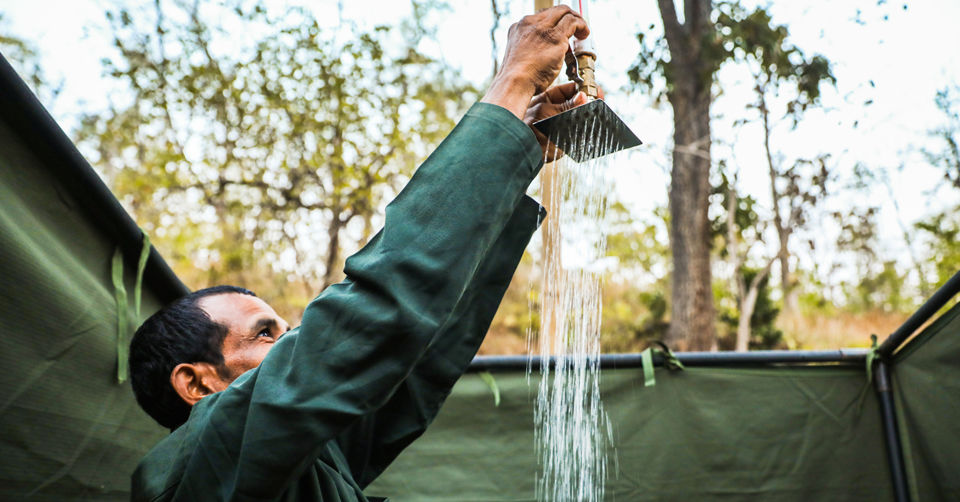 ⎯⎯
Chapter 6: Barbeque And Campfire
No camping experience is complete without barbecued delicacies enjoyed around a campfire.
Lanterns were placed along the campsite like fairy lights. After we showered and got dressed for dinner, we were handed hot towels (it gets chilly after sunset) before some roasted treats were served along with our choice of drinks.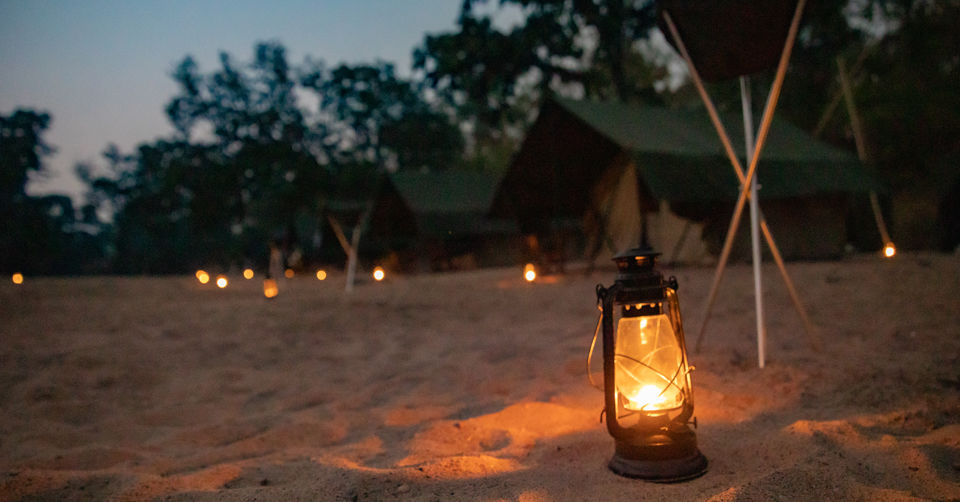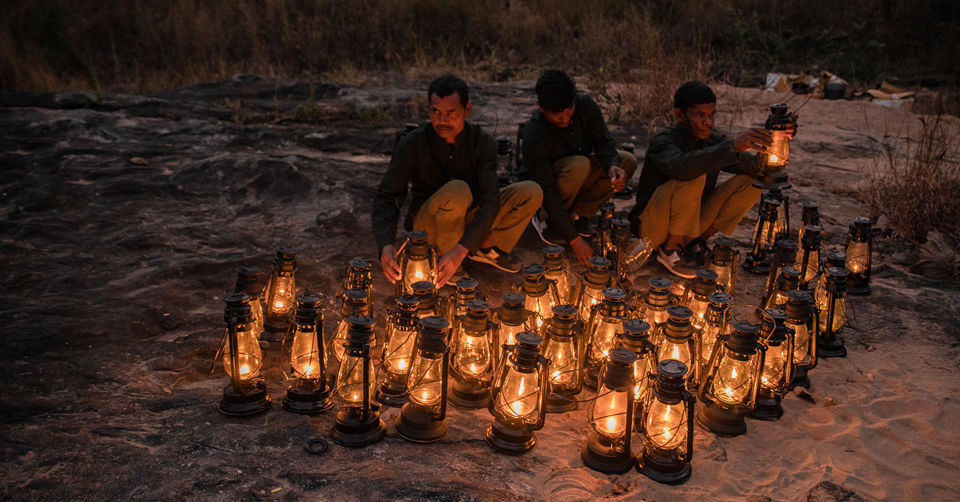 A bonfire sputtered to life, frogs croaked throatily over the concert of cicadas, and the aromas of seekh kebab and peppery potato eddied in the air.
We chatted for hours next to the fire before moving on to the dining table for the 3-course meal of soup, mains and dessert. The meals laid out, were thoroughly appetising. Ghevar (a traditional sweet) being served in the middle of the jungle, was the highlight of the night and couldn't have asked for anything more!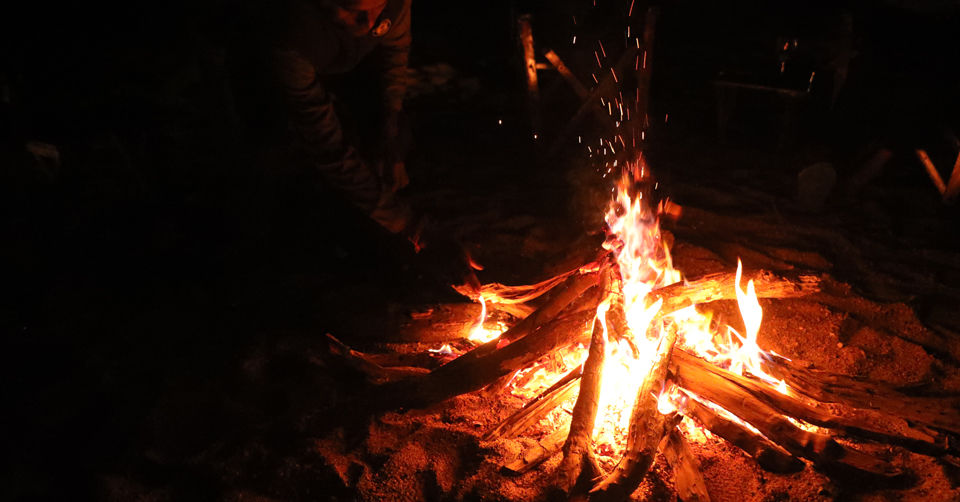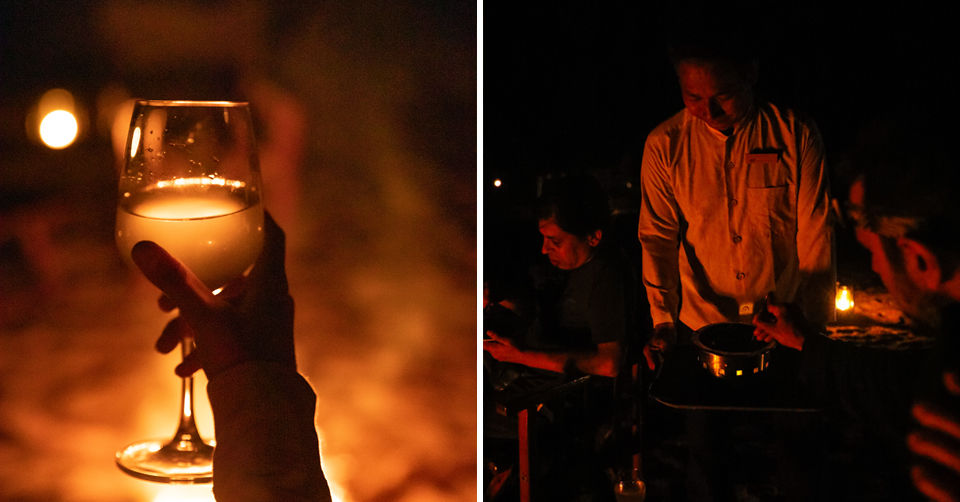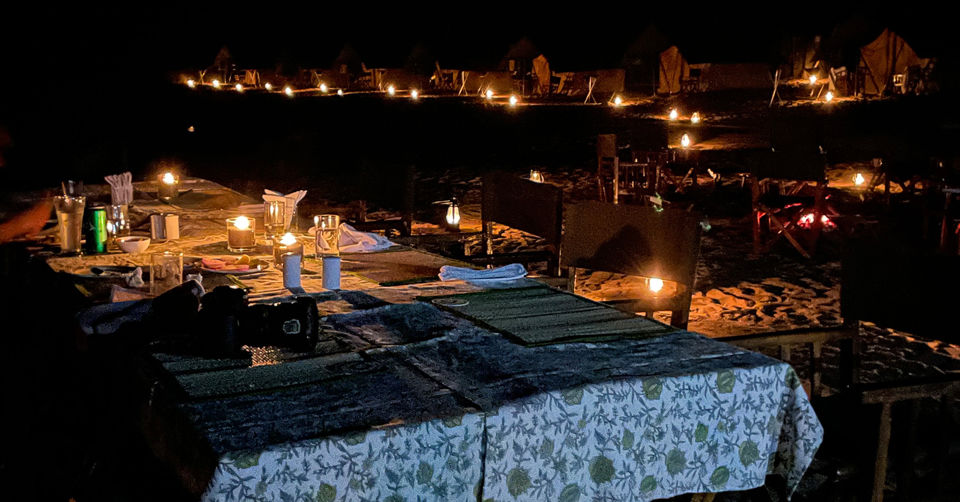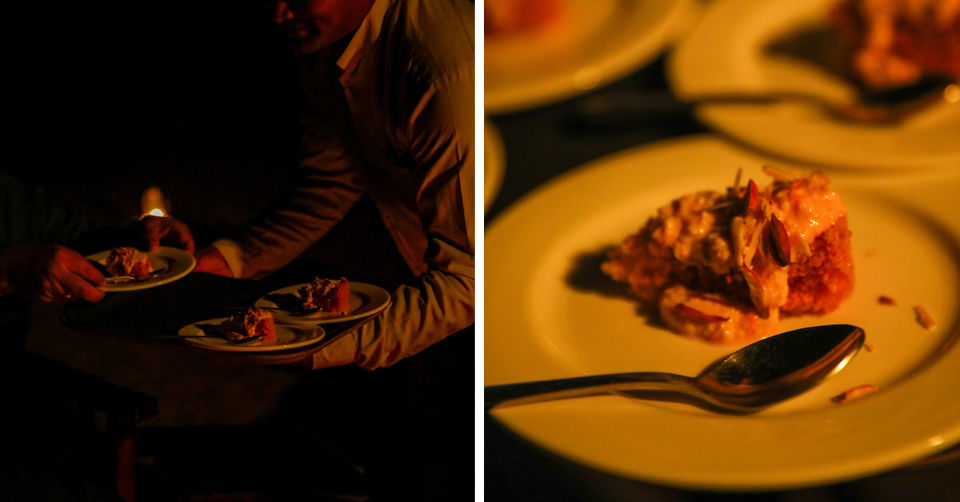 We couldn't stop grinning every time we looked up at the stars blinking in the night sky like glittered confetti.
We had joked all through the day, but it was at night when the serious conversations began. Whether it was the chilly weather or the star-spangled sky or the enchantment of the wilderness, or simply, everything together, but we started talking about our lives, discussed safari experiences and the thrill of a safari vacation, with the unpredictability coupled with hope!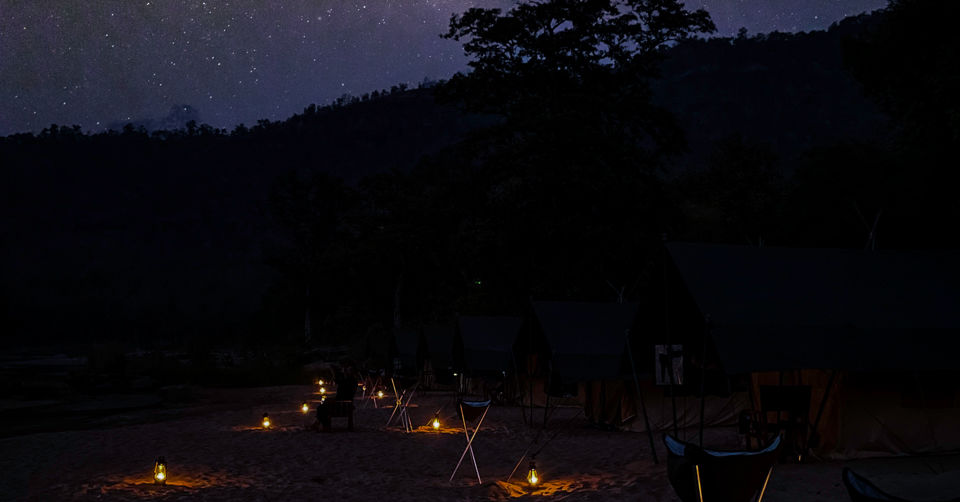 We retired early in our spacious tents where we were provided with hot water bag, to keep us warm during the night. Every detail was thought upon and the hospitality was impeccable in the middle of nowhere!
⎯⎯
Chapter 7: Walking Through Long Stretches Of Boulders
After a sumptuous breakfast, we started off the walk early the next day with a steep climb up to a ridge on which we walked; the views of the Denwa, our minuscule campsite far below and the forest covered gorge were breathtaking and worth the arduous walk.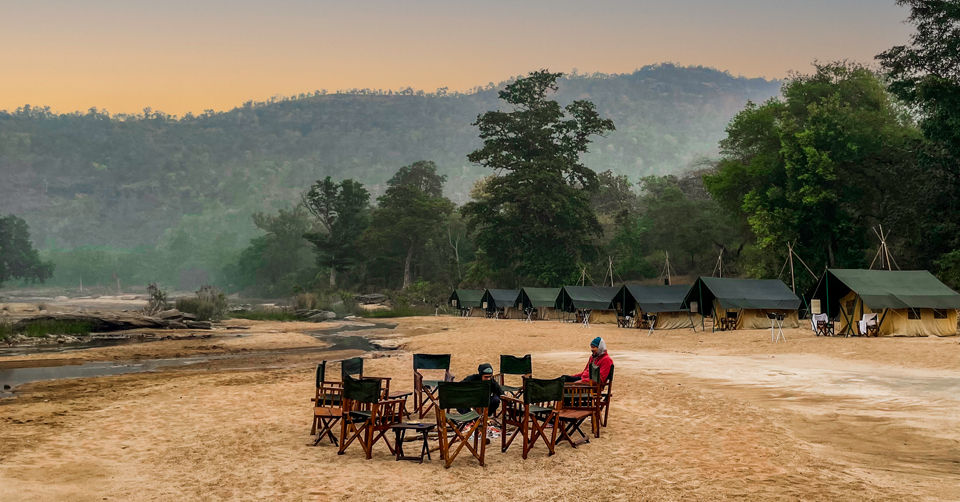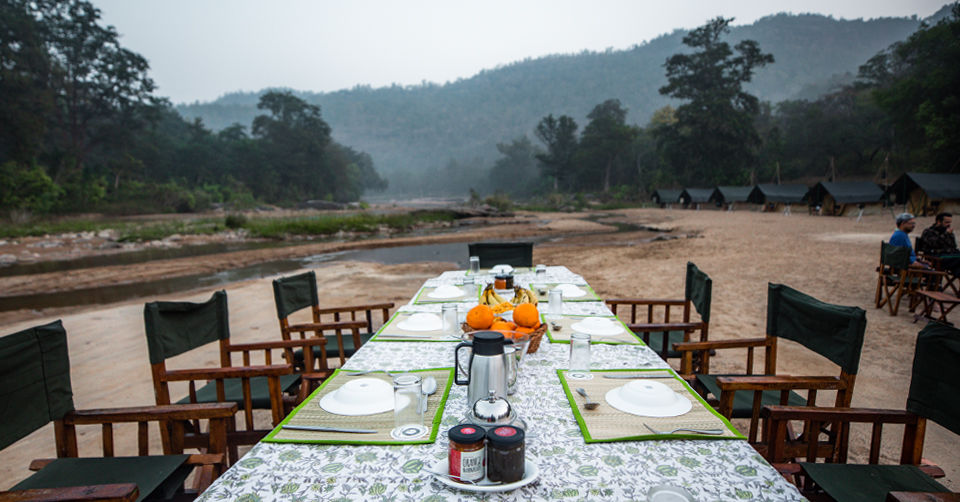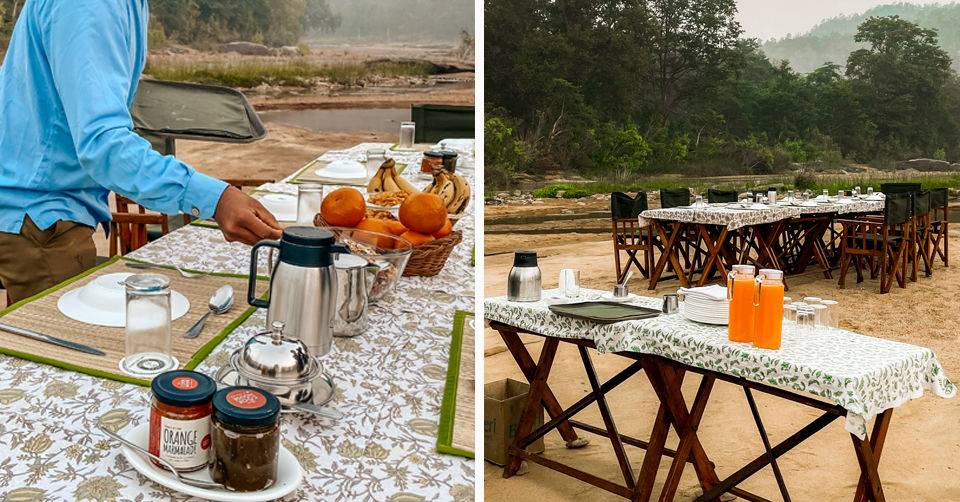 ⎯⎯
Chapter 8: Boulder Hopping
Today's topography was more interesting as we left behind the tall trees and passed through grasslands, which soon gave way to rill-washed white pebbles, and finally brought us to long stretches of boulders.
Along the ridge, we walked through acacia, Arjun trees, crocodile bark trees, and the occasional amla and tendu, or Indian ebony trees, a rock agama (type of lizard) blended perfectly with the surrounding moss, among other signs of the wild.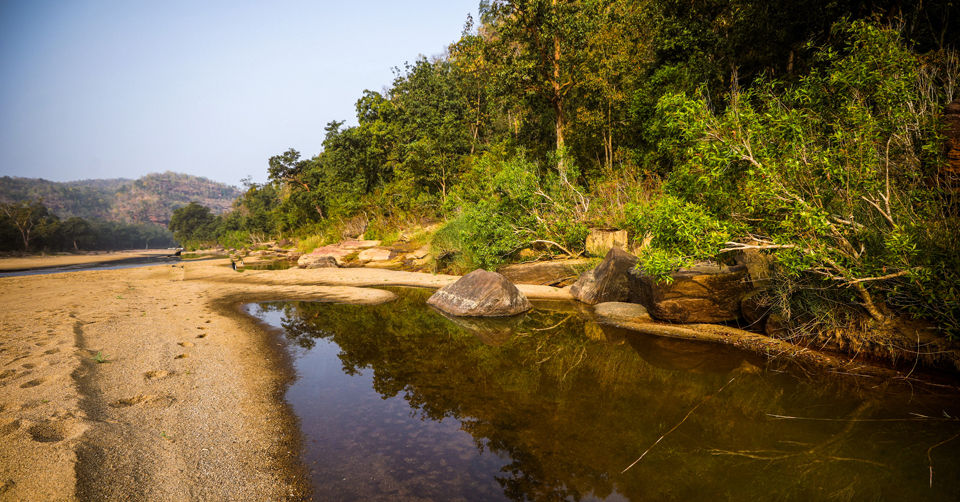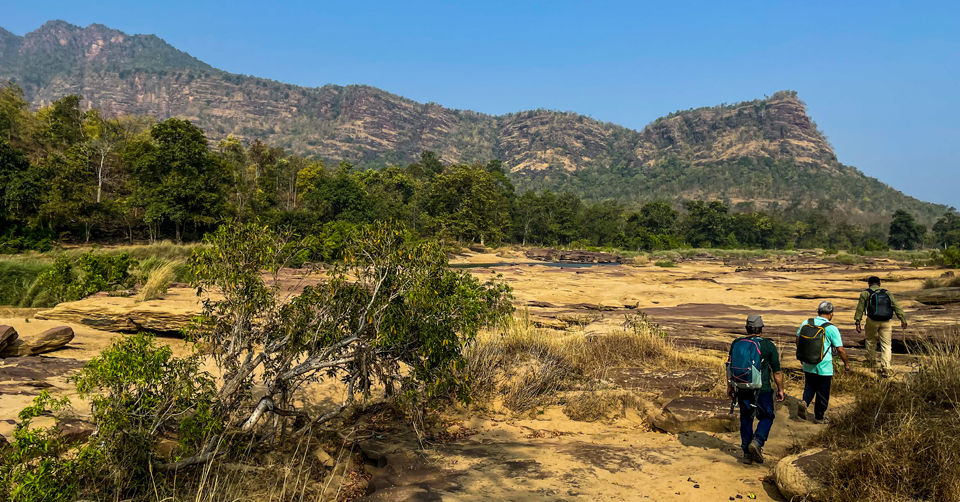 Fifteen kilometres of rocks that put up a fight as we crossed them, with miles of stunning pink and purple sedimentary rock that looked like swirling waves frozen in stone.
A terrain full of boulders is a bit tricky to navigate through. Your pace reduces drastically as you have to climb up and jump down each gibber stone. Some of the boulders require you to be on all fours while you pull your body up, and a little upper body strength helps. Don't worry too much about fitness, however.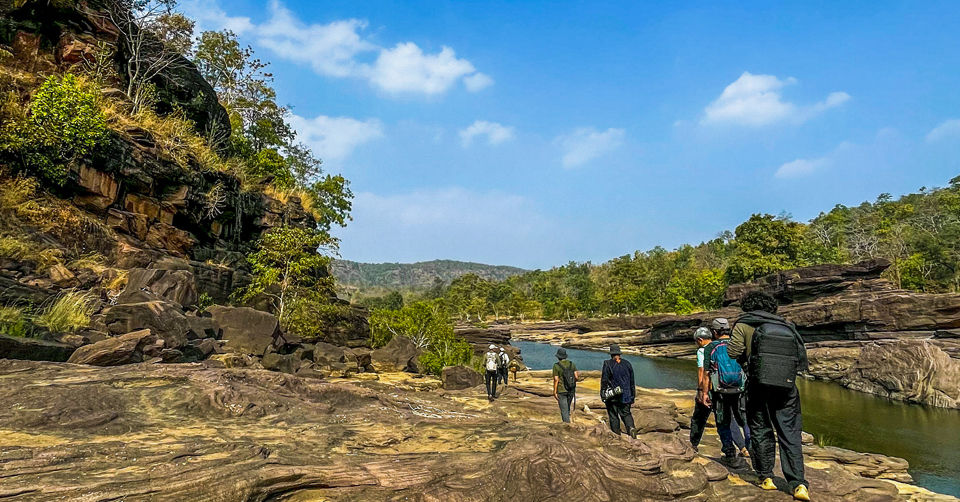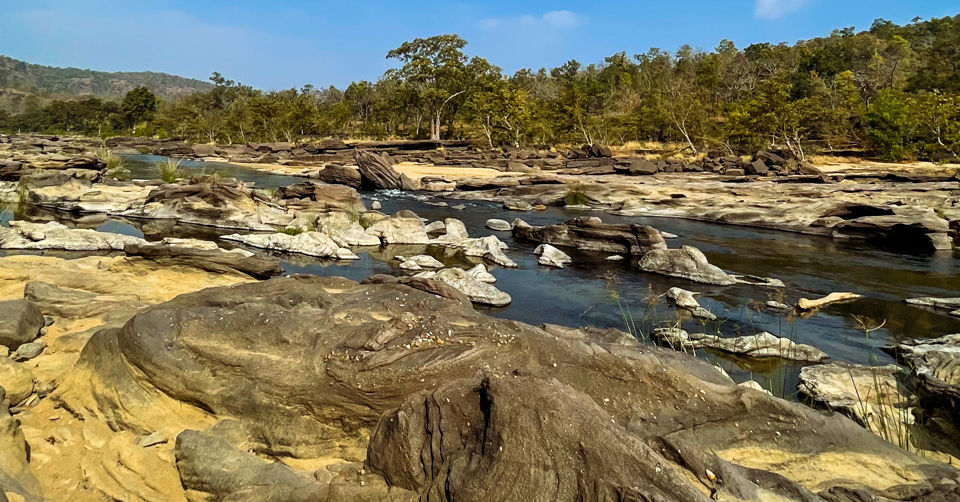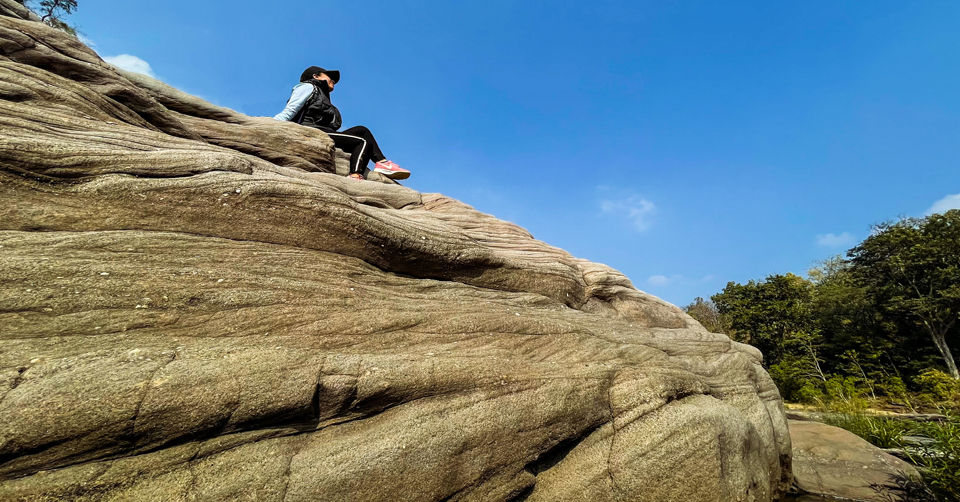 For birding enthusiasts, Satpura is a goldmine!
Keep your ears trained to the sounds of the forest, and you will hear bird-calls from a plethora of avifauna. Close to the streams, it is common to spot kingfishers dive down to catch fishes.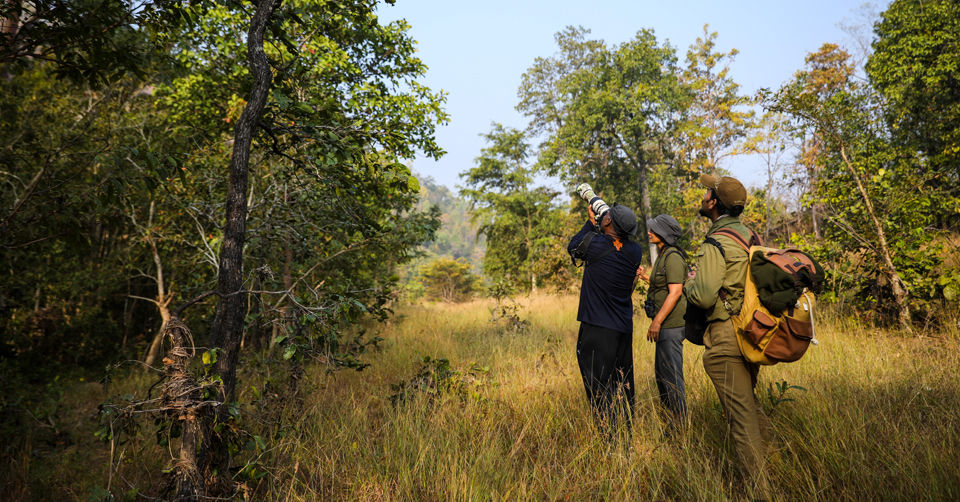 ⎯⎯
Chapter 9: Lunch Spot- Picnic In The Forest
📍Jhela Village (470 mt)
After a 3 hour walk, we reached Jhela village where piping hot lunch was waiting for us under the shade of Arjun tree. The staff had reached there before us from the previous camp to make lunch arrangements. Papaya salad, rice & dal were served after which everyone rested for sometime in the cold breeze.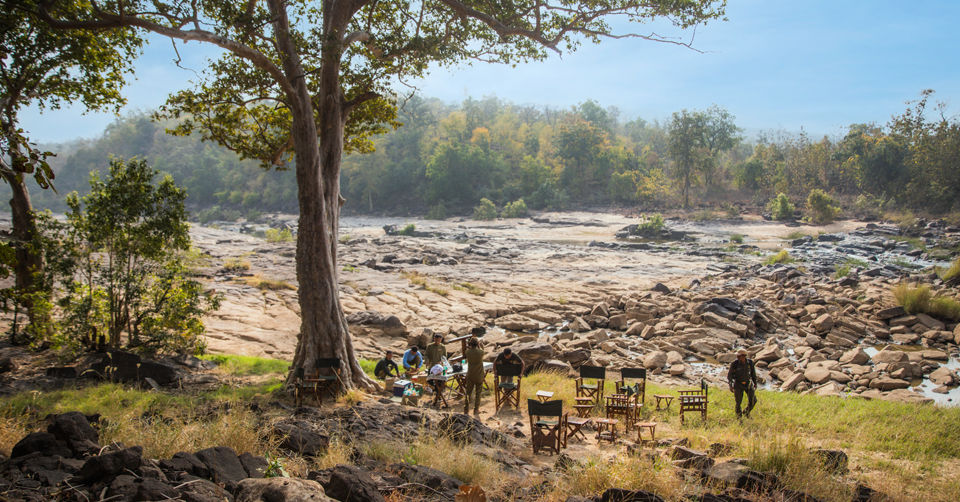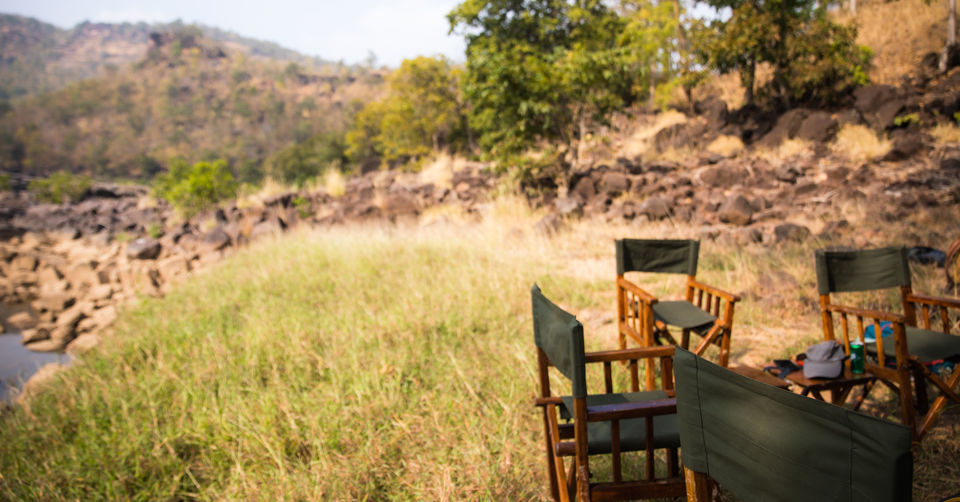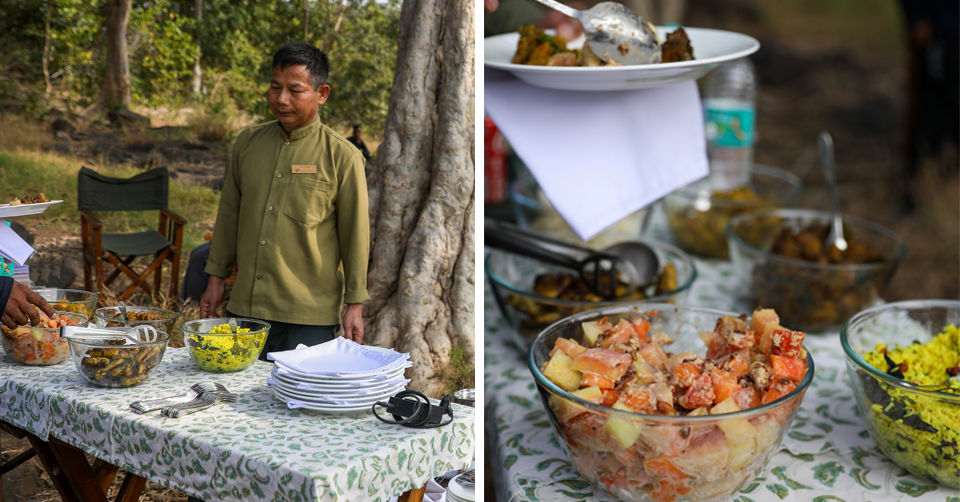 During our post lunch walk, we descended again into the valley, to walk along the riverbed where we found fresh pug marks of a female tiger. Harendraji bends over them to teach us how to tell apart male and female big cats with their paw prints. We then heard a leopard call and traced fresh pug marks of female leopard, and waited near a water body and big rocks. After a long wait, the ahead of us saw a glimpse of the leopard! We knew we had missed the leopard and began walking to the camp.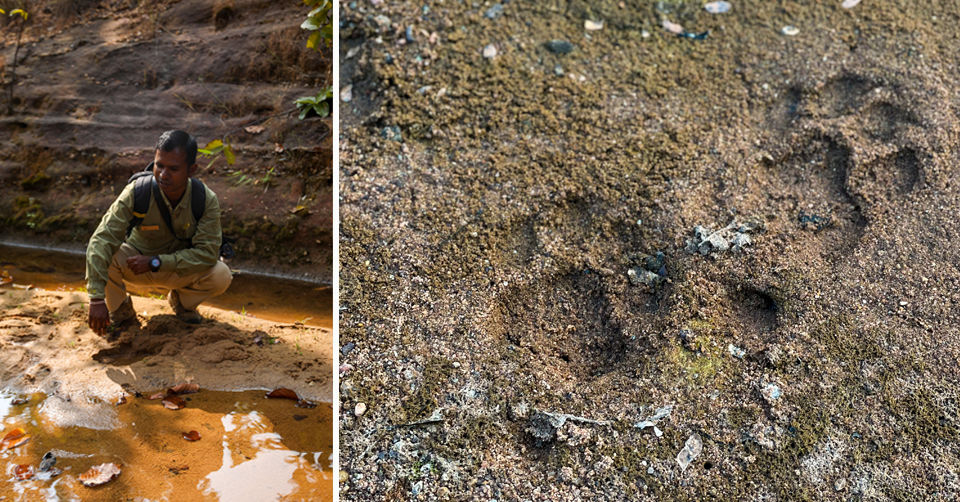 ⎯⎯
Chapter 10: Mobile Camp 2- Picturesque Camping
📍Manakachar (430 mt)
After a day full of startling discoveries, and a 3 hour walk post lunch, during the beautiful sunset, we retired at our second mobile campsite at Manakachar located beautifully between the forest with a small stream.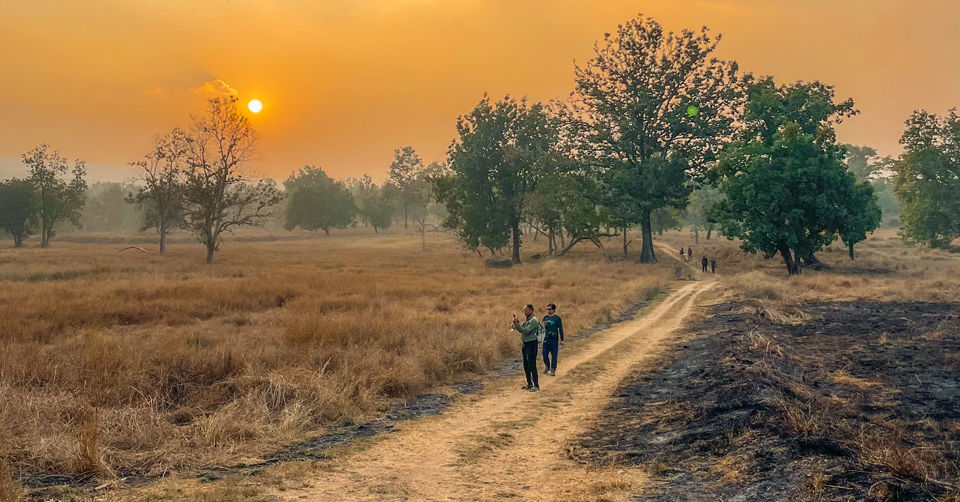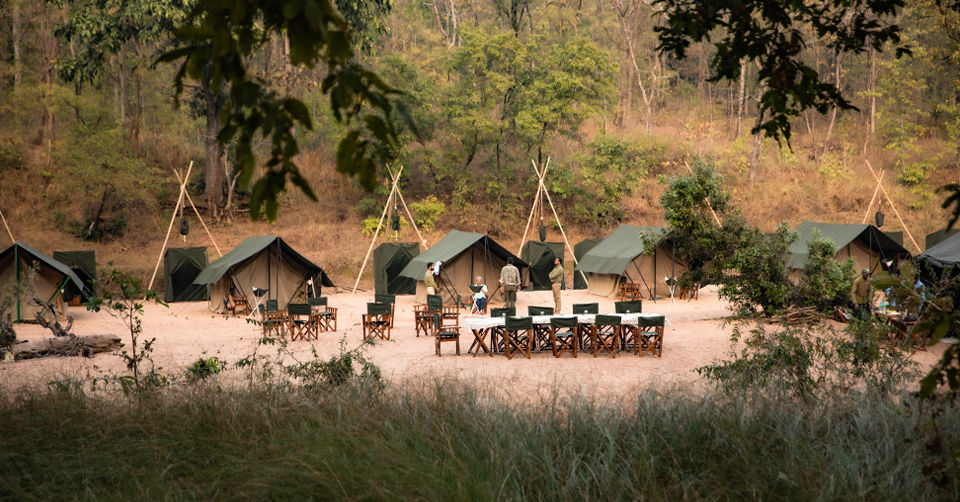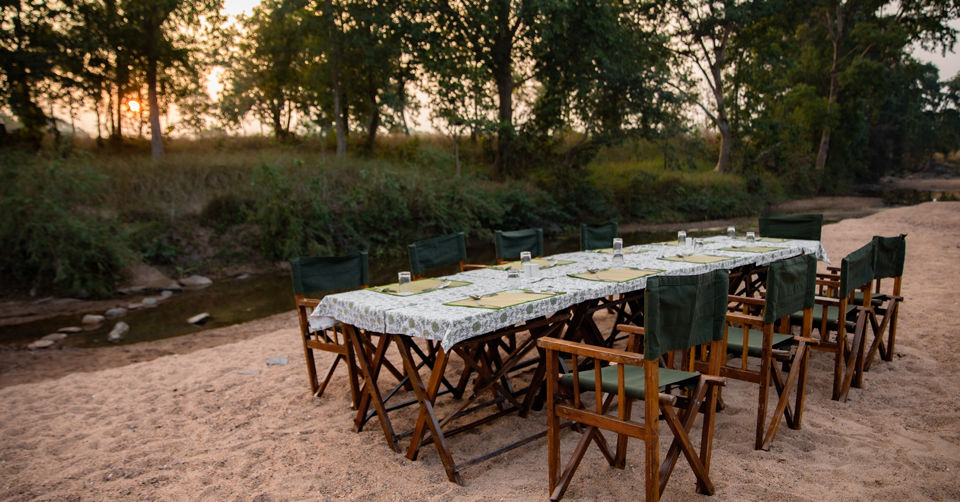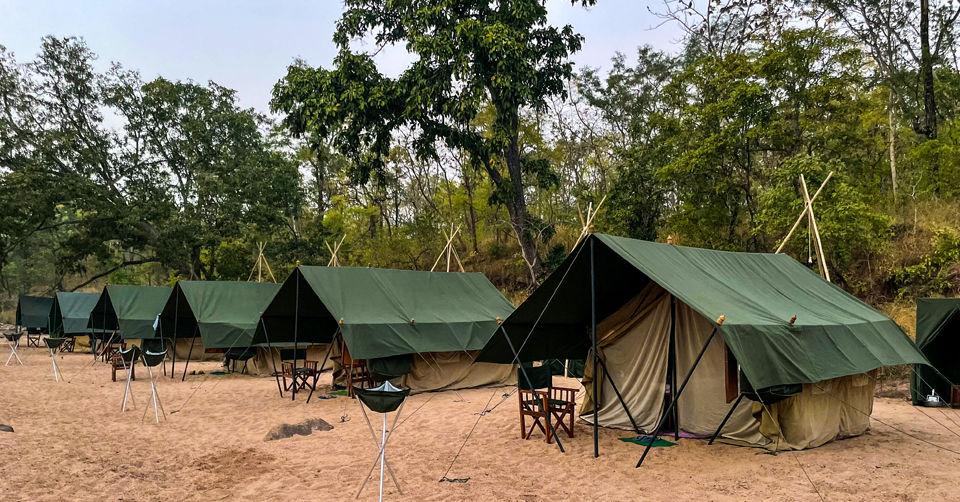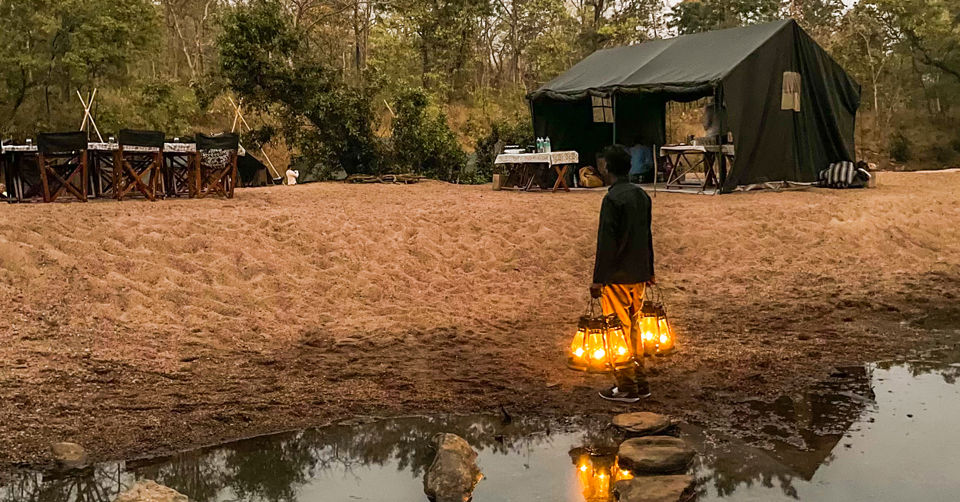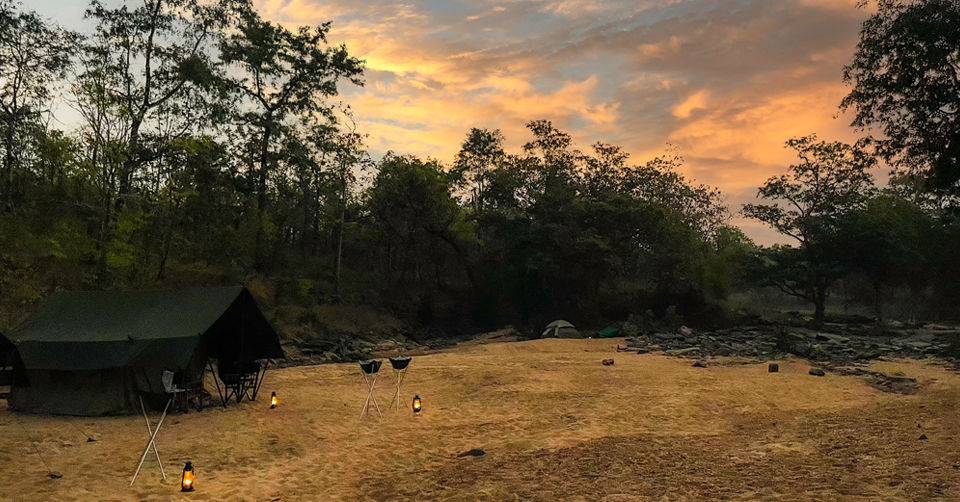 Later that night, we huddled around the bonfire for one last time. We weren't just co-travellers; we trusted each other. We hauled each other up every time someone froze among massive boulders and steep cliffs. We spoke about our safari experiences, lost loves, and healing hearts until we ran out of wood for the fire. We were vastly different people, but tonight in this forest we explored together, we had the same stories!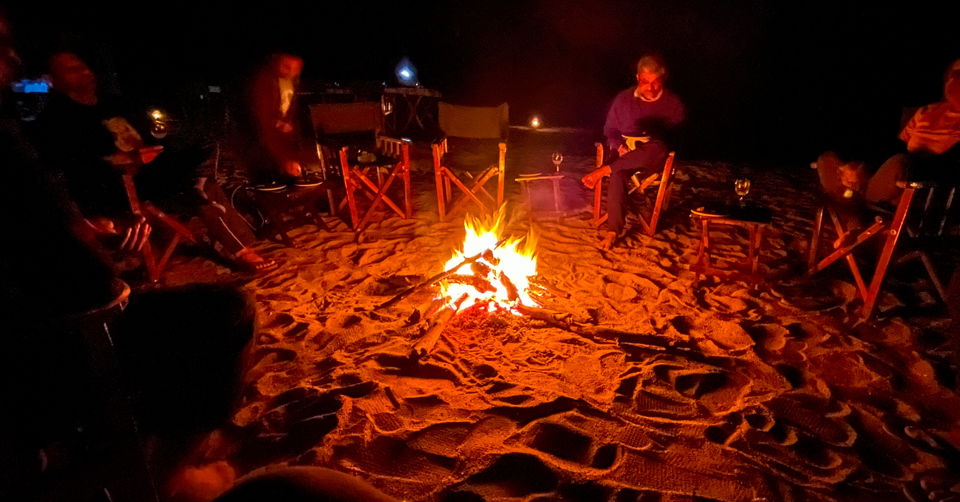 Chapter 11: Goodbyes
Our final day inside Satpura's Tiger Reserve was a quick one. We walked at a leisurely pace for an hour after breakfast to reach the main road where our vehicle waited to take us back to Denwa Backwater Escape Satpura.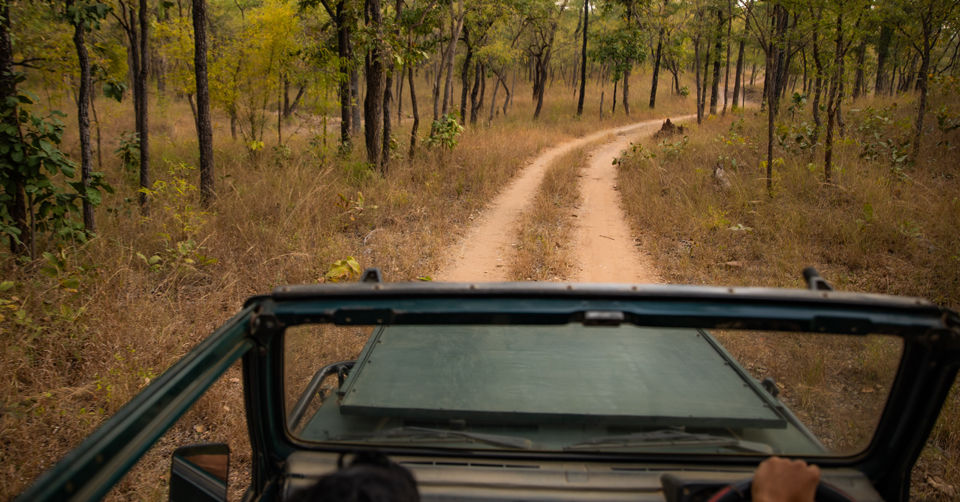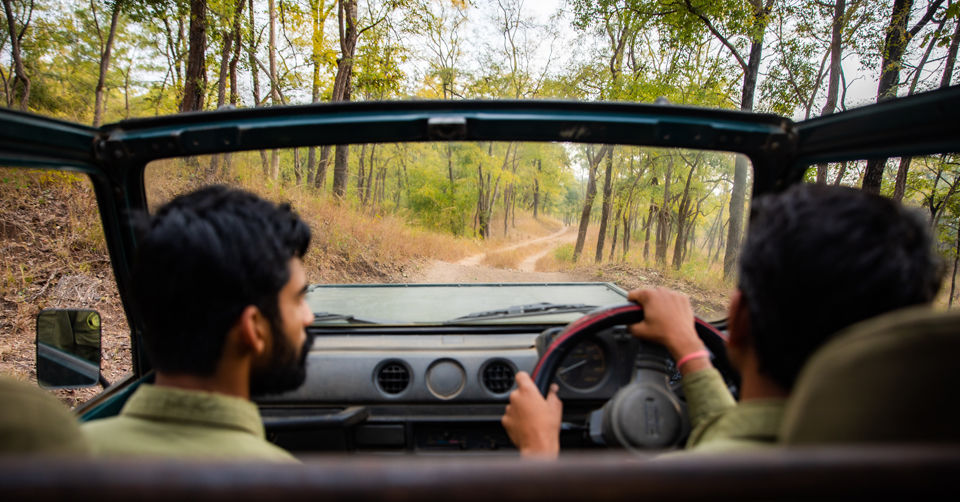 Chapter 12: Memories To Last A Lifetime!
Check out after breakfast at Denwa Backwater Escape and depart for airport/railway station with memories that will last a life time.
⎯⎯
Distance To Be Covered On Foot
Approximately 34 kms in 2 days.
⎯⎯
Things To Keep In Mind
Luxury camping can often lead us to believe everything is at our beck and call. But we must remember that nature does not listen to man. Keep your expectations realistic when you do a walking safari.
• You May Not Have Big Cat Sightings : Despite spending entire days inside the tiger reserve, we did not see a tiger, except their pugmarks. Leopards are common in Satpura, but they are very shy, so a lot depends on your luck! With sloth bears, you are better off without any spotting as an encounter can be deadly! They are reckless and their movements are unpredictable. They scratch anything that crosses their path.
• No Network Connectivity : There is no phone network connectivity except some limited connectivity at a few points during the walk. (Only Jio Network works)
⎯⎯
Fitness Level
You should have a basic level of agility and the ability to walk for 6 to 8 hours a day, with plenty of breaks for resting, snacking and answering nature's call (of course)!
⎯⎯
Things To Carry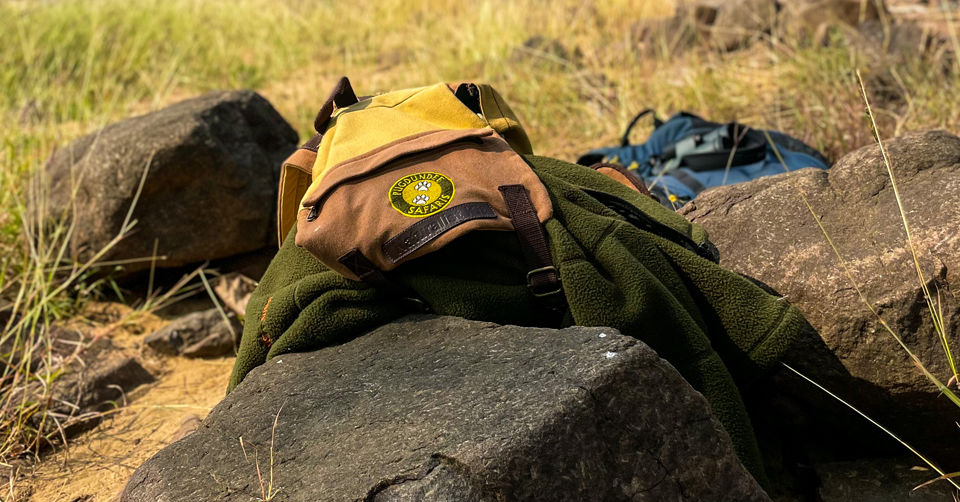 • This hike is under the sun, so wear full sleeved sweat-wicking shirts.
• Wear convertible trek-pants which can be used as shorts during stream-crossings. Otherwise, any quick-dry or sweat-wicking dry-fit pants are fine (as long as they don't stay damp and risk you catching a cold).
• Proper hiking shoes with ankle support is recommended.
• Carry your power bank and a good flashlight.
• Carry some sun-block and lip-balm which you can reapply from time to time.
• The team carries a first-aid box, but take your prescription meds and inhaler (if you have breathing disorders).
⎯⎯
Tour Cost (for 5D-4N)
• Based on twin share – INR 58000/- per person
• Single room supplement – INR 29000/- (over and above the price based on twin share i.e. INR 87000 total using a single room)
This luxury mobile camping experience price includes all meals, accommodation at Denwa and mobile camps, entry fee to the national park and naturalist-expertise, jeep/car transfers from lodge to pick up point for walking safari The walking safari can be customised as per your pace and comfort to be extended to more days.
⎯⎯
Contact
Pugdundee Safaris
📞 : +91-11-40146400, +91-11-40132103
Instagram: @pugdundeesafaris
📩 : enquiry@pugdundeesafaris.com, sales@pugdundeesafaris.com, reservation@pugdundeesafaris.com
Book Here
For more information on booking and packages, Click Here.
By far the quietest and least-frequented park with easy access, Satpura Tiger Reserve should be on every wildlife lover's list. Walking safari and camping here, will reveal wondrous landscapes and a new perspective! It is the most thrilling way to experience incredible wildlife and scenery, as you are almost connected to nature.
For more travel stories, follow me on @tan_s07.
Picture Courtesy: @awkwardrajput, @yash_chokshi
Ready to travel for free? Earn credits and redeem them on Tripoto's weekend getaways, hotel stays and vacation packages!