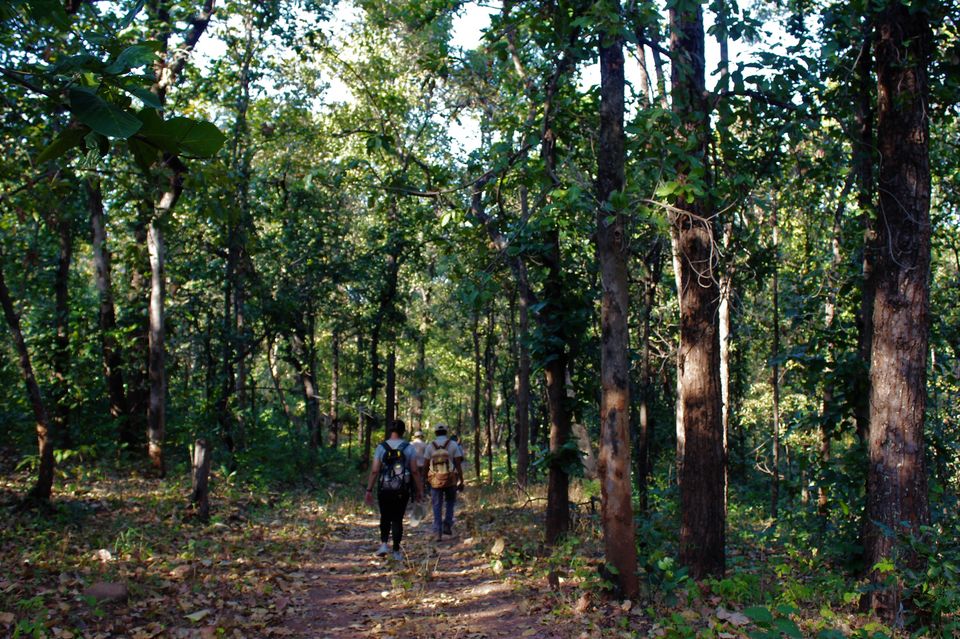 I first learned about Forsyth's trail on Valentine's Day. I was told that any serious lover of the wild has to experience this walking safari through the Satpura National Park. I was still trembling in fear when I decided that if I had to lay my life down for a living being, I'd do it for a tiger (as humans had proved to be of little worth).
I undertook this journey in Central India with a safari company called Pugdundee Safaris. We were 8 hikers in all, including a forest guard from Madhya Pradesh Tourism. On the first day, we drove for 2 hours from our wildlife resort (Denwa Backwater Escape) to the village of Pipariya - the starting point of the safari.
What Is The Forsyth Trail?
Before I continue with my account, let me tell you the story behind the name of this trekking path. Over 150 years ago, a British traveler named James Forsyth explored the central states of India. While in Satpura, he took a route through the core tiger zone. Today, this path is known as the 'Forsyth trail', and is commonly retraced by wildlife enthusiasts who wish to experience the forest intimately. This is a circular trail which involves crossing a couple of streams.
The first part of the trek is a 3-hour downhill walk through a landscape of tall sal trees. As the day wears on, the afternoon heat makes us hungry. Fortunately, we reach our lunch location just in time! Our wooden camping chairs and tables are elegantly set in a clearing in the forest, by a small stream in the village of Kanji Ghat. We indulge in some friendly banter over lunch, and after an hour's rest, begin our hike to the campsite.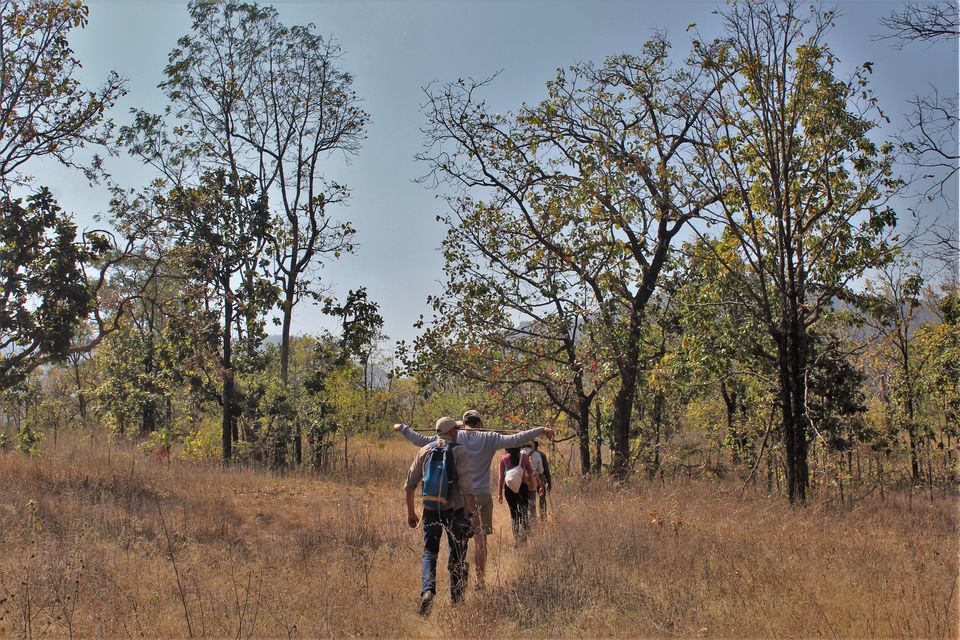 We walk for two more hours as our naturalist teaches us about various trees and their uses. Madhya Pradesh is home to a lot of Arjun trees, gum trees an Indian ebony. We also spot a variety of insects and bugs, the gum-tree shield being one. The hike is good for a lesson in botany and zoology, I think to myself as I watch a colony of termites progressively hack down a tree by making it hollow.
Reaching Our First Campsite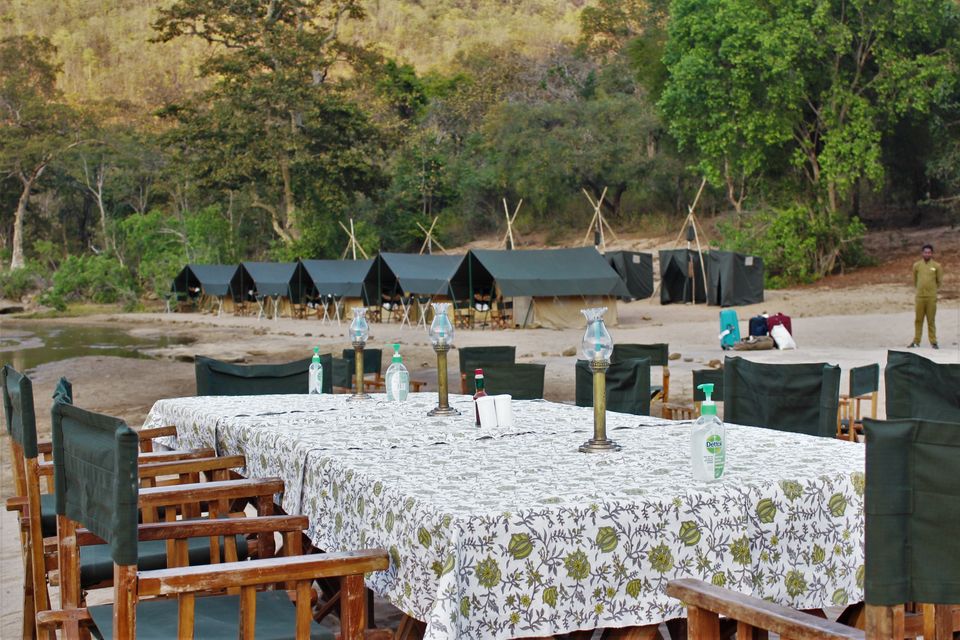 It was early evening when we reached Camp Bandhan - our first campsite. This mobile camping setup was out of the ordinary! Neatly put up next to a stream, our safari tents had most creature comforts one does not expect in the wild - wrought iron cots with cozy bedding, canvas-sinks with hot water to wash our face, even private WC and shower tents for each sleeping tent! It is not difficult to see how hard the staff works to make our camping experience luxurious. Most of the men are tribals from nearby villages who help out in these camps to earn a livelihood.
The Essence Of 'Glamping'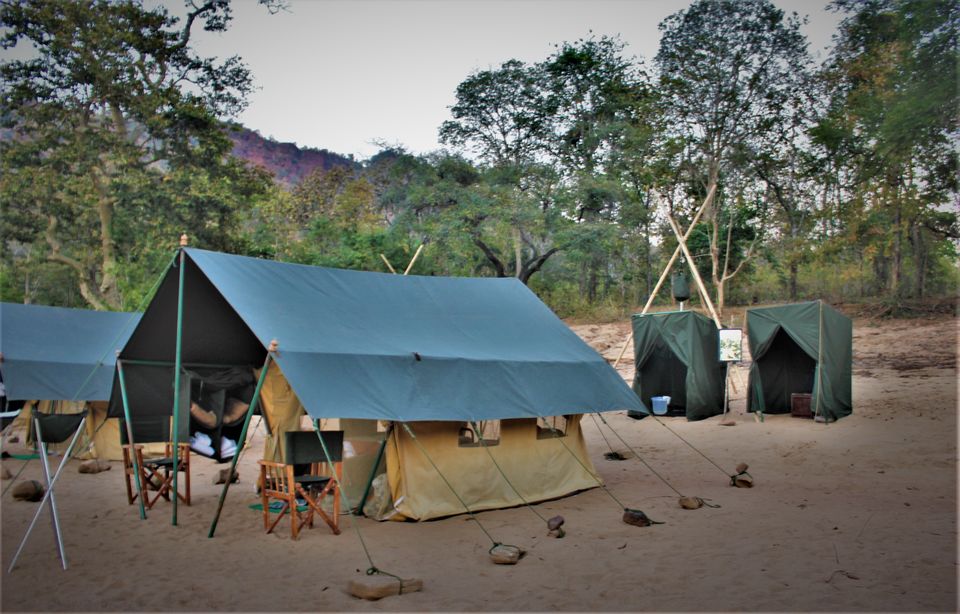 Glamorous camping has caught on in India in a significant way. No longer do you have to make do with common toilet tents and sleeping bags set up in cramped 3-man tents on your camping adventures. My tent was screened off from insects and other elements of the wild with netting and mats. Blankets, fresh towels and a bath-kit made it hard to believe I wasn't staying at a hotel. At Pugdundee's campsite, when you wish to take a shower, just let their staff know. Within minutes, your bath tent will be prepared with hot water in the shower bag which hangs above and is hauled up by a pulley. There's a little knob you twist to control the force of the water. I highly recommend taking a shower in the night and watching the stars from your roofless bathroom! ;-)
Barbecue And Campfire
No camping experience is complete without barbecued delicacies enjoyed around a campfire. The meals laid out throughout my trip were thoroughly appetizing. We were welcomed with some cold towels and lemonade just as we entered the campsite. Then followed some tea and cookies. After we showered and got dressed for dinner, we were handed hot towels (it gets chilly after sunset) before some roasted treats were served along with our choice of drinks. We chatted for hours next to the fire before moving on to the dining table for the 3-course meal of soup, mains and dessert.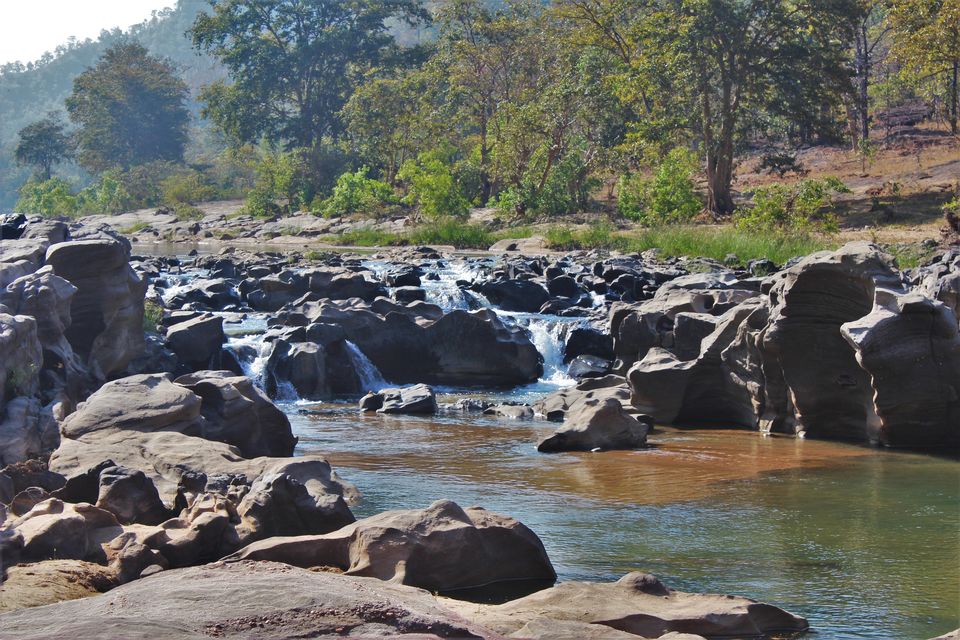 Boulder Hopping!
We started off early next morning after a sumptuous breakfast and some stretching. Today's topography was more interesting as we left behind the tall trees and passed through grasslands, which soon gave way to rill-washed white pebbles, and finally brought us to long stretches of boulders.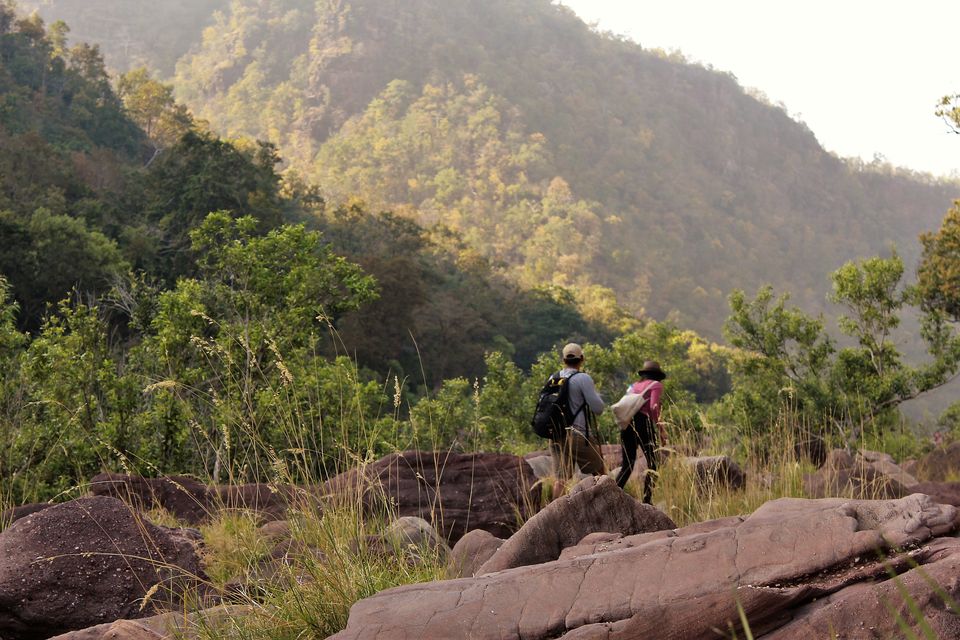 Careful What You Wear!
A terrain full of boulders is a bit tricky to navigate through. Your pace reduces drastically as you have to climb up and jump down each gibber stone. It is best to wear a sturdy pair of trekking shoes with excellent grip as these stones can be quite slippery. Some of the boulders require you to be on all fours while you pull your body up, and a little upper body strength helps. Don't worry too much about fitness, however. Your trekking guides and the forest guard are adept at getting you across hurdles without your having to put much effort. If you can walk comfortably for a day, you can safely sign up for this walking safari! :-)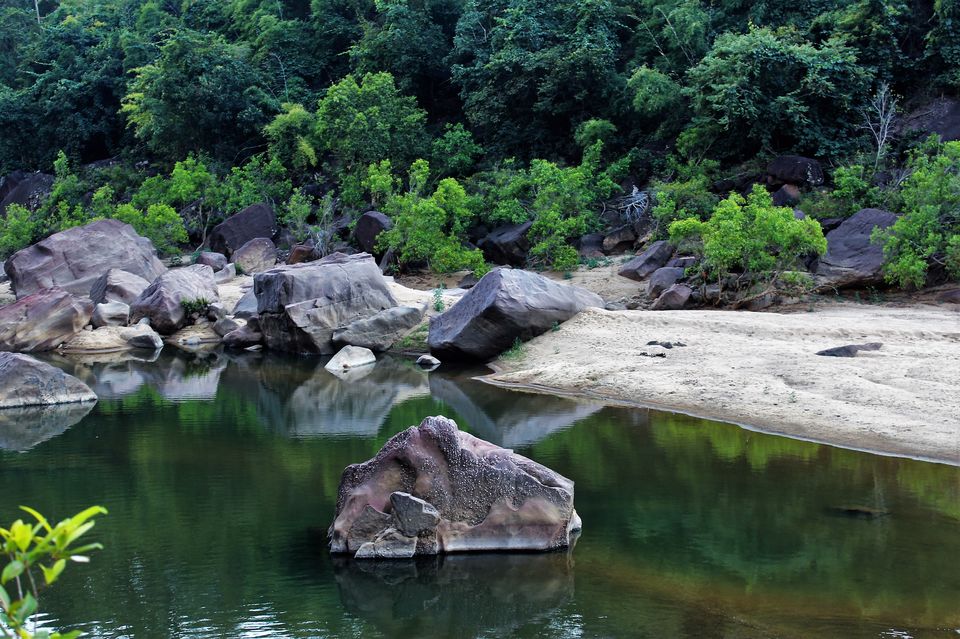 Birders Ahoy!
For birding enthusiasts, Satpura is a goldmine! Keep your ears trained to the sounds of the forest, and you will hear bird-calls from a plethora of avifauna. Close to the streams, it is common to spot kingfishers dive down to catch fishes. It is in Madhya Predesh that I cultivated an interest in bird-watching. And even if you are not a fan of birds, a walk in this national park will have you converted!
We sighted more birds on day-2 as compared to the previous day. After a 3 hour walk, we lunched at Jhela village. Our post lunch walk was a long and tiring one, and the rest at our next campsite was sweeter.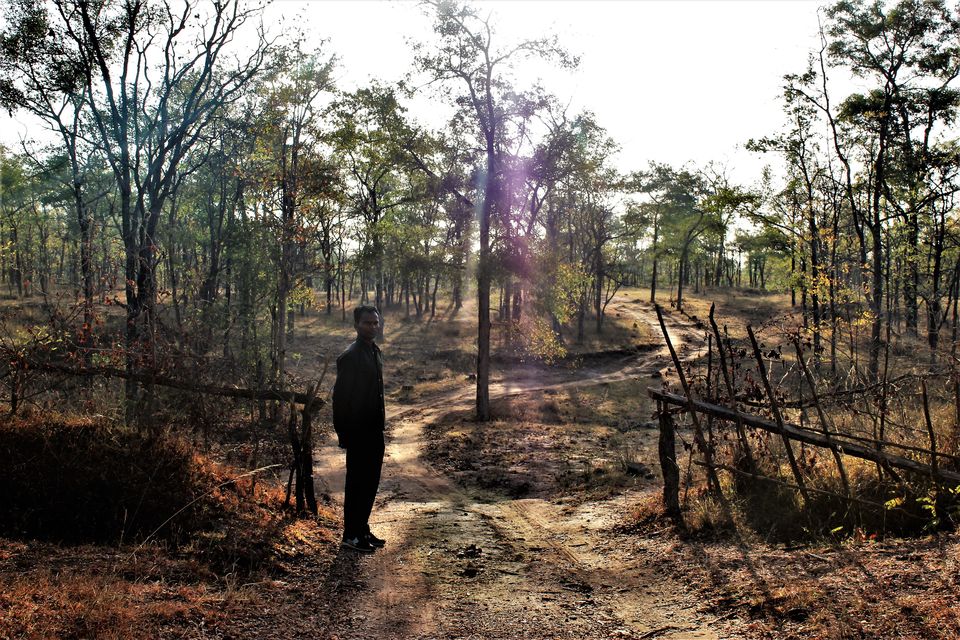 Our final day inside Satpura's Tiger Reserve was a quick one. We walked at a leisurely pace for an hour after breakfast to reach the main road where our vehicle waited to take us back to the resort. For a thrilling account of my trip, read my blog post.
Things To Keep In Mind
Luxury camping can often lead us to believe everything is at our beck and call. But we must remember that nature does not listen to man. Keep your expectations realistic when you do the Forsyth Trail.
You May Not Have Big Cat Sightings
Despite spending entire days inside the tiger reserve, we did not see a tiger. (I'm not complaining, because I did not want to be attacked by one either!) Leopards are common in Satpura, but they are very shy, so a lot depends on your luck! With sloth bears, you are better off without any spotting as an encounter can be deadly! Unlike the big cats (which are shy and not man-eaters in this part of India), sloth bears are reckless and their movements are unpredictable. They scratch anything that crosses their path.
That said, we did see a lot of langurs and a family of wild boars stop to quench their thirst at the stream near our campsite. It is also quite interesting to study bird-calls which signal the presence or arrival of an animal. Scat and pug-marks also help track the movement of animals.
Fitness Level
You should have a basic level of agility and the ability to walk for 6 to 8 hours a day, with plenty of breaks for resting, snacking and answering nature's call, of course! ;-)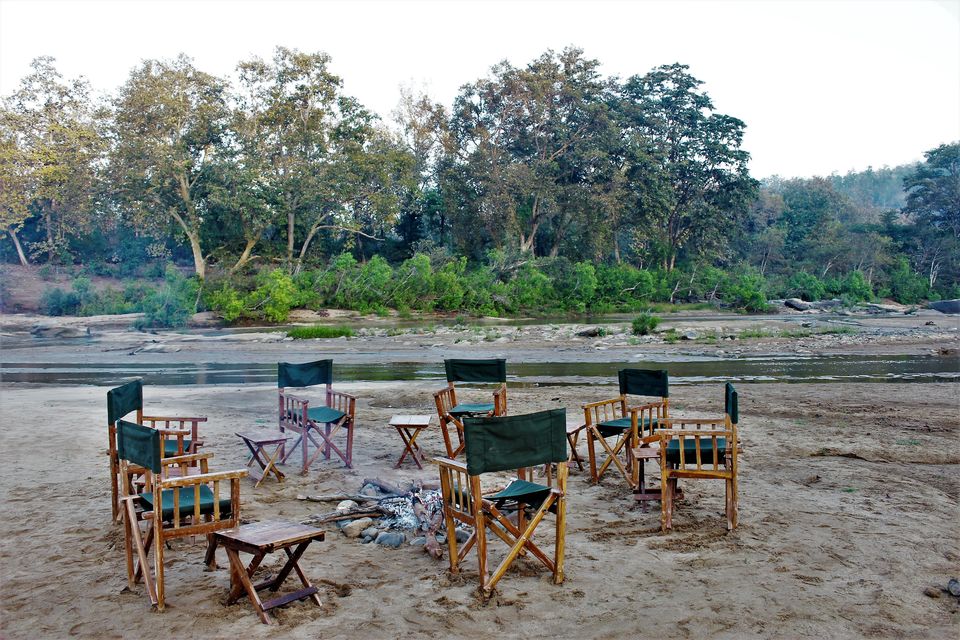 Good To Carry
1. This hike is under the sun, so wear full sleeved sweat-wicking shirts.
2. Wear convertible trek-pants which can be used as shorts during stream-crossings. Otherwise, any quick-dry or sweat-wicking dry-fit pants are fine (as long as they don't stay damp and risk you catching a cold).
3. Proper hiking shoes with ankle support is recommended.
4. Carry some sun-block and lip-balm which you can reapply from time to time.
5. The team carries a first-aid box, but take your prescription meds and inhaler (if you have breathing disorders).
Rate Per Head:
This luxury mobile camping experience costs INR 15,000 per diem per person on a twin-sharing basis. The price includes all meals, entry fee to the national park and naturalist-expertise. The walking safari can be customized as per your pace and comfort to be extended to more days.
For more travel inspiration, follow my blog - Oindrila Goes Footloose and catch me on Instagram.
Frequent Searches Leading To This Page:-
tiger reserves in madhya pradesh, tiger sanctuary in madhya pradesh, tiger park in madhya pradesh, tiger reserve forest in madhya pradesh, national park and tiger reserve in madhya pradesh