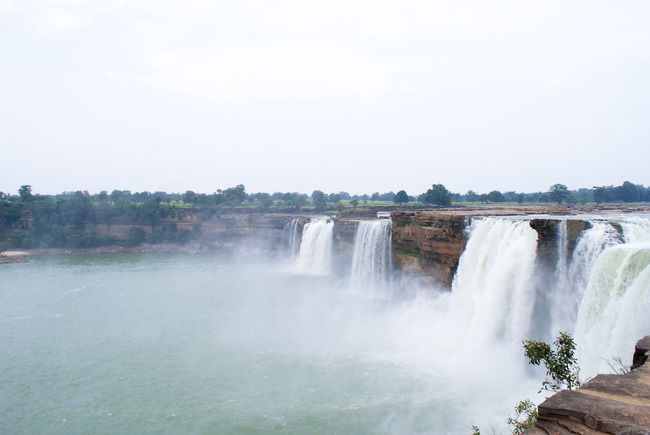 Today this blog is about One of the most famous attractions of Chhattisgarh is the Chitrakoot Falls, located 50 km from Jagdalpur, in the Bastar district, and 273 km from Raipur. River Indravati flows down perennially from the Vindhya mountain ranges and gives rise to these waterfalls, which are a major tourist attraction, especially during the rainy season. The Chitrakoot waterfalls appear to be in the shape of a horse-shoe. Positioned at a height of about 100 feet, Chitrakoot Falls are the largest waterfalls in India.
We started from Raipur & the distance between Raipur & Chitrakoot falls is 297.6 Km. Via NH 43 the journey mode we selected was by an SUV so that we can enjoy the beauty of Bastar region to the fullest.
The journey started with lots of zeal & enthusiasm. As we had the opportunity to explore we made this journey long & time taking by enjoying different stoppages in between like Keskal Ghati and awsome Dhabas etc., which made this journey even greater.
Instead of 6 to 7 hrs, it took us nearly 10 hrs to reach. After a long journey, we reached to Jagdalpur the main spot Chitrakoot falls is situated in the west 50 km from jagdalpur.
From Jagdalpur we headed directly towards Chitrakoot coz we knew about the beautiful Dandami Luxury Resort which was our destination for a stay. This resort is just in front of the fall its a bliss for the impatient people like us.
As we already had the bookings we just went and dropped our luggage and went on to see the beauty which was just in front of us such big huge & gigantic waterfall barely we could hear anything in its noise. Chitrakoot is a single sheet of flow over a free fall of about 30 meters (98 ft) forming a horseshoe-shaped gorge. Water flow conditions over the falls vary with the seasons. It is India's widest waterfall.
Adventure sports enthusiasts use boats in the stormy part of this pond. Pilgrims bathe in the calmer part of the lake. In the low flow season, paddle boats are used in pools formed in the upstream part of the falls. In the pool below the falls, swimming is permitted and paddle boats are permitted. Local boatmen can paddle their boats under the spray below the falls.
Apart from many large hydroelectric power plants on the Indravati river, a small power plant of 7.5 MW capacity has been planned to utilize the head at the Chitrakote falls, though no irrigation is envisaged.
The natural beauty which is nearly beyond my power to explain was in front of us. Lots of photo session took place, of course, we don't get to visit such a beautiful place daily.
The journey ended with lots of fun yes it was a short span of time because we had others destinations too. Bastar is all full of surprises & we were ready to unleash other beautiful destinations.
This post was originally published on Delicious Destionation