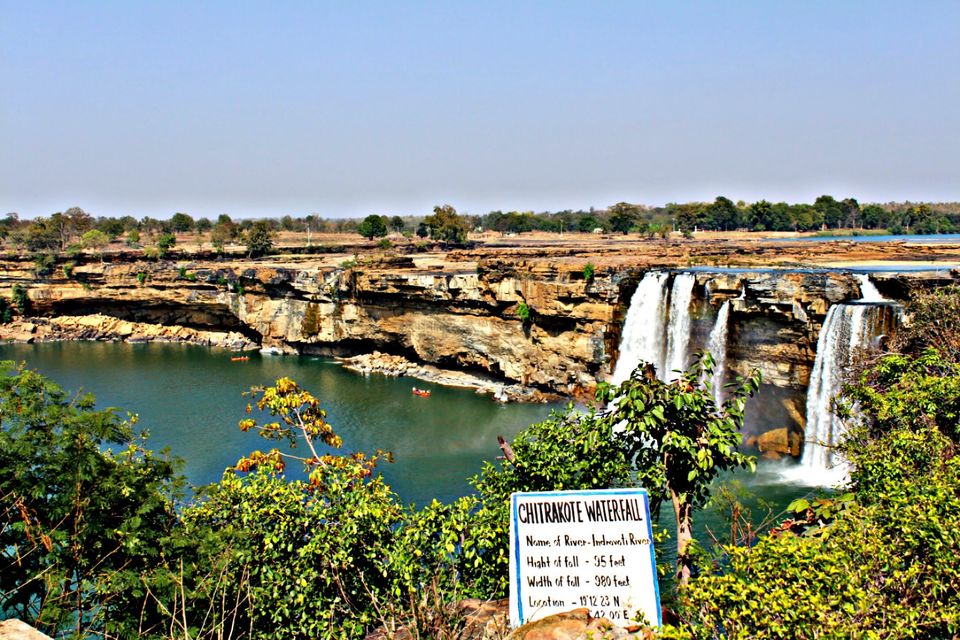 As soon as I heard about the Chitrakot waterfalls in Chhattisgarh, I started doing my research on the travel from Visakhapatnam to Jagdalpur. As there are only two options either by road or by train, I prefer the second one which is the most economical one for nomadic backpackers. I started at Visakhapatnam railway station at 09.40 PM - Train no : 18514 VSKP - KIRANDUL EXP which runs daily.
After an overnight journey from the city, I have landed in the serene and cool ambiance of Jagdalpur.
Bastar region can be easily termed as " A Traveller's Delight "
On my way to Chitrakot, I was planning for mode of transport to reach from Jagdalpur station. Hired a cab right after exiting the station. And the driver agreed for a good price. Moreover, he's a telugu guy which was more comfortable in communicating with him.
First, we headed towards Tirathgarh waterfalls which is on the other side of Chitrakot. The roadway is a bit narrow but you will experience the ghati feel with greenery filled along. Despite of the road condition, our driver managed to get us there in one hour. Finally We are at the Place. Amazing Tirathgarh Waterfalls.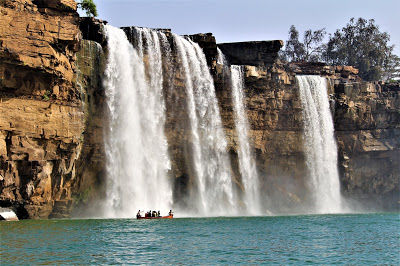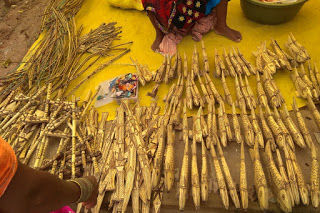 It has an excellent view of kanger river tumbling down into the deep valley. These milky waterfalls is best seen when in full flux, just after the monsoon, when it attains its full power. We went there in first week of February, so the stream was little bit less.
After spending one hour there with clicking pictures and enjoying the sounds of stream, we next moved on to Kanger Valley National Park.
There we have to hire a jeep which is a chattisgarh tourism vehicle. We shared the jeep with three other Orissa people and we were charged 1500/- for 6 members. Safari ride was of nearly 11 KM's long. And the road which went through the jungle, we were surrounded by tall trees everywhere.
The park can be said to be an ideal destination for wildlife enthusiasts, nature lovers, researchers and anyone keen to discover the very best of fascinating wildlife in Chhattisgarh. Safari ride was awesome and unforgettable.
After 30 minutes, we reached the entrance of Kutumsar caves. A guide came along with us. If you love dark alleys, resounding dens, creepy spider webs and some spooky adventures, kutumsar is right up your alley. You enter through a cubbyhole, vertically, with your feet trying to find a foot hold on moist rocks while the guide switches his battery torch on. It takes a while to get used to the darkness but as you do you are likely to be pleasantly surprised by amazing formations inside - one resembling the trunk of an elephant, a stone resembling ganesha, a hemispherical rock worshipped as Lord Shiva. All these rocks are beautiful stalactite and stalagmite rocks. These rocks are closed during rainy season and are open till 4 PM during the rest of the year.
We were very tired and hungry when we came out of the caves. But there were no eateries nearby. Driver said he will take us to one hotel where we can get fresh and tasty food and which is on the way to chitrakote falls. We even halted for a while in Kumarawand, We were astonished and amazed with the view around us, surrounded by tall sal trees. Here, I am putting the link of the location also. Nice place to click some good pictures. In google maps, you can find this location named as Shawl Garden .
Really a nice place to relax and get rid of all the stress in the woods.
Driver stopped the car at a hotel named Mamta Hotel where you can get tasty food. Mostly, people order Chicken tandoori here but we were unlucky as no hen was ready to die for us ????. They cook food right in front of us after ordering the items. So we adjusted with egg curry and fried local fish. After lunch, we looked for Mahua which is local alcoholic drink of Chhattisgarh. Mostly popular with tribes of Chhattisgarh. But I didn't get to drink it and felt very bad ????. And we moved further to Chitrakote Falls.
Finally.. We reached Chitrakote Waterfalls. The incredible sight of water falling from a height of 100 feet into the Indravati river is a real Wow! The sound of gushing water of Indravati river as it cascaded down from a height, creating a stunning vista. Local boat facilities operating below and under the falls in a misty atmosphere provide views of the falls. Especially during monsoons, it looks even more beautiful. The roaring of flowing water will kill you softly with its sound. One who wishes to spend quality time in nature's lap and getting lost amidst the sound of the free roaring water. This waterfall is best among others.
Arts and Culture of Bastar : Bastar proudly upholds a deep rooted ancient way of tribal life that can't be found anywhere else in India. People creating the piece of genius have no clue what they are worth. The kind of art sold here in some hundreds are exported to foreign nations and to millions of people who appreciate their art. But if you seriously want to see some hand-made bastar art items, walk inside one of the art shops. As soon as I entered one of those stores, my eyes were awestruck.
" When in Bastar, do as the Bastariha do "
inspired by the quote
" When you are in Rome, be a Roman "
When to Visit : You can experience the variations in the nature throughout the year. In rainy season i.e from July to October you can experience the mighty roarings of waterfall, whereas you experience the milky white calm ambiance from Nov to June.How To Reach : Nearest airports are Raipur and Visakhapatnam. From Raipur you can reach jagdalpur by road which is a overnight journey and you will find frequent buses to jagdalpur. From Visakhapatnam you can reach Jagdalpur by rail which is also a overnight journey.Where To Stay : Chhattisgarh tourism offers resorts near chitrakote falls and you can find many places in jagdalpur to make you stay. Companies like oyo, goibibo also offers accommodations. Driver dropped us at the jagdalpur station and we boarded the return train to visakhapatnam at 07.30PM.
Lastly, if you enjoyed this story..please recommend and share to help others find it! It would mean so much to me! ????#PlacesOfIndia #LoveIndia #IncredibleIndia #MyIndia