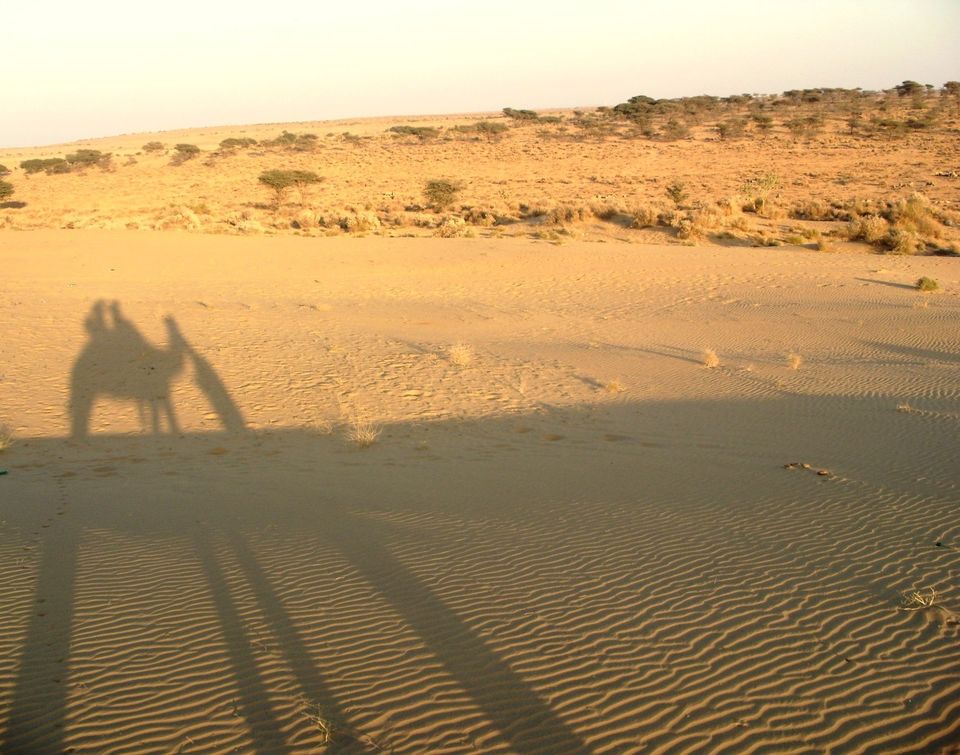 Have you ever tried sleeping one night in one of the largest deserts of the world? Not yet thrilled by the breathtaking views of an ice cold, clear and star lit night in a desert camp? Then the safari camps at Thar are the perfect destination for you! Major part of Thar Desert or the Great Indian Desert in India is spread along Rajasthan with a small area in Gujarat, Punjab and Haryana. Though desert days are hot and sunny, desert nights are ice cold. Despite of its dry and humid climate, this arid part of India attracts travelers from all around the globe in all seasons. Spending a freezy night in a desert camp was always in my bucket list and I could not wait much for this experience during my winter visit to Jaisalmer.
Moving from Jaisalmer to the campground in sand dunes of Thar, is a 35 km long road with glimpses of humped animals and patches of greenery. The white tents at the Dunes waited for us as we dropped our small luggage in our room and got ready for a camel ride in the desert.
Though it was late afternoon but still the sun was shining bright. Its' warmth did not bothered us to wear jackets and mufflers. The camels were decorated exquisitely with multi-colored linen apparels with patchworks on it. The animals also wore Rajasthani jumbles and trinkets. No sooner than we choose ours, the mammal became our friend and got set for the ride. Our camel driver was a polite and welcoming man. He showed us various shrubs (most of which are cactus) and desert vegetation and explained their utility in the thirsty land.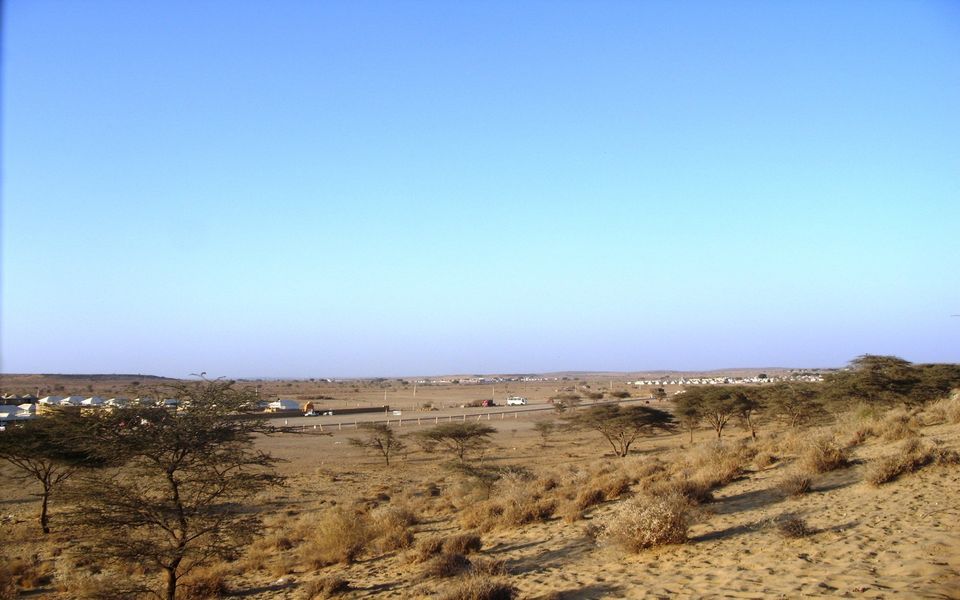 He also revealed us other similar desert attractions including shooting points of some Bollywood films.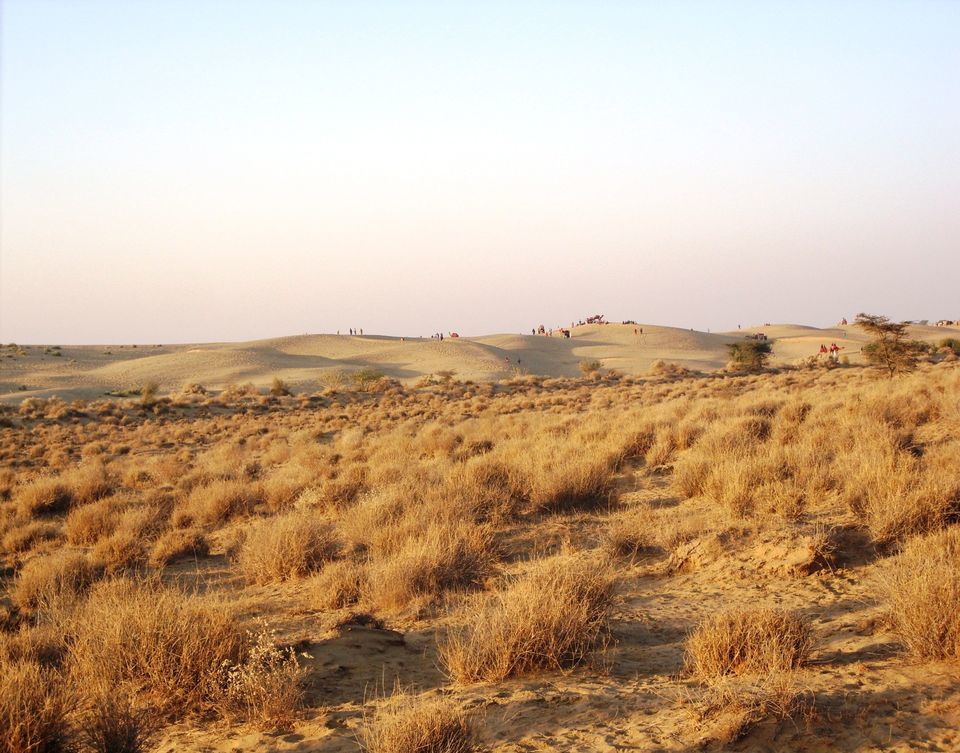 Though initially we were a bit wobbly and uneasy riding on the camel back, but gradually we got accustomed to its pace and started enjoying our ride. As the camel moved slowly in fine sands, we met a local Harper who played few folk tunes for us.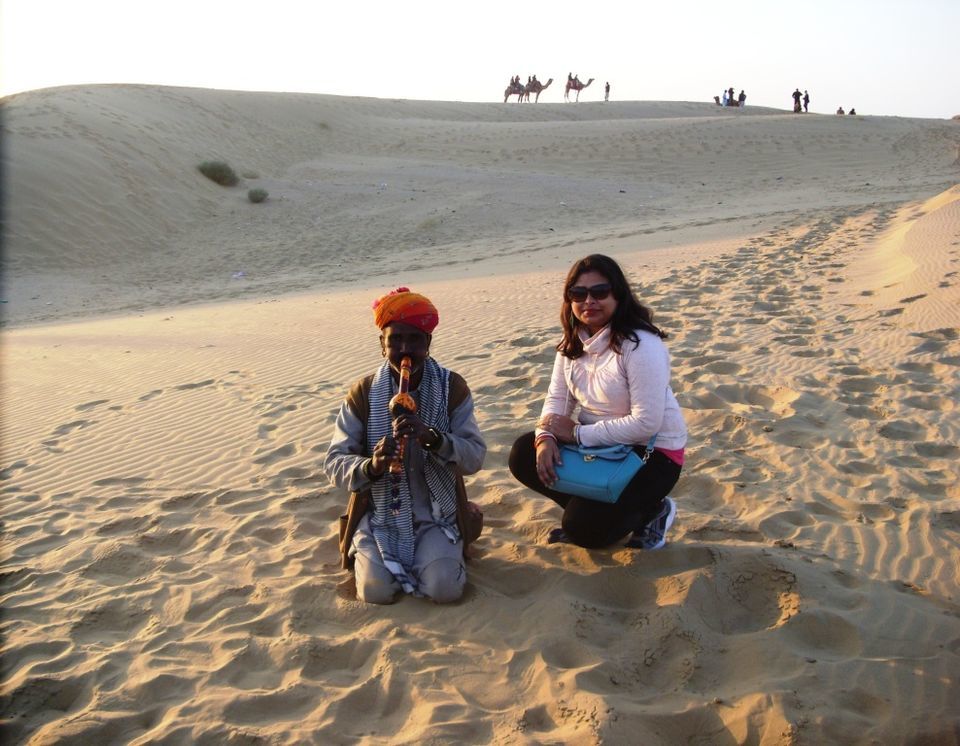 Apart from us there were other vacationers also who were either riding camels or walking of their own in the loose sands.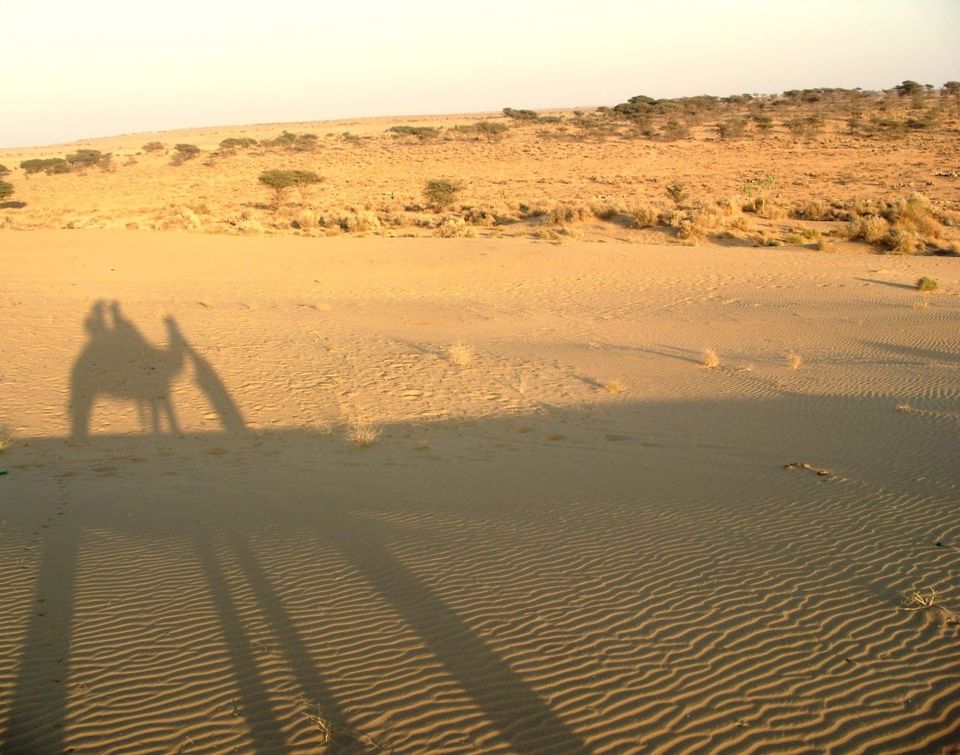 Riding on for almost 15 km we reached the sunset point in Thar where already the sun has begun to shade colors. Nevertheless we were feeling much hot when we started our ride towards desert in the afternoon, now as the sun set we could feel the cold of the dunes.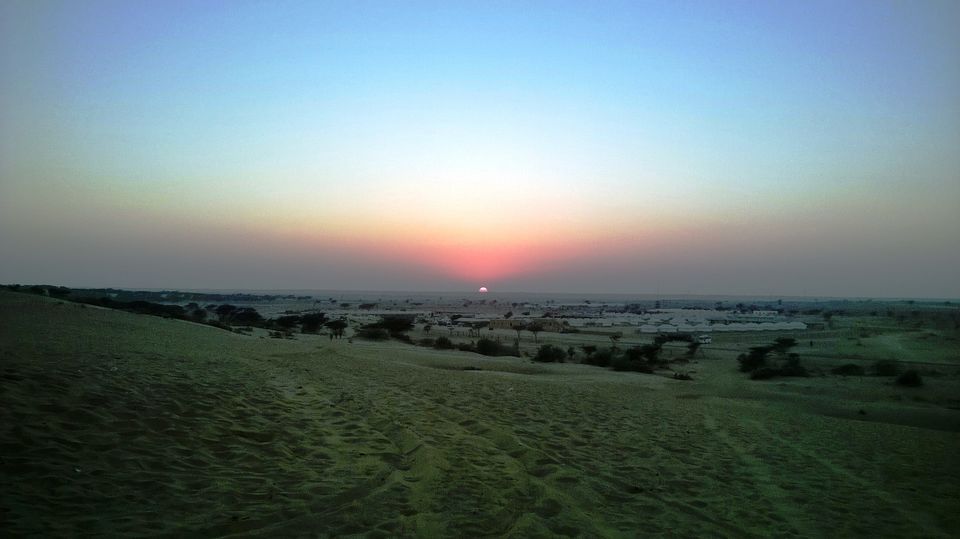 We put on our woolens and hurriedly resumed back to the camp ground. Soon biding farewell to our humped friend we strolled back to our tents. As we returned, we were greeted in our camp site by local people in Rajasthani style with baja and tilak. In half an hour, evening cultural program started. The stage was held at the middle of the ground and seating arrangements with white cushions and takiyas were set around it for audience to grasp the performance.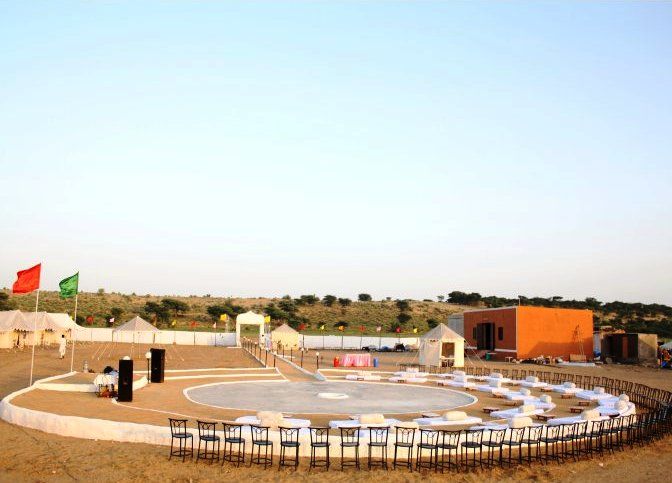 Our evening program in the ground consisted of folk performances by local villagers. Snacks and tea were served as we were captivated by Rajasthani jugglers, performers and dance and musical troops.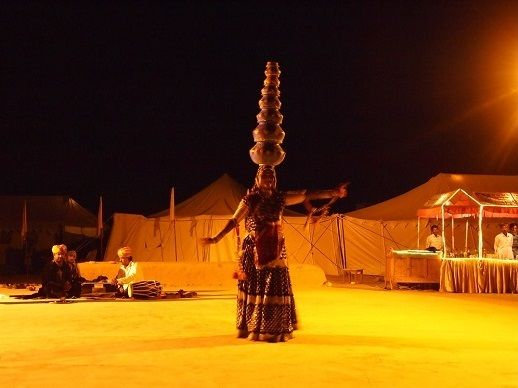 The black and star speckled sky added tints to the multi-coloured evening on harsh and dry land. The program continued late evening after which we were served dinner. Dal-bati-churma followed by other Rajasthali cuisines pampered both our taste and stomach. Clock was ticking fast and so the cold. Quickly after dinner we retired to our cosy and warm camp.
The next morning we had a quick early morning walk along our campground and its premises. After our sumptuous breakfast we started for a jeep trail which took us 40 km inside Thar. On the way we saw desert villages and small shops that catered the needs of desert people. Our jeep dropped us back at the dunes. On our way back to Jaisalmer, we found some adventure spots where paragliding was going on. Unable to refrain ourselves from the same we also went for the sky. A 15 minutes session was thrilling enough to become a memory of lifetime and a story worth telling!
How to reach
One can hire a cab from Jaisalmer for upward and return journey to sand dunes.
Where to camp
Apart from Rajasthan Government camp, several other private camps are available on internet as per one's budget requirements.
Tit bits of camping
• Try to go for camel safari in months of winter as desert will be less humid as compared to those of summer months (of course no monsoons!)
• Use sunglasses, scarfs, sunscreen and full body covered clothes to get protection from sun burn.
• Carry enough water and dry food in safari.
• Choice of shoes is up to oneself, as one may prefer loose sandals in the day but to my opinion covered shoes are better as it will protect you both from tan, loose sands and cold.
• Carry enough woollens as it is ice cold after evening.
Find me here =>
https://footstepsofmaitri.blogspot.com/
https://www.facebook.com/footstepsofmaitri/?ref=bookmarks