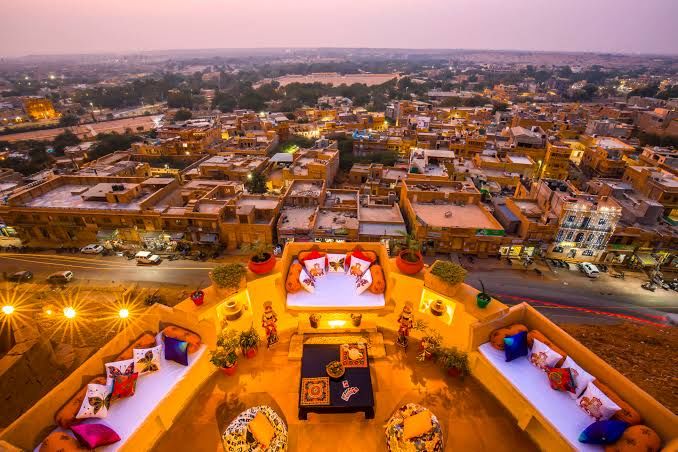 The Golden City"
Jaisalmer
Jaisalmer is a prominent tourist spot located in the northwestern state of Rajasthan in India.
It is known as the 'golden city' due to its golden dunes and castles clad in golden honey sandstone.
Jaisalmer is adorned with lakes, ornate Jain temples and havelis.
Climb onto the camel saddle and make your way through this desert to camp under the starry night sky for an unforgettable experience.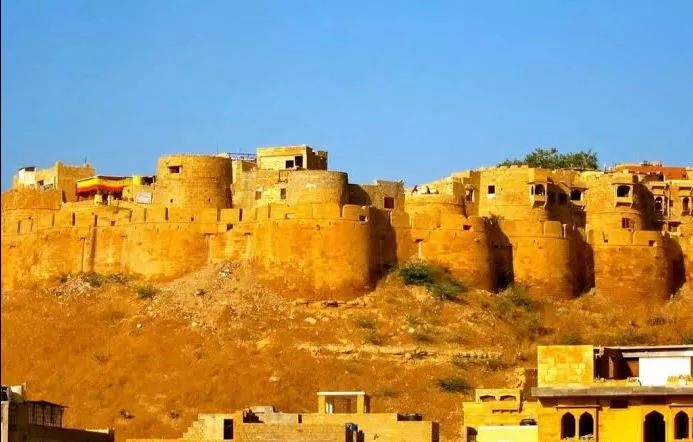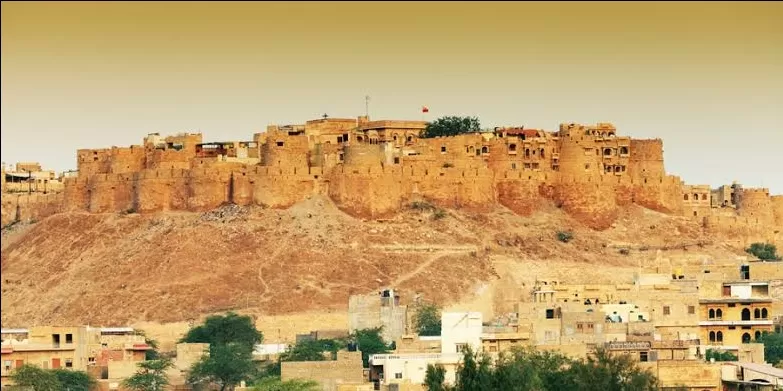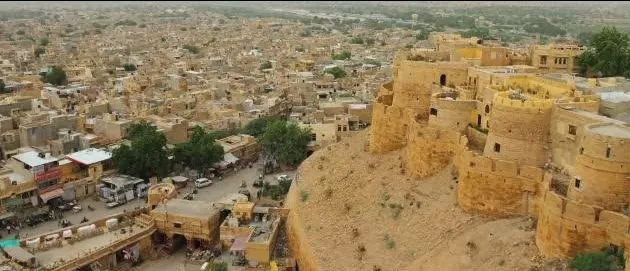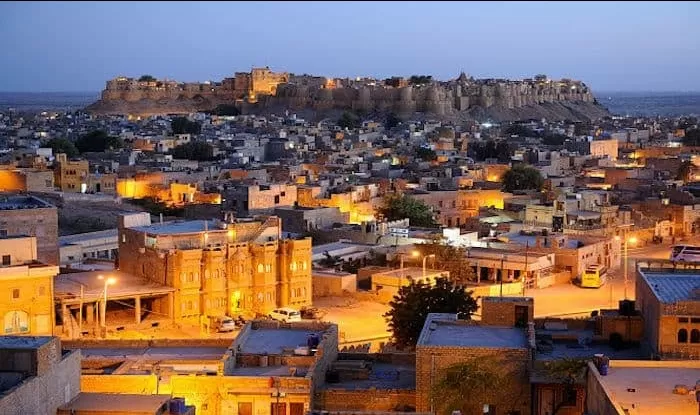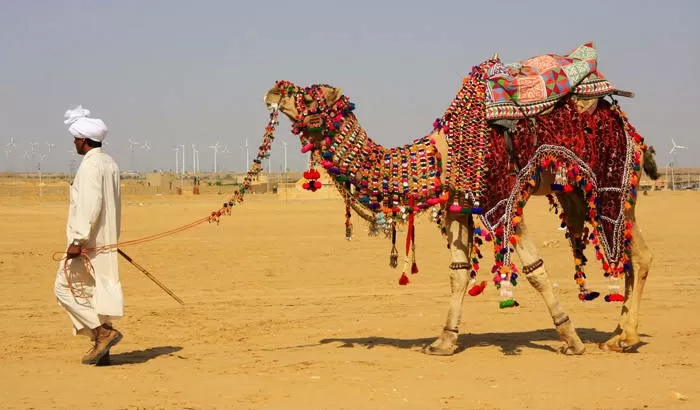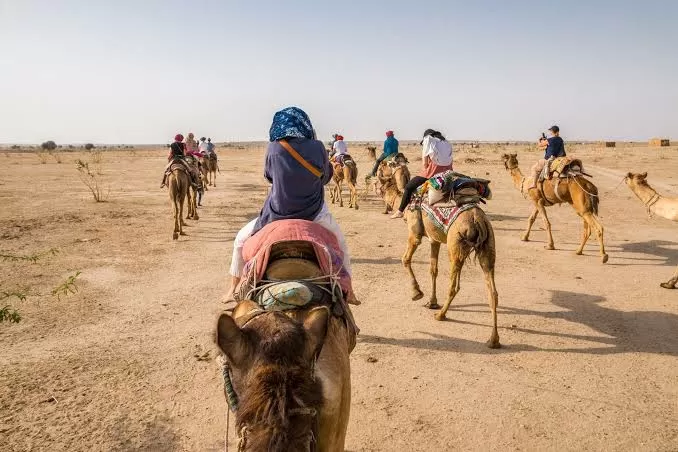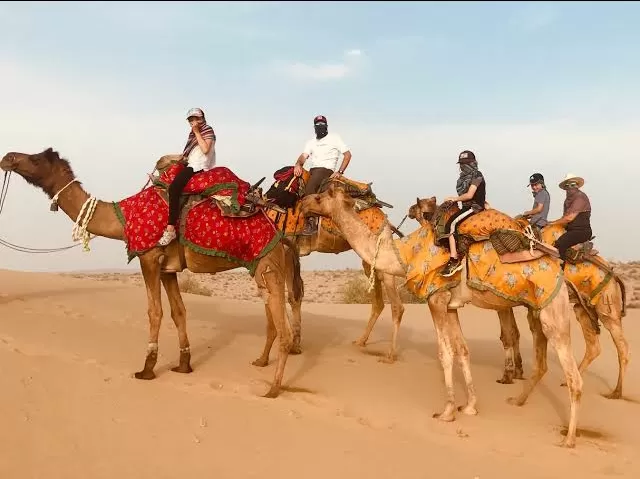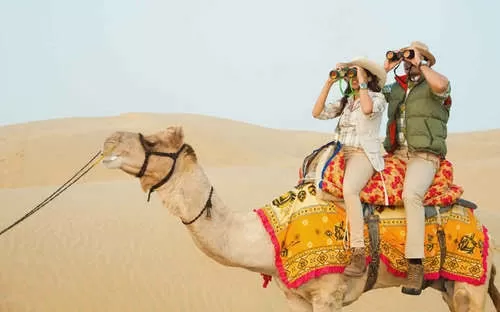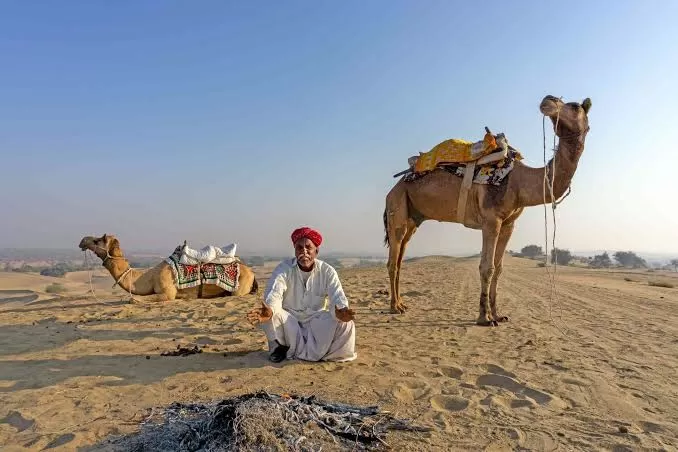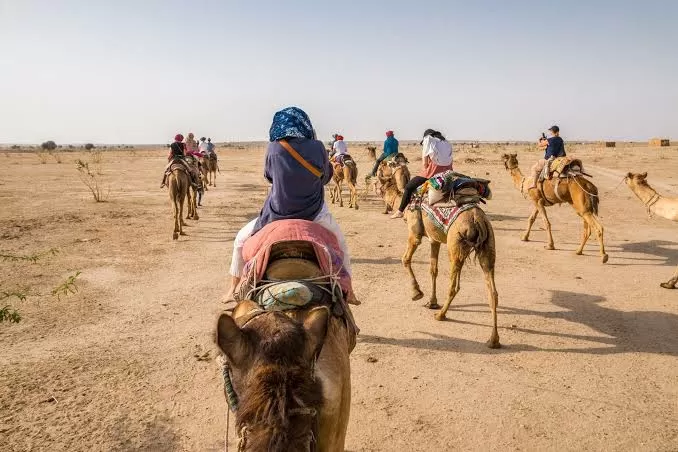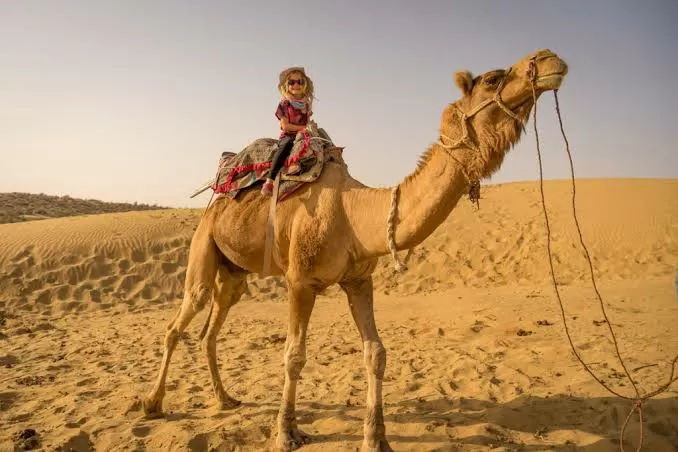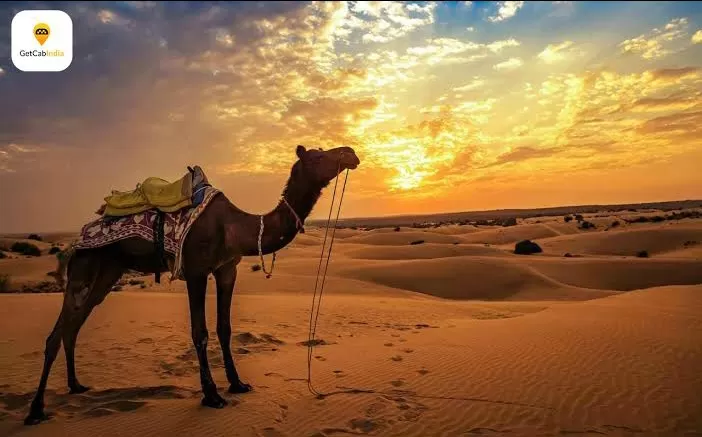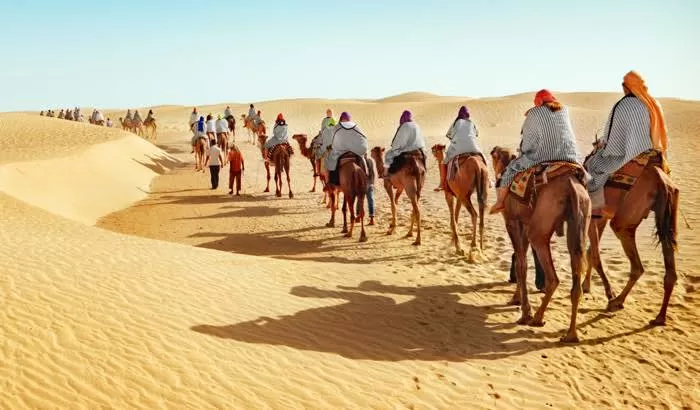 The Jaisalmer Fort stands as a citadel with narrow alleys inhabited by people for generations and shops selling colourful handicrafts.
Jaisalmer is a town, and to reach the Sand Dunes, travellers have to take a jeep safari followed by a camel ride.
Thus, Jaisalmer is an amalgamation of exotic Indian desert culture, heritage and adventure.


####Must Visit Places in Jaisalmer####
(1). ##Desert Safari in Jaisalmer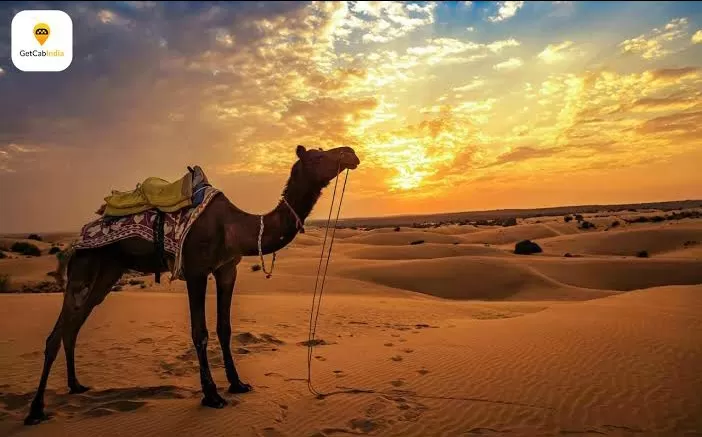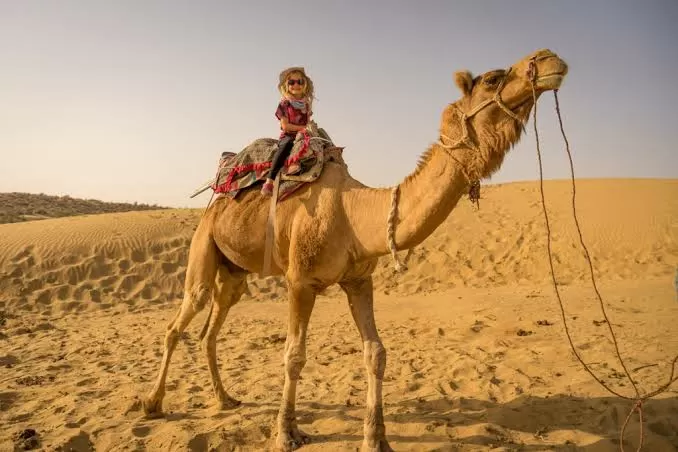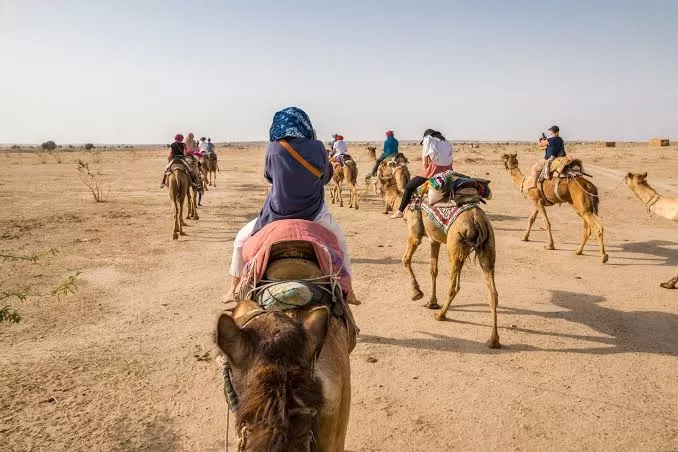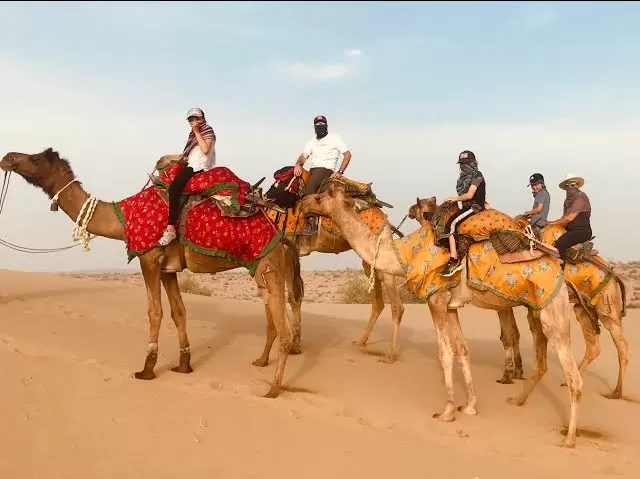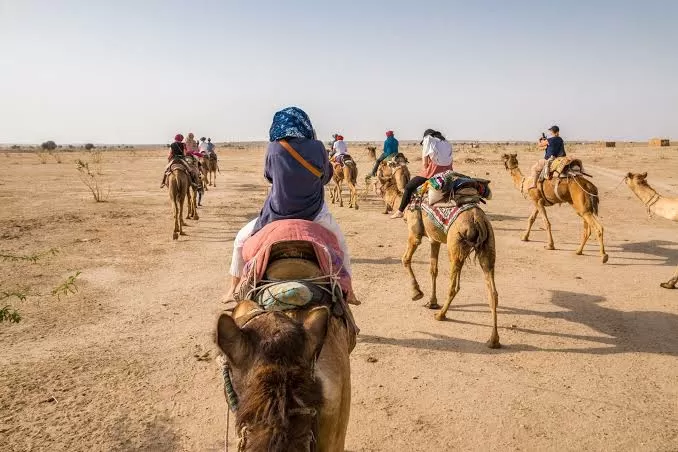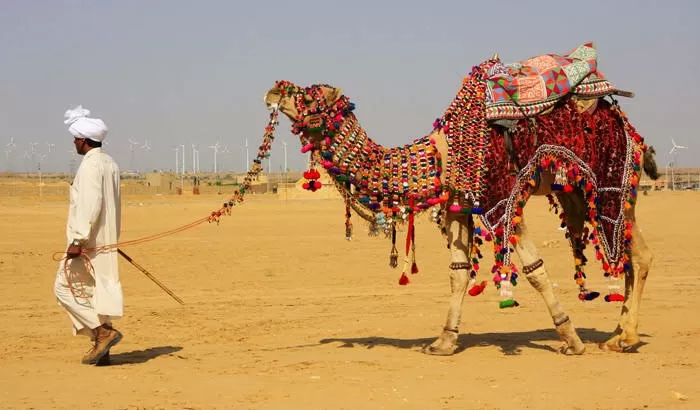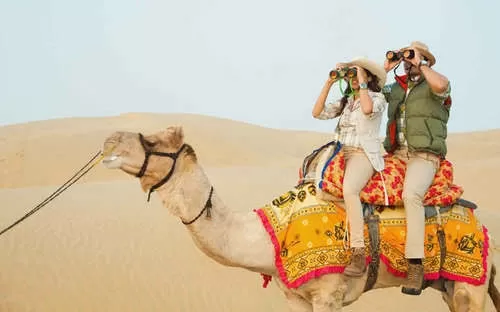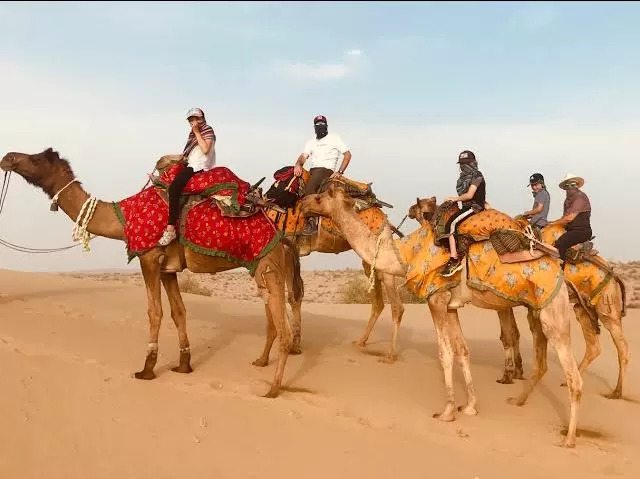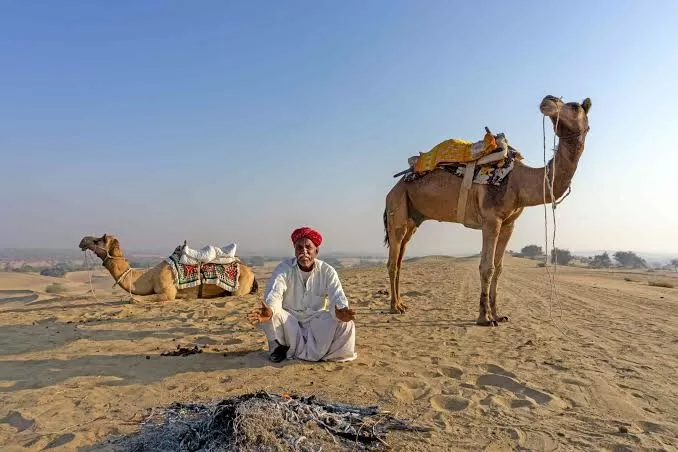 Desert Safari in Jaisalmer, Jaisalmer
Jaisalmerin Rajasthan is frequented by tourists for its large stretches of desert sand.
Popular Desert Safaris in Jaisalmer takes place in Sam Sand Dunes.
A Jeep takes you to a point near Sam Sand Dunes (around 45km from the city) from where the camel ride starts and lasts for around 90 minutes.
You will also stop by at a few attractions on your way.
The safaris can be done in the morning or in the evening followed a delicious meal alongside a musical dance program that showcases the local culture of Rajasthan.
If you don't wish to indulge in this experience and want to go for a off-beat experience, there are a few operators like Trotters that will take you to Khuri Sand Dunes.
The meal will be modest and the tent will be pitched for you making it perfect for stargazing (also because there is no light pollution in this part).
###Types of Desert Safari###
There are many types of safaris available in Jaisalmer which include
Camel Safari
If you go to a desert, camels are bound to entice you to ride on their humps as they stroll idly, digging the golden sand.
Best time: Sunrise (4 AM to 6 AM) and Sunset (5 PM to 7 PM).
Cost: It will cost you anywhere between INR 300 to INR 600.
Jeep Safari and Dune Bashing
Riding on a camel is never enough because adventure lies at high speeds.
If you've taken so much to reach this remote desert, you'll in no way miss the intriguing fun in jeep safari where you get to ride the speeding jeeps on high and low sand dunes, much like a roller coaster ride!
Dune Bashing is a form of rafting through the sand.
An adventurous activity over the heaving sea of sand, it is a chance to explore the exotic desert through a drive that rushes your adrenaline.
Best time: It's good to do any time of the day but during sunset, the desert beauty is
Approximate Cost: It will cost you around INR 1200 per head.
One Night Safari
It's a one night and two days trip into the desert.
The tour starts early in the morning at 7:00 AM to Jaisalmer.
After breakfast, you'll march towards Bheelo ki Daani to Salkha to Keshwa to Lakhmna to Gypsy village and some other villages and then back to Jaisalmer.
Tents and food are taken along or the arrangements are done at the villages.
Watching native wildlife, desert vegetation, relaxing by the oasis, night bonfire and interaction with village locals are the major attractions.
Approximate Cost: Around INR 3000
Long Safari or Treks
For long safaris, the number of days and places can vary according to your convenience.
The places which shall be covered during the excursion are Bheelon ki Dhani, Salkha, Keshwa, Lakhmna, Gypsy, Luno Ki Basti, Shakar Ki Dhani, Siyalon ki Basti, Turk, Gaga Village, Mattu Village, Barna, Jamda Village, Khabha, Dedha, Jajiya village and then back to Jaisalmer.
Tents, the raw material for food, torches, extra clothes, medicines, and other necessary things are carried along on the back of camels.
Best Season: Winters are the best time to go on long treks. Deserts can be extremely evil when it comes to unbearable heat.
Approximate Cost: The total package cost depends on your time and may range anywhere between INR 3000 and INR 10,000.
It's always recommended to not be extra generous while tipping the camel drivers at the end of the trip.
It's included in your package. Better still, if you are quite happy with their service, a small tip for camel's fodder is considerable.