The golden city of Jaisalmer has much more than just its Golden Fort or the desert safaris that it offers. It's the people of Jaisalmer who make this place a prominent one in India's tourism map. Here, I bring to you my experiences of staying amongst the most beautiful people of Rajasthan.
Hotel Helsinki and friendship

Here's something that I don't wanna forget mentioning. It's about Mr Maru of Hotel Helsinki.
When I booked this property, it was a part of Zostel Jaisalmer. But then Zostel moved out of that property and informed me the same. I was a bit puzzled as to what should I do with the booking, cause this was one of the best locations to stay in Jaisalmer. There came in this amazing person named Maru; one of the person in charge of Hotel Helsinki. He not only helped me with the stay, but also asked me to relax and just be ready to experience Jaisalmer. Saying that he will take care of the rest. Well, little did I know that his words would be so true. He not only was an amazing host, but a companion to take me around the city of Jaisalmer. From heading to Gadsisar Lake and Bada Bagh to catch the perfect sunset to driving down to the best ice-cream parlor in town, he planned and executed them all.
As I go gaga about the amazing hospitality of Hotel Helsinki, let me describe you the beauty of the place. Looking just like a real haveli, it is as beautiful from inside as it looks from the outside. Not to forget that the food is to die for. And with the Jaisalmer Fort in the backdrop, the terrace provides you the best view ever.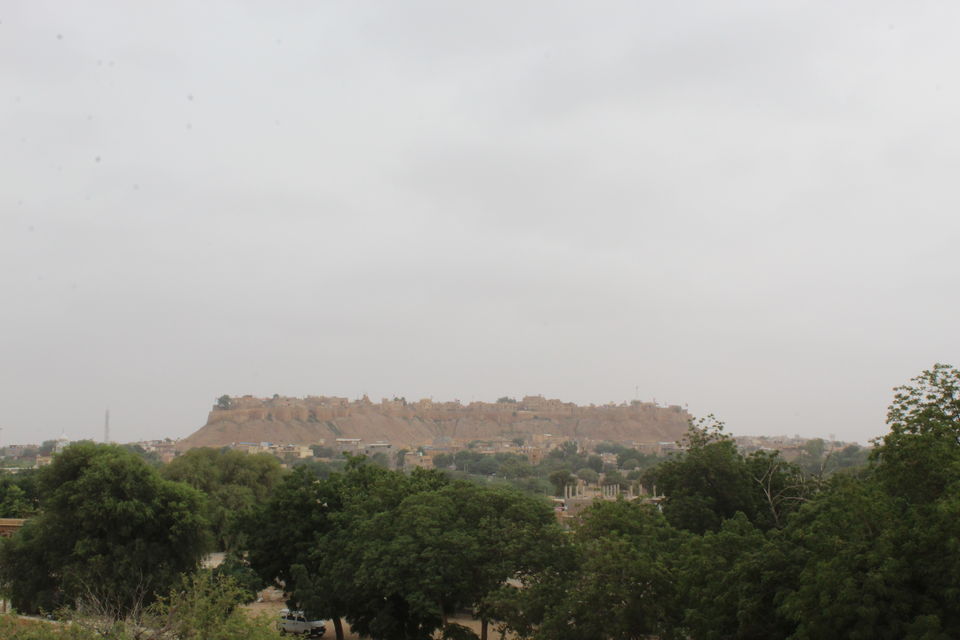 Desert safari and taste of the simplest form of life
I was all set for a perfect safari of the magnificent Thar Desert. Being a solo traveller, I clubbed along with an Italian couple. Little did I know that I was waiting for a new awakening!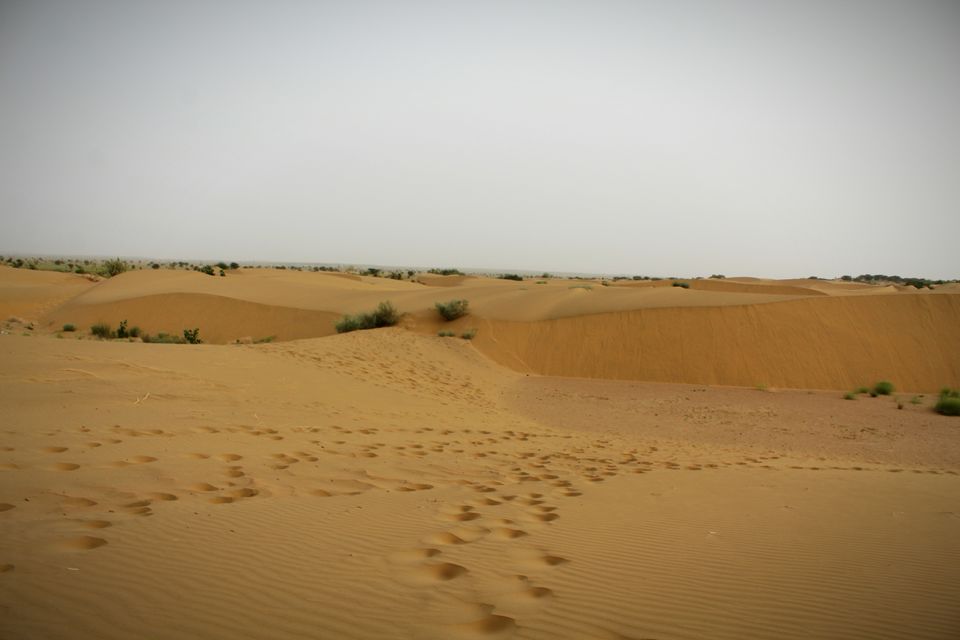 It all started with the camel ride, which was certainly the best experience of my travel life.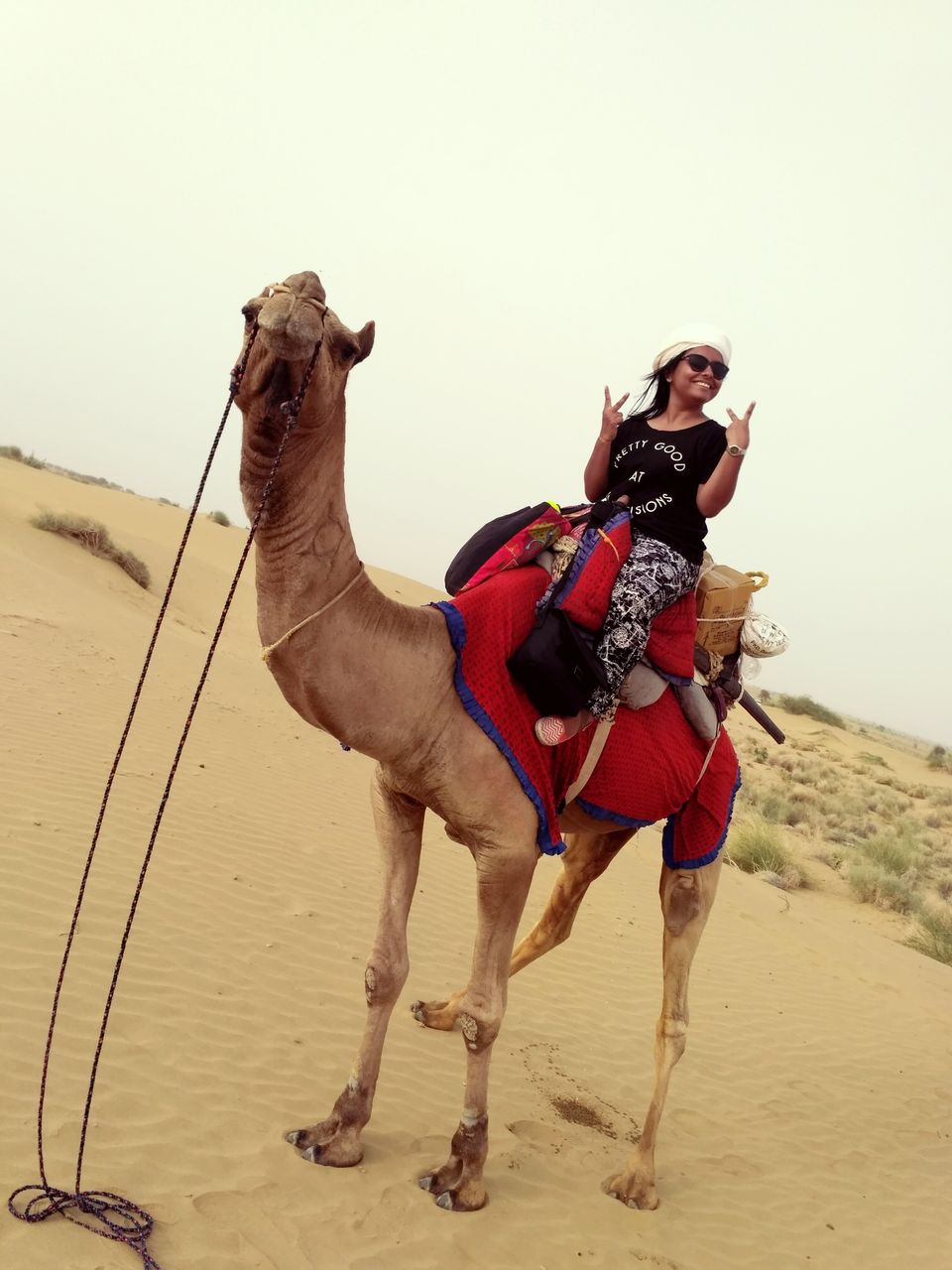 Getting down from the camel (mine was named Paula; I didn't forget to get clicked with her) I ran towards the sand-dunes. The bountiful desert just didn't ceased to spell its cast over me.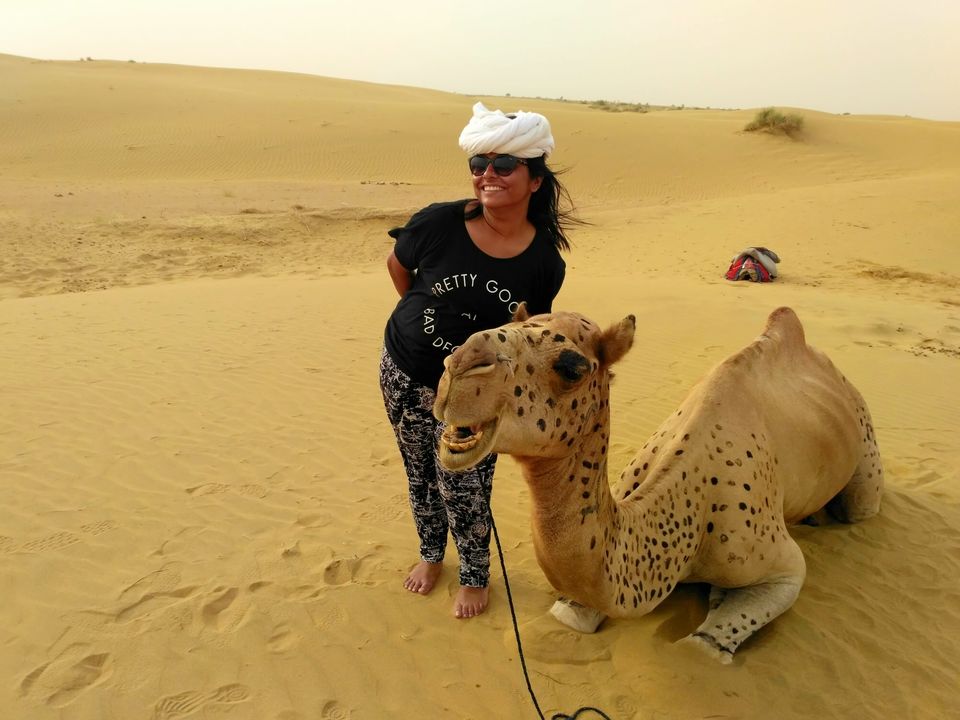 With the evening setting in, cool breeze around, and the horizon kissing the never-ending desert;it was a heavenly experience.
It wasn't any close to the usual dessert camps that attract visitors. For we were staying right under the night sky, with simple beds to sleep on, a blanket to cover us from the cold, and the company of the camel herder or nomads. The two men defined hospitality in its most true and pure form. As one was busy setting up the beds and feeding the camels, the other arranged for food. In no time the fire was put up and tea was served as we came back from the sand-dunes. I may sound over emotional, but trust me as I declare it to be the best tea that I had in my life so far; it tasted of love and happiness!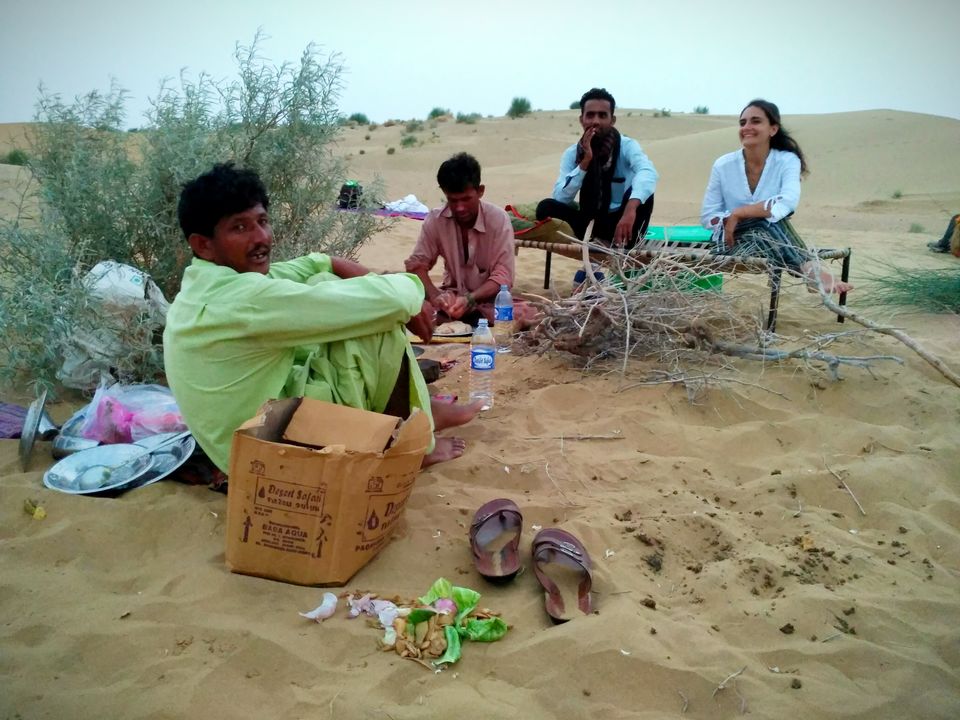 They sat there talking to us and preparing dinner comprising of rice, mixed veg, and chapati. We too put our hands in to make some lovely chapatis; the Italian lady (my companion) had a great time learning to make one for herself. Right after dinner, the beds were ready and we went off to sleep watching the stars.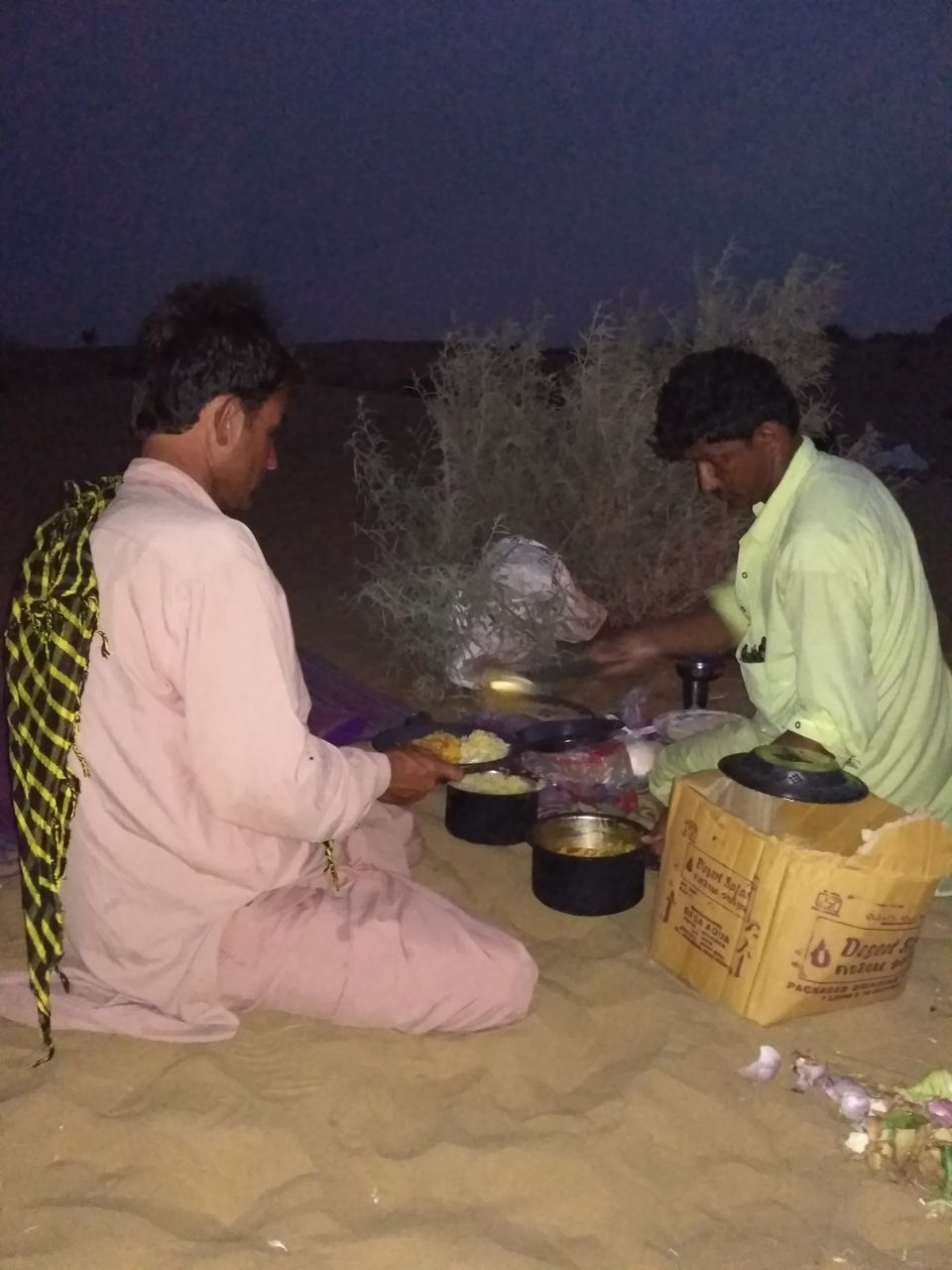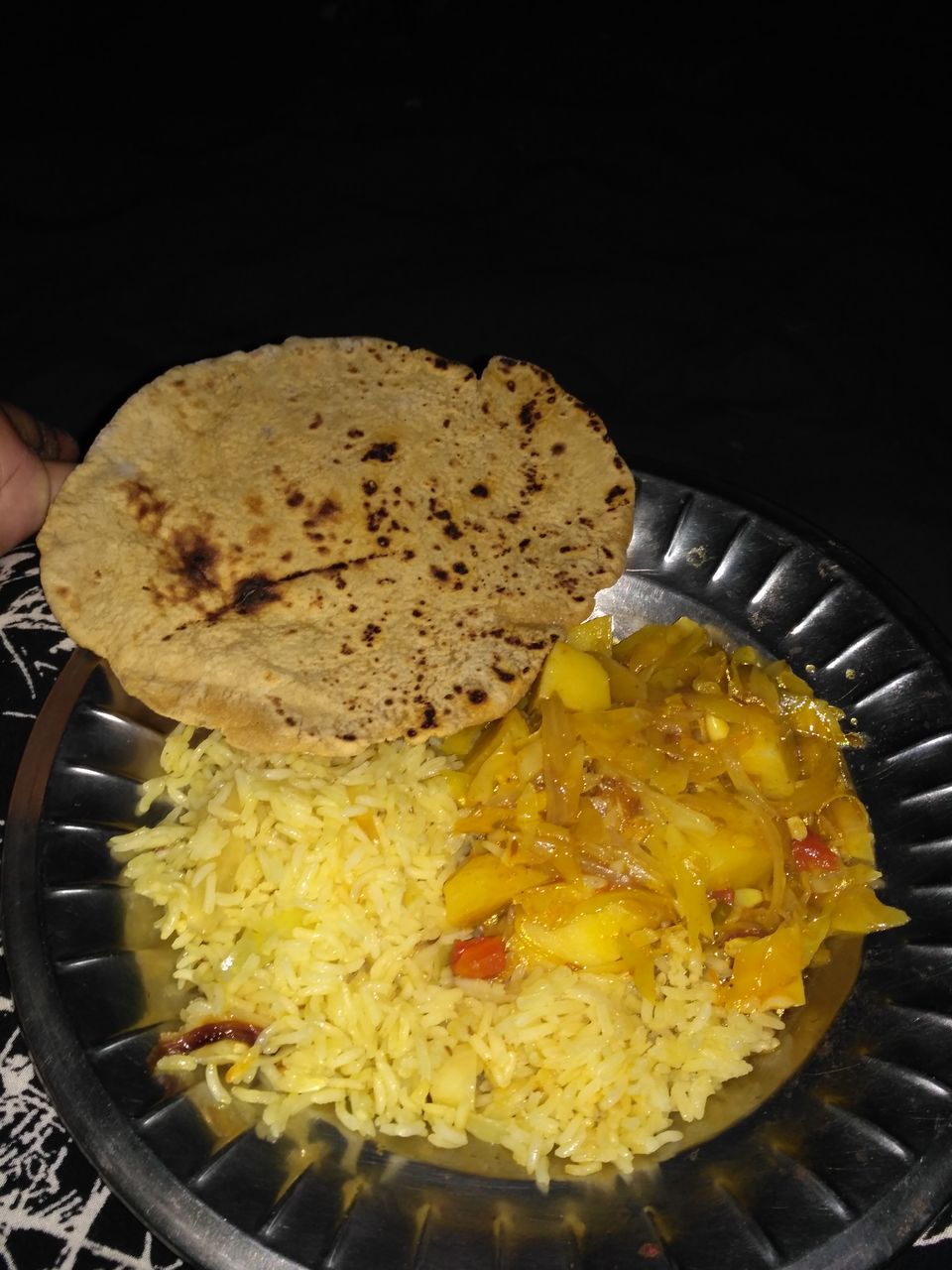 The morning after was splendid. For as the sun came up, I couldn't tell where heaven stopped and the Earth began. Having had tea and breakfast comprising of toasted bread, jam, and sweet porridge we made our way back. The last stretch of the camel ride was every bit worthwhile.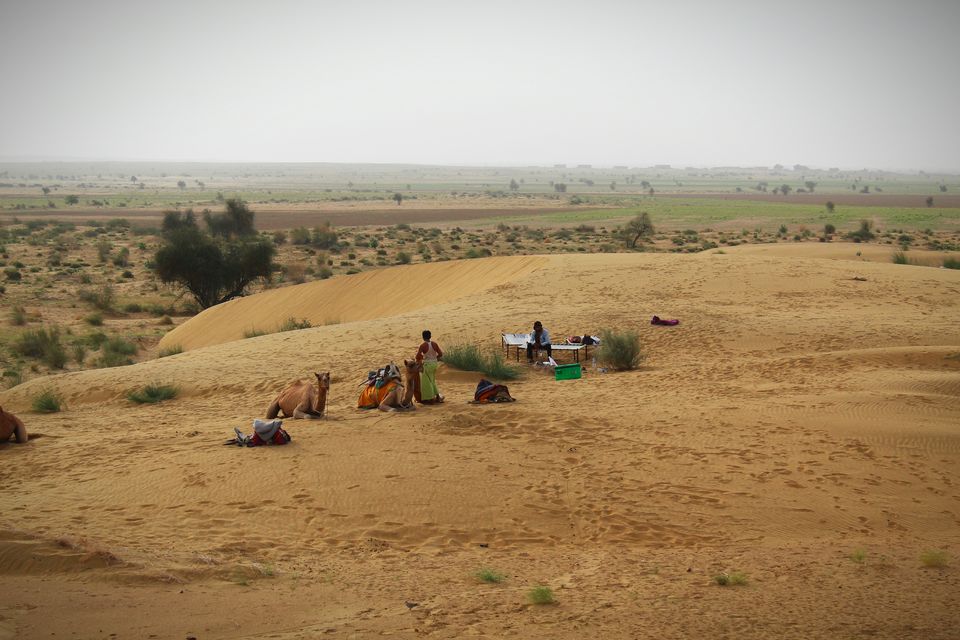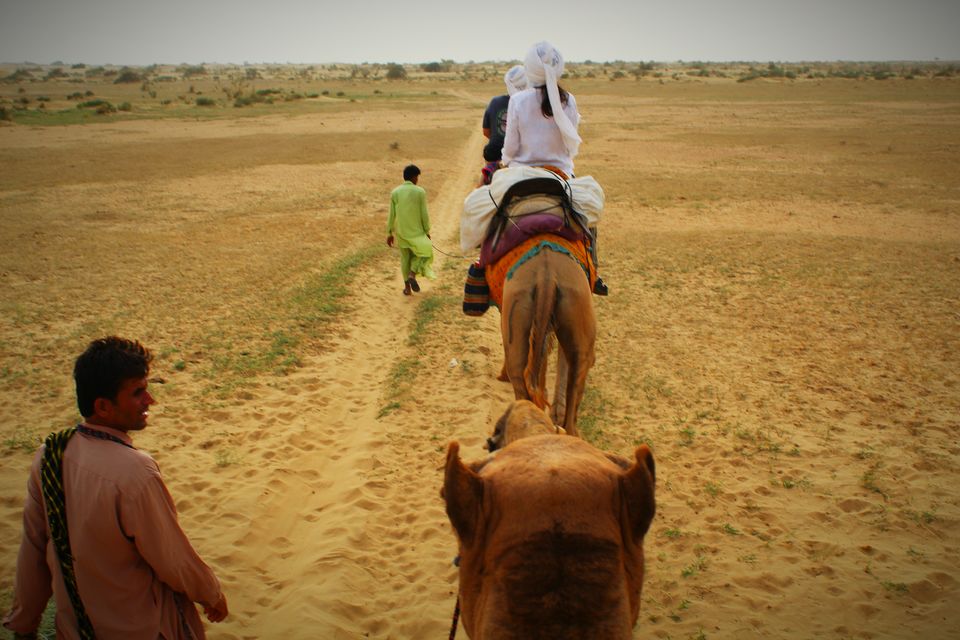 The guides, their stories, and more
Rajasthan is a land of stories and folks. And you get to hear the most fascinating ones from the guides. I remember one of them telling me about the Bollywood movies that were shot in Patwon ki Haveli; (Hum dil de chuke sanam being one big name in the list).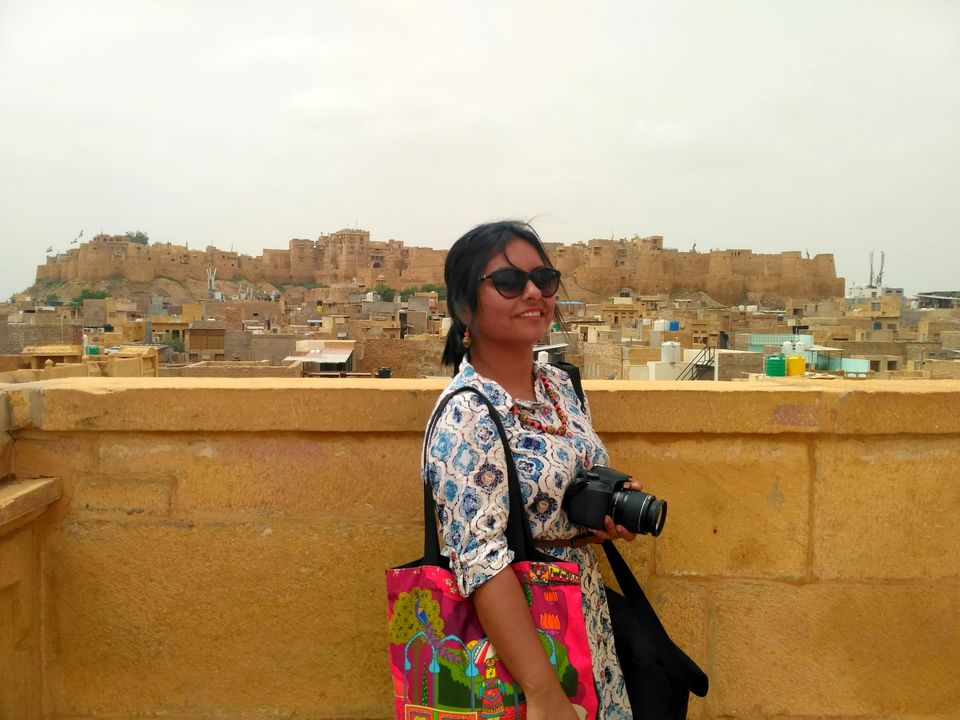 Oh, did I tell you how elated they were to know that I came from Kolkata? And how much they loved the great Satyajit Ray? For this man was one of the first to show Jaisalmer on the silver screen; all thanks to his movie Shonar Kella. With the slightest mention of him, they showed their greatest respect for him. (I was lucky enough to meet the first English speaking guides of Jaisalmer, who happened to have worked closely with Mr. Ray.)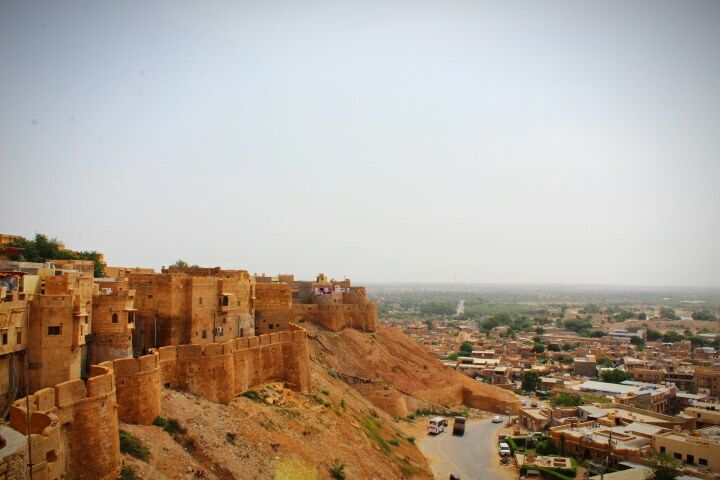 If people could win your heart with simple acts of kindness, here are two such incidents that I experienced.
Aap humare mehmaan ho madam ji
Being extremely tight on my budget, I didn't want to spend on personal guided tour of the Jaisalmer Fort. But the fort being extravagant, I was worried and sad to do it by myself. Seeing me a bit disturbed, one of the guides of the fort approached me. Understanding my situation he called for one of his friends. The man arrived in less than 10 minutes and took me all around the fort, telling me beautiful stories of every section. He even gave a ride on his scooter across the market. And to my dismay, he didn't charge a single penny. This is all he said, "Aap hamare mehmaan ho madamji. Firse aana ghumne."
Bhara thik se lagana
My hotel was a little far from the Jaisalmer Fort and I had to take an auto to return back. Out of nowhere came this guide-bhaiya I had met a day ago. He didn't just recognized me, but gave me a lift to the nearest auto stand and boarded me onto an auto he knew well. "Humare madamji hai yeah, bhara thik se lagana bhai", this is what he said and bid me farewell with a big smile.
My trip through Rajasthan, that spread across four different cities taught me one lesson in particular. The state and its people truly live with the idea of "Atithi Devo Bhawa" (Guests are God!). Being a solo traveler, not even for once did I feel lost or lonely. There was always someone to sing to me, guide me through the city, accompany me for food, or make me laugh. I went to Rajasthan being a tourist and returned back feeling one amongst them. I left behind My Rajasthan!