Day-1: Land at Leh, take full day rest. I usually stay at Irfan Guest house at Fort Road behind Dolphin cafe. It is a very basic but clean guest house. If you are looking for star hotel then Hotel Grand Dragon and Hotel Zen are there.
Drink plenty of water and hot soup with generous amount of Black Pepper and Garlic. Visit Gurdwara Patthar Sahib, Magnetic Hill, Spituk Monastery, Zanskar -Indus Sangam / confluence and War memorial.
Garlic is a magic remedy at high altitude so have plenty of Garlic.
Drink 4 to 5 liters of water every day.
Just in case, your nose bleeds mildly, don't panic. Relax and rest. Drink more warm water. Try to catch some sleep.
Leave for Pangong lake. Stay overnight at the lake or at Tangtse. Check if they have opened route to Tsomoriri directly from Pangong lake or not. If the route is open, then go directly to Tsomoriri or come back to Leh. Stay overnight at Leh.
Come back to Leh from Pangong Lake. Visit Hemis Monastery on your way back. Take a left from Karu towards Hemis. Day-4: Leave for Nubra Valley. Stay at Organic ecoresort (Phone Number: +91-1980221070 at Hunder (I personally like it because the owner is a Philanthropist and does great work for Ladakhis). Enjoy off roading / double hump camel ride at the ancient silk route. Scenes from Movie : Bhaag Milkha Bhaag were shot here.
You will be crossing World's highest motorable pass-Khardung La)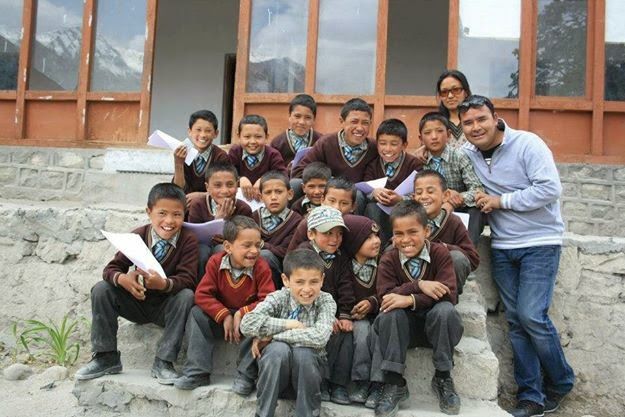 (In the photo: Dr. Nordan, owner of Nubra Ecoresort, Hunder supported my initiative of crayon distribution and helped me distribute Crayons at a school in Diskit, Nubra valley)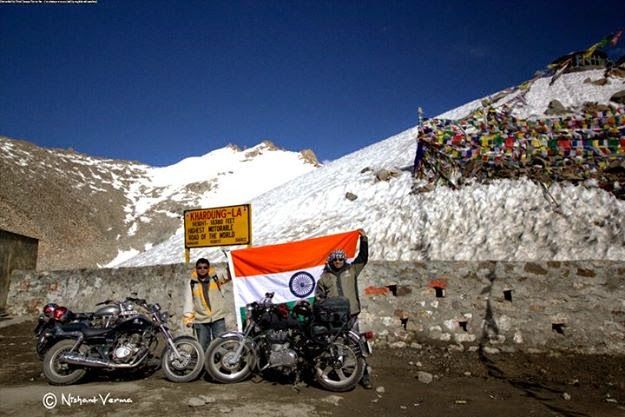 (Photo: We reached Khardung La )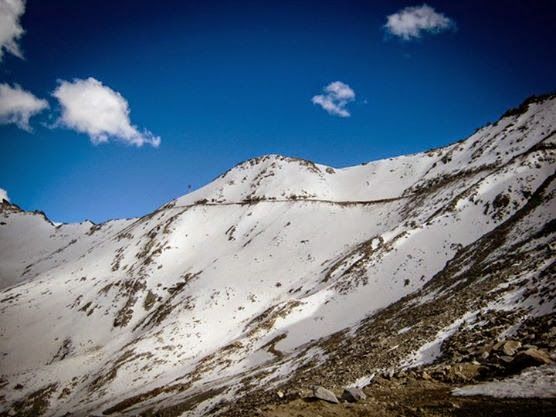 ( Photo: way to Khardung la top)
Day-5: Come back to Leh from Nubra Valley. You can visit Hotsprings at Panamic on your way back from Nubra Valley to Leh. Day 6: Leave for Tsomoriri. Check about the permissions from your driver or Deputy Commissioner (DC) office.
Tsomoriri has only homestays. It falls under the wildlife zone, so you need to have a special permit which is payable. On your way, you will cross a small but beautiful lake - Tso Kiager
(Photo: me (in helmet) with a friend)
come back to Leh. You can also visit Hemis and Thikse Monastery, on your way back.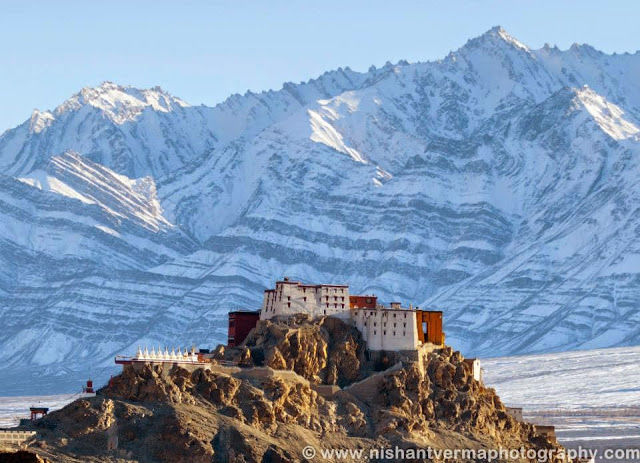 (Photo: Thiksey Monastery as seen from a nearby Village)
Hello = Julley ji= Thanks in Ladakhi ????
Carry your medicines. Blood Pressure, Asthma and heart patients need to take extra care. Have Diamox (Diuretic medicine) after consulting your doctor (half/ one tablet each day for 3 days before starting your Ladakh trip and have it for another 3 days while you are in Ladakh). Avoid Self Medication. Diamox is not for those who have allergy from Sulpha Drugs. Must Carry - First Aid Kit and basic medicines for fever and diarrhea. Carry your own Litter bag and help us support clean Ladakh.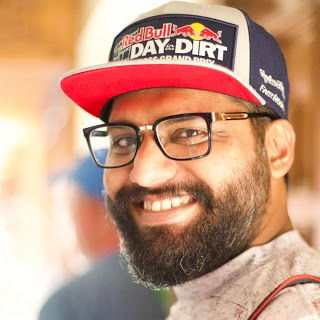 Nishant Verma is an International Traveler and Photographer famous for his work from the Mexican extreme Desert motorcycle Rally - The Baja Rally. He is the first ever Indian Photographer to be an official photographer of any International Rally outside India.
His work has been published across the world (National Geographic Magazine, International Masters of Photography Vol. 1(USA), Allers(Sweden), Health Magazine (Dubai), Honda (Canada), RedBull (Mexico) Race Dezert (USA), few websites of Pakistan and been widely covered in Indian Media. His photograph was also nominated for National Geographic Moment Awards.