It was around 07:00 AM, 21 JUNE 2018
Me, Prashant and Dhirender got late in the morning. But, other people gets ready on time. So, they visited Diskit monastery and hunder. Hunder, a place famous for the the sand dunes. Yes, sand dunes right in the middle of the great Himalayas. Hunder is also famous for the the double hump camel ride. These kinds of camels are called Bactrian camel. These kinds of camels can live upto months without resources. Once, water is available, they can drink upto 50-60 litres of water.
When we about to start our journey for Diskit monastery, we got to know that one of our bike get punctured. We thought to go and visit Diskit monastery and wait till car's group come back. After all, we had planned to take breakfast from the restaurant of guest house and move ahead. Car's group came back and we had nice breakfast. Stay of Diskit monastery was our best stay of whole trip. Our rooms are really neat and clean. It has the awesome mountain views from our balcony.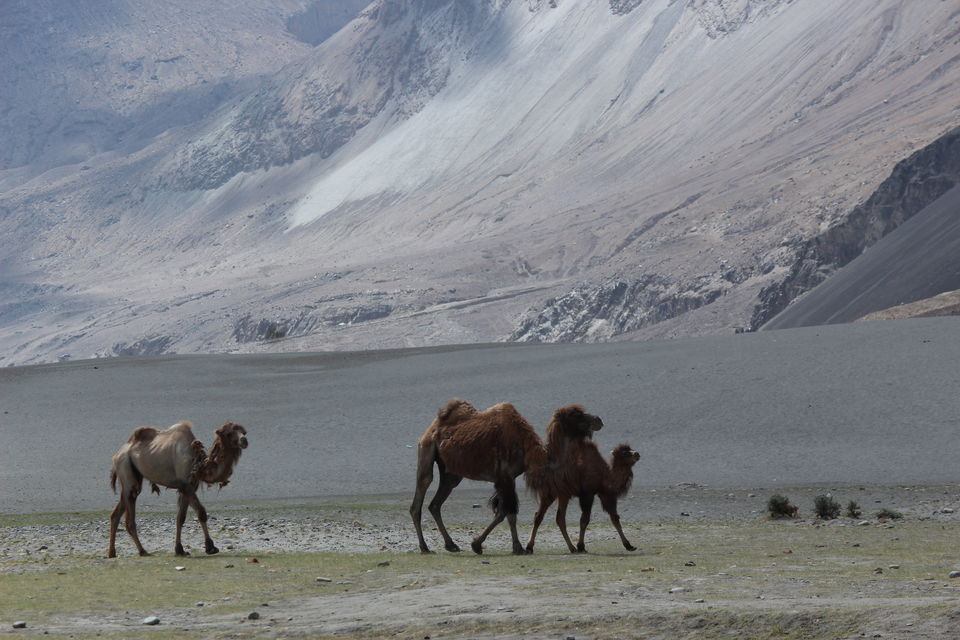 After filling fuel in our vehicles, we started looking any service station where we could repair our punctured bike. Dhirender and Prashant wasn't interested in going hunder for camel ride. So I asked Khush to accompany me for camel ride on the sand dunes of hunder. Khush and me went to hunder, Prashant and Dhirender got busy at bike service station and Vishal, bharat and Atul was in car and they went for ATV bike ride.
It was around 09:30 AM, 21 JUNE 2018
Hunder is just 7kms from Diskit monastery. There was no traffic so we covered this in lesser time. There will be 20 INR entry fees to enter into the camel ride area. We parked our bike and went to ask vendor for camel ride. We fixed the camel ride for 200 INR per person. Since, camels walk with their family. Vendor asked to wait 5minutes to fix his bookings for other 3 camels. His other 3 camels got bookings in lesser time.
Owner of the camles told us that he had worked for DD channel earlier. He has provided pictures of Nubra valley to channel earlier. He has worked as graphic designer for the channel also. He worked as photographer for other channels as well. Haha!
Me, khush and other 3 people got shocked to know all these. I was sitting on the leading camel, so I provided the camera to click our pictures.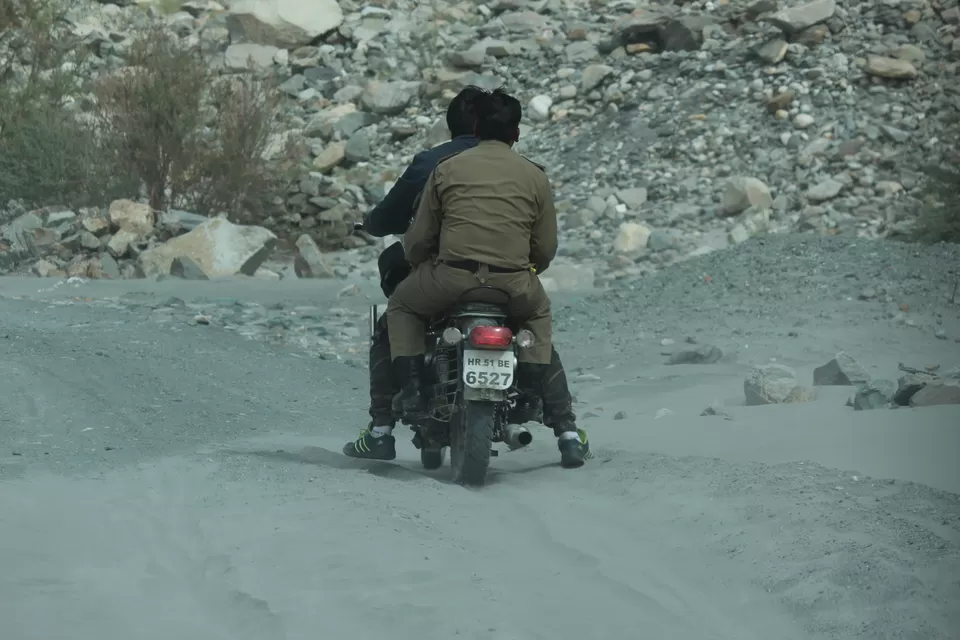 Next destination … ?
It was around 10:45am when me and khush went back to Diskit. We met the car's group. We waited for Prashant and Dhirender to get back to us before we start again our journey to Pangong Tso lake. This lake got famous after two big banner movie. "3 idiots" and "Jab tak hai jaan" created a huge fan following amoung the travellers.
Pangong Tso lake is around 150kms from Diskit. Just after we get to the route of the Pangong lake from Diskit. we were road which is similar to river bank side road. It was looking like we are going off road and we are lost now. We went confused now when we saw there is two roads now. There was one board with sign but, that iron was looks more confusing. Luckily there were some people around this diversion. We got cleared our confusion and we moved ahead now.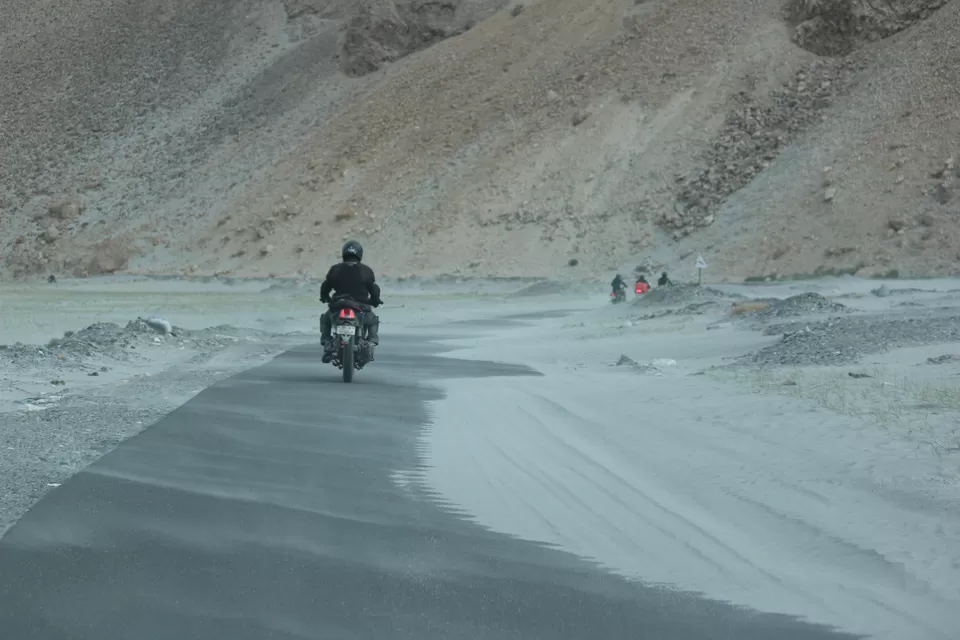 we could see the large sand dunes area and in between them, there was a river called shyok river. We could see the large river bank area on both side of the road. It was all plain road.
It was all around mountains, good pleasant sunny day. Also some sand dunes area with running river. We got to see all at once. We couldn't imagine what we are witnessing
We all got busy in capturing the moments.
If you are doing leh ladakh and everything is going smooth. This isn't possible. Adventure trip is just like life. If you won't get any problem in life, everything is going smooth then there is no fun left to enjoy the smoothness. This same applied to adventure trip.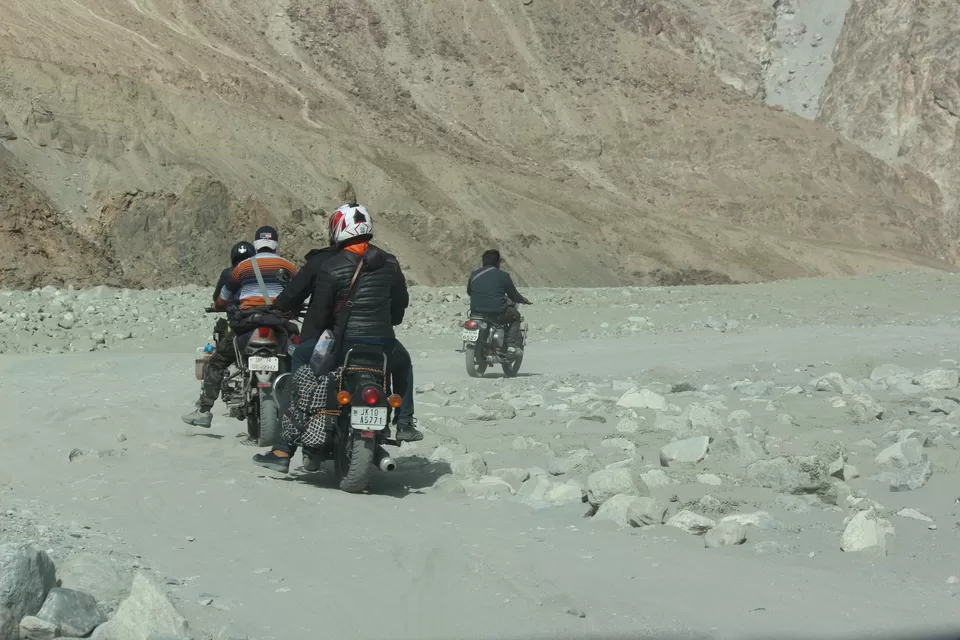 Tragedy No 4 …!
It was around 3pm. We could see lots of sand has came on the road due to winds. Vishal, Dhirender and Khush was riding the bike. Rest of the people were in car. Khush was riding just before the car.
According to him, he slept while riding the bike. His innocent action has took his bike off rode and his bike got disbalanced and he fell down. We looked all in front of our eyes. Which was looking all funny and unbelievable.
His face looks like he was drowned into the heap of sand. His whole body got stained into the sand. His bike has fallen. Fuel was coming out from the tank like water fountain in a very magical way.
Me , Atul , Prashant and bharat were just behind khush in the car. Prashant stopped the car immediately and ran like a bullet towards khush to know more about the situation. Khush stood up. We thought he is okay. we then looked at the bike. Our royal enfield got injured this time.
Bike was not getting start after this situation. We stopped one of the biker who was passing by us. Luckily, he had knowledge about the bike. He cleaned up the bike oil spreaded near filter.
He said, bike is okay. but since bike has fallen, engine oil has came out. He said, it is okay to travel ahead but check-up is necessary. We asked to sit khush into car and I took the incharge now. Just after 10secs of bike ride I realized read tyre's brakes has gone. Hahaha…!
While riding on the bike which doesn't have the rear brakes. My mind was thinking some negative thoughts due to rear brakes were failed. But, it looks okay as we moved ahead.
At the time of downhill, It has become very tough to handle the bike. I was living with the front tyre's brakes only. Haha…!
Dhirender adviced me to not to put my leg on the brakes now. He said, brakes will automatically come back. He was correct. Brakes came back after sometime. But I was not very uncomfortable to ride this bike now.
Dhirender and me then exchanged the bike and moved ahead. It was around 6pm. Sunlight was about to go. Desert become colder in mountain region. But, we didn't have to worry. We reached at pangong lake and at the starting of the lake we found stay for the night.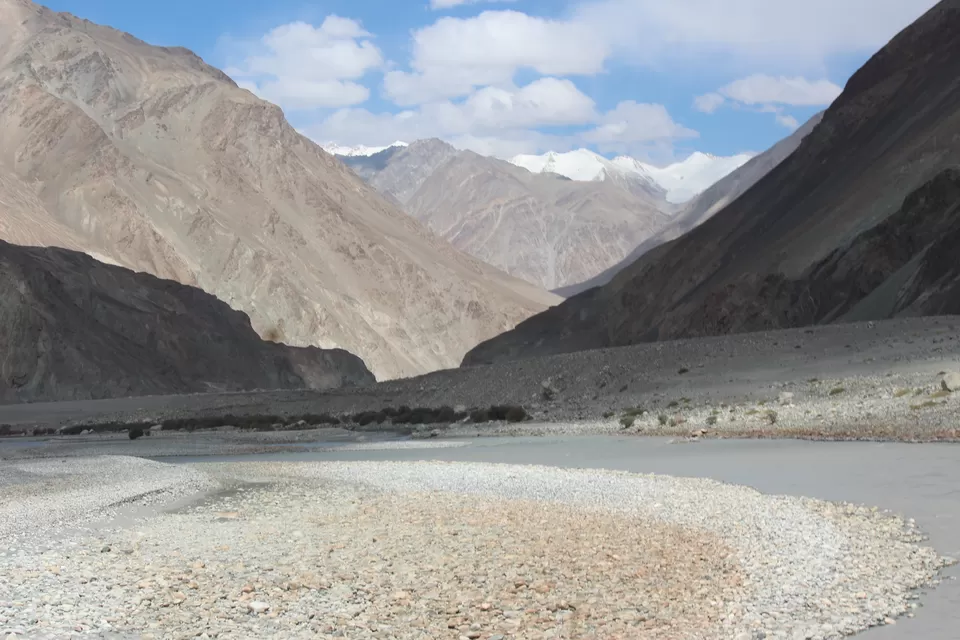 The region now gets colder than earlier. We were shivering from inside. It took time to sleep at night.
"Hotel's cost – 3K INR for 2 rooms"