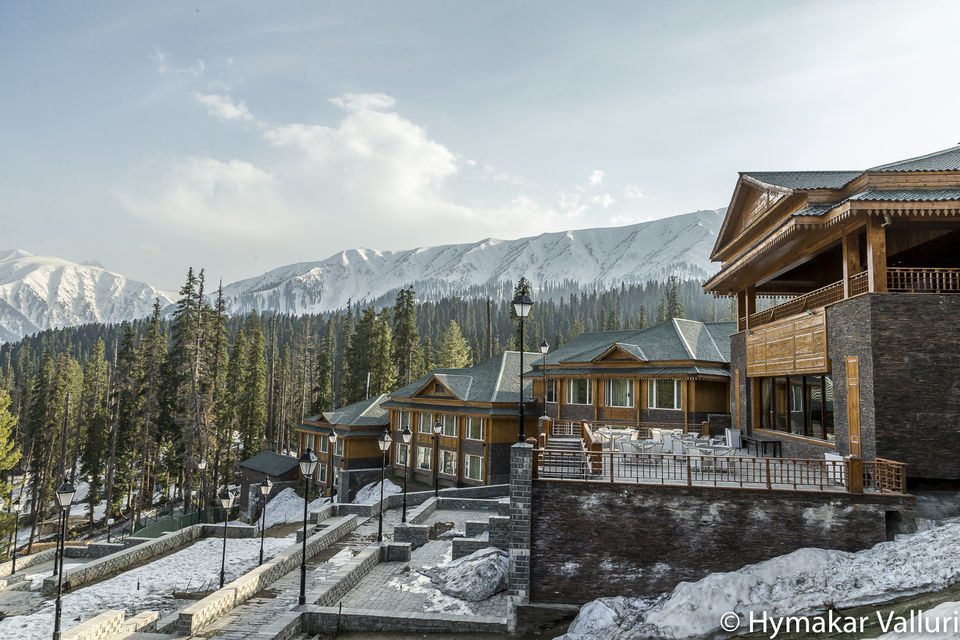 We had several places in mind, after evaluating all the options we chose to go to Kashmir. I was very apprehensive considering the political and security situation in Kashmir based on the news i get to see on TV. I called up hotels couple of times to get an assurance about the situation. Two things kept bothering me one security situation and other weather forecasts. But we had to go as we have been planning this trip for ages to see Tulips in Srinagar and Tulips can be seen only during April month. So finally we said we will do it and leave the rest to our fate.
We left from Bangalore at morning 8 AM and arrived at Srinagar by 2.30 PM. Khyber hotel guys were waiting for us at the airport and transferred us to the hotel in Gulmarg. Driver gave us all information about Kashmir valley, art and crafts there, must visit places etc., Enroute we were excited to see lot of mustard fields spread across like a yellow carpet in the valley in between the snow capped mountains. We got to the hotel by 4.30 PM and decided to take rest that evening.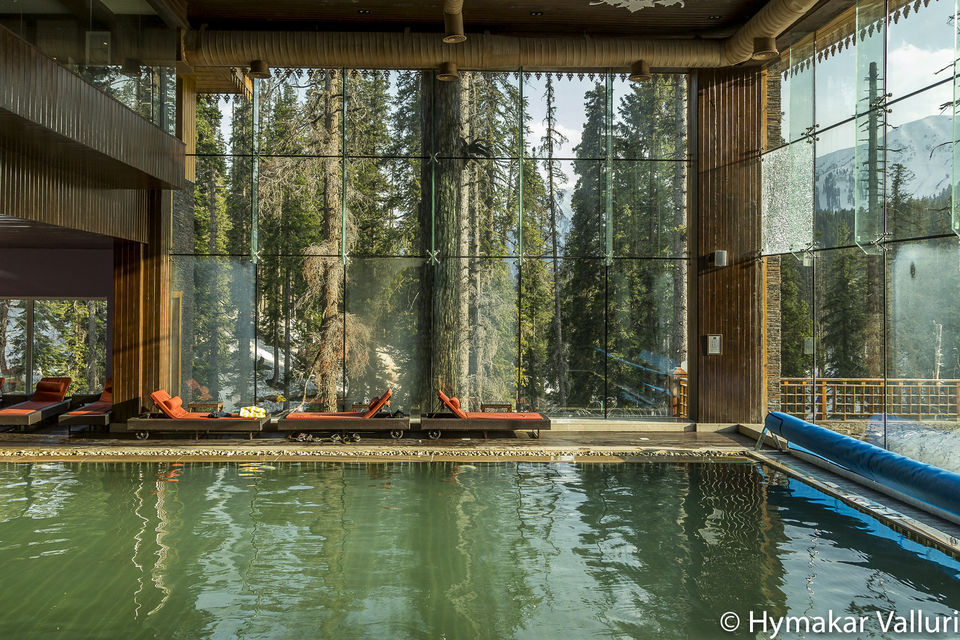 Soon after breakfast we headed for Gondola ride, the world famous gondola ride, as we stepped out of the hotel, we saw few guides waiting there, we engaged a guide who became a good friend later Mr. Manzoor a famous Skiing expert and a professional snow boarder. He quickly arranged for Gondola tickets for us, we chose to go to both the phases and phase 2 is at the peak of ±14K Ft ASL which costed Rs.1,600 / head. And we were advised by our guide to hire gum boots which we did for a modest rate of Rs.100 /Pair. As we got to the waiting hall we saw that already some 60-70 people were waiting in the queue.Our guide being a influential fellow by-passed the queue and we got into the gondola in 30 mins time. There were many guides there and they have been telling us the stories of Gulmarg to us. There used to be days where people used to wait for 4-5 hours in queue to get their turn and also on the mountains on an good day few thousand tourists used to go. Manzoor suggested that we should go to the phase 2 straight that means we had to change the Gondola and the phase 2 Gondola looked very modern and as we got there i realised it was wise decision to take my Columbia jacket. We got out of the gondola and saw few sledge pullers waiting for the tourists, but were advised against going for sledge and Skiing guys were there ready with their Ski's and Manzoor suggested to give a try, its a funny adventure that we had to hold the ski guy and stand on the ski and he would take us for a ride. This was waste of money and super expensive for a 200-250 mar ride we paid Rs.2000 / Head. They started with a rate card of Rs.4000/ Head, bargaining is must. We got to see some breath taking views as i started taking pictures weather started to get rough and we had to leave the place.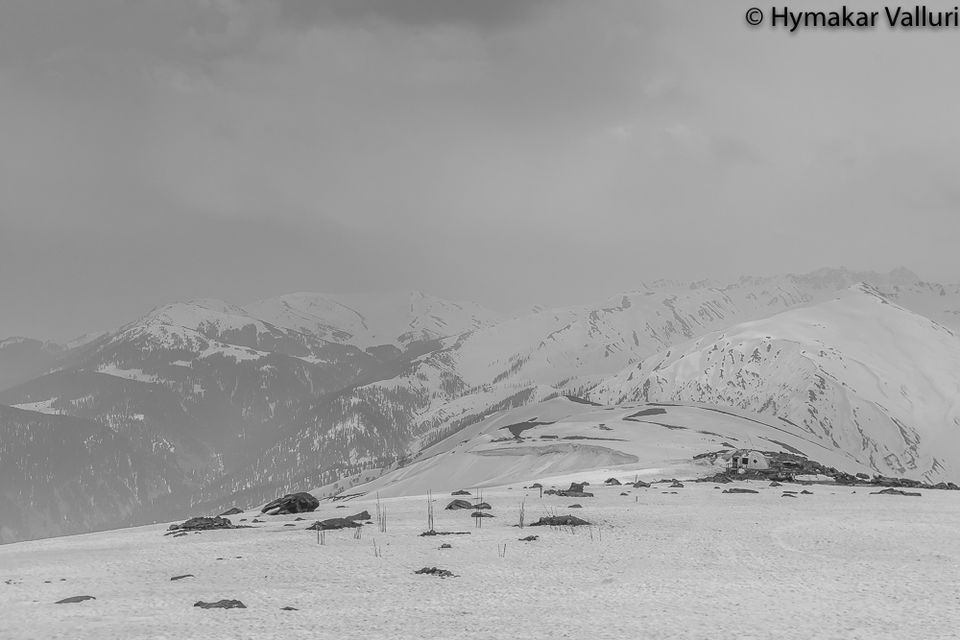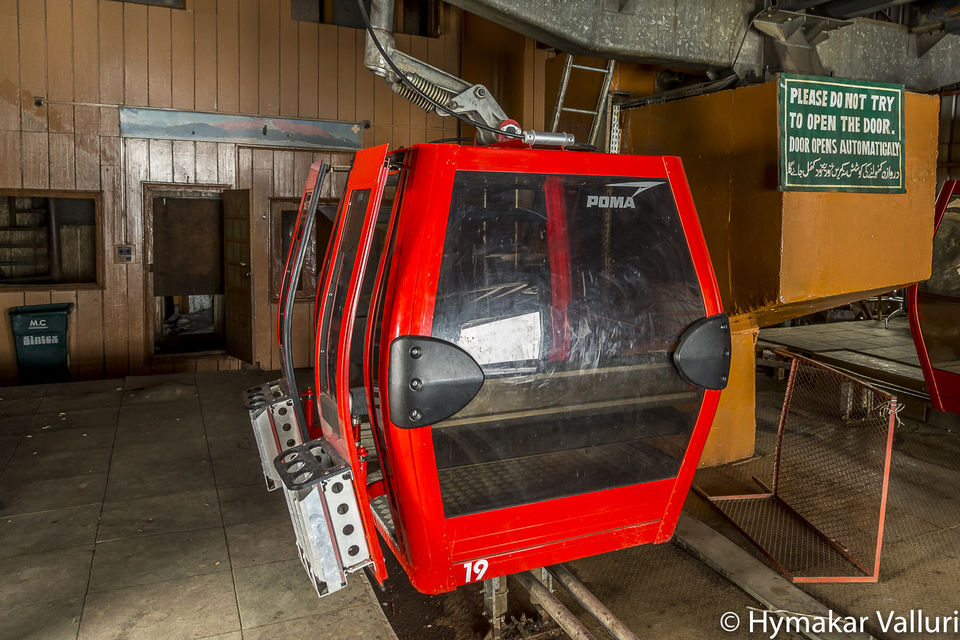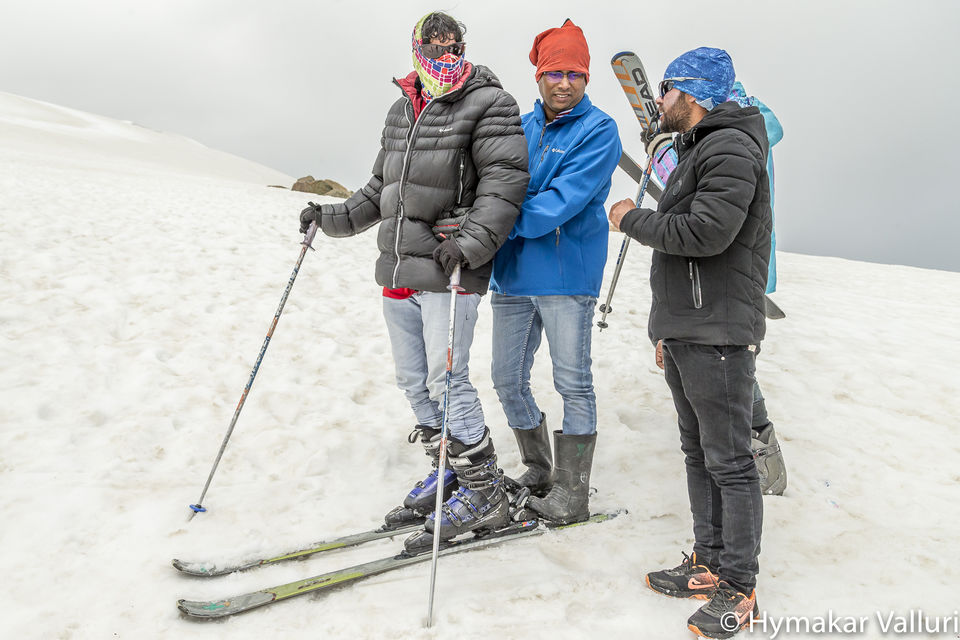 After the adventure in phase 2 we came down to phase 1 and there what we saw a small are fenced and there were people of all ages learning how to Ski, so the child in me dragged me to the ski coaches and the deal was a 20 min training and another 20-30 min self skiing. Both myself and my wife signed up for that and realised it wasn't easy job in few mins of fixing the ski boots. we gave our best shot. So bargain again we paid Rs.1K/ head. After skiing it was time for lunch and there were few dhabas in that altitude and we decided to have local Kashmiri Pulao and Dum aloo. While we were coming down from Ph2 to Ph1 i saw paper trees from gondola, they looked beautiful like a piece of art.I informed Manzoor that i had get few clicks of the paper tree from close. He suggested if i could hire a Snow mobile then i can get closer to them. We hired the snow mobile after negotiating with them for almost 50% price of their published rates. Snow mobiles look pretty easy to ride from outside but they are not easy to manoeuvre. We had been taken to three spots from where we could see the valley from the cliff and one of them was called death valley, as every year few skiers die while skiing from up hill. The landscapes were mesmerising it was like standing on a white peak and looking down at the green carpet with blue streams in between. Finally my snow mobile guide took me to the place where an Avalanche had happened in the past and from where i could click the images of Paper tree. I just could not walk there as it was a post Avalanche settled ice wherever i was laying my foot i was going 1,5 feet deep. Somehow managed few images and rushed back to the base. We decided it was time to go back and as we reached the market there was a All Terrain Vehicle trip waiting for us, We hired one each with a driver and then off we went for a round around the Gulmarg Town. The energy levels of people and smile on their face is contagious. They had only one concern no tourists. With numbers of tourists going down its hurting them big time and they are getting even more agitated. Hospitality of Kashmiris is world class.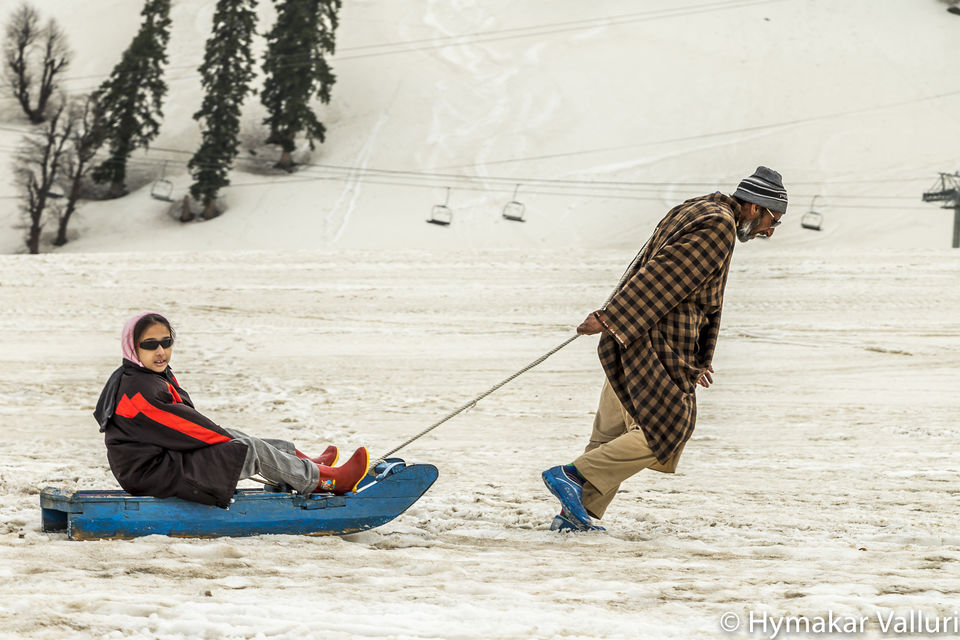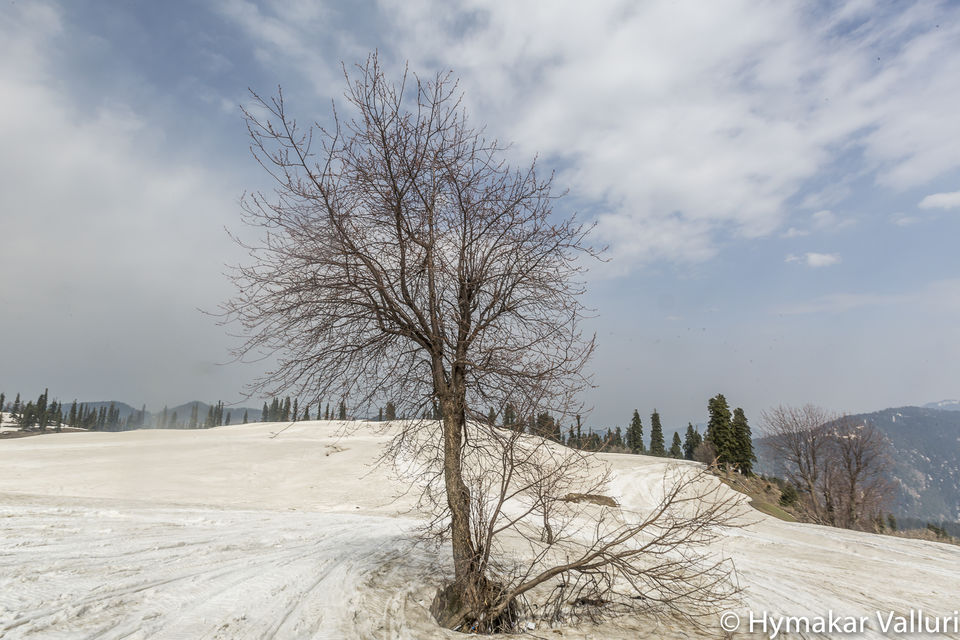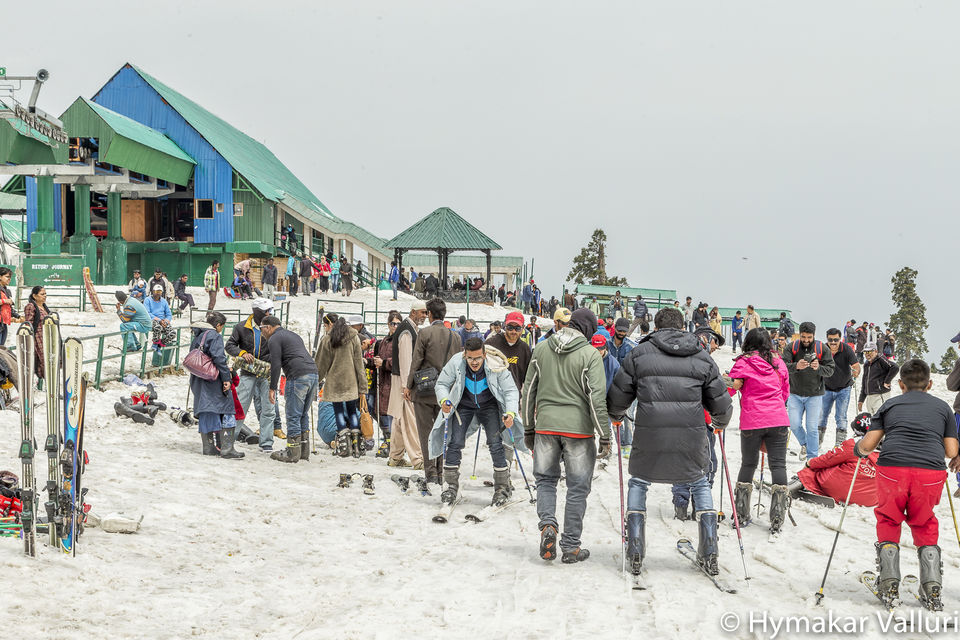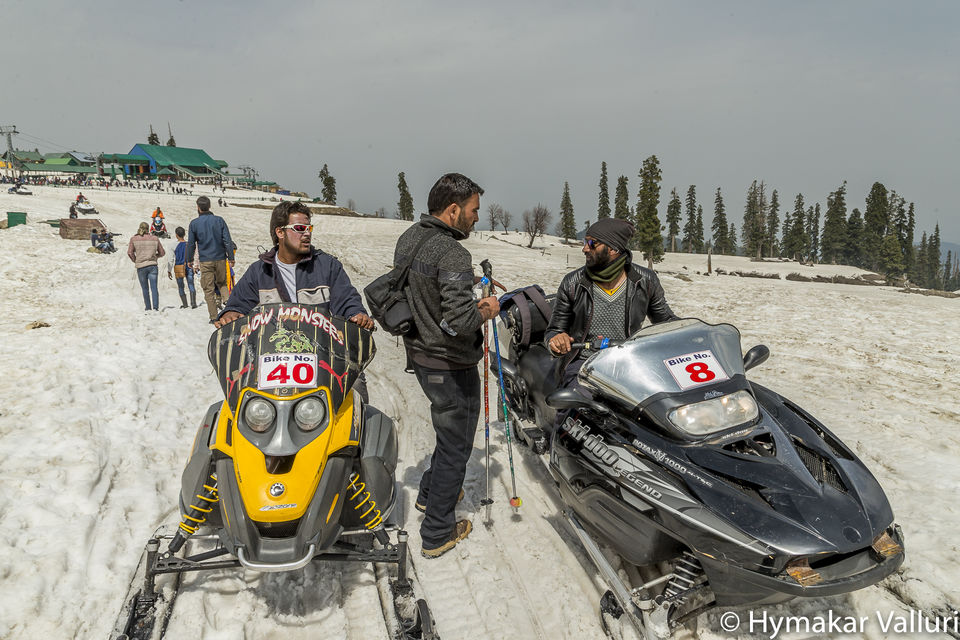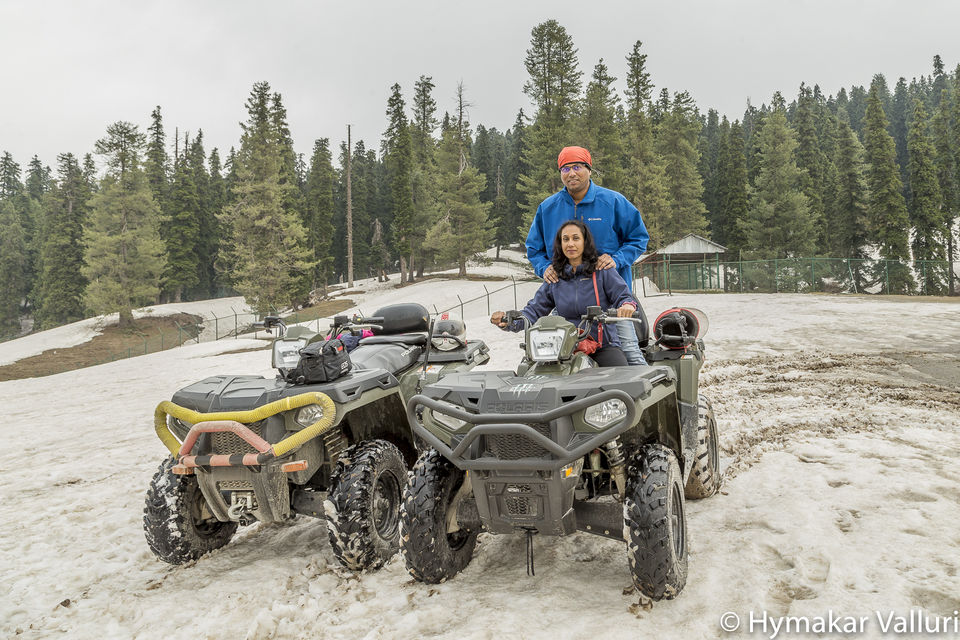 After the breakfast we headed back to Srinagar bidding farewell to Gulmarg and skiing. Our driver started telling his experiences and stories about how many leopards and snow leopards he has seen and also the Himalayan Black bears. I was excited about the story of Toosh and Pashmina Shawls so i requested him to take me to a place where i can see those craftsman who make those wolds expensive Shawls. We stopped at an emporium and there were introduced to the carpets woven with silk from apple leaves and also seen the soft toosh shawls. Starting price of authentic toosh shawl was Rs.60K and i had seen something which costs Rs.200K. We did shopping according to our budget and left to Srinagar. As we approached Vivanta i was super excited to pass by Dal lake and excited to see the mirror like still waters of Dal lake reflecting everything on its surface to the sky. We next passed by the Tulip garden and they publish blooming % outside the garden i was very disappointed to see only 55% blooming. As we got to the hotel and after checkin formalities had quick lunch and hired a car to rush to tulip garden. We could see part of the tulips were gone and many were still intact. We felt super excited touching and feeling the tulips and clicked some images of the colourful tulips and landscape around. After spending 1-2 hrs we drove down to Dal lake for Shikara ride, We were taken all around the lake and had seen floating hotels, villages, houses and also a market. I can write a book about my 2 hours experience at Dal lake. As it was getting dark we wrapped up of ride and headed back to hotel. As we got back to the hotel clouds started getting dense and was worried about next days plan on onside and was eager to get some good lightning shots form the room. We wrapped up the day with pizza and couple of Beers.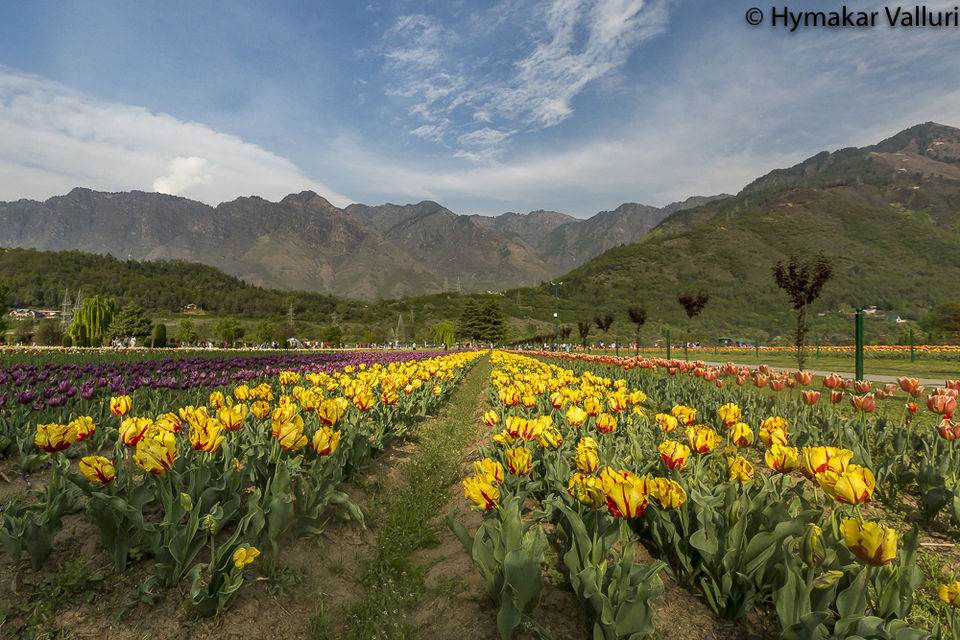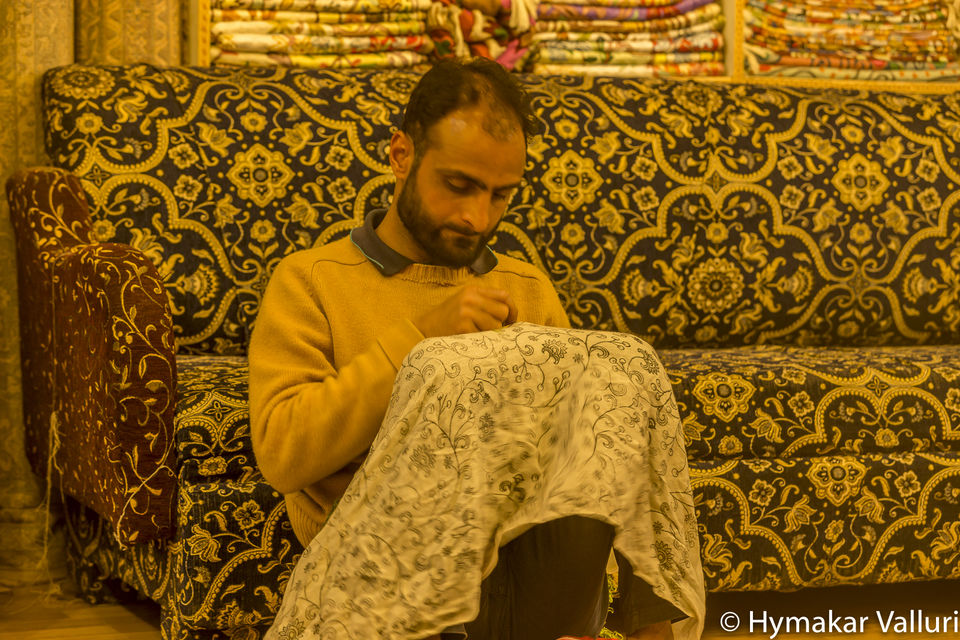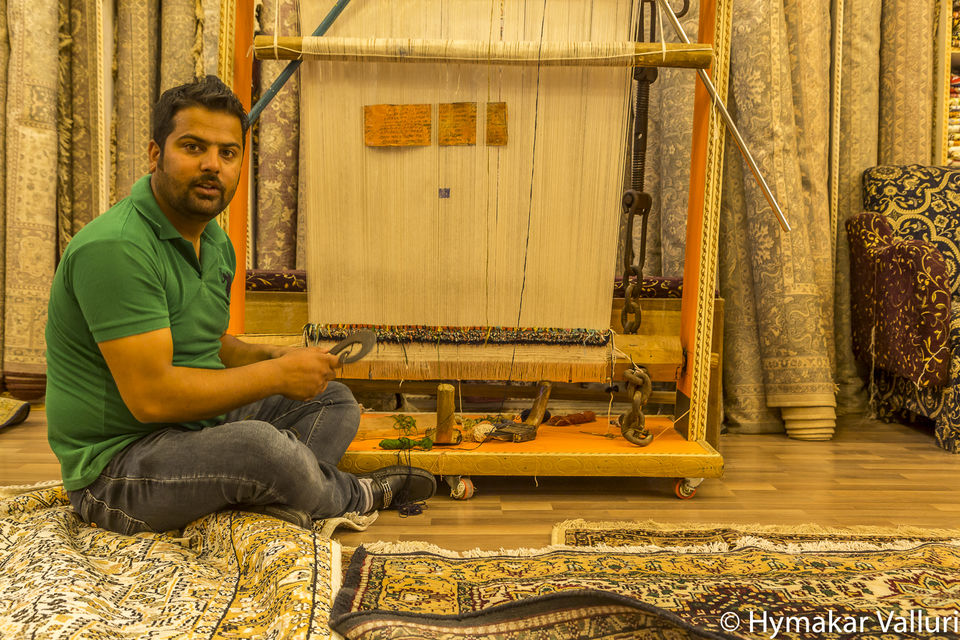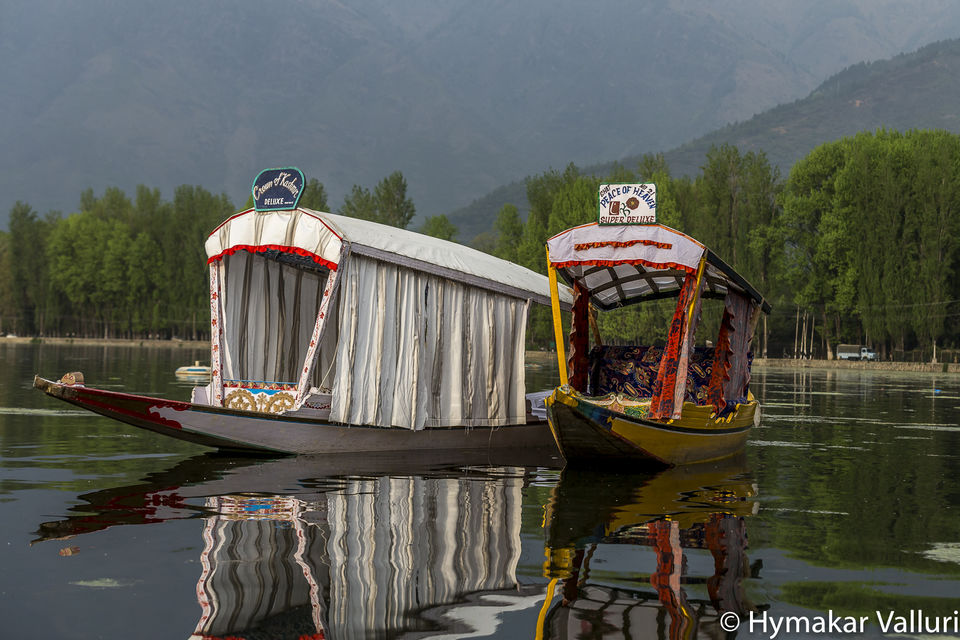 After the previous nights thunderstorms our plans to visit floating vegetable market got cancelled. We were skeptical about plans to Pahalgam. Luckily by around 9 AM sky was clear and we quickly made plans to go to Pahalgam. It was a amazing drive of 3 hours with beautiful landscapes all along the way. We stopped over one of the apple orchards to have breakfast. We reached Pahalgam by around 1PM. Our driver took us straight to a hotel where we could hire pony to go up the hill to see water falls and amazing landscapes. Pony ride wasn't easy but i was not in a mood to hike so we hired ponies. Landscapes were awesome from the points which the guide took us on ponies, if we had chosen not to make that trip we would have missed a lot. I had clicked images of amazing water falls and streams where water was gushing at a great speed as if it was in a hurry to catch a train. After seeing all the view points we got down by 5 PM and had our late lunch in one of the Dhabas in the market. Sarson ka saag with Makki Roti was amazing. We drove back again striking conversation with our driver about life in Valley. We found armed men all along the highways. We were never disturbed by anyone. Every person we met gave me a smile and a positive vibe. Lot of people inquired how i think about visiting Kashmir as i told them i would not like to go back. Armed men around sometimes make you feel secured and sometimes insecure. We got to Hotel back by around 8 PM. We had a bottle of wine and dinner. Next day was the day of our departure from Srinagar. We had time in the morning and made quick plans to go to Sankarcharya Temple and Mughal Gardens.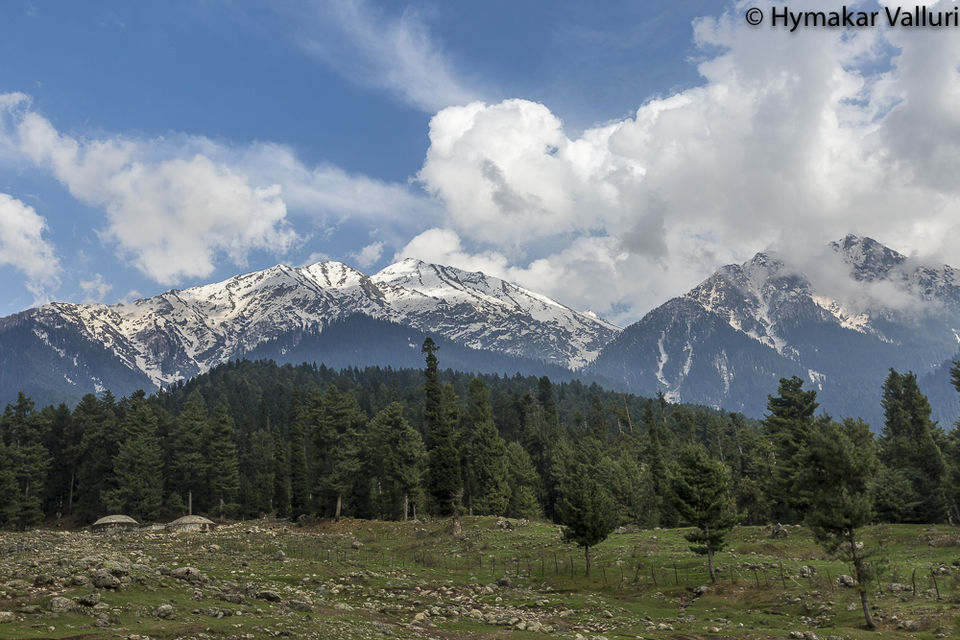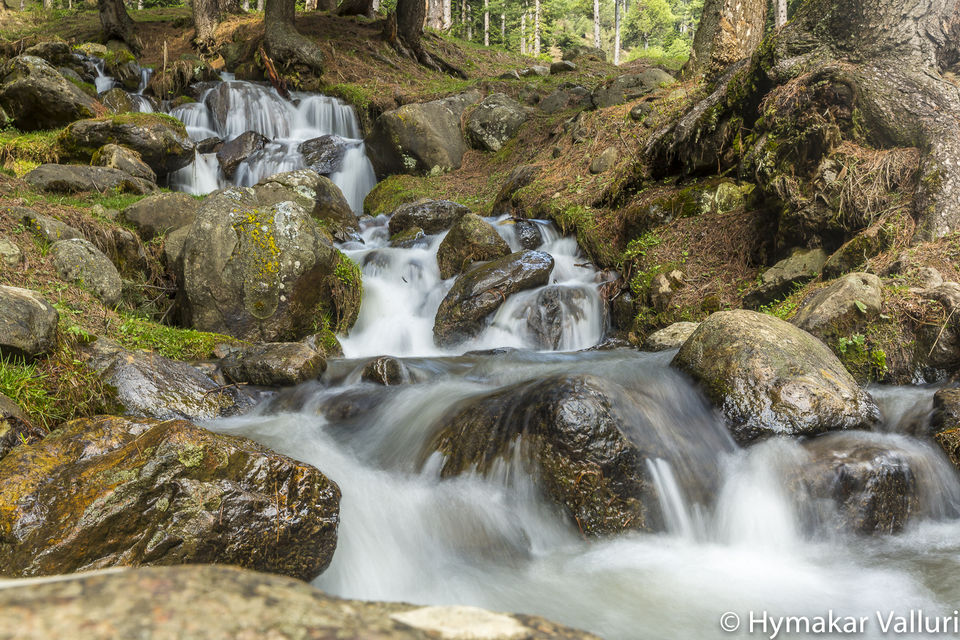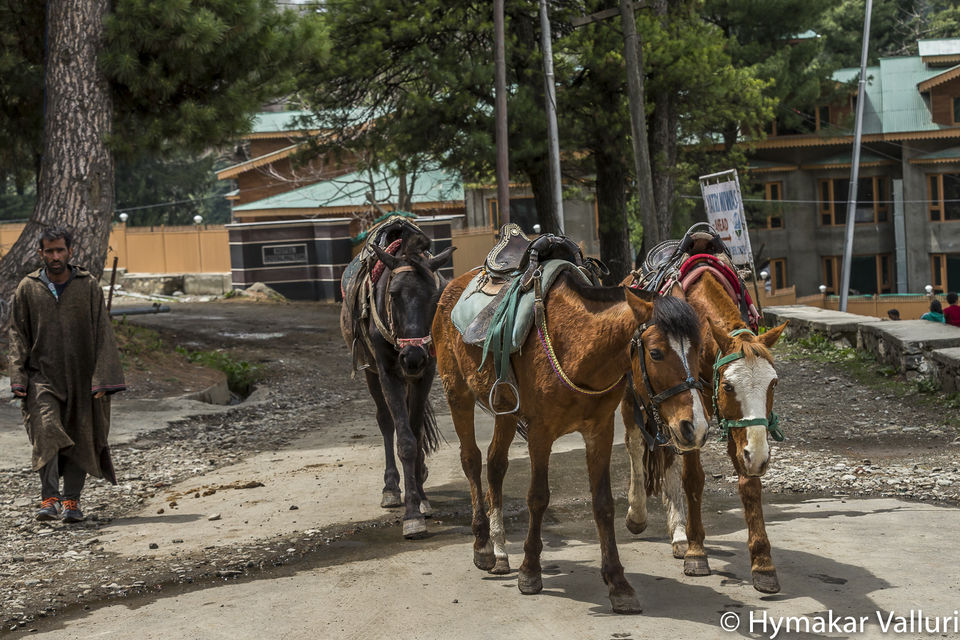 We had to wake up very early in the morning to get to the temple in time. Sankaracharya temple is located in the heart of Srinagar, maintained and guarded by CRPF personnel. Even gods needs security, its so funny. Anyways it was a up hill drive and by around 7 AM we got there, we had to climb around 260 steps to go the temple. Beauty of the temple is you can get an almost 360 deg view of the Srinagar city from there. Cameras and phones were not allowed in the temple area and we had spend some time at the temple offered prayers and headed back. We stopped over few view points till we reached the main road. What i was observed during the stop overs was that mountain was amazing for birding i have seen some beautiful birds, but did not have a tele-lens to click and identify them. As per plan we went to Krishna Dabha for break fast, had yummy parathas and were informed in a busy tourism month one needs to taken token in advance and wait for a long time to get place to eat in Krishna Dabha. But as not many tourists were there we got the table as we walked in. On the way back we did some shopping, visited Moughal garden, i did not find it exciting there. It was time for our flight, hence quickly rushed back to hotel, checked out and headed to the airport.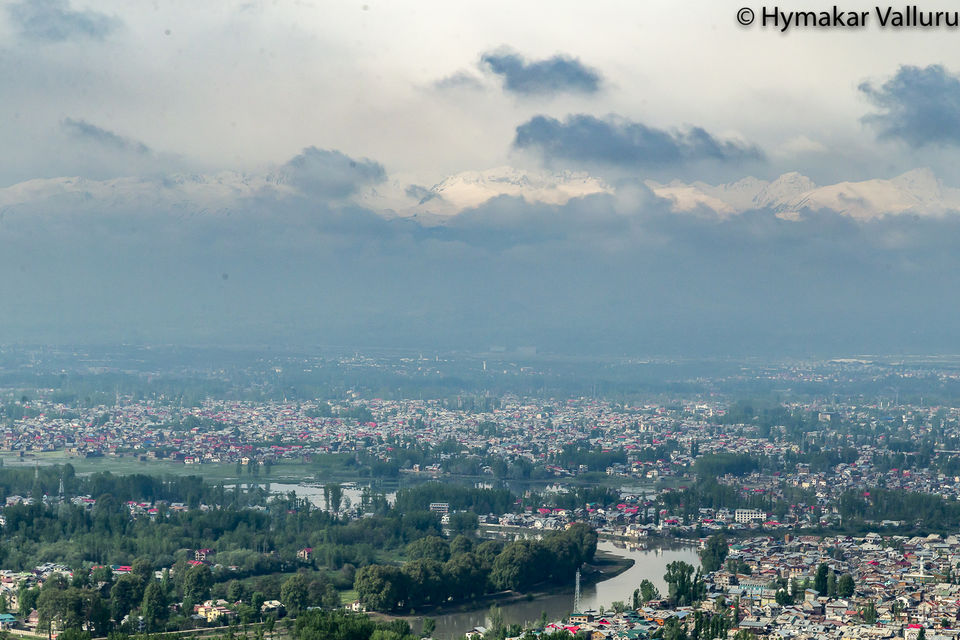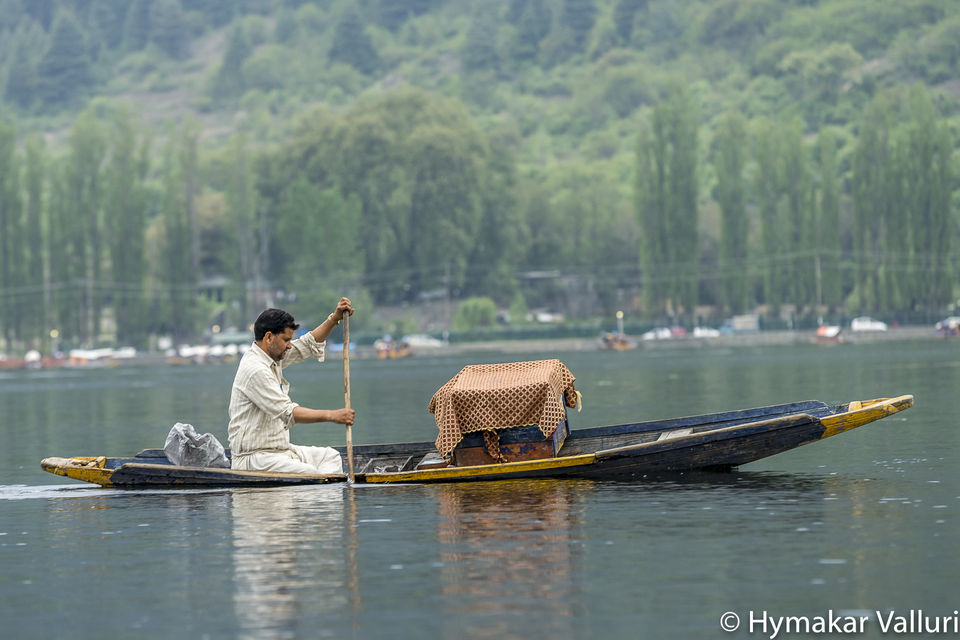 Thus our dream of seeing tulips, skiing in gulmarg, riding pony in pahalgam has been accomplished.
Few tips for travellers, Negotiate hard, very hard- shamelessly negotiate, they know customers will negotiate hence they jack up the prices upfront. Check the weather conditions, plan well. Follow the news, just incase you don't want to get trapped there, though the place is amazing you will have to get back home to resume your office.
People are very nice, humble, approachable and always smile inspite of challenging conditions they live in. Kashmiris are beautiful people inside as well as outside. They are rich you can't imagine the natural resources they posses. They are intelligent and smart. Who would feel comfortable if an army man with a Machine gun stands outside ones house 24/7 even though he is standing to protect you.
A place to visit atleast once in your lifetime.