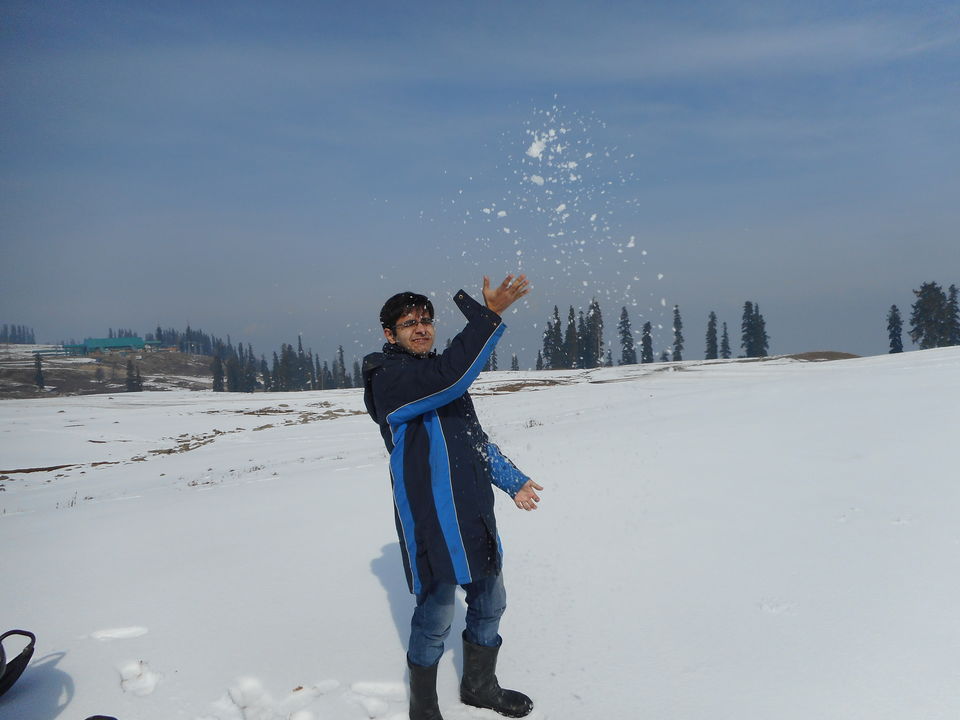 Go to any popular tourist city, hill station or town etc and you'll find services and hotels of various prices. Those who can afford to spend will obviously stay in a lavish hotel or resort and travel by AC taxis. Those who are on budget will obviously prefer a modest accommodation and will roam around in buses or autos, even shared ones. Whether it's Mahabaleshwar, Agra, Gangtok, Ooty, Saputara, Indore, Pondicherry, Kolkata, Delhi, Amritsar etc - this is what one will prominently notice.
But Kashmir can be an exception. From my experiences, I realized that one can't really have a budget trip here. The prices are insanely high and then there are helpers, guides, shopkeepers, taxi drivers etc using every opportunity to fleece you. Ever since the tensions have increased in Kashmir, the tourism has been badly hit and probably, this has made the locals even more desperate for work. And thankfully, during our trip, we met some lovely people but the not-so-humble ones left a sour taste. (Note: This is about my experience while traveling only in the Kashmir region; I haven't been to Jammu or Leh-Ladakh and can't comment on the condition there).
I went on this trip with my parents and brother in November-end 2017. Our flight landed at Srinagar airport and a driver came to pick us up and was to be with us throughout our week-long journey. He worked for a travel company whose services were used by a close friend and was very happy with the experience. Hence, on her insistence, I contacted them and they allotted this said driver. For most of the journey, he was kind, jovial and informative. He suggested us good government run shops to buy clothes and other items and also to buy saffron. But there were times he tried to brainwash us and provided unprofessional service, further adding to our bad experience.
After landing at Srinagar, we immediately left for Gulmarg. This was to be followed by a halt in Srinagar and then, our last stop was to be Pahalgam. A quick look at Kashmir map would make you understand that Srinagar is in the middle and Gulmarg is on its western side and Pahalgam on it's east. Going from Gulmarg to Pahalgam would have been a long journey and hence, I decided to start with Gulmarg.
There isn't much to see in Gulmarg. The biggest attraction there is the ropeway, known as Gondola. It can be reached by walking from your respective hotel. As for the other tourist attractions, you can travel there only by local taxis. So the cab you rent from Srinagar won't be allowed by aggressive local cabbies to ply in Gulmarg for sightseeing. As a result, the best thing you can do is tell the driver to drop you at Gulmarg on day 1 and then meet you on day 3. On day 2, you can do local sightseeing in local cabs and this way, you can save money of renting the car for a day since the driver will not be doing anything on day 2 as you have to roam around in local taxis.
Once you book your hotel, they send you the receipt and insist that you carry the printout. This is because the receipt will be checked by local authorities once you reach Gulmarg and only those who have confirmed bookings are allowed to go. We reached our hotel by 3-4 PM and me and my brother went on foot to explore the place. 2 helpers were already in the hotel and they followed us for a kilometre, wanting us to hire their services. Even if you refuse, they keep following and it's quite frustrating.
On day 2, we ended up taking the services of a helper as my mother has arthritis. I don't remember how much we paid him but it was around Rs. 700-1000. He helped my mother walk on snowy and slippery walkways and also bought our Gondola tickets (priced at Rs. 750). He even helped me when my digicam hanged and I appreciate him for that. But he talked too much and even tried to troll us in our mother tongue which was not appreciated by us.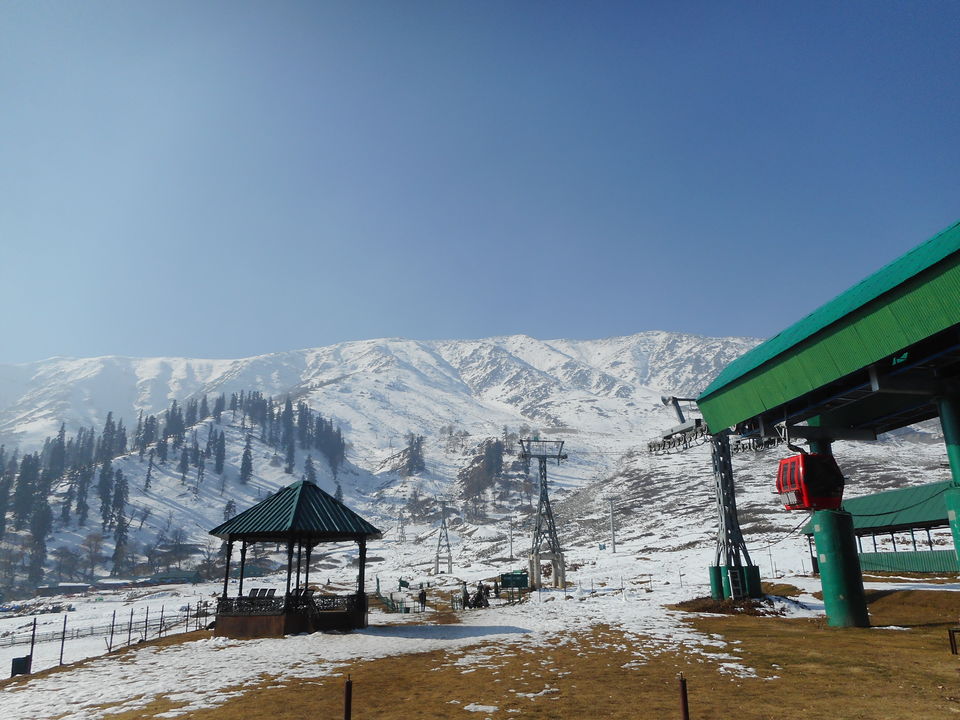 The Gondola ride is divided into 2 phases and we went only till Phase 1. All snow-related activities like skiing, snowboarding etc are done here. I opted for snow bike as I was really keen. The charge for it is a steep Rs. 2000! I was about to change my mind but gave in. The helper then told me to persude my parents to also opt for snow bike ride and he assured he'll get the price reduced to Rs. 1200 for them! So the prices are negotiable I guess but in my case, they didn't reduce. The snow bike driver told me he gets paid just Rs. 6000 and was trying to hint that I should tip him. However, I didn't and I am not sure if he's lying, especially considering how tourists are paying through their noise for such rides.
We came back from the gondola and then we booked the local taxi. The helper got us the cab and he and the cabbie went some distance ahead from us to talk. We were asked to pay Rs. 1200 and I guess the helper also got a cut. Since it was a lunch time, we asked the driver to first take us to an eatery. We stopped at a food stall in the market and the driver went hysterical. He said he's not allowed to stop there for some reason. During our last orders, he forced us to parcel and have it in the car but we didn't comply. He even stared at my mother and got scolded for the same. The local sightseeing is good and nothing great. The Maharaja Palace is worth it but the sightseeing is illegal it seems. We had to pay the caretaker Rs. 25 per head to roam inside the Palace.
On Day 3, we went to Srinagar where I had booked 2 rooms in Hotel Sadaf. But it was in an industrial area and the approach ride was completely dug. We decided to change and our driver took us to Hotel Monson, situated on the back road of Dal Lake. The driver knew the owners. Staying here was a mistake as the place is not safe. Since we went during off season, the number of tourists was very low. The locals used to stare at us and once a hawker came towards our car and threw a monkey cap inside our car and forced us to buy! In another instance, a group of shikara riders stood near our car and one of them banged loudly on the window since he wanted us to take the shikara ride. I am shocked at such behaviour as they are simply scaring off the tourists by these tactics. We couldn't roam much on this day as everything was shut in the city since some militant was killed.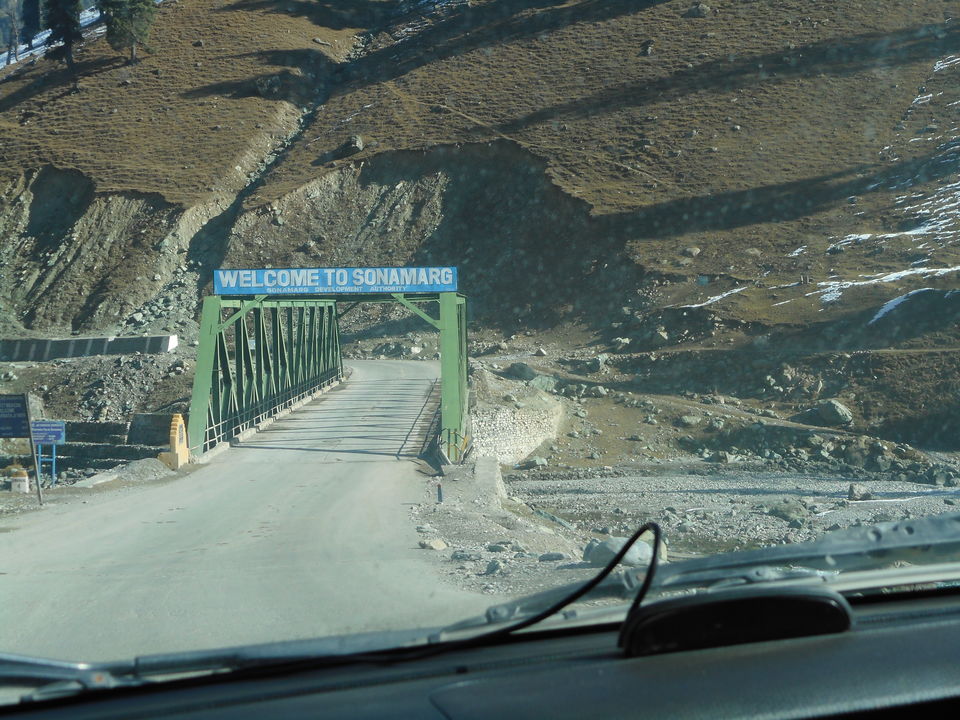 On Day 4, we began our journey to Sonamarg at 8 am and the plan was to return from there by 3-4 pm. While we were on the way, the driver told us that just like Gulmarg, we'll have to take local taxis in Sonamarg. The cab would take us around all the local places in the 40 km radius. And here's the catch – we are supposed to pay Rs. 18000 for it! I told our driver to take a U-turn and that there's no way we are going to pay so much. As it is, we had seen the snow in Gulmarg and were more than happy with it. Also, I had travelled to Nathu La (Indo China border) in Sikkim where I paid Rs. 750 in a shared taxi. I told the driver that I am not going to pay more than Rs. 2000 and that 18k charge is unbelievable. He called some contact there and requested him to charge reasonably.
We reached Sonamarg at what seemed like a taxi stand. The local drivers came forward when they saw our car entering the stand. The driver first went to speak to one of them and I have no idea if he was also going to get a cut from what the local drivers were going to charge us. Then one of them entered our car, sat on the driver's seat and asked us to pay Rs. 12000! I was in no mood to pay such an amount and insisted on Rs. 2000. He pointed out that the toll charge itself is Rs. 3000 and then made us feel guilty by saying that the toll charges goes towards educating children of those soldiers who died in Kargil war. I remained adamant and he finally he told us that he'll take us in a non-tourist taxi and then he won't have to pay toll. But he said he'll charge Rs. 3000. Remembering my Sikkim experience where I paid Rs. 700 and that we were 4 in all, this seemed like a good deal. Sadly, my father and brother didn't feel comfortable with the whole thing and insisted we return. The local drivers, at this, got angry since we negotiated and then not using their services. They got angry and we quickly returned.
At the government owned handloom shop on the Sonamarg-Srinagar road, we bought a few items and the shopkeeper here was old and very kind. He felt bad when we told them how the taxi drivers tried to fleece us. He told us that next time, he'll take us for free to Sonamarg in his car since it's a private vehicle. It is here that we finally experienced the Kashmiriyat, that I had heard so many times but had not seen since my arrival there.
Day 5 began on a bad note as the staffer in Monson accused us of breaking the thermos when we hadn't done at all! We then checked out of Monson but kept our luggage there. We were to move in a houseboat. The idea was to do the boating ride in Dal Lake, explore local sights in Srinagar and then move to the houseboat. So we were to pick up our luggage after completing our sightseeing. We began with the boating for which we walked 100 meters from our hotel. Again, we were told to pay Rs. 1200 and after I insisted on Rs. 400, I finally paid Rs. 600. A lot of locals came to sell their wares in the lake. The photographer was very irritating and when my brother got angry and shouted at him, he began arguing loudly. We halted at a canteen in the middle of the lake and then at the floating market. After our ride ended, the Monson hotel guys asked us to take our luggage with us since all of a sudden, they have a got a group booking and all the rooms have got occupied! They told me to go to the shikara stand, ask the houseboat guy to send a shikara and the shikara person will take the luggage to the houseboat. We did as instructed and then went to Shankaracharya Temple. My parents didn't join as there were 250 steps to be climbed. My brother and I went. At this point, our driver tried to scare our parents by insisting that the houseboat can get quite chilly and that if they feel cold, he'll take them back to Monson and get a room for them! My mother should have retorted, 'But the rooms out there are full, right? Then how will we get a room? And if the room is available, why were we told to take back our luggage?'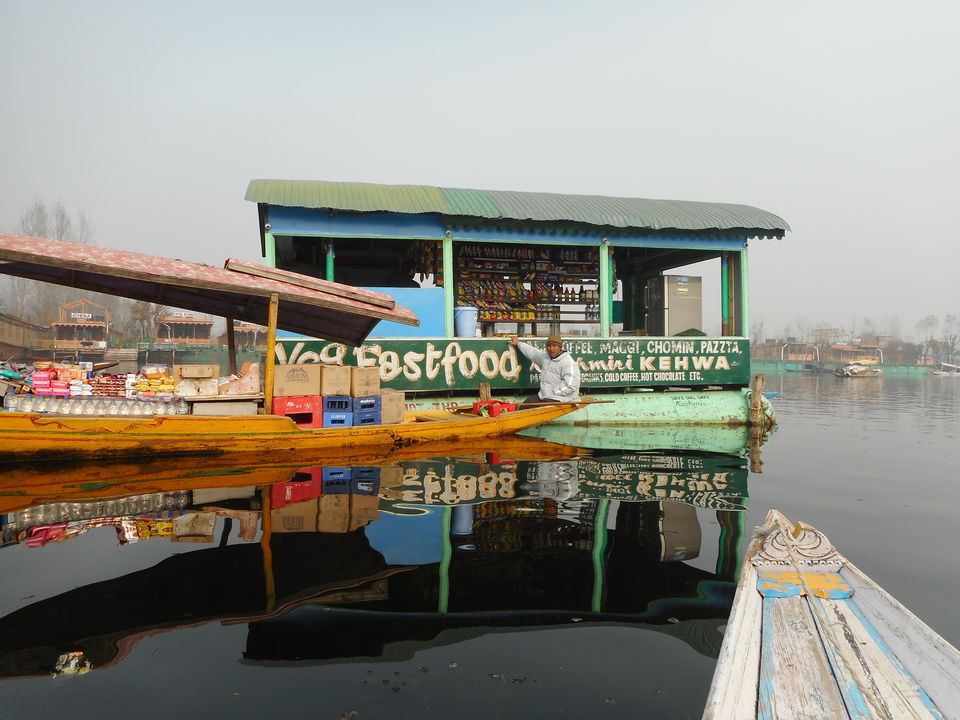 Shankaracharya Temple was followed by Pari Mahal and also Chashmeshahi and Nishat Gardens. We were then heading to the last garden – Shalimar. After that, my brother and father wanted to shave and then the driver was going to drop us at the shikara stand from where we were to head to our houseboat. So on the way to Shalimar, the driver pointed out to some locals putting up a banner and told us they are going to start a protest. He added that coming back would be a problem and that it's better we take a U-Turn. Thinking that he knows better, we didn't go to Shalimar. We then directed him to saloon shop and wait for us. He however refused to wait and said that he has to go to Gulmarg where a fellow driver has met with an accident. This made me think – did he make up the story about the protest so that he can run away? Before dropping us, he told us to leave for Pahalgam the next day at 7 am as the road is via Anantnag, a risky area.
The houseboat where we stayed was BulBul Group Of Houseboats. This was a great place and the owner, Shabir, was very kind and cooperative. The food too was tasty. We enquired with him whether the road to Anantnag is as scary as the driver claimed. He however claimed that's not the case and that our driver possibly has a tie-up with the pony riders in Pahalgam. So he wants us to reach faster so that we'll hire a pony.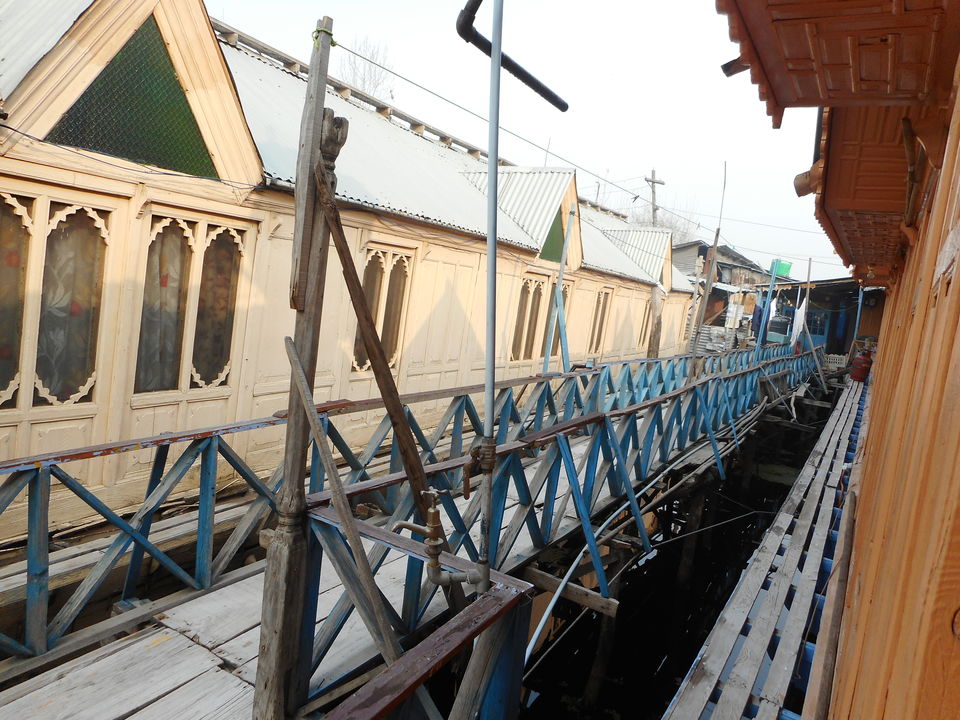 On Day 6, we left at 10 am and I informed the driver about the change in time a day before itself. We left for Pahalgam and had no problems at Anantnag thankfully. The driver showed us Islamic flags and told us that it's Pakistan flag put up by Pakistani sympathizers. Me and my brother immediately blasted him for spreading rumours. The driver also claimed to have been attacked by Pakistanis during Kargil war and that he was stuck under a car for a couple of days. Again, not sure if it is true or an imaginary tale.
Our hotel in Pahalgam was in Lalipora, little away from the main market. It's called Brown Palace and though it has got good reviews, we got a very bad service. There was no other guest in the hotel. Our driver left to stay in another hotel of a friend and before leaving, he taunted us for paying around Rs. 10000 for 2 days and 2 rooms and that it's such a steep price for off season. He did the same for our Gulmarg hotel as well (named Fluroscence)
After he left, we realized our hotel is pathetic. TV wasn't working, the room heater too wasn't functional. The heights were when we saw a rat in the room! We immediately decided to change the hotel. We called the driver and asked him to pick us up. He however told us that he's on the outskirts of Pahalgam, that it's too late and that we should stay there for the night. I shouted at him for leaving us like this in the town and told him to pick us up ASAP. He came and took us to Hotel Golden Palace. This wasn't a great place either but better than Brown Palace. The room's price was Rs. 2000 for the night and not as cheap as the driver bragged. The driver made me apologize for shouting at him and I thought he'll also apologize for leaving Pahalgam without informing us. He however didn't do that. It's also bewildering why he left Pahalgam. He knew Golden Palace guys very well and could have halted there for the night.
On Day 7, we were again going to roam around, in local taxis of course. However, a family emergency prompted us to return back to Mumbai the same day.
Pahalgam seemed beautiful and I wish I had explored but I don't know if I'll like to go back to Kashmir due to these experiences. Barring the houseboat and the govt shop, our experience was bitter. I have full sympathy for locals since they are heavily dependent on tourism and they are affected by lack of tourists. But this is just not the way to behave. Shabbir of BulBul Group Of Houseboats told me that the room that he gave me for Rs. 900 in November will be charged Rs. 5000 in peak season time (May-June). He remarked that there's enough for everyone in the chain to earn during peak summer months and if one saves well, one can easily manage to survive in non peak period. This might probably not hold true for those having large families or for those who are the only breadwinners of the family. Still for them to harass tourists is not fair and they are simply trying to dig their own graves. Today, if someone asks me whether they should holiday in Kashmir, I refuse with a heavy heart. However later I insist that they should go to Kashmir as part of a tour package. That's not really my style but I guess going in a tour will be much better here as one won't have to hassle day in and day out and get fleeced in an insane manner as it happens exclusively in Kashmir.