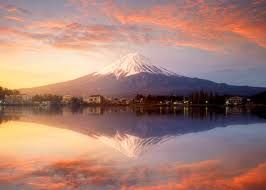 The image of Mount Fuji is synonymous with Japan herself – it's more than likely to be in anyone's top five things they would mention when talking about the land of the rising sun. As such, when me and my partner visited Japan earlier this year, we decided we definitely had to make the trip from Tokyo to Mt Fuji, to add on to an already epic Hokkaido road trip.
We also decided to spend a night there, at the luxurious Kozantei Ubuya. But more on that later.
A common question that I get when I talk about visiting the much-loved Fuji-san is, Can you see Mt Fuji from Tokyo? If so, why bother travelling down?
While it is true that you can actually spot Mt Fuji from several vantage points in Tokyo, what many people don't know is that it is hard to get a good, clear view of it. In certain seasons, you might not even be able see that iconic snowy peak from any of the five lakes around Mt Fuji – visibility is highly dependent on the weather.
Still, if you don't want to leave it to chance, the best place to view Mt Fuji is undoubtedly up close and personal. So I'd recommend making the trip down – as you'll see shortly, it's definitely worth it!
Taking a bus to Mount Fuji from Tokyo
To get to Mount Fuji from Tokyo, the best and cheapest way is probably to take the bus that will take you from Tokyo to Kawaguchiko Station. You can easily book your bus tickets online here – it will cost 1750 yen for adults, 880 yen for children if you board at Shinjuku, and 1800 yen for adults, 900 yen for children if you board at Shibuya.
We were staying in a hotel near Shibuya, so we decided to take the bus from there. Take note that the bus will be picking up passengers from Shibuya Mark City, so do account for some time to get there!
Also, it is advisable to take one of the earlier buses (the first bus leaves at 645am, we boarded at 7:30am) so that you can get more done at Mt Fuji.
How far is Mount Fuji from Tokyo? The distance is around 132km, so expect to spend a good 2 hours and 15 minutes on the bus. It's a great time to catch a nap, especially if you got up bright and early.
For us, we reached Kawaguchiko Station at about 10am. Already, there was a huge crowd of both tourists and locals milling about, trying to find the right shuttle bus to take around Lake Kawaguchiko. This lake is one of the five that surround Mount Fuji, and is probably the most popular choice amongst them.
Things to do in Mt Fuji
First things first, we went to purchase the ride coupon from the Mt Fuji Visitor Center, that would allow us to take unlimited rides on the local sightseeing bus. This bus would take us to a number of stops on the Red Line around Lake Kawaguchiko, basically covering our itinerary for the day. For adults, this would cost 1200 yen each (600 yen for children)
Yes, the Red Line's OmniBus is red as well!
Alternatively, you can pay-per-ride, but we figured it'd be more convenient to have a pass that would take us anywhere, anytime, at a fixed cost.
Since we were spending the night there, it was off to the local ryokan, or Japanese inn, to put down our bags. I picked the famous, luxurious, and expensive Kozantei Ubuya to spend the night.
Moving on, we decided to head straight to the end of the Red Line to the Kawaguchiko Natural Living Center.
To date, I'm still unsure why it's called a natural living center, but the name certainly fits the vibe. On top of the stretches of flowers and farm fields, you can also get a great view of Mt Fuji from this spot. Be sure to try out the various blueberry-related goodies here, which pair nicely with a cup of hot coffee.
While we thought the flowers here were lovely, we had no idea that it was only going to get better. Our next destination was the Fuji Shibazakura Festival, an event that occurs between April to May each year, featuring some 800,000 stalks of shibazakura (or pink moss) of five varieties.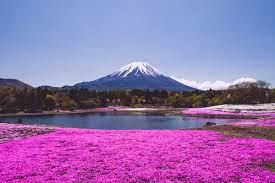 Word of advice: if you'd like to actually be able to walk around at the festival, be sure to avoid Japan's famous (or infamous?) Golden Week at all costs. A series of four national holidays within a week, it happens in the last week of April and crosses over into the first week of May. All sightseeing spots around Japan get extremely crowded during this period, and the Fuji Shibazakura Festival is no exception.
Unless you're driving, the only way to get here is via the Shibazakura Liner, for which you can buy tickets for, and board, at Kawaguchiko Station. A return trip would cost 2000 yen for adults, and 1000 yen for children.
When we arrived there in late May, it was still relatively crowded, with many people, like us, trying to catch the tail-end of the sakura season.
There are also food and beverage stations, as well as live performances, around the area, making it a fantastic place to sit back, relax, and enjoy something you probably won't get to see everyday.
Because we were staying for the night, we headed back to our ryokan at this point of time. If not, we likely would have headed to Mt Kachi Kachi Ropeway, bringing you to an observation deck near the peak of Mount Tenjo, which we visited instead the next morning.
Mount Tenjo is another great spot to view Mt Fuji from. The ropeway will bring you up 400 metres, and back down again. But if you're still feeling energetic (props to you!), you can opt to embark on the hiking trail to go back down, which will take around half an hour to complete.
Now, you'll probably be wondering why it's called the Mt Kachi Kachi Ropeway instead of the Mount Tenjo Ropeway. In short, the ropeway is named after a local folk story called Kachi Kachi Yama, in which a rabbit gets its rather gruesome revenge on a tanuki (or Japanese raccoon dog) – the latter had murdered someone close to the rabbit.
It doesn't seem very child-friendly, but is interestingly illustrated in the form of cute cartoon figures all about the ropeway and observation deck. Trust the Japanese to make the characters of such a story adorable!
And thus concludes our trip to Mount Fuji. It might not seem like much, but travelling around the lake takes some time, so don't be too ambitious. I suggest making the aforementioned stops mandatory on your list, and then popping by to check out other destinations (such as the Kawaguchiko Music Forest Museum, or any of the neighbouring lakes) if time permits.
After all, the star of the show here is Mt Fuji herself.