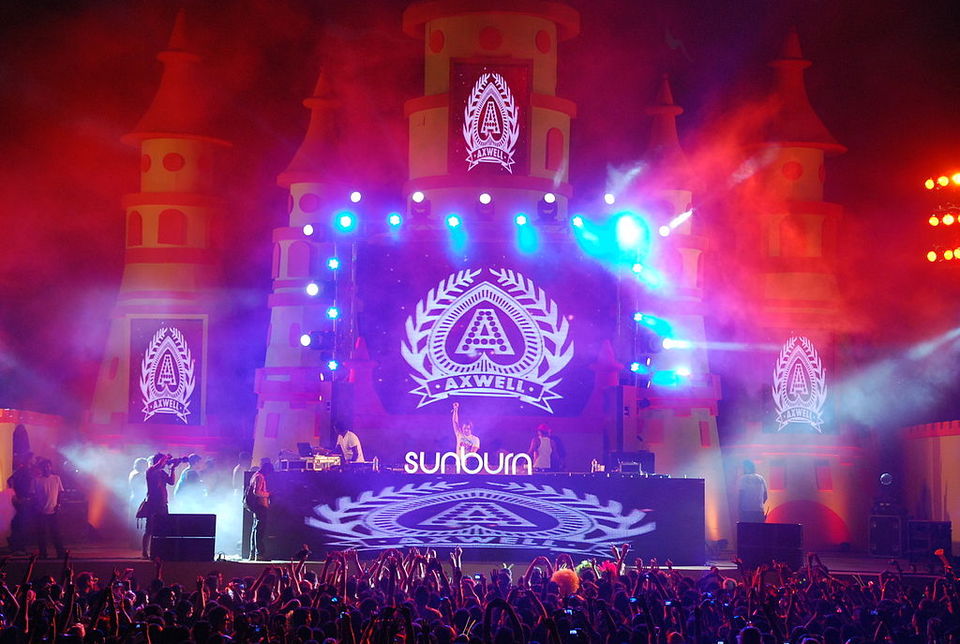 Music, food, and travel are, perhaps, the best means of setting yourself free, for they are known to render truly remarkable experiences full of pleasant surprises and memories. And when these three combine, you can't help but celebrate freedom, which is what happens at some of the wildest music and dance festivals in the world.
Few events in the world match the vibe of EDM festivals where scores of music-loving souls dance, eat, enjoy, and freely interact. So, if celebrating freedom in the company of like-minded people and entrancing live music by some of the best artists in the world is what you desire, check out the following list of best global music and dance festivals and get yourself a ticket to at least one, if not all.
After all, who doesn't like to enjoy a few moments of pure freedom!
1.) Sunburn, India
If music and dance are like air and water for you, then you shouldn't miss Sunburn festival in India. Held annually at the end of year, Sunburn is Asia's biggest music festival and a congregation of world famous music artists who entrance the celebrating crowd with their hit numbers and live performances. New Year celebrations, music, food, shopping; Sunburn wraps it all.
When: End of the year (exact date not yet decided)
Where: Venue not yet decided
Approximate base ticket price: ₹9,500
2.) Tomorrowland, Belgium
World's most popular electronic dance music festival, Tommorowland, is the must-have experience for all EDM fans. Held for the first time in 2005, the music festival is set to enter its 15th edition with huge cumulative success. Tommorowland 2019 not only promises to enthrall you with spellbinding live performances from world's best DJs and musicians but also shower with relentless moments of ecstasy while sharing the happiness with thousands of strangers, all quite like yourself.
When: 19th, 20th, 21st and 26th, 27th, 28th July
Where: Boom, Belgium
Approximate base ticket price: ₹8,400 for Day Pass
3.) ZoukOut Festival, Singapore
ZoukOut festival is when Zouk, one of the best nightclubs in the world, goes outdoors and celebrates dance and music for around 16 straight hours! And this makes it one of the longest and most popular EDM festivals in Asia attracting around 30,000 music lovers from all across the world. With some of the biggest names performing live, ZoukOut in Singapore truly lives up to its reputation of the biggest beach EDM festival in Asia. Do you, too, wish to experience the vibe?

When: In December (dates not yet decided)

Where: Singapore
Approximate base ticket price: ₹8,087
4.) Wonderfruit, Thailand
If travelling to Thailand wasn't already exciting, Wonderfruit, the annual music extravaganza at Siam Country Club in Pattaya, is another wonderful reason fly in to The Land of Smiles. It is an amalgam of amazing cuisines, drinks, arts, and lifestyle. Each year, over 10,000 music lovers from all over the world congregate in Pattaya to be a part of this annual celebration and revel in the true spirit of freedom in Thailand. Besides the mind-blowing music, the crowd is known to go gaga over the food and arts in Wonderfruit.
When: 12th-16th December
Where: Pattaya, Thailand
Approximate base ticket price: ₹9,827 for a 5-day pass
5.) Fuji Rock, Japan
Imagine yourself enjoying great live music at a stunning ski resort with soothing nature trails and relaxing hot springs. Well, that's Fuji Rock music festival for you, the biggest music carnival in Japan. With well over 100,000 people enjoying life at Fuji Rock, it might just be the kind of experience you have been seeking for long. Most events of this festival take place out in open, allowing the playful weather to add some more spice and vibe to an already exhilarating experience. Perhaps, Japan is good at almost everything.
When: 26th, 27th, 28th July)
Where: Niigata Prefecture, Japan
Approximate base ticket price: ₹23,280 for 3 days (discounted)
6.) Hilltop Festival, India
All psy-trance aficionados, attention! Hilltop Festival in Goa is one thing you would not want to miss this year, and it's less than a month from now. The entrancing electronic music and Goan vibes just add to this happening event that is organised every year at Vagator in this ever-iconic beach destination of India. With not much time left for the festival, isn't it better to book your ticket now?
When: 8th, 9th, and 10th February
Where: Vagator, Goa
Approximate base ticket price: ₹5,120 for all 3 days
7.) Quest Music Festival, Vietnam
How often do we get a chance to enjoy soulful live music and intriguing displays of various art forms while being surrounded by grandeur of mountains? Well, they do it every year in Vietnam at Hanoi, in the form of Quest music festival. The stage for this annual music and art festival boasts of one of the most picturesque backdrops in the world, for the location is surrounded with spellbinding landscape. If that's not enough, the live performances from some of the biggest starts in world of music and amazing art exhibits are enough to overwhelm any soul.
When: November (dates not decided yet)
Where: Hanoi, Vietnam
Approximate base ticket price: ₹5,800
So, if you love going wild in the company of music-loving hippie souls and worldwide music stars, not just from your own country but from all over the world, these global music and dance festivals are just what you shouldn't miss.
Have you decided which ones would you be attending in 2019? Let us know in the comments . And if you have already been to any of these, share your own experience with Tripoto community. Subscribe to Tripoto on YouTube for amazing travel videos.