I summited Pangarchulla Peak (4700 meters) on 27th April 2017. A trek I wouldn't mind doing a few times again. An easy to moderate trail that goes through lush green jungles to pristine snowy-white mountains. One can easily spot some highest peaks of Garhwal Region.
Here is my 7-day trek itinerary:
Took an overnight bus from Delhi to Rishikesh which is 250 km and takes about 8 hrs. Uttarakhand Roadways Transport Corporation has very frequent and luxury buses at affordable prices from Delhi. It was a super comfortable, cosy and easy journey.
Rishikesh to Joshimath
It is easy to find shared cabs from Rishikesh/Haridwar to Joshimath as it is a gateway to several Himalayan mountain-climbing expeditions, trekking trails and pilgrim centres like Badrinath. So, we took a taxi going to Joshimath (INR 500 per head) as soon as we deboarded the bus at Rishikesh Bus Station. The distance from Rishikesh to Joshimath is 250 km, takes about 8 hrs. Really painful 8 hours, I would say. We drove along the Ganga & Alaknanda river for the most part of our journey. Also, on our way, we crossed the sacred towns of Devprayag & Rudraprayag.
We met Dinesh Ji (our trek guide) as we reached. He briefed us about the entire trek and we packed our bags according to 4 days and left the rest at a hotel.
Overnight in a hotel (I forgot the name).
Joshimath – Dhak (start point of the trek) – Gulling Top
We started at 8 AM today. A taxi arranged by Dinesh ji dropped us at Dhak Village which was about 12 km from Joshimath. Undoubtedly it was a heavenly ride. Dinesh ji couldn't join us as he had some urgent work, so he sent a very knowledgeable and humorous guide, Ti Ti bhaiya (as he likes to be called).
We were about to start our trek, but I got stung by a poisonous insect which took almost half an hour to let me feel better. Meanwhile, Ti Ti Bhaiya removed the stinger.
We started off at 10 AM from Dhak. We were supposed to trek 6-7 km, making our way through Tugasi & Gulling Village with magnificent views of Mt. Dronagiri, Hathi & Gori Parvat.
Initial few km were a sight to behold as we could witness some highest mountain ranges of Uttrakhand and could view Dhauliganga river from distance. After 2-3 km walk on the jeep trail, it kept getting narrow as we proceeded towards the first remote village, Tugasi (at an altitude of 2012 Mtr). The trek till Tugasi is easy. Post-Tugasi, it starts to take a level up with a gradual ascent till Gulling Top (at an altitude of 2926 Mtr).
We reached Gulling Top at around 3 PM and pitched our tents right in front of Mt. Dronagiri, Hathi & Gori Parvat, followed by tea and shooting the Golden Hour.
We discussed the plan for following day, had dinner next to a bonfire and called off the day.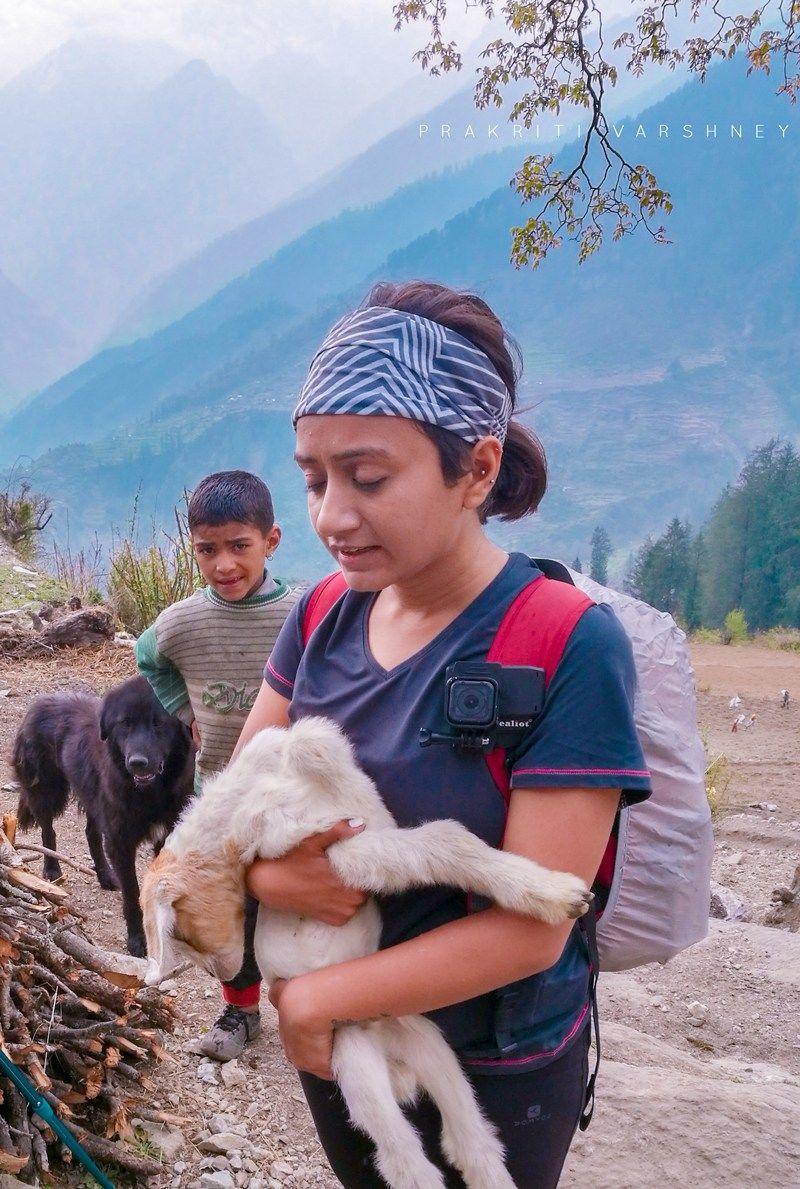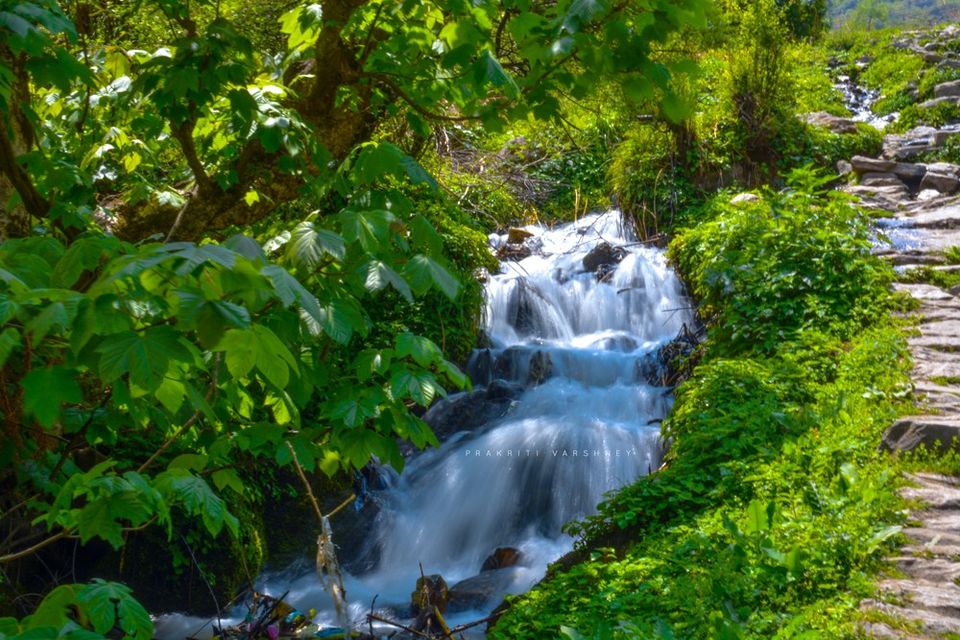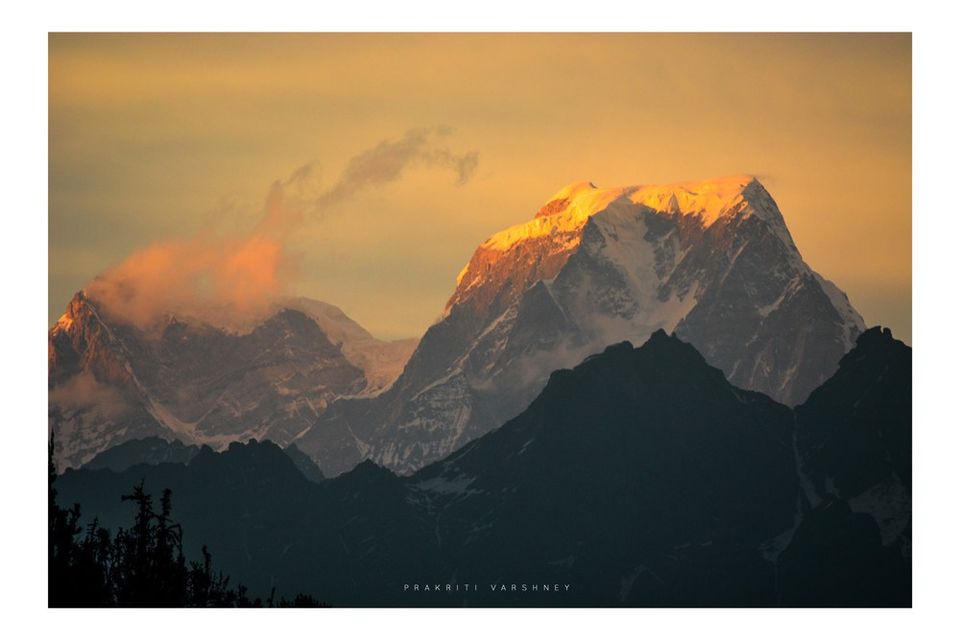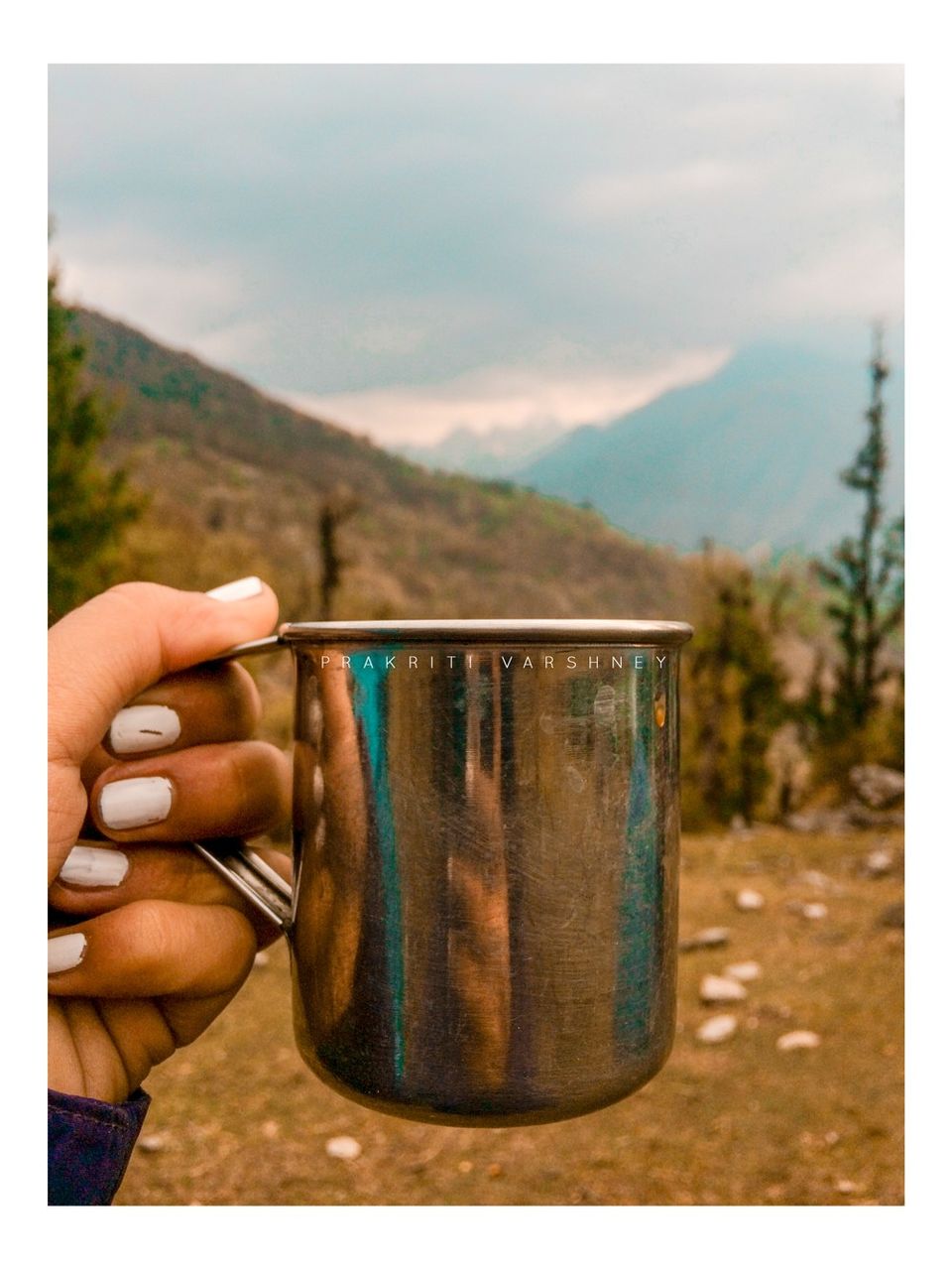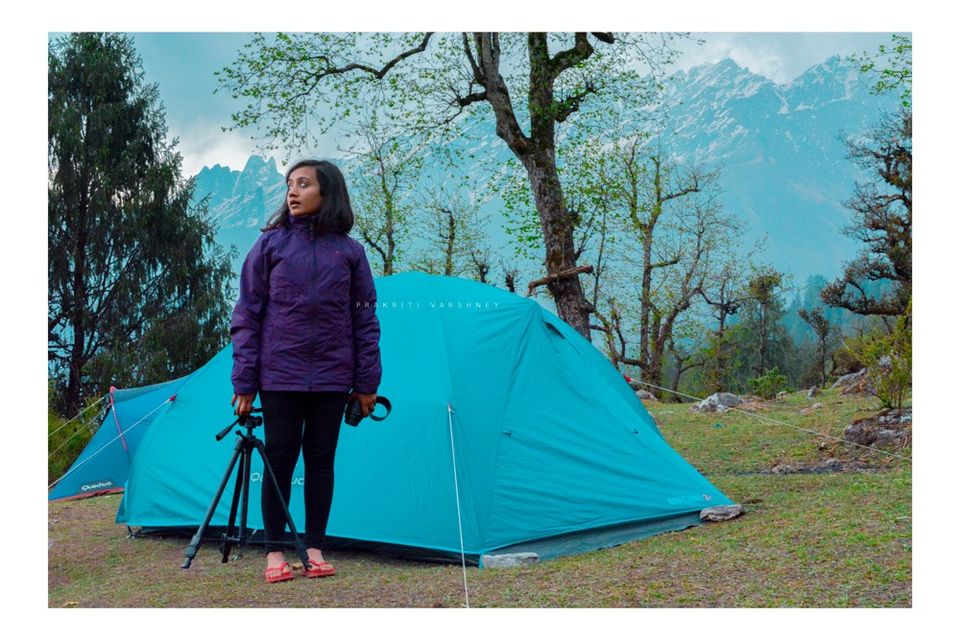 Gulling Top – Khullara Top – Kuari Pass & camp at Khullara Top
In order to make this trek a day shorter, we planned to summit Kuari Pass (3650 m) by today itself, instead of resting at the campsite early in the noon. We were to leave early from Gulling top as we had set our targets of summiting Kuari Pass by late afternoon and reaching back Khullara Top to camp.
After breakfast around 7 AM, we packed our lunch and started Day 2 of the trek. The trail went through dense pine forests and dramatic little water streams (which we used to fill our bottles every now and then). We could easily spot magnificent Mt. Neelkanth, Mt. Dronagiri and few other Himalayan peaks on our way to Khullara meadows.
The trek trail was a little slippery, making it difficult to walk upon. But it couldn't stop either one of us from reaching our goal. Just in 2 and half hour, we reached Khullara meadows and enjoyed the incredibly beautiful sight of Himalayan Ranges.
After lunch, we quickly started the trek again and moved towards Khullara Top. It took just an hour to reach the campsite, about a km. Upon reaching, we washed our faces, pitched tents to drop our bags, hurriedly sipped tea and proceeded towards Kuari Pass.
From Khullara top to Kuari Pass, it is a steep climb of about 2 km. After reaching Kuari Pass, we relaxed for 20 min and took few shots, group pics at the summit. It was one of the most enthralling moment with a 360-degree view of Himalayan Mountains of Nanda Devi National Park.
We got back to our campsite by 5 pm, made a few time-lapses, discussed the plan for summit day, had early dinner and went to sleep.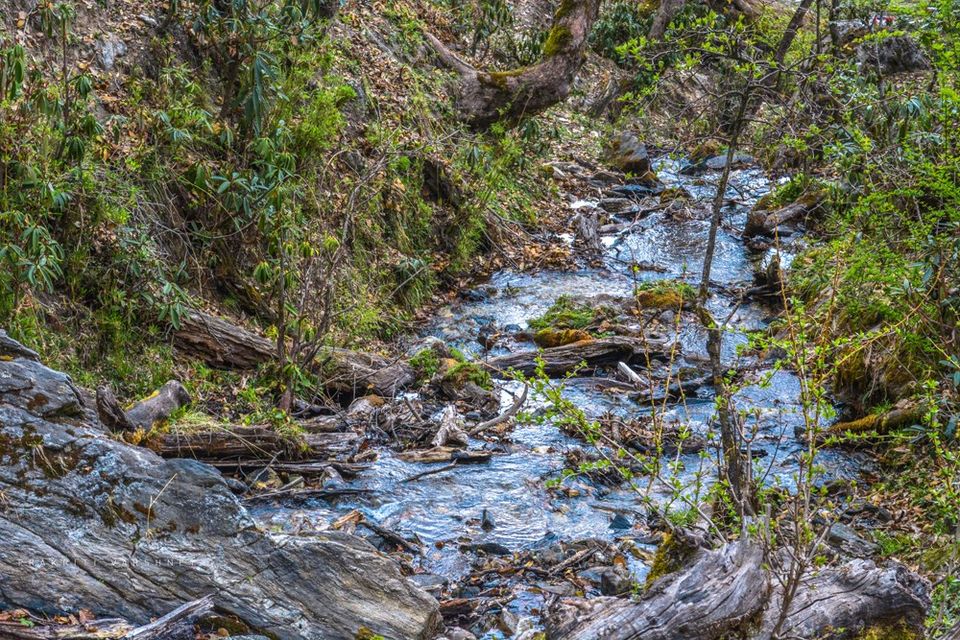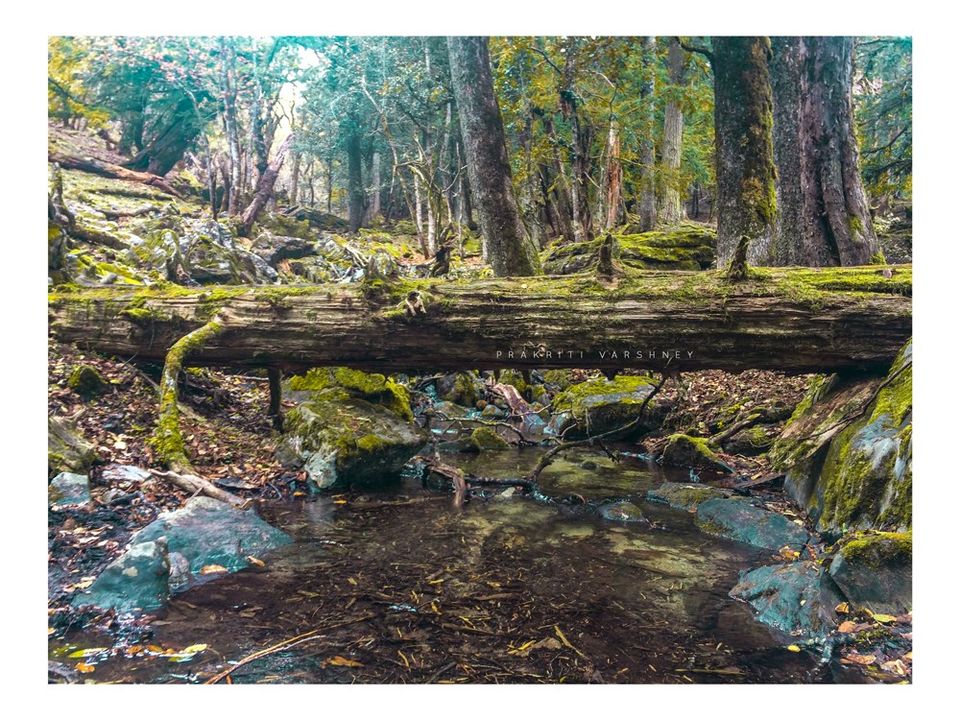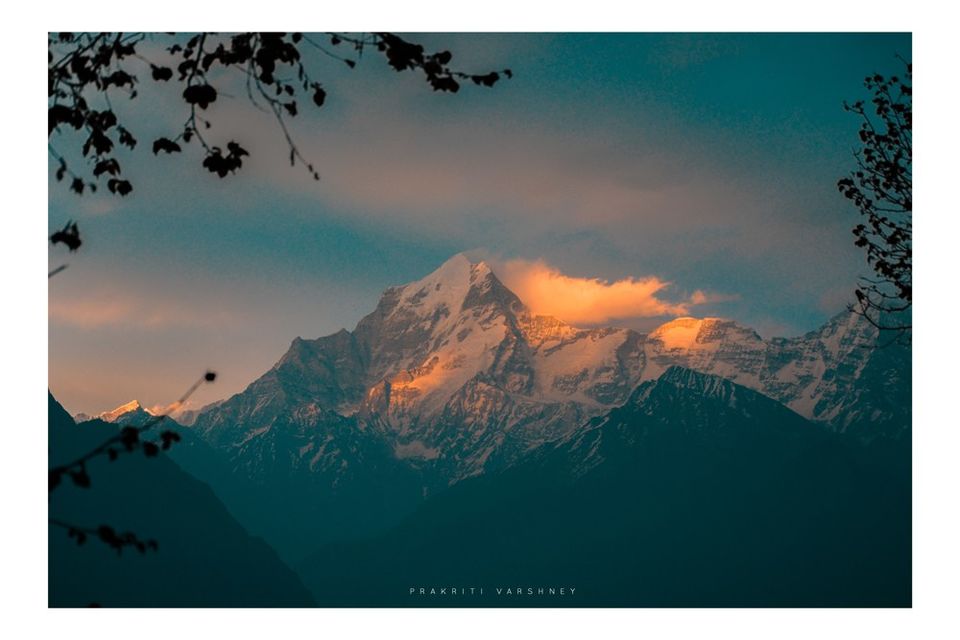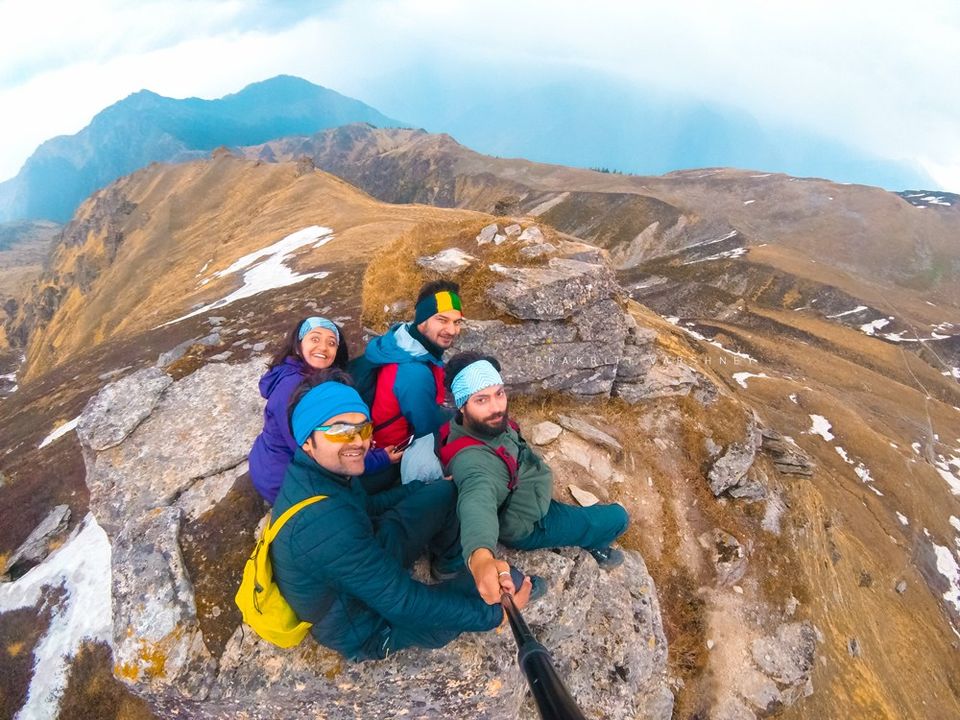 Summit day
I woke up at 2.30 AM to click night skies and captured some jaw-dropping views. My group-mates woke up by 3 AM and we got ready to leave by 3.30 AM. Our guide had advised us to reach the summit before 11 am. We wore our headlamps and started our summit day around 3.45 AM.
We started taking small steps as the inclination was a little too high and we were supposed to gain almost 900m in a few hours, starting from Khullara Top. (Making it possible to see symptoms of AMS)
Gladly, neither one of us felt the signs of AMS throughout the journey.
As we crossed the base of Pangarchulla peak, it completely changed the landscape from green to a white wonderland. Our guide from here carved a path in ice and we followed it. Climbing Pangarchulla Peak is not tough, but it is laborious. We had to fight with our body and mind to make our way to 4700m in deep snow, with some boulders, and magnificent views surrounding us, beautiful enough to make one stop and just stare.
The last 100m of the summit is the craziest one. It was like walking on a rope, upwards! The inclination, too steep and the path, narrower than your foot-size. To top it all, on one side you can see thousands of feet deep valley and on the other, massive glacier. Ti ti Bhaiya held my hand and dragged me to the top.
It was all worth the effort. At the summit, we enjoyed the stupendous panorama of Garhwal Himalayan ranges. We could easily spot Mt. Trishul, Nandaghunti, and many others. After spending about an hour there, we started descending to Khullara Top campsite.
It took 3 hours to reach the campsite. While descending, the weather changed dramatically. It went from sunny to hazy in moments, and it started snowing. Ti ti bhaiya guided our way and we slid down crazily on slopes and reached campsite before the sunset.
Overnight camping.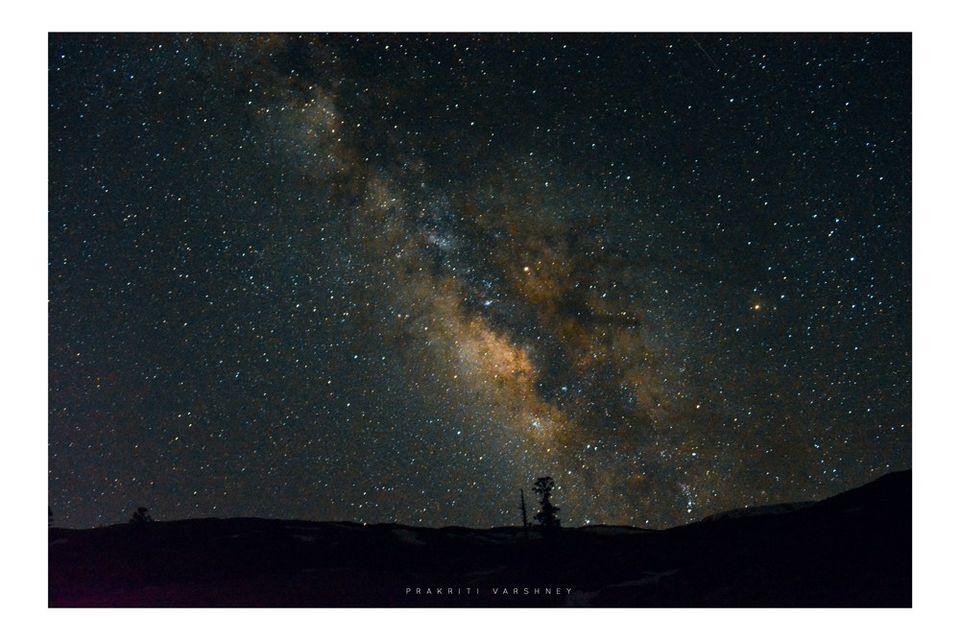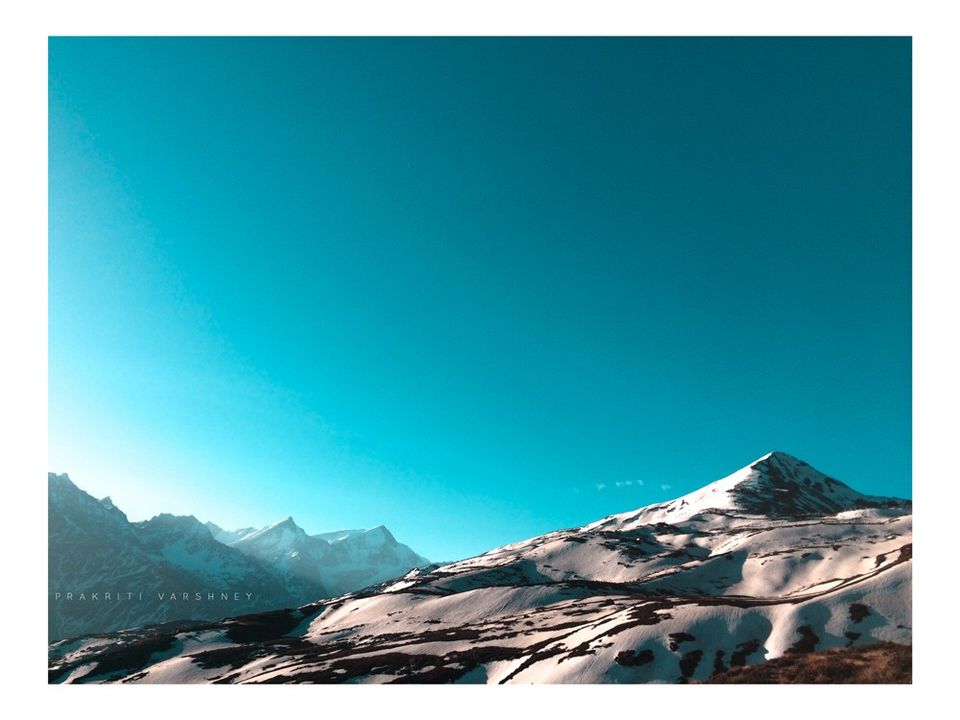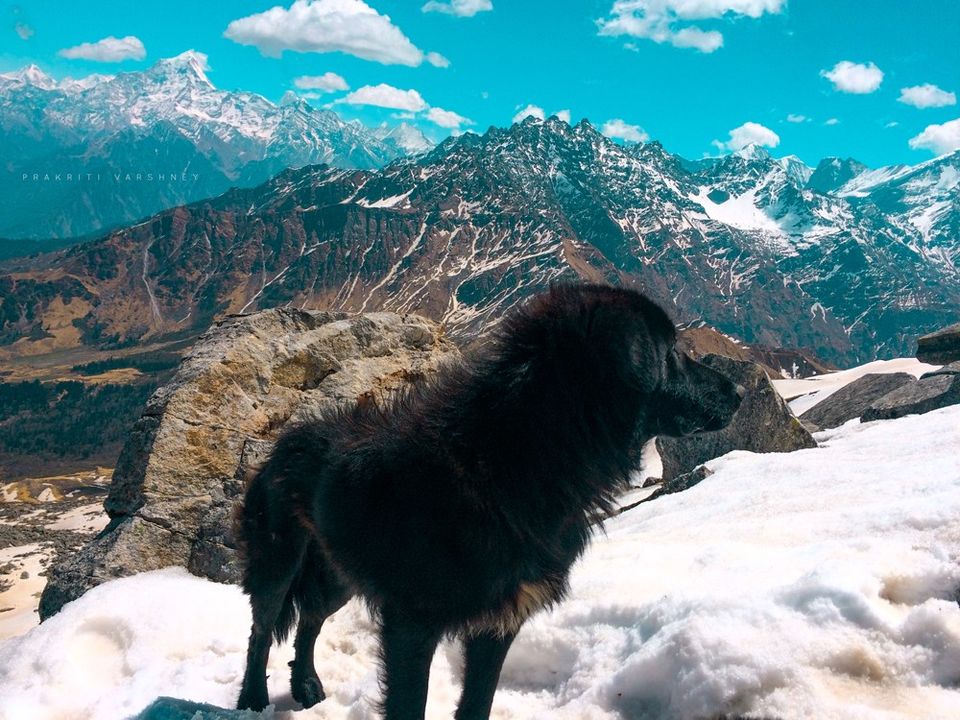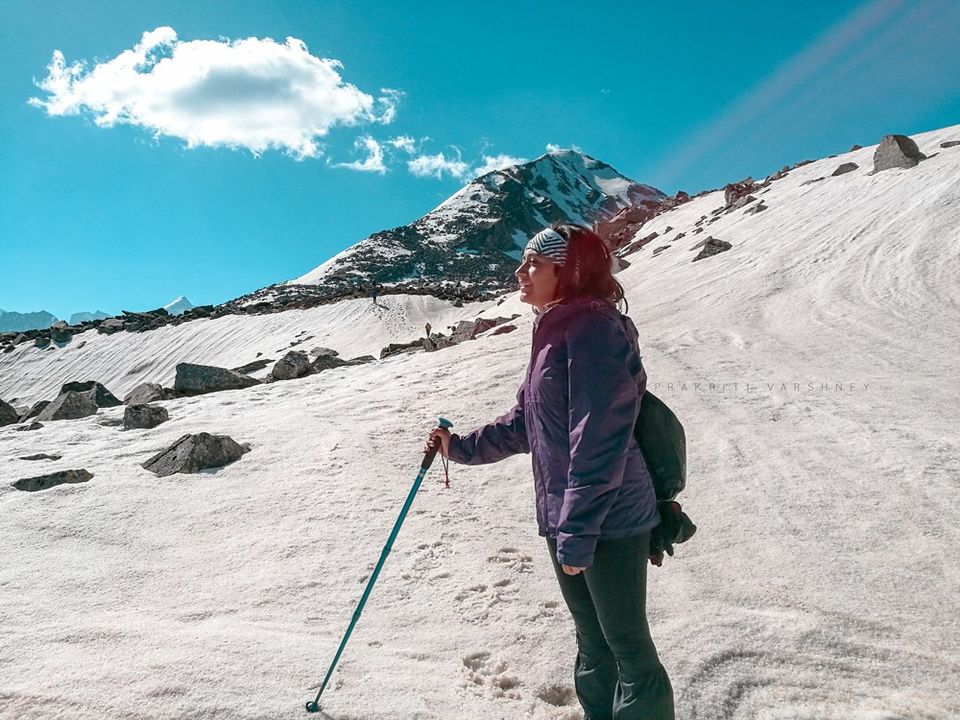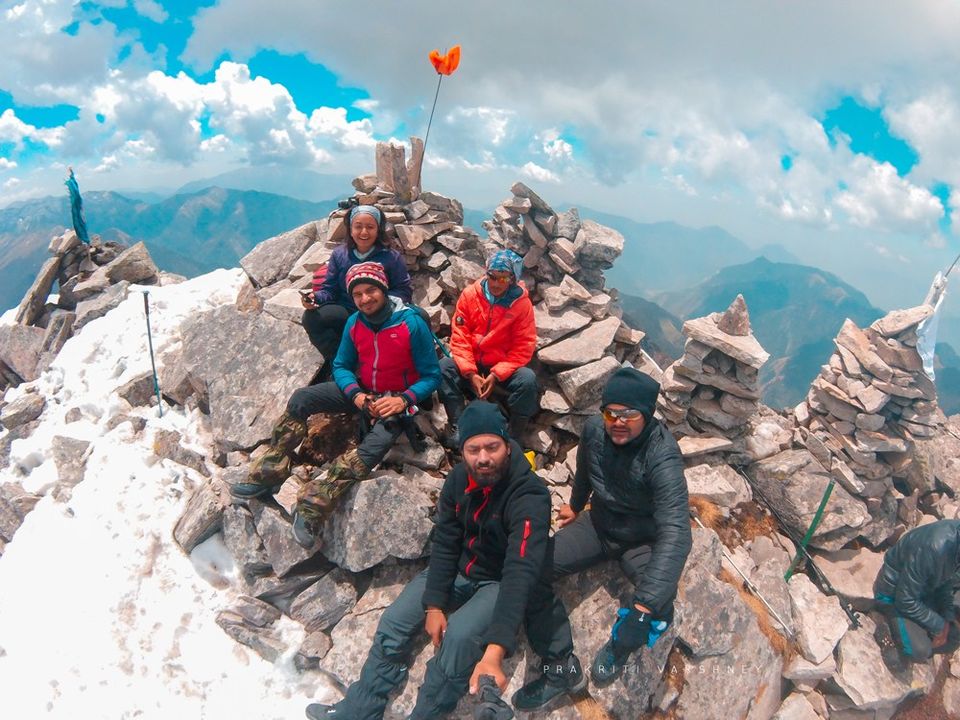 Khullara Top – Tali Lake – Auli – Joshimath
After breakfast, by 8 AM, we walked our way down the slope. It was going to be a tough day as we had to walk about 12 km downwards. We followed the route to Tali Lake, further to Auli, famous for Ski slopes.
As soon as we reached Auli, Dinesh Ji had already arranged a taxi for us from Auli to Joshimath. After a 30min drive, we reached Joshimath and hunted for a good stay option. It wasn't hard to find one. A good restaurant was nearby and after our meal, we crashed on the bed.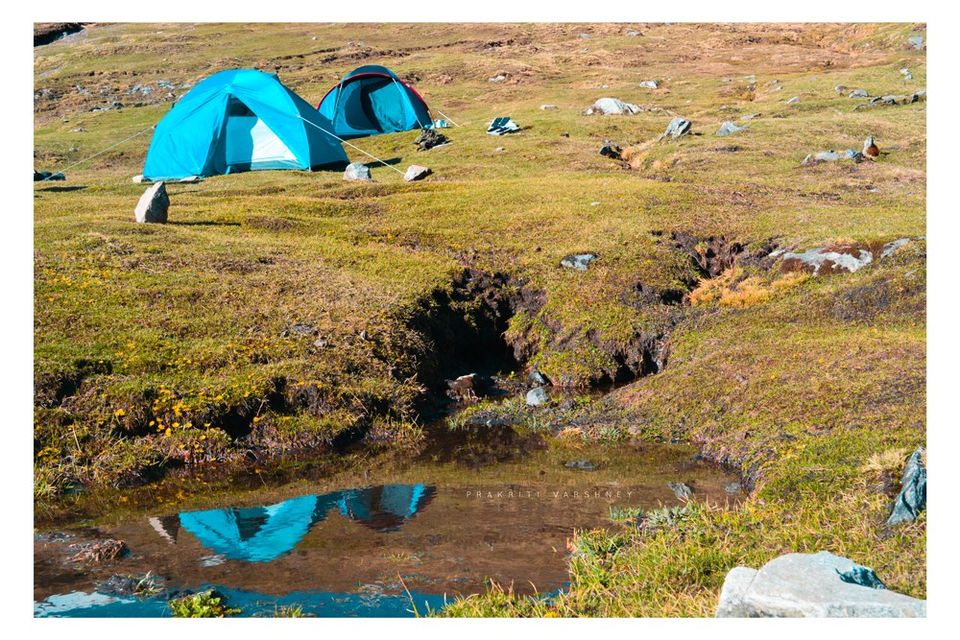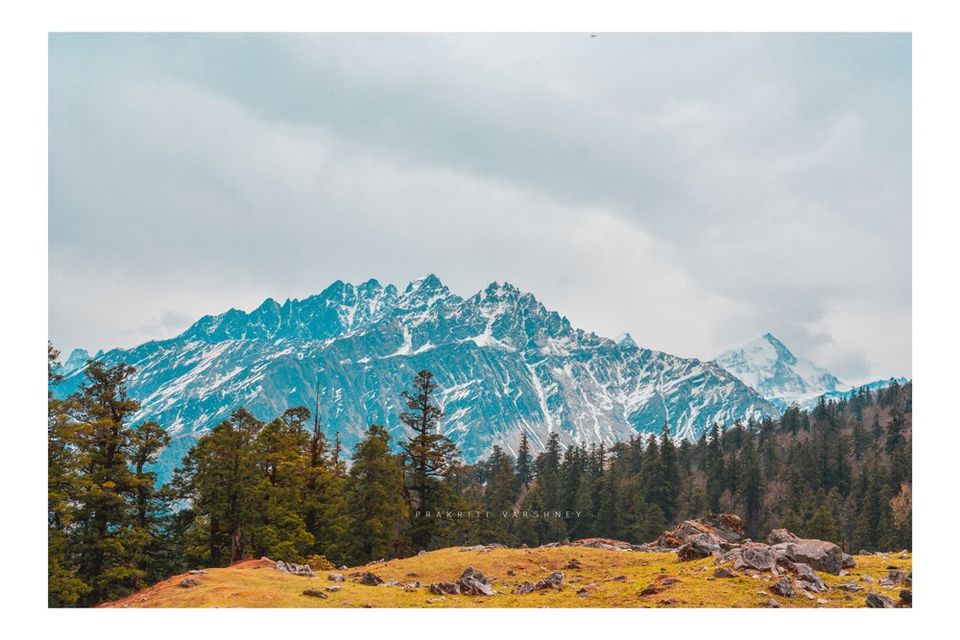 Rishikesh to overnight bus to Delhi
In the morning, we went to the taxi stand and boarded the one going to Rishikesh. It took 9 hours. We consumed some evening snacks in Rishikesh and then boarded an overnight bus to Delhi.
That was all about my trek to Pangarchulla Peak, and I had an amazing time. Thanks to Dinesh Ji and Ti ti Bhaiya for making it happen.
Drop in your comments for any question or query, I shall reply asap.
Keep wondering, Keep wandering!
This article was originally published on Prakriti's blog.