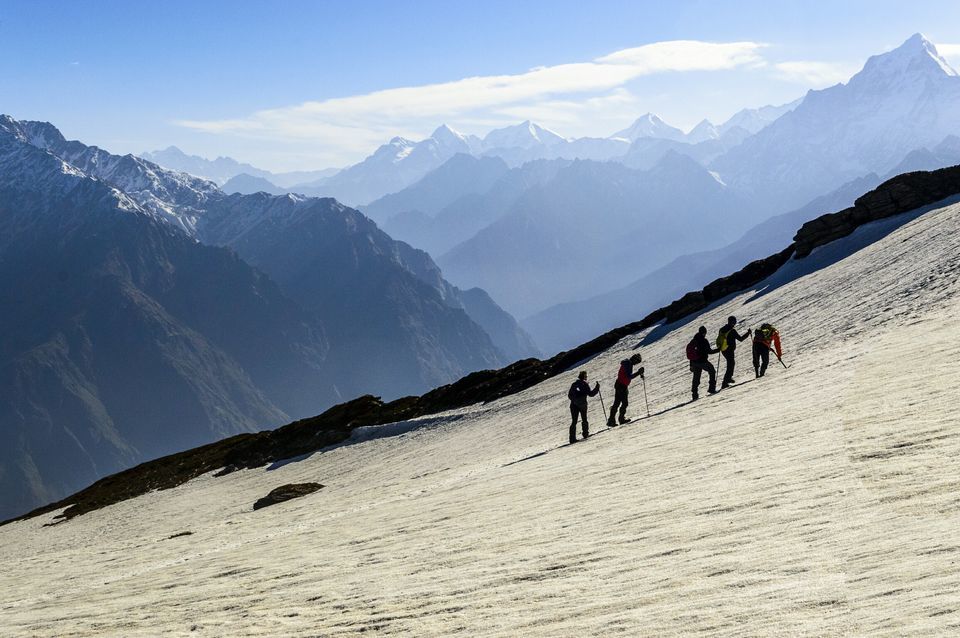 Has it ever happened that you plan for a Trek and you end up completing some other Trek? Well, Pangarchulla was something like that. We had planned for a trek to Bagini glacier on 25th of April, we started for Haridwar via New Delhi. It was already late evening when we reached Haridwar-the city of gods. After checking into the hotel we decided to take a walk along the river bank, which i must say was clean these days.
Our second day started very early. There was a light drizzle and the sky was slightly glum. We started for Joshimath(270 kms approx.) around 8-10 hours drive. On the way we crossed Rishikesh, popular destination among the young folks and the "firangs". After crossing several prayags(meeting point of rivers ) on our way we finally reached Joshimath in the evening amidst light drizzle. We were received by our guide there and we accommodated ourselves in a budget hotel. There are plenty of pocket friendly hotels, and the local foods are good too.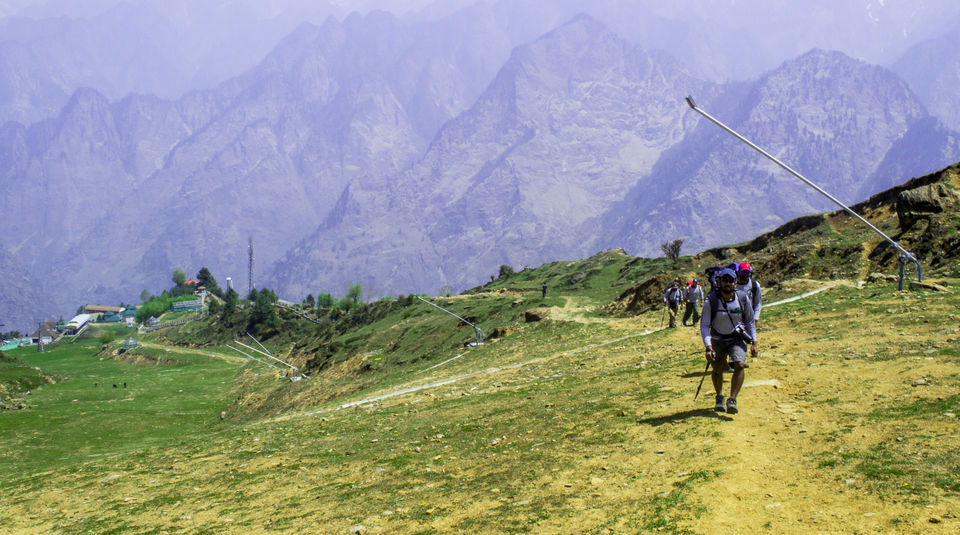 Remember my caption "unplanned trek"? This is where it unfolds. early morning our guide served us tea and a bad news. We were informed that bagini glacier trek wont be possible as the trek route was not approachable. Our guide instead gave us an option of another trek route which was Pangarchulla peak. Having no other option we chose to do this trek and without further delay we loaded ourselves with our rucksacks and started our journey . Our first destination was Gorson bugyal. We started our trek from Auli, best known as a skiing destination. This was just the start of a flourishing tourist season here in Uttarakhand and on our way we found several tourists enjoying the views from Auli, some walking up, some riding ponies. Auli a bugyal(grassland)is gradually sloping and the walk through the bugyal was not at all tiring. It was almost afternoon when we reached Gorson bugyal. It was around 5-6 kms from auli where we set up the tent for that night.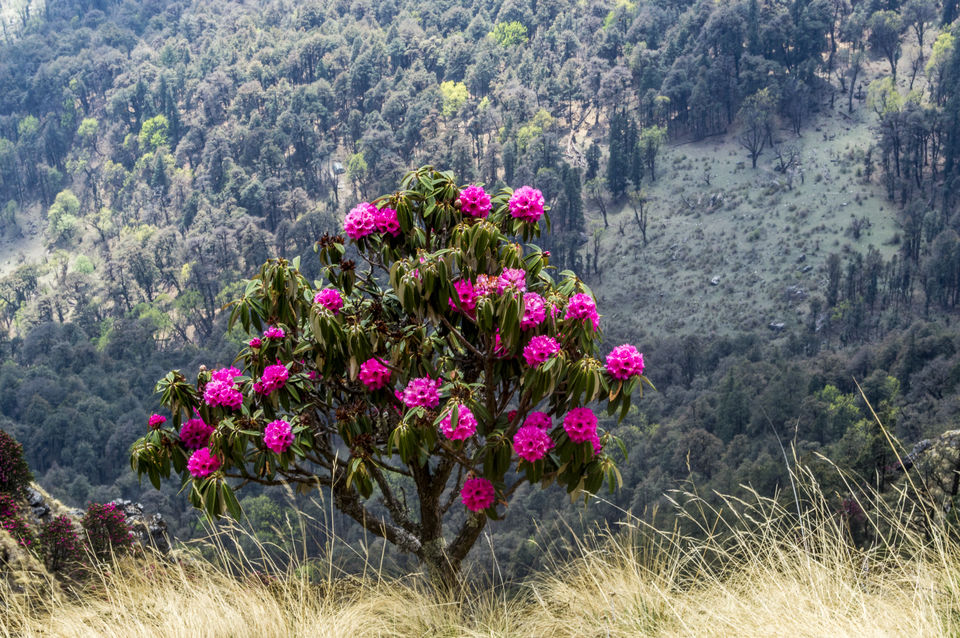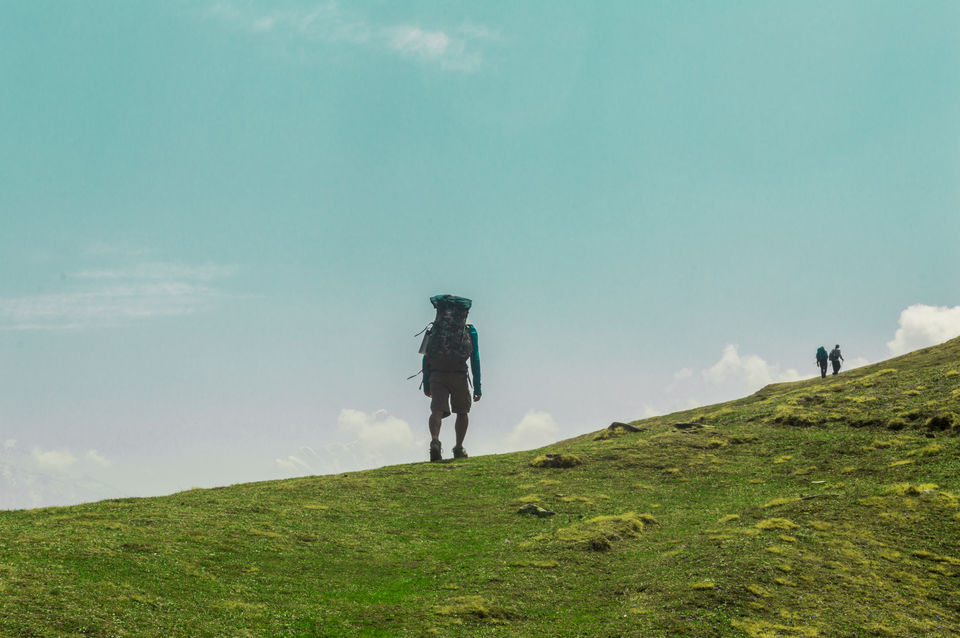 On the fourth day of out trip and the 2nd day of our trek we were supposed to trek till Tali. We were again greeted by light drizzle on our way up. The temperature was soothing though, and the gradient was also gradual for the first phase. The trail became steeper and dusty and narrow as we advanced. On the sides we found beautiful rhododendrons blooming. We reached Tali by afternoon but we had time on our hands and so we decided to move a bit further and set up a camp ahead. We walked 2-3 kms more and found a piece of flat land amidst forest that's mostly used by the sheep herders and set up our came there.
As we were ahead of the schedule we started late. The morning was cloudy and chilly and also rained a bit. Our destination was Khullara, that would be our base for the Pangurchulla summit. Initial trail was through the forest. At some places the forest cleared a bit and gave us the view of the snow capped mountains and the entire trail was almost similar until we reached Khullara which was a valley with a narrow stream and a vast area of almost flat land where almost all the trekkers camp for the night before summit. So we did the same, we unpacked ourselves there and called it a day.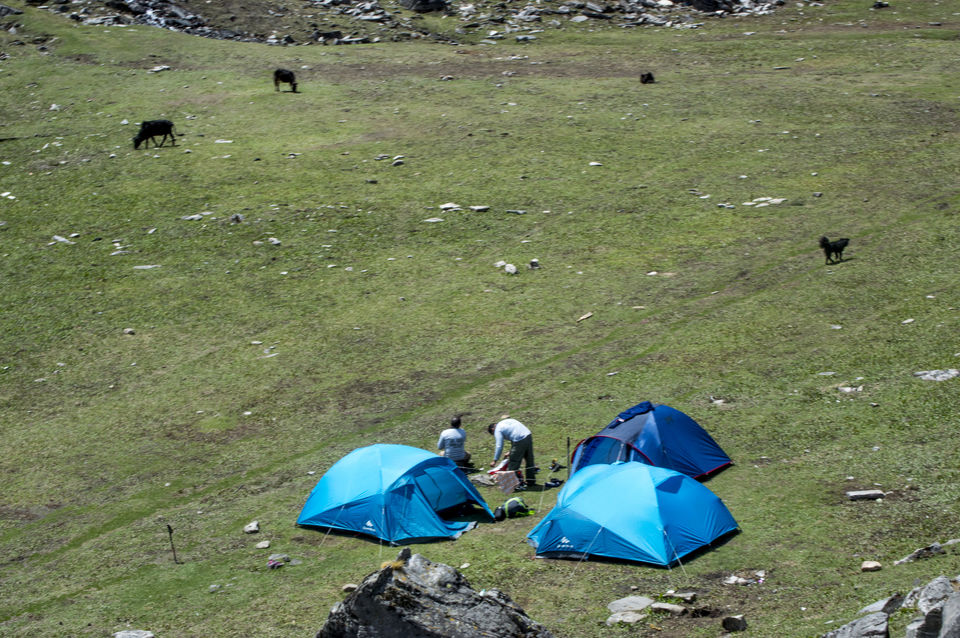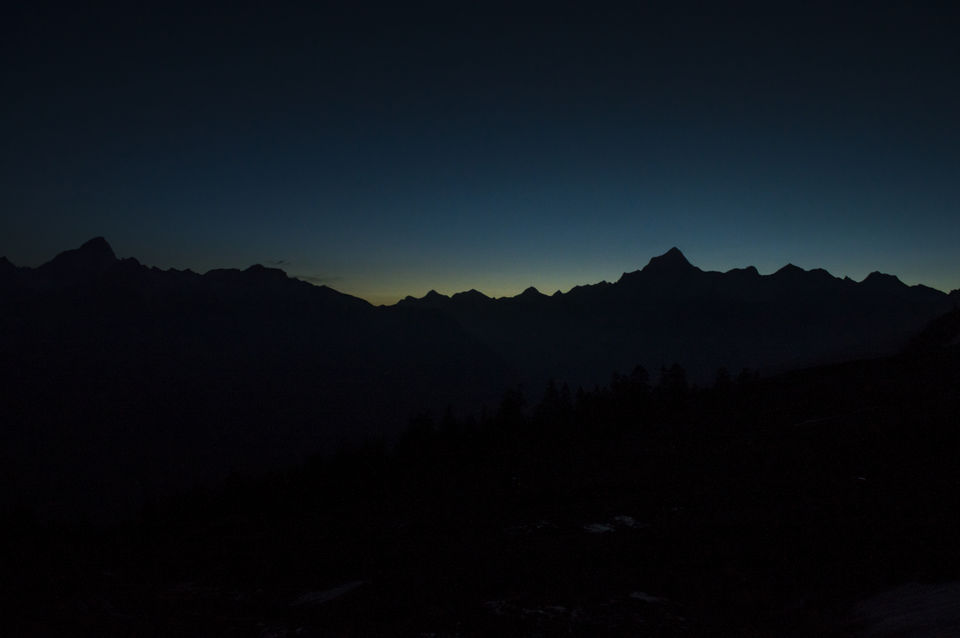 On this day we had to climb to the summit. So we had to start early. we took our necessary equipment in our day pack and left the camp at around 3am. It was still dark when we started and our headlamps came in handy. We had a very long walk and the trail was difficult. It was steep at many places and we almost struggled our entire way. We could clearly view the golden peaks when the 1st ray of the sun kissed these snow capped peaks. Peaks such as Neelkantha, Chaukhamba, Hathi, Ghora etc. It was a panoramic view. We struggled and slipped through the snow and finally reached the boulder zone, which we found very difficult while crossing. We lost out footing quite often and sometimes our legs slipped into the crevasses created between boulders and snow. Overcoming all the fatigue and the difficulties we finally climbed the peak. We couldn't have asked for anything better.It was worth taking all the pain. It was a 360 degree view from the summit. After a bit of prayer to the Gods we started our descend. We reached the base came at around 5 in the evening. We had an extra day so we decided not to go further down and rather stay in Khullara for another day. The next day we started our final descend and finally came to a village named Dhak. From Dhak we took a jeep and came back to Joshimath.