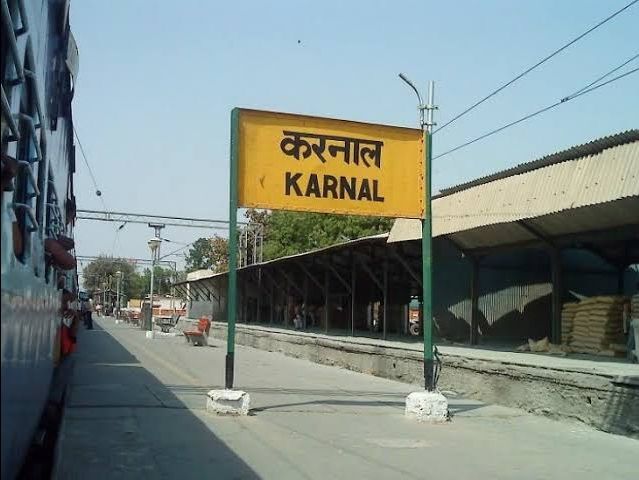 About: 
Karnal, The Land of Raja Karna, a prime character of the Hindu mythology Mahabharata, is a part of state Haryana. Also known as the city of Daanvir Karna. Karnal is one of the oldest districts of Haryana. Karnal is connected to all important places in the country through National Highway1 (NH1) also known as G.T.Road (Sher Shah Suri Marg) and through Delhi-Ambala railway line. Karnal is 130 kms from Chandigarh & 125 kms from Delhi. The Karnal district is surrounded by Yamuna Nagar on East, Jind & Kaithal district on its West, Kurukshetra District on its North, Panipat district on its South.
Karnal, is ranked 24th (1st in Haryana) among Top 100 cities in the list of Indian cleanest cities of India under Swachh Survekshan 2019. Karnal falls under the NCR region since 2015. 
Some of the dignitaries have their association with the city of Karnal. Late Dr. Kalpana Chawla, an Indian-American scientist and NASA Astronaut was born in a Punjabi Hindu family at Model Town, Karnal. She also did her schooling at Tagore Baal Niketan, Karnal. The first Prime Minister of Pakistan, Liaquat Ali Khan was born in Karnal.
Manohar Lal Khattar, is a Bharatiya Janata Party (BJP) politician, is the 10th Chief Minister of Haryana. He represents Karnal constituency in Haryana Legislative Assembly, and was sworn-in as Chief Minister of Haryana in 2014. 
Places to visit in Karnal:
Karna Lake: 
It is a one of the most famous tourist attractions of the city. It is believed that Raja Karna, a character of the epic Mahabharata used to bathe here in the tranquil waters of this lake. The lake has an island in the center. Lots of birds get attracted to this place because of the lush green beauty and provide them feel like home. The lake is blessed with splendid beauty that deceits its existence in a busy city. Tourists & Locals also love to have leisure walks on the periphery of the lake and enjoy activities like boating, musical fountain etc. You can also enjoy your picnic time here. Sky being reflected in the lake the place will mesmerize the onlookers. It is best place to spend quality time with family & friends.
Cantonment Church Tower: 
Being a finest example of unique architectural & style of British era, Cantonment Church Tower stands tall. The church was dedicated to St. James, a disciple of Jesus Christ. The tower is about fifty feet high and has an ornamental cross on the top. The church got dismantled when the cantonment was shifted from Karnal to Ambala. However as per the Archeological Department the tower was permitted to stand here. The tower is clearly visible from a distance. There is a cemetery of the European soldiers on the left side of the tower. Indian National Trust for Art and Cultural Heritage has certified this Cantonment Church Tower to be a historic monument of the country.
Qualander Shah's Tomb:
Built in the memory of Bo-Ali-Qualander Shah, the famous Muslim sage, this place of honor was constructed by Ghias-ud-din Tughlaq, the ruler of Delhi. . This Sufi sage was famous for his new-age thinking and his ideas that have been respected and appreciated by people of all religions. The saint was said to be blessed with miraculous powers. The tomb premises are fenced by walls and hoses beautiful fountains and lush garden surrounding the tomb. The well sculpted memorial is constructed with marble. The tomb is important because of the stories that are related to Qualander Shah. The famous song: "Duma Dum Mast Kalander" is sung on Qualander Shah's itself. Now, you will find variety of versions of the same song over YouTube & other Channels.
Karnal Club:
Karnal Club is among the oldest clubs from India established in 1893. This club was setup in the British era alongside the Mall Road. Mall road was famous for its splendid green area and peaceful environment where British ranked officers' residences and offices were built. Now, the Mall Road is used for High ranked officers' residences including IAS, SP etc. and considered to be most safe zone of the city.
Karnal Flying Club:
Karnal Flying Club is being used for General Aviation and Pilot Training. The Karnal Flying Club has been running at this airfield since 1967 year. There are no scheduled commercial flight operations. To upgrade this airport to domestic airport under UDAN scheme, provision of INR20 crore each was made in 2017-18 and 2018-19. 
Karnal Aviation Club, offers flying training and preparation courses to the Student pilot license, Glider pilot license, private pilot license (PPL), commercial pilot license (CPL), Flight radiotelephone operator license, Flight instructor Instrument rating and apprentice internship for all BE/BTech. The CPL costs INR 22,00,000 requiring a minimum of 200 hours' flying experience.
Karnal Fort:
The fort was built by Raja Ganpat Singh in the mid eighteenth century. Being conquered by different Emperors in different eras, Karnal Fort has seen glorious victories and unimpressive declines of the rulers. Conquered by the Marathas from Raja Bhag Singh, Karnal Fort has been a witness of the tussles between the Sikhs and the Marathas until Karnal was overtaken by the British. The fort was used a jail during the initial British-Raj. The stately construction of the fort is outstanding, and it is known as the Old Fort by the locals. 
Pukka Pul:
Pukka Pul is also known as Sayad's Shrine is located at 7 km from the main city of Karnal and is a sacred monument by the Muslims. The shrine is near the Mughal Bridge and is known for having powers to counter the ghostly spirits and cure serious diseases. Every Thursday the shrine is illuminated with lamps. Devotees around the world come here to seek the blessings to lead a positive life ahead. 
Atal Park:
Atal Park is one of the popular traveler spots that adds awesomeness to your weekends for a rejuvenating time. With so much to entice your senses and provide you exercise at its excellent, get drenched in the spirit of journey that you get to discover at this place. Do not forget about to hold your digicam and capture special moments. Atal Park, Karnal is the sure way to refresh and relax after a busy weekday. Explore exciting topics, terrific designs, colorful landscapes, a laugh characters, ambient track, props and products to be had in nearby shops- all at one area.
National Dairy Research Institute (NDRI):
The National Dairy Research Institute, Karnal was originally started as Imperial Institute of Animal Husbandry and Dairying in 1923 at Bangalore. In 1936 it was renamed as Imperial Dairy Institute and was known as National Dairy Research Institute after independence in 1947.  Subsequently, in 1955, NDRI Headquarter was shifted to Karnal. Facilities at Bangalore were retained to function as a Regional Station to serve the Southern States. The sprawling 560-hectare campus of the Institute is self-sufficient in housing laboratories, offices, hostels, hospital, residential complexes, auditorium etc. Various laboratories of the Institute are equipped with the state-of-the-art analytical instruments for carrying out research in most advanced areas of Molecular Biology, Cell Culture, Fermentation Technology, Protein Chemistry, Nutritional Studies, Food Technology, Microbiology, Micro Element Analysis, etc.
NDRI Deemed University: The first formal Dairy Technology course was started in India at NDRI in 1957. NDRI Deemed University provides high quality education in the field of dairying, which has no parallel in Asia. The Institute has also been recognized as Centre of Advanced Studies in the disciplines of Animal Genetics & Breeding and Dairy Technology to further strengthen its HRD activities.
You can find out more details at: http://www.ndri.res.indri/Design/index.html
Along with the NDRI, there are many National Institutes that are have their centers in Karnal are listed below:
Central Soil Salinity Research Institute (ICAR-CSSRI)  [Website: http://cssri.res.in/]
Indian Agricultural Research Institute (ICAR-IARI) [Website: https://www.iari.res.in/]
Indian Institute of Sugarcane Research (ICAR-IISR) [Website: http://www.iisr.nic.in/aicrp/index.htm
Indian Institute of Wheat and Barley Research (ICAR-IIWBR) [Website: https://www.iiwbr.org/]
Haryana Police Academy:
Haryana Police Academy (HPA) at Madhuban has been imparting training to the IPS Probationers of Haryana (State training part) since 1977. This HPA is located at Madhuban on the Delhi-Ambala stretch of National Highway No.1. The whole Complex is spread over an area of 200 acres and has been very beautifully laid out. The campus is used to provide training for all the designated positions in Haryana Police.
Highly trained commando and police staff provides training to the cadets who are looking forward for their future in Haryana Police. The training goes through a very high level of physical and mental training.
Sainik School:
Sainik School located near the village Kunjpura, is one of the first five Sainik Schools (Military School) established in 1961 in India and was the first Sainik School in the state of Haryana. The school comes under the control of the state government and Ministry of Defence. The admission to the school is only through the written examination conducted by Union Public Service Commission (UPSC). The school stood on the property that originally belonged to the last Nawab of Kunjpura, Ibrahim Ali Khan. The property passed into the hands of the Defence Ministry as the nawab migrated to Pakistan after the independence of India and died in Lahore in 1952. Sainik School, Kunjpura came into being in July 1961, at the behest of V. K. Krishna Menon, the then Defence Minister of India. Sainik School Kunjpura has not only produced India's Top Soldiers for armed forces but world class citizens contributing to all walks of life.
Two-time Chief Minister of Haryana - Sh. BHUPINDER SINGH HOODA
Former chief of Army Staff- GEN DEEPAK KAPOOR(Retd.), PVSM, AVSM, SM, VSM, ADC
ALUMNI IN INDIAN ARMED FORCES
LT GEN (Dr.) DDS SANDHU (Retd.), Former Vice Chancellor, KURUKSHETRA UNIVERSITY
AIR MARSHAL GS CHAUDHRY (Retd.)
PVSM, AVSM, VSM AIR MARSHAL PS BHANGU (Retd.)
There are several other alumni from the school doing exceptionally well in all spheres of life.
Karna Gate & Kunjpura Road Market:
The Karna Gate & Kunjpura Road market is one of the most famous and shopping centers for the residents of Karnal. A huge market provides you the full access only through the pedestrian walk. To explore the market, it is preferable to walk. Starting from the daily needs shop, clothes, sweets, ice-cream parlor (At night only, The Matka Kulfi), Jewelers, Restaurants, Hospitals, Banks, Medical Labs, Bakery, Decoration, Stationary, Paint etc. This place is the heart of the city and will never let you leave empty hands. One of the best places to fulfill your all requirements.
Club Market:
The name erupted adversely because it is situated along the wall of Karnal Club on the old G.T.Road and the market is fully governed by Karnal club itself. Club market is one of the most active places at night. Most of the nightlife lovers visit this place and you will find it more crowdy after dinner time. This place provides you Ice-cream parlor, Restaurants, Readers Paradise (Books & gifting place), Chaurasia Pan corner, Flower shops.
-- Varun Goel