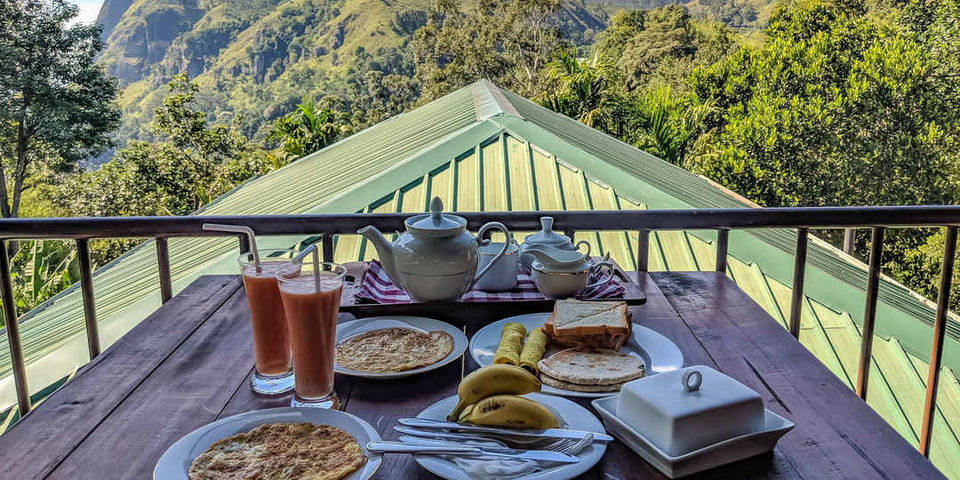 Do you remember that weekend trip you went on? Remember the drive up the hill, mist in the air, smell of freshly brewed coffee and the taste of your first homemade wine? Ah! yes, it is that small hill station nestled in the western ghats known for its culture, traditions and tribe. It is KODAGU which you may know as Coorg.
First of all, I am going to teach you two idioms in Coorgi language "Kudi Kadi" (food and drinks) and "Aat Paat"(Song and dance). Kodavas, who are the inhabitants of Coorg are often seen in their weddings and festivals relishing their kudi kadi as they enjoy their aat paat.

Born in a tiny village in Virajpet; a town in Coorg, I have grown up savoring the traditional delicacies. Although I have lived in Bangalore all my life, walking into the kitchen that smelt like the spicy pork curry or the roasted rice roti, is a memory I will never forget. Most of my friends who travel to Coorg are often curious about the food. In this article, I would like to highlight the combinations of starters, main course, deserts and fermented drinks that one would enjoy.
Wine - Let's begin with the starter:
The geography and culture of a region always influences its food. Likewise in Coorg alcohol is a major part of any event. Being a hill station it is relatively chilly, hence a sip of the freshly fermented homemade wine is a common occurrence. It keeps you warm and is a great conversation starter.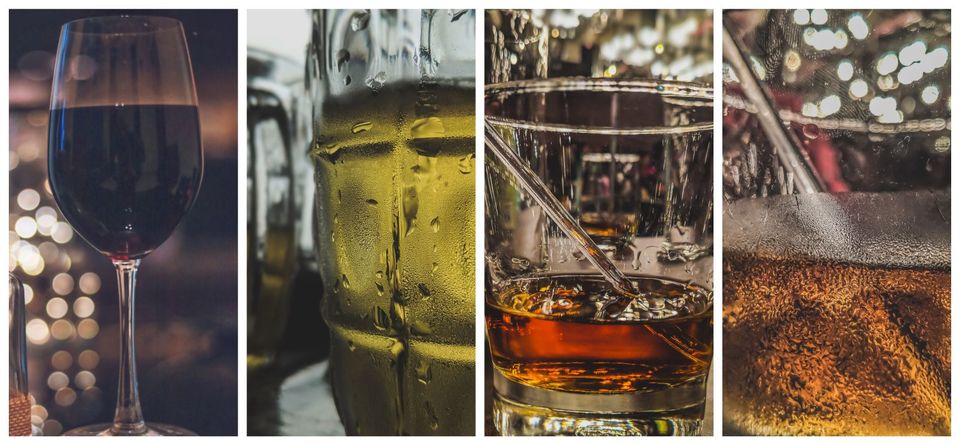 Coorg is known for the best non-chemical wine. There are unimaginable types of wine. Grape, pineapple, jack-fruit, beetle leaves, coffee, hazelnut, passion fruit, banana, the list just goes on. Beer and hard liquor is also available. Next time, pour a yourself a peg, inhale the ecstatic aroma and take a tiny sip.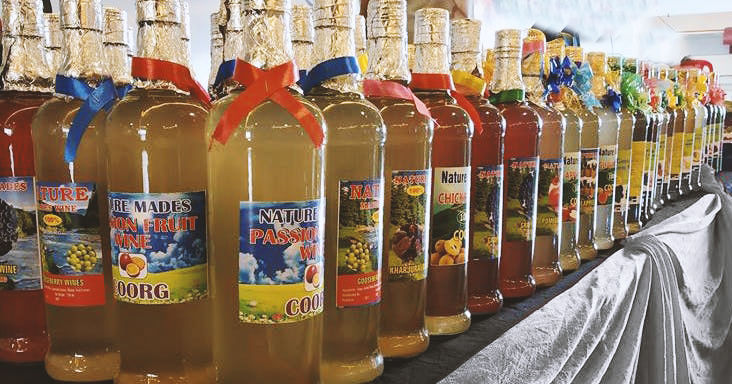 The mouth watering combinations:
We are essentially rice eaters which makes it our staple diet. Rice is used in a wide variety of dishes, starting with our favorite breakfast Akki Otti (rice roti) combined with the spicy pork curry whose special ingredient is homemade pork masala. On the running for the favorite breakfast is also Kadambutt (rice dumplings) which again is delicious with pork curry.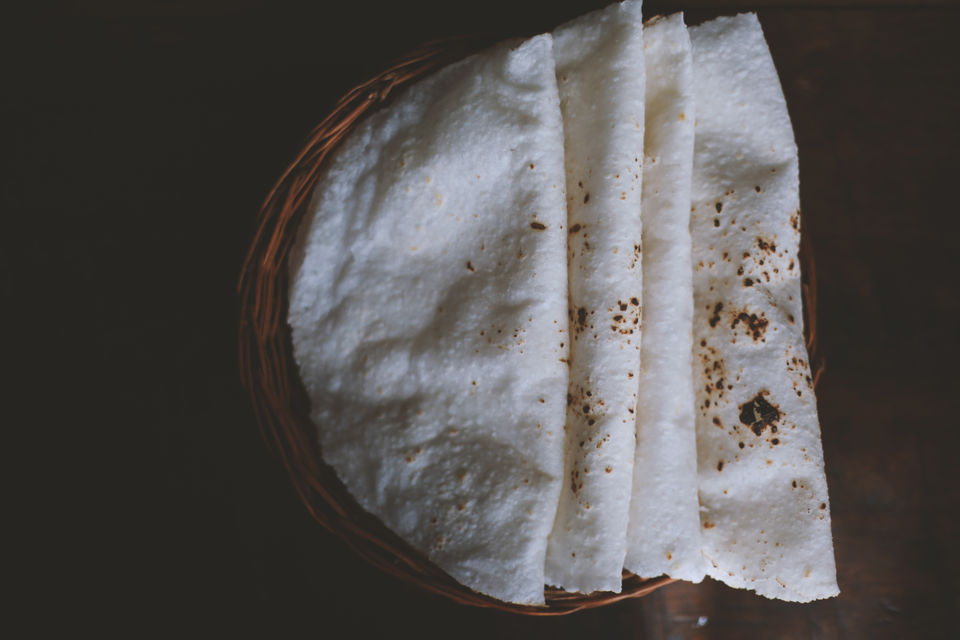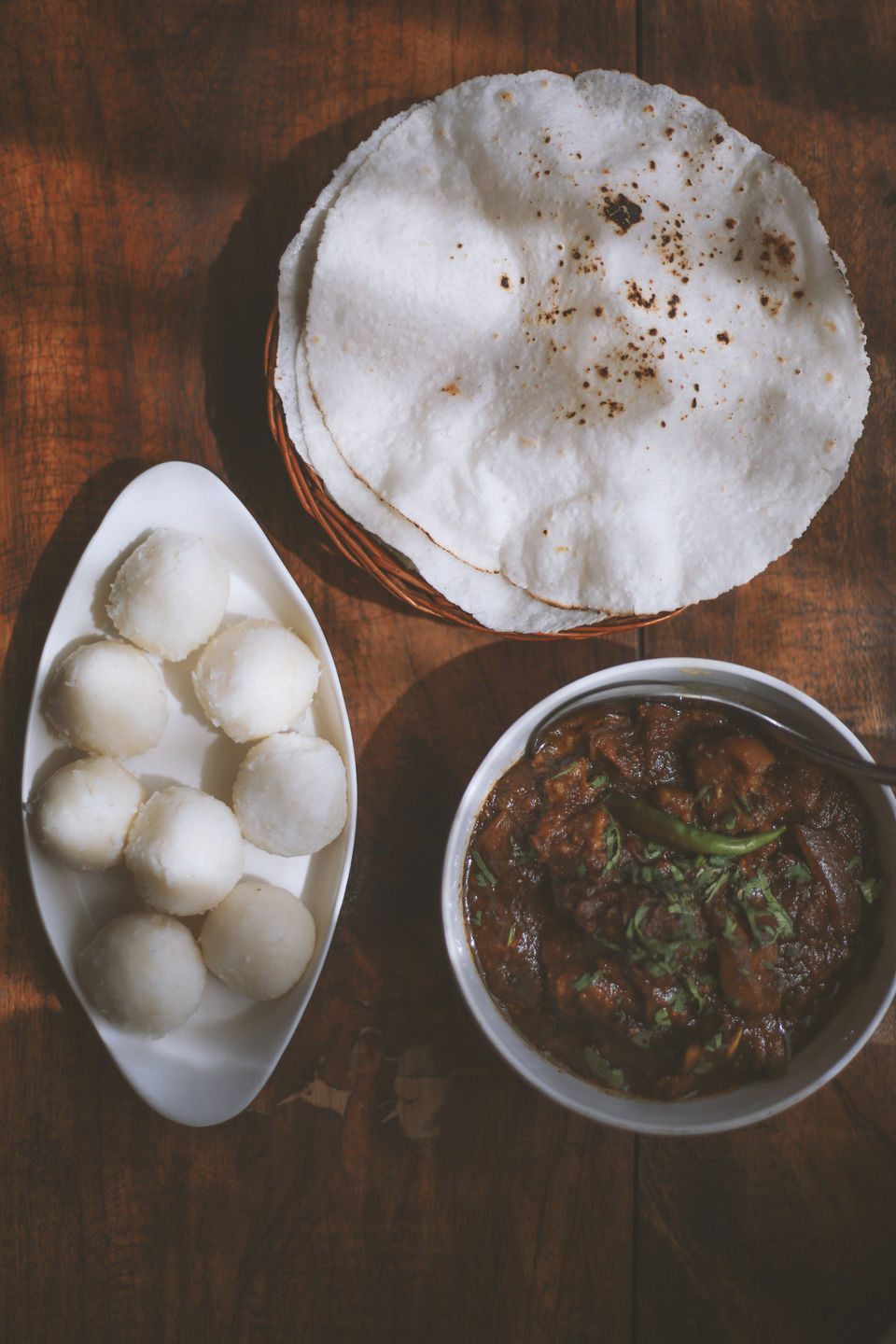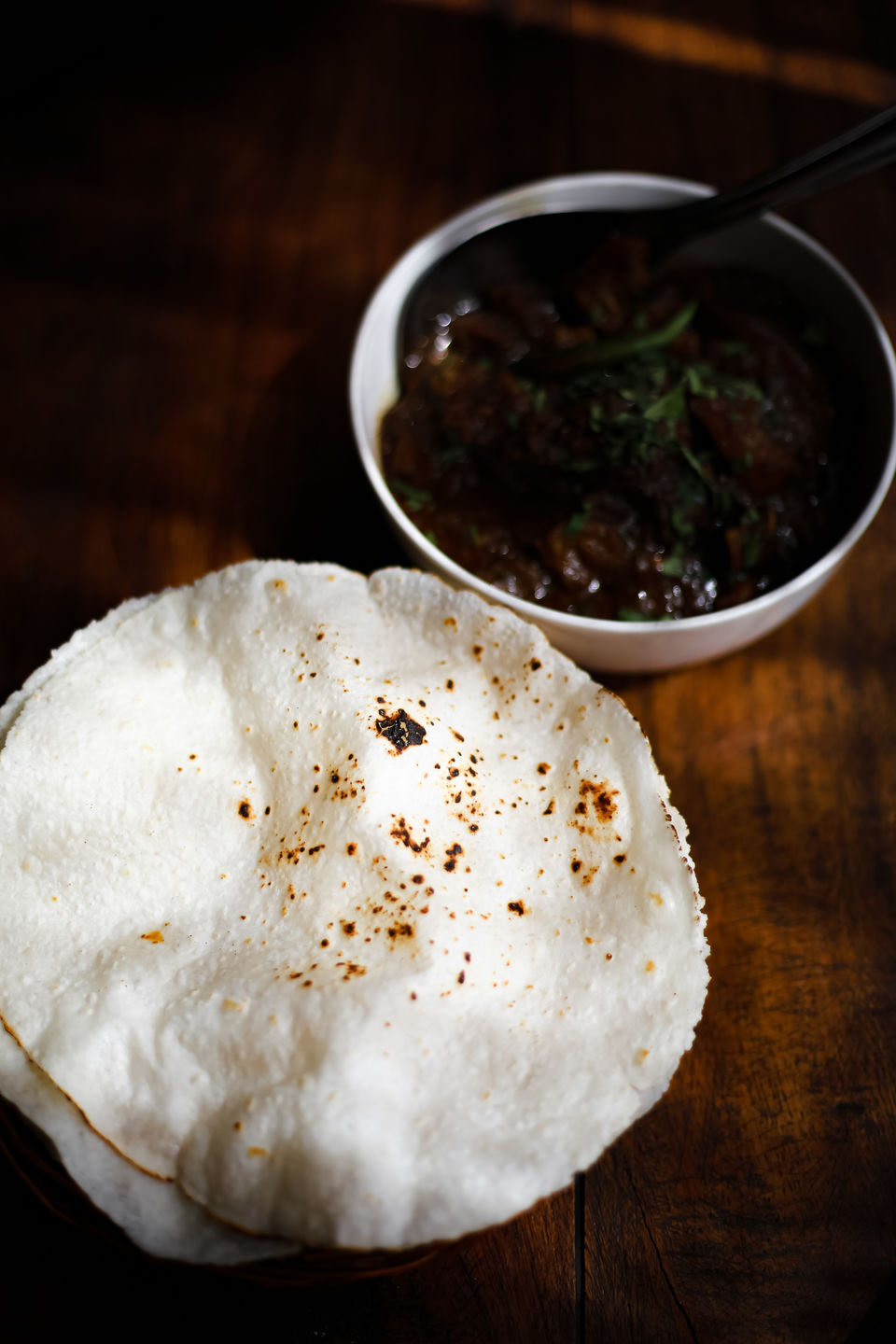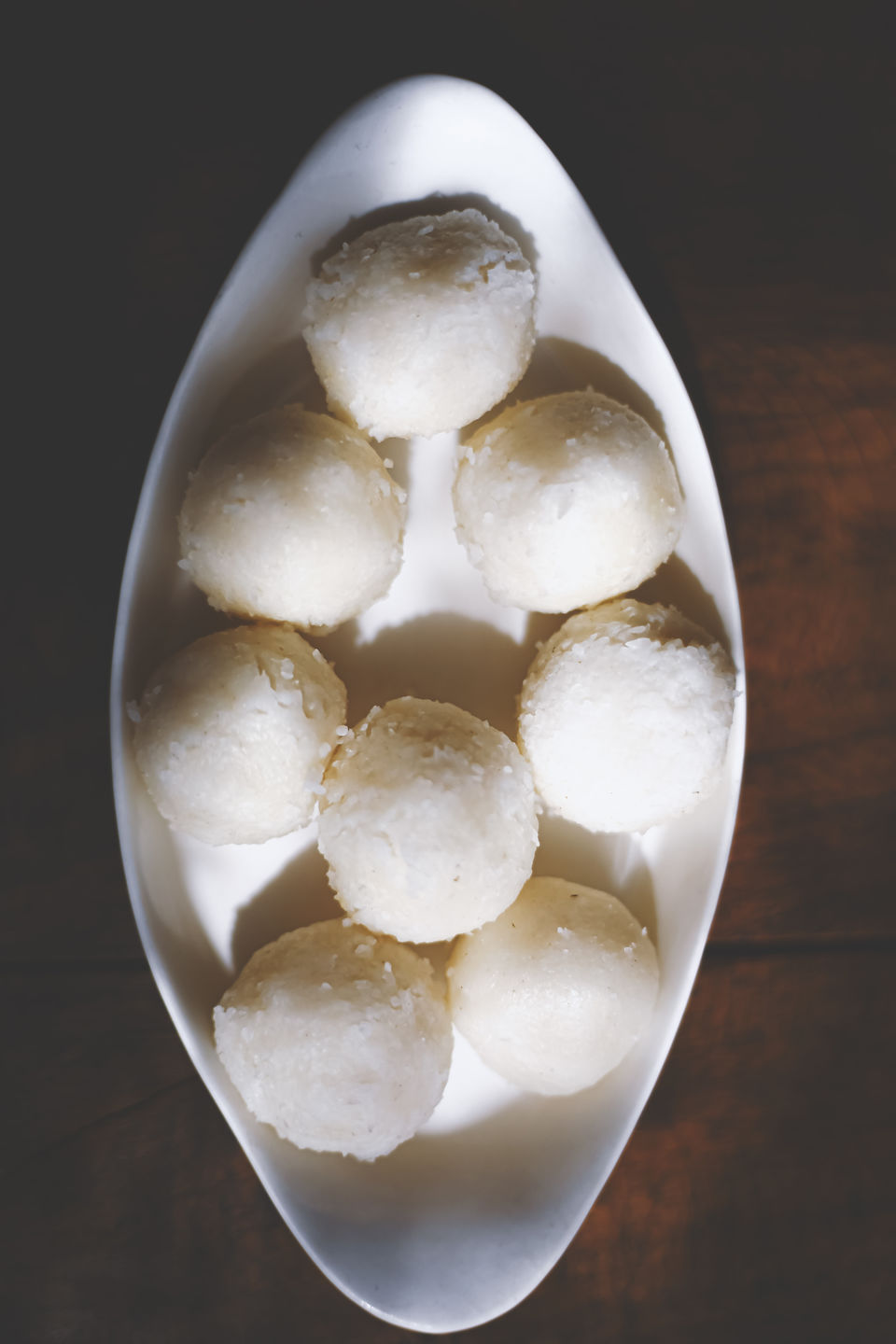 We love our puttus, a wide variety of puttu is prepared for breakfast and main course. My mom loves making Paaputtu for breakfast because it is super easy. It is cooked with milk and grated coconut and cut up like a pizza. You can relish Paaputtu with chicken curry or a vegetable curry. The last breakfast item is Thaliaputtu, it is very similar to South Indian Thatte Idli(made in miniature plates).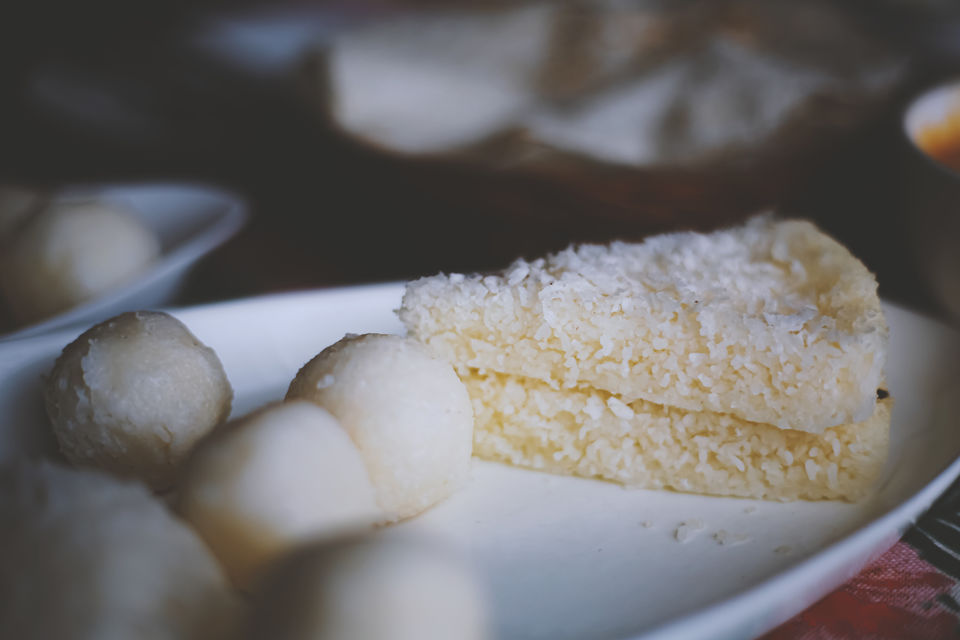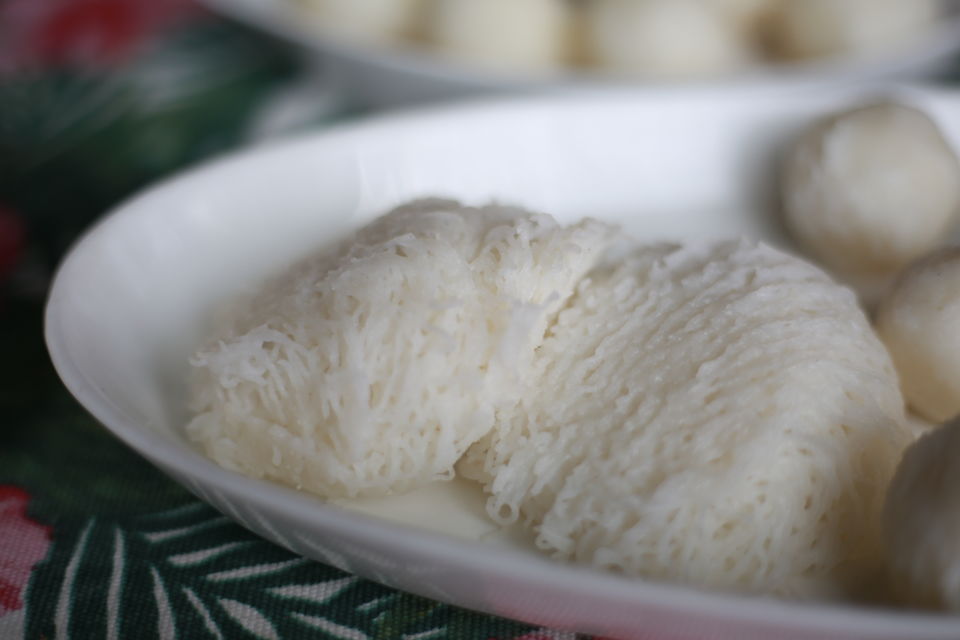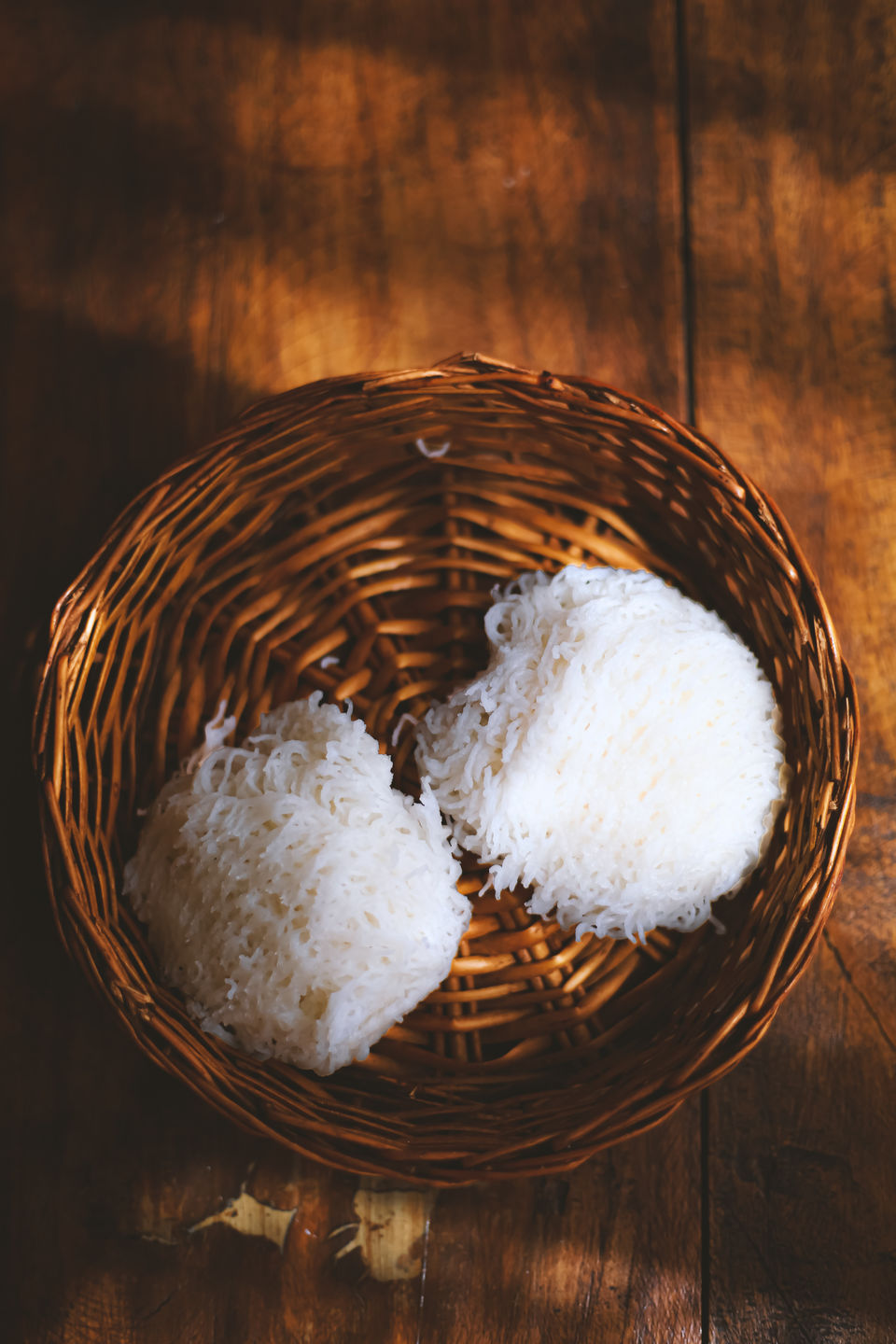 Very similar to Kerala's famous Idiyappam, we have Noolputtu which literally translates as noodles. I remember as a kid standing in line for my turn to rotate the Noolputtu maker. The big fat dough would go in and come out all spirally and ready to eat. Chicken curry prepared with coconut paste and marinated with spices is the best side with Noolputtu.
Pure non-vegetarians is a term that Coorgs are nick named as. There is at-least one non-veg dish on the table at all times. All events happy or sad includes alcohol and non-veg. The most renowned of the dish is Pork curry or Pandi curry. Most people in Coorg raise their meat at home. They are fried, roasted, grilled or cooked as gravy with different combination of spices.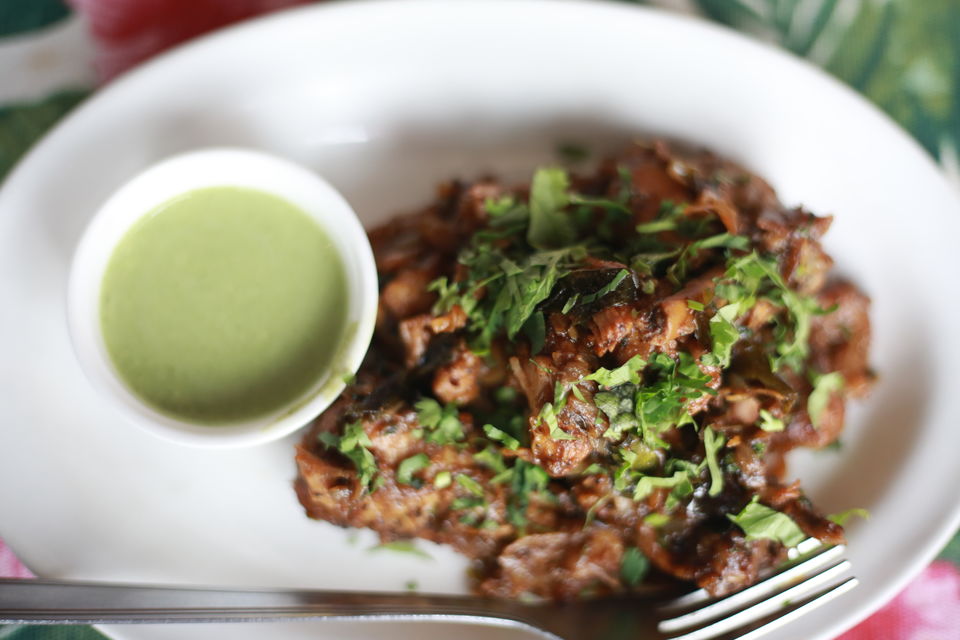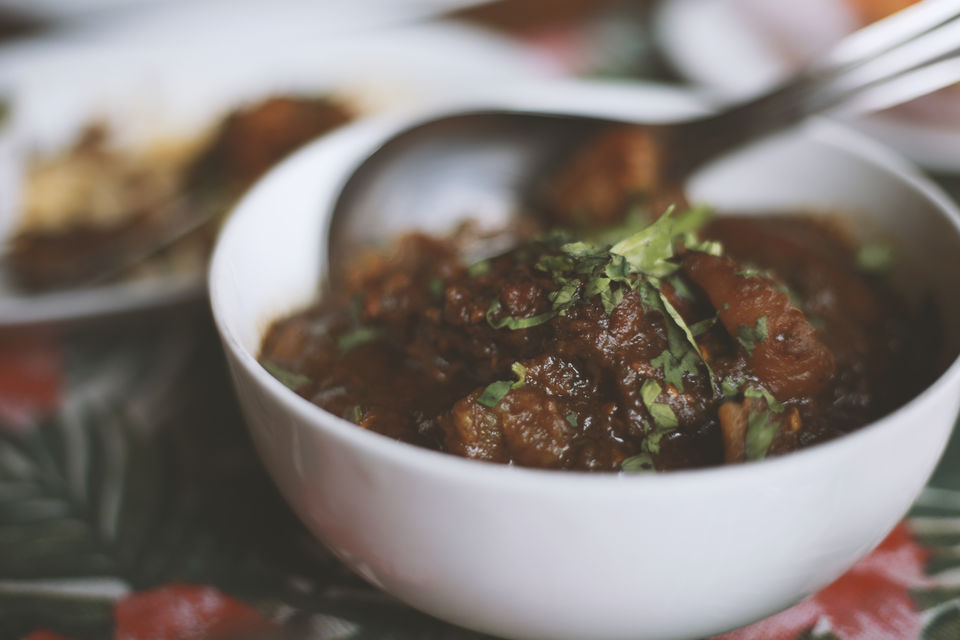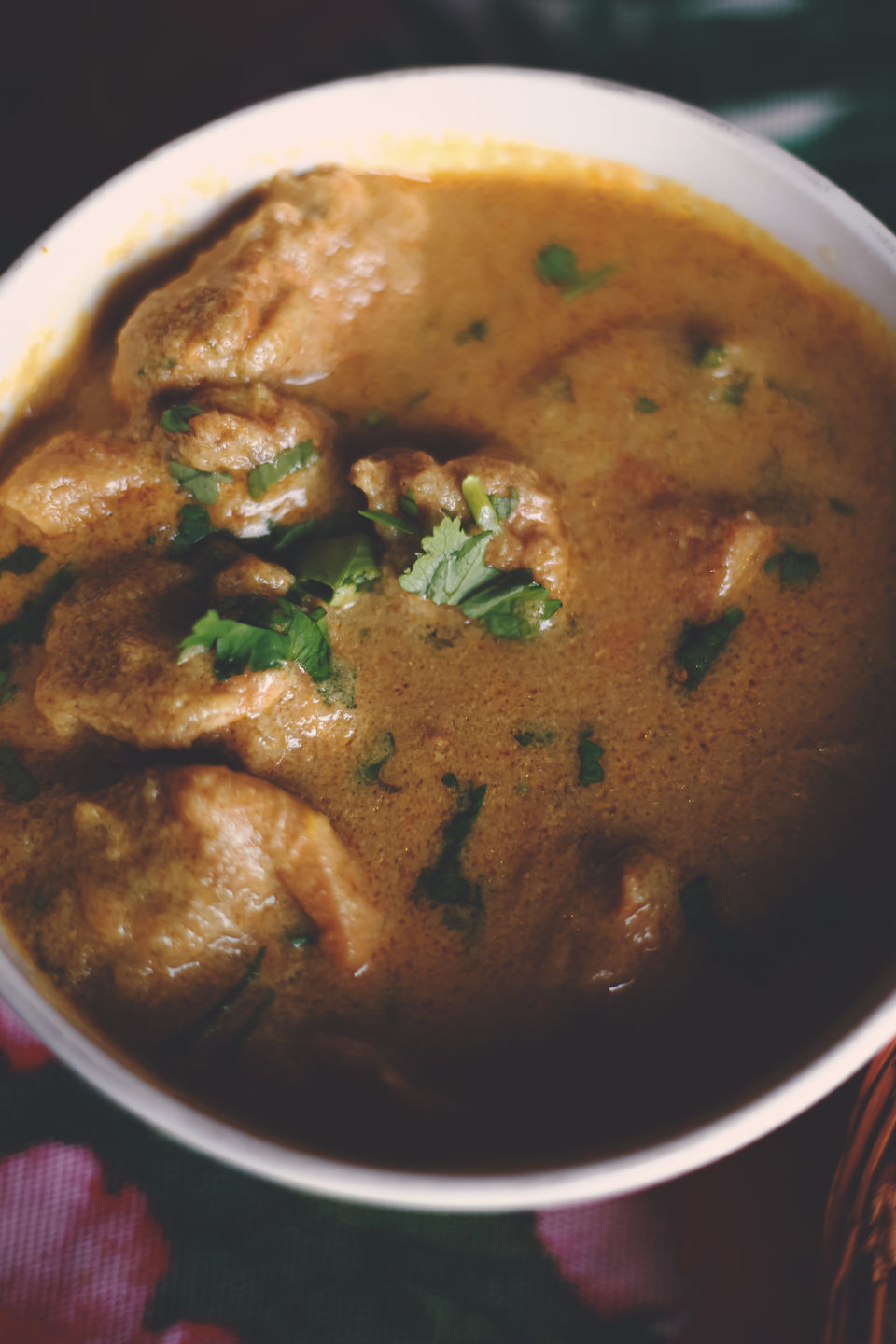 Maintaining a stable diet Coorg also has delicious vegetarian versions using produce from their forests and fields like Baimbale or bamboo shoot. Ah! the Mushroom curry! My very first memory is when we went out to the forest, mushroom hunting right after thunder showers. You get the best, fresh wild mushrooms at the time.
Therme Thopp curry (variety of fern), Chekke curry (raw Jackfruit), Baale Kaamb curry (stem of the banana plant), Kembu curry (leaves of the Colcosia plant), Maange curry (raw mangoes with spices and plenty of jaggery) are some of the barely known vegetarian dishes.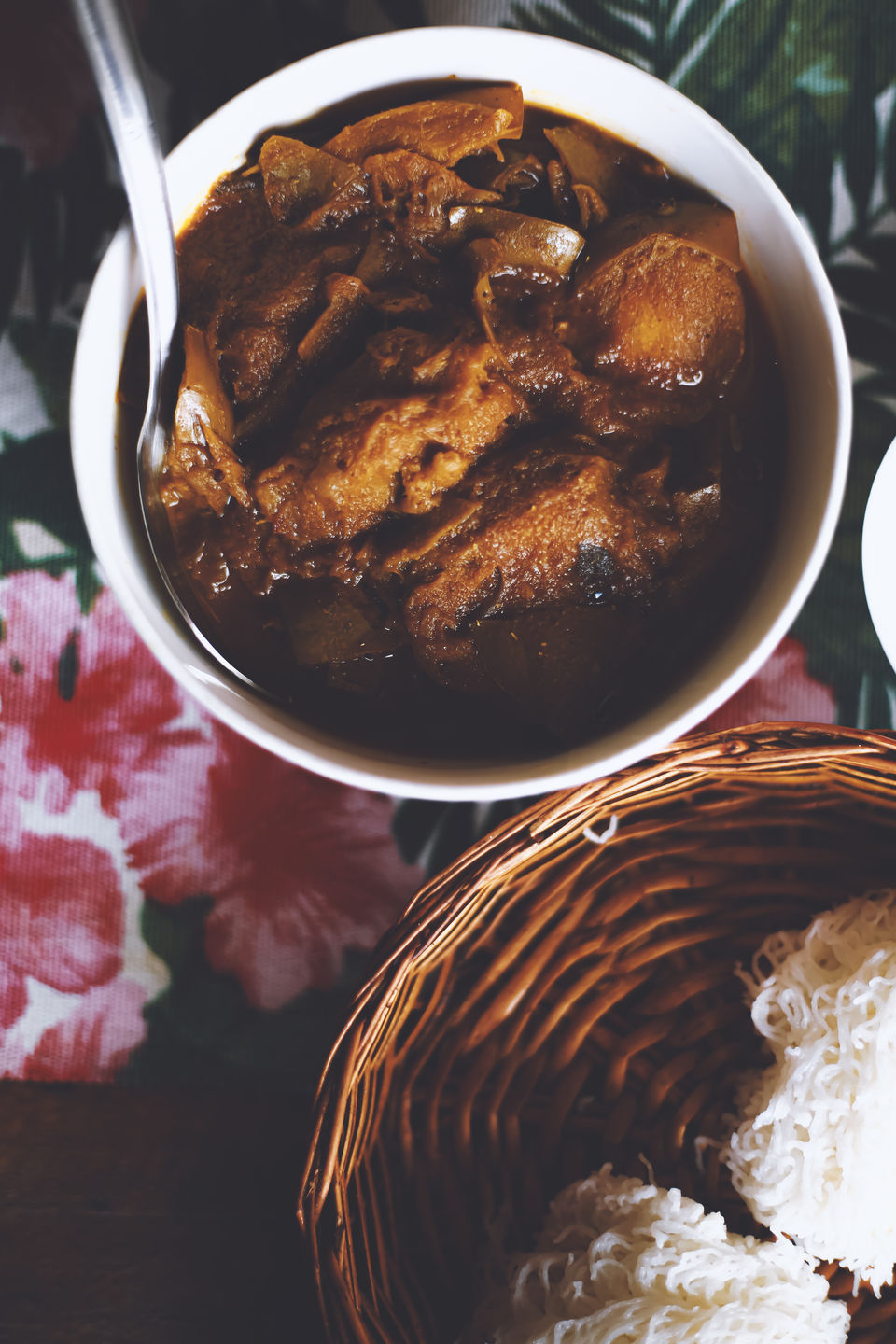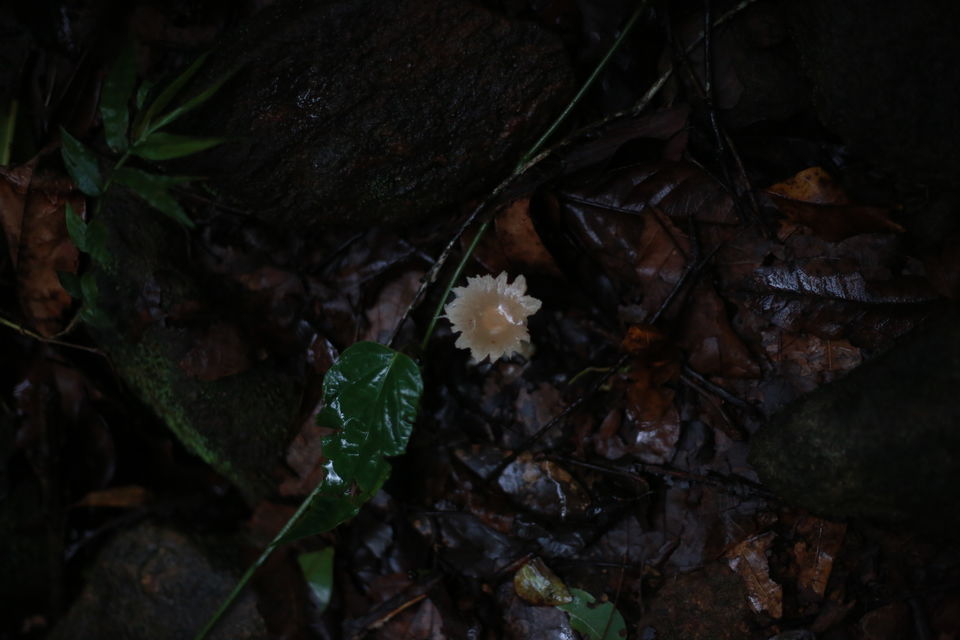 "Stressed spelled backwards is dessert". Kodavas are sweet tooth. We have invented our very own savories. Thambutt (mashed banana dough with homemade thambuttu powder) is a yearly snack that is made specifically during the harvest festival Putthari. Kooleputtu is mostly made of banana and jackfruit by steaming the mix wrapped in banana leaves. Rice payasa, Gasgase payasa and Maddh payasa (seasonal medicinal plant) are a perfect way to end a sumptuous meal.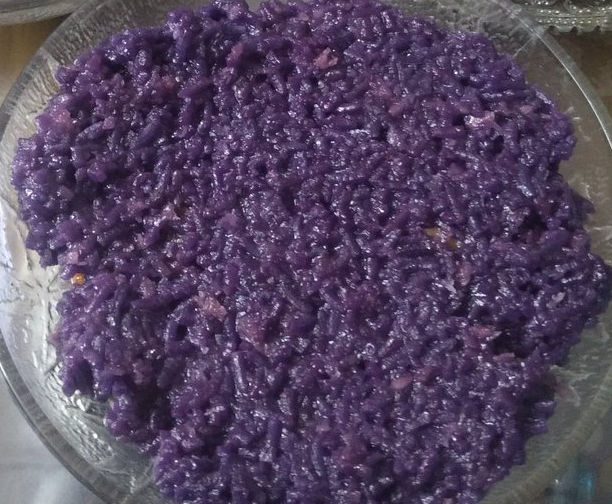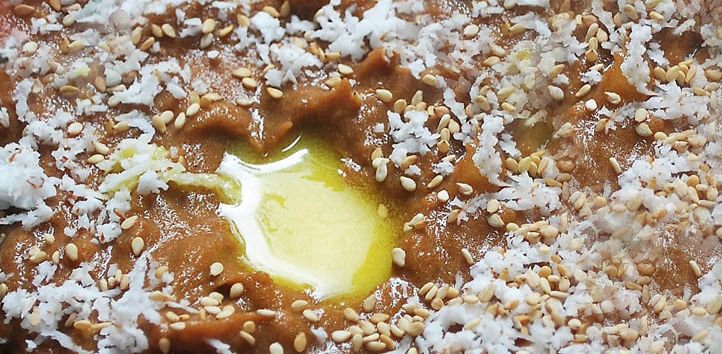 As I come to the end of the article, my mouth is watering! I am going to find something in the kitchen right away. Ooo do not forget to try the Bella kaapi (Jaggery black coffee) before bed.