When I hear of Coorg, all that comes to mind is Coffee. But with undulating green highlands, blue and sunny skyline throughout the year, this 'Scotland of India' encompasses definitely much more than Coffee.
Because of its serendipitous nature, this tiny hill station of Western-Ghats has mesmerized Nature lovers, food connoisseurs, photographers, adventure enthusiasts and culture vultures - almost every type of traveler for decades. Here are some of my favorite things to do in Coorg that you can do too next time you're here.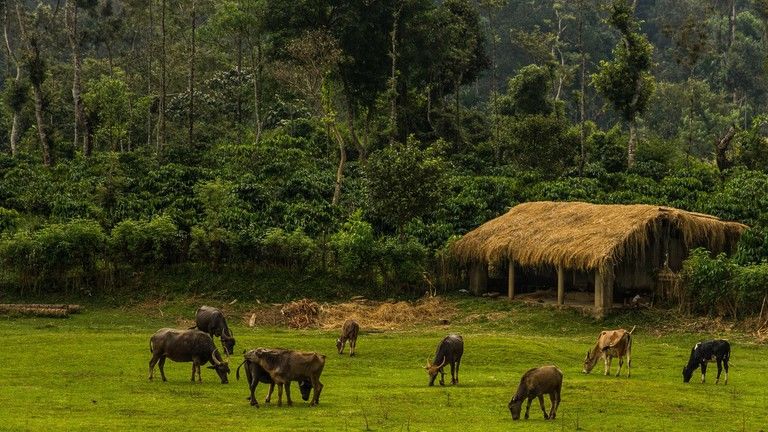 1) Bathe Elephants at Dubare Elephant Camp:
This is the most touristy thing you can do in Coorg. Located on a scenic path of deciduous Dubare Forest this elephant camp is one of the most famous tourist attractions in Coorg has a large herd of elephants that you can feed, bathe and ride. Located on the river bank of Kaveri, it's the perfect place to cool off in summer and is among the best things to do in Coorg in May.
2) Go for a Food Tour
This alluring hill-station of Karnataka offers you different types of vegetarian and non-vegetarian cuisines to enthrall your taste-buds. Try delicious Kadambuttu ( Rice Balls), Noolputtu ( Noodles in Coorg Style), Kuleputtu (Jack-fruit sweet), or Pandi-Curry ( Pork Curry). If you are looking for things to do in Coorg at night, then enjoy one of these dishes for dinner on your trip there.
3) Go for Camping
Camping in Coorg has become popular over the past few years with several campsites to choose from. In fact, with a camping trip you don't have to worry about what to do in Coorg. You can simply pick, book, and relax in your tent with a cup of coffee during the day and count the stars at night. Sleeping under the billions of stars, in the serenity of the hills and jungles of Coorg and immersed in the aroma of the plantations nearby, the experience speaks for itself.
4) Go for Hiking
Another one of the adventure activities in Coorg for those who love the outdoors and exploring is hiking. Plan a hike to Raja's seat and have a great time watching the panoramic views around or Go for a trek to Iruppu Falls and make a comprehensive fun activity on a leisure day. Go exploring the trails leading to Abbey waterfalls, Nagarhole National Park, and Iruppu Falls, walk up to Kumara Parvatha or take a village trail, Coorg has plenty to offer to the curious wanderers! As you walk these trails, most of which are flat and covered with lush greenery, you concur that they constitute unmatchable experience for every nature devotee.
5) Experience the Tibetian Culture
Coorg -this mini hill station is famous for Ballikopa which the second largest Tibetian Settlement outside Tibet. The Namdroling Monastery, better known locally as the Golden Temple is a beautiful Tibetan monastery and the largest teaching centre of Nyingmapa, a lineage of Tibetan Buddhism. Apart from that amazing temples, restaurants as well as local Tibetan artists, hair stylists, and markets will enlighten you with another shade of this high-hill grass-land.
6) Have a coffee Plantation Tour
Coffee bean picking is one of the best things to do in Coorg. The region is the largest producer of coffee and you will find coffee and spice plantations all over the area. The coffee picking season is usually between November-January. You can also explore the plantations via nature walks on a one day trip to Coorg!