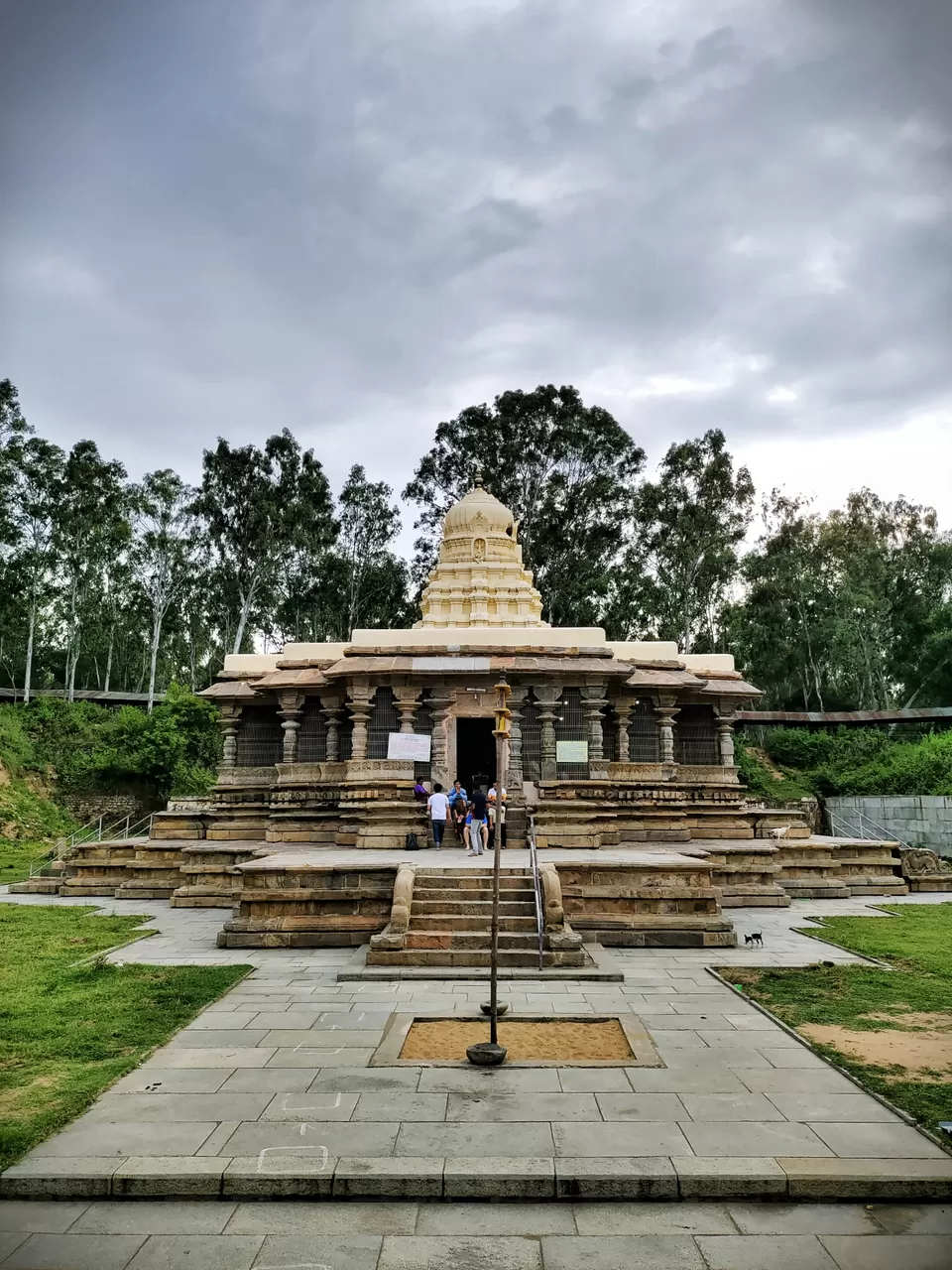 We all have a family in general, once we start studying and grow up, we get friends who are almost like a same family
Later, friends grow up and get married and they have their own families..
So, we start interacting and meeting often that creates a bonding and that's how next generation family evolves i.e. 'Friends family'
In this hectic life, going out ourselves is a big task, then going with family is much bigger (if the family is big) and the most difficult one is going out with friends family !
Last December (2021) luckily we had been to Meghalaya with cousins and their families and after six months in June (2022) we got to go out with friends family
When 5 individuals are planning, its difficult to fix a common place to travel.. now imagine when 5 families are planning (that too with small kids.. gosh!)..
Its always a challenge to agree upon some common places to travel as every ones taste is different (some like beaches, few like treks, others like temples), requirement is different (some wants to just chill, some wants to explore, some wants to just relax) so finally with some compromises and some agreements we decided to keep Mysuru (cultural capital) as common point to halt and plan our itinerary around it.
Secret tip:-
1. My brother and one of my friend who would join us for trip stays at Mysuru, so accommodation is arranged by default! Major chunk of trip expenses is managed there
2. Three of us were planning to drive to Mysuru in our own vehicles, so transportation is taken care
Since critical part of a trip i.e. transportation and accommodation is arranged it was easy to decide on the places to cover based on everyone's convenience
By the way, I forgot to inform that there were 2 people in the gang celebrating their birthday on 27th June which made this meet even more special to them and all of us also too
So, here goes the plan we sort of finalized
Day 1: Somanathapura, Shivanasamudra (bluff) and Talakadu
Day 2: Camping grounds resort, Mysuru
Day 3: Jungle safari at Kabini (or Nagarahole tiger reserve) Planned by us, there is a twist here
So, we ticked interests and requirements of most people in the group with the above itinerary !
Somanathapura
The Keshava temple here is the most ornate and perfect model of Hoysala architecture. We have idols of 3 deities here, towards south Venugopala, towards north Janardana and to the west Keshava (main deity)
The temple is also well known for its elaborately carved doorways and beautifully executed ceilings of navagraha mandapam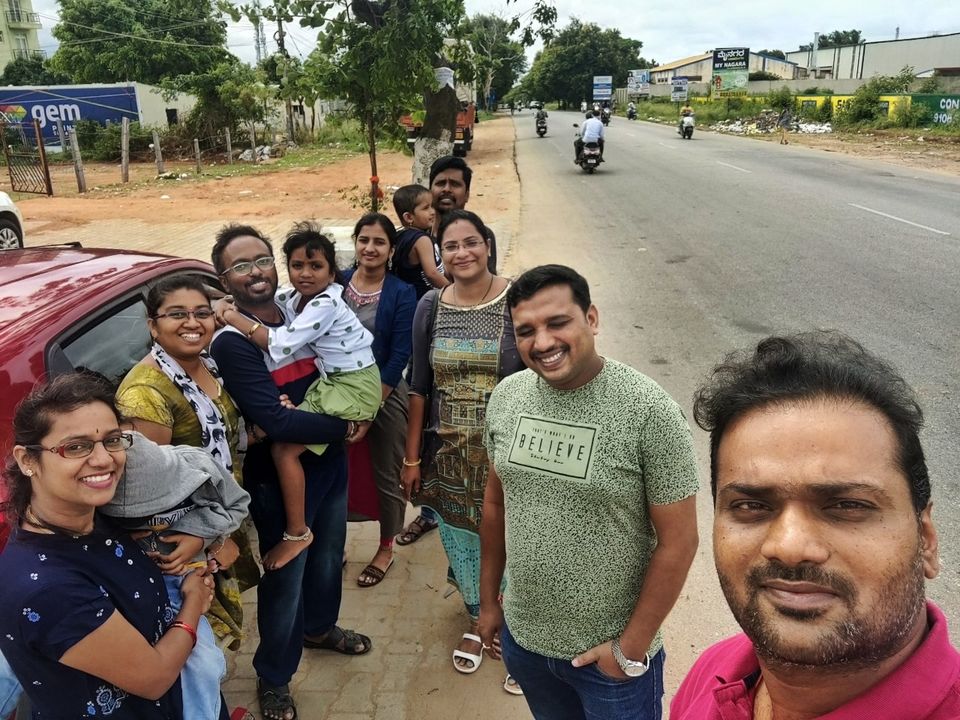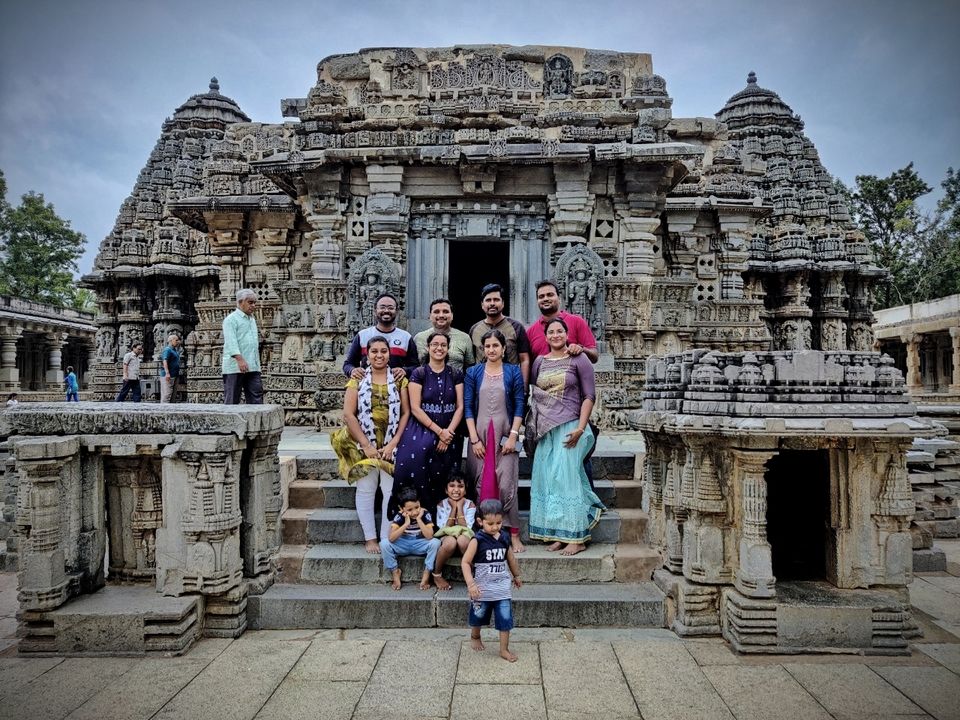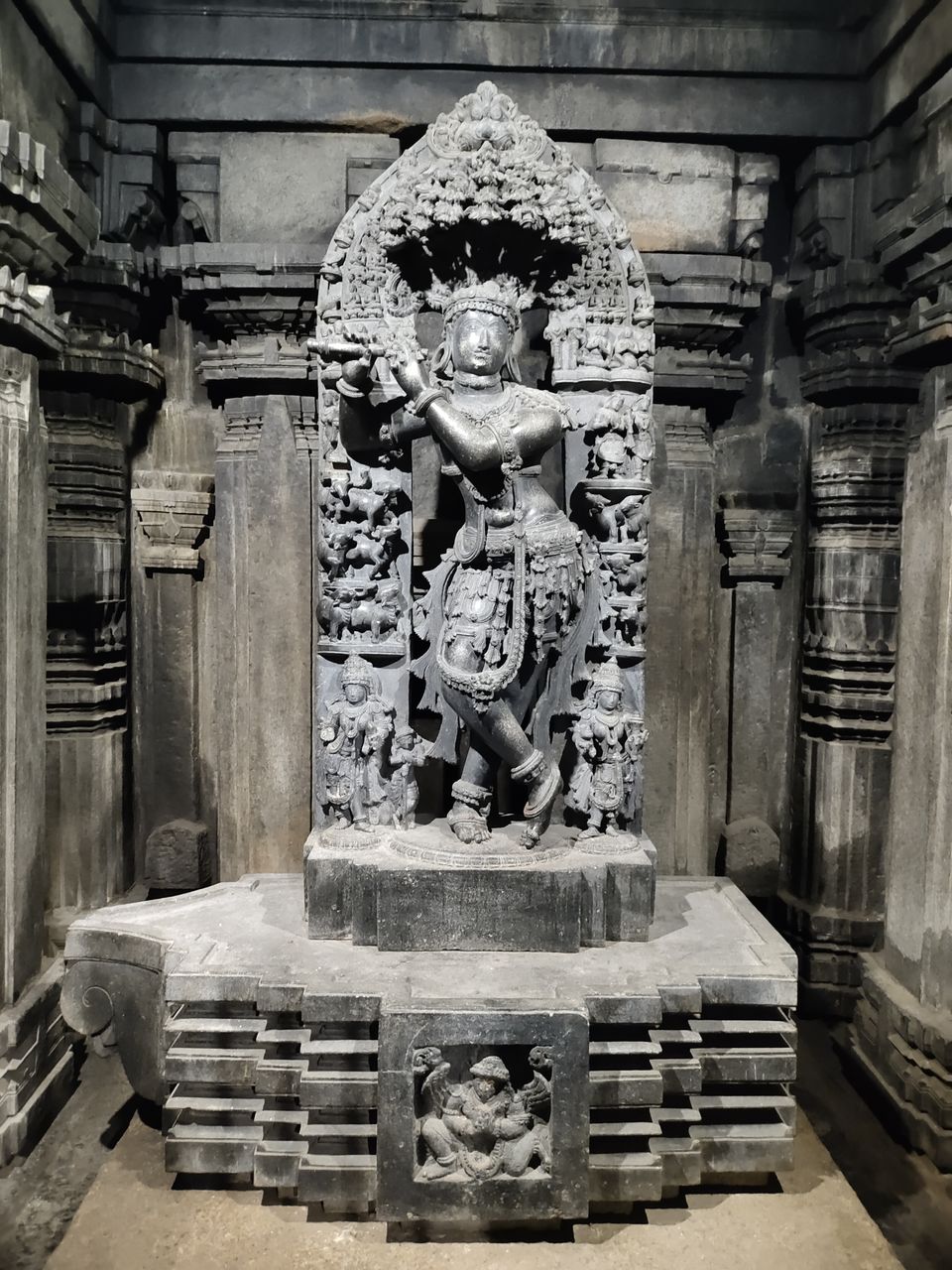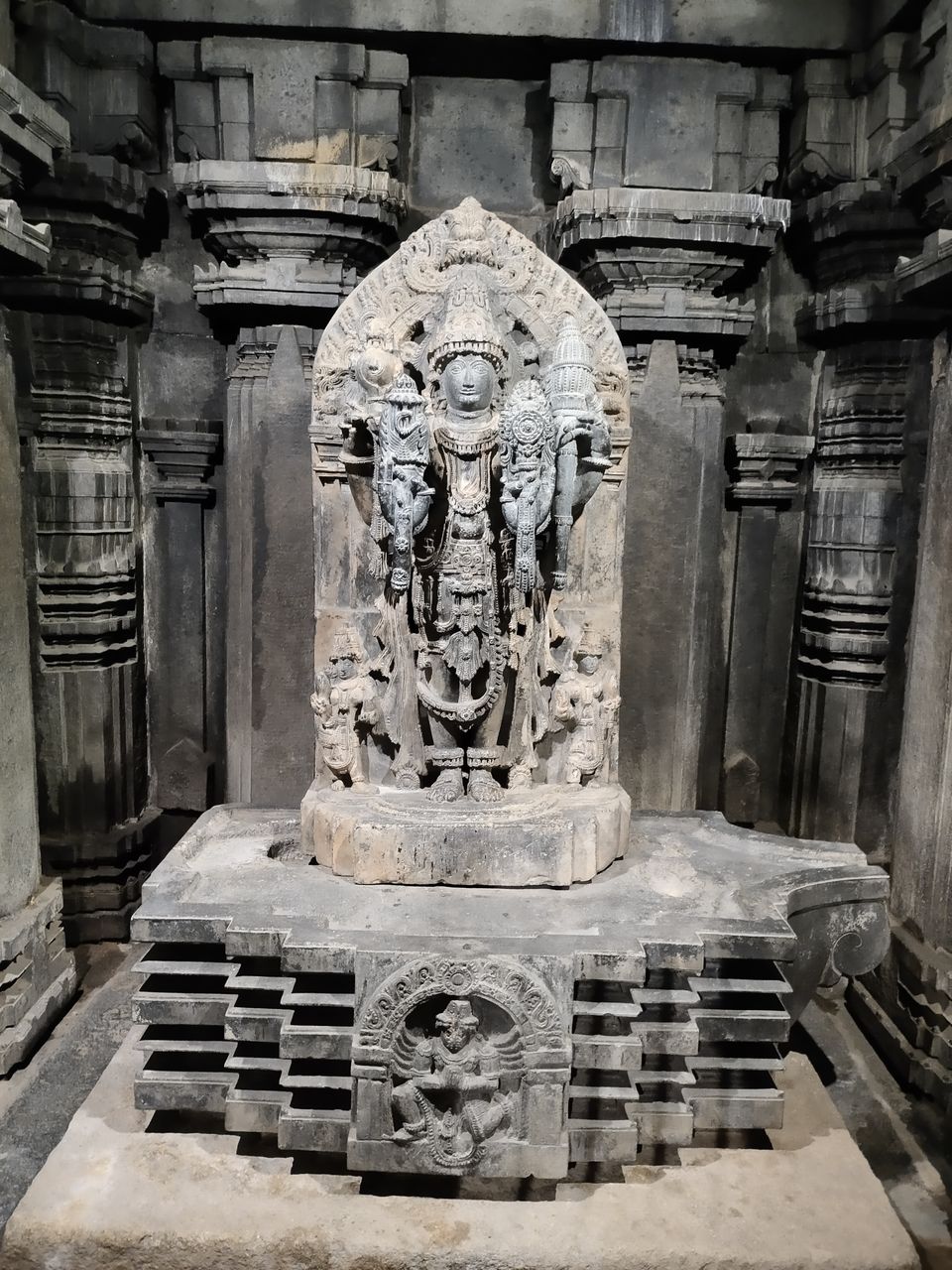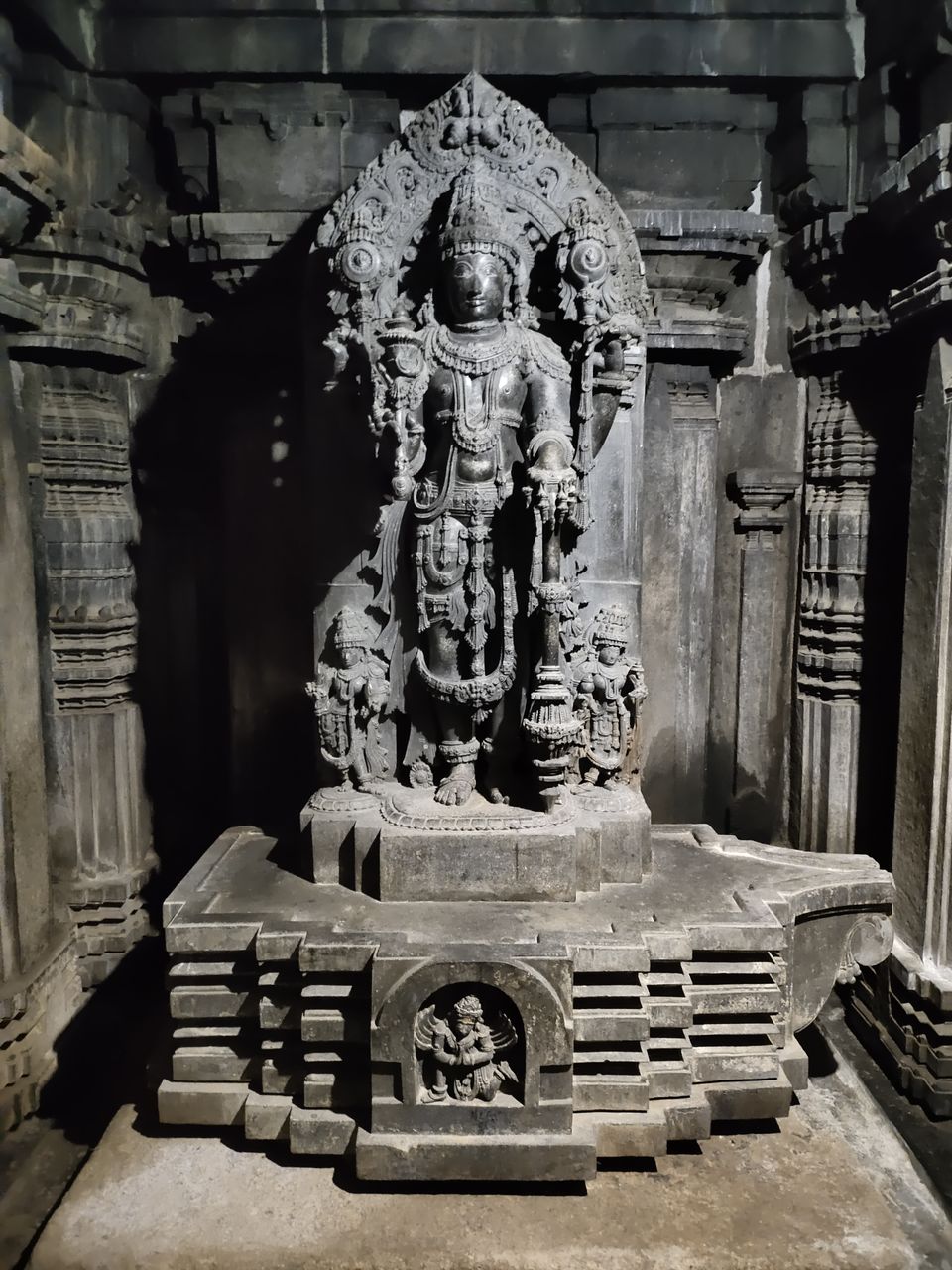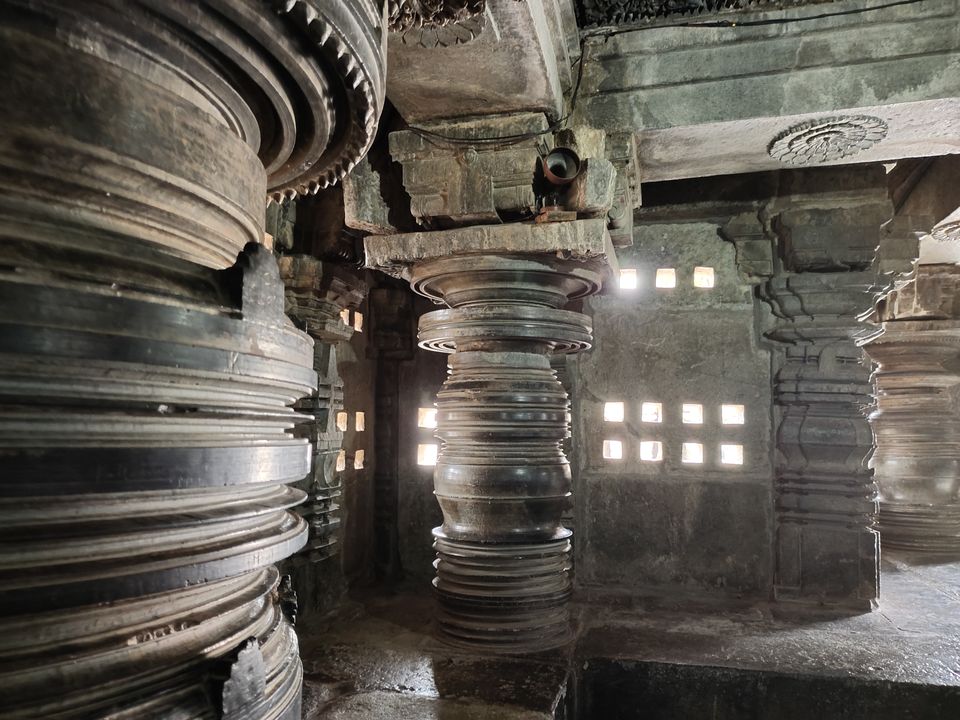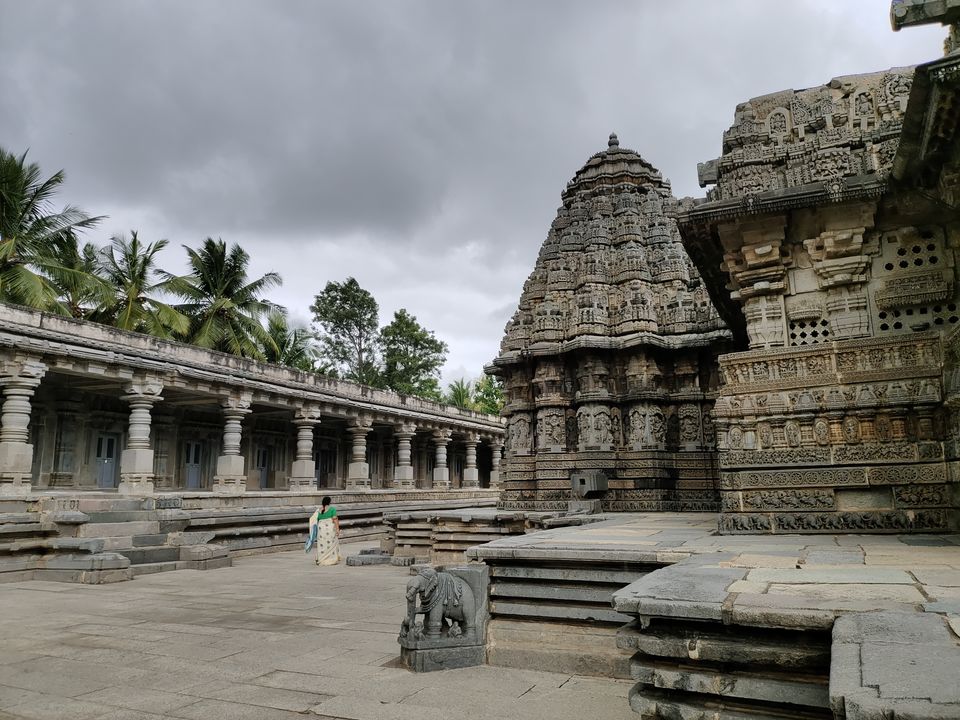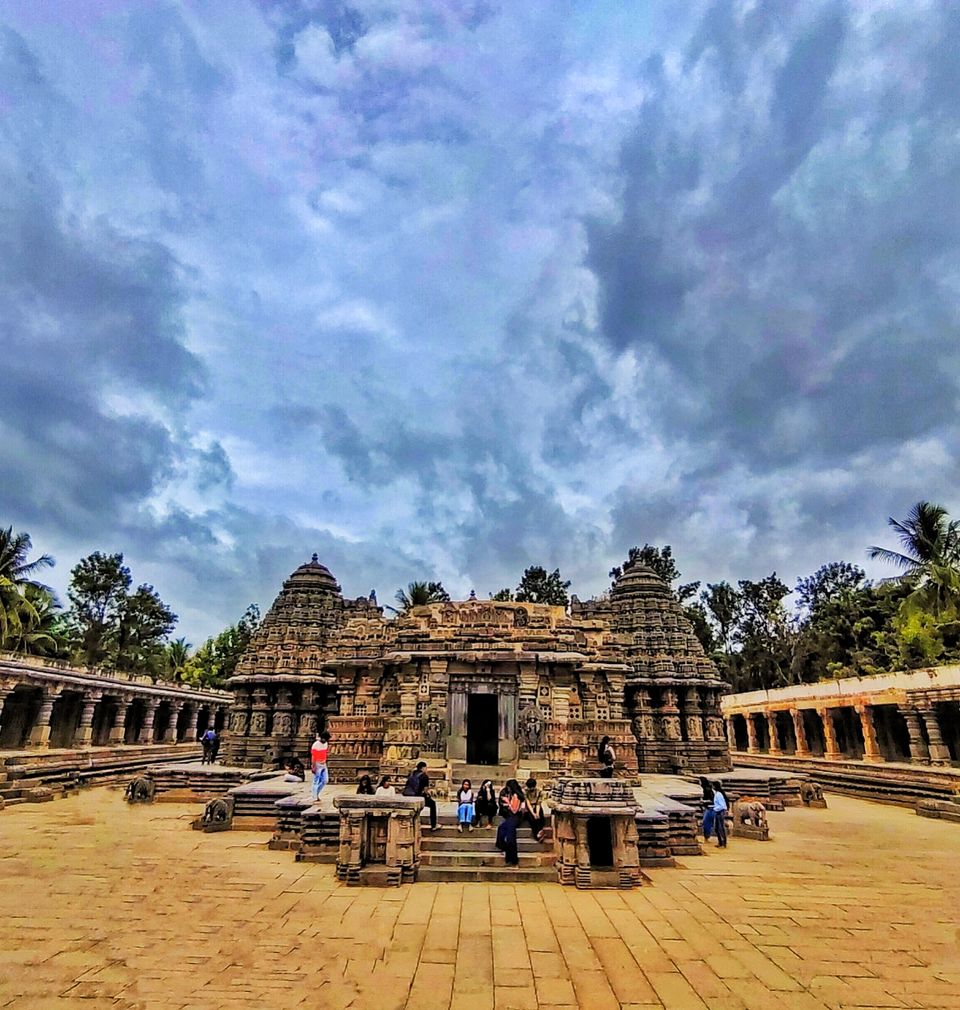 Information: We need to buy entry tickets online. if you are planning to go, please do save the url you see in the below image, so that it saves time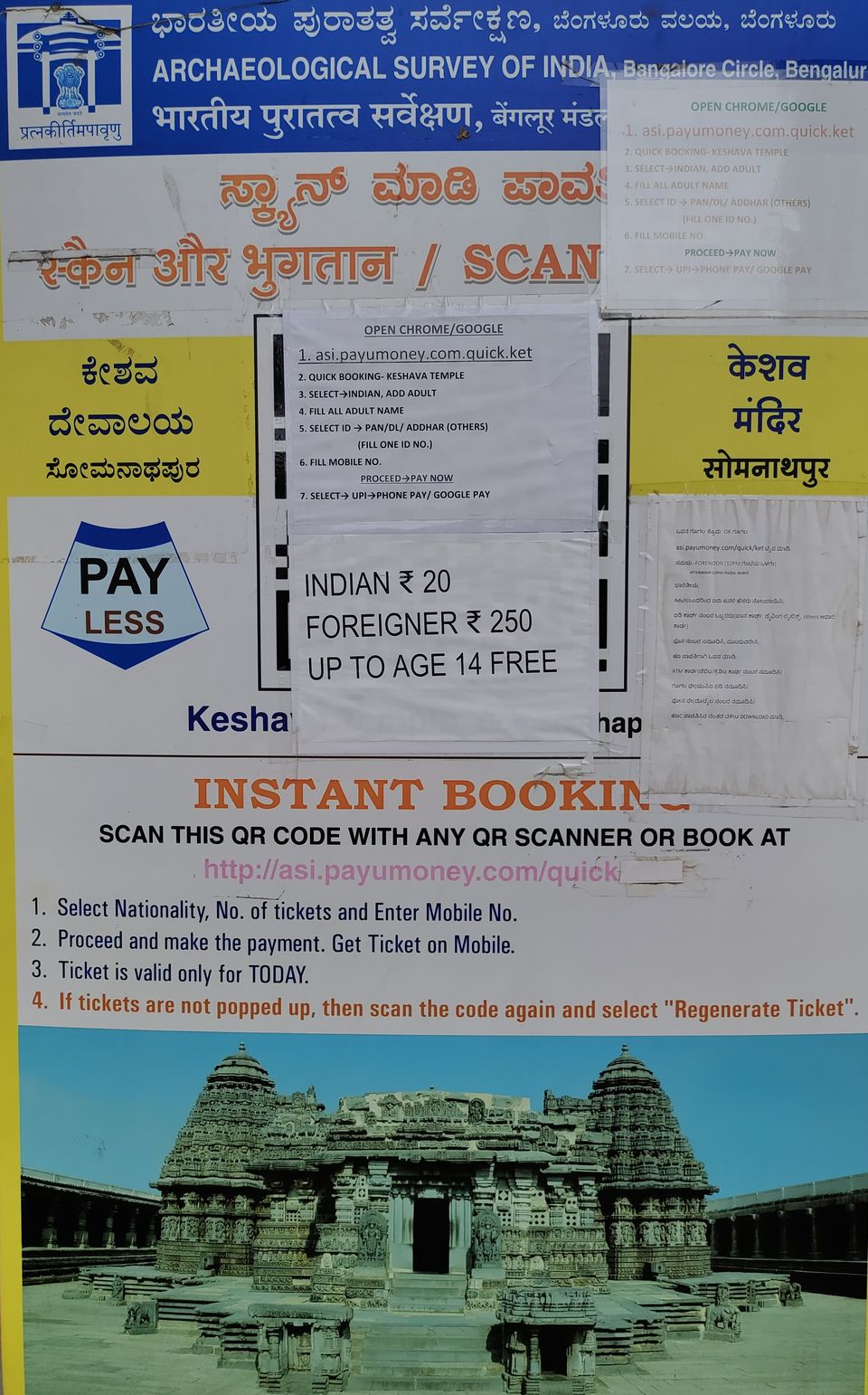 Gaganachukki falls
Shivanasamudra boasts of being 1st hydro electric power station in Asia, built in 1902. We have Barachukki falls and Gaganachukki falls together known as Shivanasamudra falls.
As we had been here before monsoon (June), water was less and falls can be best viewed during monsoon and post monsoon (mid of July to September)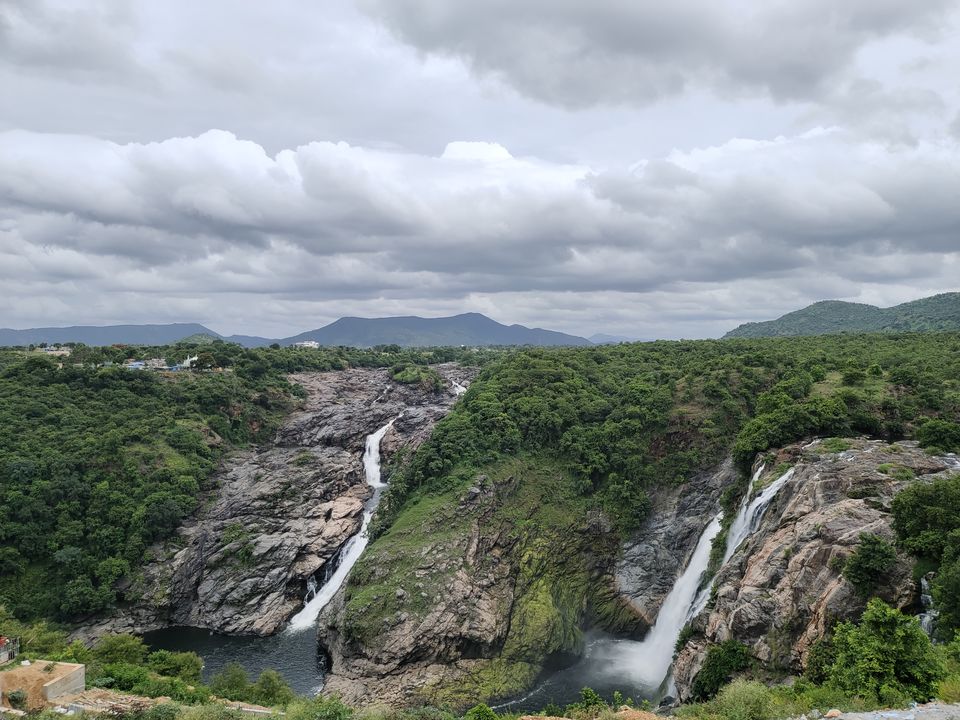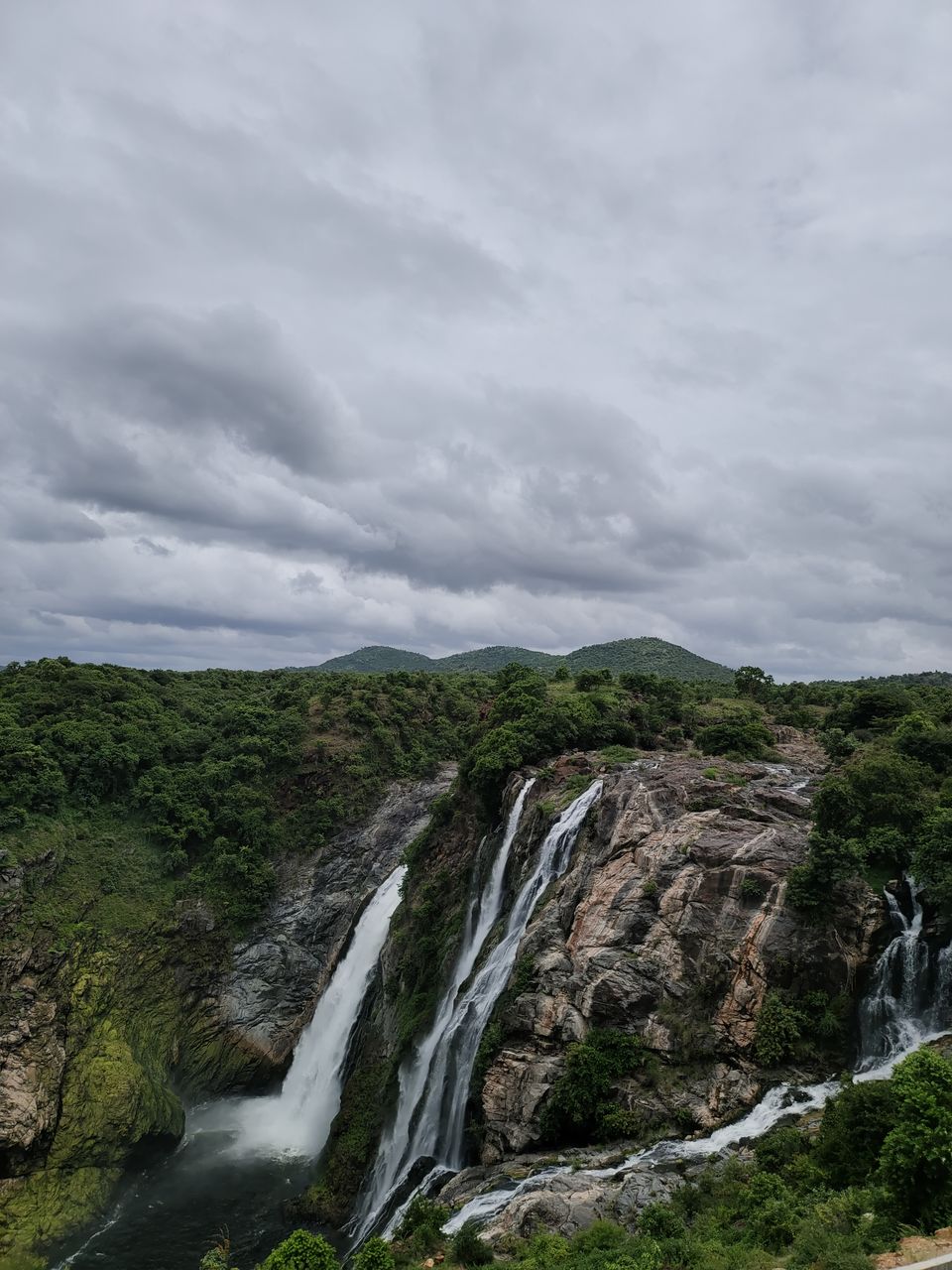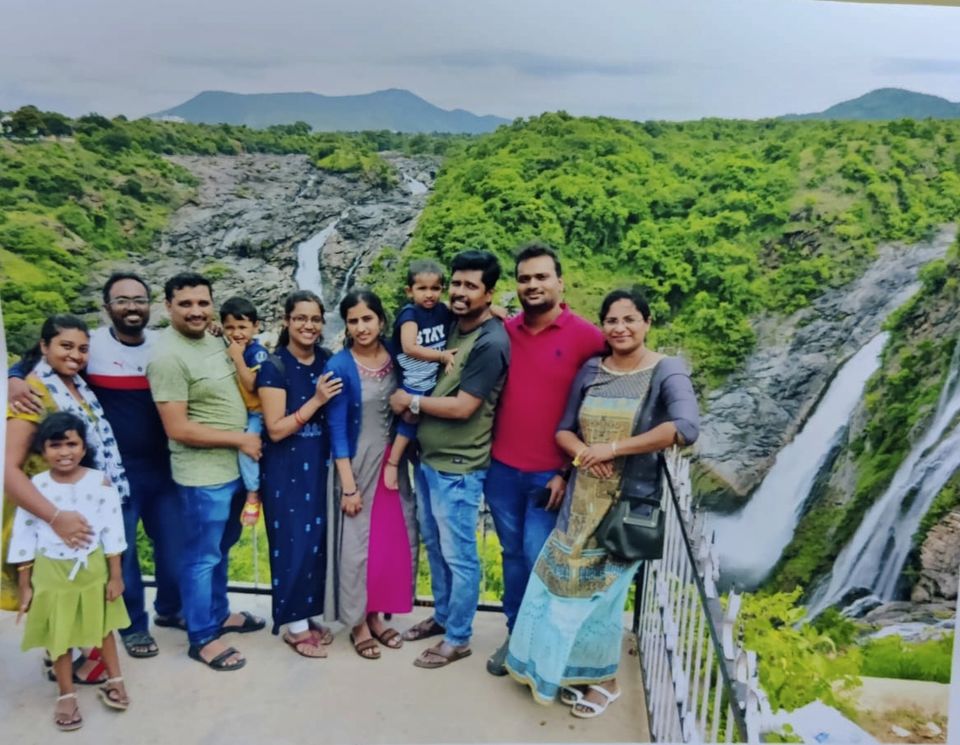 We get lot of things to eat near parking, we have 2 view points at Gaganachukki. We can spend more than a hour enjoying the views, taking pics and eating some local snacks at this location
You can view Barachukki falls in my another article
Talakadu
After Somanathapura and Gaganachukki falls, we drove towards Talakadu. Had a sumptuous lunch at the hotel that was just opposite to Vaidyanatheswara temple of Talakadu
This place got the name because of 2 hunters 'Tala' and 'Kadu' who broke the Shivalinga and hence we can see broken Shivalinga at this temple. As per history this was ruled by Mysuru Wodeyar, Chola and Hoysala dynasties
We can see Nandi and Mahakala at the entrance door of in Vaidyanatheswara temple who are the dwarapalakas of Lord Shiva
On a very special day (that occurs once in several years as per astrology), 'Panchalinga Jatre' happens at Talakadu, where we can have darshan of 3 shiva lingas at Talakadu (Vaidyanatheswara, Pataleshwara and Maraleshwara) and Mallikarjuna (Mudukotore) and Arkeshwara (Vijayapura) which are nearby Talakadu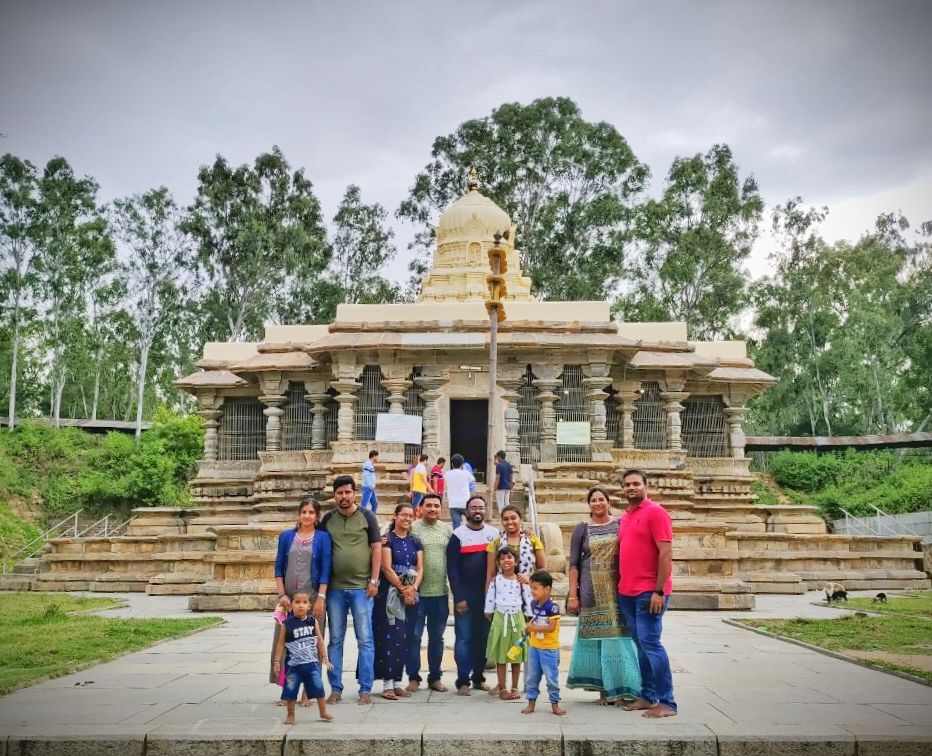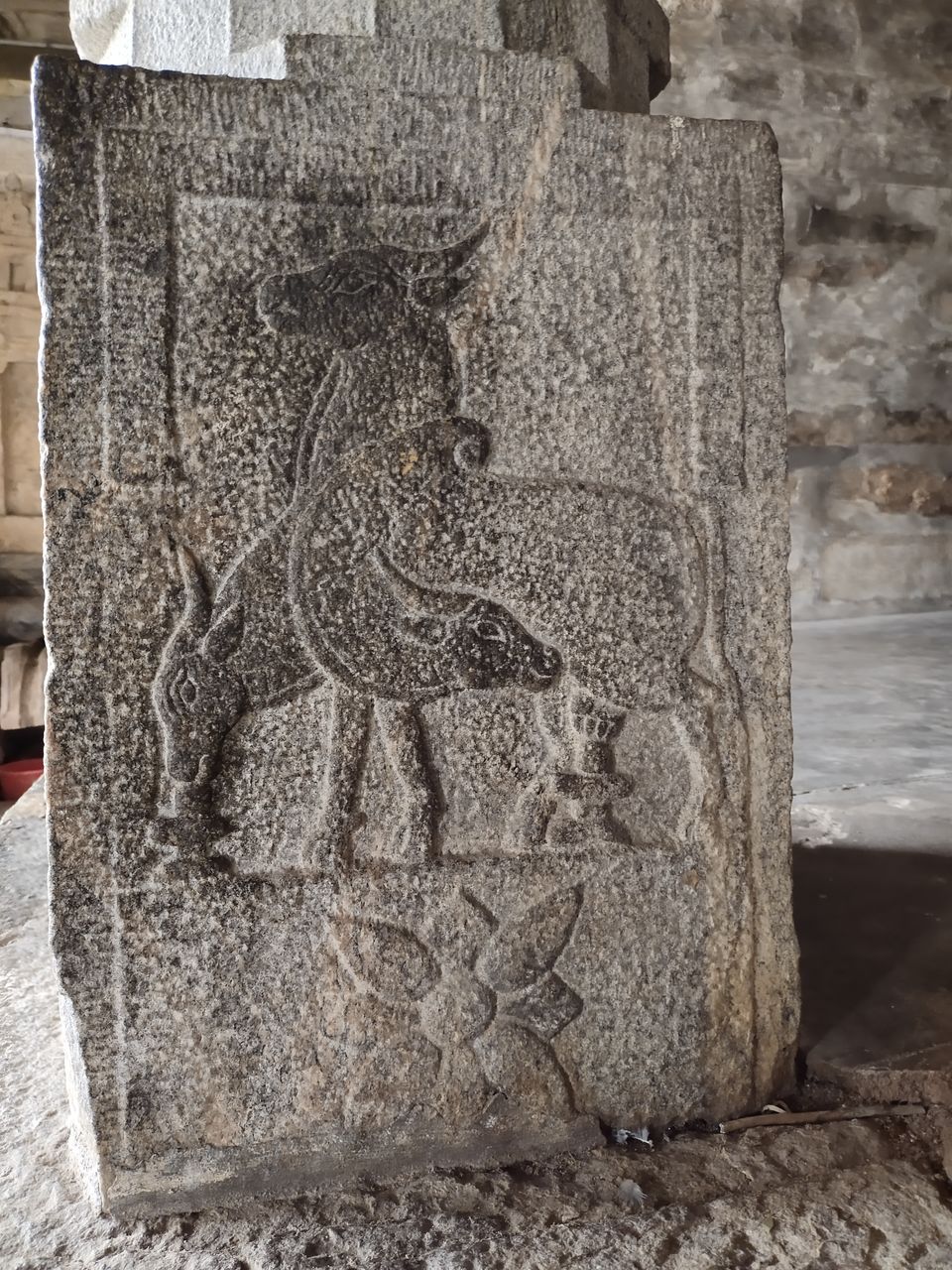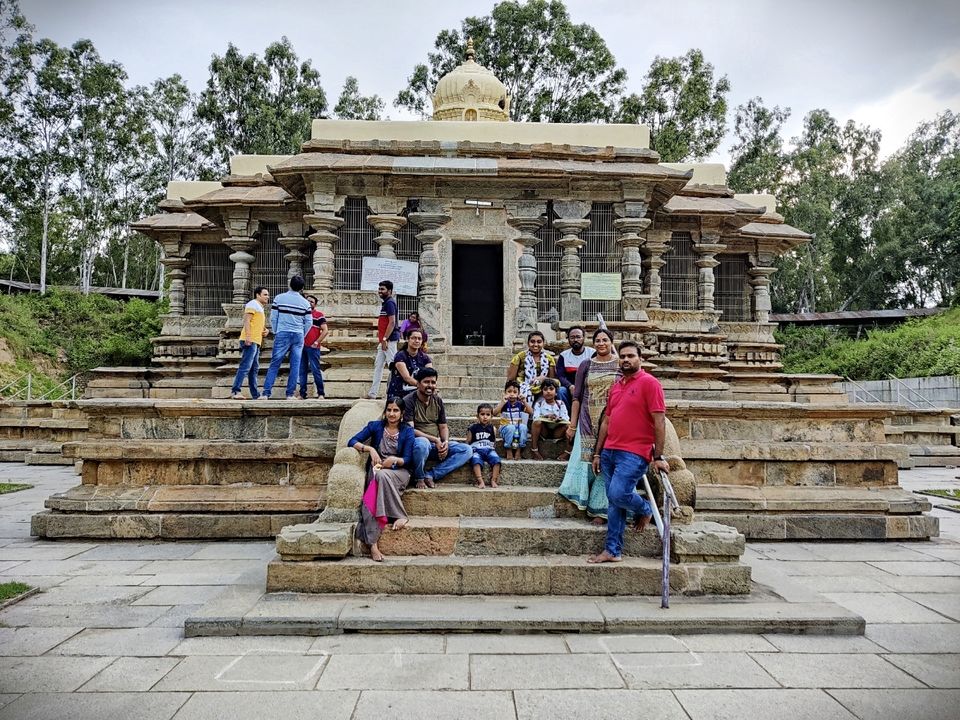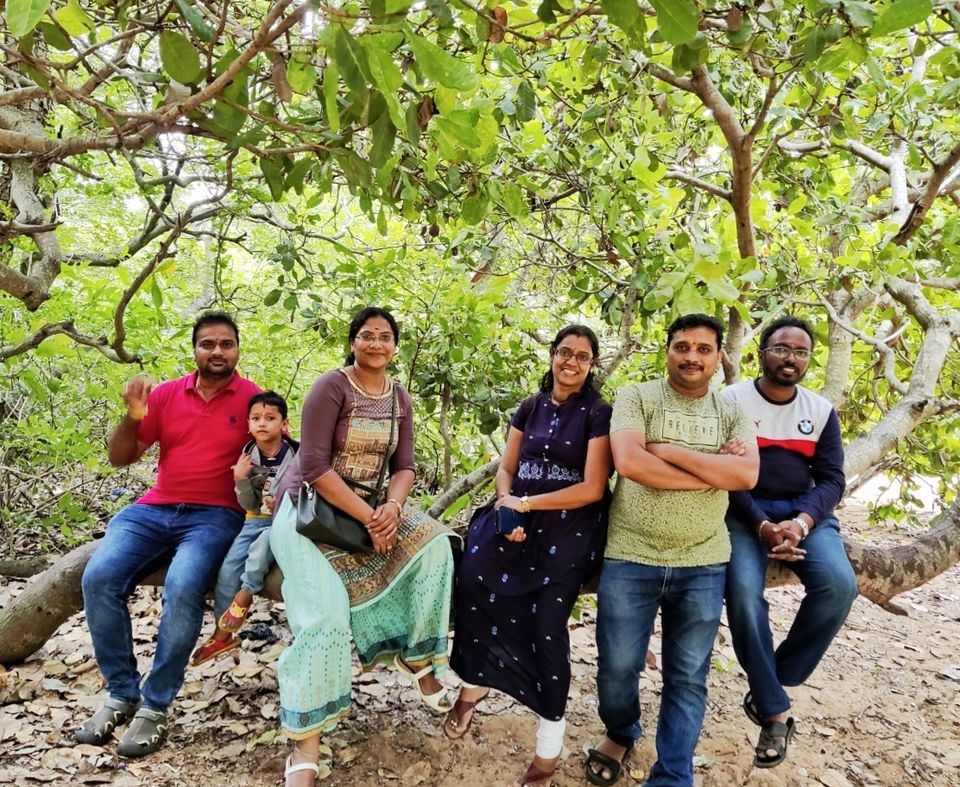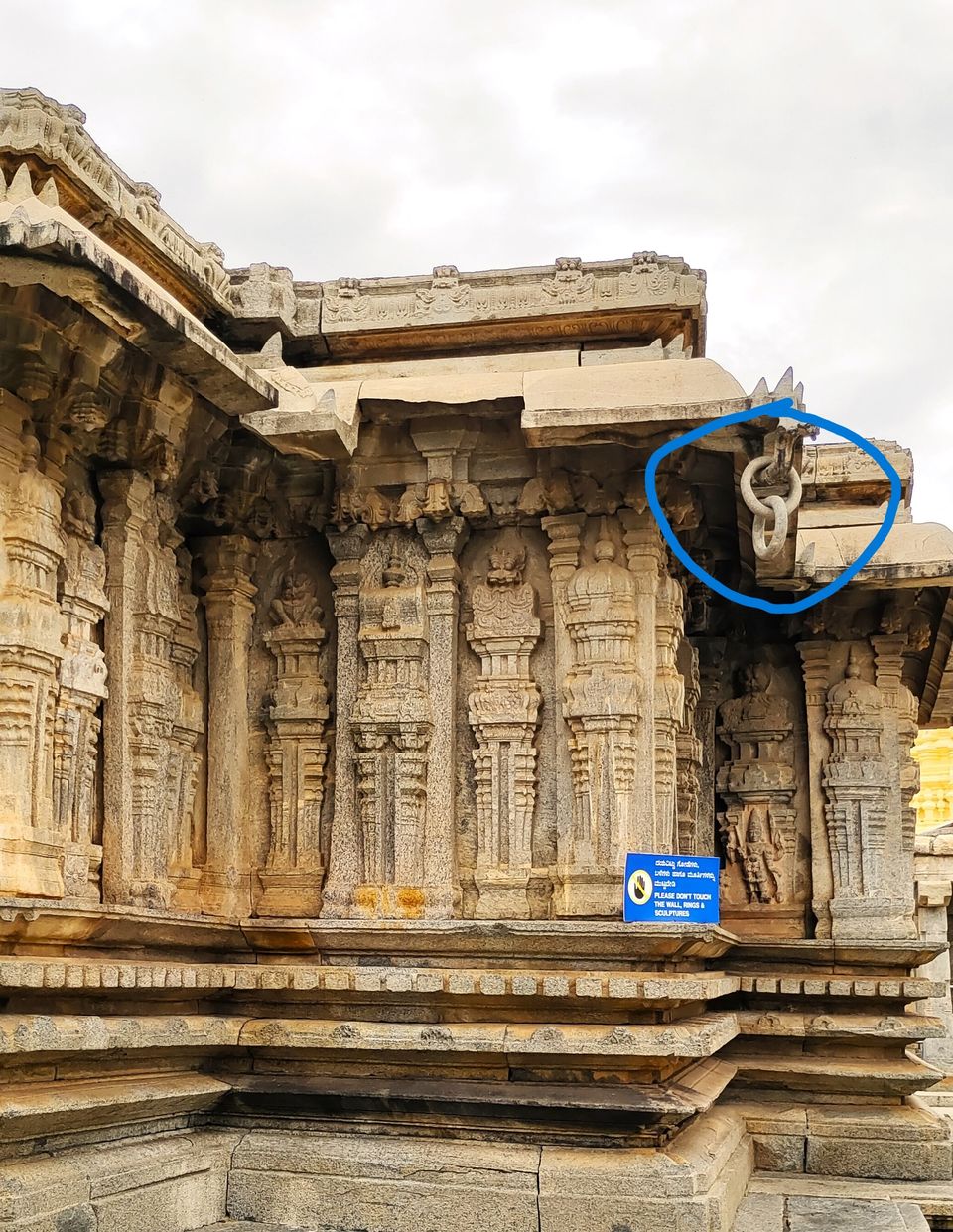 After visiting all 3 shiva temples and one Vishnu temple at last, we proceeded towards the Cauvery river that flows in Talakadu. It was almost closing time and could not dip in holy river and enjoy boating in the river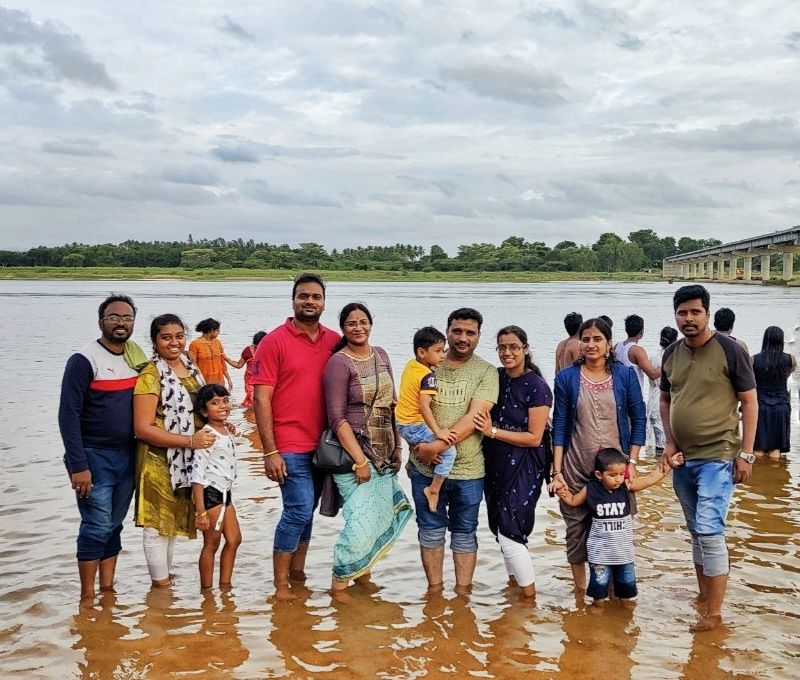 Information:
Guide charged us around 350/- per group and explained very well and assisted us to cover the temples on time
River closing time is 6 pm, so plan your itinerary if you need to spend quality time at river
After having a hectic travel and lot of sight seeing, we planned to end the day and started towards Mysuru for dinner and halt
As informed at the start, to accommodate everyone's interests we planned 2nd day at a resort 'Camping ground'. So that we could spend a relaxing day playing in pool, cricket and many more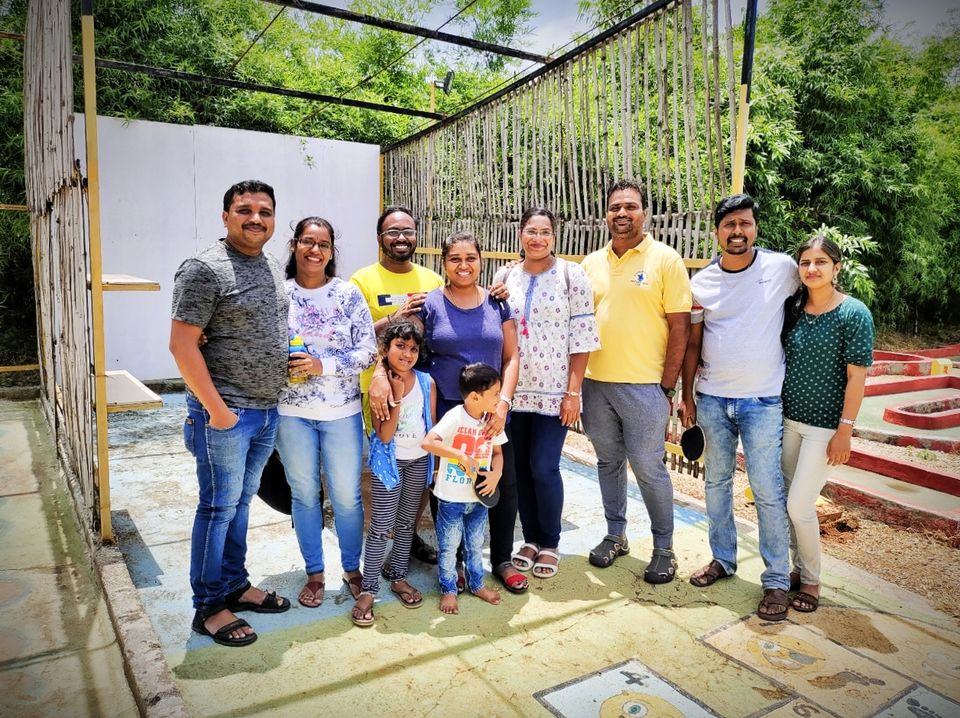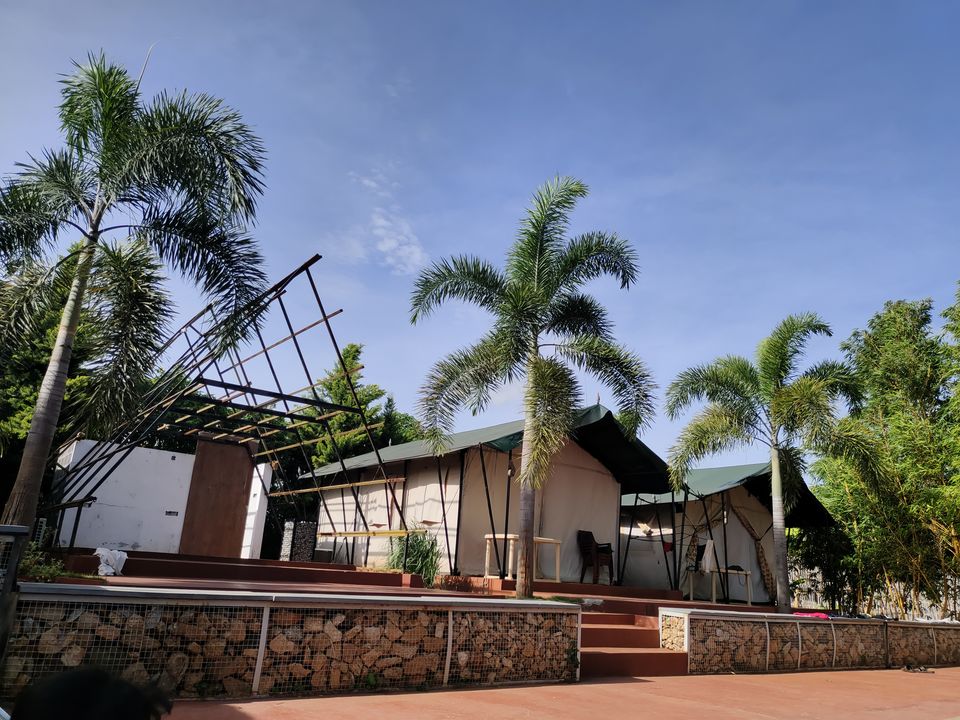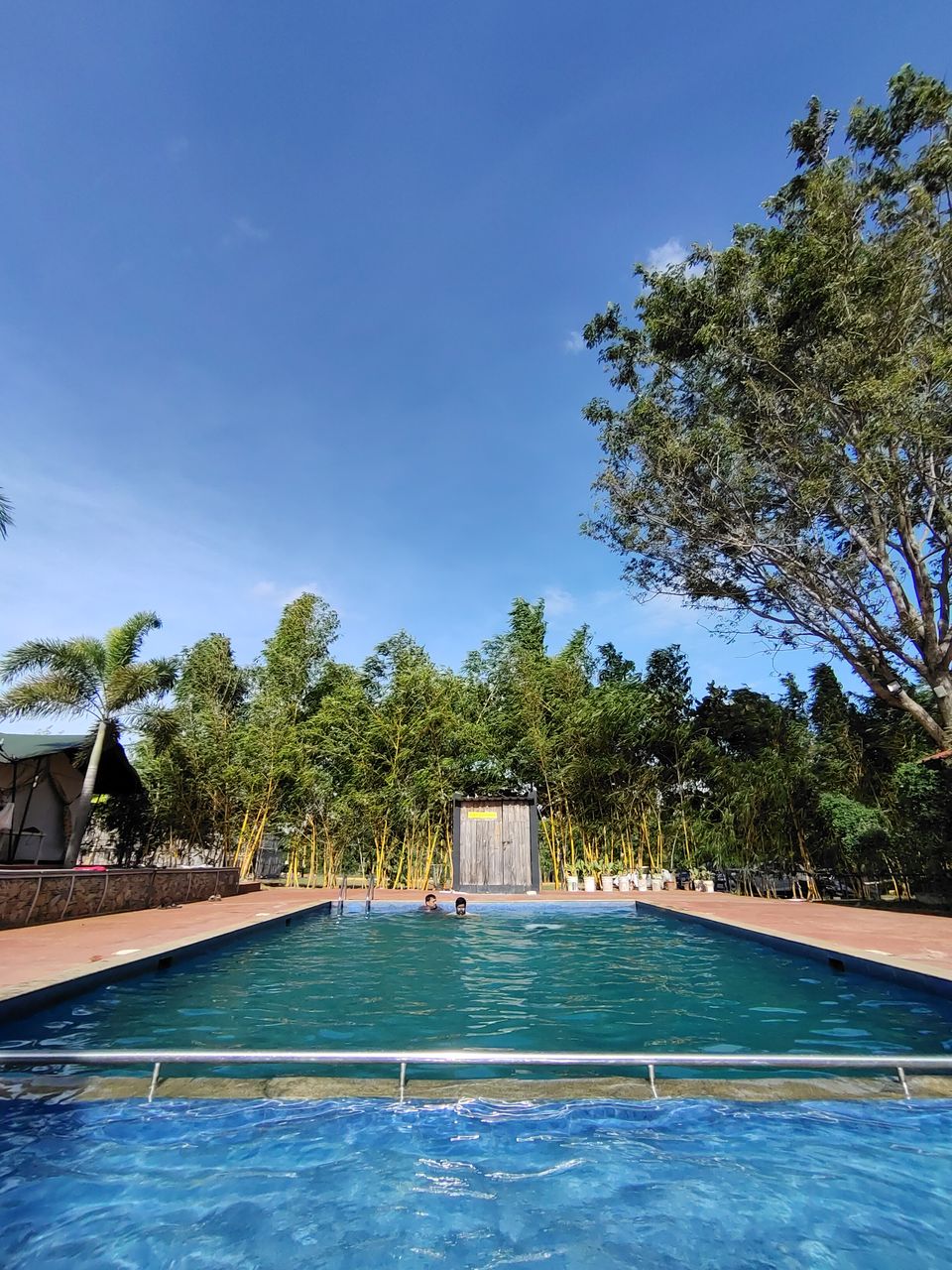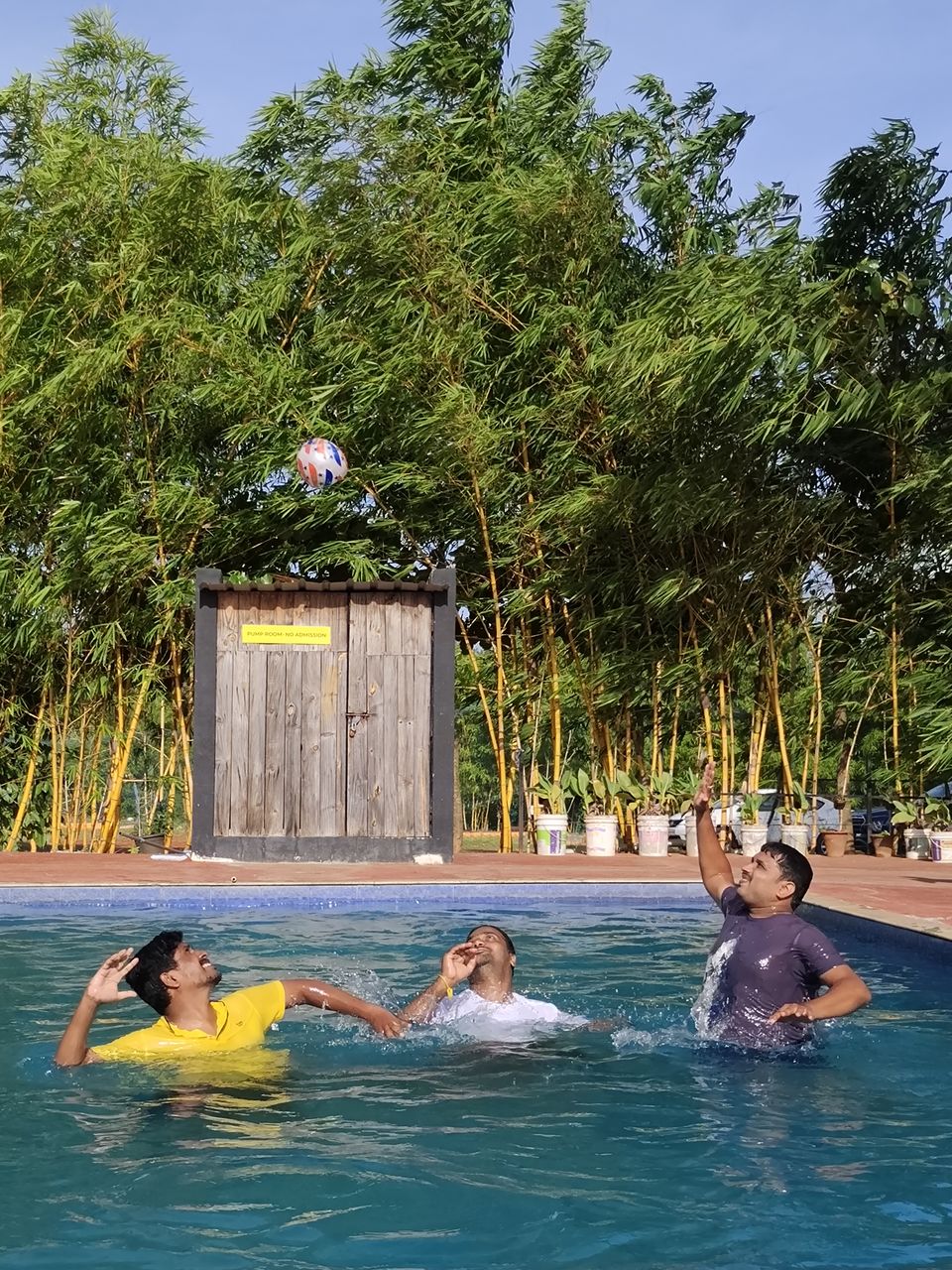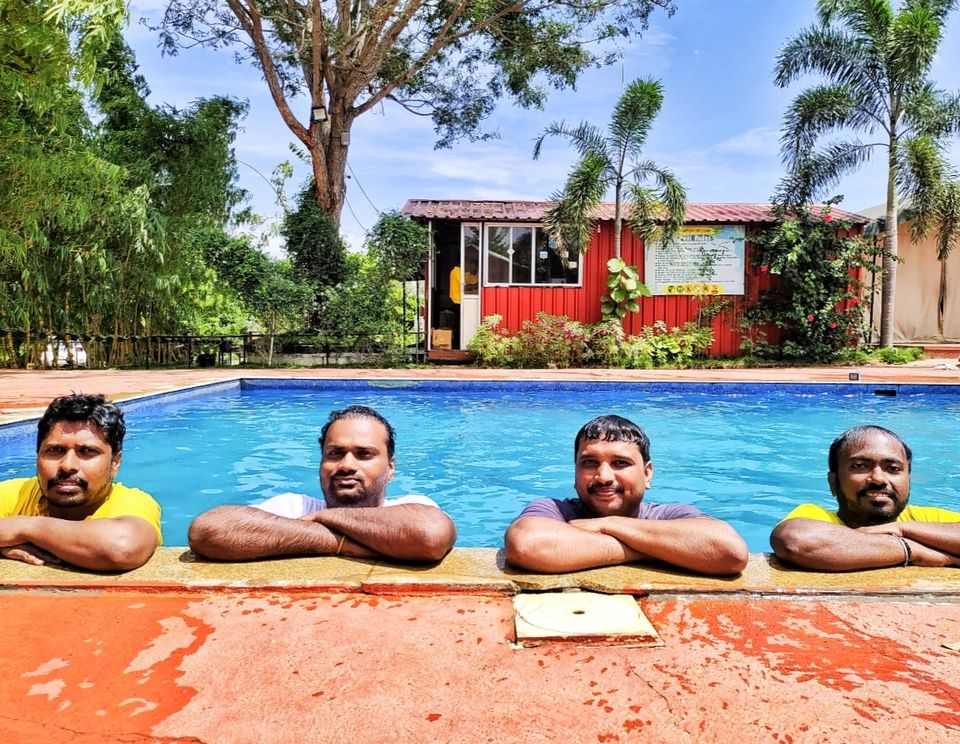 Not many would have noticed, I said 5 families planned for this trip and till now you would have observed that only 4 families were present in group pics till now, due to ill health of their kid 5th family joined us on Day 2 evening at resort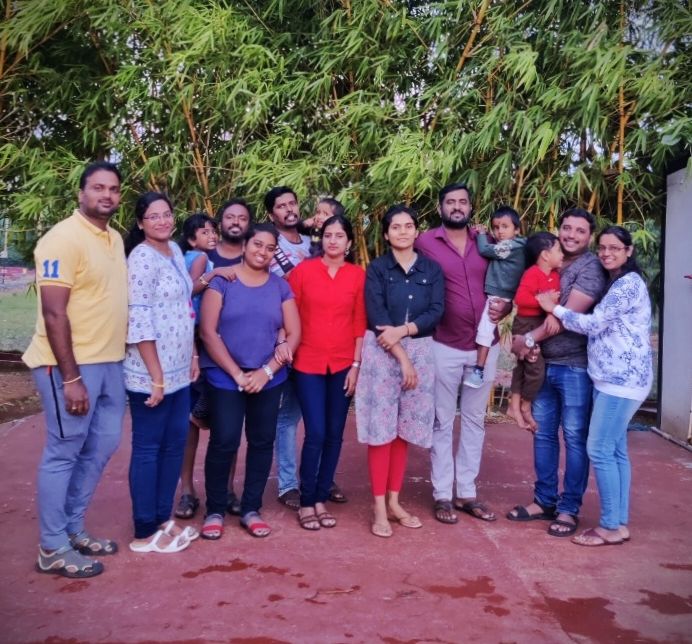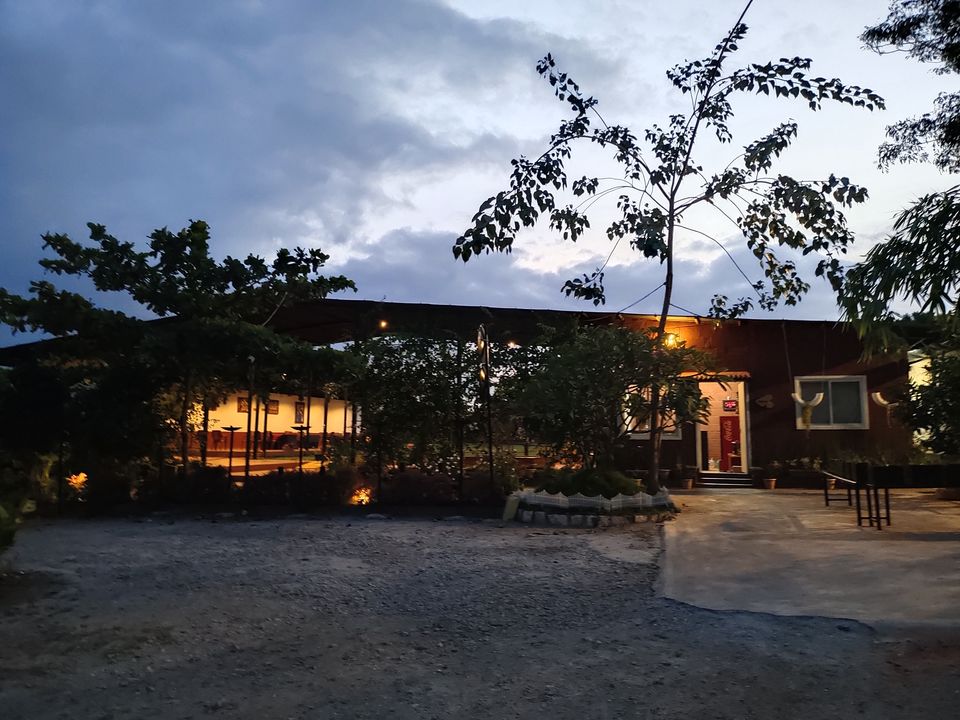 After spending quality time at resort, we left to seek blessings of goddess at Jwalamukhi Tripura Sundari temple, Mysuru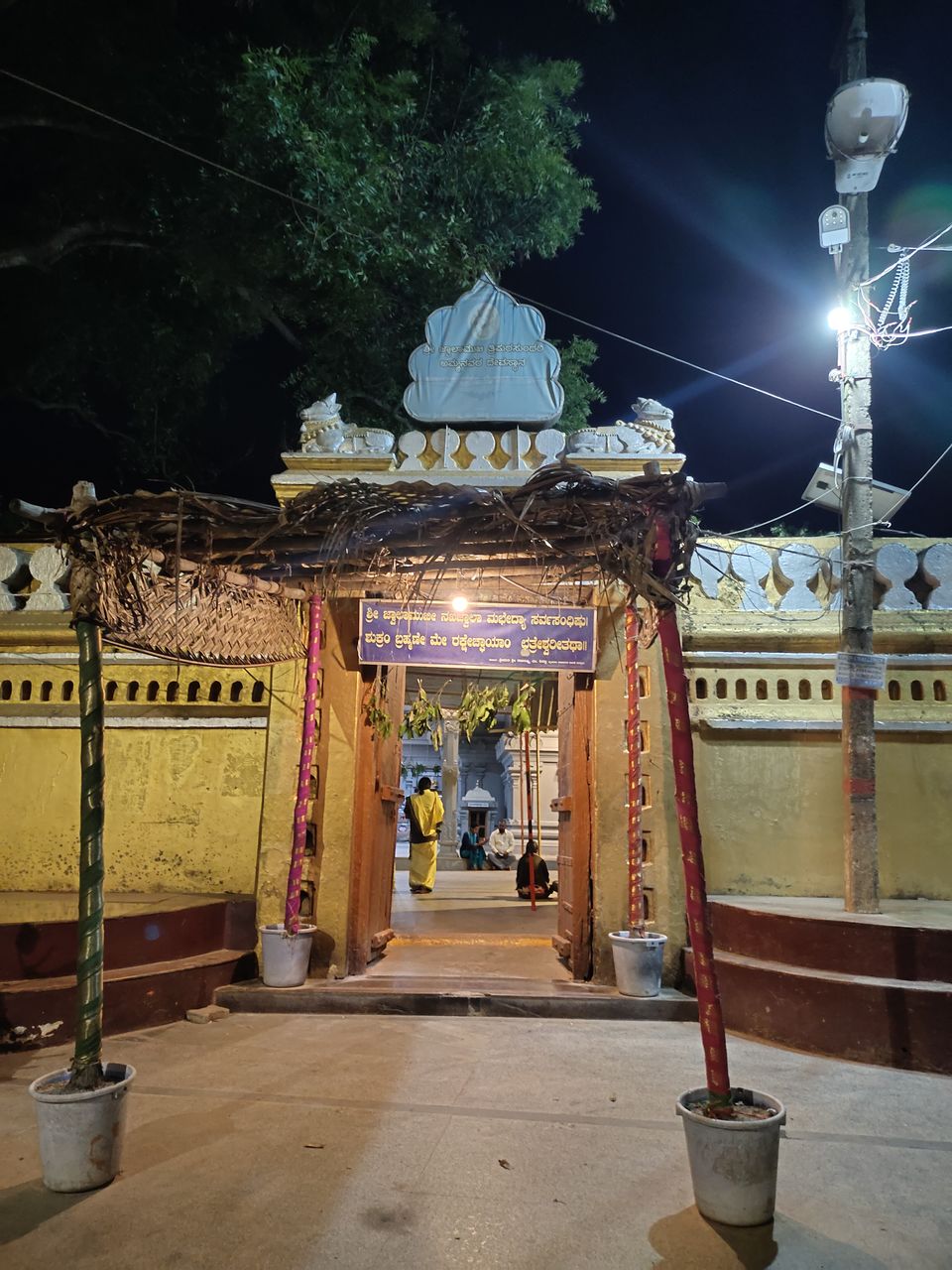 Both the days were thoroughly enjoyed by all of us and so far all went as per the plan
We had our dinner on day 2 at hotel Green Heritage, Mysuru. Food was good and I can say we can give it a try without any hesitation
Last day we had planned to visit Kabini jungle safari and for that we need to get up at around 02:30 am and all needs to get ready and meet at a common point by 03:30 am which is around 15 kms from the place we were staying :)
With this plan, we can reach the jungle safari starting point by 5 am and be in queue for the tickets which will be given on first come first serve basis and more over the tickets are limited each day
We all went to sleep a bit early by cutting short our chat session and made it with 15 mins delay which was all fine considering the buffer we kept and reached destination on time as per the plan i.e. 5 am we were there
So, as per their schedule the officials who would issue tickets came between 6 am to 06:30 am. Once they started we were shocked to know that tickets had to be booked 3 days in advance on their website and people who assembled there would be given any cancelled/absentee tickets that were available. This is when we re-realized 'Man proposes and God disposes' [This is the twist I mentioned at the start]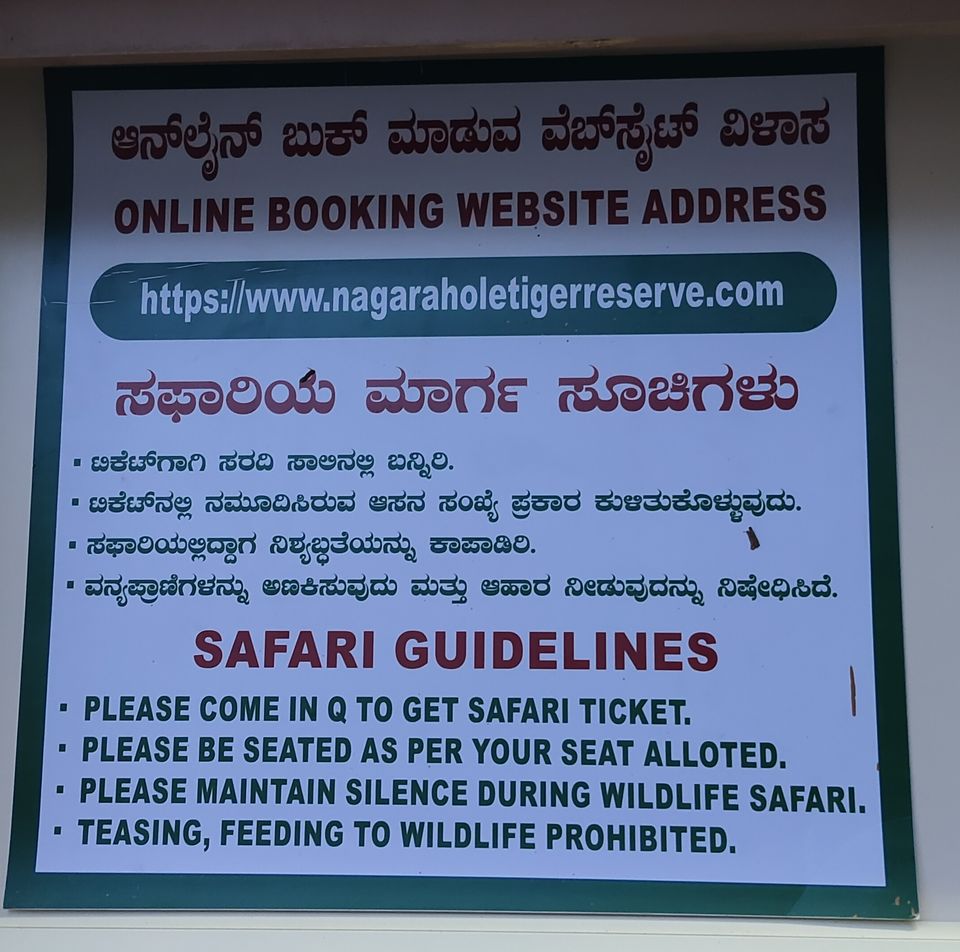 As everything went well on first 2 days, we didn't have plan B ready and never anticipated this plan would be a disaster
Information:
So, you should never forget to book tickets at least 3 days in advance to reserve your safari tickets
We will have only 2 safari rides per day (around 3 vehicles), one at around 06:30 am or 7 am and another at around 02:30 pm or 3 pm
So, for unreserved tickets we need to be first in the queue to take our chances and and at least 1 hour before ticket issuance
Though, we were at 5 am we didn't stand in queue and by the time we went there we were 3rd and before our turn 6 tickets were sold and as we were 11 in number we left those 4 tickets to others in the queue
So, we revised our plan to visit Chamundi hills and seek blessings of Goddess Chamundi on the eve of Birthday of my wife and my friend's kid. Then we realized that last time when we friends (only boys) went to Chamundi hills we could not get darshan of Goddess, so she wanted us to visit and bless us
"Everything happens for our good only"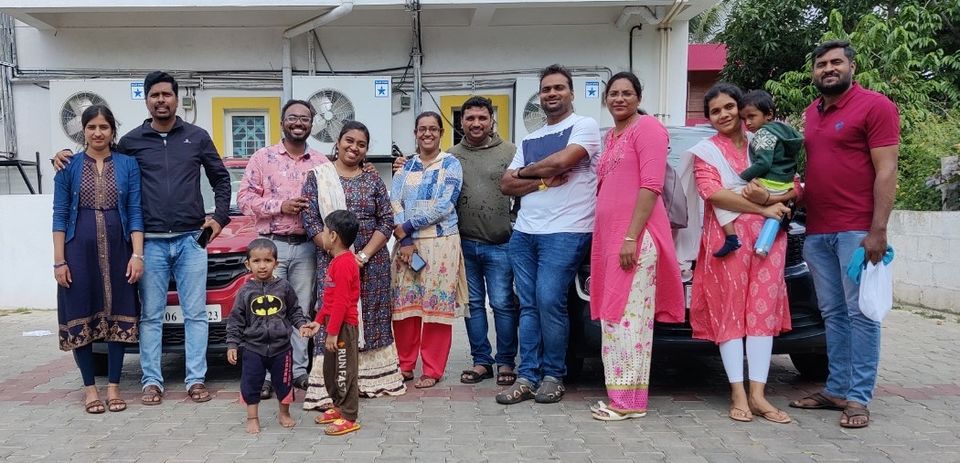 So, we started to Chamundi hills at around 11 am once everyone took bath, got ready to visit
Someone who know about Chamundi hills before, would identify it whenever someone posts a pic with him. Seeing the below pic they would relate it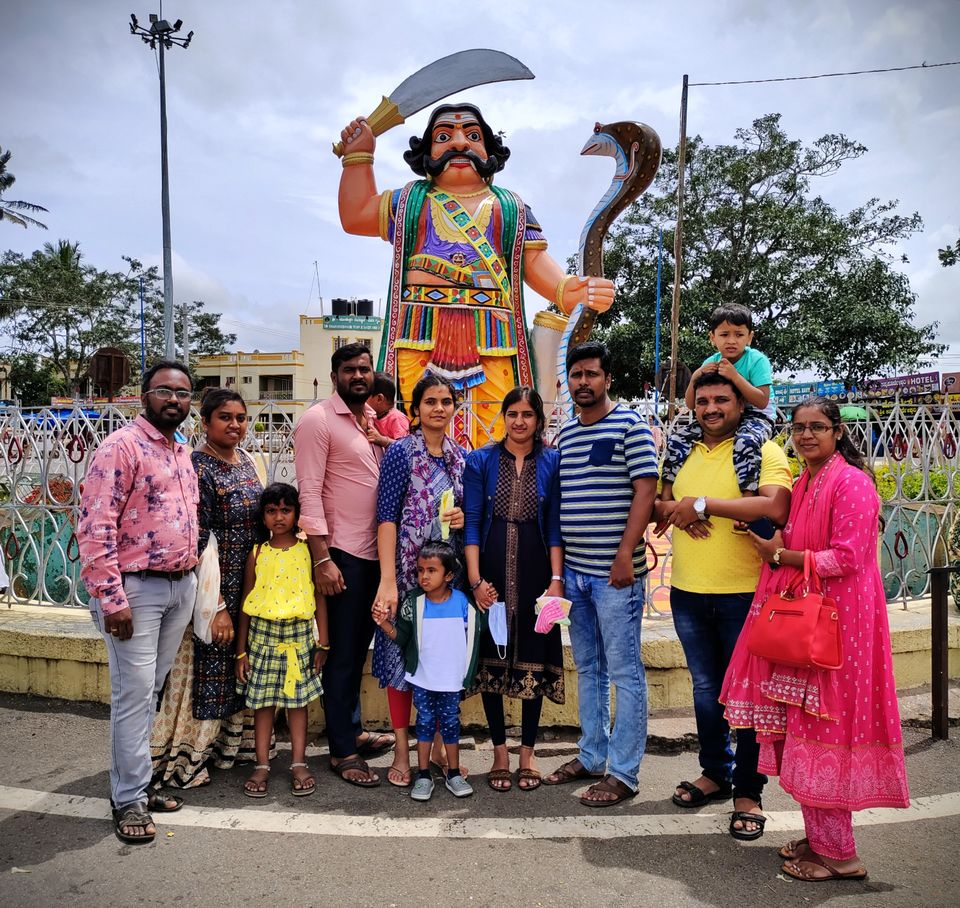 We took 100/- special darshan tickets to ensure we return back home for cake cutting before 1 pm. Friends arranged cake, prepared pizza at home and cooked lunch before everyone starts to disperse to their abodes as per the plan
Thus, our well planned trip came to an end with a happy note. As always All good things come to an end, so also our trip
So, ending is not bad always as we see.. its an opportunity for the next beautiful start
Please feel free to comment below if you had been to places in and around Mysuru and share that itinerary with others and help them to plan their trip easily