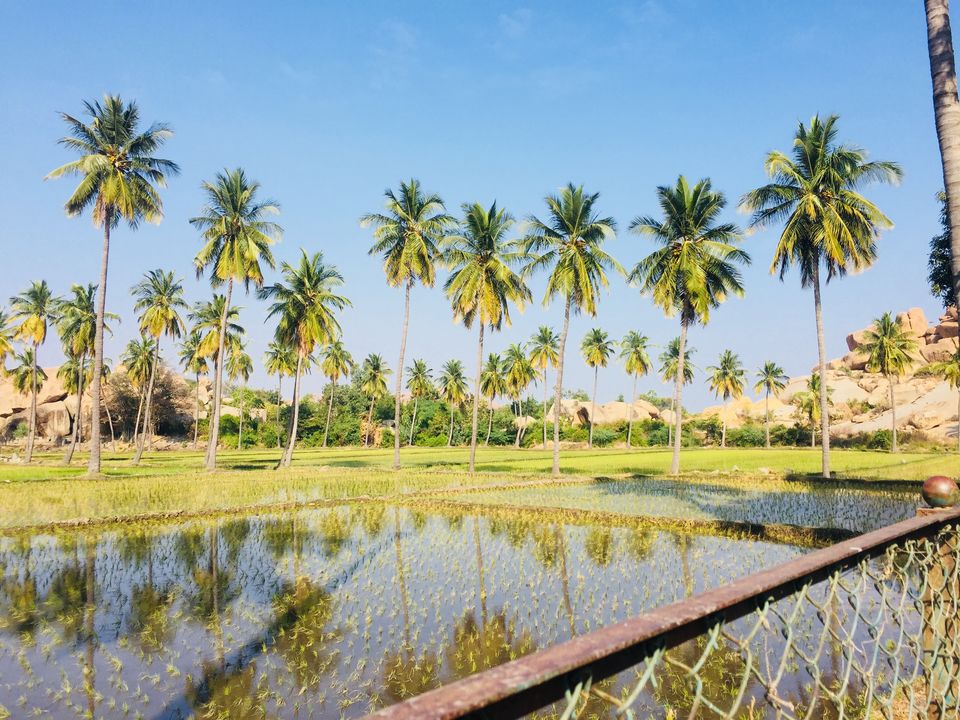 Hampi The Unesco Heritage, popularly knows as the land of Hippies.
The very fact that its called the land of hippies becomes synonymous to freedom, open lands, greens (literally and metaphorically) and Isreali food.
Hampi takes you a couple of decades back to kaccha houses, ruins of royals kingdoms, laterns and candles. The two sides of Hampi show a very dominantly different cultures of what hampi was and what it has become. All you need to do is cross the river to go to either sides of the era.
Must haves-
• Rent a bike/Scooty as soon as you reach- Negotiate on Rs300 per day
• Sun screen
• Odomos
• Sweatshirt
• Torch
Ideal Days - 2 nights and 3 days is just enough to see the place. Rest is per choice
Getting to Hampi -
Bangalore-Hospet-Hampi-Hospet-Bangalore
Closest airpot- Bangalore
Book your tickets well in advance so you get reservations-
Bangalore -Hospet- There are night buses which run from Majestic. Book your bus tickets on KRCTC. A sleeper AC bus is the most convenient as you wake up fresh for the next day. The bus would drop you to Hospet
Hospet-Hampi - You reach early morning where the bus departs at hospet. This is where one can take the local bus to Hampi which run hourly with a ticket of Rs 50 per head. The ride is for an hour after which you reach Hampi.
Reaching the "Other side" - If you wish to go to the other side of Hampi, take the boat from Virupaksha temple which would cost Rs 250 per Coracal or Rs 30 per head if you wish to take the speed boat.
Bed spread
You must book your stay well it advance as it gets fully booked. The place I'd recommend is The Goan corner. It has shared dorms/single rooms as well. It's the BEST place to meet backpackers from different corners of the world. Ps- You get amazing breakfast to kick start your day!
Chill scenes (Across the river)-
Hampi is a place for chill scenes only. Jotting down a few experiences which we had and LOVED!
These include the eateries, places to visit and ride around
1. Riding around hampi is THE MOST important. Just take your bike and starte explored the roads which might just take you to nowhere. End up on a spot right on top of one of the ruins to see different views of the village.
2. Drive to the Sanapur lake for the quintessential coracle ride. The best time to visit is during sunset. The blue lake turns into golden brown with the most gorgeous orange sun setting with its reflection in the lake
3. Ride ahead of Sanapur lake. You wont see many cars going ahead but if you want to be a wee bit more adventurous the road to take is a must. You'll ride along a Canal to your left with the overview of a tiny village in Hampi. You go further ahead to find tiny pools of water where you can swim with your friends with a quiet picnic. Sit amidst the giant boulders and feel like a tiny creature.
4. Watch the sunset from the rock next to Goan Corner ,Monkey temple (this is only one of the spots to watch the sun set). Ideally you could explore a spot of your own and it would be equally gorgeous
5. Climb one of the boulders to star gaze with the moon light slowly fading away.
Chill scenes (Temple side)
The most recommended way to go visit all the temples is to hire an auto which costs about Rs 1800 for the whole day. The auto drives are the best guides and would take you to all the temples you want to visit.
Ps- It gets super hot during the day so a scarf and sun screen is a must!
Pet Puja/Where should I eat?
The food in Hampi isnt out of the world but quite sufficient to keep your tummy happy. My recommendations would be
1. Pancakes, Fresh juices, Shakes,American breafast and the wooden pizza at The Goan Corner.
2. Pita bread and hummus, Mexican falafel, Pasta, Banoffee pie at The German Bakery (Although we couldn't try the Banoffee pie but it was recommended to us by a lot of our friends)
3. Once you get a little tired of the Italian/Continental/Isreali cuisine, our regional cuisine is always there. There's a tiny place named Saniya where you get the best Doas,Idly, Utapams,Pancakes (yes!), Shakes, Alu Paranthas etc which costs nothing more than Rs 120 per person if you really really hog.
Do not miss
1. A sun set from any of the view points
2. A drive from Sanapur lake towards the Canal
Hampi has a lot to offer but these were my experiences. I'd love to know more, please feel free to chip in and share your experiences.