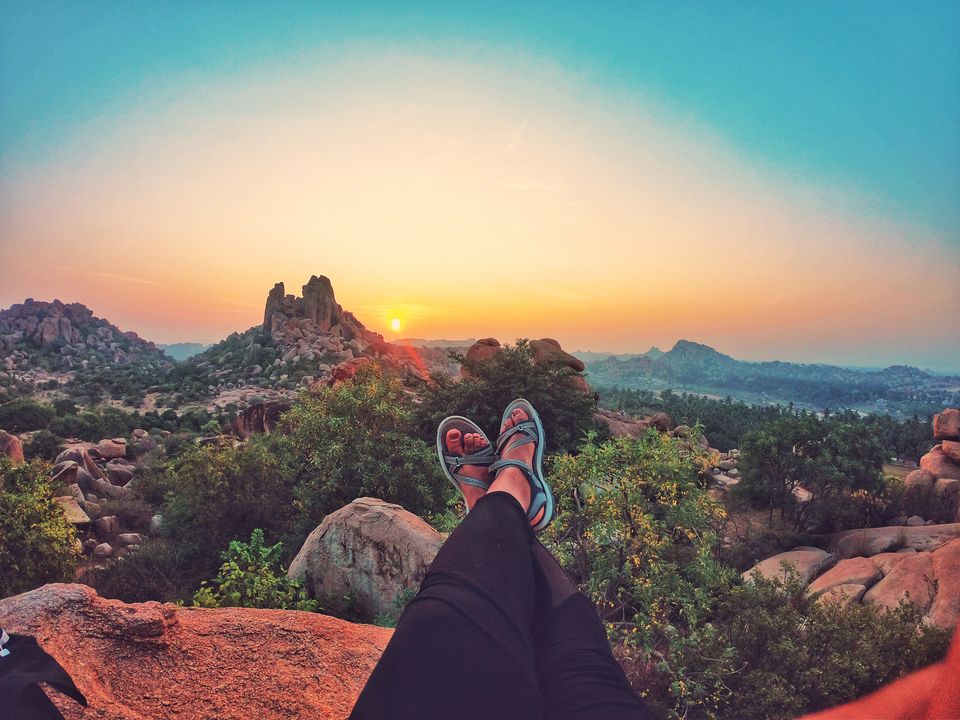 "If you never go, you will never know". I read it somewhere, amongst the countless travel inspired quotes we all come across these days, no doubt. In hindsight, it might have been the push that came to shove me into making an impromptu solo travel plan to Hampi with zero planning and sub zero research.
Hence this Diwali, instead of wasting my leaves sitting at my rented home in Mumbai, listening to firecrackers and breathing smog, I decided to run away. Literally. To a place they call "The Hippie Island". The other side of Hampi. And what a trip that turned out to be!
So if you are not a big fan of ruins and temples, like me, and hence have been putting off going to Hampi thinking that's all there is to the place, think again. Hampi has so much more to offer, it will surprise you, take your breath away, make you wake up at 5am happily, and teach you to appreciate time. And to all the women out there, if you want to travel alone and don't know where to start, start here.
A. It's as safe as a safe place comes. B. It will uplift your spirits and calm your soul and at the same time exhilarate your mind. C. It's cheap.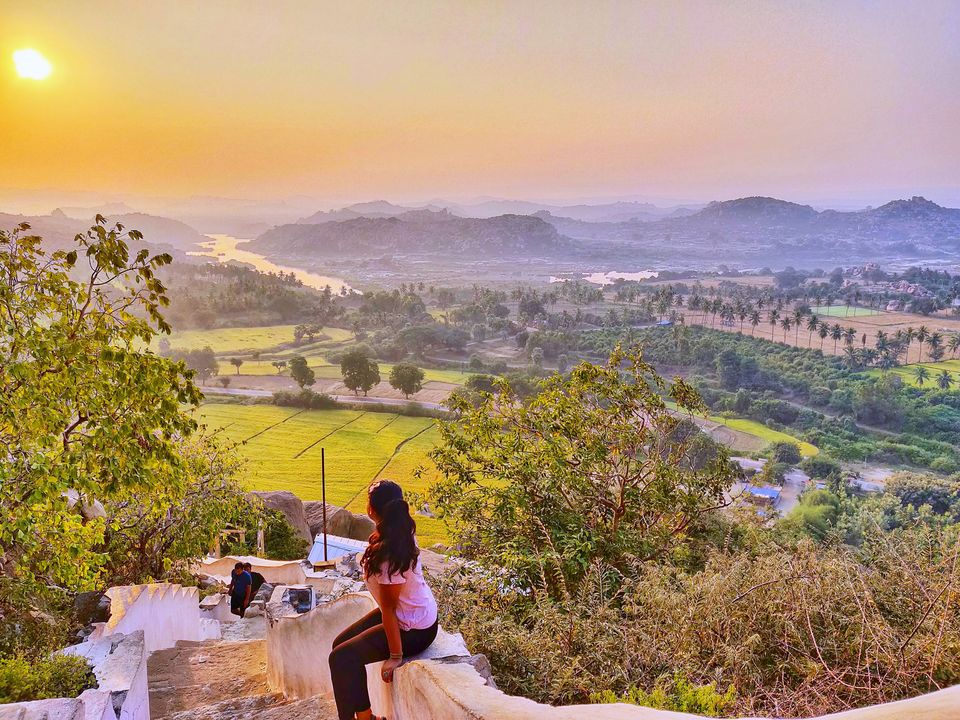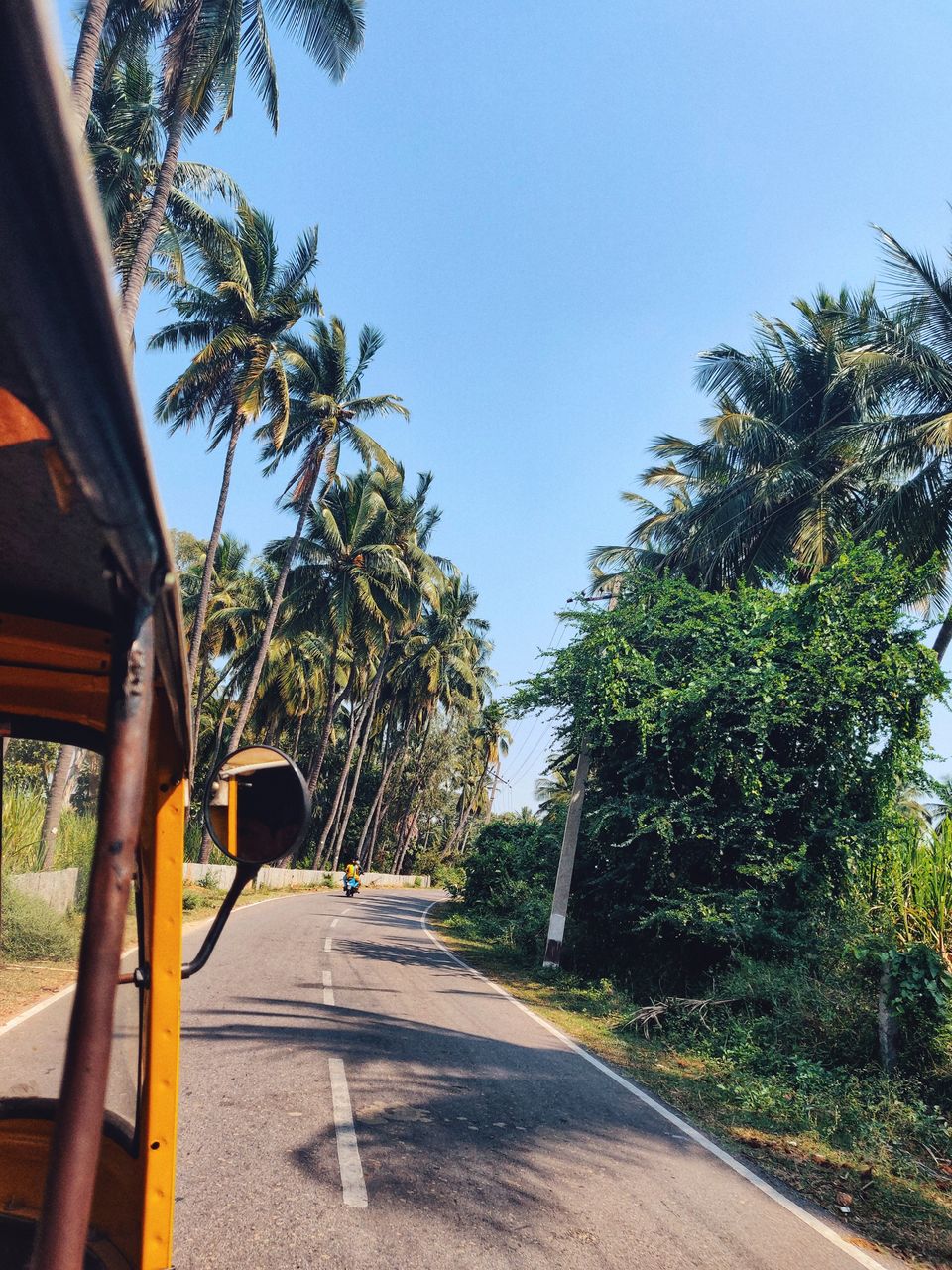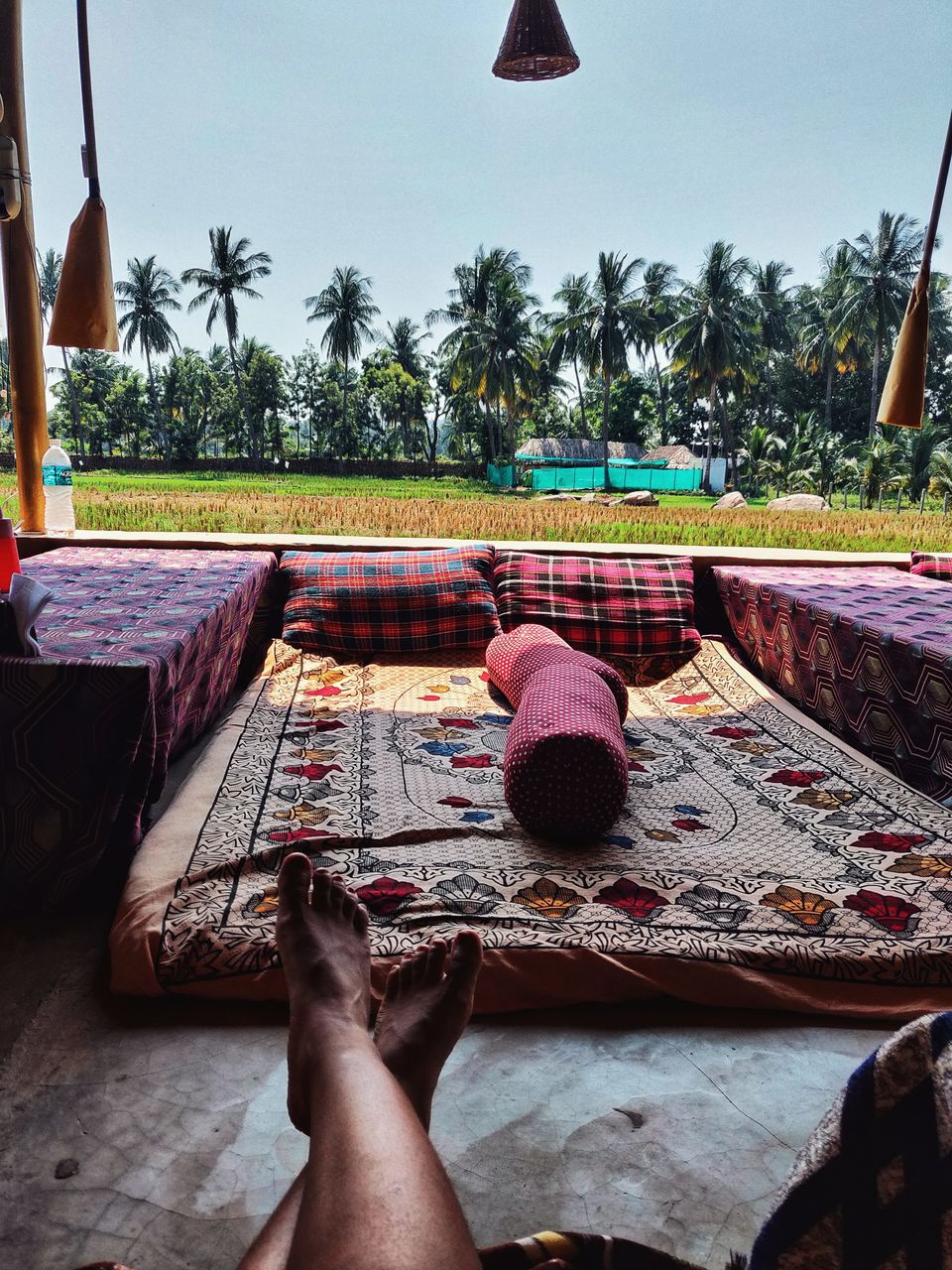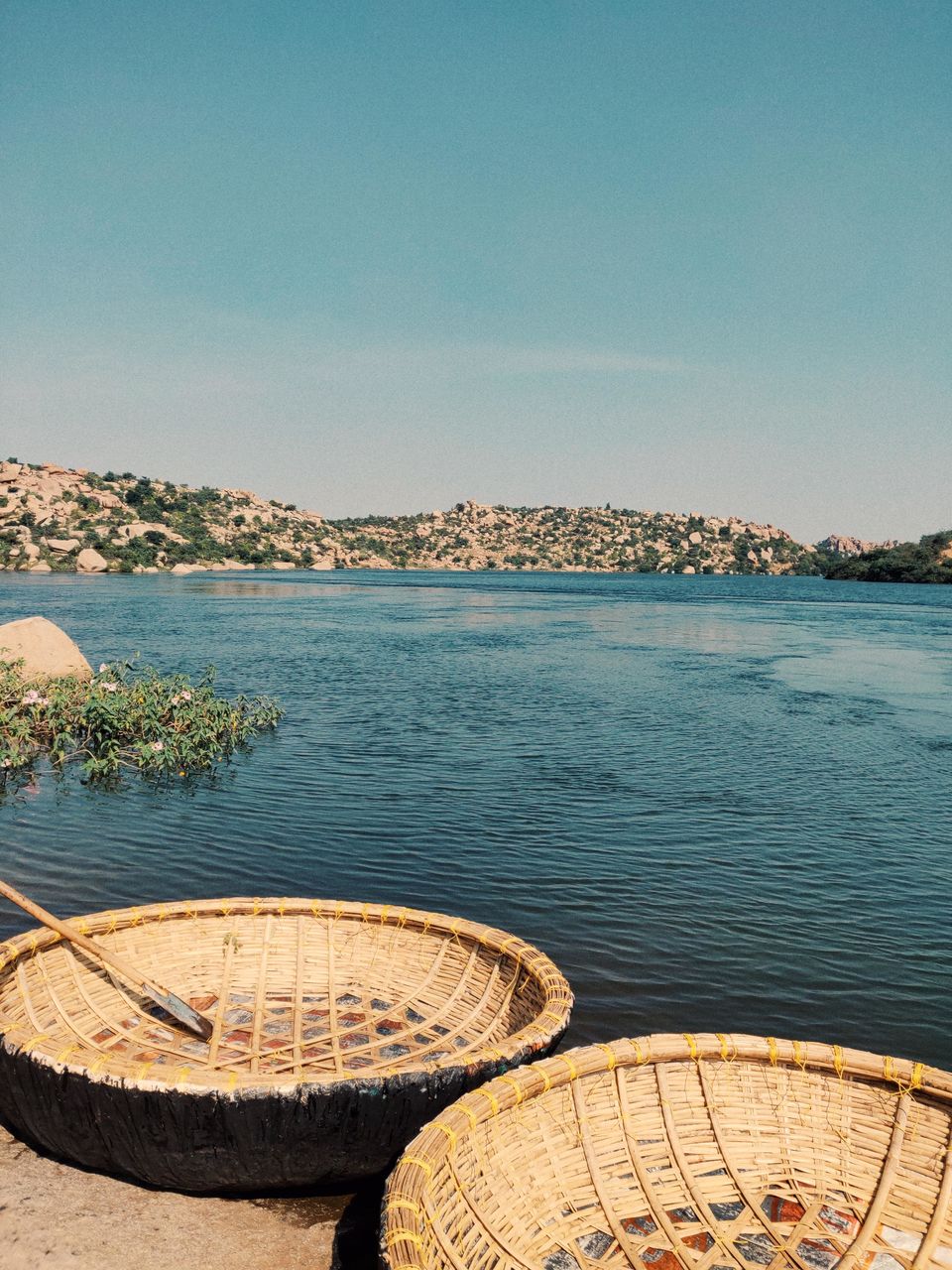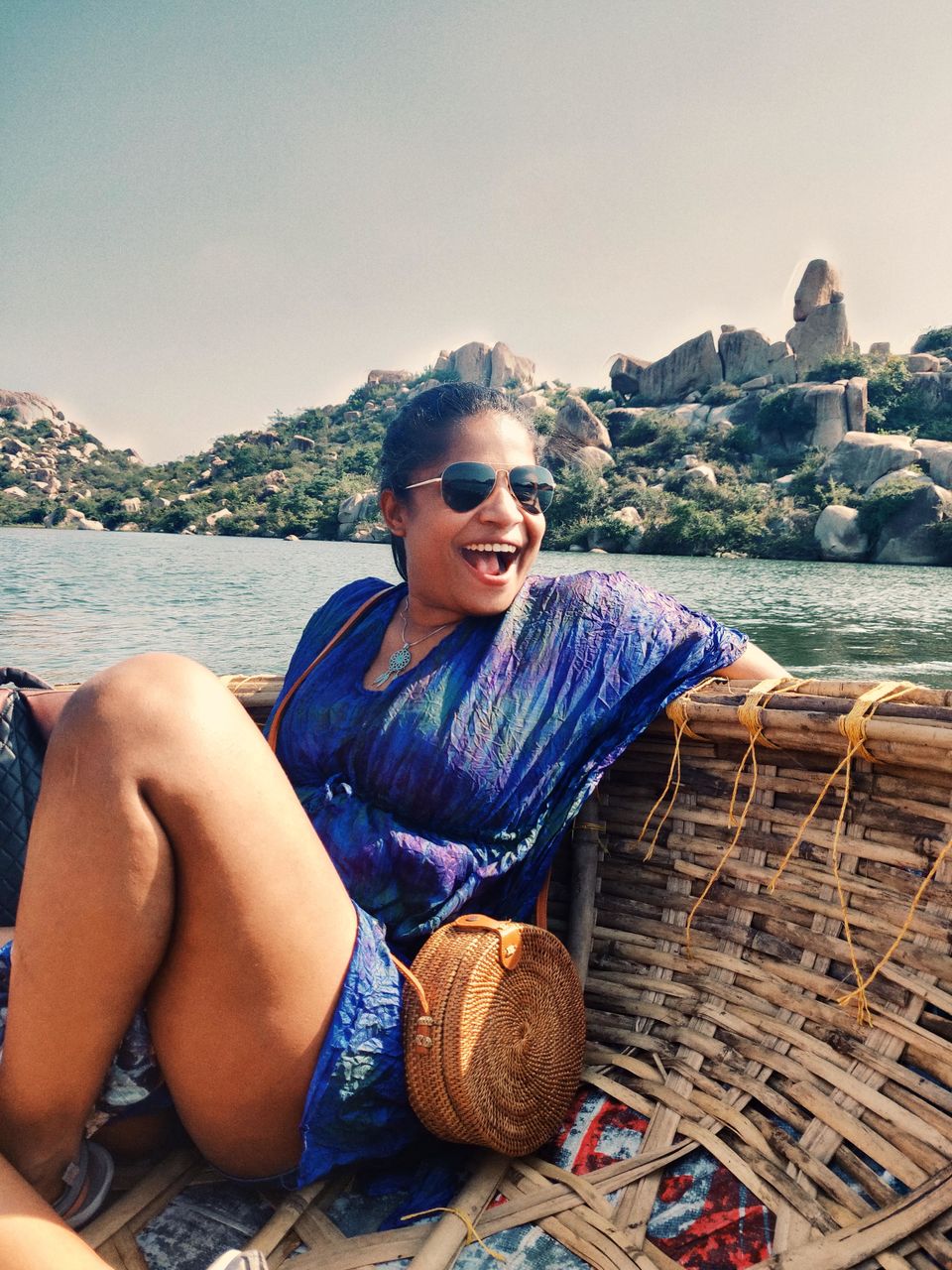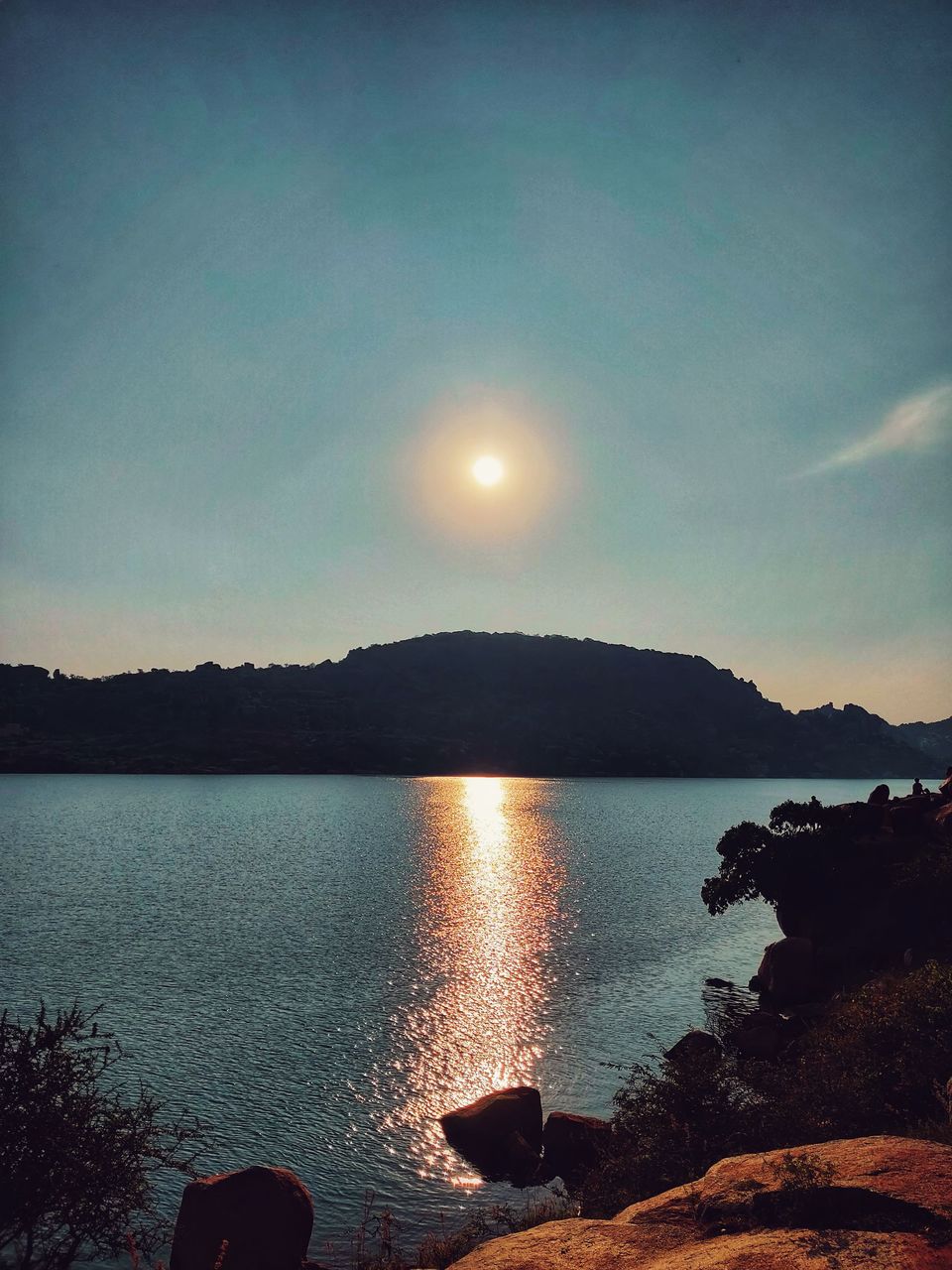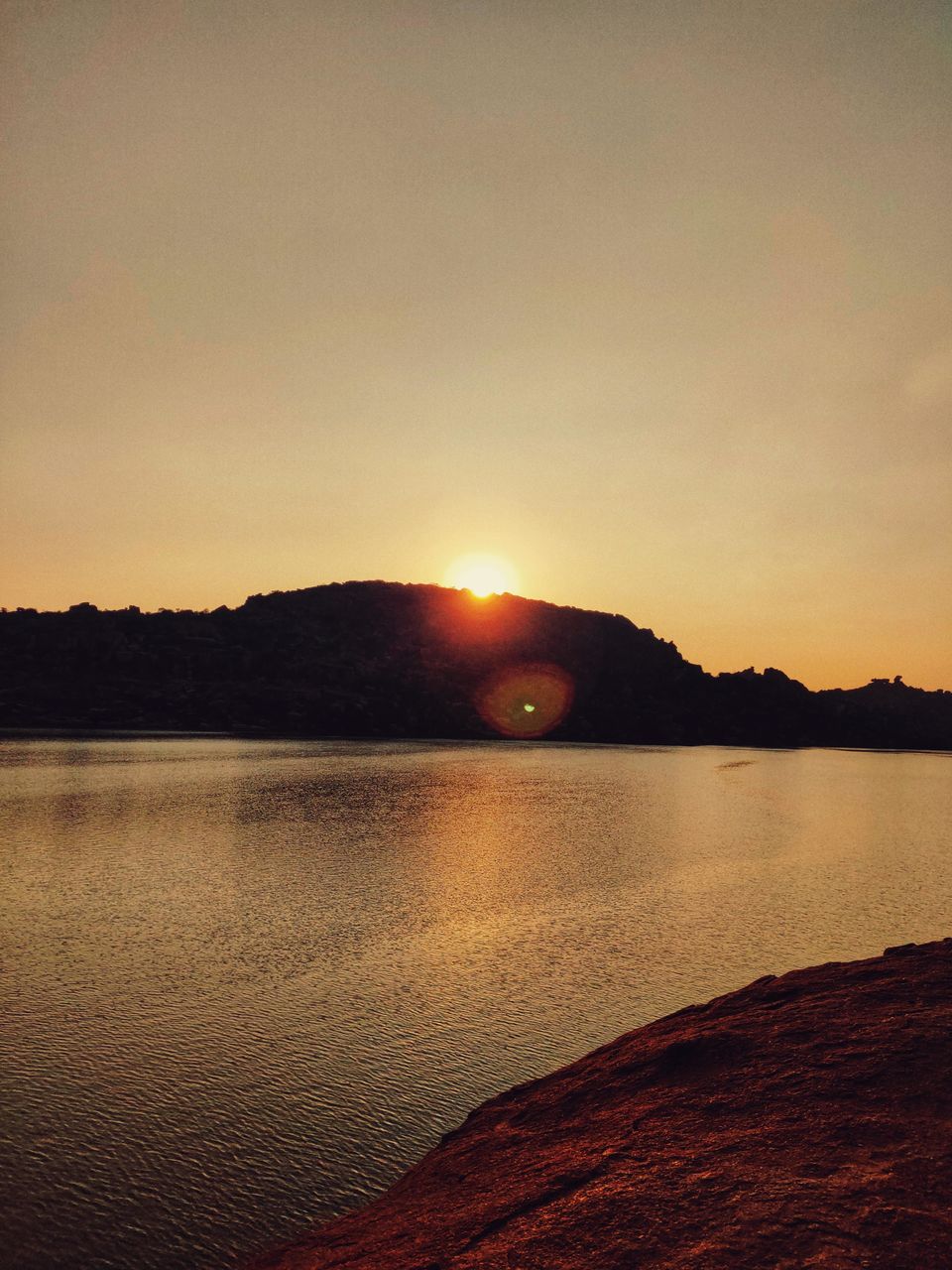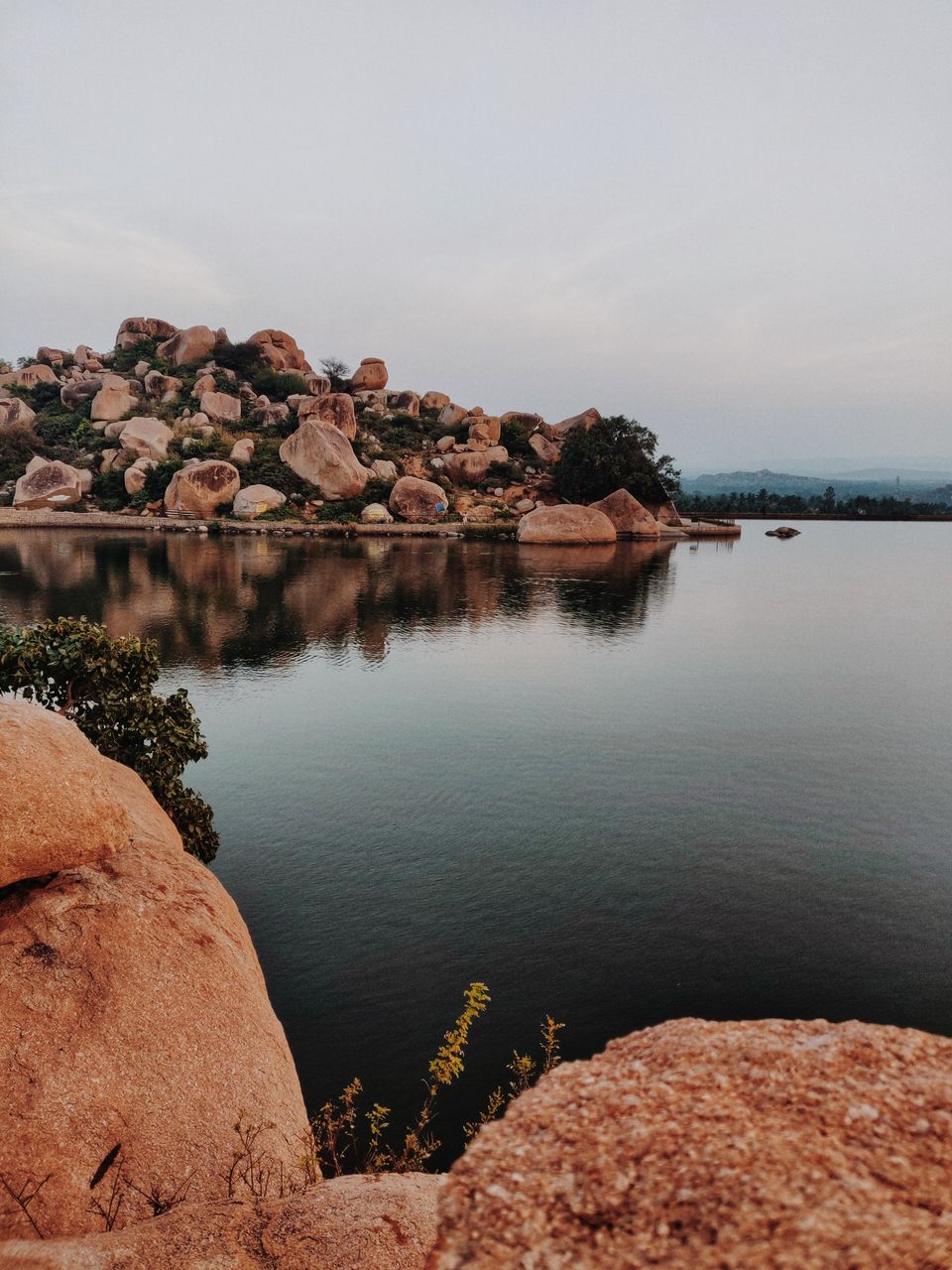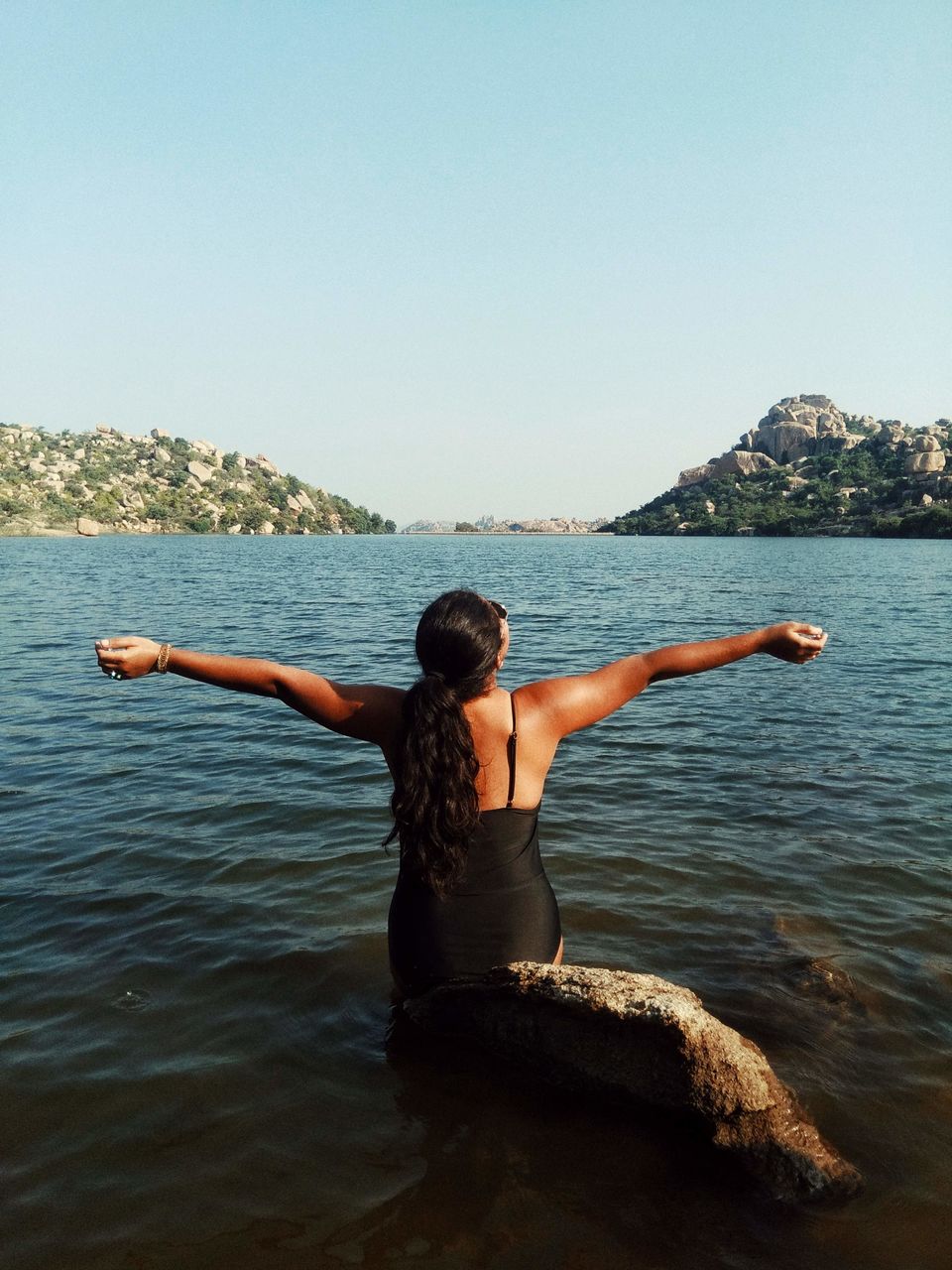 So first things first, Hampi is essentially divided into two sections. Hampi for religious people and families, especially with kids and Hampi for the hippies, in other words people like me who have no active interest in the ruins but would spend their life watching the sunrise and sunsets from all sorts of boulder points. So close your eyes and head over to the hippie island side of Hampi and look no further. ( PS: it's not really an island, but calling it hippie land just wouldn't have sounded that good)
So then comes accommodation. Though Hampi is a VERY popular tourist destination, the accommodations that would fit a solo female backpackers are scarce and few. And most of them are not listed online. I know, absolute pain in the bottoms. But ladies, I got you covered! This place is not listed online yet, but its called RK Residency. Basic rooms, attached toilet, WiFi, close to the main market and very very safe. Most of the guest houses are all huddled together in this one stretch of road and they are all pretty much the same.
Prices vary from 300-600 INR per night, depending on the season. Don't go expecting hotel rooms, you will most probably find a clay hut with asbestos terrace and a bed and fan in most rooms. Hippie island guys, keep up!
Next FOOD. I will skip the where to find good places to eat and just directly jump to my suggestions. For breakfast, try this idli wala who comes on his cycle every morning at 8am and stands opposite to the exit for Laughing Buddha. You will NOT regret this decision. For lunch and dinner my favourite places were The Goan Corner, The Mango tree (it's on the other side of the river), Laughing buddha. I pretty much ate at all possible places, and the menu is literally the same for all restaurants. Like they got it all printed at the same place, but these places had some really good food thing happening, so they are a go-go.
Next thing, you would need a 2 wheeler if you really want to explore Hampi. So hire one (usually costs around 150-300 bucks) and off you go! Hampi is about the sunrises and sunsets. Not even kidding, the sunrises in Hampi are absolutely EPIC. There is no other word for it. So much so that even a nocturnal creature like me woke up at 5am everyday for 5 days in a row, all for the magical sunrise.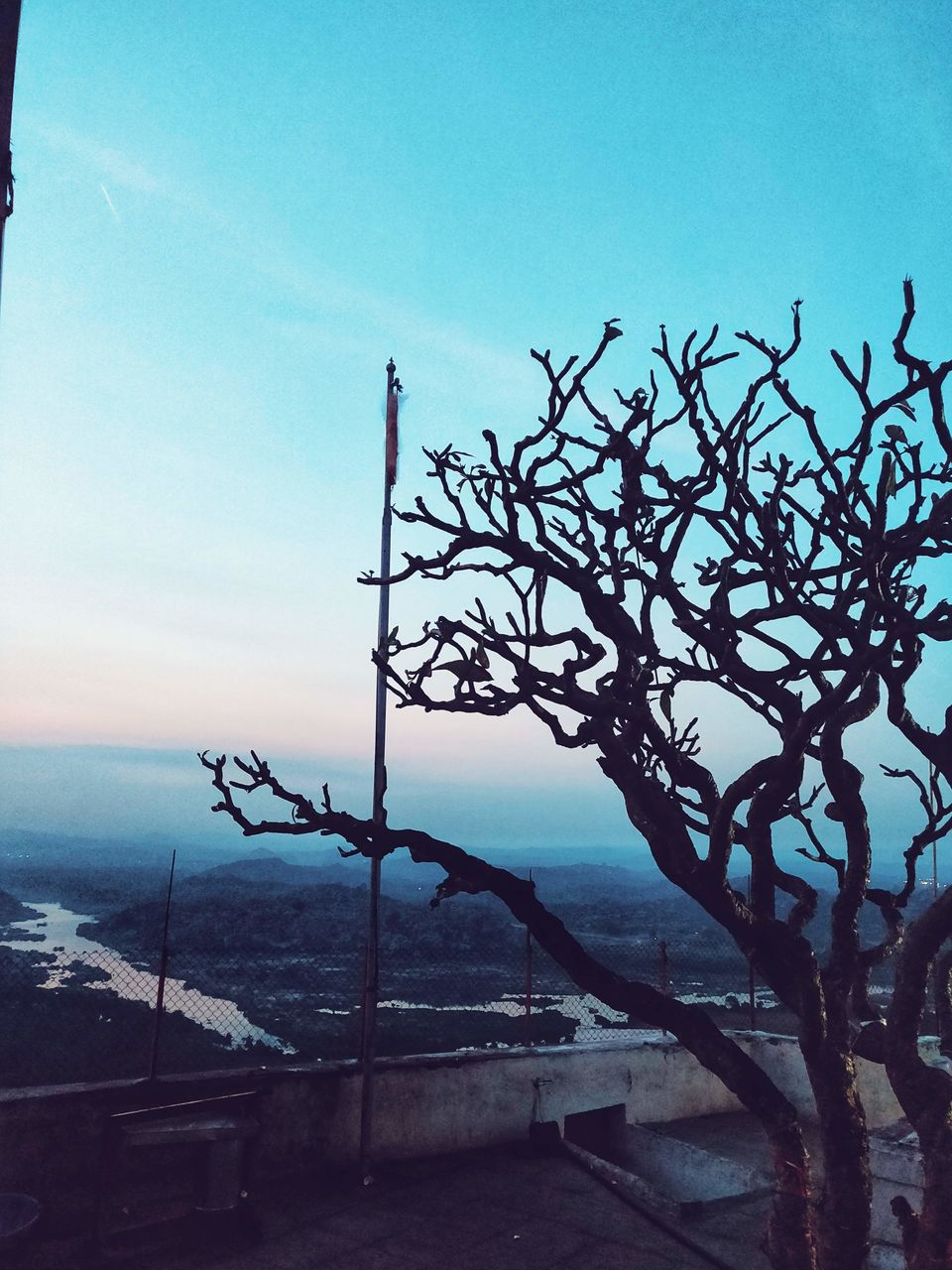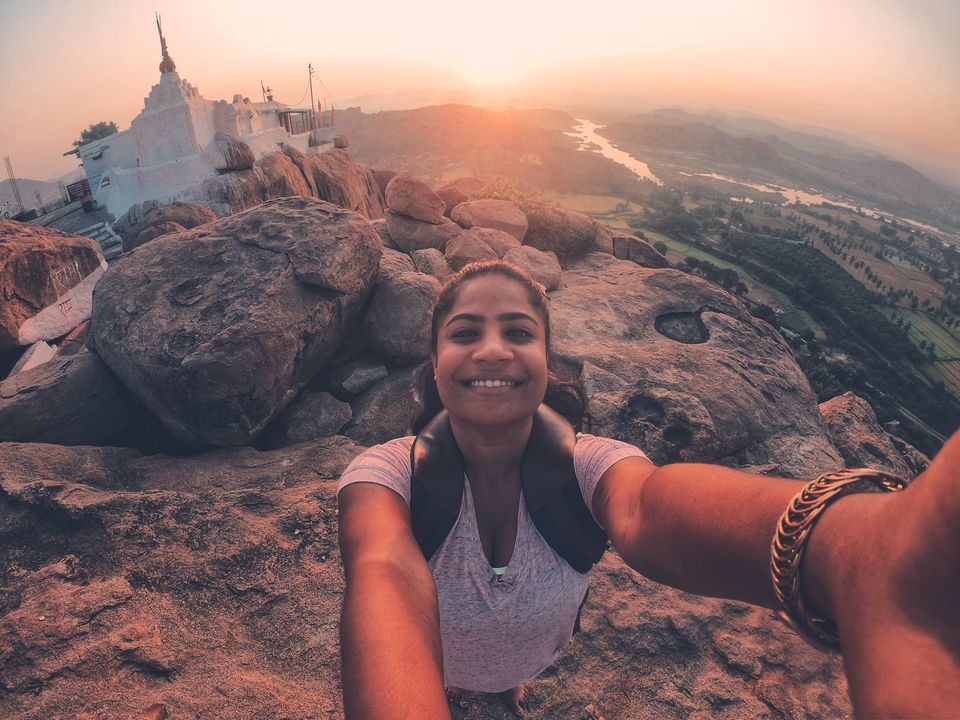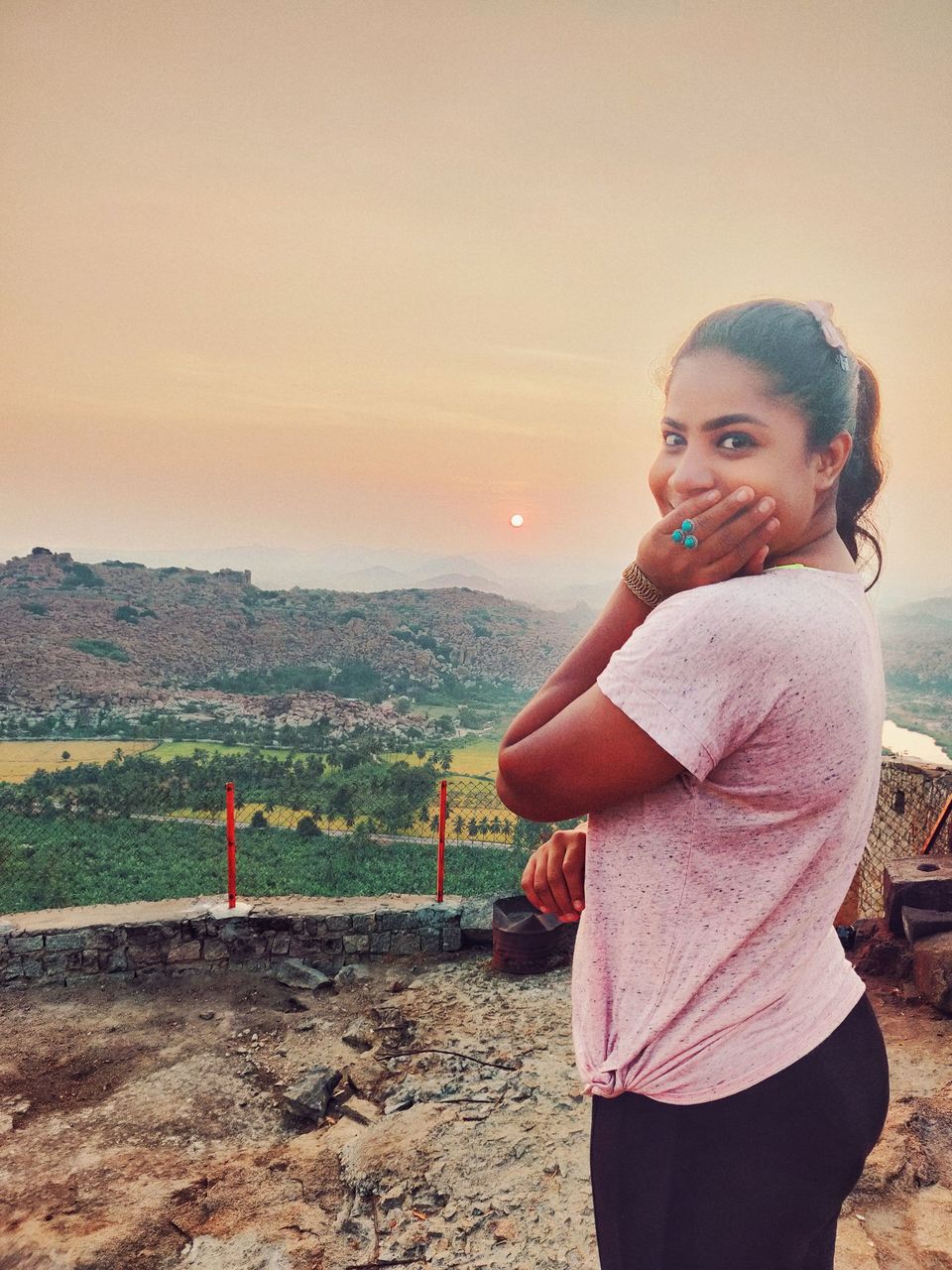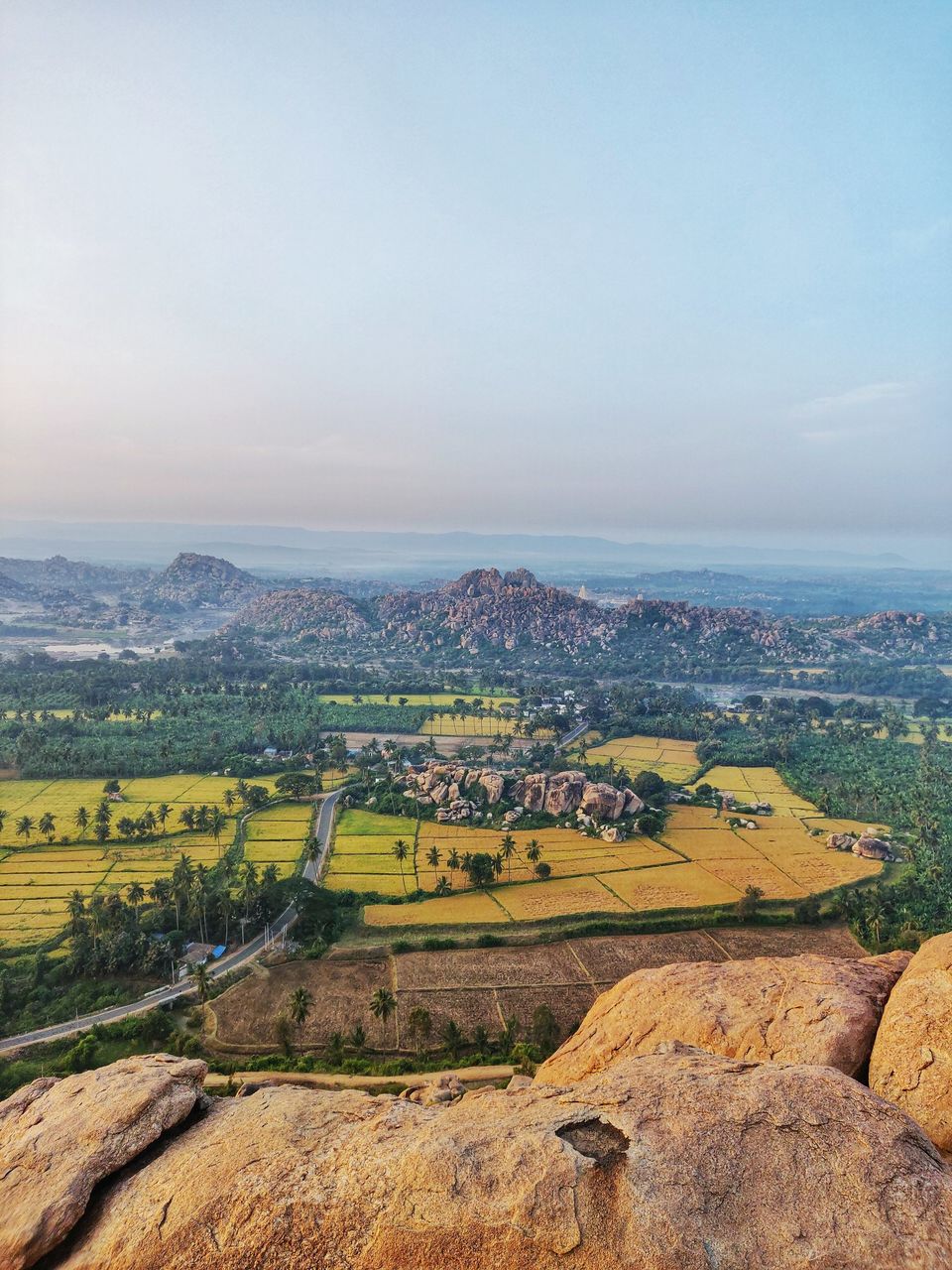 Sunrise and sunset Points : Monkey Temple, Sunrise Boulders, Sanapur Lake, Matunga Hill
These are some of the famous sunrise and sunset spots in Hampi (on the hippie island side). They are all worth it and they all give you a different perspective of Hampi and each sunrise and sunset from each of these spots would feel nothing similar. You can pick and choose to assign your limited number of sunrises and sunsets to each of these spots and take it from there.
Imagine waking up at 5am, when its dark, the world is sleeping and you get on your bike and drive it through the twilight with the cold air hitting your face and then climb 700 steps to go wait with kindred spirits for the sun to rise. And rise it does, literally like a dream from the mountain ranges. You can see it's slow ascend, changing it's colour from hot pink to orange to finally full blown yellow when you can't look at it directly anymore. I almost cried the first time saw it from Monkey Temple. And I did so two days in a row!
Other things to do in Hampi are of course the famous Coracle ride in Sanapur lake. Spend one day at the lake by asking the boat person to take you to a swimming spot. Loiter around in the water, swim your heart away (carefully) and then head over to the unofficial cliff jumping spot and watch people jump from over 30ft cliffs onto the tranquil waters. Just a cautious warning, there are no life guards there and people have died doing it. So do it, but at your own risk. Or just take in the thrill of watching others do it, like me. No shame in wanting to stay alive!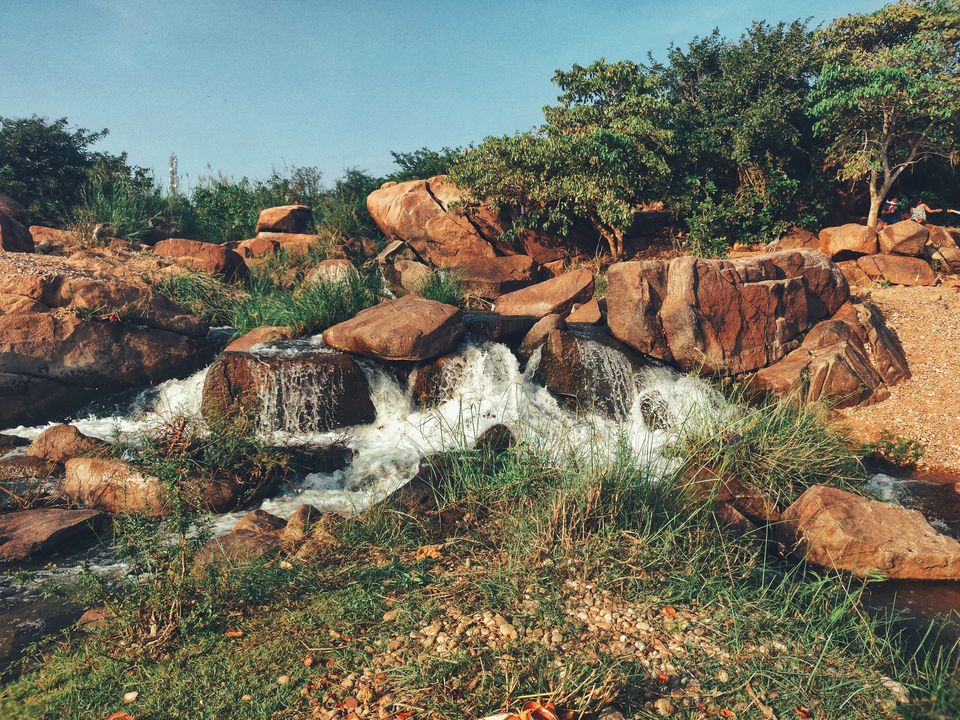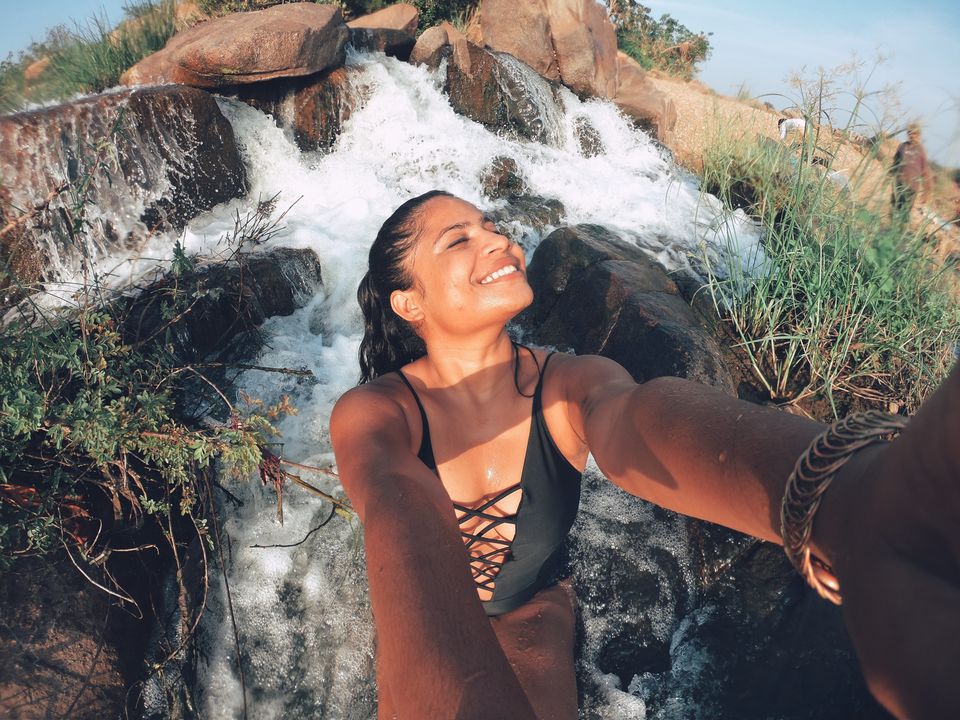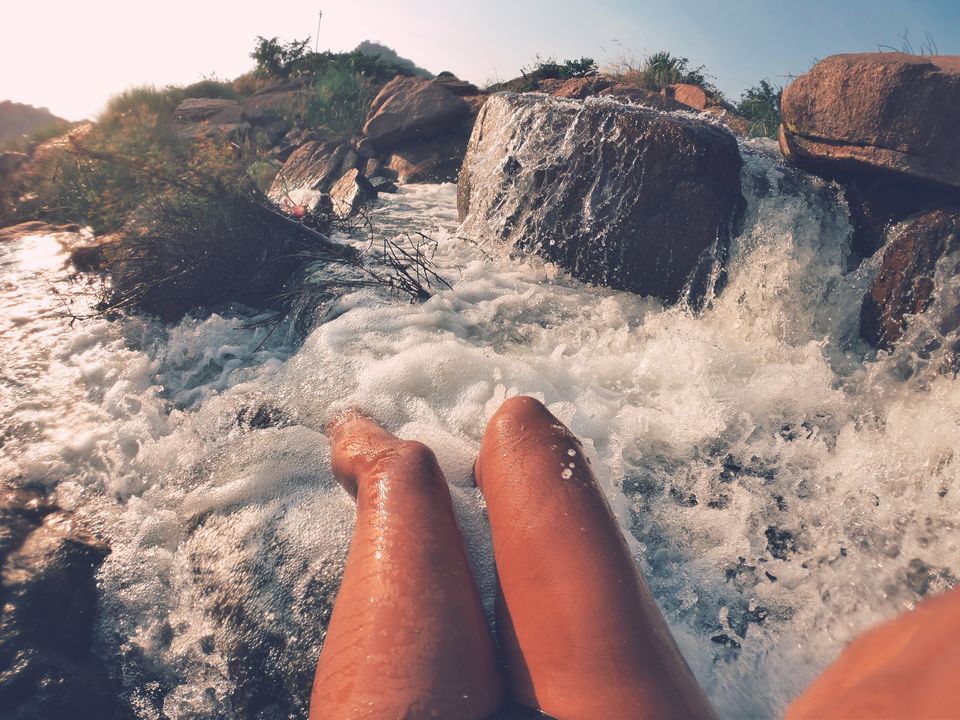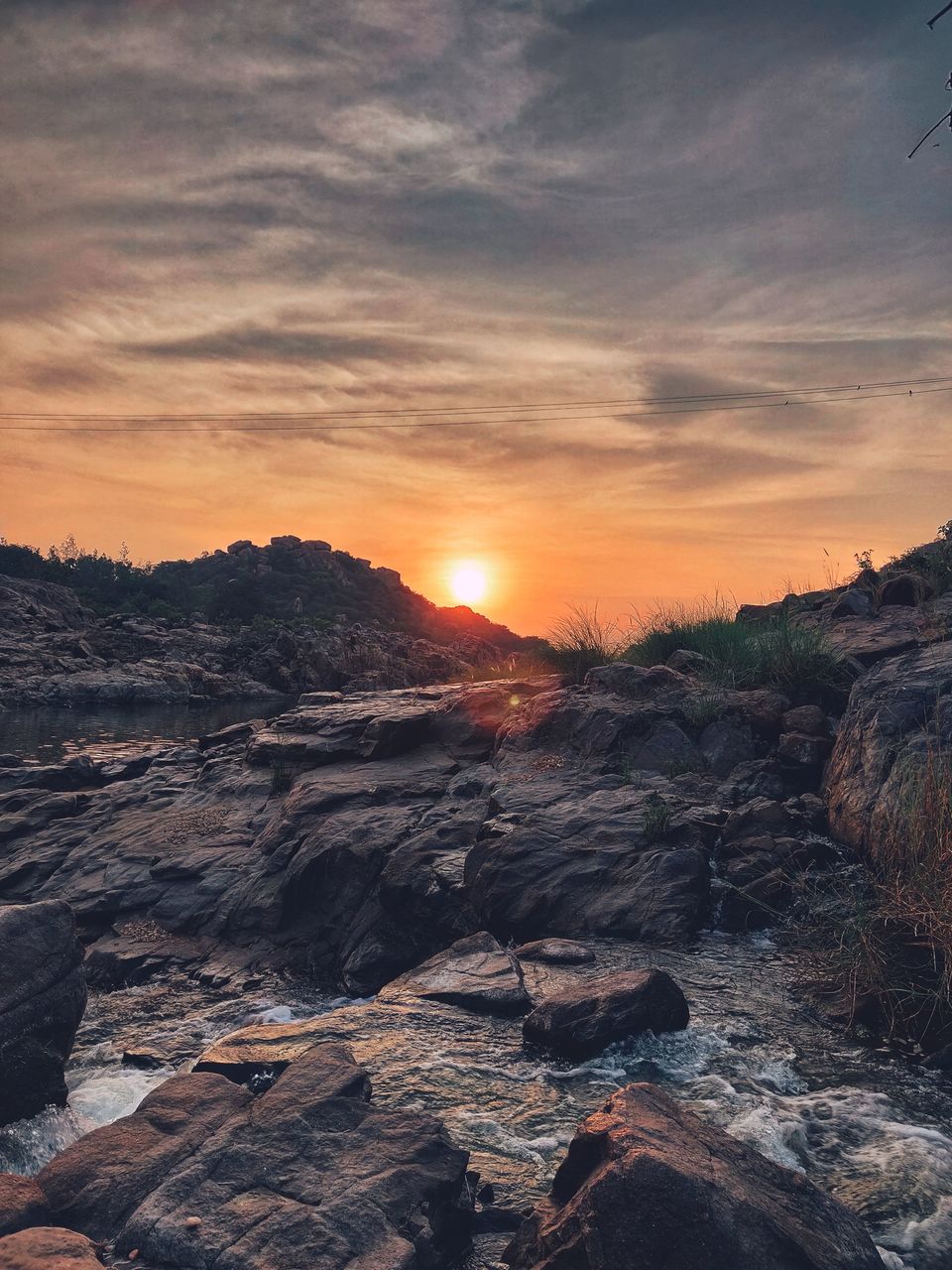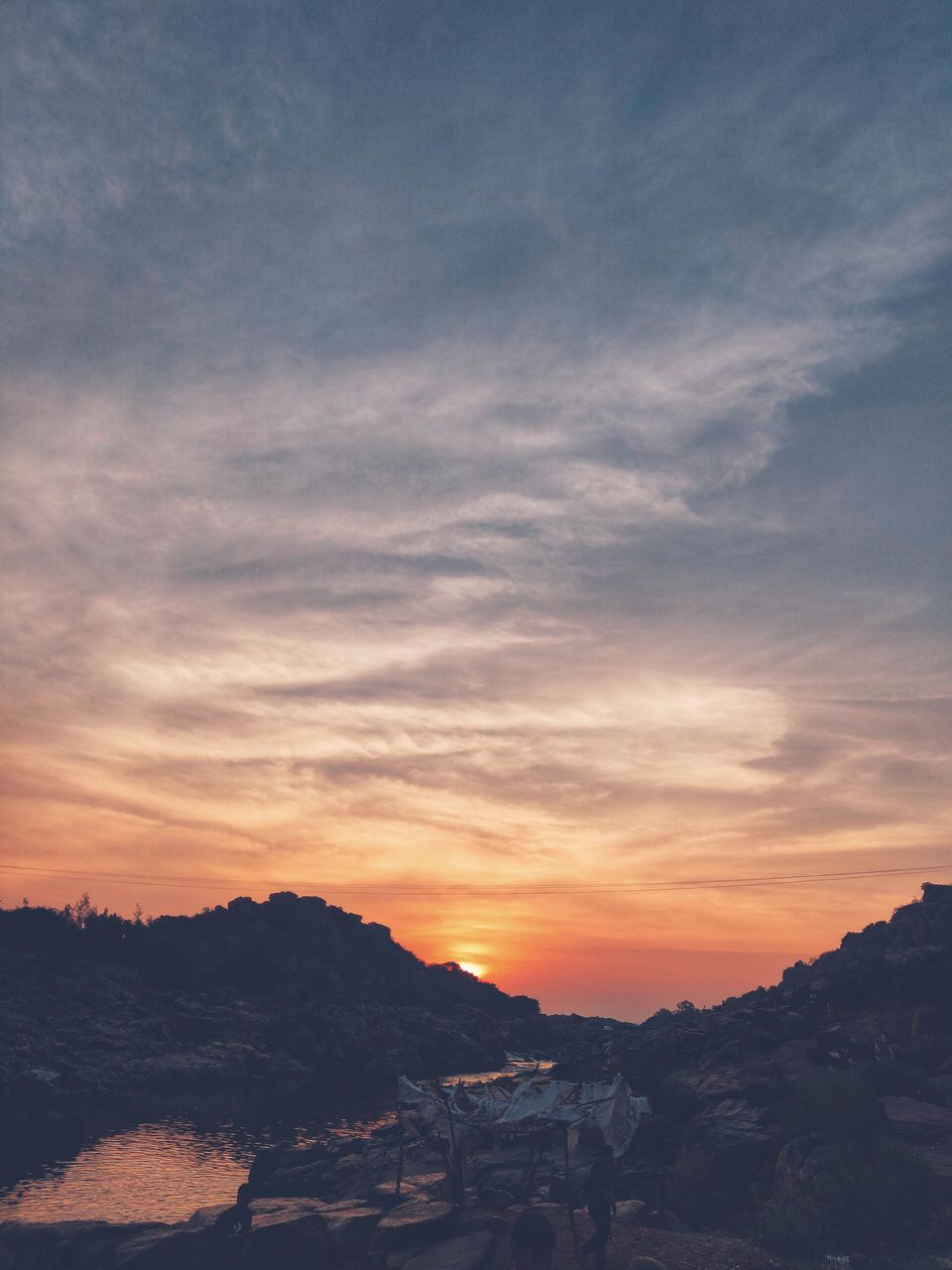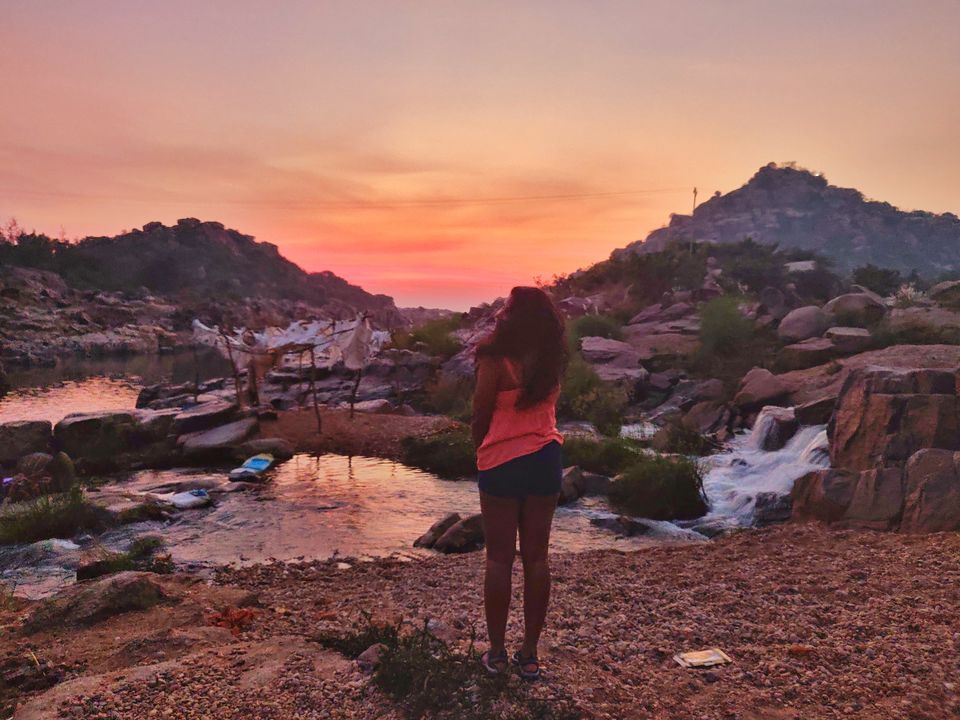 Another spot you have to try in Hampi is the waterfall in the Tungabhadra River. It's a tiny waterfall, hardly should be even called a waterfall, but it's a beautiful swimming spot. You can easily spend an afternoon in this spot, swimming and taking in the tiny waterfall and then wait for the most epic sunset of your life. The sky will turn shades of orange and pink that you have only seen in dream Instagram pictures. The best part about this place, it's hardly crowded and if you are lucky you will have the sunset to yourself barring 4-5 other people.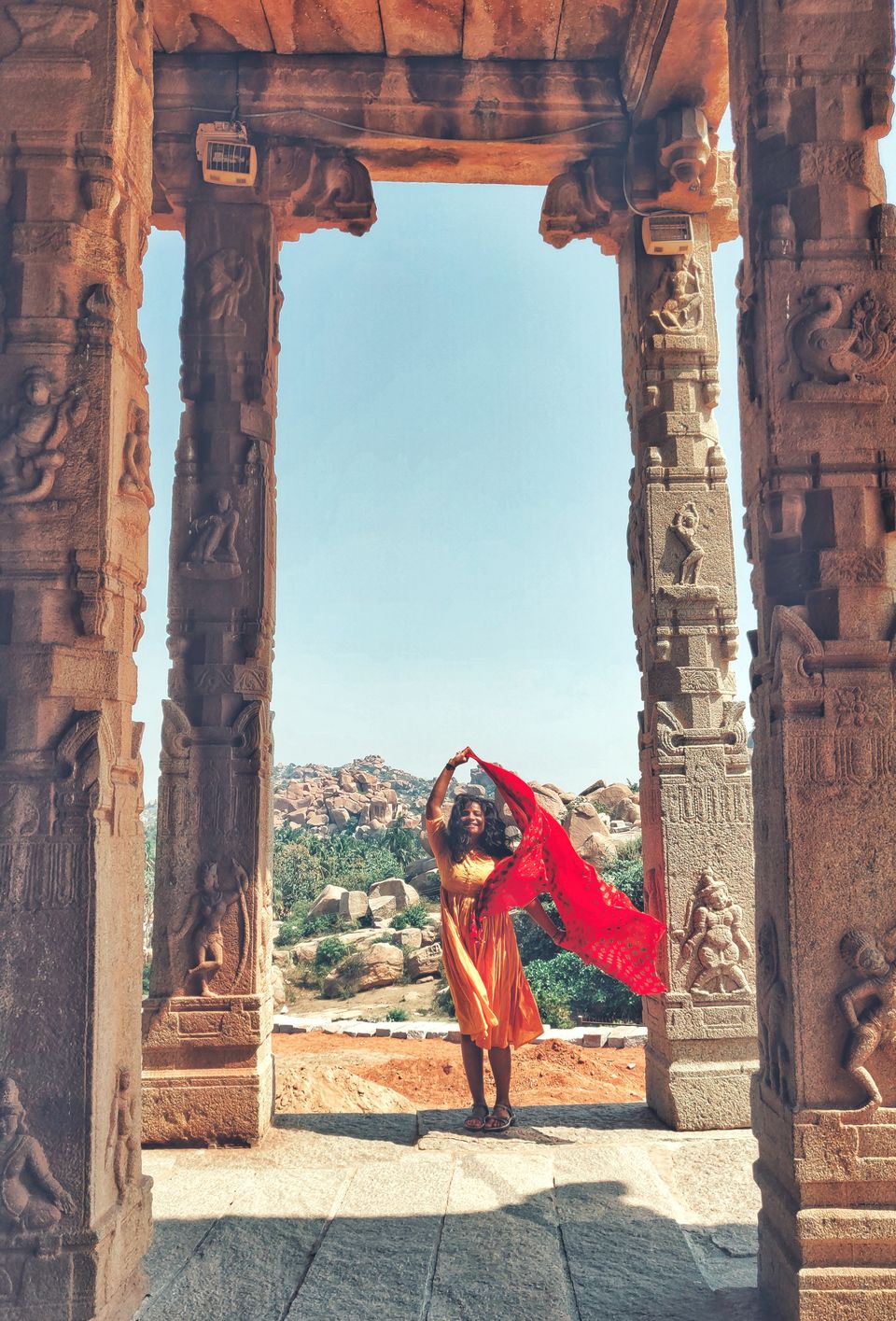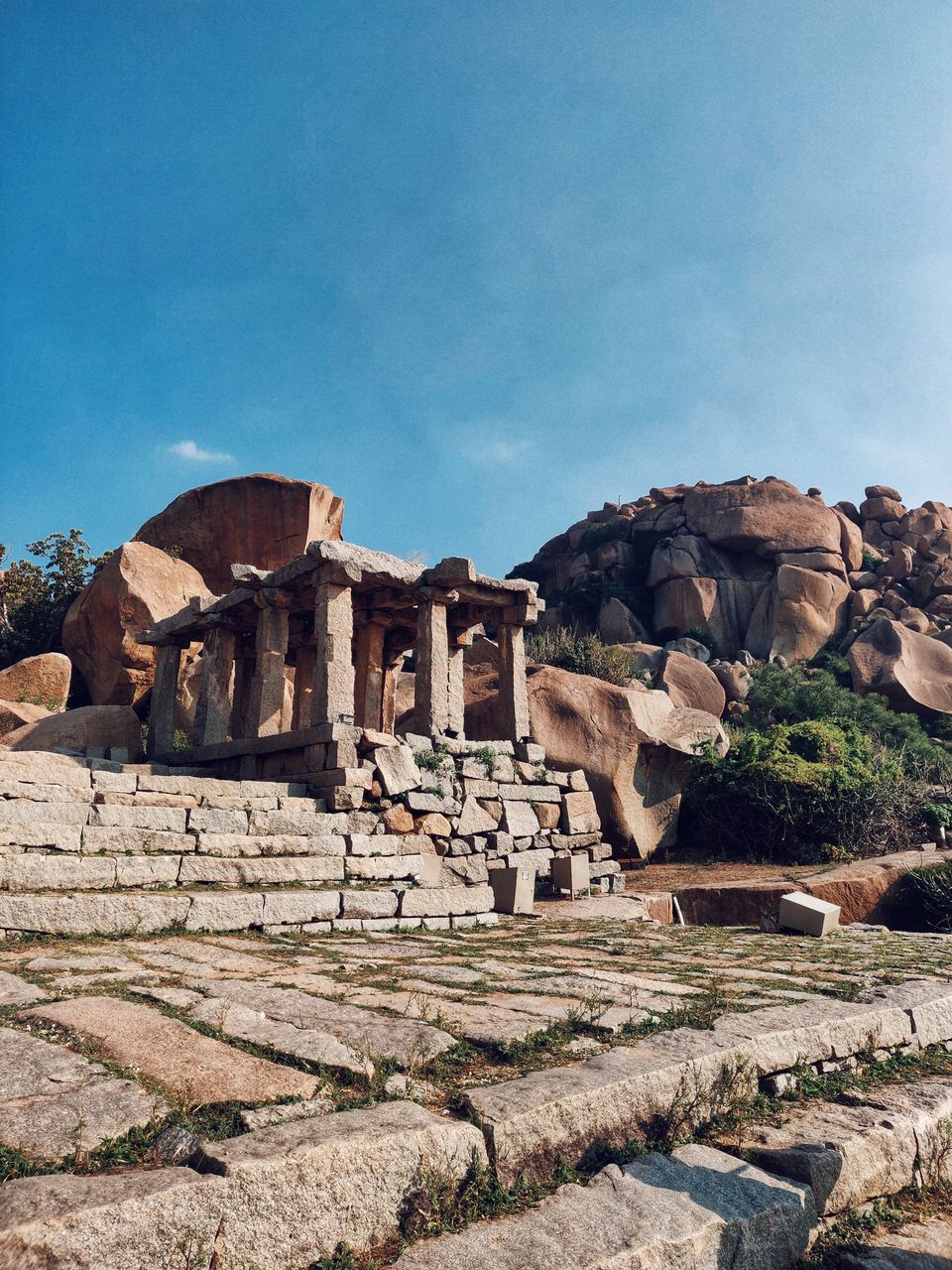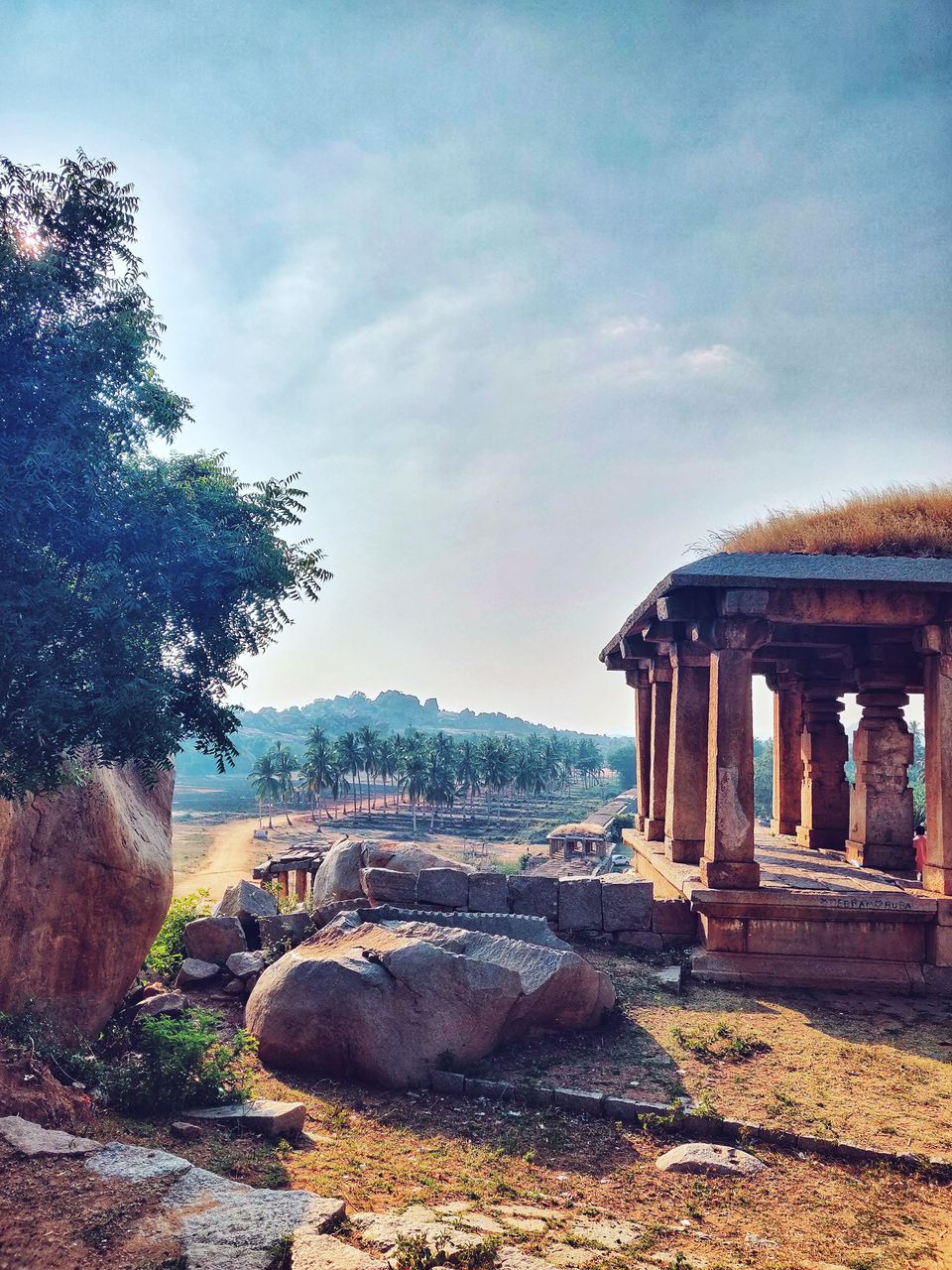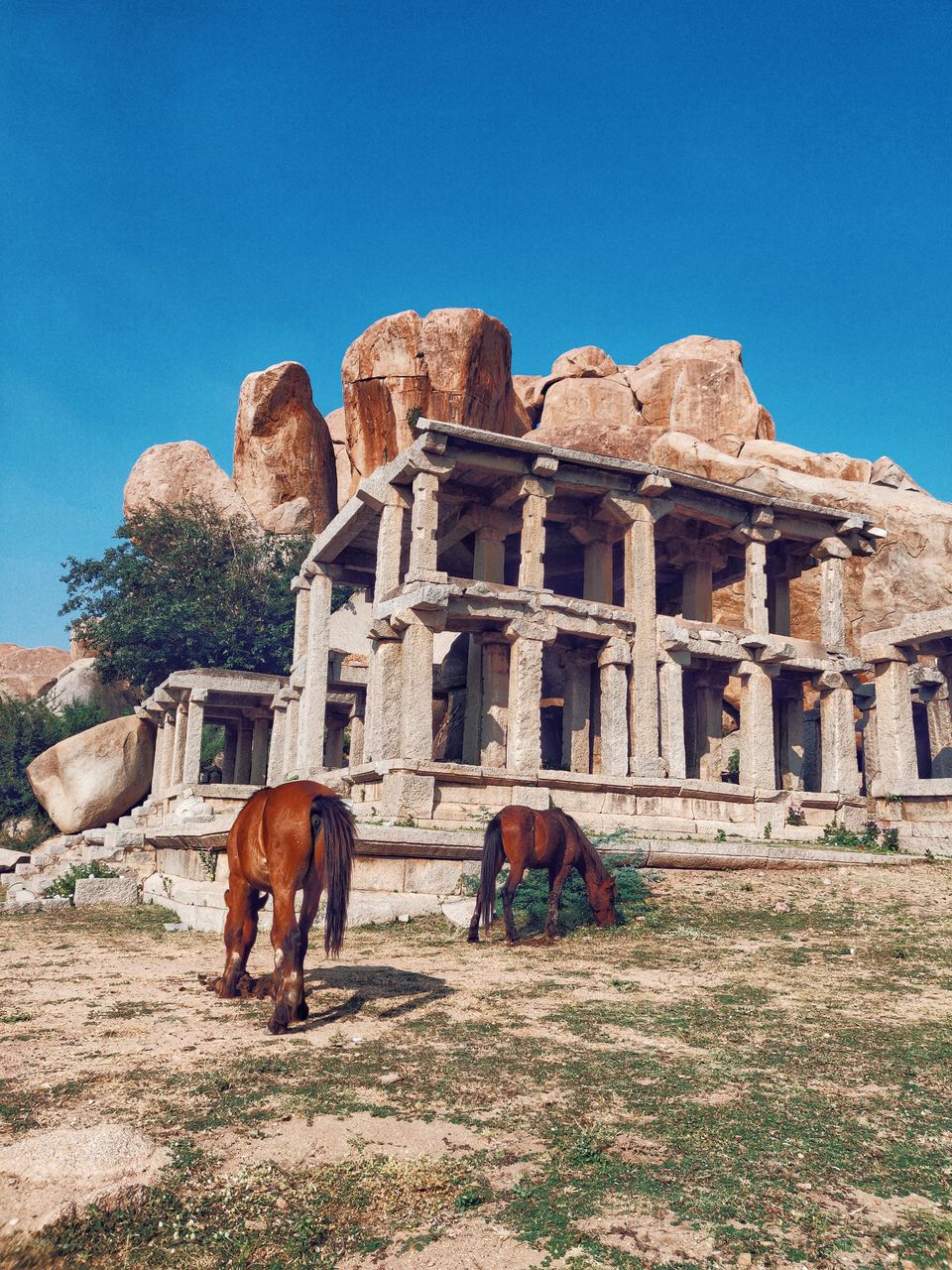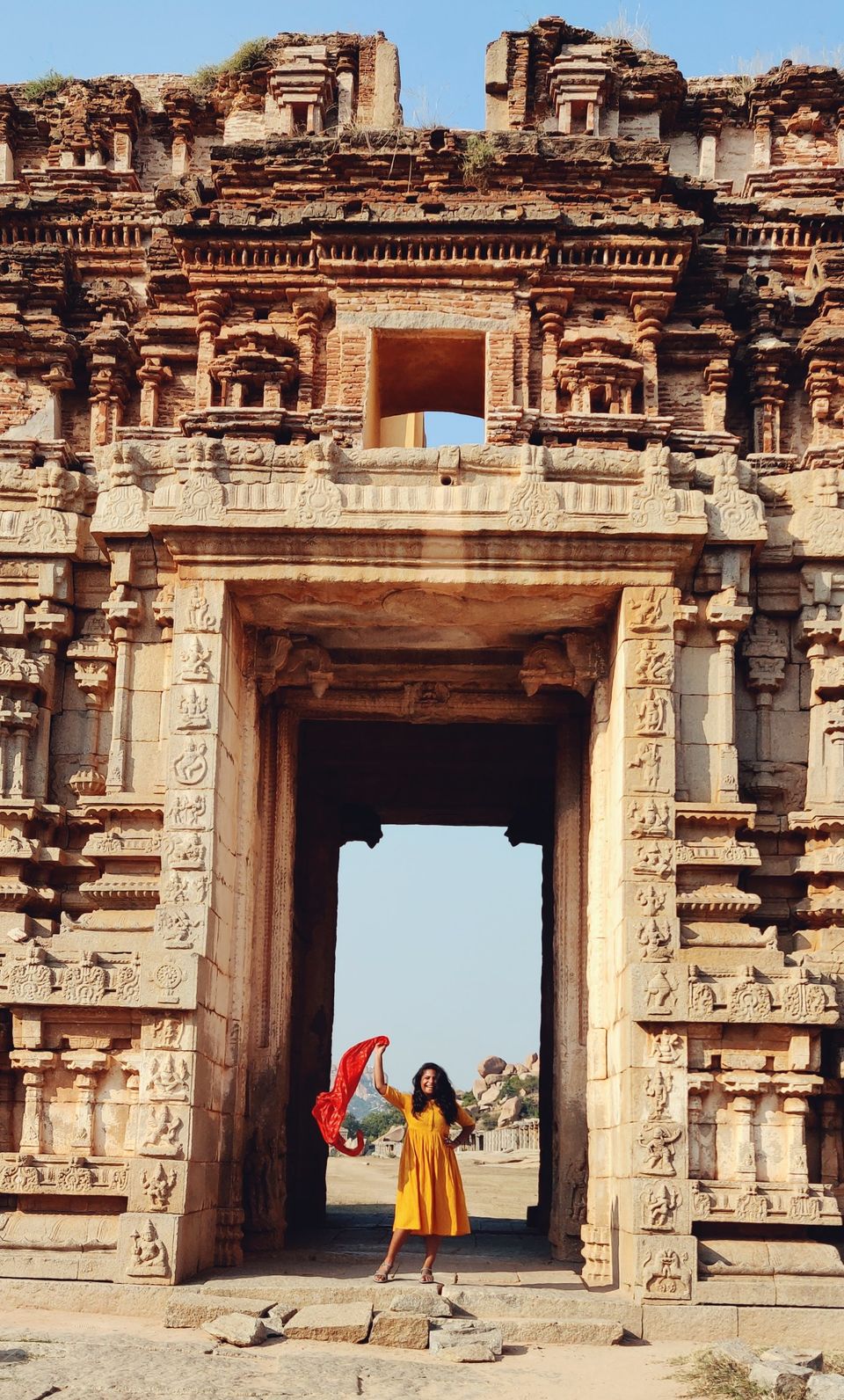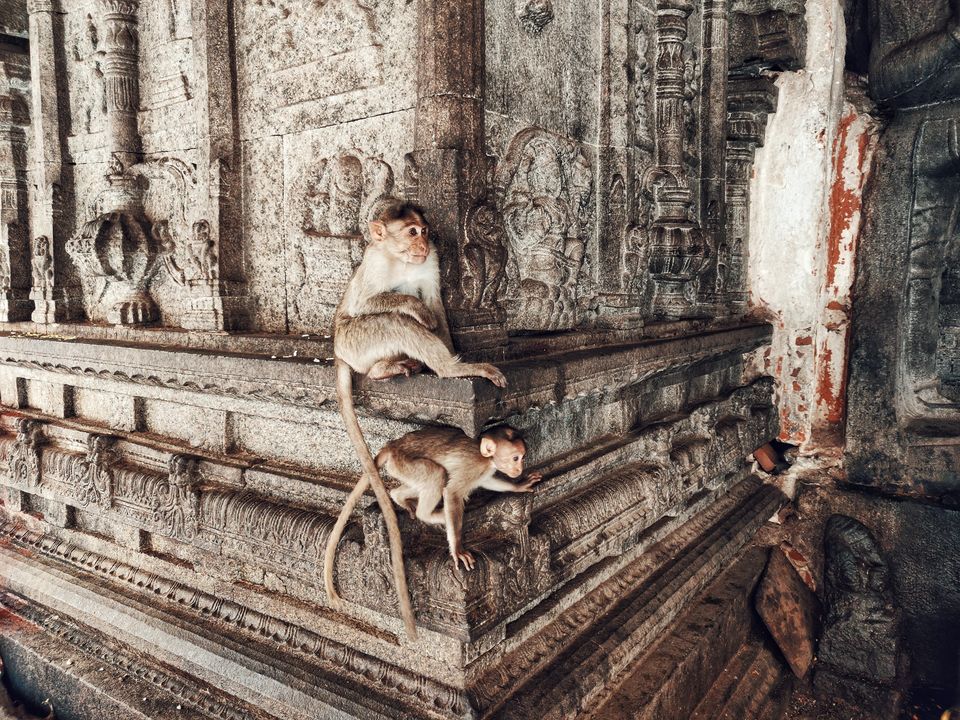 Ofcourse you can't leave Hampi without visiting the ruins. So day 4, me and three other girls I met on the trip decided to dare the sun and go see the temples on the other ride of the river. It was one VERY long day walking in the sun from one temple to another and while they were beautiful, for me it was a one time visit. But that's my personal opinion. Some people might find it very interesting and worthwhile, so to each their own. The ferry that takes you across the river from the hippie island starts at 8am and runs till 5pm, so make sure you catch the last ferry else you would be stuck on the other side and you do not want that to happen.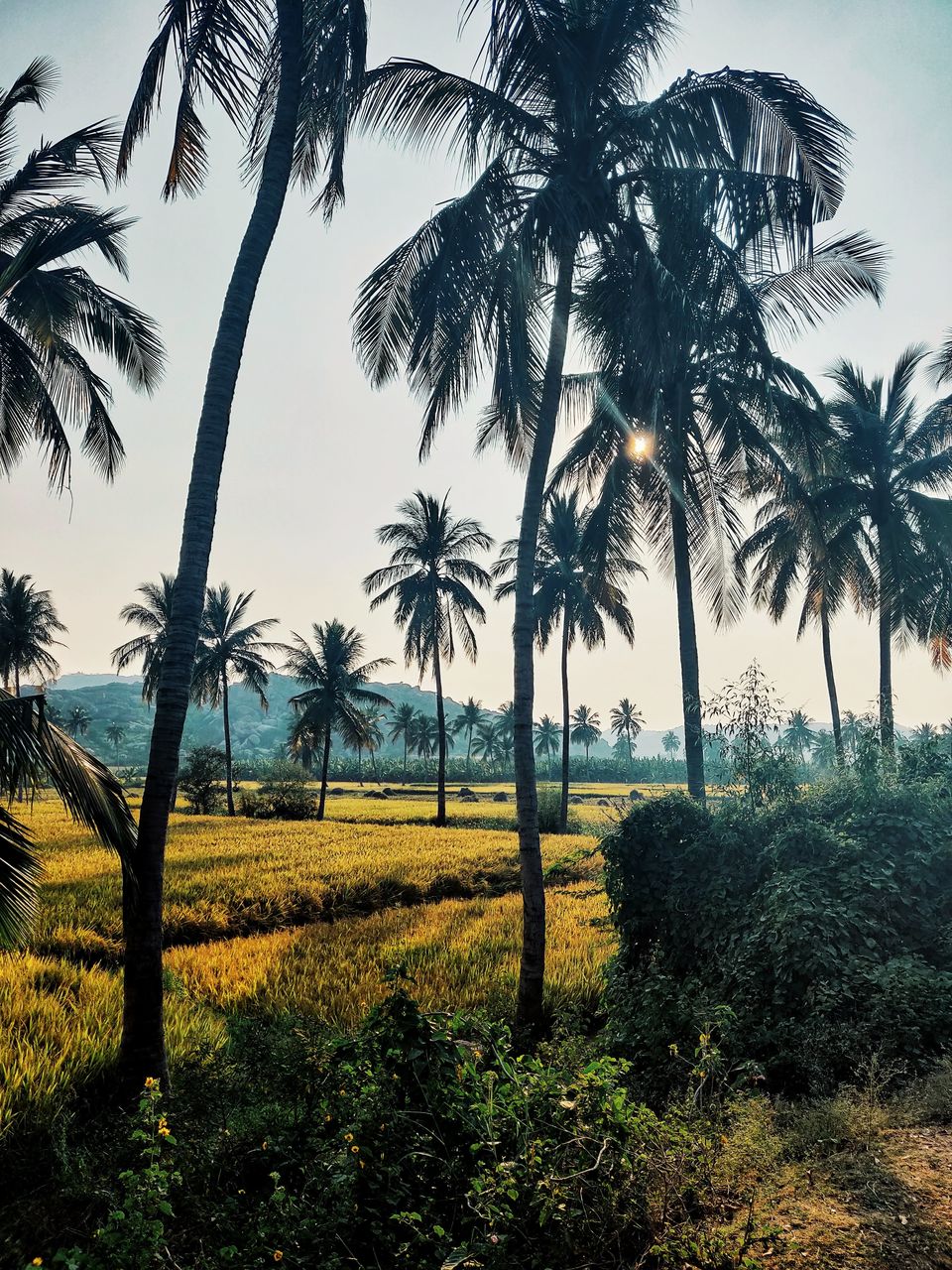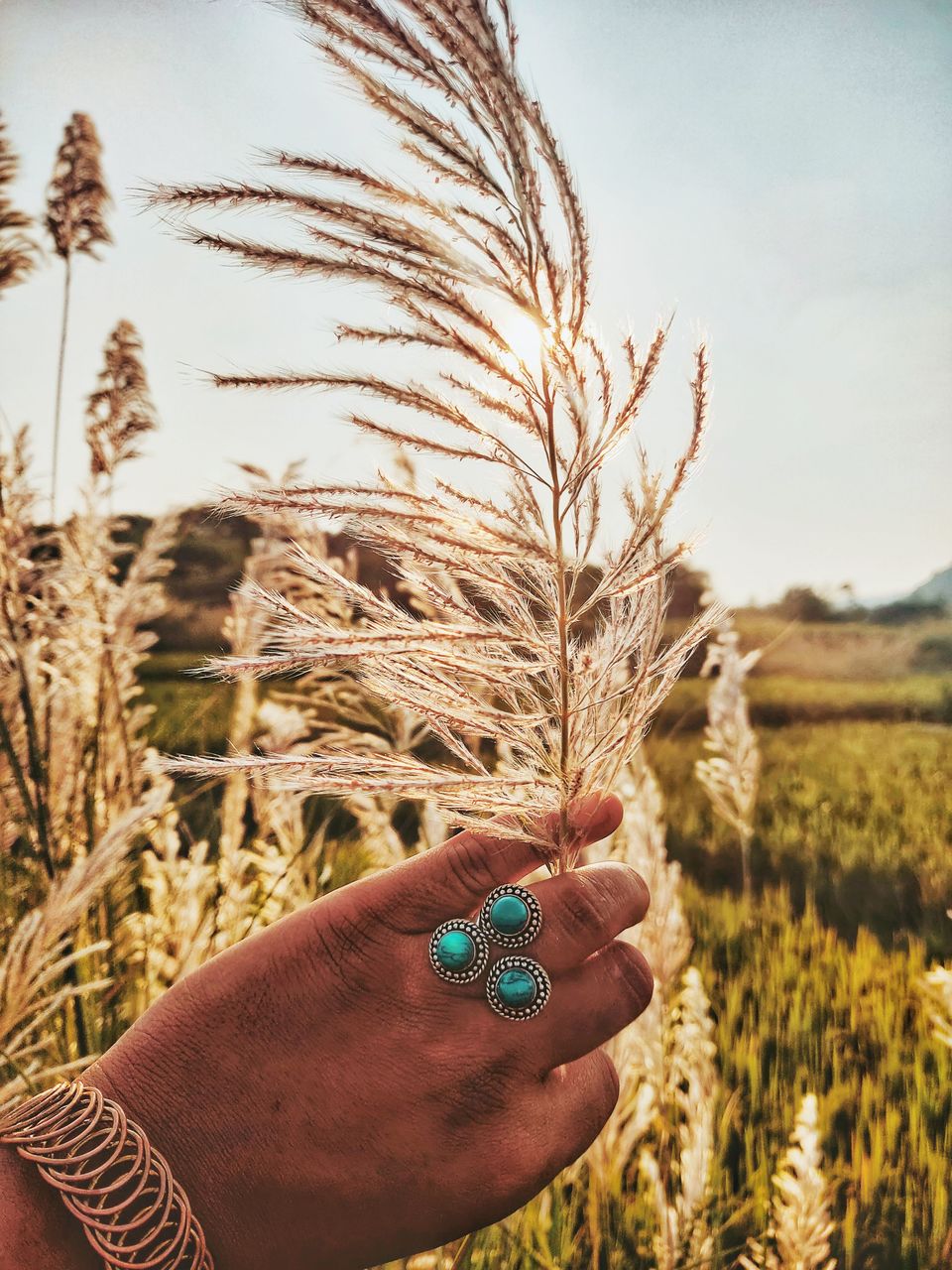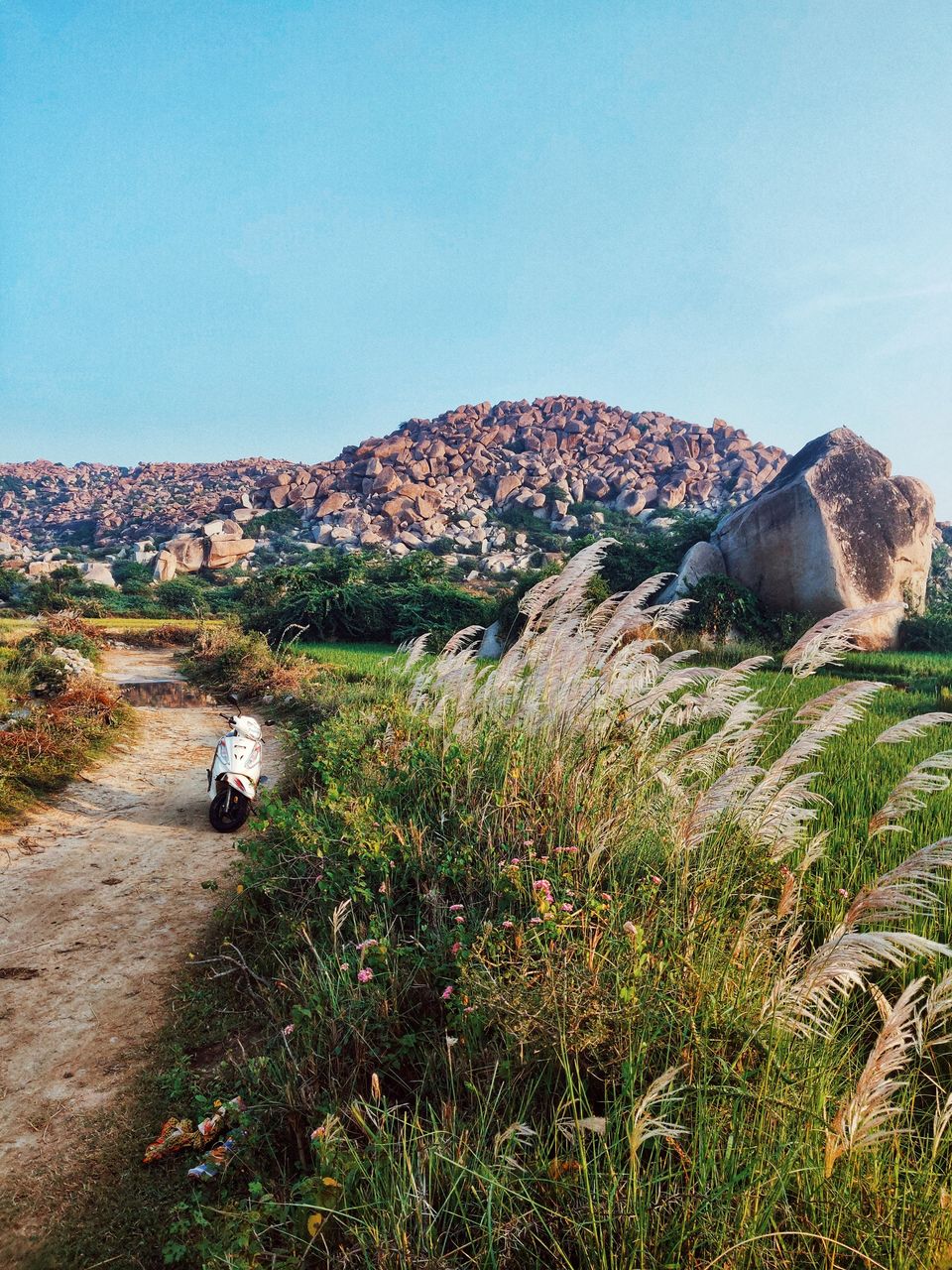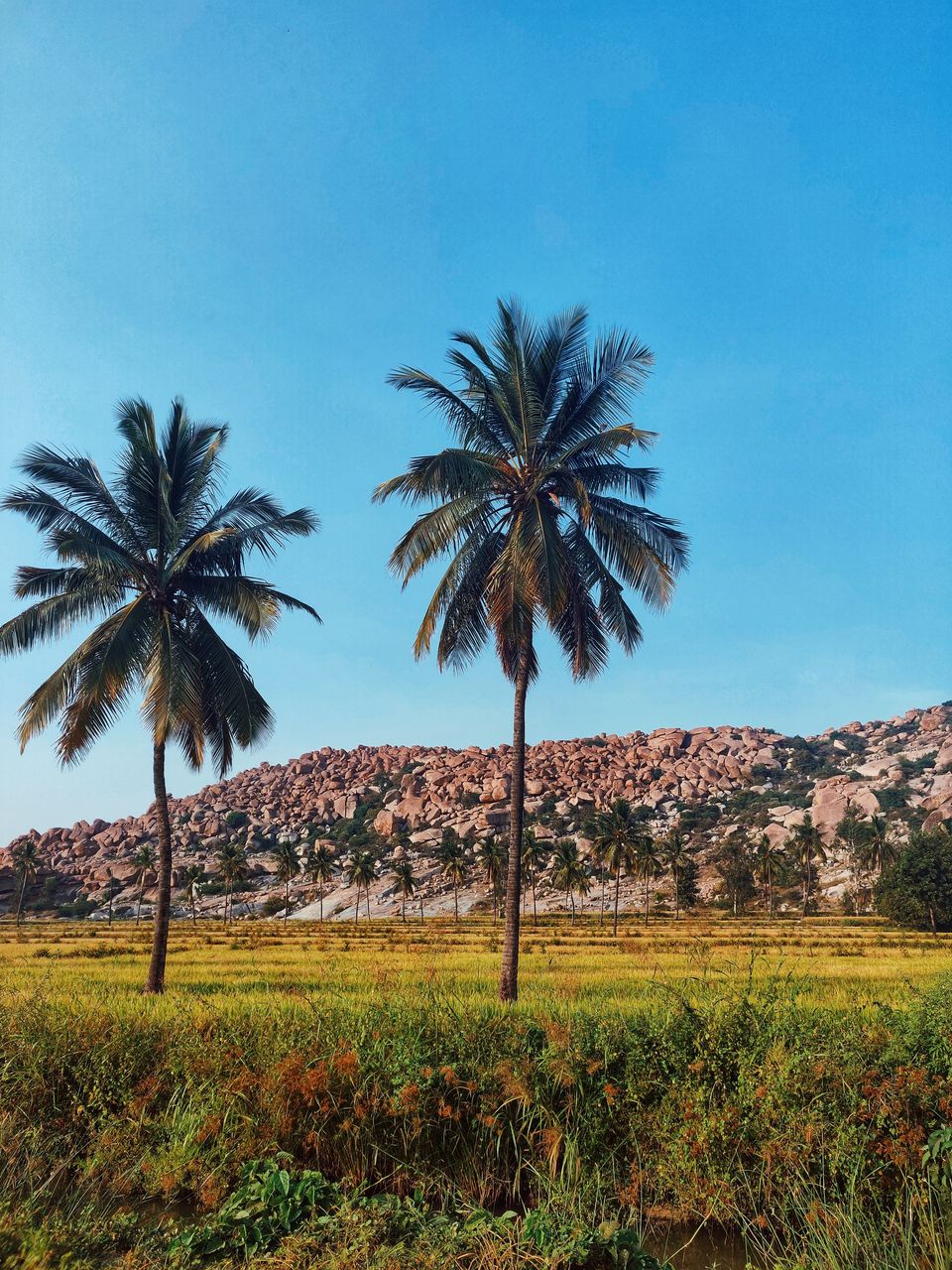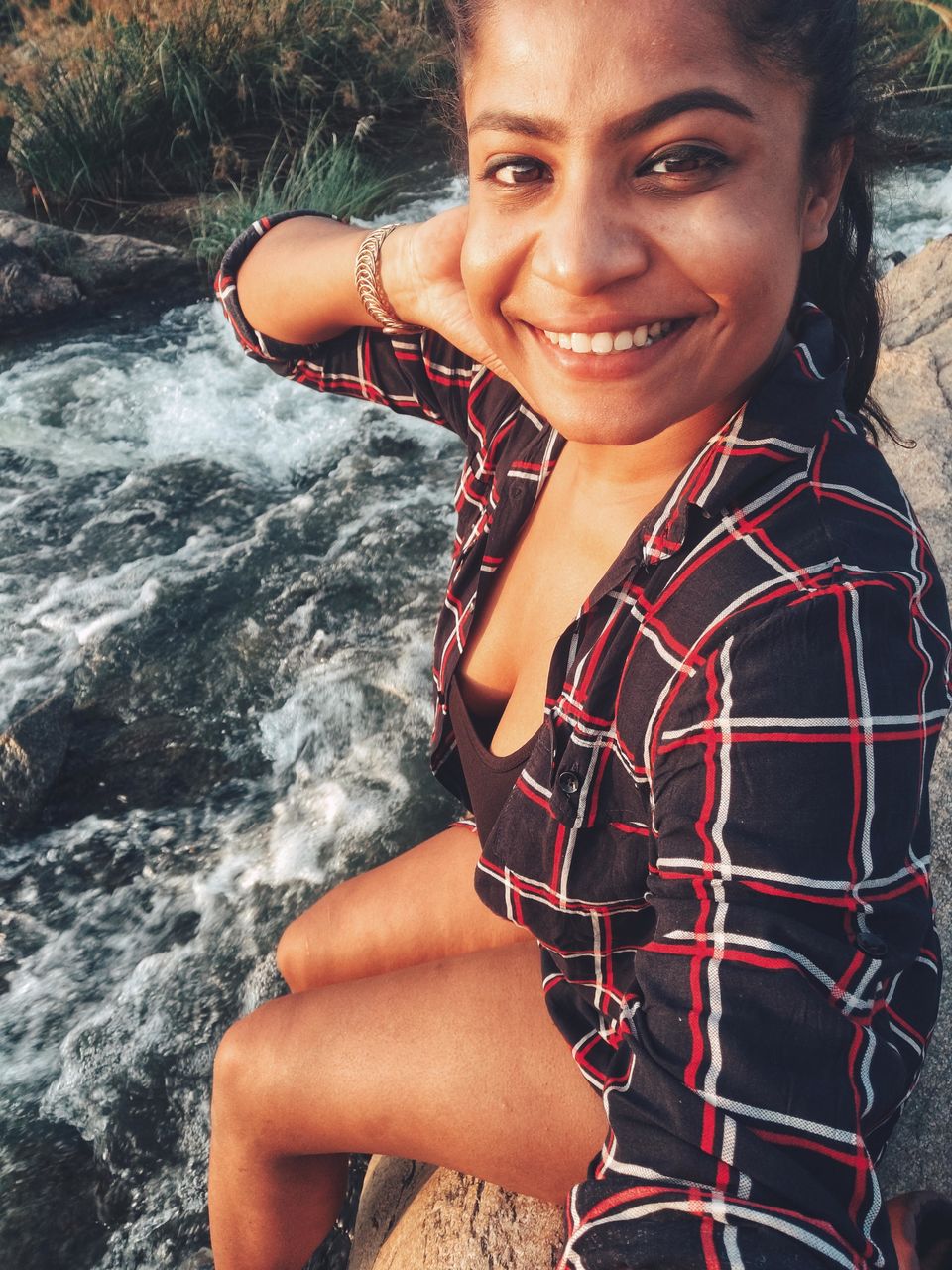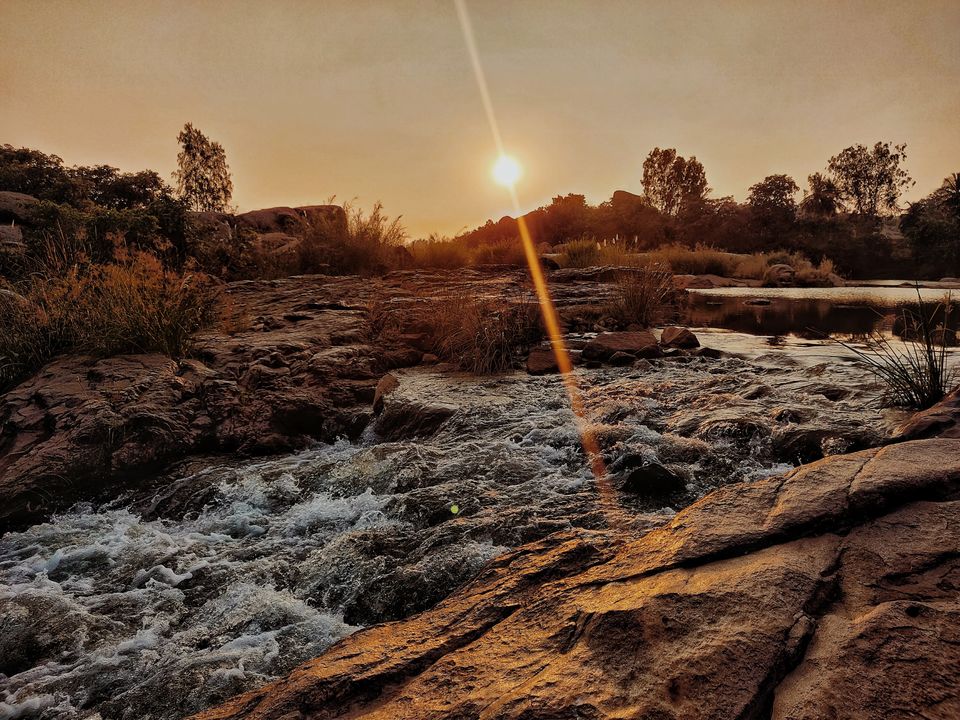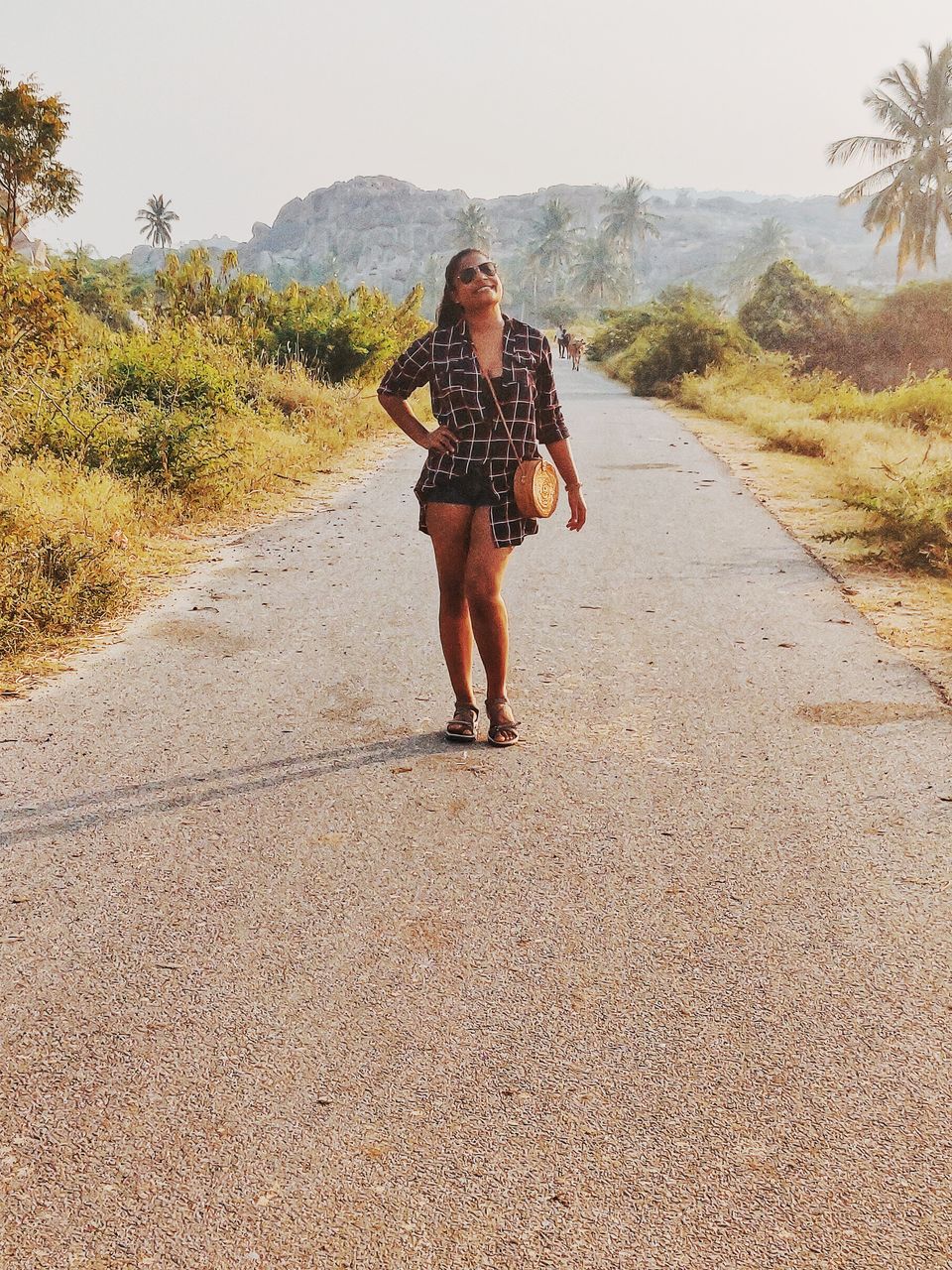 Day 5, my last day in Hampi, I sat on my bike and literally got lost in the Anegundi village. It's a small village outside of the main Hampi market and you can just ride your bike around it and you will find beautiful landscapes everywhere. No tourists, no human sometimes, few cows here and there and beautiful boulders and paddy fields everywhere. It was one of the best afternoons of my life. I found myself another tiny waterfall and there was not a single person there. And it was a beautiful place to be just with yourself and look up at the evening sky.
Hampi is the perfect place to get lost, without worries and with no inhibitions. It's perfectly safe and people will always help you find your way if you are lost coz your network wouldn't work there anyways!
So my advice to all the women out there unsure about solo travel is, just take the plunge. Trust your instinct, pack your bags and head out. I am not saying it's not a big bad world outside, but if you are a little smart you will do just fine. You will make friends on the way, you will reconnect with yourself and end of the day, you will be just fine. Do yourself a favour, give your heart and soul a chance to be truly free and head out!