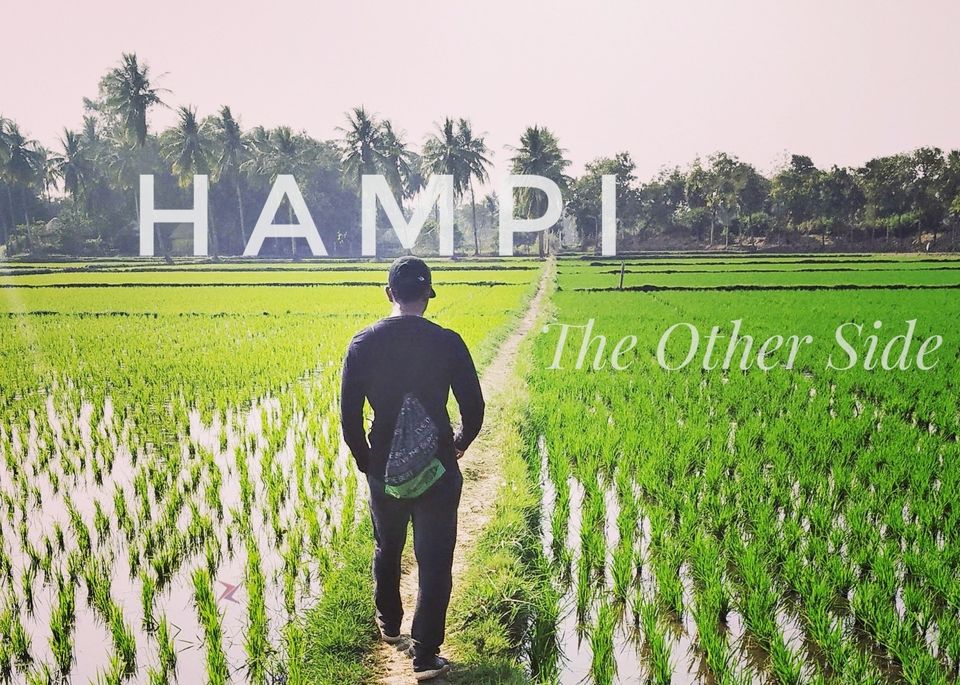 On the southern bank of the river, Tungabhadra is located Hampi, a small historic town known for its ancient ruins and recognition from the UNESCO's World Heritage Site.
In the last article, we explored the Lost City of Hampi, marking all the major tourist attractions of this city. But there is more than the historic side to Hampi. Across the river Tungabhadra is another land, totally contradicting to the lifestyle here (Hampi Bazaar side).
Virupapura is a small village located across this river, which is also known by locals as the 'Other Side' and tourist as 'Hippie Island'. One can reach this place by taking a bridge which connects the two sides of the river, approximately 50 km ride to reach exactly to the opposite side OR just take a ferry near Hampi Bazaar which cost around 40 rupees per head, this the most convenient way. Though the ferry service is only available till 5pm in the evening, you can arrange for a corral ride (oval shaped boat) after the hours but cannot be granted. So, make your plans accordingly when you are traveling from any of these two sides to the other. This side of the river has may cottages, small hotels and hostels for tourist. The laid-back daily routine and foreign tourist crowd derive this village the name of 'Hippie Island'.
So, let's get started:
I took a bus from Bangalore to Hampi which was a night journey of around 8 to 9 hours. The bus dropped me at Hospet from where I took a private auto which was around 150 rupees (you can also opt for a govt. bus costing 15 rupees or so) and took me half an hour to reach Hampi.
The auto guy helped me get exactly at the ferry point, but if you take a govt. bus, the bus will stop at Hampi Bus Stop near Hampi Bazaar and from there it is 500 meters walk. The ferry service is operated by Govt. licensed vendors. You get a ticket for 40 rupees per person.
The place is filled with many hotels which range from 500 to anywhere till 3000. Some famous places to crash are Goan Corner, Sai Plaza, Nargila Restaurant, Mowgli guest house, Laughing Buddha, R.K. Residency, and the list goes on. I was staying in R. K. residency which I booked through Booking.com and cost me 1500 rupees for a day.
I reach Hampi at 8 in the morning. My check-in time was 11am, so I decided to get fresh on the Hampi Bazaar side. There is a public toilet which is clean and usable. Then had some breakfast at the local shack and later walked to the ferry point again to cross the river. You'll have to walk a few steps up from there and you'll see all the hotels and rental bike services lined-up for you. I would recommend renting a bike from the morning or you might find it difficult to find one later as the demand is high. But do bargain for a good price. Bikes are available at a cost from 200 for basic Luna moped to 350 – 400 for Activa or any other 100 cc or above scooters.
The place is amazing. One side is fully lined-up with Hotels and the other side has paddy fields giving a perfect picturesque feel to the scene. R. K. Residency was 100/150 m walk from there. I reached there by 10 am, so had to wait for an hour to get my room cleaned and ready for the stay. By the time I was waiting for my room to be cleaned, I ordered a coffee and enjoyed the soothing music which perfectly matched with the ambiance. There are different types of rooms available at a different price range. Mine was a basic one small and dark, with mud layered on the wall. The whole room was lit just by a white fluorescent bulb. Though it was fine to spend one night. I took a bath and came out to explore the neighborhood and since I have just checked for the bike prices and not actually rented one, I was on a hunt for it. Luckily, I got a bike just outside my hotel which cost me 350 rupees and 200 for petrol (Rupees 100/liter).
For the rest of the day, I had already planned the itinerary. First stop was the famous lake of Sanapur, known as the Sanapur Lake. A huge lake surrounded by big boulders. This is a major attraction on this side of the river. You can take a swim in the lake in that scorching heat or just take a coral ride around the lake costing around 100-150. From there I came back to the hotel, but if you wish, there are many temples nearby which you can explore. I was hungry and was searching for a good place. WELL, I had a few places in my mind. First being Laughing Buddha, the most recommended place by people who have already visited Hampi before. This place is famous for its lakeside view and huts to stay. But unfortunately, the place was packed, and I had to wait for another 45 minutes or so, which was nearly not possible due to my growling stomach. So, I decided to head to another option, The Goan Corner. Another beautiful and recommended place that you might have heard in most of the vlogs and blogs. You can reach there by bike, but I would surely recommend you take a walk across the paddy fields in order to reach this place (Yeah, the cover photo was clicked there). A beautiful walk with paddy field on your both side would surely add up to your experience and it's good for the pictures also. The place is famous for its rooms, and boulder climbing training sessions are done by professionals. You will see many small activities like rope walk or boulders climbing by people who are staying there or almost anyone enthusiastic about doing such fun can try. But I was more distracted by my growling stomach. The first thing that my eyes rolled over on their menu was Lasagna (a bit fan), so I ordered a Chicken Lasagna and my friend got herself a chicken noodle. Both the dishes were amazing and delicious (totally recommended).
Now, after a good lunch and a long walk back to the hotel, I enjoyed a small nap. I woke up back at 4pm, as next on my list was Anjaneya Hills or also known as Monkey Temple. This temple is known as the birthplace of Lord Hanuman, the monkey god in Hindu Religion, hence this place gets its name from. This place is also mentioned in Ramayana. The temple is on the top of the mountain and can be reached by climbing 545 steps. It is one of the best places to witness the amazing sunset from the top of the mountain. The evening scene of this place is usually crowded with people ready with their cameras to capture the mesmerizing colors of nature and monkeys and Langurs fooling around the place.
After the amazing view of the sunset, I headed back to my hotel, gave back the bike and wandered around the place under the clear starry night. There is not much to do once it darks out here, but few hotels have fun jam music sessions and cool Psybient music playing during the dinner. Now as I walked through, I could hear some old Hindi songs being sung and music from congas matching the rhythm from far away, and my legs followed the music. It was in the Nargila restaurant where people were enjoying retro songs with guitars and congas. I literally missed to videography the whole scene as I was busy enjoying the moment, and that's what is more important, but yeah, I wish I could have shown you. I thought I would have dinner there, but again the place was packed. Remember, usually in the months for November to January, Hampi is visited by a huge number of crowds so you might consider planning for the places way earlier than others do. Well no worries though, I headed back to my hotel, and this place was completely different, the place was so beautifully lit with soft music which was the perfect way I would have wanted to end my day here. I ordered some food and called it a day.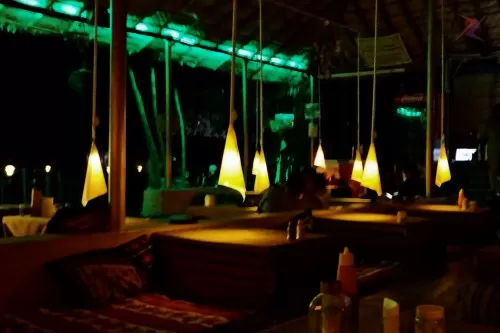 Next morning was all about packing back and exploring the historic side of Hampi. I had some roadside breakfast and caught the ferry back to the Hampi Bazaar. I already had an auto booked for my next few hours and visited the Lost City of Hampi. After the tired day, the auto guy dropped us at the Mango tree restaurant, where we had some snacks and were ready to say bye to this amazing and mesmerizing city.
Do read Hampi: The Lost City, to XPLOR the next day of our journey, where we'll visit all the major attractions of Hampi city.
To find similar stories, follow to my blog and other social media channels (Facebook & Instagram) of XporLyf. Do give a visit.
Also, do let me know if you have any questions or suggestions.
Happy reading and and keep XPLORing...