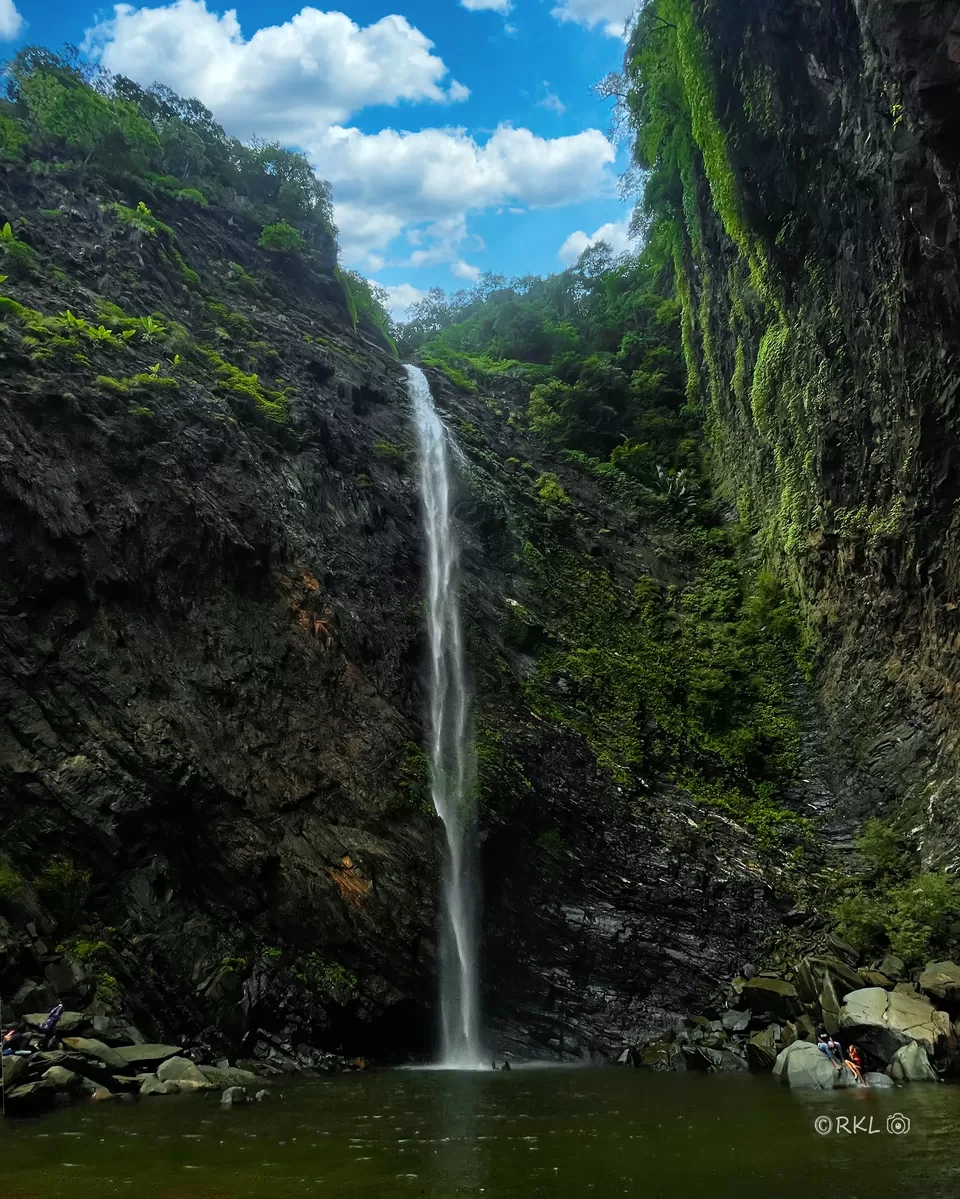 ~ A dreamy destination in real
The hidden secrets that our Western Ghats hold, are far beyond human imagination. Be it infinite species of flora & fauna, breath-taking scenic hills & valleys or many untouched and unseen raw beauties of nature, it's all so unique that you can believe it's existence only after you discover them. Through the years although we have managed to explore a few an abundant number of them still stay hidden in one of the world's densest biological spheres.
This story is of one such beautiful creation which remained out of human reach for a very long time. Even now, this place largely remains isolated from mainstream. More than a tourist attraction this is a place for enthusiastic explorers to conquer. And this blog is for all such explorers out there😊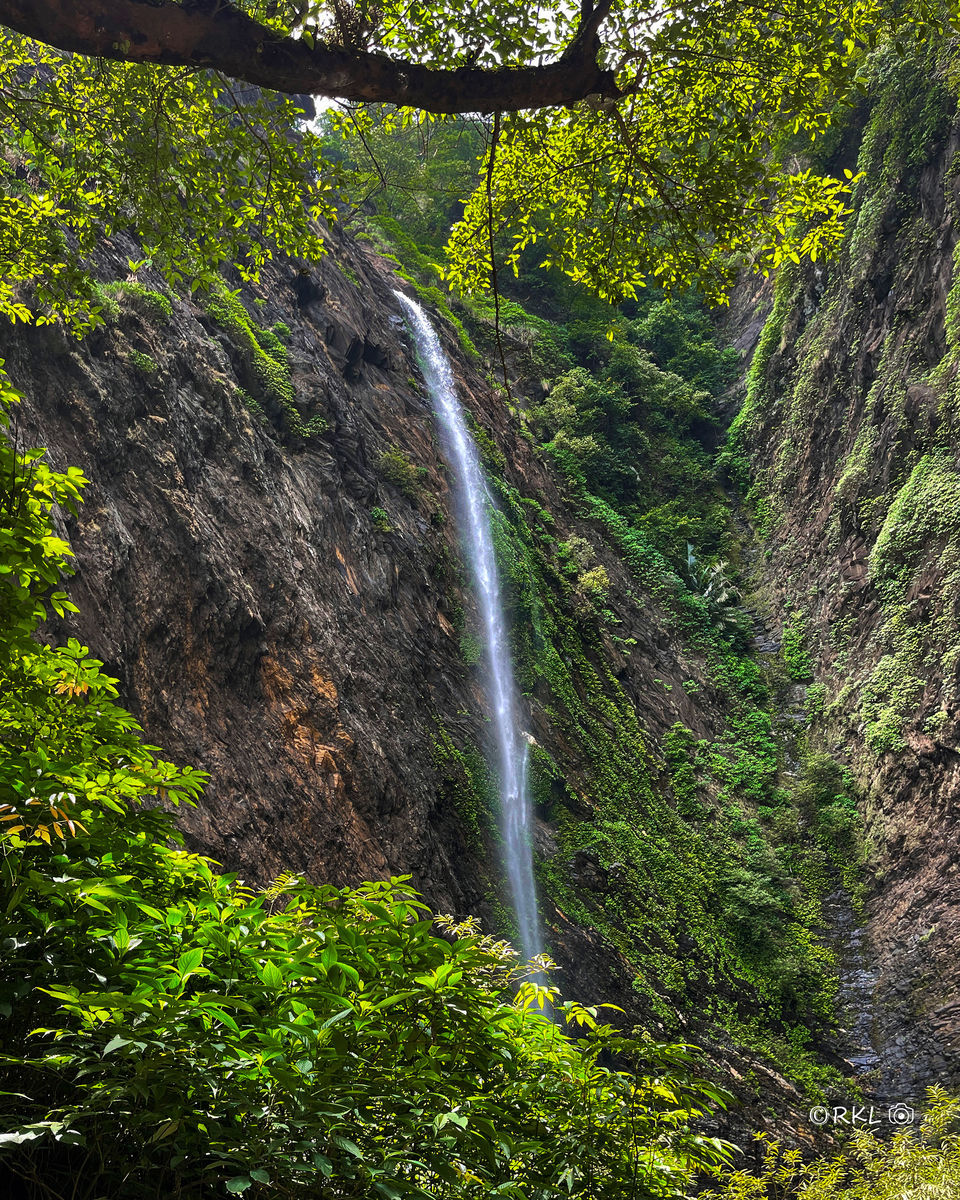 Kudlu Theertha Falls: Formed by Seetha river, a prominent west flowing river in Sahyadris, Kudlu Theertha is one such dreamy destination waterfalls anyone could think of. Nestled deep inside the thick jungles, covered with huge rocks and boulders in a semicircle, water plunging down over a rocky edge like a milky stream is a beautiful sight for your eyes to witness and your heart to behold.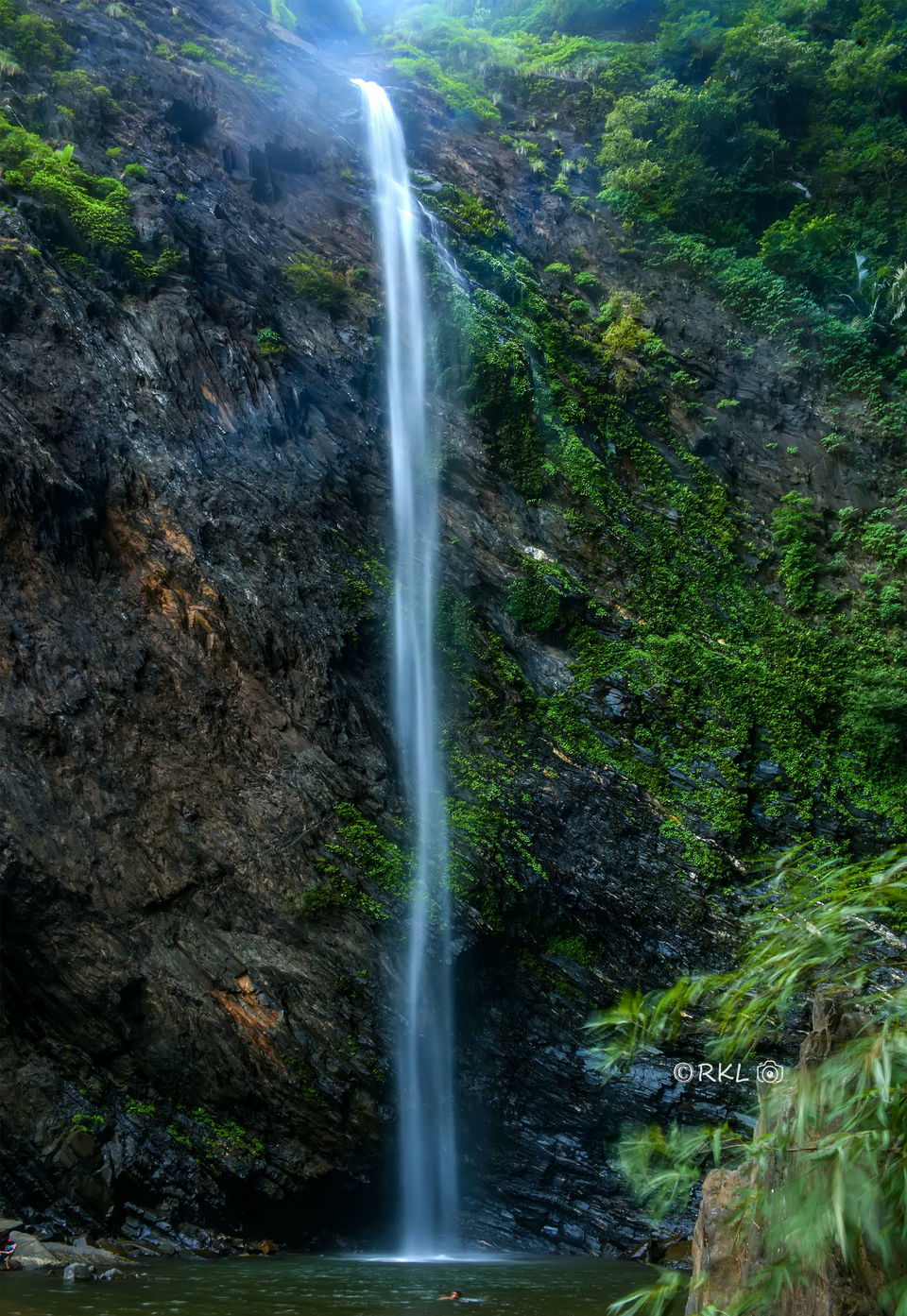 We have to cover a hike of 3KM with Easy-Moderate gradient through forests, which can take up to 1.5 hours. Covering the short trek we get to reach base of the waterfall, witnessing all of Kudlu Theertha's glory at one sight which will surely make us forget the pain of hiking.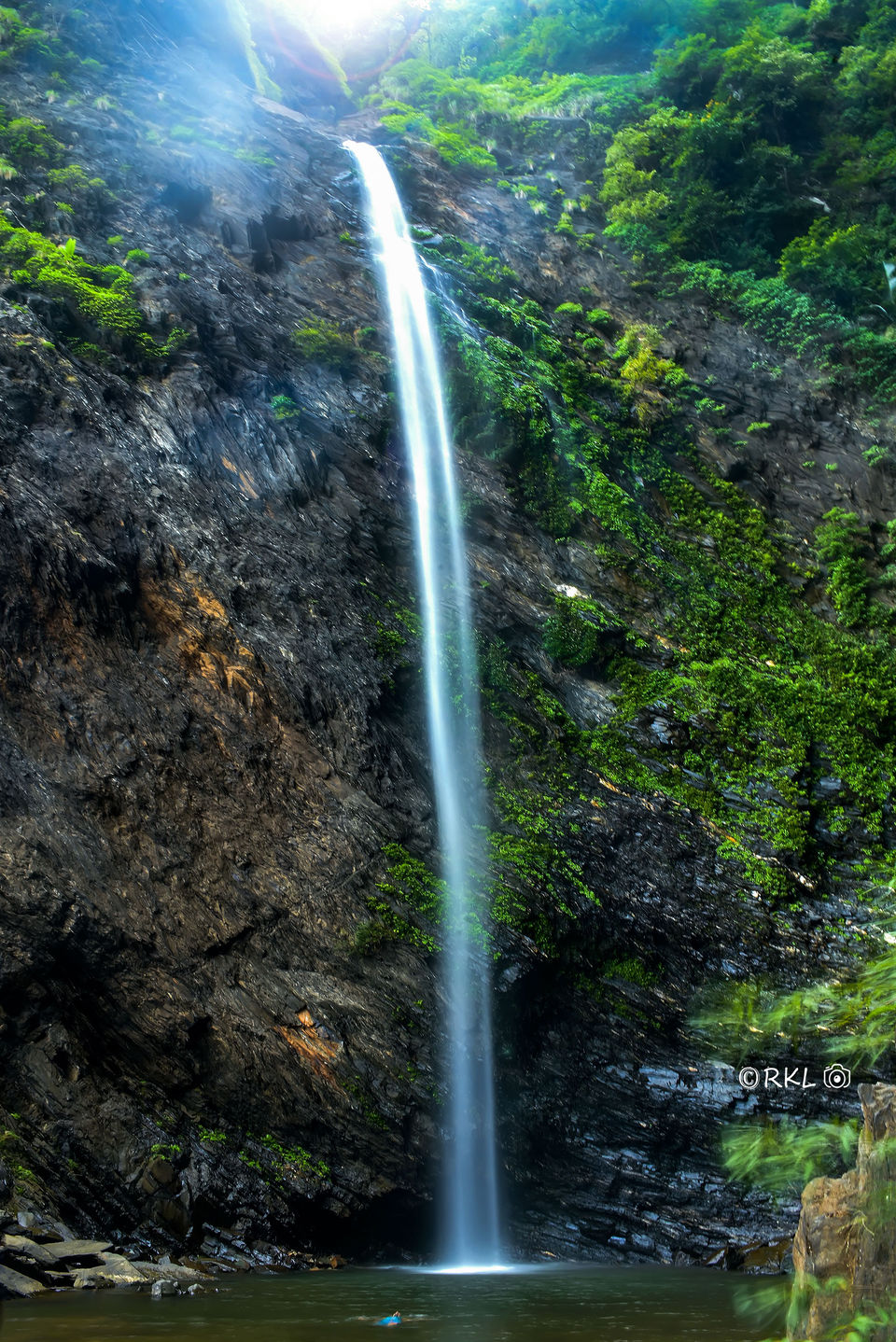 The spectacular waterfalls descends from a height of 300ft straight into a pool down under. The pool is very shallow and visitors can easily get into water and right under the falls for a refreshing shower bath!😊 But keep in mind that water is falling from considerable height and can be painful if not acted cautiously.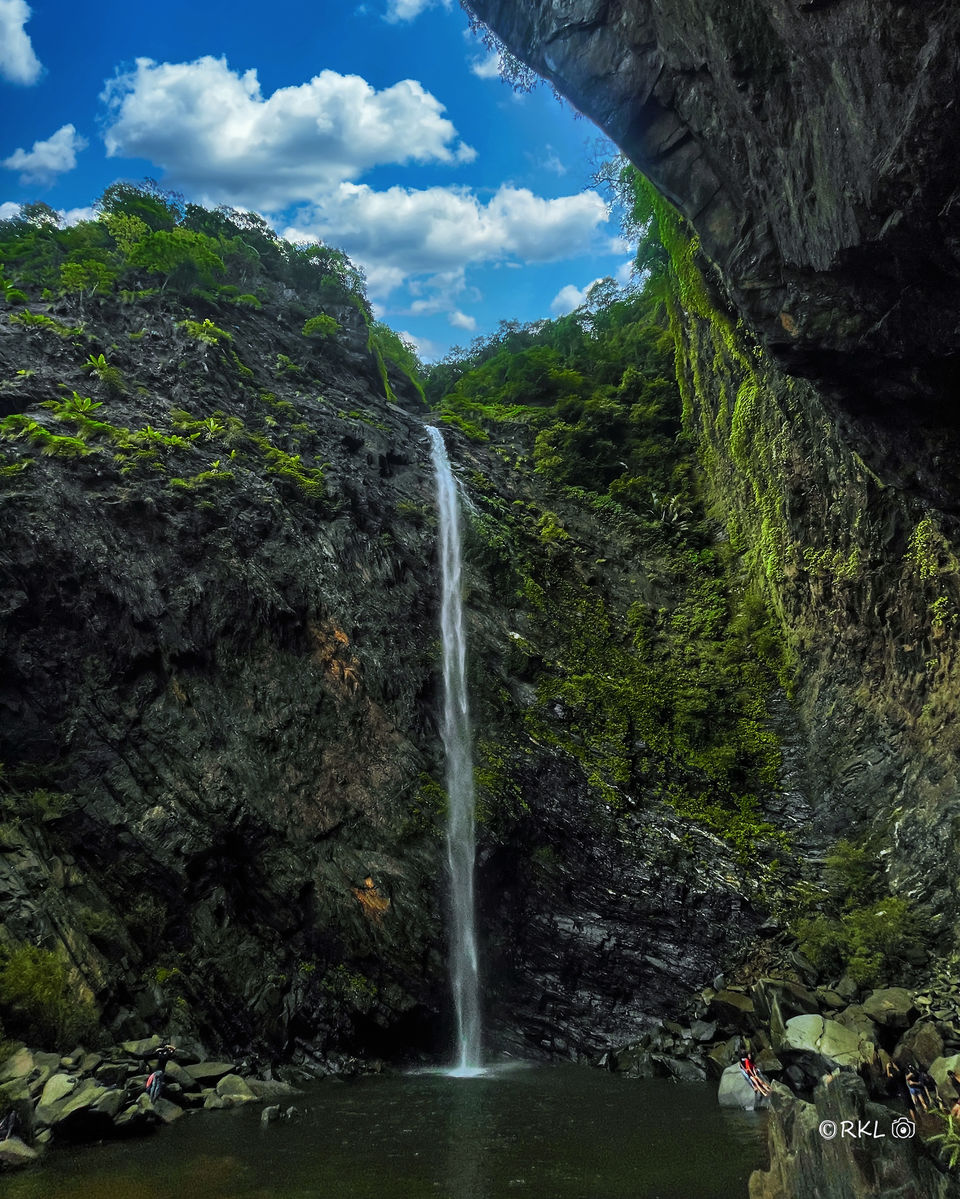 Apart from the charming waterfalls, you get to soak yourself in a serene & pristine atmosphere of Sahyadris too. The place is native to many species of flora and fauna, especially birds, which are not found anywhere else. Far away from hustle and bustle of city life, as close to mother nature as it gets, this place is a sure treat for nature enthusiasts.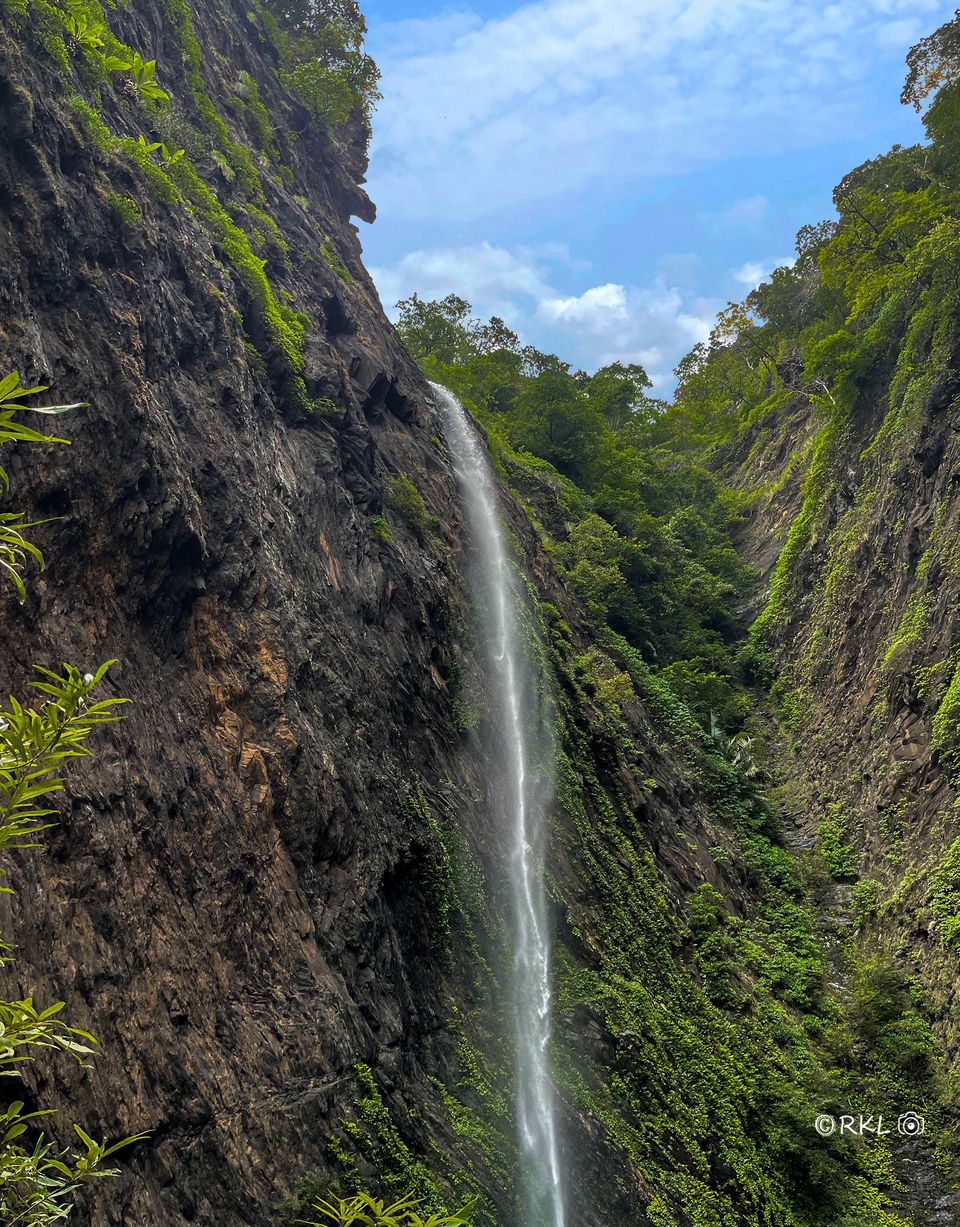 Location: At a distance of 400KM from Bangalore Kudlu Theertha falls is located in one of the densest region of Western Ghats at Someshwara Wildlife Sanctuary. Agumbe is the nearest & major connecting place.
Place is 25KM from Agumbe, 13KMs from Nadpal junction traverse through scenic country routes until Forest check point after which last 3KMs have to be covered by foot.
How to reach?
By Road: Travelling from Bangalore, you have to take Bangalore-Udupi route via Thirthahalli. At Nadpal junction after 12KM from Agumbe, make a left turn. This place is marked well with a huge arch with welcome board for Durgaparameshwari temple. Next 13KMs traverse through village roads in good condition up to Kudlu Theertha forest check post.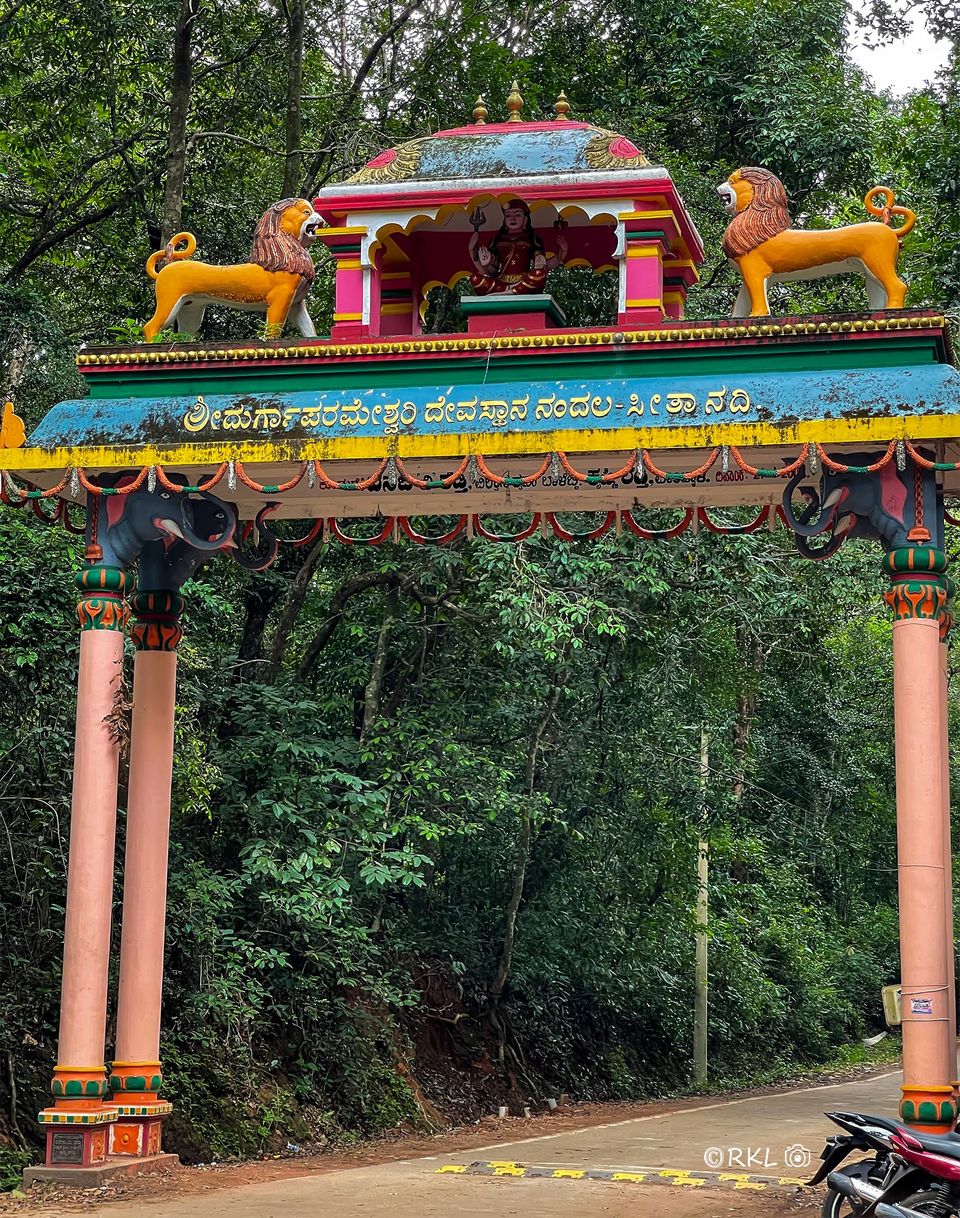 Travelling by bus from Bangalore, one can take direct bus to Udupi and get down at Nadpal (request stop) and hire a local auto to reach forest check post. Or a connecting bus can be taken from Shivamogga or Thirthahalli.
By train: Shivamogga is the nearest railway station at 120KM distance far. Buses need to be taken from Shivamogga towards Udupi.
Trekking Trail: As said, trekking trail is about 3KMs long one way and follows a steady inclination. Trail is very distinctively marked making it very easy to follow without help of any guide. Trek route starts from forest check post on a wide path way and gradually narrows up in 500mts to dense forest vegetation, crossing a stream of Sita river in between. From there on, it's a steady inclination of 2KMs until last 200mts to falls. The last leg of 200mts needs to be traversed with extreme care as we walk on rocks and boulders at the base of waterfalls. Crossing that, path opens up into a wide water pond surrounded by mountain like boulders all around, with one little angel flowing down right in centre drawing a spectacular scene in front of you.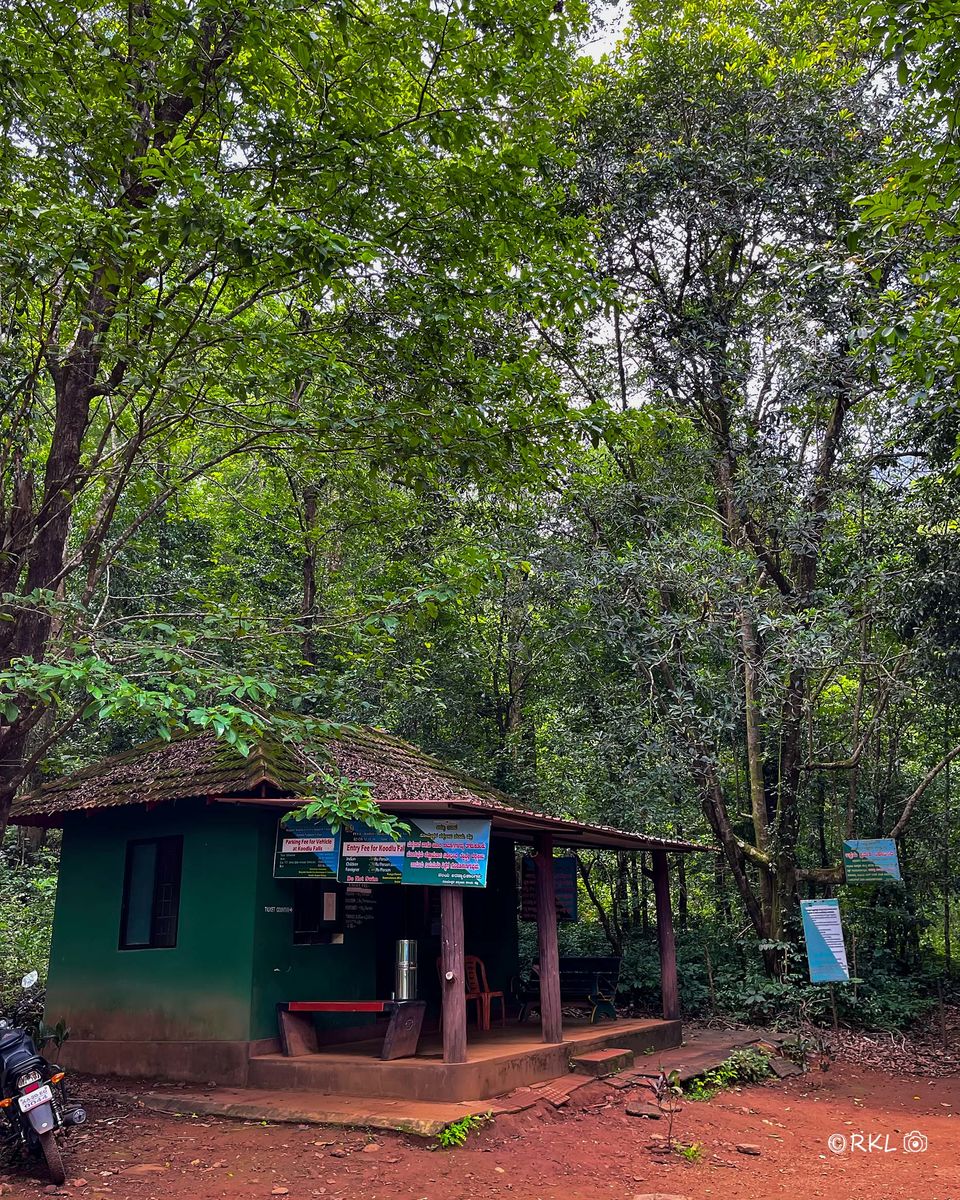 There are no rest points on the way. High humidity would be a matter of concern on bright sunny days and leeches are the major challenge to encounter during monsoons. It can take up to 1.5 to 2 hours to cover the trail, depending upon your stamina and should be a fairly easy trek for regular trekkers and a moderate one for non-trekkers.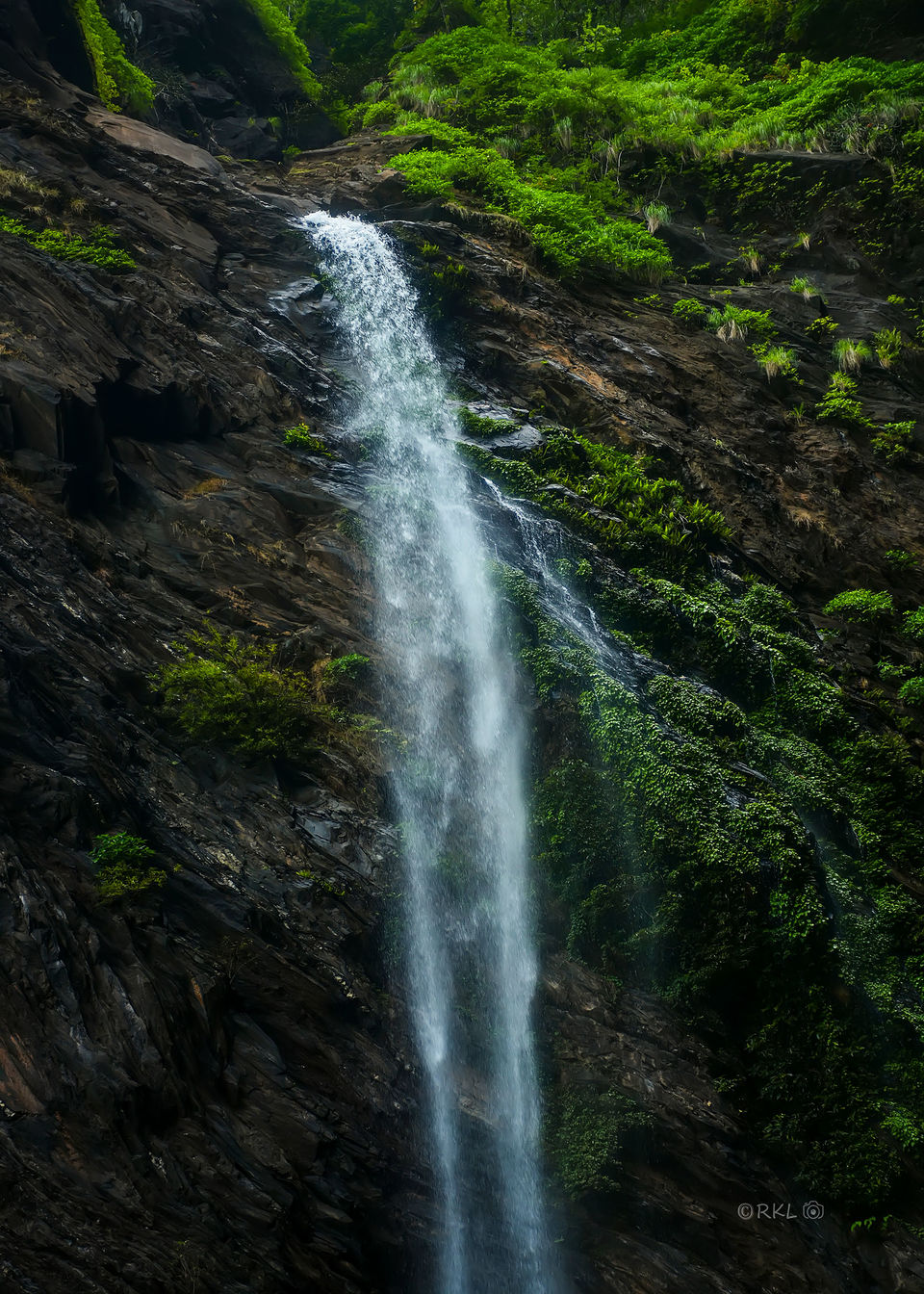 Not to forget, the trail holds all the joy of trekking through Sahyadri forests. Place being located in Someshwara wildlife sanctuary, one of the protected wildlife forest region, you can spot the rarest of animals, reptiles and birds if you are lucky. The deep jungle noise of insects, birds, flowing water stream and sometimes few animals will keep your journey interesting.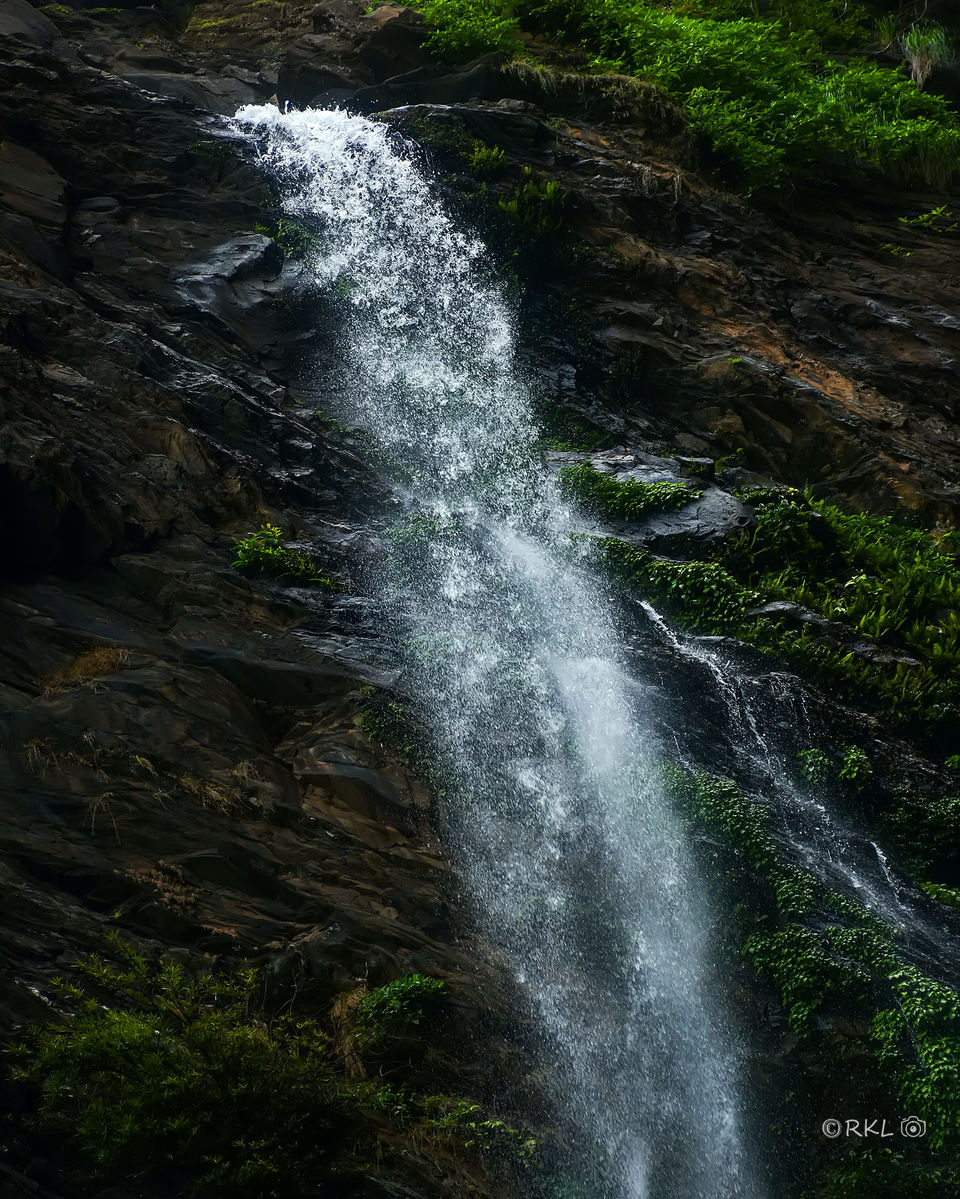 Timings: 9AM to 3PM. Open on all days of the week. Visitors need to return back to the Forest check point before 4.30PM. Considering the same, entry at the checkpoint closes by 3PM.
Best Time to Visit: The beauty of this falls is that, it keeps flowing almost throughout the year. But its glory is witnessed to fullest during monsoon and post monsoon months from August to December.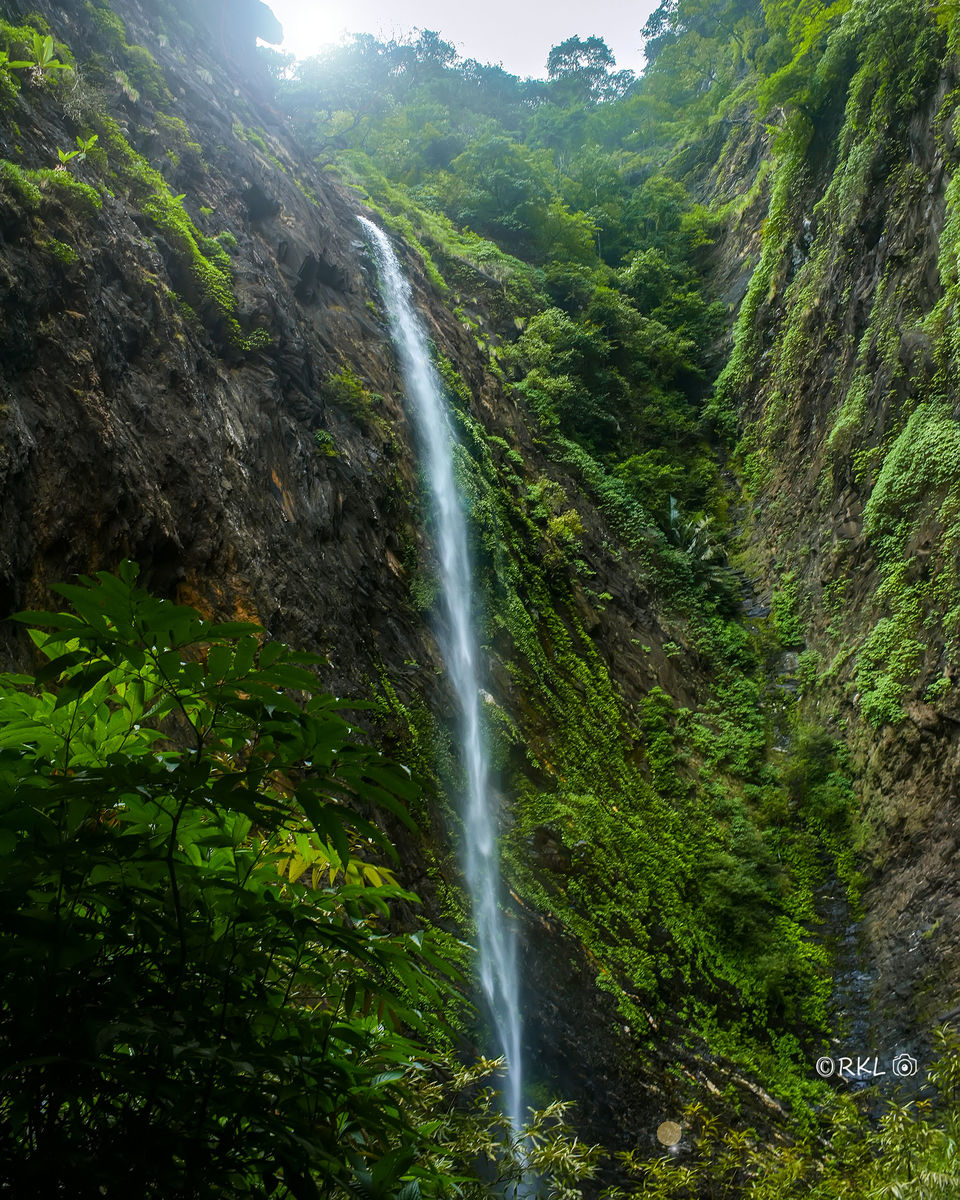 Entry Charges: Entry chargers for Indian citizens are 50rs per person and 25rs per kid below (6 years). For foreigners its 100rs per person.
Camera charges are also applicable. Camera up to 200mm lens – 200rs, Camera with 200-500mm lens – 300rs and Camera with 500mm and greater lens – 500rs
Parking charges: Two wheelers- 15rs, Auto – 20rs, Four Wheelers – 50rs & Buses – 100rs.
Things to know before visiting:
1. Place is very clean and safe to get in to water. But there are no washrooms or change room facilities. Not even at forest check post.
2. Drinking water and snacks are available only at check post. Carry enough water for trek as humidity on trail can cause dehydration easily.
3. This place is strictly Plastic Free zone. Bags are checked by forest officials at entry point and deposit amount is taken for any plastic with you at 50rs per piece.
4. Parking space is a huge open area at the check post gate. Even though there is no manmade shelter, vehicles can be parked safe.
5. Always a good option to carry a basic first aid kit with you as there are no nearby medical facilities. Carry a small packet of salt and turmeric to get rid of leeches and bleeding.
6. Nearest place for your stay would be Agumbe which is 45mins away. Karkala, which is 1hour away can also be an option if you are travelling further towards Mangalore.
Nearby Places to visit:
1. Agumbe: This place needs no introduction to Kannadigas. The beauty of sunsets over Agumbe forest range is nothing but a poetry of God written over the skies. Agumbe is 25KM far and can be a good option after your visit to Kudlu Teertha.
2. Barkana Falls: Another gorgeous waterfalls in the same vicinity id Barkana falls. It is 25KMs far too and requires half a day trek. Forest authority permission needs to be taken at Agumbe.
3. Varanga Jain Temple: A beautiful architectural construction in middle of a lake which is primarily a Jain worshipping center. It is 26KMs far towards Karkala.
4. Kundadri Hills: Famous for mesmerising sunrise views over the clouds, Kundadri hills is 40KMs away towards Thirthahalli.
You can plan to visit Kundadri Hills for Sunrise, Kudlu Theertha during afternoon and Agumbe/Varanga for Sunset.
Take Away: It is not a hugely crowded, tourist destination waterfall. This is a calm, clean and serene waterfalls set in the beautiful evergreen Sahyadris. The joy of enjoying a waterfalls is doubled here after the tiring hike taken to reach it. It surely leaves you with a satisfaction, the satisfaction of exploration! That's what it made me feel. My exploring journey of mighty western ghats was boosted with new energy here. Hope your exploration journey too finds that heartening spirit😊.