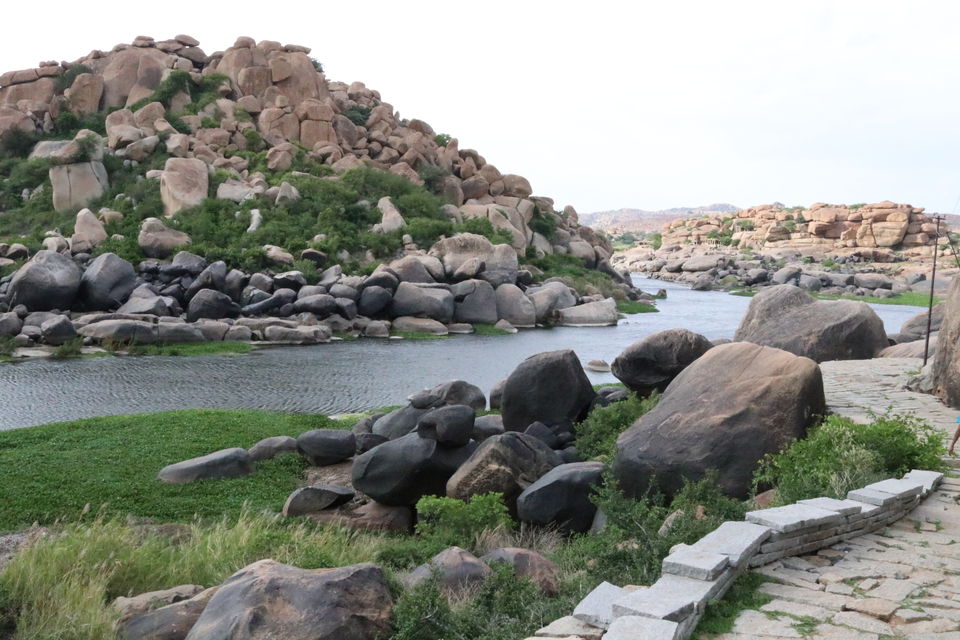 Lets start by saying that I loved Hampi a lot. In my opinion, this Ancient village has a lot to offer rather than just being dubbed as a weekend getaway or so. As you read through the story you will come to know why I made this point. I was joined by Partha on the journey from Bangalore. It was kind of a planned trip to rid our embattled selves from the din of the jostling city life. So we set off on Friday night having fixated as a "weekend getaway". We stayed at Bobby's One Love Restaurant which was situated at Virupapur Gaddi a.k.a Hampi Island/Hippie Island. There are a slew of hotels in the region but this particular hotel is far-flung from those and thus it felt like a quaint stay to us.
I would like to mention here that we prefer more than just sightseeing. On our first day though we visited the Hanuman Temple. Once you reach the top after climbing more than 500 steps, the view is breathtaking and it was the exact kind of atmosphere that we were looking for to start afresh. Also, while you are there look out for a blurb like this: (pic below)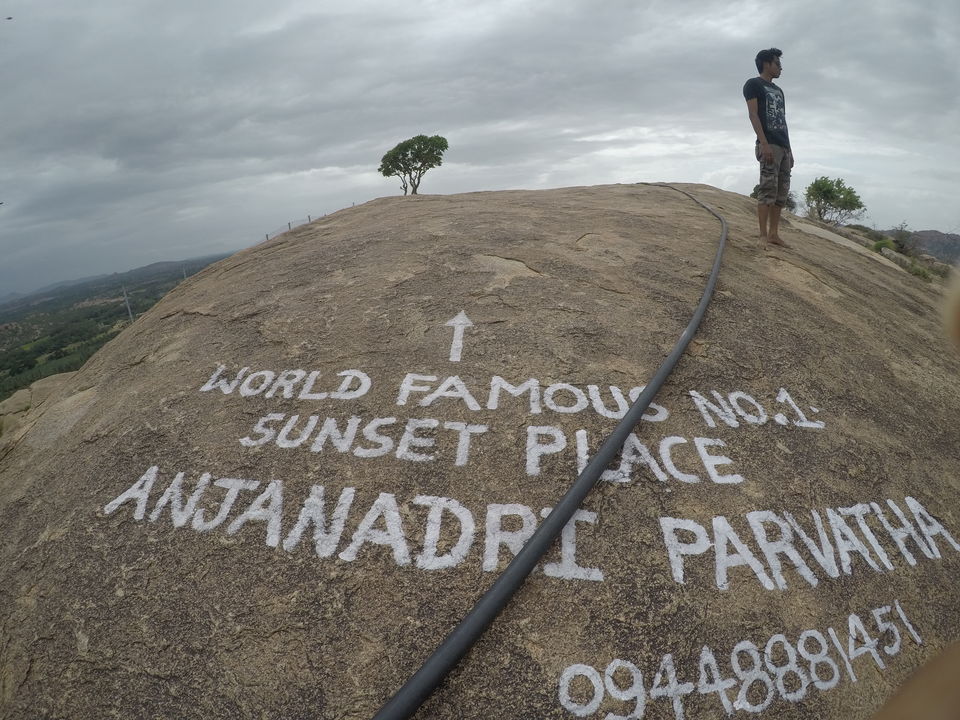 After relaxing at the top embracing the chill gush of air and playing with monkeys we came downhill and started poking around the little corners of the hill caved in by the gigantic boulders. Surprisingly we found some beautiful frames which bear resemblance to a pop-culture icon ( if you know what I mean):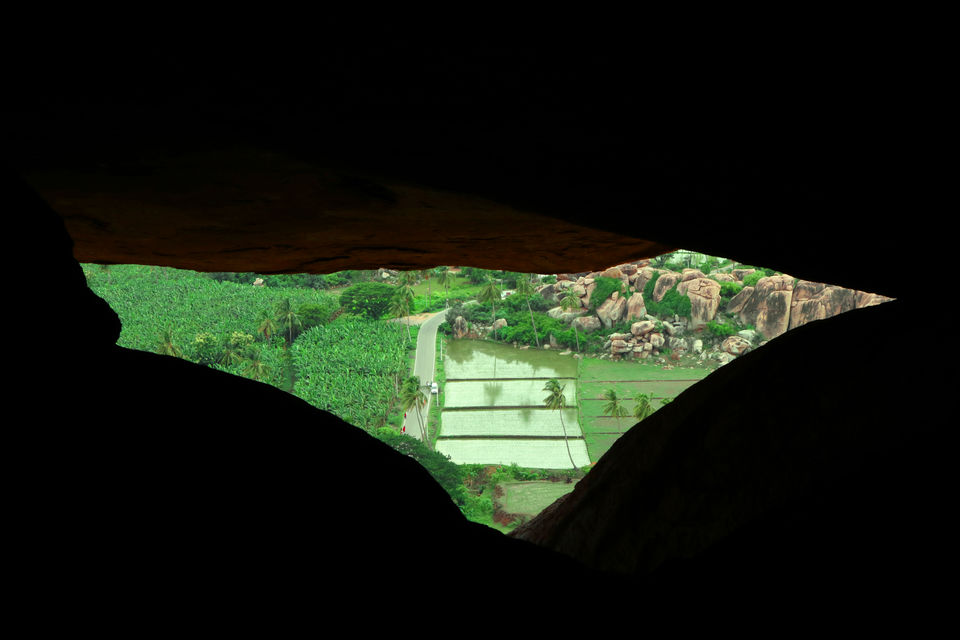 Thereafter we headed towards the Sanapur Lake. The view is simply amazing and it is surrounded by beautiful landscapes. This place is an ideal place for trekking and wandering and most of all its worth surrendering yourself to the lure of the nature. And we did exactly the same thing. I am very fond of photography and when it comes to landscapes i cannot distance myself from the camera for a long time. But this time I decided to skip it and after a prolonged period of hedonistic relaxation we set foot for the other side of the hippie village. It is in this side that the famous Hampi Bazaar is held. As it was getting darker we just roamed around this region and went to Kamalapur, 4 Kms afar, in search of an ATM. An hour later we came back to our hotel and then went to a restaurant for dinner. Before that we roamed around the Hippie region for a bit and it felt very relaxing. After dinner we went to the Lake again. Believe me, at night the region around the lake is so calm and peaceful that you will lose the track of time.
The next day we decided to trek a little more but this time through the boulders and paving our way to the top of the hill. There were two sets of hills near our hotel. Unfortunately we couldn't make it to the top but we did explore some very small caves and also encountered a couple of reptiles: (the other one is a snake)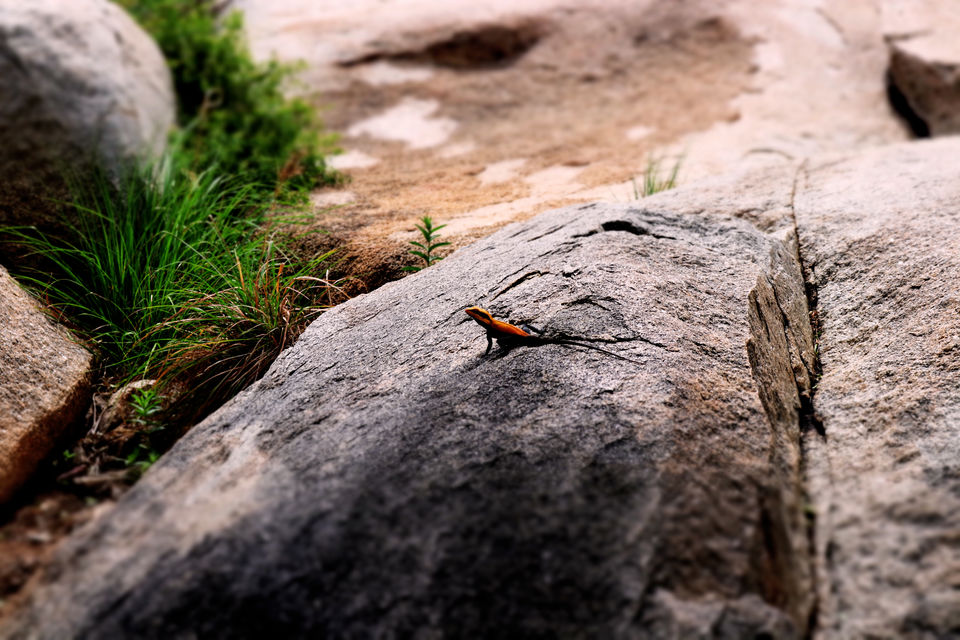 We trekked for a long time and after being absorbed into the spirit of Hampi we longed to trek for more exploration and an immersive experience. But because of lack of time we had to let that thought go. But I have made this my first and only point in my to-do-list to do the next time when I set foot in Hampi again. Then we went to the region surrounding Virupaksha Temple which was filled with ruins of ancient royal as well as religious architecture. This area is very wide and huge and one can trek around freely as well. Also a mere visit to these ruins is not enough. These architectural works calls for a considerable amount of exploration and admiration. Then came the time for our departure and on our way back we made a detour to arrive at a riverside point located beside the highway. It was such an amazing sight during the sunset that made me capture our farewell gesture: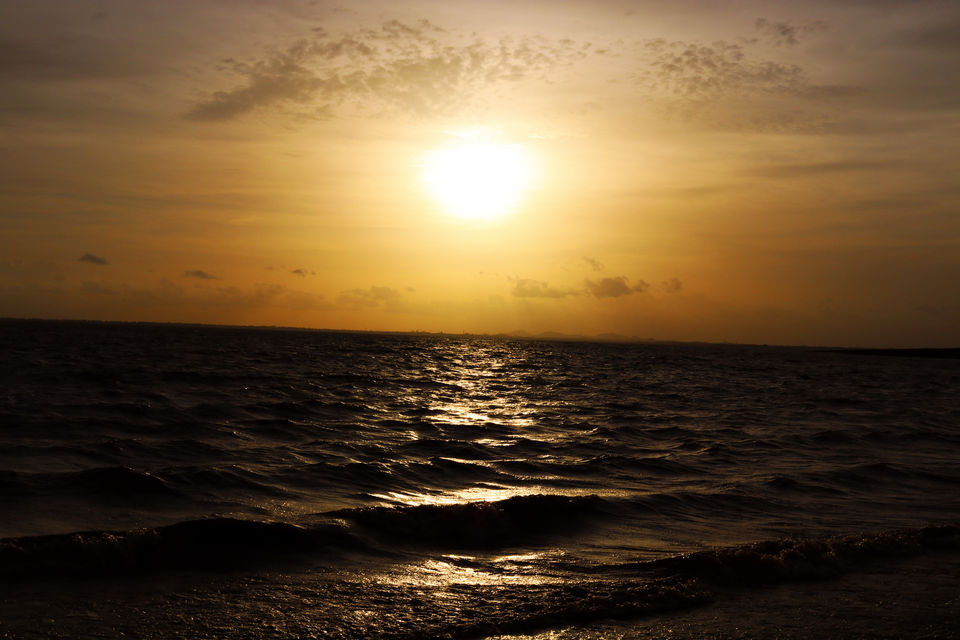 So returning to the point that I made, you can see why absorbing Hampi takes more than just two days. Being ardent pursuers of cultural exploration we believe that Hampi is so abound with richness and historical significance that it summons for a greater amount of attention. There are far-flung places which are a marvel in themselves and exploring each and every one of them is what we are planning to do next.